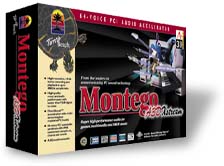 Product: Montego A3DXstream
Company: Voyetra Turtle Beach
Website: http://www.tbeach.com
Phone: (800) 233-9377
Estimated Street Price: $99
Review By: Matt Klosterman
Last Updated: December 8, 1998

Originally reviewed by Matt Klosterman for onewin.com.




Specifications:
18-bit ADC and DAC with >92dB Signal-to-Noise.
Sample rates up to 48KHz.
64 voice wavetable synthesis (32 hardware + 32 software)
Wavetable daughter board connector
Aureal Vortex chip
Introduction:
With the recently released PC 99 specification, which requires a system to not have any ISA slots, PCI sound cards will start getting more and more popular. PCI sound cards have many benefits over their ISA counterparts. The higher bandwidth of the PCI bus allows for things such as lower CPU utilization, more simultaneous streams of audio, and other features such as Aureal's A3D positional 3D Audio API.
Installation:
When you open the box you'll find the card, user manual, CD audio cable, and two CDs (Drivers and Applications CD, and a CD containing the 14-level OEM edition of Battlezone). The board itself is extremely small, especially when compared to my Sound Blaster 16 PnP. On the board you'll find connectors for CD Audio, Modem Audio, and Aux Input. There is also a S/PDIF interface for connecting a DAT machine, and a connector for connecting a wavetable daughter board. The user manual is very good, even showing the differences between ISA and PCI slots and the differences between a MPC-2 connector and a Sony connector. The only complaints I have about the user manual is that they should also show the differences between a PCI and AGP slot and while sometimes they refer to Windows 95 and 98 together other times they only mention 95, both of these things could confuse some new users. As far as external connectors are concerned it is pretty much the standard stuff, Line In, Line Out, Mic In, and a Joystick/MIDI connector. The lack of two speaker outputs is somewhat disappointing since you can't have 4 speakers like you can with the Diamond Monster Sound MX200. After removing the drivers for my old sound card as the manual said to do, I shut down the computer, pulled out the Sound Blaster 16 PnP, and put the Montego A3DXstream into a free PCI slot. After booting up the computer Windows 98 popped up a box saying new hardware had been found and after a reboot the Montego Applications setup program launched after Windows had finished booting.
Software Bundle:
The software bundle is quite good, though it is centered more toward professionals than gamers. The bundle includes a bunch of MIDI programs (though many require a MIDI keyboard to really be useful) some Music Games to help you learn the basics of music, a Digital Audio Editor, and the 14-level OEM version of Battlezone. Here are a few screen shots...
Control Panel after installation
Performance:
Unfortunately the only system I am able to use to review products with, at the moment, is a Pentium 166 MMX, however I will be building a brand new Pentium II system very soon, so I will update this review then. (Note: Since original publication I have built a Pentium II 400 test sytem, but have not yet done the benchmarks over, if I ever have time I will) Installation was simple and Windows 98 had no problems detecting the card. After rebooting I did a series of benchmarks to compare it to the Sound Blaster 16 PnP.
| | | |
| --- | --- | --- |
| | Sound Blaster 16 PnP | Montego A3DXstream |
| Forsaken | 41.73 | 42.68 |
| Incoming | 17.13 | 16.8 |
| Turok (Glide) | 35.2 | 35.2 |
| QuakeII - Demo1 | 19.6 | 22 |
| QuakeII - Massive1 | 15.7 | 16.8 |
| QuakeII - Crusher | 8.7 | 9.2 |
The Incoming test was run with A3D disabled because the Incoming demo was crashing during the benchmark when it was enabled. All other tests were performed with DirectSound and A3D enabled though Forsaken was the only game that actually used A3D. As you can see there is not much of a performance advantage by using the A3DXstream, however what you do get is 3D positional audio in games that support it with little or no performance hit, and in other games you'll get a very small performance increase.
Conclusion:
As for DOS compatibility the A3DXstream worked with every DOS game I tried, both in a DOS box and in DOS mode. The card also comes with NT and Windows 3.1 drivers, though A3D is only supported in Windows 95 and 98 which I assume is due to A3D relying on DirectX 5 or later. As for A3D itself, it is very cool stuff, the card comes with a few demos to show off the effect and it is pretty amazing. Playing Unreal with A3D enabled is quite impressive, and Incoming shows it off very well also. In Unreal you can hear where the other players are, and the razorjack blades flying all around you. Overall the Montego A3DXstream is an excellent card with only a few drawbacks, the biggest being only one speaker output, but other than those minor things this card is great for people who like to create MIDI files, gamers, and the average user alike.
| Category | Score |
| --- | --- |
| Design | 8 |
| Software Bundle | 7 |
| Ease of Installation | 10 |
| Documentation | 9 |
| Drivers | 9 |
| Overall | 10 |
Pros:
Very Good DOS compatibility
Good Professional Bundle
A3D Support
Great Documentation
Decent Price
Cons:
Only one speaker output
More stuff aimed at gamers should've been included in the bundle
Review Conditions:
Hardware
Component
Product
Driver Revision
Processor
Pentium 166 MMX
N/A
Motherboard
FIC PA-2012 w/ 1MB L2 cache
N/A
Video Card(s)
Diamond Viper V330 AGP
Diamond Monster 3D
Viper: .0127
Monster: .110
Hard Drive
Western Digital 2.1GB (System Drive)
Maxtor 8.5GB (Data Drive)
N/A
RAM
64MB of Generic SDRAM
N/A
Sound Card(s)
Turtle Beach Montego A3DXStream
Creative Labs Sound Blaster 16 PnP
Montego: 4.05.112
SB 16: Rev. 14






Software

| | | |
| --- | --- | --- |
| Program | Version | Notes |
| Windows 98 | Final OEM Version | |
| Quake II | 3.17 | All settings set to defaults except for Sound Quality set to High, Sound Performance set to Max Performance and Dynamic Lighting turned off. |
| Forsaken Demo | 1.0 | |
| Incoming Demo | 1.01 | A3D Disabled during Montego test due to gameindex crashing when it was enabled. |
| Turok Demo | 1.01 | Run in Glide Mode |