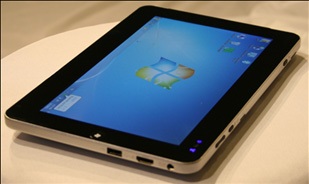 Tablets are becoming the Tsunami of the future. Everywhere you look, there is a new tablets being offered. Majority of tablets are running Apple IOS, or to the lesser Droid OS, (anywhere from 1.1 through 3.0) or one of several OS for tablets. In the IPAD 2 review I discussed the function, features and usability. Now I am looking at a Windows 7 based tablet. The key question for any tablet is how usable is the functionality for the purpose of daily use.
Tablet PCs
Tablet PCs are available almost everywhere today, from everyday stores (drug stores and discount stores) to electronic stores to online retailers. Everyone seems to have a table of some sort, and tablets are becoming less a scifi prop and more of a daily use utensil, replacing laptop computers for many. Apple is the current leader of the pack, with 4 out of every 5 tablets being an IPAD. They have 2 releases of the IPad on the market with hundreds of thousands of applications and millions of users; it is a force to be reckoned with following Apple is Google Android, which is showing up everywhere, with everyone offering them. There are thousands of applications and a few million users, nowhere near what Apple has built, but it is up and coming. RIM just released the Playbook, or as most is calling it a castrated Blackberry. HP released their unit, based upon a reinvented Palm platform, called Web-OS, still really new, with limited availability. These tablets are the major players, at this point in time. Windows based tablets not the new comer to the market, as they may seem or even believed to be. Windows tablets have been around since Windows XP, (there were even OS/2 tablets), but most see them as a small item with no real market point. This leaves only 2 ways to go, and based upon the new entries into the market, it looks like up is the direction of choice.
Tablets can be used in many ways, for EBook readers, mobile data services and web browsing. Limits exist and most of them are because of the User Interface or platform that they are on. This is true with most application that are built for tablets, they are limited in functionality and cause the user to change how and what they do. Issues in the Apple world are that the majority of applications were coded for the Apple IPhone screen and not the larger space of the IPAD. New specific applications are being produced with good results but there are other applications that are nothing more than the basic IPhone app repackaged on a larger screen, (example Chase Banking app for IPAD, same as IPhone App, just uses the visual space a little better on the IPad screen without any real added functionality). Windows based tablets have a major advantage here, as long as the application can be used with a touch interface. If it runs on your laptop/desktop chances are it should run on your tablet with minimal end user operational changes.
Windows based tablets have been around for a while, but they have never caught on because of the performance and interface issues in many people's opinion, (including mine). XP tablets were limited in their support for hardware until Microsoft finally made changes and added support, (XP tablet edition). Later on Vista had more improvements, but the OS was still lacking in the overall user look and feel. Microsoft added a lot of the needed functionality into Windows 7, not only for tablets but for other input devices: including pen interfaces and drawing tablets. Improvements to the OS and adds functionality are helping move Window based tablets in the mainstream; it just may be some time before they are as popular as other tablets using other OSes are.
Monolith Pro 2
The Monolith Pro 2 tablet is a Windows based tablet using Windows 7 Home edition. The unit looks similar to IPAD and other devices, but that is where the majority of the similarity ends. The unit uses a dual core Intel Atom Processor and utilizes a SSD for storage.
Specs:
CPU:Intel ATOM Processor N455(1.66GHz)(Dual Core)
OS: Windows 7 Home Premium
Camera: Built In 2.0 Mp
Sound: Stereo Speakers and Mic
Hard Drive:32G
RAM: 2GB
Graphics Card: UMA of Integrated Graphics 200MHz/DirectX9
Screen: 10.1"TFT Capacitive True Touch
Screen Resolution: 1024x576 WXGA Capacitive Touch Screen
WiFi: 802.11b/g/n
LAN: 10/100M
Internal Bluetooth
USB Port: 2 USB2.0 ports
Card Port: 2 Micro SD
USB-Host: Supports extension U disk, MP3, MP4
Video Output: 1080P HDMI
Battery capacity:3300mAh, Lion battery
Power adapter:120/240V~ 50/60Hz
Size: 267 x 173 x 17 mm
Weight: 2.0 lbs

System Application & use
The system disk SSD unit is 32gb and is partitioned into 2, Windows 7 on 16 gb, and the rest of the space open for installation of application, video or data. For the most part, operation of the tablet was very similar to using a laptop. The major difference is when installing the application, which requires the use of the touch screen which requires some practice. You can cheat by attaching a keyboard and mouse to the USB ports. I attempted to link an Apple Bluetooth keyboard, but it would not connect. One thing that is different on Windows based tablets is how to create a right mouse click, which was to hold down on any object, and wait for the ring to appear. A minor issue related to this is how sensitive the touch interface was. Many times it was just right, but sometimes it was not enough, and functions would have to be repeated. This function was not a major issue, but did cause some issues for other users of the touch pad unit.
Installation of applications should be simple and straight forward, but were some issues related to the OS. I was able to correct the issues after I applied several system patches from Windows Update then they worked fined. I installed the additional application on the unit for testing:
Office 2010 Pro – Use of office was similar to a pc, except the use of the on-board keyboard. OneNote was the key application that really shined on this tablet. Having full access to my data stored in OneNote was simple and straight forward. Word and Excel worked well, and it was nice to have access to the full application set.
Visio 2010 – This application was disappointing on the tablet machine. It did not function well with the touch interface, which made it very hard to use the program. I was unable to drag and drop the templates on to the drawing. Can't really blame the touch pad vendor, so this one is for Microsoft to fix (hint,,,hint,,,hint…..).
Alternative browsers –Google Chrome standalone worked like a charm, (couldn't bring myself to install Safari or Firefox). It had no issues syncing with my internet settings and rendering of all webpages were clean and smooth.
MetaGeek InSSIDer 2 – Great little program for checking out wireless landscapes. InSSIDer shows technical information related to channels and SSID with additional information. This little tool worked like a charm, much easy using this tool on the tablet to map out wireless at a building, configuring the WAPs for the best coverage and signal mapping then caring around a laptop to perform the same task.

NitroPDF v1.4 Reader This is my preferred PDF reader. I have found some minor issues with this program, but overall it is safer and has more features then Adobe and several other alternative programs. The application worked fine without any issues and was a great way to read the pdf/ebooks that I had.
Office365 – Here was a problem. Using the website was not an issue, but attempting to install the application locally failed every time. The error message was related to corrupted installer or source files. MS Lync installed, after several tries, I'm not sure who to point this problem at, since Office365 did have some install issues on other machines, but those were fixed by clearing the internet cache and re-downloading the installation package, but not so here.
Video Watching
Ok first off, it does have Adobe Flash, and it is nice to actual view websites that have made the choice to limit their target audience. Its performance with Flash websites was more than adequate.
HD videos, in MP4 format at the high end preformed OK at best. I am not sure if the chipset can handle the requirements for 1080p natively. For testing I only used Windows Media Player or Cowon Jet Audio v8. I ripped the Blu-ray of Babylon AD in MP4 1080p resolution. This movie can test a system very well with all the action and dialog, it is a good benchmark. It was choppy, with some minor issues with sound, but not the preferred platform for watching these. This did play without issues on an IPAD2 but not on an IPAD.
I loaded up several other videos to test out the system to better understand where it is among tablets. Started with OutSourced in 720p, then added Keen Eddie in 480p, and finally Modern family in 720p wide screen, they all performed well, without any hiccups or video/sound issues running locally from the tablet. I connected to several websites and tested YouTube and some other sites, it worked well, the only issue was connection speed. The sound was even louder then my IPAD2, and the additional sound controls over the input and output were nice. Setting the equalizer values produced better results than expected. One big bonus for this tablet was the support of audio/video files, through installation of codecs, being that the OS was not a 'closed authorized source only' platform. It was also able to play MP4 videos that had been encoded with 5.1 surround sound with 256bit audio, where IPAD units for the majority of the files was unable to play the audio portion.
Sound Quality
Sound was very clear, and better than expected. I was able to tell the difference between different MP3's ripped with different quality/encoding levels. The sound system was working well for movies and video clips also. The output was equal to the IPAD 2 and in some cases better in some aspects in audio quality. When using headphones (wired or wireless) it was hard to tell the difference between IPAD 2 and the Monolith Pro 2.
System Quality
The unit is not an IPad, it doesn't have the finished look or feel of the IPAD, but then again it does do things that the IPad can't do. The finish could be a little better and minor issues with pixilation easily reminded me that it was not an IPAD, but then all I would have to do is load up Outlook 2010, and manage my several mailboxes, exchange/imap/pop easily, and masterfully without any restrictions, (since it was real Outlook 2010, no limits with my email) and the minor issues would not be an concern.
The system interface works very well, and I love the keyboard over the IPAD on screen keyboard. The standard keyboard layout for the on screen keyboard is very efficient and I love the way it works. <<once-screenkb.jpg>>. The additional keys and function buttons increase the overall functionality of the system. The keys are not as big as the ones on the IPAD, but all the expected functionality is there and works as expected. Input via the on screen keyboard was as easy as using a normal keyboard, and worked well one handed. There was no need to learn new keyboard short cuts.
Battery Life
The battery life on High power is about 2.5 hours, Balanced is about 3.5 hours. These numbers are closer to most current laptops and about ½ to 1/3 of results received on an IPAD 2. The need for constant recharging is not a good start, but over time they should have a better battery available for the unit. This unit could really benefit from a lithium polymer battery for longer life.
User Interface
Nothing additional needs to be said about the Windows 7 user interface. It is a very easy and functional OS. Using a touchscreen for all the functions is slightly challenging. Right mouse clicks are just holding down on the screen until a circle appears. The hardest part really is to get the mouse pointer to exactly where you want it, being that most programs have controls programed very close to each other, and the sensitivity of the touch screen.
Performance
The hard part is to remember is that this is a glorified netbook, and not a real full PC. System ratings were not initially available for this unit, but after running Windows Update, it did work.
Sometimes the system is slow, sometimes it preforms as expected, but overall it is a tablet. The system does have 2 gb ram, and that is 4 times as much as the IPad 2, and more than many other tablets. It handles the windows application well enough to make it a nice additional. In addition, I ran some 3rd party tools to get additional numbers for comparison.
Networking
The tablet has wireless (802.11B/G) but not N. N would be nice for the added speed bonus. The tablet has two USB 2 ports, and Bluetooth.
Final Comments
How It Grades
Ease of Use: 90%
Performance: 75%
Design: 60%
Price/Value: 80%
Overall: 76.25%
The removable storage and expandability of the unit is a nice combo. The ability to use native Windows application is a nice feature.
Differential Points
A few things of concern are the older chipset and lack of access to new drivers, and also the base configuration of the hard drive and OS. The system can be improved through simple upgrades and modifications. Maybe even a central site that doesn't require you to sign up and accept malware to get the drivers would be nice. It looks to be simple and easy to replace the SSD drive in the unit, and with prices falling, might not be a bad idea.
Lack of built in 3g is not a major issue, special since it has USB ports and is easy to access and use but the device will be sticking out.
Bonus Points
Ok, I'll say it again; the Windows 7 interface makes this a contender. Being able to use native apps, and not having to re-learn the basic functionality or sacrificing needs and requirements for productivity are major points.
A major bonus was the ability to surf any website and use the browser of my choice and have the pages displayed without be forced into 'Mobile mode' or 'limited mode'. Many websites default into mobile mode on the IPAD, and this is a problem, as many of the functions are limited and the interface is changed to support mobile phones and not the larger screen of the tablet units.
The unit comes with a dongle device that gives you VGA and Ethernet. This was very handing when I needed to troubleshoot a video card/LED monitor problem.
Hooking a USB keyboard up allows access to the BIOS, if you're fast enough to hit the right keys. This allowed me to change the boot to USB or Network, which is real handy.
Negative Points
The lack of battery life and finish (overall feel of the unit, touch and trim) are of some concern specially if directly comparing it to the IPAD or Zoom devices. Alternative power sources or even additional power, could limit the issues, but how many people want to carry additional batteries. The fit and finish might be able to negate to a non-issue with the proper case, and even a case that offers ruggedized support like something from Otter would be desirable.
The screen size is a little small, 1024x576 is just not what I would expect. The IPAD 2 is 1024x768, and that is a much better interface size. I am a little bit of a screen hog, preferring as much display area as possible. Windows standards are 1024x768, and works better with the majority of applications. Yes we are only talking about 168 lines, but the additional space is highly desirable.
This tablet unit is very nice. It may not be an IPAD 2, but has possibility. I would like to see more drive space, and the configuration to be a single drive unit, so that the space is more usable. The base OS install should also be re-worked, so that it is cleaner and simple, with the latest set of drivers and patches installed. Overall this is a possible replacement for an IPAD, but it would require the user to go out on a limb to make the call and be different then everyone else, (1984 anyone).
Specs & Package
Overall Score
88.75%
Version Reviewed
Monolith Pro 2
Release Date
Out Now
The Good Points
See Conclusion
The Bad Points
See Conclusion
In The Box

1 Tablet


1 Power Adapter
1 Set of Instructions
Similar Product
Apple iPad
Technical Specifications
See Specifications