DirectX
ActiveMac
Downloads
Forums
Interviews
News
MS Games & Hardware
Reviews
Support Center
Windows 2000
Windows Me
Windows Server 2003
Windows Vista
Windows XP



News Centers
Windows/Microsoft
DVD
Apple/Mac
Xbox
News Search



ActiveXBox
Xbox News
Box Shots
Inside The Xbox
Released Titles
Announced Titles
Screenshots/Videos
History Of The Xbox
Links
Forum
FAQ



Windows XP
Introduction
System Requirements
Home Features
Pro Features
Upgrade Checklists
History
FAQ
Links
TopTechTips



FAQ's
Windows Vista
Windows 98/98 SE
Windows 2000
Windows Me
Windows Server 2002
Windows "Whistler" XP
Windows CE
Internet Explorer 6
Internet Explorer 5
Xbox
Xbox 360
DirectX
DVD's



TopTechTips
Registry Tips
Windows 95/98
Windows 2000
Internet Explorer 5
Program Tips
Easter Eggs
Hardware
DVD



ActiveDVD
DVD News
DVD Forum
Glossary
Tips
Articles
Reviews
News Archive
Links
Drivers



Latest Reviews
Xbox/Games
Fallout 3

Applications
Windows Server 2008 R2
Windows 7

Hardware
iPod Touch 32GB



Latest Interviews
Steve Ballmer
Jim Allchin



Site News/Info
About This Site
Affiliates
Contact Us
Default Home Page
Link To Us
Links

News Archive
Site Search
Awards



Credits
©1997-2012, Active Network, Inc. All Rights Reserved.
Please click here for full terms of use and restrictions or read our Light Tower Privacy Statement.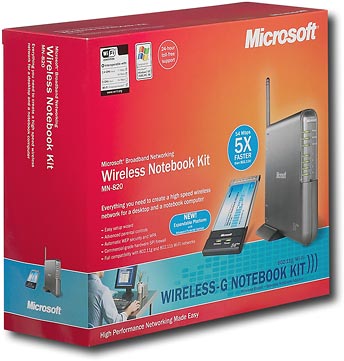 Keeping with the momentum of our hectic lives, Microsoft recently decided to make our lives even speedier by releasing a new, faster version of its broadband networking product for Wi-Fi home networks, the Microsoft Broadband Networking Wireless G Kit (MN-820). Upgrading last year's Wireless B Kit (which is still available), the new kit offers the 802.11g specification for wireless connectivity at 5x that of its predecessor (54 Mbps). Do the latest wireless devices out of Redmond live up to their signals? Read on to find out.
Features
New! Transmission speed is five times faster than 802.11b. Users can wirelessly share files, printers and music, and play mulitiplayer games faster than before.

New! Powerful security using default wireless encryption sets Microsoft apart from the rest, with a built-in hardware firewall and parental controls.

Improved! Setup Wizard automatically detects the user's Internet service provider (ISP) and modem settings for even easier base station configuration.

Auto-update features

notify users of new software enhancements. Users can choose to automatically update their network with the latest and greatest features.

PCs can be added to the network easily by using the included blank disk to copy network settings and store them for future use.

Full compatibility with existing 802.11b Wi-Fi networks lets users access their e-mail and the Internet in restaurants, hotels and airports.

Versatile Ethernet and wireless capabilities can connect as many computers as users need in their home network.

Technology Overview
So to newbies in this area, you may be wondering what the heck is 802.11g? 802.11 is a standard for wireless transmissions set by the IEEE (Institute of Electrical and Electronic Engineers). The two specifications you have to worry about are 802.11b and 802.11g. Last year's model, the Wireless B Kit (MN 720), was built off the 802.11b standard which allowed connection speeds between 5.5 and 11 Mbps (megabits per second). The Wireless G kit uses the 802.11g standard which allows up to a 54 Mbps connection speed. The confusion does not end there: 802.11 devices either use 2.4 GHz or 5 GHz radio frequencies. Both 802.11b & g devices use 2.4 GHz, which allows for greater range but is more susceptible to interference from other devices (2.4 GHz cordless telephones, etc.).
One of the beauties of Wireless G networking is that the hardware is compatible with 802.11b devices. For example, since the majority of wireless connectivity is 802.11b, you could still use your Wireless G notebook adapter on a Wireless B network, and vice versa. However, if you using your Wireless G notebook adapter on a Wireless B network, you will only achieve maximum transfer rates of 11 Mbps. Standard users will not notice much difference for standard e-mail, Internet, etc. However, power users who transfer major multimedia files, large files (such as AutoCad files), will enjoy the increased transfer rates. The wireless devices support WEP (Wired Equipment Privacy) at 64-bit and 128-bit and WPA (Wi-Fi Protected Access) up 256-bit encryption (which is the stronger standard now). See the chart below for more "technical" specifications.
Base Station
Notebook Adapter
Standards
IEEE 802.11b, 802.11g, Wi-Fi certified, TCP/IP, NAT, DHCP, UDP, FTP, PPPoE, PPTP, L2TP, HTTP, DNS, IPSec/VPN, WPA
IEEE 802.11b, 802.11g, Wi-Fi certified
Ports
Four 10/100 Mbps Switched Ethernet/ IEEE 802.3 ports, Auto MDI/MDI-X Crossover

UTP/STP CAT 3 or better required for 10 Base-T

UTP/STP CAT 5 required for 100 Base-TX

N/A

Data Rate
1, 2, 5.5, 6, 11, 12, 18, 24, 36, 48, 54 Mbps with Auto-fallback support
1, 2, 5.5, 6, 11, 12, 18, 24, 36, 48, 54 Mbps with Auto-fallback support
Modulation
CCK, DBPSK, DQPSK, OFDM
CCK, DBPSK, DQPSK, OFDM
Frequency Range
ISM Band (2.4 to 2.4835 GHz)
ISM Band (2.4 to 2.4835 GHz)
Channels
1-11 USA/Canada Only
1-11 USA/Canada Only
Host Interface

N/A

32-bit Cardbus, 3.3 V

Product Design
The main base station is the same size as the Wireless B kit, about 1.2" x 5.3" x 6.8", however is a darker shade of gray. There are seven LED lights in the front; one for power, one for modem connectivity, one for wireless connectivity, and four for LAN connectivity on ports 1-4. The base station weighs in at eleven ounces, so it is not very heavy. The product sits upright on a translucent plastic base, which can be removed if you'd like lay the product on its side. There is a 2.5" semitransparent dark gray plastic antenna coming out the backside of the product.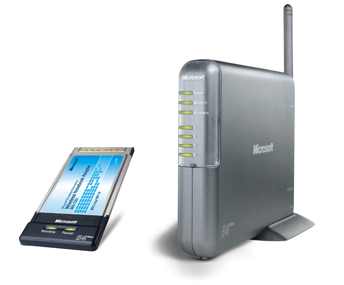 The wireless notebook adapter weighs 3.5 ounces and measures up at 2.1" x 4.5" x .3". There are two indicators on the end, one for power (self powered) and wireless activity. The card is clearly marked and is greed rather than orange so you do not confuse the G cards with your B cards.
Setup & Installation
The setup and installation of your Microsoft Broadband Networking wireless network is surprisingly easy. Unlike most Microsoft products these days, Microsoft has included a sufficient "Quick Start" guide and a very in-depth 90 page product manual for those of us who like complexity.
Microsoft recommends that you don't hook up the hardware before installing the software, which goes against many techies' intuitions. Anyway, you install the broadband networking CD and run the Setup Wizard. You choose you'd like to setup a product then choose which you are installing (the software works for B products as well). The software installs on your computer, and takes up a mere 11 MB on XP Pro. The wizard then directs you to start installing the wireless hardware.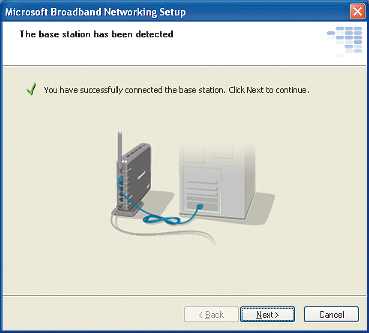 This part is relatively simple. First, you unplug the Ethernet from your cable modem and plug it into the base station. Then, you use the patch cable provided and connect the base station back to the cable modem. Once all this done you plug in the AC adapter to the base station and return back to the computer to complete the next step.
Click "next" and the setup wizard will detect your base station and detect the connectivity of your "Internet" connection. You also have the option to save your settings on a floppy for transferability to another computer (provided).
Now we will go install the notebook adapter on a laptop. Just pop in the same software CD, follow an abridged setup, and install the card into the PCI slot when prompted. You now plop in your floppy with your saved settings and enter your base station password. Voila! Your laptop is connected the Internet. Now that you are connected, if permissions were granted, you can share printers, files, etc. and other standard network sharing features. As far as standard users are concerned, you can be done at this point. Note: My laptop did not have DirectX 9.0b installed, which the setup wizard installed before I continued with the setup.
To check up on your wireless broadband network, open up the Broadband Network Utility which can be accessed from the programs menu or in your icon tray. Here you can see the network status, important ip addresses, signal strength, connected devices, etc. This program is very handy, simple program to use for standard users. The software (if you allow), will automatically check for software updates from Microsoft.


Advanced Features
To access advanced features, we delve into the Base Station Management Tool (BSMT). This ican be accessed from the Broadband Networking Utility or by opening your browser and going to the address: http://192.168.2.1 . You can change this default address in the BSMT. The default password for the base station is "admin."
In the base station management tool you can change your password, establish your Internet settings, establish your wireless settings, customize your network settings, configure your computer, and test your Internet connection. In the Internet Settings section, you can choose between static IP, dynamic IP, or PPPoE (Point-to-Point Protocol over Ethernet). Note: Most users shouldn't touch these settings. In wireless settings, you can designate your wireless network name (SSID -> service set identifier). In addition, you designate if your hardware is all g, or mixed b compatible to get the best optimization for your network. In the wireless security section, you can set your encryption strength (or to have it at all), if you do not want unauthorized users on your network. For WEP you need a 26 character key which can be generated in the random key generator the software provides. Finally, you can set your TCP/IP properties if you do not want the setup wizard to automatically set them. In addition, you can set parental controls to block specific IPs, domains, etc.
If you already have another router, base station, etc. you can set your new base station as an Access Point for wireless connectivity for other computers. Note: if you use the base station as an access point you automatically disable its router and network address translation capabilities.

Product Use and Performance
The strength of the wireless network is quite strong. I took the laptop out in the yard (in the snow), in the car, in the basement, all considerable distances away from the base station, with obstructions, and in all cases the signal remained strong and the connectivity effective. Because of the strength (I live in a fairly rural area), you should set encryption on your network so others don't steal your Internet connection (particularly in Urban areas), or access your shared files. The transfer rate between computer and laptop for large Autocad files (several hundred megabytes), varied distinctly between the two different protocols. The file on the Wireless G Network transferred in roughly 1/3 time as the Wireless B Network. In both cases, wired Ethernet connections would be fastest, but that defeats the purpose of going wireless. The Wireless G Network is also best suited for the Xbox Wireless G adapter for making your Xbox wireless. It is important to note the notebook adapter workers with non-Microsoft hardware, which is beneficial for those of you who don't have Centrino processors to access wireless hotspots throughout the country.

Final Comments
How It Grades
Installation: 87%
Manual: 100%
Features: 90%
Performance: 94%
Design: 95%
Price/Value: 86%
Overall: 92%
To conclude, Microsoft Broadband Networking Wireless G Kit (MN-820) improved significantly the speed in which data is transferred over wireless networks, as the speed at its maximum (even though it may not achieve it) is 5x as fast. The device comes with plenty of documentation for everyone from novice to expert users, and is a breeze to set up. For users who already have the previous Wireless B Kit, and who are standard everyday Internet users, I would not recommend the upgrade. However, for power users and those who do not yet have any networks in place the new Microsoft Broadband Networking Wireless G Kit is the way to go!
Specs & Package
Overall Score
92%
Version Reviewed
Microsoft Broadband Networking Wireless G Kit (MN-820)
Release Date
Out Now
In the Box
1 3.5" Floppy (for settings)
1 Software CD
1 Patch RJ-45 Cable
1 AC Adapter
1 Base Station
1 Notebook Adapter
1 Quick Start Guide
1 Product Manual
The Good Points
Great Manual
A lot of Features
Nice Design
The Bad Points
Price
Similar Product
Linksys Products
System Requirements

For the Microsoft Broadband Networking Base Station MN-700, users need the following:

Computer to configure base station

External broadband (DSL, cable or other) modem with Ethernet-to-computer capability

Microsoft Internet Explorer 5 or
Netscape Navigator 4.7 or later to view and use base station HTML configuration screens

For the Microsoft Broadband Networking Wireless Notebook Adapter, users need the following:

PC with an available Type II PC Card slot

Appropriate drivers. Drivers for Microsoft Windows® 98, Windows 98 Second Edition (SE), Windows Millennium Edition (Windows Me), Windows 2000 Professional, Windows XP Professional or Windows XP Home Edition operating systems are included.

To use the Microsoft Broadband Setup Wizard and Network Utility, users need the following:

PC running Microsoft Windows 98, Windows 98 SE, Windows Me, Windows 2000 Professional, Windows XP Professional or Windows XP Home Edition operating system

132 MB of available hard disk space if Internet Explorer is being installed for the first time; 40 MB of available hard disk space if Internet Explorer 5.5 or 6 already is installed.