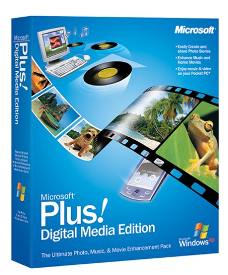 Introduction
Microsoft Plus! Digital Media Edition allows users to easily create, organize, and play digital media content when and where users want. It has many powerful digital media tools and utilities for the ultimate digital media experience. For the digital media enthusiast, tools and add-ons for Microsoft Windows Media Player provide the latest cutting-edge technologies to enhance users' digital media experience. Plus! Digital Media Edition easily integrates digital media into users' life, allowing users to copy their entire record collection, organize and showcase digital photos, or create and edit home videos with exciting new sounds, clips, and effects.
Features
Plus! Photo Story
Plus! Photo Story allows users to create exciting video stories from their pictures. For example, users can create a video story that features narrated photographs from a family vacation or a video story of a new baby.
In a few simple steps, users can import their pictures, record narration, add a title page and background music, and save their story using the video and audio quality settings that they want. Friends and family can then use any program that plays Windows Media Video (WMV) files, such as Windows Media Player, to view the story.
When I created my first story, a wizard appeared, asking me to select the pictures I wanted to use. For each story, I was allowed a maximum of 150 pictures. The pictures can be bitmaps, gifs, jpgs, pngs or even tiffs. After that, I was supposed to rearrange the pictures on the Photo Story film strip in any way I wanted. I was also able to record narration for each picture. Photo Story captures the narration individually for each picture and displays the length of the narration. Users can record up to four minutes and ten seconds of narration for each picture. As I narrated, I could move my mouse over the picture to emphasize specific areas of the picture.
But that was not all. I could also add a title page at the beginning of my story, choose the text for the title page, and decide how long the page appears. I was also allowed to select a background image for the title page. Background music could also be added. After all the customization, the last step was to save the story. Users can save the story as high or medium quality.
High quality video uses a 640 x 480 video resolution that plays at a rate of 24 frames per second (fps). This resolution provides better playback quality on your computer, but requires more disk space. Medium quality uses a 320 x 240 video resolution that plays at a rate of 24 fps. This smaller resolution provides good playback quality, but requires less disk space.
Plus! Party Mode for Windows Media Player
Plus! Party Mode for Windows Media Player turns a computer into a jukebox that the owner and his guests can use to play music and other content from Windows Media Player Media Library, while still protecting personal files and other data on his computer. Users can choose which content they want to listen to, personalize the appearance and features of the Party Mode window, and use the Party Mode privacy option to restrict access to your computer.
I was particularly pleased with the file protection features included. For example, I could enable Party Mode just to play my favorite playlists during a party. Guests can view the Party Mode window and use Party Mode controls, such as play, rewind, and fast-forward, while they listen to the music. The Party Mode privacy option, however, prevents my guests from accessing other programs, folders, and files on my computer.
Plus! Analog Recorder
Using Plus! Analog Recorder, users can transfer music from their analog audio device, such as a record, cassette, eight-track, or reel-to-reel player, to their digital music library. Analog Recorder steps users through the process of converting their music to digital format and then copies the digital files to your computer.
Users can transfer a section of music, such as part of a song from a cassette tape or all the songs on a vinyl record. Analog Recorder attempts to detect the individual tracks within the music and automatically splits the tracks. Users can then play the tracks, name them, and add them to a playlist in Microsoft Windows Media Player. There is also the option to split, combine, or delete individual tracks and to add copy protection to the tracks to prevent them from being played on other computers.
Analog Recorder provides several mechanisms to help improve the quality of a user's music. It adjusts the recording level for users, which helps to prevent distortion and other effects that might degrade the sound quality. It provides special filters that reduce the popping and hissing sounds within their tracks. Users can also choose the amount of audio compression they want to apply to the tracks, based on whether they prefer better music quality or smaller audio files.
This feature alone is well worth the price of the software and personally, I have used it numerous times without much complain. Another great feature.
Plus! Dancer
Plus! Dancer displays a two-dimensional, animated dancer or pair of dancers on the Windows desktop. Users can start or stop the dancers at any time. They can set the dancers to appear only when audio is detected or to appear all the time, even when no music is playing.
Users can select the dancer that they want from the dancers that are included with the feature. They can also download additional dancers from the Internet.
When I first started the program, the dancers appeared on the Windows taskbar. I was able to drag them to any location on my desktop. I was also given the ability to configure dancer options, such as how visible the dancers are on my desktop and whether the Dancer program should start when Windows starts. The software includes more than 10 dancers. I was also able to download more dancers from the Microsoft website, including characters from Xbox games. But here comes the shocking news – when I wanted to download all the large characters, I realized it would take up near 400mb of my disk space! But the small characters are enough for my viewing pleasure and Microsoft will really have to do something about the size of the large characters before I start downloading the large characters from the website.
Plus! CD Label Maker
Using Plus! CD Label Maker, users can design and print custom labels for their compact discs (CDs), and inserts and booklets for their CD cases. It is also identical to the Plus! CD Label Maker included in Plus! for Windows XP, just that this time round, MP3 and WMV data CDs are supported.
The feature seems easy enough to use and my only complain may be the extra money involved in purchasing paper for printing. In my opinion, Microsoft should have included such paper in the package, making it a more worthwhile investment for us consumers.
Plus! Audio Converter
Plus! Audio Converter allows users to optimize their audio files by converting them to Windows Media Audio (WMA) files or MP3 files. Users can choose the bit rate for their converted files, deciding whether they want the files to have less compression and better sound quality or a smaller file size. Users can also specify conversion options, such as whether they want their audio files to be added to Media Library in Windows Media Player.
According to Microsoft, users might want to use Audio Converter to:

Convert audio files to a different format so music can be transferred to a portable device.

Convert a large number of audio files quickly to a different file format.

Make audio files more portable by converting Media Library contents to a smaller bit rate.
I was really amazed by the ease of use of the software but the lack of advanced naming capabilities may be something that Microsoft would want to look into.
Plus! Alarm Clock
Plus! Alarm Clock allows users to schedule alarms that play music or audio content in Windows Media Player. Users can set the alarm to wake or alert users at any time and date with their favorite music, a special sound, or a simple notification on your desktop. Like a bedside alarm, Alarm Clock enables users to listen to the music or sound, turn the alarm off, or set it to snooze.
The Alarm Clock window displays a list of the alarms I have created. I could see when each alarm is scheduled to occur, the music or sound that will play, and the alarm status—whether it is turned on or off, expired, currently ringing, or set to snooze. From this Alarm Clock window, I could quickly create new alarms and change or delete existing alarms. I was also able to configure default alarm and sound options.
Gone are the days when my alarm clock's ringing wakes up the whole family. With this application, I was able to wake up to the sound of my favourite mp3 playing, something which I thoroughly enjoy.
Plus! Sleep Timer
Plus! Sleep Timer let users set a timer that turns off the audio and video content playing in Windows Media Player after a specified number of minutes. For example, as you fall asleep, you can listen to music using Windows Media Player and have Sleep Timer turn off the music automatically for you.
Sleep Timer is a Windows Media Player plug-in that appears on a pane in the Now Playing area. From this pane, users can start and stop Sleep Timer and set the number of minutes until Sleep Timer turns off the content playing in Windows Media Player.
The Sleep Timer is without doubt the feature that I have most wanted. Close friends know that I sleep with my computer on, playing music over and over again. I am used to hearing music until I fall asleep and a night without music means a sleepless night to me. But it gets really irritating when my family wakes up in the middle of the night and hears my computer playing music. They would usually have to walk to my room and fiddle around for the speaker controls. Basically, with this feature, all my troubles have been gotten rid of. Kudos to Microsoft for allowing me and my family to have peace!
Plus! Skins for Windows Media Player 9 Series
Plus! Included eight new skins for Windows Media Player 9. I realized that a few of them were produced by www.theskinsfactory.com. According to their website, they "offer a wide range of new media services including custom skins and application interfaces, web design, corporate collateral and digital press kits". Apparently, Microsoft needed some designers outside of the company and licensed some of their skins. I thought the skins looked really "hippy", something which most teenagers will enjoy. The names of the eight skins are as follows:
Bionic Dot

Hard Boiled

HueShifter

Mecha

Plasma Ball

Professional

Pulsar

SlimLine
Plus! Effects and Transitions for Movie Maker 2
Plus! Effects & Transitions for Movie Maker 2 includes 25 new video effects and 25 new video transitions that you can use to enhance the movies you create and edit using Windows Movie Maker. Plus! Effects & Transitions are installed automatically with Plus! Digital Media Edition, and are available when users start Windows Movie Maker.
The only bad thing about Plus! Effects and Transitions is that it only works with Windows Movie Maker version 2 or later. Users will have to download the update before they can install the effects and transitions. Aside from that, I find no fault with this feature and I think most users will find it an added bonus for their movie making tasks.
Plus! Sync and Go for Pocket PC
Using Plus! Sync & Go for Pocket PC, users can synchronize content quickly and easily between their desktop computer and portable device. Users can use Sync & Go on their computer to select and organize content from the Internet and Media Library in Windows Media Player. They can also decide when and how they want Sync & Go to synchronize the content to their device's storage card. After Sync & Go synchronizes the selected content, users can play back that content using Sync & Go on the portable device.
Sync & Go enables users to manage synchronized content for up to six storage cards. Users can organize the synchronized content into groups, such as news and music. Within each group, users can assign content to individual presets, similar to the preset buttons on your car or home stereo, which make it easy to select and play the content they want.
I was able to synchronize the playlists in my Media Library to my storage card with relative ease and convenience. This is without doubt a must-have for existing Pocket PC users but I guess it is rather useless for consumers without a PDA.
Final Comments
How It Grades
Ease Of Use: 90%
Interface: 87%
Manual: 85%
Cost: 95%
Features: 95%
Overall: 90.4%
Plus! DME is a different kind of software, one which most users will find useful one way or another. If you are interested in digital media, digital photography or digital video, this is the software for you. If you are an existing Windows XP user, the dancers and Party Mode may be what you have been looking for all this while. If you are just another ordinary user, you may be attracted to the enticing capability of the alarm clock and timer. I strongly recommend it to anyone out there, even if you are buying it for some and not all of the features.
Specs & Package
Overall Score
90.4%
Version Reviewed
Plus! Digital Media Edition
Release Date
Out Now
In The Box?
CD, Manual
The Good Points

Extensive feature set

A must-have for digital media enthusiasts

The Bad Points

Requires a huge amount of space

Only for Windows XP users (officially)

Specific hardware requirements

Reviewers PC Setup

Pentium III 1.13Ghz
Gigabyte GA-6VEM Motherboard
1Ghz Kingston Value Ram
Western Digital 100Gig Hard Disk Drive with 8mb Buffer
Creative Extigy
Creative Inspire 5.1 5300 Speakers

PC Required

Operating system
Requirement: Microsoft Windows® XP Home Edition, Microsoft Windows XP Professional or Microsoft Windows XP Media Center Edition.

Processor
Requirement: 233 megahertz (MHz) processor, such as an Intel Pentium or Advanced Micro Devices (AMD) processor.
Recommendation: 500 MHz processor or faster, such as a Pentium III or equivalent processor.

RAM
Requirement: 64 megabytes (MB) of RAM. 64 MB of RAM may limit performance in some features.
Recommendation: 128 MB of RAM or higher.

Free hard disk space
Requirement: 205 MB of free hard disk space. Actual requirements will vary based on your system configuration and the Plus! Digital Media Edition components you choose to install.
Up to 320 MB of free hard disk space may be required if you are installing Plus! Digital Media Edition over a network or from the Internet.

Video adapter and monitor
Requirement: Super VGA (800 X 600) or higher-resolution video adapter and monitor.

Other hardware
CD-ROM drive or DVD drive, keyboard, and Microsoft Mouse or compatible pointing device.

Internet access
14.4 kilobits per second (Kbps) or higher telephone/fax modem, cable modem, or Digital Subscriber Line (DSL) modem.
Internet access is required to activate Plus! Digital Media Edition. Internet access may require payment of a separate fee to a service provider. Local and/or long-distance telephone toll charges may apply.