DirectX
ActiveMac
Downloads
Forums
Interviews
News
MS Games & Hardware
Reviews
Support Center
Windows 2000
Windows Me
Windows Server 2003
Windows Vista
Windows XP



News Centers
Windows/Microsoft
DVD
Apple/Mac
Xbox
News Search



ActiveXBox
Xbox News
Box Shots
Inside The Xbox
Released Titles
Announced Titles
Screenshots/Videos
History Of The Xbox
Links
Forum
FAQ



Windows XP
Introduction
System Requirements
Home Features
Pro Features
Upgrade Checklists
History
FAQ
Links
TopTechTips



FAQ's
Windows Vista
Windows 98/98 SE
Windows 2000
Windows Me
Windows Server 2002
Windows "Whistler" XP
Windows CE
Internet Explorer 6
Internet Explorer 5
Xbox
Xbox 360
DirectX
DVD's



TopTechTips
Registry Tips
Windows 95/98
Windows 2000
Internet Explorer 5
Program Tips
Easter Eggs
Hardware
DVD



ActiveDVD
DVD News
DVD Forum
Glossary
Tips
Articles
Reviews
News Archive
Links
Drivers



Latest Reviews
Xbox/Games
Fallout 3

Applications
Windows Server 2008 R2
Windows 7

Hardware
iPod Touch 32GB



Latest Interviews
Steve Ballmer
Jim Allchin



Site News/Info
About This Site
Affiliates
Contact Us
Default Home Page
Link To Us
Links

News Archive
Site Search
Awards



Credits
©1997-2012, Active Network, Inc. All Rights Reserved.
Please click here for full terms of use and restrictions or read our Light Tower Privacy Statement.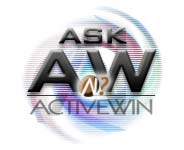 Welcome to AskAW! This section of our web site lets you submit questions about any problems/queries that you may have about Windows. Be it from a little icon that annoys you to hardware freezing your PC, we will try and help you out. You can submit your questions by e-mailing us at askaw@activewin.com. You can browse through previous questions over at our Archive Page. Who knows what you might find.
Here are the answered questions for 01-05-2001
---
Question

Submitted by Kok

Hello, I recently installed Win 2000 professional hoping it would be more stable compared to Win ME. Ever since then, every time the phone rings, Win 2000 hangs. Why ? I'm using a Creative modem blaster but that should not be the problem b'cos it worked fine under Win ME. Really appreciate your help, thanks !

Solution 1
Answered by Stefan Assmann

Have you tried to install the latest Creative modemblaster drivers for Windows 2000? This might solve your problem. Unless you're using WDM drivers, Windows Me and Windows 2000 drivers can't be interchanged. Drivers are at http://www.modemblaster.com/download/drivers.asp. Choose Windows 2000 from the OS list on the left, your modem type from the right column and click the "Get Files" button. If this doesn't help, try the Windows 2000 device manager (right click "My Computer" on the desktop, choose properties, go to the Hardware tab and press the "Device Manager" button). Expand your modem selection and see if there are any IRQ and/or DMA conflicts. Hope this helps. Good luck! Regards

Solution 2
Answered by Charles Putnam

Also, are you using any telephony software? If so, go to Control Panel, then Administrative Tools, then Services. Scroll down to see if that particular program is listed. Under the Startup Type column, if it shows as Automatic, that means that it's automatically running.
Right click on that particular applic/service and go to Properties. Choose Startup Type and change from Automatic to Manual.
And..as Stefan recommended, get the latest drivers.
---
Question

Submitted by Unknown

Is there a way to delete the index.dat file in the cookies folder in Windows ME?

Solution 1
Answered by Stefan Assmann

You can't actually delete this file, but you can compress it and throw out the wasted space by means of a utility like Window Washer ( http://www.webroot.com/washer.htm ). Incidentally, index.dat is not only for cookies, it also holds pointers to the cache of your browser (Internet Explorer). Hope this helps. Regards

Solution 2
Answered by Ashton Smith

Actually you can delete it by booting from a DOS disks or a Startup Disk that you created from the Control Panel. From DOS, you can delete the file.
---
Question

Submitted by Larry

Dear Sir, I recently purchased a new computer with Windows ME installed. On my old computer I had the Power Toys set installed and was running Win98. In this set of toys I had a utility called "Send To", which was very handy. It enabled me to send files to any folder. I have searched all over for a similar utility for ME, but can only find it for Win95. Can you point me in the right direction? Any help you can provide is greatly appreciated. Thanks!!

Solution 1
Answered by Stefan Assmann

1. Download TeakUI fro Me and Win 2000 from http://www.microsoft.com/windowsme/guide/tweakui.exe.
2. Install it by clicking on it. This will unpack the files. Right-click tweakui.inf and select install.
3. Open My Computer, and look in the C:\ drive for the folder called Windows. Open that folder. In Windows 98, you may see a warning on the left side of your screen, with blue text that says "show files". If you see this, click on "show files". Now look for a folder called Send To. Open that folder. You are now looking at the items available to you when you use the "Send To" feature. These are all shortcuts, so deleting things here will not harm your computer. If there is something here that you don't need, feel free to delete it. One item that most people rarely use is My Briefcase. To add items to this list, such as My Documents or your e-mail client, just create shortcuts for them. Hope this helps. Regards
---
Question

Submitted by PatkWaltK

Hi, my problem is that when I go to the programs/accessories/MSDOS icon, I get the "bad command" error message followed by the c:> prompt. Once in DOS the DIR command works but the format command does NOT. However the format command does work when I am in the /Windows/Command directory. What gives ?? Any suggestions ?

Solution 1
Answered by Stefan Assmann

1. Ensure that there's a path variable either in autoexec.bat or in Windows that has a pointer to the windows\command path
2. Make sure that all required files (like format.com to format a drive or command.com for your DOS command line) are present in that folder. Hope this helps. Regards
---
Question

Submitted by Jeffrey

Hi Is there a way that I can select which programs start when Windows 2000 starts? In Win98, I did this by running msconfig.exe and there are options there that made it possible for me to disable useless programs that are running at window startup. How do I do this in Win2000? Thanks

Solution 1
Answered by Stefan Assmann

Ever heard of the startup folder? I suppose not :-) If you log in as the administrator on Windows 2000 and go to start / settings/ taskbar & start menu / advanced / advanced, you'll get a second explorer window. If you look carefully, you'll be positioned in the "start menu". Open the sub folder "Programs". In it, there's a folder called "Startup". Just place shortcuts here to the programs you want to start with Windows and you're there. Note: this works for all Windows versions :-)) Hope this helps. Regards

Solution 2
Answered by Fred Young

Get the control panel, or import msconfig.exe from win 98. It will run for startup items only.
---
Question

Submitted by Erik

Hi, I am using win2k, and I am the only person who uses this computer, so my problem couldn't be from someone else. Anyways, every time I go to get on the internet, or try to create a network( i have another computer), or somthing that has a window that pops up and asks for a username and password, a, somewhat long, password is already in the password box, that I do not recall entering. I recently re-installed windows2000(for other reasons) and the password is still there. Its no problem to get online or whatever, I just delete it and type in the password i need, but I can't create a network with my other computer, because I need to know the password to log on with, and I don't, so I was wondering if there is any programs or tricks you might know of to reveal this password or get around it? Also, If you have a program that you think might work, make sure it works for win2k because I have gone through probably all of the passwork revealers on Download.com, and none of them will work on 2000. (well the ones i tried anyway) Thanks

Solution 1
Answered by Stefan Assmann

Since Windows 2000 is a NOS (network operating system), primarily used in companies or organizations with network connections, you just don"'t start it up and be logged in like the Windows 9x series. Windows 2000 requires you to log on before you can do anything with it. Logging on means entering a username and a password. Even if you're using Windows 2000 Professional, you have to log on. But after Windows 2000 Pro has been installed, it runs a wizard the first time you boot it afterwards, giving you the choice of you being the only person going to use the computer or letting you choose how you wish to log on. If you select the first option, Windows 2000 simply takes the administrator account and uses the accompanying password to let you log in. It then fiddlles with a few registry entries so you won't have to log in anymore yourself the next time you boot the PC because the process has been automized. The password of the administrator account is the password you had to type in when you were installing Windows 2000. I hope you still remember it :-) Notwithstanding the security risks envolved with this practice, my guess is there's something messed up in the registry. So you're going to have to alter it. Here's how:
1. Open your Start menu and choose Run.
2. Type regedit and press OK.
3. The Registry Editor will appear.
4. Expand the key HKEY_LOCAL_MACHINE\SOFTWARE\Microsoft\Windows NT\CurrentVersion\Winlogon
5. Choose Edit / New / String Value from the menu.
6. Name the value DefaultUserName and press Enter.
7. Double-click the value you just added and enter Administrator into the box. Press OK to close the box.
8. In the same way as in point 5, add the value DefaultPassword
9. Double-click this value and add the password here you use to log into your computer.
10. Now add the value AutoAdminLogon and set it to 1.
If you now exit the registry editor and choose start / shut down / restart, Windows shouldn't bother you anymore with password dialogs. Oh, and the reason the password is so lenghty in display and can't be displayed by the utilities you tried is because the passwords in Windows 2000 for user accounts are encrypted. Hope this helps. Regards
---
Question

Submitted by Bailey

Hello, i saw your website and i hope that you can help me. i installed windows 98 second edition on a pentium 75 with 32 MB of RAM, i was hoping to use it to share an internet connection. whenever i boot windows, it tells me that icsmgr has performed an illegal operation and i can't access the internet from the other computers. i have already checked all my settings, reinstalled ICS, and redone all of my dial up networking settings and network settings. i was wondering if ICS required a faster computer or if you knew how to fix this problem. i would appreciat any help youy could offer. thank you

Solution 1
Answered by Stefan Assmann

Check to see if the illegal operation is always the same hexadecimal error number. If its is, some other program or drivers is trying to map the same memory space than the ICS manager. In most cases, this is your videocard driver. Try going to a lower resolution, lower refresh rate and/or less colours and see if that has any effect. Hope this helps. Regards
---
Question

Submitted by Siddhartha

I recently 'clean installed' Windows 2000 (5 months ago) and truly have no problems other than the fact that I can't use my digital cameera and several games due to its limitations. I purchased Windows Me and a second hard drive, planning on copying the files i want to keep from my first hard drive and then reformatting the first drive and replacing the OS with windows Me. After copying whatever I wanted to save onto my second drive, I tried to format the C: drive by using the format function that is available from a right-click on the drive's icon in 'My computer'. I got a prompt telling me that windows cannot format this drive, to quit any programs or utilities that use the drive, make sure that no window is displatying the contents of the drive, and to try again. I closed all windows and programs, went in to task manager and closed any progam from the 'processes' tab that the OS let me close, then closed all windows and tried to format again, but it gave me the same message again. I had also closed all running programs (which have icons on the bottom right of the screen). I believe I was pretty thorough and I have done this dozens of times before, but always with OSs which have dos prompts (previous Windows versions). I am planning on maybe dual OSing with 2000 and Me but when I put my ME upgrade disk inside (I also own 98SE to work with the upgrade) but it did not allow for me to uninstall, and only the Microsft sampler and Documentation sections of the software. I would appreciate any help in this matter. Thanks a Lot

Solution 1
Answered by Mean Drake

It seems you are trying to format your c: from within windows. That is not possible is it. You will have to boot your computer with either a startup disk or a bootable CDROM and then format the drive and load the OS.
---
Question

Submitted by Corey

I currently use windows 98. I read that games function better when all unnecessary programs are closed. It said that the only programs that must remain open are: explorer and systray. Here's the problem, when I try to close certain programs, (in the Ctrl+Alt+Delete menu), it says that the program is not responding. When I click to close anyway, it says closing that program at the top of the window, however my computer freezes up. Is there any way I can correct this problem, or prevent these programs from loading when I turn my computer on. Thank you

Solution 1
Answered by Mean Drake

Almost all aplications can be closed from this dialog box even when they are reported as non-responding. You shall have to let us know what these applications are. Whether you can identify their source on the computer.
If you can, the best way to prevent certain programs to startup is to use the msconfig utility of windows and disable whatever you don't want to startup with windows.
---
Question

Submitted by Philip

I'm trying to install windows 98 version 2 over windows 95 plus. The install say's I need to install windows 98 upgrade ,which I don't have is there a way around this.

Solution 1
Answered by Charles Putnam

Did you purchase the "upgrade version of Win98 SE" or the full version? Additionally, it sounds like you have Microsoft Plus for Win95 installed. You may need to uninstall that, along with any other utilities.
You may want to consider a "clean" install. Back up all of your data files to something like a ZIP disk or CDRW and reformat the HD. Doing a clean install makes sure that you're not carrying over any errors or problems from Win95.
---
---
Question

Submitted by Betty

Hi When I use some of the new Windows 98 Desktop themes, I lose my toolbar at the bottom. It seems to disappear after I go into screensaver mode and then come back. I am using auto-hide, but the toolbar should appear. The only way I know of getting it back is to restart the system. Any advice? Thanks

Solution 1
Answered by Charles Putnam

Are these Win98 themes that came with Win98 or Plus, or ones that were downloaded via the internet? If via the internet, these may be the problem.
Also, right click on the task bar and make sure that Autohide is NOT checked and Always on Top IS checked.

Solution 2
Answered by Marc Strickland

Hi, I have seen this issue myself, I use a lot of desktop themes. What I have done is, bring your mouse to the bottom of the screen and move it around little by little until you see the double arrow appear as your pointer. Right click and hold, then pull up the task bar to your desired height. Hope this helps you!
---
Question

Submitted by Unknown

Recently, I updated Intellipoint from 3.1 to 3.2. Big mistake! Now my cursor seems to skip pixels and jump back the other direction when I play games that require a mouse. I never had any trouble before. Now I have a hard time getting the cursor on the edge of a window to resize, among other things. Not to mention it's made my games unplayable. : - ( How can I remove these drivers/registry entries completely and reload 3.1? I've tried a lot of things already........HELP!!!!!!! Nothing seems to work. I've been screwed by Microsoft again!

Solution 1
Answered by Charles Putnam

Under Control Panel, and Add/Remove Programs, you should be able to uninstall the drivers. Also, make sure that you have the latest drivers for your video card as older drivers can also cause cursor related issues.
---
Question

Submitted by Unknown

I would like to install windows 98 version 2 over windows 95 plus. The windows 98 tells me I need windows 98 upgrade. Where do I get this or is there a simple way around this problem without having to take off 95 first?

Solution 1
Answered by Fred Young

Get the win98 upgrade disk. It was made for the purpose you describe. Take the disk you have back to the store where you bought it and get an exchange, or try Microsoft for an exchange. Good luck.
---
Question

Submitted by Don

I have recently upgraded my system at my office to Win 2000. For interoffice messaging, our staff uses Winpopup. Is there a version of Winpopup in Windows 2000 or is there any alternative programs that I may be able to use? Your help is appreciated.

Solution 1
Answered by Marc Strickland

The following is from the Microsoft Web Site:

The WinPopup utility is available in all Windows network client operating systems such as Windows 95, Windows for Workgroups 3.11, and Windows 3.1 for sending popup messages among computers in the network. However, this utility is not available and not supported in Windows NT.

To send popup messages among Windows NT computers and network client computers, use the NET SEND command from the MS-DOS Command Prompt in Windows NT as follows:

net send <computer_name> "<message>"

The quotation marks are optional.
To make sure that Windows for Workgroups or Windows 95 clients can receive messages sent from Windows NT you need to make sure that WinPopup functionality is enabled on the client side. To enable WinPopup on Windows 95 clients, please refer to Q132887. To enable WinPopup for Windows for Workgroups clients, go to Control Panel>Network then select the Startup button and make sure that the "Enable WinPopup" checkbox is selected. Click OK and then exit the Microsoft Windows Network dialog. Close Control Panel, then exist and restart Windows.

Windows NT Workstation and Windows NT Server receive popup messages through the Messenger Service. You can start the Messenger Service by running Control Panel and choosing Services. Set the service for Automatic Startup and start the service.

Additionally, there are third-party, shareware Windows graphical utilities that provide a Windows interface for users needing to send messages across Microsoft networks. These third-party applications can be found on CompuServe, typically in the WINSHARE forum. Other sources for such utilities are on the World Wide Web (WWW). You can use WWW search engines like Yahoo and Lycos to locate Web sites with these Windows utilities.

The product discussed here is manufactured by a vendor independent of Microsoft; we make no warranty, implied or otherwise, regarding the product's performance, usability or reliability.
---
Question

Submitted by Mike

I have a Intel p3 850mhz processor which the bios recognizes, yet windows 98se does not. It reports it as a Pentium 2 How do you get windows to detect it as a pentium3? Even in device manager the processor to AGP entry is Pentium 2.

Solution 1
Answered by Ashton Smith

It is not really critical that the OS recognizes it as a Pentium III. But, you can make sure that you have all of the components of your system updated by doing a Windows Update in Internet Explorer while you are connected to the Internet.
Programs will still be able to use your PIII processor no matter what the OS thinks it is.
---
NOTE: Please note that ActiveWin nor the AskAW staff can take any responsibility for anything that may/may not occur when taking our advice. If you do anything that is included in our advice, you are doing so at your own risk.
If you have any questions pertaining to a particular answer please contact the person who replied.
You can contact anyone of our staff here or email us at askaw@activewin.com