DirectX
ActiveMac
Downloads
Forums
Interviews
News
MS Games & Hardware
Reviews
Support Center
Windows 2000
Windows Me
Windows Server 2003
Windows Vista
Windows XP



News Centers
Windows/Microsoft
DVD
Apple/Mac
Xbox
News Search



ActiveXBox
Xbox News
Box Shots
Inside The Xbox
Released Titles
Announced Titles
Screenshots/Videos
History Of The Xbox
Links
Forum
FAQ



Windows XP
Introduction
System Requirements
Home Features
Pro Features
Upgrade Checklists
History
FAQ
Links
TopTechTips



FAQ's
Windows Vista
Windows 98/98 SE
Windows 2000
Windows Me
Windows Server 2002
Windows "Whistler" XP
Windows CE
Internet Explorer 6
Internet Explorer 5
Xbox
Xbox 360
DirectX
DVD's



TopTechTips
Registry Tips
Windows 95/98
Windows 2000
Internet Explorer 5
Program Tips
Easter Eggs
Hardware
DVD



ActiveDVD
DVD News
DVD Forum
Glossary
Tips
Articles
Reviews
News Archive
Links
Drivers



Latest Reviews
Xbox/Games
Fallout 3

Applications
Windows Server 2008 R2
Windows 7

Hardware
iPod Touch 32GB



Latest Interviews
Steve Ballmer
Jim Allchin



Site News/Info
About This Site
Affiliates
Contact Us
Default Home Page
Link To Us
Links

News Archive
Site Search
Awards



Credits
©1997-2012, Active Network, Inc. All Rights Reserved.
Please click here for full terms of use and restrictions or read our Light Tower Privacy Statement.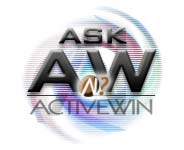 Welcome to AskAW! This section of our web site lets you submit questions about any problems/queries that you may have about Windows. Be it from a little icon that annoys you to hardware freezing your PC, we will try and help you out. You can submit your questions by e-mailing us at askaw@activewin.com. You can browse through previous questions over at our Archive Page. Who knows what you might find.
Here are the answered questions for 01-12-2001
---
Question

Submitted by David

Hi guys, I'm looking to get a DVD player could you explain the difference between hardware and software DVD players, and any other things to look for. I have win ME.

Solution 1
Answered by Charles Putnam

Hardware DVD players use a separate card to decode DVD (RealMagic used to make 'em). Software DVD decoders work with your current graphics card. Two that work with Windows are Cinemaster 99 from Ravisent ( www.ravisent.com ) and WinDVD2000 from Intervideo ( www.intervideo.com )

Solution 2
Answered by Andrew Funderburk

Software DVD decoders/drives, like IoMagic's Magic DVD, use a software program to decode and playback DVDs. They use the video card and cpu to do all of the work. These are decent players if you want something inexpensive. The downside though, is that they can easily take a hefty toll on your computer's performance and the audio and/or video from the DVD can suffer. Hardware decoders on the other hand, come with a dvd decoder card that takes care of decoding the audio and video from the disc. The decoder card decodes the dvd signal and then sends the decoded audio and video to the video and sound cards for output. This approach taxes the system less, giving better audio and video performance. On the downside is that it can easily be more expensive and requires an available PCI ver. 2.1 slot. An example of hardware decoding is Creative Labs PC-DVD Encore.
---
Question

Submitted by Relkin

Dear AW, I have the latest version of Internet Explorer on my Win98 system. I have recent encountered a problem where the status bar in Internet Explorer has disappeared. I no longer have any information about my connection status or what my browser is doing. I don't know what triggered this problem, either. I know there was some software loaded, but don't know what. Can you help me get the status bar back? If not, I face probably re-formatting of my computer (again)

Solution 1
Answered by Travis Rendell

I am assuming you are talking about the bar that is normally at the bottom of each window. This can be toggled on and off, by going to View, then clicking Status Bar. When the status bar appears, "Status bar" under the view menu should then have a check next to it, identifying that it is being shown. Good Luck.
---
Question

Submitted by Steve

I have a computer, much newer than this one, that will not complete a boot up to Windows 98. Actually it comes close. It does a virus check and then it must try to start explorer. I get a message that the program has performed an illegal operation. Explorer.exe is mentioned in the details. Is their any hope for my computer? Can I fix this. How? All help is greatly appreciated.

Solution 1
Answered by Charles Putnam

Something has corrupted Windows Explorer (explorer.exe). Unfortunately, the only fix would be a clean install. i.e. Format the HD and reinstall Win98.

Solution 2
Answered by Travis Rendell

Try booting off the Windows 98 CD and attempting to just reinstall Windows before you reformat. To do this set your bios to boot off the CD Rom before booting off the Hard Drive, then run setup for installing Windows. Good Luck.

Solution 3
Answered by Brian H. Ng

Have your tried booting into safe mode? If that is successful you can try step by step disabling certain items in your startup folder or services in your registry.
---
Question

Submitted by Brian

Hello, I'm currently living in Japan and want to buy a Japanese computer. However, I already tried to buy a Japanese made DVD player but was told that it is not compatible with North American DVD's. If I was to buy a Japanese computer with a DVD will it still not be compatible with N. American DVD's. Also, how compatible is the hardware devices and software programs? Thanks

Solution 1
Answered by Charles Putnam

The issue is that DVD players are region coded. Since it's mfg/sold in Japan, it's region locked to there. Most DVD's are region coded so they will play only on a player of a compatible region. Check to see if the region can be changed either thru a firmware update or via changing the properties under Settings option in Control Panel.
---
Question

Submitted by Frank

I have put 3 partitions using fdisk on my IBM ata100 hard drive fdisk tells me they are there but win98 only finds 2 c:& d: drives I thought I would get over this by making one logical drive 95% but win98 only finds the smaller drive .Please could you tell me where my megs have gone. Thanking you

Solution 1
Answered by Travis Rendell

The remaining partition may need to be formatted for FAT32 so that Windows can see it.
---
Question

Submitted by Unknown

I was wondering if u could help me...I'm currently running a tbird 800 msi pro2a mobo 256 mb ram ibm 75gxp 30gb ata100 hdd win2k...my computer runs like my old p2400. benchmarking with passmark performance test shows hard disk transferring at ard 5-6 mb/s...checked ide controllers transferring using PIO mode..cant seem to change to dma..any clue?

Solution 1
Answered by Stefan Assmann

Make sure you have the latest BIOS version and that your settings in your BIOS for the hard drive are correct. If your motherboard doesn't support DMA 100 out of the box (see the manual), you have to buy and install a separate controller. Lastly, see that you install the latest and correct win2k drivers.

Solution 2
Answered by Brian H. Ng

I am assuming your motherboard is the K7T Pro2-A from MicroStar? I did a quick check and it does support UDMA 100. I would try upgrading the chipset drivers for your motherboard from Via. Their website for their drivers is http://www.viatech.com/drivers/index.htm. One additional thing that I can think of is if you are using the correct IDE cable for your ATA100 drive. The newer ATA100 drivers requires special IDE cables that should have been included with your motherboard. Hope this helps.
---
Question

Submitted by anshul

Dear sirs,
I am user of win2000 professional my quires are
1.how to mirror two scsi hdd of same capacity?
2.how to give disk quota to users?
3.how to make my win2000 prof. as a server/domain
controller?
I would be obliged if you give me the solutions as soon as possible. regards

Solution 1
Answered by Stefan Assmann

Let's go over your questions one by one.
To mirror to SCSI hard drives of the same capacity, you must
a. Install the NTFS file system. If you already have data on the drive's), you can convert them to NTFS by opening a command window and typing convert <drive:> /fs:NTFS. If it's the drive where the system files reside, you'll get a warning that it can't be done until you reboot the computer and if you want to schedule the conversion on the next reboot. Click yes and reboot the machine.
b. Make the drives dynamic volumes. Right-click My Computer, choose Manage and choose disk management (under the Storage heading). Right-click your volume and select the "Upgrade to dynamic volume" option.
c. Use disk manager to set mirroring.
2. How to give disk quota to users?
If you have installed the NTFS file system, the quota option will appear automatically when you select the properties of a drive.
3. How to make my win2000 prof. as a server/domain controller?
You can't. You'll have to buy a Windows 2000 Server product for that. You can control a DC from win2k pro if you're logged in as Administrator, but that's all.
---
---
Question

Submitted by Unknown

I recently upgraded to windows 2000. I have many programs that will not work any more, such as Rocky Mountain Tropy Hunter, 3d African Safari, Fifa2000, Emergency Room inter, and 3d Studio Max R3. If you know of any way to make these work again, I would appreciate any feed back.

Solution 1
Answered by Stefan Assmann

As far as games are concerned, be sure to
a. Upgrade to service pack 1 (generally a good idea) and all subsequent hot fixes
b. Go to the Windows Update site (via your start menu) and download the so-called compatibility packages
As for 3dMax, go its website and look for win2k support.
---
Question

Submitted by Carol

There must be a switch I can't find somewhere! When I use My Computer to look for folders and files, every level I open creates a button on the taskbar instead of replacing the previous one as Windows 95 does. What am I missing? Thanks

Solution 1
Answered by Stefan Assmann

You probably have an option set to have a new thread execute for each explorer window. To disable this, open my computer, go to tools / folder options / view and unclick the "launch folder windows in separate process" option.
---
Question

Submitted by Patrick

Hello. I used to run dualboot W98/NT. I now want to run only W98 on my machine. After partitioning, formatting and installation of W98 I thought I could use Partition Magic to fix the rest of my 13GB hard drive. I can not find the rest of my hd, only the old part which I used when dualbooting. I have tried to run fdisk but I can not find the missing 10GB there either...Where have they gone?? And how do I do now??

Solution 1
Answered by Stefan Assmann

Have you formatted your NT partition using NTFS? Try using Partition Magic 6.0x in DOS (NOT dos mode!). Use a dos boot diskette for this. This should do the trick. FDISK should list the partition as "Unknown".
---
Question

Submitted by Nicholas

My system: 223Mhz, 196Meg of ram, 15-gig drive with 2 gig of storage remaining. Iíve run defrag & changed the virtual memory to 1500Meg (optimized for applications checked). My question is that my system is running incredibly slow. I canít even scroll an Internet web-page without the page "clicking" along. Opening folders is also very slow, even if there arenít that many files. My computer is 18 months old, and it wasnít nearly this slow when I had WIN98 on it. WIN2000 is great; I just need some help here. PS: You guys have a nice web-site.

Solution 1
Answered by Stefan Assmann

If you have only 2 gig left and changed your pagefile to 1.5 gig I can understand why it's slow :-) First of all, decrease the pagefile to about 300MB. Secondly, make sure your initial size is set the same as your maximum size. That way, Windows doesn't have to resize your pagefile anymore, which should make things run a bit smoother. Thirdly, it's best to put your pagefile on a drive or partition that doesn't have the win2k systemfiles on it (the winnt folder).
I would also buy Diskeeper instead of using the built-in defragmentzation tool. Diskeeper optimizes everything far better, including your folders, pagefile and MFT table(s).
---
---
Question

Submitted by Rena

I received a Compaq Presario 5000T with Windows ME. The system came with Micro Soft Works Word Processing. When I use the word processing, every time I go to file "close" it kicks me out of the program back to my desktop. It does ask me if I want to save changes and after I answer yes, then click "close" it sends me back to the desktop and I have to reopen the Word Processing. Is this a problem with Windows ME or is it a problem with the Micro Soft Softwear. I did not receive any disks with this computer as everything was pre-installed. Thank you for any help you can give me.

Solution 1
Answered by Mike Weisberg

That is what the close button is supposed to do. You could try using the 'X' button in the upper right hand corner. This should only close the open document and not the actual program. Hope this helps.
---
Question

Submitted by Sheila

Since taking delivery of my new computer, with Windows ME (4 weeks) it has continually given error messages, crashed etc. I attach my faultlog in the hope you can help. My warranty helpline says it is a software problem and suggests I reinstall Windows ME with my Restore disc, which I have done tonight, but already the computer 'froze' whilst I was on the internet. I am at my wits end. The error messages appear in all my programs. Sometimes I have to unplug the computer at the wall in order to turn it off and restart it. Regards.

Solution 1
Answered by Mike Weisberg

Sounds to me like it is a driver problem. I would try formatting the drive and then reloading win me. If this doesn't work, then I would take it back. There no reason why this brand new machine should not work.
---
Question

Submitted by Unknown

Just purchased a HP 6746C 733mhz celeron, with Windows Me. System continues to freeze in almost all applications, At this point I am unable to Ctrl-Alt-Del to re-boot. The keyboard is frozen and the system will not turn off with the on/off button unless I cut power to the system. At time of problem, the screen sometimes blanks out briefly then locks out. Is this a Windows Me problem or a hardware problem...should I return the system? Thank you in advance for your help.

Solution 1
Answered by Marc Strickland

If you just purchased this system and you are having a lot of problems with it, by all means return it! Resolving these types of issues can be real difficult unless you have a lot of computer skills.
---
Question

Submitted by Scott

I have a Pentium 600 HP Pavillion that HP has locked out the ability to edit the registry and to access the advanced menu features for taskbar. How did they do it and how do I turn it off. I would love to format the HD to solve it but there are some programs that were installed at the store that are not on back ups (I know not real smart on that one). Any suggestions would be appreciated.

Solution 1
Answered by Brian H. Ng

What operating system are you running? If you are running Windows2000 you might not be logged in as an administrator with sufficient rights to access those features. However, if you are using Win9x/WinMe what error message(s) are you getting when you run regedit?
---
Question

Submitted by Unknown

I am sharing my cablemodem connection using a WinMe machine as the server and two Win98 machines as clients.
For certain web pages, the clients will time-out before ever downloading the page. Others behave properly. We did not have this problem until I upgraded the server OS to WinMe.
What is the nature of this "feature" and how do I get around it?

Solution 1
Answered by Brian H. Ng

Are you using an older version of AOL? If so try upgrading to the newest version. There is also a Microsoft knowledge base article that you might be useful. It is at http://support.microsoft.com/support/kb/articles/q274/4/98.asp Of course if you do decide to make any registry changes be sure to back up your existing one just in case something goes wrong.
---
Question

Submitted by Graham

Hi AW, I have an interesting, yet highly frustrating problem. When I left click on the Start button on the taskbar all I get is a depressed button - no Start Menu, nothing. However I can right click the Start button and it pops up the usual Open, Explore, Find. Please give me some tips or a solution. I am running Windows 98 SE upgrade from Win 95.

Solution 1
Answered by Brian H. Ng

Does this happen all the time or is it intermittently? One thing that might be causing the error is an incorrectly installed or conflicting sound driver. Check your sounds control panel applet. Under the Section for Windows there is an event called "Menu Popup" see if there is a sound associated with it. If there is try setting it to none and see if that works. Only other reason that I can think of that would cause the start button not work at all is incorrect video drivers. Hope this helps.
---
Question

Submitted by Ravi

Hello, I was wondering if you could tell me whether or not a script can be written at the command prompt of Windows 2000 to send an email. If so, what is this option and how would I use it? Thanks

Solution 1
Answered by John Lampson

Ravi,
Yes! It can be done!
All you need is the program MailSend. Here's the link: http://www.dataenter.co.at/download.htm#MailSend
Have fun!
---
Question

Submitted by Rick

I have just started having a problem with mail in Outloook Express. I am running Windows 98 and Express version 5. When I open I new message I have just send, I get a warning message "AcviveX control on this page is not safe". The person receiving the message also gets the same warning when reading the mail message. Changing text format to plain text gets around the problem, but what is the real problem and how to I correct it? Thanks

Solution 1
Answered by Mean Drake

I would strongly recommend you scan your computer for the KAK virus. It can be found manually too by looking in the registry. Look up the Symantec or the McAfee site for details. Viruses like the KAK virus automatically insert an invisible activeX control on the page and it is this which might be causing the problem
---
Question

Submitted by Paul

Thank you for the easy to navigate site. I just spent 30 minutes on the Microsoft site to find out I had to pay for my question, NOT! I am running Windows 98 and Outlook Express 5.0. I have subscribed to an opt in list and will begin e-mailing within the week. The problem is this: I can send in a new e-mail every day to the host. I have three ad copies that I want to send on a rotational basis. How do I set up these three ads so that they can easily be placed as an e-mail, not an attachment. I have tried stationery but it will not accept text, only backgrounds. Is attachment the only option I have? Thanks

Solution 1
Answered by Mean Drake

Any HTML document can be set up as stationery. It seems to be your best solution. Just make up an HTML page with the AD and store it (With the images) in the stationery folder.
---
NOTE: Please note that ActiveWin nor the AskAW staff can take any responsibility for anything that may/may not occur when taking our advice. If you do anything that is included in our advice, you are doing so at your own risk.
If you have any questions pertaining to a particular answer please contact the person who replied.
You can contact anyone of our staff here or email us at askaw@activewin.com