DirectX
ActiveMac
Downloads
Forums
Interviews
News
MS Games & Hardware
Reviews
Support Center
Windows 2000
Windows Me
Windows Server 2003
Windows Vista
Windows XP



News Centers
Windows/Microsoft
DVD
Apple/Mac
Xbox
News Search



ActiveXBox
Xbox News
Box Shots
Inside The Xbox
Released Titles
Announced Titles
Screenshots/Videos
History Of The Xbox
Links
Forum
FAQ



Windows XP
Introduction
System Requirements
Home Features
Pro Features
Upgrade Checklists
History
FAQ
Links
TopTechTips



FAQ's
Windows Vista
Windows 98/98 SE
Windows 2000
Windows Me
Windows Server 2002
Windows "Whistler" XP
Windows CE
Internet Explorer 6
Internet Explorer 5
Xbox
Xbox 360
DirectX
DVD's



TopTechTips
Registry Tips
Windows 95/98
Windows 2000
Internet Explorer 5
Program Tips
Easter Eggs
Hardware
DVD



ActiveDVD
DVD News
DVD Forum
Glossary
Tips
Articles
Reviews
News Archive
Links
Drivers



Latest Reviews
Xbox/Games
Fallout 3

Applications
Windows Server 2008 R2
Windows 7

Hardware
iPod Touch 32GB



Latest Interviews
Steve Ballmer
Jim Allchin



Site News/Info
About This Site
Affiliates
Contact Us
Default Home Page
Link To Us
Links

News Archive
Site Search
Awards



Credits
©1997-2012, Active Network, Inc. All Rights Reserved.
Please click here for full terms of use and restrictions or read our Light Tower Privacy Statement.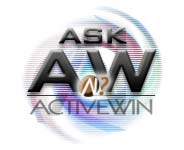 Welcome to AskAW! This section of our web site lets you submit questions about any problems/queries that you may have about Windows. Be it from a little icon that annoys you to hardware freezing your PC, we will try and help you out. You can submit your questions by e-mailing us at askaw@activewin.com. You can browse through previous questions over at our Archive Page. Who knows what you might find.
Here are the answered questions for 01-19-2001
---
Question

Submitted by Ken

Hello, I found your site through a Google search on the above subject line. Someone asked this question before, but I can't seem to find your response. I tried the site search, but got a "CGI" error... Anyway, my setup is: WinMe on a PIII 733/133, 256 MB RAM, 2 UDMA 66 HDs. My problem is that although I can run Scandisk on all partitions, the last drive (which is all MP3's) will not defrag, thus the ID No. DEFRAG004 error. Any ideas? Thanks

Solution 1
Answered by Ashton Smith

You need to do a thorough scandisk of all of your hard drive partitions. Have it create a log during the scandisk and look at it after each hard drive is finished. A thorough scandisk will get you past this error in the defrag process.
---
Question

Submitted by

James

hello I am really looking forward to the best console the xbox. but can you just tell me some interesting stuff, how much will it cost what are the games like. are the graphics good. and is it true that the xbox will play any computer game. thank you and please reply back will lots of info

Solution 1
Answered by Ashton Smith

The XBox will be coming out in the Fall of 2001. The final price hasn't been announced, but it is speculated to cost between $299 and $399. It will be quite an impressive machine. It basically is a fine tuned computer that will be very good at what it does. It will not run standard computer games, but will require games written specifically for the XBox.
The processor will be made by Intel and the graphic chipset by NVidia. It will have four game controller ports, and will support DVD movie playback with a small remote control add-on. The OS will be a custom built version of the upcoming version of Windows code named Whistler (the successor to both Windows 2000 and ME), and games will be written to take advantage of the DirectX system in that OS.
The controllers will have force feedback built-in. The actual XBox unit is about the size of a standard Stereo VCR. Numerous games and game companies have announced that they will be supporting the XBox platform including most recently, Electronic Arts, and Lucas Arts.
You can get more details at these great sites:
http://www.xbox365.com/
http://www.xbox.com/xbox/flash/home.asp
http://www.activewin.com/xbox/news.asp
http://xbox.ign.com/
http://www.sharkygames.com/hardware/console/xbox_unclothed/
---
Question

Submitted by Charles

Dear Sirs, Whistler seems a hot topic these days. Could you tell me if Whistler support NTFS only ? And how about the UDF ? Where can I find about more technical information about Whistler ? especially it's File Systems supported. Thanks in advance. Best Regards

Solution 1
Answered by Ashton Smith

Since Windows 2000 supports NTFS, FAT16, and FAT32, then Whistler will also support the same. It is unclear if Whistler will have an updated version of NTFS like Windows 2000 did when it was released. I haven't heard anything about changes in Universal Disk Format support since Windows 2000 can read and fully supports the UDF used by DVD's.
There is a mention of UDF support being built into Windows 2000 at http://www.microsoft.com/WINDOWS2000/library/planning/jumpstart/asx/Abstracts/VCON12.htm
---
Question

Submitted by Unknown

To AskAW,How can I change the location of the temp folder for each user under WIndows 2000 Pro. Thank you

Solution 1
Answered by Ashton Smith

The current user setting can be found at HKEY_CURRENT_USER\Environment
The default for all users is in HKEY_USERS\.DEFAULT\Environment
---
Question

Submitted by Al

I am using Microsoft Internet Explorer 5 - I cannot find how to deleting unwanted URL's from my Address Bar. Can anyone help?

Solution 1
Answered by Ashton Smith

I am using IE 5.5, and here is how you clean out unwanted addresses from your history.

--> Tools --> Internet Options --> Clear History (under General Tab) - This clears out the history of website you have visited.
--> Tools --> Internet Options --> Autocomplete (under Content Tab) --> Clear Forms and Clear Passwords - This deletes any previous information you have entered into forms or passwords for websites.
---
Question

Submitted by James

Hi Guys My prob is that I'm trying to install Win98SE over Win95 OSR2 and without fail when the install reaches the plug and play detection phase, it crashes with Msgsvr32 performing an illegal operation. I've searched the Microsoft knowledge base to no avail here, and it seems I may have found the answer in a language I don't read (French?) :( Does anyone have an idea as to how I can overcome this?

Solution 1
Answered by Ashton Smith

You can always have the French text translated through the Babel Fish tool at http://world.altavista.com/
---
Question

Submitted by Jeremy

I downloaded and installed the DirectX 8 SDK, and began to test it. I converted an example from the book Teach Yourself DirectX 7 in 24 hours to suit my needs a bit (using IDirectDrawSurface7->Lock and ->Unlock instead of BitBlt), and compiled. After working out all the compilation kinks, it generates a linker error: Undefined external 'DirectDrawCreateEx'. What have I done wrong? I'm using Borland C++ 5.02, just in case I didn't install DirectX 8 correctly.

Solution 1
Answered by Brian Lyttle

Jeremy, I'm sorry to have to tell you this, but AskAW is not the best place to get answers to C++/DirectX programming questions. As you are using a Borland compiler the best place to go and look for help is the Borland Newsgroups. Point your newsreader at "forums.borland.com". Also, take a look at the DirectX newsgroups on the Microsoft newsgroups, at "msnews.microsoft.com". A final point Jeremy, Borland C++ 5.02 is a very old compiler. Newer versions may perform better, and have fewer bugs. DirectX is a Microsoft product, so it will have lots more information applicable to Visual C++.
---
Question

Submitted by Bh

I recently downloaded a ttfont and can't get it to show up in in word or outlook express...what do I need to do?

Solution 1
Answered by Brian Lyttle

Bh, TrueType fonts must be installed. This process is very easy. Copy the font file (has a .ttf extension), in the Fonts folder inside your Windows directory. A dialog will briefly flash up, saying that the font is being installed. It will now appear in the font drop-down in Word.
---
Question

Submitted by Howie

Dear Sirs: I am experiencing fatal exception oe in vxd4wave. this comes up when we try to play certain games. I am at a loss as what to do and was hoping you could help! Thanks

Solution 1
Answered by Brian Lyttle

Howie,
It would appear that there is a problem with your sound card drivers. These .vxd files are part of the old style Win32 drivers.
I think that your best course of action is to uninstall the sound card from Device Manager, and restart Windows. If the device is plug and play it will ask when Windows is restarted. Reinstall your old drivers. The problem will go if the problem is a damaged install.
Otherwise go to the manufacturers website and get the latest drivers for your device. Then repeat the procedure above.
If this fails then I would try moving the sound card to another ISA/PCI slot and repeating these procedures. Avoid shared ISA/PCI slots. Try upgrading your BIOS. The last resort is to consider buying a different sound card, or an OS upgrade. Windows 98 has support for a newer type of device driver called WDM - as used by Windows 2000.
---
Question

Submitted by Unknown

I had Win98 SE installed as my OS, but I later upgraded it to Win2000 Prof. Edt. During the setup, it asked me if I want to update my file system from the present FAT32 to the new Win2000 NTFS system. So I did it. Now I want to remove win200 & install Win ME, but it not happening, nor is 98 getting installed. It comes NTFS file system decteded, Win98/ME cannot write on that. So I have to convert only my C: file system to FAT32, as the D: is already on FAT32, but this is not happening... from Win2000 it's not formatting... so I used a startup disk & then only my D: appears as it is still on FAT32 system...the NTFS system (C:) does not even appear...so I can't format it from there to. Now how can I either convert my file system to FAT32 or install WinMe over the Win2000? thanks.

Solution 1
Answered by Brian Lyttle

Windows 95/98/ME will not work in any shape or form with NTFS. You need to convert all of your partitions to either FAT16 or FAT32 (if they are 2GBs or larger). You will need to find a utility to convert it back to FAT32, PartitionMagic by PowerQuest is a good solution to do this.
Microsoft will no support going back from NTFS to FAT32, but it is easy to do if you have the right utilities.

Solution 2
Answered by Mean Drake

You can try running fdisk. Delete all your old dos and non-dos partitions and repartition and reformat the disk. You'll end up losing all data though.
---
Question

Submitted by Unknown

I have a running system qin 95 - 486, every time I try to log into a web site to play games it tell me I have performed an illegal service and will be shut down, how can I fix this problem? And also is there something I need to download so I can get into the games? Thank you for your help !

Solution 1
Answered by Mean Drake

Depends on what sort of games. There are many sites with games in Shockwave and you will need an upgraded plugin for that from Macromedia. These should be autodetect and auto install though.
---
Question

Submitted by Charles

I have experienced an error message on several occasions during\after installation of win98 that says that a missing pci.dll has been detected in C:\windows\system .The identifier is "vtnirq.pci". The message implies that I may need to reinstall this missing dll but I have not been able to find any reference for this item with any technical support that I have accessed. I don't seem to have suffered any harm from the situation, but I feel that I should at least continue casual investigation to discover the cause, any effects, and possible solutions to this mystery.

Solution 1
Answered by Mean Drake

This might have been a file of some software you uninstalled. The reference to the component though has not been removed and will have to be removed either from the win.ini file, the system.ini file or the registry.
---
Question

Submitted by Ted

I would like to change my o/s from windows98 to windows98SE. I'd like to do this without having to reformat the whole hard drive. I have heard something about a wincom file or win.com file somewhere in windows98. is there someplace where I can find step-by-step instructions on how to do this?

Solution 1
Answered by Mean Drake

Just pop in the Win98SE disk and if it is auto run you will be prompted if you want to upgrade. Click yes. If not prompted, just run setup.exe from the win98se disk.
---
Question

Submitted by Kosta

I am looking for the layout of "Outlook express" files. I recently had a problem on my hard drive and would like to recover my mail folders. Most of the files are still there but have a .chk extension. Hope fully you can help. Much appreciated.

Solution 1
Answered by Mean Drake

No I do not believe you can recover from these chk files. These are fragments of lost clusters and one cannot say where they belong. At least for my level.
---
Question

Submitted by Jeffrey

How do I wipe off windows 98 and re-install it?

Solution 1
Answered by Fred Young

If you want to "Wipe off" and reinstall.
1 start with your win 98 startup floppy and format your C: drive.
then;
2 reinstall Win 98 from your cd [after a restart]
Be aware that this will remove everything on your drive and leave you with a clean drive and a new installation of Windows. You need to back up everything that you will need in the future before doing this.
Perhaps just reinstalling Windows from the cd will accomplish all you desire without the above formatting. Good luck.
---
Question

Submitted by Unknown

My uncle is a backyard build and repair "computer guy", he's been at it for years and is very good at it but he insist on using DOS for everything, even if it can be done inside windows. Will Whistler limit the ability of those who use DOS like it was a second language? Excuse my ignorance and thank you for you time.

Solution 1
Answered by Ashton Smith

Whistler will probably support DOS just as much as Windows 2000 or ME will. You will not be able to boot into DOS mode, but you can open a DOS window running a virtual session of DOS.

Solution 2
Answered by Mike Weisberg

Sorry to say, but I have heard from many sources including www.wininformant.com and www.windowplanet.net from their reviews of Whistler that DOS has finally died. I guess this would mean that a DOS prompt will no longer be written into the OS, and that older DOS programs will no longer be support. I hear this is because Whistler is true 32 bit OS and won't support the 16 bit programs of DOS.
---
Question

Submitted by Dan

I am running Windows Millennium. With Win9x I could go to the registry and disable auto arrange for my desktop icons. I've done the same thing for WinMe but it doesn't seem to work. Every time I reboot, my icons snap back to the left of the screen. [Regedit and HKEY_CURRENT USER\Software\Microsoft\Windows\Policies\Explorer and typed in NoSaveSettings] does not seem to be an option with WinME. Or am I mistaken?

Solution 1
Answered by Mean Drake

Doesn't the easy way work. Right click on desktop, from the Pop-up menu select Arrange Icons and uncheck the auto-arrange option.
---
Question

Submitted by Greg

hi when I click on start then help error comes up windows cannot find helpcrt.exe.

Solution 1
Answered by Mean Drake

Either extract this from the cab files or do a reinstall of your OS.
---
Question

Submitted by Cindy

I don't know if this is the correct address to send this to ,if not please email me the correct one thanks. I am getting an error message if I remember right I think it only pops up when I try to get online. The message is: Explorer caused an Invalid page fault in module macxw4.DRV at oooa:ooooo93c. what is this and what do I do? Thank You

Solution 1
Answered by Brian H. Ng

Have you tried getting the newest drivers for your ATI video card? If so here are some other things you can try. I am assuming that you are using a Win9x based system? Try lowering the hardware acceleration for the video card to the "none" setting and see if they fixes your problems. If so start incrementing a notch a time until the error start appearing and then set it back one lower. Another thing you might want to try is to reduce your video color depth if it is currently at 32bit to 16bit.
---
Question

Submitted by Howie

sir: I am receiving fatal exception OE error in vxd asp4wave file and cant seem to clear it. I have tried file scan to no avail. Also talked to tech support and they thought I had a virus; this was not the case.Activex test show everything is fine. I even reinstall win 98 disc but no help. Any help with this would be great! Thanks

Solution 1
Answered by Brian H. Ng

From the name of the file that is giving you the error, asp4wave, I assume you are using an Aureal Vortex Wave Audio sound card? Have you tried updating the drivers for your sound card to see if that fixes the error?
---
Question

Submitted by Stumped HM Land

I have WinMe installed on my first hard drive (25gig, second is 12gig) and have been trying to add Win2K for a dual boot system, without any luck. When I try to install Win2K from within WinMe I get the error message "cannot detect version of windows", when I try to install from startup I get "no hard drive found". Both hard drives are formatted to fat32. I am running dual P3 600's with 384mg ram on an abit VP6 mobo. Any advice you can give would be greatly appreciated.

Solution 1
Answered by Brian H. Ng

The error you are getting is because you are running the Win2K setup program from within Windows Me. As a FYI Win2K cannot be upgraded from WinMe. Hence the error message you are getting. To install Win2K in a dual boot configuration is to boot up from your Win2K CD-ROM and run the installation from there. On a side not I would use NTFS for Win2K instead of FAT32. For the second hard drive (the 12 gig one) if it is empty, you should delete that partition from the setup program and create a new partition using NTFS. Hope this helps.
---
Question

Submitted by Marko

Hello! I have installed Windows 2000 Professional to ensure that the operating system is reliable in my work. I also installed DirectX 8.0 and now I want to have fun with my driving games. However, I cannot install the SideWinder program (SWGameEN.exe) to this platform. Is this at all possible, or how can I use my MS Sidewinder Force Feedback Wheel in Windows 2000 platform. Yours

Solution 1
Answered by Brian H. Ng

Are you logged in as an Administrator or a user with administrator rights? Furthermore, not all features may work and the software may not function properly. Here is a link to Microsoft's site in regards to your "wheel" in Win2K. http://www.microsoft.com/products/hardware/sidewinder/SWUpdate/FFWusb/FFWusb-Compat.htm#OS_Info Hope this helps.
---
Question

Submitted by Chris

What file do I need to delete in my registry so I can get rid of the ratings and supervisor password. Someone has tampered with my settings and changed my password so I can not access it to go back and change content advisor settings Reply soon Thanks

Solution 1
Answered by Brian H. Ng

Sorry, I am not sure if this will work but you can try this.
Select the icon called Key and delete it in the following registry key.
HKEY_LOCAL_MACHINE\SOFTWARE\Microsoft\Windows\CurrentVersion\Policies\Ratings
You can now start Internet Explorer and go to Tools, Internet Options.... Select the Content tab, and click on Disable. When asked for a password, don't enter anything, just click on OK. This will disable Content Advisor, since there's no longer a password. If this does not work I would suggest that you contact Microsoft Product Support Services for assistance.
---
Question

Submitted by Bill

HI, I am using win 98 with Pent II, 350Mhz, 128 Mb Ram. I only have about 85% of resources on reboot or start up. I have unchecked 15 Items from the start up tab(after start, run, type in msconfig") which brought it up from 82%. The resources go down rapidly and the computer drastically slows after about 10-15 minutes work. If I persist, the computer will freeze. Gateway says it is not a hardware problem and won't help. I switched from AOL (phone) to Roadrunner(cable) and installed Zone alarm to protect from intrusion. Help, please.

Solution 1
Answered by Ashton Smith

Do a Ctrl-Alt-Del to see a list of the programs that are currently running. Everything but Explorer is some sort of program running on your computer like virus protection or Zone Alarm. Explorer is the only thing required to keep Windows running (it provides the dekstop shell or interface).
If you do an "End Task" on each program in that list one by one until the only thing left is Explorer, then you will get an accurate view of what your memory resources are if your machine could be booted "clean". Check your performance tab of system properties once you have only Explorer left in the Close Program window.
To find what is auto-loading on your machine, check the following:
The Startup group on your Start Menu (found by default at c:\windows\start menu\Programs\Startup)
Any programs that are loading in c:\autoexec.bat or c:\config.sys
Any program that is running after the "run=" line in c:\windows\win.ini
Any program that is running in the following Registry keys:
HKCU\Software\Microsoft\Windows\Current Version\Run
HKLM\Software\Microsoft\Windows\Current Version\Run
HKLM\Software\Microsoft\Windows\Current Version\RunServices
---
NOTE: Please note that ActiveWin nor the AskAW staff can take any responsibility for anything that may/may not occur when taking our advice. If you do anything that is included in our advice, you are doing so at your own risk.
If you have any questions pertaining to a particular answer please contact the person who replied.
You can contact anyone of our staff here or email us at askaw@activewin.com