DirectX
ActiveMac
Downloads
Forums
Interviews
News
MS Games & Hardware
Reviews
Support Center
Windows 2000
Windows Me
Windows Server 2003
Windows Vista
Windows XP



News Centers
Windows/Microsoft
DVD
Apple/Mac
Xbox
News Search



ActiveXBox
Xbox News
Box Shots
Inside The Xbox
Released Titles
Announced Titles
Screenshots/Videos
History Of The Xbox
Links
Forum
FAQ



Windows XP
Introduction
System Requirements
Home Features
Pro Features
Upgrade Checklists
History
FAQ
Links
TopTechTips



FAQ's
Windows Vista
Windows 98/98 SE
Windows 2000
Windows Me
Windows Server 2002
Windows "Whistler" XP
Windows CE
Internet Explorer 6
Internet Explorer 5
Xbox
Xbox 360
DirectX
DVD's



TopTechTips
Registry Tips
Windows 95/98
Windows 2000
Internet Explorer 5
Program Tips
Easter Eggs
Hardware
DVD



ActiveDVD
DVD News
DVD Forum
Glossary
Tips
Articles
Reviews
News Archive
Links
Drivers



Latest Reviews
Xbox/Games
Fallout 3

Applications
Windows Server 2008 R2
Windows 7

Hardware
iPod Touch 32GB



Latest Interviews
Steve Ballmer
Jim Allchin



Site News/Info
About This Site
Affiliates
Contact Us
Default Home Page
Link To Us
Links

News Archive
Site Search
Awards



Credits
©1997-2012, Active Network, Inc. All Rights Reserved.
Please click here for full terms of use and restrictions or read our Light Tower Privacy Statement.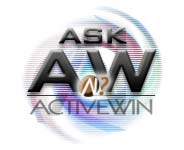 Welcome to AskAW! This section of our web site lets you submit questions about any problems/queries that you may have about Windows. Be it from a little icon that annoys you to hardware freezing your PC, we will try and help you out. You can submit your questions by e-mailing us at askaw@activewin.com. You can browse through previous questions over at our Archive Page. Who knows what you might find.
Here are the answered questions for 01-26-2001
---
Question

Submitted by Cristian

Hi, we have a Server based on win2000 server that has a lot of problem, so we need to format and reinstall ex-novo the OS, but we haven't a backup server so we need to import in the "clean" system the actual domain user. Do you know how is possible to reinstall all the actual domain users defined in our LAN? If we loss this information even the client will not be able to recognize the "old" users, so a "new" profile will be created, the crypted file will be loss and so no. Please let me know asap.

Solution 1
Answered by Stefan Assmann

If Active Directory is still working, do the following:
1. install Windows 2000 Server on a second computer
2. Make it a domain controller by running dcdpromo.exe from the start / run command line and select to install it as an additional domain controller.
3. Reboot the machine when asked to.
4. Wait for approx. 30 minutes so you are sure that every bit of AD information has been replicated to the new machine.
5. Go to the first DC and start / programs / administrative tools / active directory computers & users snap-in
6. Transfer all roles of your first DC to the new DC (select the domain name, and from the action menu select the appropriate option)
7. Wait another 15 minutes
8. Reboot both machines (be sure that all users have logged off)

In case Active Directory isn't working properly anymore, you'll have to seize the roles instead of transferring them. Make sure that your badly behaving DC is NEVER returned to the domain afterwards unless you install it from scratch again. To seize the roles, do steps 1-4 above and then do the following:

1. start / run / ntdsutil
2. You'll get a new command prompt (it's a command-mode program).
3. Type roles and press enter
4. Type connect to computer <you want to transfer the roles to> and press enter.
5. Type seize PDC and press enter. You'll get a confirmation box. Press "yes". Don't worry if the system return some "garbage you don't understand or gives errors.
6. Type seize RID master and press enter.
7. Type seize schema master and press enter.
8. Type seize infrastructure master and press enter.
9. Type seize domain naming master and press enter.
10. Reboot both computers (make sure everybody has logged off)

Now you have seized all five different DC roles to the new computer and you should be able to work with this setup. I'd strongly recommend you always keep at least one extra DC for backup purposes just in case anything like this happens again. If one DC fails and you have other ones, this is not immediately visible to your network users and you can mount a rescue plan without causing your users too much outages. Hope this helps,
---
Question

Submitted by Paulo Roberto

Hi friends, i'm trying to build a standard desktop to my company, that users can't add, change, or delete any desktop icons. I have found in this site the keys that protect the desktop from changing icons positions, but nothing about add/delete/change the icons. My Windows is 98 SE. Thanks

Solution 1
Answered by Stefan Assmann

If you want security for your users and want desktop protection like this, I suggest your company invests in a server computer that comes with at least Windows NT 4.0 a,d you install mandatory roaming profiles for your users. That way, they can't change a thing. Very effective indeed. Contact me back if you've got the goods and I'll explain in detail how to set it up. Regards
---
Question

Submitted by S. Bytheway

ActiveWin, I am currently running Windows 2000 on my laptop computer. However, I have recently begun to install many games. As Win2000 is designed for businesses and not home use I am now experiencing many difficulties. My question to you is: Before installing Win2000, I was running Win98, now that Win2000 is causing me problems, what is the best to remove Win2000 and return to Win98 as my OS? When I bought my laptop I was not given a Win98 installation CD, so I cannot simply reformat my computer and install Win98. However, the installation CD's were copied onto the hard-disk; but I am not aware if they are still there after installing Win2000. Sincerely

Solution 1
Answered by Stefan Assmann

It's a pity you didn't specify which games don't work and what kind of problems you're experiencing. Before doing anything so radical as to install your old OS again, first try these steps to see if they work:
1. Install DirectX 8.0 from www.microsoft.com/directx.
2. Use your Windows Update feature from your start menu once in a while to upgrade to the latest service packs, hot fixes and compatibility files. Especially the latter have been created to let a huge number of games run on Windows 2000.
If these steps don't work, go to the folder's) where you think the installation files have been put and see if there's some program that lets you manage these files (i.e. burn them to CD or so). If it turns out they are already a copy of the CD, just burn it to a CD and you can then install win 98.
---
Question

Submitted by Unknown

I am student from one of the local university in Malaysia. I'm taking operating system course right now and handle for the assignment which related with the topic windows 2000 for aspect operating system. I have attempt to find the information through Internet but I can't get the appropriate information that I wish to get. So, I wish to get your attention to help me to obtain that information. There are: -device management -memory management -file management -process management I hope that I can get the information today as my assignment have to pass up before date lie. I will appreciate for your willingness to help me. Thank you.

Solution 1
Answered by Brian Lyttle

There are a number of online resources which will help you with your assignment. The first place that I would look is http://www.williamstallings.com/OS4e.html. William Stallings has written a very good article on Windows 2000, from a Computer Science perspective (it's in a PDF on that page). He has also put an article on UNIX on that page. This will be useful to contrast Windows and UNIX.
The next place to look would be http://www.sysinternals.com. This site is run by Mark Russinovich who was a co-author of Inside Windows 2000. He has also written articles for Windows 2000 Magazine (http://www.windows2000mag.com) , so do a search there.
Two books which I would "strongly" recommend to you are:
Inside Windows 2000 (Third Edition)
http://www.amazon.co.uk/exec/obidos/ASIN/0735610215/qid=979995960/sr=1-1/202-2531270-4883842
Programming Applications for Microsoft Windows (Dv-Mps General)
http://www.amazon.co.uk/exec/obidos/ASIN/1572319968/qid=979995786/sr=1-5/202-2531270-4883842

---
Question

Submitted by Jim

I have a number of Windows computers on an Ethernet network with internet access via a router. All these pc's need access to the internet for email but only 2 should have access for web browsing. Since all the pc's have internet explorer 4 or 5 installed for access to local html files they also have access to internet web browsing. Is there a way to allow Internet Explorer to be installed on a pc yet block it's access to the internet? I've tried configuring the connection for a non-existent proxy server but the more savvy users are able to disable the setting. Any ideas? Thanks.

Solution 1
Answered by Stefan Assmann

Is there any software that comes with your router to configure it? If not, you'll need to install extra proxy-server software and/or a firewall to pull this off. WinGate 4.x is an excellent choice for this function. If you're on a Windows 2000 Active Directory Network, I suggest the new Internet & Accelearation Server from Microsoft. It's expensive, but extremely nice and effective and integrates tightly and effortlessly with your existing systems. Hope this helps
---
Question

Submitted by Mike

Hello, I have a Windows 2000 Pro question for you. Is it possible to stop Windows Explorer from displaying the document properties in the status bar? Explorer only shows the props for recognized files. i.e. MS Office doc's. I'm running Windows 2000 on a Netware 4.11 (Compression is ON) system at work and I'm expericiencing extremely slow navigation responses in folders that contain a large number of Office files. If I hi-light the first file in the folder then cursor down, it can take as long as 15-30 seconds for the cursor to jump to the next file. I know this is due to the compression but it makes navigation very frustrating. BTW, it's a very nice feature when accessing your local drives or other workstation drives. Thanks for any help

Solution 1
Answered by Stefan Assmann

Open explorer and go to Tools / Folder Options / View. Change the web view to "Use classic folders". Hope this helps
---
Question

Submitted by Freddy

How, do I or what is the best way to install SMS 2.0 on windows 2000 server. Microsoft says to install the service pack but their website does not tell me how to do it. Actually, all I want to do is install the admin console on a server for remote control of other computers and servers.

Solution 1
Answered by Stefan Assmann

Before installing any part of sms 2.0 on Windows 2000, you need at least SP2 for sms 2.0. Applying service packs on sms 2.0 is not as straightforward as you may think. Here's the correct way of things:
1. copy the entire CD of SMS 2.0 to a temp folder on your hard drive. Ensure you have around a gig left of space afterwards.
2. Download sp2 at http://www.microsoft.com/smsmgmt/downloads/sms20sp2.asp.
3. Start the file you just downloaded. After some blab-bla-bla you'll be asked for the location of your previous SMS 2.0 installation files. Enter the root of the folder you created in step 1.
4. Check if the patch has been applied correctly by examining the properties of the file autorun.exe in the root of the folder in step 1. It should read 2.0.1493.2000 for the version properties of the file.
5. Check if there are any *.tmp files left in the sms 2.0 folder from step1. If there aren't any, the patch was successful and you have SMS 2.0 SP2.
6. Burn the contents of the temp folder to a CD if you desire.
7. Run setup from the root of the folder / CD and choose to install the administration utility.
Note: if the patch didn't work, you should order SP2 from MS. If you don't, strange things will happen, I guarantee you :-)
Hope this helps
---
Question

Submitted by Kevin

I would like to add a command line to a logon script that will delete any current network shares. I think the syntax is something like NET SHARE ............. /Delete but I cannot seem to get it. Any help would be appreciated.

Solution 1
Answered by Stefan Assmann

The correct syntax is:
net use <shared drive:> /d, for example
net use z: /d
If it's a folder it goes: net use z:\shared1 /d
For printers:
net use lpt<port number>: /d
like
net use lpt3: /d
Hope this helps
---
Question

Submitted by Chris

What file do I need to delete in my registry in order to erase the password and the ratings in internet explorer.

Solution 1
Answered by Stefan Assmann

First of all, the registry, while comprised of files on your hard drive, can't be deleted like this. You have to edit the registry with a special utility called registry editor. Go to start / run and type "regedit" and press enter. But judging from your question I strongly caution you against using it... The options you refer to are implemented in one or more DLL files (dynamic link libraries) that are called upon when you press the rating button. While I could tell you the name of the file to delete, you would also mess up a number of there things since that DLL happens to be used for a number of other things as well. So I'm afraid you'll have to stick with it.
---
Question

Submitted by

Jim

I downloaded Netscape 6.0 and HATED it. I then uninstalled it!!! The problem is that now when I download certain file types from the internet (jgp files) they will not open because they are looking for the Netscape 6.0 software. This includes all files I have downloaded using MS internet explorer since I trashed the Netscape 6.0. Note: I have already deleted the Monzilla folder which included user50 file from the Windows application data

Solution 1
Answered by Stefan Assmann

This is a simple one. Your jpg graphic files are still associated with Netscape for you to be able to view them. To change this association, shift-click or shift & right-click the file and select the "open with" option. Then, select a graphics program you have installed from the resulting dialog box and be sure to select the option "always open ..." and press OK. Next time, your jpeg file will be associated with another program than Netscape. Any other files that behave like this can be changed in the same way.
---
Question

Submitted by Gabriela

I bought an MP3 Wizard 2.0, but every time I try to burn a CD it says ASPI not Installed and something about a CD writer, what does this mean?

Solution 1
Answered by Stefan Assmann

To burn a CD, you need to have a cd writer or rewriter, a CD reader won't do. The complaint about ASPI not present means that you don't have the software installed that translates your request to burn a CD to the cd writer. To install ASPI for windows 9x and Windows 2000, go to the following URL: http://www.goldenhawk.com/download.htm. There, go to the aspi drivers section (around the middle of the page) and click the download link. Note: be sure to select the for 98/NT systems, NOT alpha. Then, reboot your computer.
---
Question

Submitted by Sasha

Hi!I've just installed Windows ME using a "clean" install and my configuration looks like: primary master: udma 33 HDD primary slave: udma 33 DVD-ROM secondary slave: enhanced ide CD Recorder Everything worked fine until I noticed that DMA is not checked on both the hard drive and dvd drive. I checked the DMA on hard drive and after restart still EVERY program worked fine. After I checked DMA on dvd drive still everything worked after restart except for the Windows Media Player and Easy CD Creator. They don't start. If I turn off DMA on dvd drive and restart again everything works fine. I haven't installed any programs after windows install that may interfere (except easy cd creator,althought I tried even without it) I have tried with the newest VIA bus master drivers, still don't work. My motherboard is DTK PRM080IVBX. Thank you in advance

Solution 1
Answered by Stefan Assmann

Try to make your DVD secondary master instead of slave. Upgrade to the latest versions of both media player (7.0) and easy cd creator (4.03).
---
Question

Submitted by

Cordell

I'm not sure what Windows OS was in use but the workstations that I used when I was in the Coast Guard allowed multiple users to use the same station with individual settings for each by the use of user names and passwords. Would you happen to know which OS this is, and if Windows 98 SE has it, or how and if I can get it.

Solution 1
Answered by Stefan Assmann

You probably mean Windows NT workstation, which has now been superceded by Windows 2000. While Windows 98 and Me allow you to have multiple users protected by passwords, security is a big joke.
---
Question

Submitted by John

I am planning on getting an Asus CUR-DLS Serverworks motherboard with a built-in SCSI controller. I am also planning on using two Seagate SCSI hard drives. What I like to known is what is the cheapest way of implementing a Raid level 1 by using the existing SCSI controller and software? The operating system will be windows 2000. Is it possible to setup software raid level one through the OS?

Solution 1
Answered by Stefan Assmann

Yes, you can set up software RAID 1 through Windows 2000, even from the Professional version. You must format both hard drives with the NTFS file system and make sure they are dynamic disks. Then you can implement mirroring.
---
Question

Submitted by Geof

Hi, I am new to PC's. Can you tell me, please, what types of things should be on the Start Menu, and how can I find these items on Drive C: ? I shall be very grateful for any help you can give me.

Solution 1
Answered by Stefan Assmann

The start menu is used to start up your programs, perform maintenance on your computer and change various options of your operating system.
Since you're new to PC's, may I suggest books like "teach yourself Windows 98 in 21 days", "Windows 98 for dummies" and the like. They will get you up to speed in no time.
---
Question

Submitted by Alastair

I am currently running Win Me (which came pre-installed) on my computer. I am now interested in updating to Windows 2000 Professional. Is this update possible? On the Microsoft website it only says that you can update from Win 95, Win 98, and Win 98SE. It never mentions Win Me. Thanks for your help.

Solution 1
Answered by Stefan Assmann

Since Windows "Millennium" (sic) has exactly the same code-base as Windows 98SE, just pop in the Windows 2000 CD and go right ahead.

Solution 2
Answered by Mean Drake

No, I do not think Stephan this upgrade is possible.
---
Question

Submitted by Cheong

I install a new hard drive as C: with Win-Me. The old one will be Drive D:. I have an address book that stored in Outlook Express in my D drive. Where is it located at and how can I copy to C drive's Outlook Express. Once I copy all the data I intend to erase from D drive. Thanks

Solution 1
Answered by Stefan Assmann

Your OE data is stored in files that have a dbx extension. The OE address book has a wab extension.

Solution 2
Answered by Mean Drake

In most cases, the files are in Windows\Application Data\Microsoft\Outlook Express

Solution 3
Answered by Ashton Smith

There is no need to guess or try to predict where the information is. Just go to the Tools menu, down to Options, then choose the Maintenance tab, and then click on the button that says "Store Folder." It will show you exactly where it is located.
---
Question

Submitted by ES

Dear ASKAW: The gray toolbar at the bottom RIGHT hand side of my WIN98 window loads a lot of crap every time I boot up. Most of the stuff I don't use regularly. It seems to take a LONG time to load WIN98 because of this. I know HOW to remove them ONE by ONE from the Window or from the Close Program Dialog box. That is not the solution I am looking for. HOW I can remove that extra step that is driving me crazy?? HOW do I stop all that stuff from loading onto that bar? thanks for reading

Solution 1
Answered by Stefan Assmann

1. Look into the tray ("the gray area") and hover over each icon with your mouse to get the program name.
2. Go to start / settings / control panel and start add/remove programs
3. Remove the program which name you retrieved in step 1.
4. Look in your startup folder (via start / programs / startup). Go through steps 2-3 again.

Solution 2
Answered by Mean Drake

The best way is to Open each program window and in the options, prevent them from starting up with windows. Programs like Real Player etc have these options in the preferences where you can select whether program should start with windows.
If this option is not present, then you can use msconfig to disable some of your startup items. No need to totally uninstall them.
---
Question

Submitted by Carl

Cannot access e-mail, all of a sudden. Message is that the DUMPSTER.ECF file is invalid......How do I down load a new one?

Solution 1
Answered by Mean Drake

I wish you had given a little more information. Is it web based mail/AOL mail/POP based mail and if so what email client are you using.
---
Question

Submitted by Bruce

Windows ME keeps changing my pop3 mail to localhost then in the username line it puts usernane/originalpop3 (originalpop3 mean in my case lcsys.net my pop server). This causes error and will not retrive mail. It does it to all mail programs. Outlook, outlook express Netscape and opera. How do I keep it from changing my settings. Thanks

Solution 1
Answered by Mean Drake

Are you sure it is WinMe that is doing this. I feel it might be your Norton antiviral. Do you have Norton AV 2000 or later installed. If so, in its options disable email protection. It will still scan all attachments for viruses but will prevent it from scanning files on the remote server.
---
Question

Submitted by Len

I have an HP Pavilion 8490 that won't recognize my HP Scanjet 5200Cse scanner. I think the problem started when I loaded Win98SE. I haven't used the scanner lately. It was working ok under Win98. I don't know if I have a software problem or scanner problem. My scan software says it cannot communicate with the scanner. Any ideas? I have uninstalled and reinstalled the scan software several times hoping that was the problem, but to no avail. Thanks

Solution 1
Answered by Mean Drake

check the connections too. See the Settings in device manager and also in the control panel.
---
Question

Submitted by Bonnie

Hello, could you tell me why my e-mails won't go out. When I write an e-mail to certain people, and click send, a window pops up that says cannot send one or more people doesn't have a correct e-mail. This is not true, as everyone who e-mails me, has a valid e-mail address. It's driving me crazy, It will allow certain e-mails to go through, but actually the people I would like to write to the most, of course it won't send it. I have Outlook Express 5 Thank you

Solution 1
Answered by Mean Drake

Check out your SMTP server settings in outlook express. You are possibly using more than one account and the mails that are going out are those with an account with a proper SMTP server. You have to be authorized to use the SMTP server. eg. Yahoo allows you to send only after you are logged in and receive mail by pop server. Your ISP will allow u to send mail through its smtp but other ISPs will not. So check out that.
---
Question

Submitted by Joseph

To the ActiveWin Gurus I've been using Windows ME since dec.22, 2000 and for a while I've happy for it's performance. But lately I've found a bug that when you click for example on the desktop (wallpaper that is) then NEW it seems I'll only see New Folder and New Shortcut options that I only see and no Word or Excel or Notepad and others that is supposed to there. Another one is that when you open MY COMPUTER it is slow than usual to see all the icons like floppy drive and the hard drive. What seems to be the problem here. I cannot also Restore my pc from the other day using System Restore to fix this problem easily than it should be. But I remember last week that I install Real Player 8 Basic (that I've downloaded before Win ME arrive in the market) and MS Office 2000 SP-2 the following day and also uninstall Real Player 8 Basic also the same day. I do not know if they are the ones who are bugging Win Me. Please help because I'm on the verge of re-formatting and re-installing all over again Win Me and other applications that I needed for work. Help.

Solution 1
Answered by Mean Drake

The options in the New File types reside in the registry and I guess its better that you stay away from it. If you do have the heart to do it, identify the file type in HKEY-Classes_Root and add a Subkey to it called ShellNew and to this subkey add a new string value with Value name nullFile and Value data "" I have attached a reg file. Double-clicking this will add a New bitmap image to your Options in the New. Try it only after you backup the registry first. Strange things happen in windows and you might end up blaming me. Or you can just open this file in Notepad to understand what I mean. as far as system restore see that it is enabled.
---
Question

Submitted by Unknown

I have recently changed from win 95 to 98 .I am unable to run FIFA 2000 .It is starting but before the game starts it is returning to windows. The font on the desktop is becoming large and I had to restart my computer in safe mode and then change the settings and restart again. I have directx7 on my system. The system is working properly apart from this. Do I have to change to win95 again. This would be a hard as I have 12Gb hdd almost filled up. My system is Pentium Mmx 200 mhz and has 64 Mb Ram

Solution 1
Answered by Mean Drake

I guess your display card is not up to the mark.
---
Question

Submitted by Unknown

My web pages load with some pictures missing. the box has a red 'X' in the ctr or right hand corner. Some times when I select refresh is corrects itself but most time the same appears. Any suggestions would be appreciated. Op sys is Win. Me, IE 5.5 SP1 Thanks

Solution 1
Answered by Mean Drake

Don't do refresh. Right click that box and select Show Picture. If still doesn't show..its a broken link or some problem with connection.
---
Question

Submitted by Erik

I bought a pinnacle Studio pctv Rave card. it needs directx 3.0 it says, on a winNT 4.0 system... Where o where can I find directx 3.0 for Win NT 4.0, sp6 english version ? directx 8.0 won't install (downloaded DX80NTeng.exe from Microsoft, and it's not for my system, it says). thnx.... If you only have a hammer, all your problems will look like nails

Solution 1
Answered by Stefan Assmann

Win NT 4.0 already contains DirectX, if I'm not mistaken version 3 or 4. Later DirectX versions only install on Win 9x or Windows 2000 platforms. The problem with NT is that the calls in programs who look for DirectX aren't always exactly returned in the way the program likes it and so it refuses to install or start. Your best option is to get into touch with the manufacturer and Microsoft, or install Windows 9x / 2000.

Solution 2
Answered by Andrew Funderburk

NT4 Sp3 and later come with DirectX 3.0a, and only partial support at that. It's the only version that is supported on NT4. The only way to get 3.0a on NT4 is to install SP3 or later (which is basically required anyway since nearly everything that runs on NT4 requires SP3 or later).
---
Question

Submitted by sachin

hello I have a problem with my comp. have an AMD K6-2 300 Mhz, 64MB RAM, ATI XPERT98 AGP 2X graphics card (8MB), Creative AWE 64 sound card..everytime I run any game in Windows Millennium..the comp hangs (have directx 7.1 installed) & I get blue screen errors like vmm32.vxd error or od.vxd or oe.vxd error. I have to restart & when I do that..windows says ur registry is corrupted & I have to again restart & this process repeats itself. what is wrong?? I have installed the latest graphics card & motherboard drivers..but still..problem persists...can u help me out?? thanx

Solution 1
Answered by Andrew Funderburk

VXD's are virtual device drivers. They're required for Windows 9x to run and working with hardware. vmm32.vxd is part of Win9x. The other two I'm not sure of. It sounds like those three vxd's might be corrupted or somehow some improper changes were made to your registry. Your best bet would probably be to back up the important information, reformat your hard drive, and reinstall everything.
---
Question

Submitted by Brian

Hi, I'm using Win2k and have an annoying lockup that seems to be caused when using the wheel on my Intellimouse.. If I use the scroll function of the wheel when the machine locks all input is futile and the only way to get my machine back is to use the reset button, this is a clean windows install I just did last weekend to try and solve this problem but it persists.. I've not installed the Intellimouse software as I found that it wasn't recommended while trying to solve it on my previous install.. the problem occurs regardless of wither using USB or PS/2 for mouse connectivity, the only possible thing I can think of is that the machine hadn't locked up when I'd been using the USB port for the mouse, but I installed VMWare and had to move the mouse to the PS/2 port as VMWare doesn't support USB mice.. and it was after this that I experienced the first lockup on the new install.. last install I was using the PS/2 port. Looking forward to a solution. Regards

Solution 1
Answered by Marc Strickland

Try installing the latest drivers for you mouse, found here: http://download.microsoft.com/download/intellimouseopti/install/3.2/win98me/en-us/eng.exe
---
Question

Submitted by Ruby

Hello, A couple of weeks ago I installed a software program and after about a week I decided I didn't want it so I uninstalled it. When I went to shutdown the computer it would no longer shutdown but just restart. Since then I have been shutting down in Ms-Dos. Is there any way I can reactivate the normal shutdown process? I have looked in the windows system folder and the logos.sys file is still there [size 127kb].Ruby I have windows 98 SE with AMD ks6 111 500mhz,AsusP5S-B super 7 motherboard and Seagate 17.2 gig hard drive and 64 meg Ram plus Voodoo 4500 PCI graphics card and creative sound card

Solution 1
Answered by Ashton Smith

I have heard of a virus that prevents a machine from shutting down or rebooting. Make sure that you have the latest virus definitions installed in your virus software, and then do a thorough scan of all of the files on your hard drive.
---
Question

Submitted by Gary

When The Xbox arrives in fall of 2001 what would be the price of the console?

Solution 1
Answered by Ashton Smith

Microsoft hasn't actually stated what the price will be, but it is speculated that it will be somewhere between $299 and $399.
---
Question 15

Submitted by Murray

I have windows 98 first edition installed on my system. My computer works perfectly except for one minor glitch. I have no start up or shut down screens. The files are present in windows; they just don't work. I have tried installing other logo programs that I have downloaded, but still nothing. This is very puzzling as all other programs function normally. Any suggestions? Thank you

Solution 1
Answered by Ashton Smith

I would check your msdos.sys file in the root of your boot drive. Make sure that it doesn't say something like "logo=0"
You can check out this Microsoft document for more specifics: http://support.microsoft.com/support/kb/articles/Q118/5/79.ASP
---
Question 36

Submitted by Lindsey

Dear AskAW, I still have Windows 95, Pentium 233, and I went to put Disney Interactive' Who Wants to be Millionaire on it and the game didn't load right away, when it did, it said that it only uses DirectX 7 or later. I went to MS Direct X website and downloaded Direct 8. uninstalled then reinstalled the Millionaire game rebooted and when it went to start windows it gave me a message saying a file was missing in the system.ini file necessary for windows ntrr.vxd was the file name. It will start windows but now I can't get connect to the Internet because a file is missing and a lot of other things are happening. I tried to reload windows but I keep getting a suwin error message on this. How can this be fixed. Please Help.

Solution 1
Answered by Ashton Smith

You need to find out what program installed the ntrr.vxd. It is not one of the standard Windows virtual device drivers (vxd's). Go into regedit (don't change anything) and do a search for ntrr.vxd. See if you can find out what product it is associated with.
---
Question

Submitted by Mark

Hi , I have a question about getting my monitor to come out of the power saver mode . I think this is the problem . I turn on my computer and it goes through the boot up mode , the monitor comes on , windows ME starts to load and then the monitor goes into power saver mode and I am unable to get the monitor to come on . Any ideas would be greatly appreciated . Thank You

Solution 1
Answered by Ashton Smith

I have seen this before when the video card is having problems with its drivers. I would suggest booting into safe mode and re-installed the latest certified drivers from the video card manufacturers website.
I have also seen this happen if you turn the computer on before the monitor. Some video cards need to detect the monitor before the system is even booted.
---
Question

Submitted by Unknown

Hi I've got a problem from witch I can't seem to get an answer (so maybe U can =) When I open a file with "Open with..." I get this dialog and in this dialog there are several prog's The question: How do I delete these prog's from this list?? I tried messing with the registry And I spotted that the apps are in HKEY_LOCAL_MACHINE\SOFTWARE\CLASSES\Applications but when I delete them and do Open with they appear again -> and when looking in the reg: there they are again HELP ME!!! =)) Thx

Solution 1
Answered by Ashton Smith

Go into the "My Computer" window, go to the Tools menu (in Windows ME), and go down to folder options. Select the File Types tab and then look for the offending program in the list and delete it.
I believe in Windows 95/98, it is under the View Menu, and the last item at the bottom of that menu.
---
Question

Submitted by Robert

To Whom: I have Windows 98 in French. The dial takes an eternity. I have checked with server who advises me the problem lies with you, that you have a free download available to correct the problem. Can you please direct me to it. Thanking you in advance

Solution 1
Answered by Ashton Smith

While connected to the Internet, I would do a Windows Update and install all of the Critical and Recommended system updates. Make sure that you are using Internet Explorer 5.5 with SP1.
---
Question

Submitted by Nancy

I like the In Place Activation feature in IE but when I try to send a page to someone, IE attaches .HTML to the end of the filename and the user gets junk. Renaming the file doesn't correct it either. For Example. We want to post Fill-in forms on our Intranet. I can click on the link and IE brings up the documents, allows me to fill it in but if I want to Route it to the next person, I have to save the document and then go to Outlook and send an attachment. I cannot use the Send page on the documents toolbar to send the document. Any ideas for easier work around for my users?

Solution 1
Answered by Ashton Smith

I am not sure what you are referring to when you say the "Documents Toolbar". What kind of page are you looking at, and what are you trying to do with it?
---
Question

Submitted by Tim

Hi, Before parting ways with a work issued laptop, where Win98 and Outlook Express were the standards, I copied a zip disk full of mail folders with .dbx extensions. My home machine runs Win98, and has Outlook and Outlook Express on it. How, exactly, do I move these .dbx files onto the home machine, so that the folders, messages, attachments, dates, addressee lists, etc. all appear exactly as they were on the laptop? My preference would be to go to Outlook proper, but the goal is access to these messages. Thanks in advance!

Solution 1
Answered by Stefan Assmann

You could run the import wizard in the file menu of Outlook Express. Choose File / Import / Messages and be sure to choose the correct Outlook Express version. Follow the prompts from here onward. Be sure to select your zip drive as the source of the database files.

---
NOTE: Please note that ActiveWin nor the AskAW staff can take any responsibility for anything that may/may not occur when taking our advice. If you do anything that is included in our advice, you are doing so at your own risk.
If you have any questions pertaining to a particular answer please contact the person who replied.
You can contact anyone of our staff here or email us at askaw@activewin.com