DirectX
ActiveMac
Downloads
Forums
Interviews
News
MS Games & Hardware
Reviews
Support Center
Windows 2000
Windows Me
Windows Server 2003
Windows Vista
Windows XP



News Centers
Windows/Microsoft
DVD
Apple/Mac
Xbox
News Search



ActiveXBox
Xbox News
Box Shots
Inside The Xbox
Released Titles
Announced Titles
Screenshots/Videos
History Of The Xbox
Links
Forum
FAQ



Windows XP
Introduction
System Requirements
Home Features
Pro Features
Upgrade Checklists
History
FAQ
Links
TopTechTips



FAQ's
Windows Vista
Windows 98/98 SE
Windows 2000
Windows Me
Windows Server 2002
Windows "Whistler" XP
Windows CE
Internet Explorer 6
Internet Explorer 5
Xbox
Xbox 360
DirectX
DVD's



TopTechTips
Registry Tips
Windows 95/98
Windows 2000
Internet Explorer 5
Program Tips
Easter Eggs
Hardware
DVD



ActiveDVD
DVD News
DVD Forum
Glossary
Tips
Articles
Reviews
News Archive
Links
Drivers



Latest Reviews
Xbox/Games
Fallout 3

Applications
Windows Server 2008 R2
Windows 7

Hardware
iPod Touch 32GB



Latest Interviews
Steve Ballmer
Jim Allchin



Site News/Info
About This Site
Affiliates
Contact Us
Default Home Page
Link To Us
Links

News Archive
Site Search
Awards



Credits
©1997-2012, Active Network, Inc. All Rights Reserved.
Please click here for full terms of use and restrictions or read our Light Tower Privacy Statement.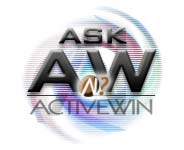 Welcome to AskAW! This section of our web site lets you submit questions about any problems/queries that you may have about Windows. Be it from a little icon that annoys you to hardware freezing your PC, we will try and help you out. You can submit your questions by e-mailing us at askaw@activewin.com. You can browse through previous questions over at our Archive Page. Who knows what you might find.
Here are the answered questions for 02-02-2001
---
Question

Submitted by Unknown

HI, when I us scandisk on my new e-machine 600 with 10 gig hard drive, SCANDISK seems to go into a loop and keeps going back and starting over. this goes on for hours if I let it continue. IF I stop and start it a bunch of times it will finally finish saying it found no errors? HELP

Solution 1
Answered by Julien Jay

Hi, The problem you're experiencing is probably due to the fact other programs are running while you're scanning your HD. Be sure to disable every TSR (all those nasty things near the clock of windows [known as the tray notification area] that are 99% of the time useless) and to disable the screensaver. Sure this helps, Best regards,
---
Question

Submitted by Deloris

sirs: i was wondering if there is a book to help me with all the programs that came in my windows me. someone told me that you can record a message and send it to several phone numbers at one time, and it would keep dialing untill it reached the party. i haven't been able to achieve this . please help me. thanks

Solution 1
Answered by Julien Jay

Hello, Unfortunately your Windows Me cannot perform what you describe -itself-. It doesn't come with advanced communications tools. In order for you to do so you have to purchase a companion program specialized for communications' needs like WinPhone Tools from BVRP (www.bvrp.com). Nonetheless there are some good books describing all the features of Windows Me i would strongly recommend you to buy a MS Press one (take a look here: http://mspress.microsoft.com/windowsme/ ).
---
Question

Submitted by Donna

when deleteing another program .I apparently deleted the windows accessories folder off my computer. I wasn't in windows, but it's gone anyway. I recovered my games. but my calculator and other things are gone. I don't have the CD for windows 98 anymore. I seen where you have some of the downloads in accessories for windows 95. Can you tell me if I can find a download for what I have missing. calculator, destop wallpaper, document templates, imaging, mouse pointers, paint, quick view, screen savers, windows scripting host and word pad. Quite a bit. I know. I uninstalled norton antivirus. I lost more than this, but I have recovred the other stuff. Thank You

Solution 1
Answered by Julien Jay

Hi, Unfortunately there's absolutely no way to recover your Windows accessories unless you find back your Windows 98 CD. Sorry!
---
Question

Submitted by Unknown

Hi askaw, i have some questions to ask you guy and i hope you guy could help me answer some of these question.
1. What is IRQ?
2. Where is TCP/lP stack in window 95/98 information?
3. What is router and what is the purpose of it?
4. What is MAC address?
5. How to start up menu window 95/98?
6. Window to install hardware component?
7. Window test integrity of network connects.
8. How to change component drive in window 95/98?
9. How to close the program when is freeze?
10. Exclamation mark [!] next to hardware device mean?
11. What is an X next to hardware device mean?
12. What is cache and what is the purpose?
13. What type of port LPT1?
14. What are the two slots network adapter on PC?
15. What is BIOS stand for?

Solution 1
Answered by Stefan Assmann

1. IRQ = interrupt request. Hardware like mice, printers etc. use "hooks" so let the OS know they're present. One of these hooks is an IRQ channel. Normally, there are 16 of them (0 through 15). Each hardware device is normally supposed to use one IRQ. If several devices try to use the same IRQ channel at the same time, you have what is called an "IRQ" conflict.
2. Normally under control panel / networking / tcp/ip. If you haven't installed it yet, install it first via add / protocol / microsoft / tcp/ip.
3. a router is in charge of routing tcp/ip packets from one network segment to another network segment (also called subnets).
4. a MAC address is the hardware address of a network card, put in by the manufacturer of the card. Each network card you come across will have a different MAC.
5. The windows menu? If you mean the start menu, just press the start button on the lower left corner of your screen :-) If you mean the task menu, just press ctrl-alt-del.
6. Don't understand your question. Please be more specific.
7. same answer as in point 6.
8. same here...
9. press ctrl-alt-del to bring up the task manager and select "end program", "end task" or "end process" depending on what OS it is.
10. That the device has some error, might be related to question 1. Double-click to become more info.
11. That the device won't work at all. Double-click the device to read more about it.
12. a cache is an area of recently used information that the system knows you're going to use regularly. Cache is usually much faster than doing an operation all over again, like fetching pages in your browser.
13. LPT ports are printer ports.
14. please elaborate, don't understand the question.
15. BIOS = Basic Input Output System, a piece of code that stores all kinds of hardware configuration data of your computer is stored.
Hope this helps,
---
Question

Submitted by Student Worker At NSU

I was just wondering if you could answer a question for me. Can you tell me, If I was working in a computer lab of about 64 computers and under WinNT what will be my benefits if I change to Win2K. Also Can you tell me some information on Whistler. Thank you very much

Solution 1
Answered by Stefan Assmann

Windows 2000 is an upgrade to Win NT. It is a blend between the best of Windows 98 SE and Windows NT. Windows Whistler is an upgrade to Windows 2000. Hope this helps

Solution 2
Answered by Andrew Funderburk

Win2k is NT5. It comes with native support for USB, IEEE1394(Firewire/i.link), Directx (other than 3.0a, and can be updated as needed), plug and play, AGP, Ultra ATA 66, to name a few. Whistler is an upgrade to Win2k and is basically NT 6.
---
Question

Submitted by Tom

Folks, I develop IIS web applications on my Win2K Professional box in my home office. I am considering upgrading this machine to Win2K Server. It would continue to be my day-to-day workhorse machine, which brings me to my questions... Can I expect that the same software that runs on my Win2K Professional machine will continue to run when I upgrade to Win2K Server? This software includes Visual Studio V6, Outlook, Dreamweaver, Norton Anti-Virus, QuickBooks, some FTP clients, Paint Shop Pro, Microsoft Office 97/2000 (Access is 97, the rest 2000), and various shareware utilities. Other than the obvious differences between the two flavors of Win2K, are there differences so fundamental that I should expect such software to fail? (Also, is it possible to upgrade directly from one to the other without needing to reinstall everything?) Thanks in advance

Solution 1
Answered by Stefan Assmann

All software should work fine, upgrade will work.

Solution 2
Answered by Brian Lyttle

Tom, Using Windows 2000 as a desktop OS is OK. Just remember to change the priority to foreground applications, as by default Windows 2000 Server is optimised for background services. You can also consider disabling some of the additional Services which run under Windows 2000 Server. IIS under Windows 2000 Server is the full-blown application. You will be able to use multiple sites, and are not limited like the IIS under Windows 2000 Professional. If you need to do any COM+ work then I would recommend Windows 2000 Advanced Server.
---
Question

Submitted by John

Greetings, My scenerio is this: I have a Dell server with a single 9GIG Drive. I wish to install a RAID 5 system, so I need to order a Raid controller and had planned on ordering 2 more hard drives (9MB each) for a total disk capacity of 18 GIG after the raid was setup. my question is this ... Can I add the RAID to the existing hard drive which has Windows 2000 Server installed on it? Do I just add the additional hardware and then create the RAID system through the control panel?

Solution 1
Answered by Stefan Assmann

Yes, you can. Just shut down the computer, add the necessary hardware, and Windows 2000 should detect it and install the necessary drivers. After that, you can configure the drives using my computer. Just right-click it, select "manage", and choose the disk management option. Be sure to format all drives as NTFS Dynamic volumes. Hope this helps
---
Question

Submitted by Judy

Hello, I am running win 98, 500 processor, 20 gig hard drive, 256 ram All I get done is restarting my computer. It's one illegal operation after another and it is even worse if I leave my computer for say an hour or two and return. I sit down and touch a key to bring up the screen and there is usually an illegal operation waiting for me and then as I close one another pops up. Can you help?

Solution 1
Answered by Geoffrey Lo

Hey there, Can you copy the exact description of the Error Message in Details> the next time you see an 'illegal operation'. I will advise you with more information if you e-mail me afterwards.
---
Question

Submitted by Franti

Hello, I have a problem with my system restarting itself, I hope you may have some suggestions. I loaded win98se on a clean boot, and since then the system will restart itself whenever it wants to. Sometimes it will keep starting over at the boot sequence. If it does boot to windows it will only run for 10-15 minutes then restart. I have a P3 processor at 450mhz. 336 meg ram. I checked for overclocking and that seems to be set right (as per mb manual) I watched the boot sequence and it seemed that when the Voodoo2 video card bios came up was when it restarted. I do not have the drivers loaded to anything yet because I can't seem to get that far. Could the voodoo2 PCI card instead of an APG be the problem? And if it is why would it start sometimes and not others. I am ready to upgrade to Me, but need to solve this problem first. Any help,thoughts or solutions you can give would be much appreciated.Thanks

Solution 1
Answered by Geoffrey Lo

Hey, I've had this problem with my computers before. Mine was because of a bad power cord to the computer. Try replacing it, or removing and then attaching it again securely. This could not be a hack or a prank as the Windows GDI hasn't booted yet...
---
Question

Submitted by Drew

How can you log in to 2 domains from the same PC? The situation: I have a home network with a Win2k server set up as the PDC. The PDC is set up with internet connection sharing; Using @home cable internet with a static IP. All other PC's log in to the domain and have internet access through ICS. My company has given us a VPN client (SecureClient) to connect to the work network via cable internet. I want to connect to the work network from my home network. I don't want to disable my home network domain, and our IT department is not interested in setting up a trust relationship between our 2 domains (and neither am I really). Any help would be greatly appreciated!

Solution 1
Answered by Stefan Assmann

Hey, The only way is to have a 'trust' relationship with the two domains in the Active Directory. Or else, you can only choose to log on to 1 domain.
---
Question

Submitted by Unknown

I have noticed a definite decrease in speed at opening folders lately. I have Norton Utilities and have run a memory check (checks O.K.) and Speed Disk (a disk defragmenter utility) and still it can take several seconds to open a folder. I tried shutting down everything possible in the System Tray and I notice no improvement in performance at opening folders. I also notice the subtle decrease in speed at accessing web pages on my cable connection, but this may be unrelated. Your suggestions or recommendations are appreciated.

Solution 1
Answered by Geoffrey Lo

What is the file system of the HDD it is sluggish at? Because there are different reasons for different disk file systems. Has it always been like that? If it has, Formatting will not help.
---
Question

Submitted by DYSERS

Dear sir, In my company we have several notebooks (Pentium II - 233 - Operating system Win 98 first and second release) with following annoying problem :Whenever you have the nerve to click on the windows Start-menu-button the system freezes up completely.The only solution is completely rebooting your system.This problem has been keeping me busy for several months now and up till now i haven't found any solution.Running Norton Win doctor , cleaning out the registry, deleting temp files ... nothing seems to help. If anyone could explain this phenomenon and even better has the solution to send this problem deep down into the grave i would be very gratefull !!! Met vriendelijke groeten , Kind regards

Solution 1
Answered by Geoffrey Lo

You've tried scanning for viruses, haven't you? Okay. Installing Windows again over the current installation will help it, as one of the important DLL files are corrupt. But it is hard to tell which one. You don't need to do a clean install, though.
---
Question

Submitted by Julie

Hello, I have a friend that had to do a recovery on his IBM computer. After doing the recovery he realized he did not have his Win 98 book. (lost in a move) Do you know of a way he can get his product ID? Thanks.

Solution 1
Answered by Geoffrey Lo

If you have lost your ID, then I'm afraid you cannot use your existing license. The only way to figure it out again is if your friend has registered Windows with Microsoft. In that case, contact Microsoft.
---
Question

Submitted by Correen

every time Windows ME starts up I get message that Windows cannot find file 3dfxcmn.dll I have Voodoo3,2000 version 1.01. I checked the windows system, the file isn't there, I did a search on my voodoo disk, can't find it there. Went to 3dfx site to download and udates/patches, they are no longer in business, and there download page doesn't work unless you have some kind of password, with no instructions to get one. Now oh wise grus, what does this ol' grandma do now? Thanks for any help, the simpler the better, an old mind is a senseless thing to waste, Yknow? Best Regards

Solution 1
Answered by Geoffrey Lo

Try using a search engine for one, or contact NVidia, the company who bought 3DFX's technologies.

Solution 2
Answered by Matthew Sabean

http://www.3dfx.com/downloads.htm is the Download Page.
ftp://ftp1.3dfx.com/drivers/voodoo3/v3-w9x-1.07.00.exe looks like the download for this. It is for the Voodoo3 2000/3000
---
Question

Submitted by Ron

I am currently usine Win98SE on a single computer and would like to set up multiple profiles with each accessing their own email with outlook express. How can I do this. Thanks

Solution 1
Answered by Mean Drake

Go to File Menu>Identities
Here you can set up identities each with their own settings
---
Question

Submitted by Joel

Hello, I ran across your site and after reading alot of the info there have hopes that you may be able to help me with a problem thats been plagueing me. I'm running win2K pro and up untill recently have had few problems. Now though I am unable to run any games or graphics programs any longer than 20 min. I am able to surf for an indefinate amount of time. What happens when i use graphics varries some times i'll get a stop screen pointing at ACPI.sys where others will point at ntoskrnl.exe (which i have now found to be the driver for ACPI) and other times it will stop with an IRQL error message or a memory management error. Thats when its displays the stop screen the other 50% of the time it flashes the stop screen too fast for me to read then reboots. To attempt to cure this i have uninstalled and reinstalled my video drivers and reinstalled SP1 but still the same things happen when i use any thing graphic intensive. What i want to try and do is to reinstall the ACPI drivers but i'm not shure if thats an option. I have heard that disableing ACPI is an option but microsoft seems to discourage it and i'm not shure if i should look in to that. Can you offer me any help here in how i might fix this or if i should disable ACPI in hopes of fixing this problem? Thanks

Solution 1
Answered by Mean Drake

I am not too sure about this one but win2000 needs an updated BIOS to prevent suvh problems. See if your BIOS is the cause of these problems.
---
Question

Submitted by Kurt

I have a Win98 system with no User Profiles configured. I have installed Outlook 2000 for my use and left Outlook Express for my wife to use strictly as an email client. Problem: The address book I moved to OE appears as my address book in Outlook!? Question: Can we maintain separate addresses without setting up Profiles or OE Identities of some such? Can't I tell Outlook to look here and OE there? What have I missed? Thanks

Solution 1
Answered by Mean Drake

This has happened probably because while configuring them you imported/exported the address books. You can definitely keep them separate. I myself have different address books in OE and MS Outlook.
---
Question

Submitted by Aaron

How do I make the Association for Application what it is by default, [Executable].

Solution 1
Answered by Mean Drake

Locate any such File Type in Windows Explorer.
With Shift key pressed, right click on it and select open With from the Pop up menu. You will get a list of apps on your PC.
Select the app that you are thinking about and Check the box for always Open using this program and then click OK.
---
---
Question

Submitted by ahmer

Hi!! I am using Internet Explorer 5.5 Whenever i try to download an email attachment from Hotmail or Yahoo Mail, the Internet explorer does not download the attach file, rather whenever i click on the attachment link (for example 'ab.exe'), the download window pops up with the File name as "login" and in the "Save as type" field shows "HTML document". After hitting the save button, it doesn't save anything but an html file 'login.html'. I wonder if something is wrong with IE 5.5, it's happenning after installing IE 5.5. Anybody help?:)) Thanks

Solution 1
Answered by Marc Strickland

I have seen this issue as well. Here is the trick, when the first dialog box opens select "open from this location" a second dialog box will open; when it does select "save to location" this will download the file. I do not know why this happens, however, this fix should work for you.
---
Question

Submitted by Fred

My DVD play tells me that I need to turn on DMA mode for my DVD drive. I know how to do this in Win98 but can't seem to find anyplace to accomplish this in Win2k

Solution 1
Answered by Charles Putnam

Under Win2000, this is under IDE controllers on the Device Manager tab. Assuming your DVD ROM is on the secondary controller (the hard drive is usually connected to the primary), click on properties and change to DMA. You'lll need to reboot, but there ya have it.
---
Question

Submitted by AJ

I reinstalled Windows 2000 because as soon as you enter user name password it reboots itself. What I found out that after installing Windows 2000 the first software I installed was McAfee for Win 2000 and it started doing it again. I reinstalled Windows 2000 and all my programs without McAfee and the system works fine. Is there any solution for that? Thank you.

Solution 1
Answered by Charles Putnam

Install all of your other programs first. Also, make sure you are using the latest version of McAfee that is compatible with Win2000.
Personal Opinion - McAfee seems to cause a lot of problems with other software. You may want to check out a different virus scanner such as Norton or Panda.
---
Question

Submitted by Unknown

the phone program is not responding at all eg i cannot make a call because because it is not dialing etc

Solution 1
Answered by Charles Putnam

A little more info please. Which program are you using? Details on your modem, etc etc etc.
---
NOTE: Please note that ActiveWin nor the AskAW staff can take any responsibility for anything that may/may not occur when taking our advice. If you do anything that is included in our advice, you are doing so at your own risk.
If you have any questions pertaining to a particular answer please contact the person who replied.
You can contact anyone of our staff here or email us at askaw@activewin.com