DirectX
ActiveMac
Downloads
Forums
Interviews
News
MS Games & Hardware
Reviews
Support Center
Windows 2000
Windows Me
Windows Server 2003
Windows Vista
Windows XP



News Centers
Windows/Microsoft
DVD
Apple/Mac
Xbox
News Search



ActiveXBox
Xbox News
Box Shots
Inside The Xbox
Released Titles
Announced Titles
Screenshots/Videos
History Of The Xbox
Links
Forum
FAQ



Windows XP
Introduction
System Requirements
Home Features
Pro Features
Upgrade Checklists
History
FAQ
Links
TopTechTips



FAQ's
Windows Vista
Windows 98/98 SE
Windows 2000
Windows Me
Windows Server 2002
Windows "Whistler" XP
Windows CE
Internet Explorer 6
Internet Explorer 5
Xbox
Xbox 360
DirectX
DVD's



TopTechTips
Registry Tips
Windows 95/98
Windows 2000
Internet Explorer 5
Program Tips
Easter Eggs
Hardware
DVD



ActiveDVD
DVD News
DVD Forum
Glossary
Tips
Articles
Reviews
News Archive
Links
Drivers



Latest Reviews
Xbox/Games
Fallout 3

Applications
Windows Server 2008 R2
Windows 7

Hardware
iPod Touch 32GB



Latest Interviews
Steve Ballmer
Jim Allchin



Site News/Info
About This Site
Affiliates
Contact Us
Default Home Page
Link To Us
Links

News Archive
Site Search
Awards



Credits
©1997-2012, Active Network, Inc. All Rights Reserved.
Please click here for full terms of use and restrictions or read our Light Tower Privacy Statement.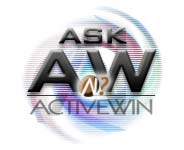 Welcome to AskAW! This section of our web site lets you submit questions about any problems/queries that you may have about Windows. Be it from a little icon that annoys you to hardware freezing your PC, we will try and help you out. You can submit your questions by e-mailing us at askaw@activewin.com. You can browse through previous questions over at our Archive Page. Who knows what you might find.
Here are the answered questions for 02-16-2001
---
Question

Submitted by Vid

Dear Sir, I have a big problem. Restarting Windows 2000 with hibernate works fine. But when I press a key a window appears: "Unsafe removal of a device" and it states I have removed the keyboard. If I press any key the computer freezes and I have to reboot. It happens every time I try to start with hibernate. Any ideas? Thank you for your answer. Sincerely

Solution 1
Answered by Brian Lyttle

Vid, Hibernation problems are usually the result of incompatible hardware, or non-compliant device drivers. Although you get messages regarding your keyboard, other devices/drivers may be at fault. Upgrade to the latest drivers for all your hardware and/ or swap out unnecessary devices, and see how it goes.
---
Question

Submitted by Jane

I have Windows 2000 and run IE 5.0. When I am connected to the internet and close the window I don't get the "stay connected\disconnect now" window that I used to get. Where has it gone and how do I get it back?

Solution 1
Answered by Charles Putnam

Did you happen to install Roxio(Adaptec) EZ CD Creator? If so, right click on the task bar icon (next to the clock) for EZ CD Creator (not DirectCD) and choose disable.
Also, go into Internet Options and click the connections tab. Choose the advanced button under settings and make sure that the Disconnect option is checked.
---
Question

Submitted by Sidick

Dear Sir/ Madam I have Microsoft OUTLOOK Express 5.0 on my PC running on Windows 98 as O.S. Each time I close the program , it don't shut properly . I do need to shut it down after doing alt+Ctrl+Delete where the msimn.exe is not responding. Please Help me to remedy this problem. Many Thanks Regards

Solution 1
Answered by Charles Putnam

What other programs are running in the background - i.e. virus scanners, system checkers etc. One of these may be causing the hang.
---
Question

Submitted by Unknown

Hi! I have downloaded a calculator application and when I try to install it I get an error message that says"... is not a valid Win 32 application". I do not know what to do to install it. If you could give me an advice I would be very pleased. Thank you

Solution 1
Answered by Charles Putnam

Sounds like your trying to install it under Win2000. This error message is indicating it won't run under Win2000 so it won't install.

Solution 1
Answered by Mean Drake

Not just win2000 it won't run under any 32 bit windows. Just delete it.
---
Question

Submitted by Unknown

hello askaw when i first turn on my computer i get a message that reads "this page provides potentially unsafe information to an active x control. your current security settings prohibit running controls in this manner as a result, this page may not display correctly. i also get this on some screens while on the internet but not all of them thanks for any help

Solution 1
Answered by Mean Drake

What version of IE are you using? On what websites do you get these warnings. Are they the underground sites or hacking/cracking sites?
---
Question

Submitted by Mark

For some time now I have been having a problem with Internet Explorer. I have version 5.5. Every time I go to the Windows Update Site and attempt to go to the update product place, IE hangs so badly I end up having to reboot. I'd like to be able to update Windows 98, but there seems to be no way to do so without going through this site. Any help you can give is gratefully appreciated. Thanks. What is the setting in your Tools/Internet Options/Security tab? Is it set to high? If it is you can set it to default of medium.

Solution 1
Answered by Mean Drake

Are you sure IE hangs? If you are using Windows update for the first time, you have to download a large activex control and for some time the page just lies open while the control downloads and you will get a window asking you if you want to download and install so and so from Microsoft.com. Then the site will be functional. See your modem activity in this time. Is it busy getting data while you are on this page?
---
Question

Submitted by Alexandra

Ok here is my problem. I downloaded Juno which offers the free isp basic. Ok the problem is I uninstalled JUNO......but on my IE5.5 at the top it reads Microsoft Provided by JUNO ( I want that removed) Also my windows logo is gone and is replaced by JUNO logo( I want my old windows logo back) Can you help me restore all this .Or should I just uninstall IE 5.5 and redownload it again after uninstalling. I need help fast please help me . Thank you

Solution 1
Answered by Brian Lyttle

Alexandra,
The logo in the top-right corner of Internet Explorer can be removed by deleting the "signup" folder in "c:\Program Files\Internet Explorer\".
The 'provided by' message is stored in the Windows Registry. You must open regedit.exe (type it in Start->Run). Navigate to "HKEY_LOCAL_MACHINE\SOFTWARE\Microsoft\Internet Explorer\Main", and you should see "Windows Title". Simply edit the value of this registry key, removing JUNO and replacing it with whatever you want.
If you have any problems, or don't feel confident with doing this operation e-mail me. Regedit.exe can seriously damage your system if used incorrectly - if used properly it is safe.
---
Question

Submitted by Jeff

Hi, I have 2 hard drives, and I recently partitioned my larger hard drive so I would have one partition for OS's and one for my programs in windows. My second hard drive is strictly for downloads. My drive letters go as follows: C-Windows OS, D-Downloads, E-Programs. I was wondering if there was a way to change the default install dir in the registry to E:\Program Files\ instead of C:\Program Files\, so I don't have to change it manually every time I install a program, or in case I forget (which with my lack of mental prowess happens frequently) to change it when I am installing something. Please let me know if there is a key in the registry for this setting. I know how to edit it, just not where to find it. Thanks for the help

Solution 1
Answered by Brian Lyttle

Jeff,Powerquest used to distribute such a utility with their Partition Magic software. I would expect that something similar can be found on http://www.download.com , but remember that not all paths are stored in the Registry. Some are stored in .ini-type files, or are hard-coded.
---
Question

Submitted by Unknown

I want to do this.... We see this often, you removed a program and the item is still hanging around at the Add/Remove Program List. This will clutter up the list and making it hard to find the real program you want to remove. To trim this list, fire up the registry editor and HKLM\Software\Microsoft\Windows\Current Version\Uninstall. From the drop-down list, select the unwanted item and delete it for good. but where is the registry editor?? can u direct me to it? Thanks allot this problem is real bugging me!

Solution 1
Answered by Mean Drake

It is regedit.exe in the windows folder.
---
Question

Submitted by Tony

Is there any way to download Whistler Beta 1? I cannot seem to find it. Thanks.

Solution 1
Answered by Marc Strickland

Whistler is still in beta format and can not be downloaded legally unless you are a Microsoft Beta Tester.
---
Question

Submitted by Muhammad

SIR I have a problem. Is That Possible to Start Win98 from win2000 without restarting my system. is that possible to run win2000 from win98 without restarting or booting my system. Please Solve my Problem with regards.

Solution 1
Answered by Marc Strickland

You can not start Windows 98 from within Windows 2000 or vice versa. It must be set up as a dual boot where you select which operating system to load at system start-up.
---
Question

Submitted by James

I have just built a new system but my A7V motherboard will not detect my 20.4Gb Maxtor UDMA66 Hard drive as the master on the promise IDE controller. I have updated the bios with a file from the Asus website as suggested in the manual, but the same problem occurs. Any ideas?

Solution 1
Answered by Marc Strickland

Get the information from your hard drive and enter into the bios manually. Perhaps this will work for you.
---
Question

Submitted by Richard

Hi,hope you can help?. When I pull up internet explorer while on line I get a message that says, missing or corrupt files that it needs to operate. How ever it seems to operate ok.How can I tell what files are missing or corrupt. And how can I fix this? Thank you very much in advance.

Solution 1
Answered by Marc Strickland

I suggest you re-install Internet Explorer. Get it here:
http://www.microsoft.com/windows/ie/download/ie55sp1.htm
---
Question

Submitted by Don

I couldn't find reference to the service pack you describe at http://www.activewin.com/win2000/sp2bugs.shtml anywhere on Microsoft's site. Is it forthcoming or does it exist? That is not clear.

Solution 1
Answered by Brian Lyttle

Don, Service Pack 2 is in Beta. The list you saw was of bugs addressed by this Service Pack.
---
Question

Submitted by Ken

A friend of mine told me that windows ME has been recalled. How much truth is there to this. Thanks

Solution 1
Answered by Andrew Funderburk

Haven't heard a thing about it. No mention of it on Microsoft's site either.
---
Question

Submitted by L.B.

Hello. Installing win9x offers us Custom Setup which allows us not to install software (like MS Paint, accessibility, etc...). Even with typical install, one can remove them through Windows Setup in Add/Remove Programs Properties. How can the same be done in Win2K? I can't seem to find a way to remove these type of software that are useless to me. Thank you for your time and patience

Solution 1
Answered by Charles Putnam

Windows 2000 doesn't have a custom install routine like Win95/98/Me does. You might be able to remove the icons and the related program, but that's not advisable as it may affect other parts of Win2000
---
Question

Submitted by Tabitha

Sirs, I have Windows 2000 Professional. I'm trying to configure the tcp/ip settings to my college network. The computer says I'm connected, but I cannot go to any sites on internet explorer connect with instant messenger programs. I knew how to set up Win 98, but this is different.

Solution 1
Answered by Charles Putnam

Check to see if there are any special DNS or WINS configuration settings. This may be the snafu. Also, if you can post what all of the Win98 TCP/IP settings were, that would help.
---
Question

Submitted by René

Hi everybody, I am trying to find out how to keep people out of the configuration because they don't have any business there I hope somebody can help me how to do that it has to be done by a network for all people accept me. so if you can help me I'll be great full if not thanks anyway greetz

Solution 1
Answered by Charles Putnam

Several questions:
1. When you say you want to keep people out of the configuration, what specifically do you mean? Are you trying to keep the network admin from seeing your work or are you trying to prevent other people from accessing/using your computer?
2. What type of network are you on (i.e. peer to peer or client/server).
Need a little bit more clarification.
---
Question

Submitted by Brian

I am running WinMe and the following message pops up FAR too frequently, and shuts down my system. "iExplorer has caused an error in DIBENG.DLL. Explorer will now close." Can you tell me what might be causing this?

Solution 1
Answered by Mean Drake

dibeng.dll is an original Windows OS file and is not overwritten by installations of IE5.
You can safely backup this file and replace it from the Win98 CD cab files using the System File checker.
---
Question

Submitted by Marc

I've been having some serious problems with my hard drive[C:(master IDE)] lately. It's been making a lot of noise lately and I've had the error "cannot write to disc". And then today my computer froze-up and I had to reboot. When it came back on the bios did'nt recognize that I had that drive. I finally have it back on-line(obviously) but I had to unplug the drive a few times and run scan disc three times. So I figure it's time to change it. Here's my question: How do I replace this drive(C:) without having to reinstall Win98SE or losing any of my programs or settings? I also have an IDE [D:(slave)] with enough room for the contents of C: And a firewire drive(thru PCI) also with plenty of room on it. Thank you

Solution 1
Answered by Mean Drake

I guess the way to go would be to use a third party app like Norton ghost to make a copy of this disc.
---
Question

Submitted by Kerry

Hello, Every time I defrag. it gets stuck at 33%. Two hours later, it is up to 37%. I had it going for four hours today, and it went no further than that. I am not running anything else. In fact I closed everything but systray and explorer down. Any suggestions would really be appreciated. I have HP 56K Windows 98 recently downloaded explorer 5.5. Thank you

Solution 1
Answered by Mean Drake

Try running scandisk followed by Defrag in Safe mode. Some ppl have better luck that way.
I personally prefer a third party utility like Norton or Ontrack.
---
Question

Submitted by Peter

I have just recently installed Win98 and Office 2000 on my PC. IE5 was working fine until I guess I must have changed a setting unintentionally. Whenever I click on a link that attempts to open a new window I get a message IEXPLORE caused an invalid page fault in module SHDOCVW.DLL. A subsequent message, "There was an internal error and one of the windows you were using will be closed....etc". Another problem (which I feel may be related) occurs when I click on a .EXE file or a .PDF file. IE doesn't give me the option to save the file onto my hard disk, rather it tries to open it and gives me a whole lot of hieroglyphics (hope I spelt that right). Finally, I can't print anything off the Internet. I'll click the button and nothing happens. I sure hope you can give me some clues as to what I may have done wrong. Regards

Solution 1
Answered by Mean Drake

It is extremely frustrating to alter IE to behave as per your needs. In most other software if something is not going your way you can always do it through tools/Options. Here the choices are limited. What you can do is go to Tools/Options and restore defaults for most tabs there. Then you can try to repair IE or of ot is IE 5.0 you are using you can try upgrading to IE 5.01 or to IE 5.5.
---
Question

Submitted by San

I d/led a zip file, it's supposed to be a movie (mpeg I think) zipped. When I tried to unzip it, it gives me an error:
Winzip Cannot open file: it does not appear to be a valid archive. If you downloaded this file, try downloading it again.
This is a 45 meg file and I'm going to try again, but if that doesn't work, what can I do? Also, for some dumb reason, i changed the file to be a system file (by right clicking the zip file and going to properties and checking the system box). now it doesn't show up in some places and I can't mess with it in WinFile. Can I make it a non-system file? Thanks ahead of time

Solution 1
Answered by Mean Drake

You can make it a nonsystem file easily. Right click/Properties/ and uncheck the System Check-Box.
If winzip fails you can try other shareware utilities for zip files but in my opinion the chances seem bleek.
---
Question

Submitted by Kerry

Hi, I am a newbie. I have windows 98. When I launch Internet explorer. (I recently downloaded 5.5) I can't get any pages. Why? Also, when I run my disk defrag it gets stuck at 34% and I can still here it running but nothing is happening. Details show that nothing is moving. I have tried to be patient, and have waited a while. Also, I am not running anything else at the same time. I have shut down everything except systray and explorer. I ran Dr. Watson and it said something about Adobe type manager. Do you have any suggestions? I am at a complete loss. Thank you in advance.

Solution 1
Answered by Ashton Smith

As far as your hard drive problems go, I would do a thorough scandisk of all of you hard drives. Then, the defrag should work correctly.
---
Question

Submitted by Bernard

Hi. I have two separate hard drives: One with Windows NT 4.0 and the other I got installed with Windows ME. I made the NT 4 drive the primary master and the Win ME drive to the secondary master. I was wondering if I could access (ergo, read/write) the Win ME drive when I'm booted into NT 4. I have some files in my NT drive that I would like to back-up in my ME drive. Help! I hope you can write me back.

Solution 1
Answered by Ashton Smith

If your hard drive with Windows ME on it is using a FAT32 file system, then your answer is no. Windows NT cannot read FAT32 drives.
---
Question

Submitted by Unknown

Is there any Service Pack 4 for windows 98 with Windows NT 4.0 Option Pack 4 installed for Windows 98? If yes, pls tell me where is the site to download the it. I'm trying to work on my e-commerce program using VB,ASP,SQL Server 7.0 and MTS. MY program on MTS for windows 98 is not working. I need Service Pack 4 for windows 98.

Solution 1
Answered by Mean Drake

AFAIK there is no such thing. The MTS component has this issue with Win98 and you might seriously consider NT or 2000.

Solution 1
Answered by Ashton Smith

There is no such thing as Service Pack 4 for Windows 98, there is a Service Pack for Windows NT however.
---
Question

Submitted by Philip

I have a problem with the wav output on the volume control settings being muted every time I reboot the computer. I have tried everything I can think of and I can't find the problem. Please help. Regards

Solution 1
Answered by Frank Callanan

Hey! OK I had a similar problem. E-mail me with your system configuration, and I will get back to you with some possible solutions.
---
NOTE: Please note that ActiveWin nor the AskAW staff can take any responsibility for anything that may/may not occur when taking our advice. If you do anything that is included in our advice, you are doing so at your own risk.
If you have any questions pertaining to a particular answer please contact the person who replied.
You can contact anyone of our staff here or email us at askaw@activewin.com