DirectX
ActiveMac
Downloads
Forums
Interviews
News
MS Games & Hardware
Reviews
Support Center
Windows 2000
Windows Me
Windows Server 2003
Windows Vista
Windows XP



News Centers
Windows/Microsoft
DVD
Apple/Mac
Xbox
News Search



ActiveXBox
Xbox News
Box Shots
Inside The Xbox
Released Titles
Announced Titles
Screenshots/Videos
History Of The Xbox
Links
Forum
FAQ



Windows XP
Introduction
System Requirements
Home Features
Pro Features
Upgrade Checklists
History
FAQ
Links
TopTechTips



FAQ's
Windows Vista
Windows 98/98 SE
Windows 2000
Windows Me
Windows Server 2002
Windows "Whistler" XP
Windows CE
Internet Explorer 6
Internet Explorer 5
Xbox
Xbox 360
DirectX
DVD's



TopTechTips
Registry Tips
Windows 95/98
Windows 2000
Internet Explorer 5
Program Tips
Easter Eggs
Hardware
DVD



ActiveDVD
DVD News
DVD Forum
Glossary
Tips
Articles
Reviews
News Archive
Links
Drivers



Latest Reviews
Xbox/Games
Fallout 3

Applications
Windows Server 2008 R2
Windows 7

Hardware
iPod Touch 32GB



Latest Interviews
Steve Ballmer
Jim Allchin



Site News/Info
About This Site
Affiliates
Contact Us
Default Home Page
Link To Us
Links

News Archive
Site Search
Awards



Credits
©1997-2012, Active Network, Inc. All Rights Reserved.
Please click here for full terms of use and restrictions or read our Light Tower Privacy Statement.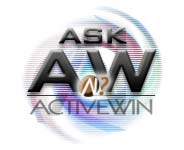 Welcome to AskAW! This section of our web site lets you submit questions about any problems/queries that you may have about Windows. Be it from a little icon that annoys you to hardware freezing your PC, we will try and help you out. You can submit your questions by e-mailing us at askaw@activewin.com. You can browse through previous questions over at our Archive Page. Who knows what you might find.
Here are the answered questions for 03-09-2001
---
Question

Submitted by

Louisa

Let me start by saying thanks for taking the time to read this. I've got a problem with my DirectX, I've got missing files (dxsetup.exe, dssetup.dll, dssetup16.dll, and dssetup32.dll) and I don't have a clue as how to put them back on. I had DirectX 6 at one time, now the diagnostic tool says that I have version 4.08 and I can't install a newer version. Please help because my son is about ready to throttle me because he can't play is games

Solution 1
Answered by Ashton Smith

Download and install the newest version of DirectX, DirectX 8. It is available at: http://www.microsoft.com/downloads/release.asp?ReleaseID=27741
Don't worry about the version numbers, the newest version will show a DirectX 8 on the first screen of the dxdiag.exe program, but the actual version number is 4.08.00.0400
---
Question

Submitted by Dave

My PC (win 98, P2 350) has problems on the internet, every 5-6 pages takes ages to load. Have you ever witnessed any similar problems? The modem is a non-branded USB 56k.

Solution 1
Answered by Candy Baker

Go to the Windows Update page http://windowsupdate.microsoft.com/ then go to Product Updates and update anything that your computer need. Have you double clicked on the green lights to see what speed you are connecting at? Once you download the 128-bit encryption security patch. Then call your ISP server and ask if they have a back up phone number to connect at a faster speed. My ISP server gave me a phone number for people with the 128 encryption. Next would be recheck your modem and make sure you loaded the software from their website, and get the latest drivers.
---
Question

Submitted by GW

Hello, I have a simple question. I am running Win98 and under the "Add\Remove Programs" area, there are several programs listed that I deleted without using the uninstall program. So these programs are still listed to be "Added or Removed" even though I no longer have them on my computer. Is there a file I can edit to remove these programs from the list? It doesn't sound like a big deal but it is annoying me considerably! Thank you!

Solution 1
Answered by Candy Baker

Try going to http://download.cnet.com/downloads/ Do a search for Xteq. This program allows you to remove Add/Remove programs that have been deleted and are still in the Add/Remove Window.

Solution 2
Answered by Mean Drake

Or if you are confident enough you can manually edit the registry (the uninstall section) and remove the offending entries.
Another small utility that will let you do it is TweakUI. From Microsoft.
---
Question

Submitted by Justin

I already have a copy of Windows 2000 Advanced Server installed on my primary (C:) partition, but when I installed Win2K, I purposely made a second partition with the intention of installing WinMe onto it later. Can I install WinMe onto the other partition without reformatting the (C:)? Thanks

Solution 1
Answered by Mean Drake

You should be able to. However if your c: is NTFS then WinMe won't be able to see it at all.

Solution 2
Answered by Geoffrey Lo

Actually No you can't. Dual Booting with ME and Win2k only works if ME is installed FIRST, and not vice versa. As the ME installation shield has to copy files to the primary partition even though you specify another. But Win2k copies all of its files to the partition you specify. The ME Installation shield doesn't select the partition, but the \WINDOWS\ installation folder.
---
Question

Submitted by Daniel

I'm running a network at a school, we currently have and NT4.0 server which is upgrading to 2000 Server soonish. At the moment we are using NT workstation 4.0 clients, but I'm build an image for win2000, as allot of the application we use don't run well under NT4.0. The student are using mandatory profiles so they are the only ones with the problem:
Problem: I was wondering if there is anyway of stopping the "Welcome.exe" on start to stop loading everything someone logs on the network. Is there a registry setting that can be changed or anything, I know you just can't delete the stupid file. anything to stop it would be helpfully Thank you

Solution 1
Answered by Geoffrey Lo

Hi Daniel,
Try this registry key:
HKEY_CURRENT_USER\Software\Microsoft\Windows\CurrentVersion\Explorer\Tips.
Create a REG_DWORD called "Show" and put its attribute to "0".
Return an e-mail to me if you need more help
---
Question

Submitted by Fabio

I have installed in my pc both win 98 and win 2k.Now I have some problems with win 98 and I want to reinstall it, but if I'll do it I know win98 setup will change the boot sector and make me unable to run win 2k. Is there a method to avoid this inconvenience? Sorry for my English. P.S: I did not mention I've to format the partition with win 98 installed ( which is the first ) !

Solution 1
Answered by Geoffrey Lo

The only way to have both Windows 98 and Win2k running at once is if you install Win98 FIRST and then Windows 2000 onto a separate partition to have it concurrent. If 2000 is installed first, it won't work, as W98 installs files to C: no matter where you specify, whilst you can ask Win2k to choose a different partition.
---
Question

Submitted by Dawn

One Windows 98 workstation on our Windows NT network is unable to connect to the network after being restarted. After the workstation has restarted and the user attempts to login to the domain, it produces an error message that this user was not able to connect to the domain. However if you change the name of the computer, it is able to connect to the network. How can this be corrected? What is causing this error?

Solution 1
Answered by Geoffrey Lo

Did you see a Network error 0 saying that the computer name is already in use? Or do you have any characters for the computer name apart from A-Z, 0-9, hyphens and underscores? If yes, that is why.
---
Question

Submitted by Mike

Hello, I tried to enter my network properties from the control panel and received the message stating that system administrator has barred access, I am the only user of my computer and do not know how this has happened. I am running windows 98 se. Any ideas Thanks

Solution 1
Answered by Geoffrey Lo

If your computer is branded, the manufacturer may have blocked access to reduce novice users from damaging the system. But here's the registry keys you can use to remove this. Just copy the specified section into notepad and save as (Anything).reg. This cuts down the need of using Regedit, and reduces damaging the system.

-------START PASTING BELOW THIS LINE--------
REGEDIT4
[HKEY_CURRENT_USER\Software\Microsoft\Windows\CurrentVersion\Policies\Network]
"NoNetSetup"=dword:00000000
"NoEntireNetwork"=dword:00000000
"NoWorkgroupContents"=dword:00000000
"NoFileSharingControl"=dword:00000000
"NoNetSetupIDPage"=dword:00000000
"NoNetSetupSecurityPage"=dword:00000000
-------END PASTING ABOVE THIS LINE--------
---
Question

Submitted by Jordan

More often then not Windows ME upon turning my PC on (Celeron 433 128mb ram) it goes to a blue screen with
WINDOWS GENERAL PROTECTION FAULT SYSTEM HALTED
I know of two work-around, go into windows under boot logged mode or step-by-step confirmation and saying yes to all the options. after that no problems. both of those modes take much longer to load up and is such a pain, please help

Solution 1
Answered by Geoffrey Lo

This is usually a bad driver caused by a piece of hardware. Make sure that you have the latest version of ME COMPLIANT drivers. If the problem still persists, please send me the details of you Sound Card, Graphics Card and any PCI/ISA/AMR cards you have.
---
Question

Submitted by Unknown

Hi I have win2k pro setup as the basic router for my DSL line and I was wondering if there is a way to access the desktop and stuff from my Windows ME machine IE I see he start button and stuff ?

Solution 1
Answered by Geoffrey Lo

If what you're saying is you want to control your other computer, then LapLink or Symantec's pcAnywhere will do best for you. You have to have them networked, or connected via some data transmittion for these to work, i.e. USB, Serial, Printer, or LAN.
---
Question

Submitted by Mark

hi my name is mark I am running windows ME I am an experienced windows user but I have run into a problem, three problems, one my briefcase has turned it self into a folder and is inaccessible, two system restore won't work, three help and support does not work keeps coming up with an error: hcp://system/undefind any help or suggestions would be greatly appreciated thanks

Solution 1
Answered by Candy Baker

I would reinstall WIN-ME. If you want to try this first it may correct the Briefcase but it will not help your system files.
To check the status of files in Briefcase
1. Open Briefcase, and click the file you want to check. You say you are not able to do this, correct, so -
2. Right click on Briefcase. On the File menu that drops down, click Properties, first ask it find target, that shows you the path where it is residing on the hard drive. Write that down.
3. Click the Update Status tab.
---
Question

Submitted by Josť

If Windows Update has been disabled is there an easy way to reinstate it? Bill

Solution 1
Answered by Candy Baker

Which OS are you running Win98 or WinMe?
---
Question

Submitted by Leigh

greetings--I made a really stupid mistake last night and I'm hoping for some help. I was futzing around in the local security policy of my machine, hoping to harden my system to external attacks. in my zeal to protect myself, I denied *all* users from logging on locally. duh. I can't log on as administrator, I also disabled the guest account in the process, and my typical user profile is paralyzed, too. my machine belongs to a domain, but I disabled the netlogon service long ago because I prefer to manage things locally. any suggestions?? I really don't want to rebuild my machine and, yes, I know this was silly. thanks

Solution 1
Answered by John Lampson

Leigh, Okay, I'll save you. From another computer on the domain, run Server Manager, Start, Run, srvmgr. Select your system and choose File -> Services. Select the Netlogon service and choose Start. You should actually leave the Netlogon service enabled all the time. This way, your system will be able to participate in network functions even if you log on locally. If for some reason your computer is not available in Server Manager, you may have to reinstall. However, there are definitely other methods you can try. Let me know how it works out.
---
Question

Submitted by Unknown

Hi I have purchased Windows Me and installed on one of my PC's with the greatest of ease. This was an upgrade to Win98SE. I have done exactly the same on my second PC (networked together), but cannot get the install to work. I am getting the following errors:- First install
MSCAN32(01) + 00014C5D ERROR 0E: 0028 C16261AD
Subsequent installs give the BSOD with the following:
EXCEPTION 0E
0028: C000D81A IN VxD VMM(01) 0000C81A. This was called from 0028:C004AB93 in
VxD VFAT(01) 0000B23F
with the usual hit enter ......Both errors lock up the PC with no option but to power off. Can you guys please assist?

Solution 1
Answered by Mean Drake

Are the two system configurations similar. Or is this problem PC an older one with an older motherboard. Older motherboards or incompatible hardware are one of the causes of this behavior.
---
Question

Submitted by B

Help! I've Windows 98 2ndEdition with IE 5. When I go to Start and Windows Update I get this message: "Your current security settings prohibit running Active X controls on this page. As a result the page may not display correctly." Only option then is to click OK and that gets me a huge "Cannot Display Page" in bold red lettering. The instructions that follow to correct the problem are very complicated. The settings are at default, for Internet, and medium security. How can I get my machine set to update windows? Thanks

Solution 1
Answered by Mean Drake

The first time you visit windows update, the site makes you install an activex control on your computer so that the windows update works well with your system and can determine what updates you need. So set your internet security settings to low (normally this works with medium too) or click the custom button and in the category Signed Activex controls set the option to prompt. This will enable you to install the activex control. Then you can set your internet security settings to what they were.
---
Question

Submitted by Adam

Windows 2000 frequently freezes up when using either Adobe Photoshop 6 and Illustrator 9. This is a very hard freeze -- the mouse just stops. Nothing moves, and a hard reset is required. The other night, I dragged a file onto Illustrator and my machine just rebooted out of nowhere. I'm thinking this could be a problem. Any ideas?

Solution 1
Answered by Mean Drake

Both are memory hungry applications. What RAM do you have. Also possible one of the RAM chips might be faulty. This is one of the causes of system freeze ups.
---
Question

Submitted by Alice

Hi I put Windows ME on my gateway computer that is 3 years old but have added 128 more memory. Ever since it has been on the machine it shuts off and reboots about every 2 hours. Have you had this problem before and what can be done to prevent it. I use this computer for both home and work and it is costly to have it shut down in the ddle of what I am doing and it looses everything I was working on.

Solution 1
Answered by Mean Drake

WinME has this problem with older Motherboards that may not be ACPI (advanced configuration and power interface) compliant. You might consult your tech and consider putting in a newer motherboard or maybe even a faster processor with a newer board.
---
Question

Submitted by Daniel

I have a user whom is getting an "runtime error #9 subscript out of range" when starting word. Does anyone have any ideas?

Solution 1
Answered by Mean Drake

Office needs to be uninstalled and reinstalled. This usually happens if one of the dll files is corrupted.
---
Question

Submitted by Unknown

Just two questions.
1. What user account is it safe to be in when I surf the web?
2. This question is derived from the first. Is there a way to customize my account. So I can have protection and also be able to update browser plugins, without having to esort to administrator mode?
The other account types (power users mode) just don't allow installation of programs, even though the description of this account type says it can. Thanks

Solution 1
Answered by Charles Putnam

If you're running Win2000 on a standalone system, the default account should have complete user rights (you can give it complete administrator rights to be on the safe side).
Practicing Safe Surfing more involves what sort of things you allow to be utilized (i.e. cookies, Java, Javascript, ActiveX stuff, etc) rather than what rights are allowed on the account. You might want to check into a personal firewall program or one of the protection programs from Norton.
---
Question

Submitted by Margaret

Hi ,I am a new user of win2000_professional and I have a small problem when disconnecting from the internet, when I close internet explorer the Disconnect Now/Stay Connected dialog box no longer appears is it possible to get it back.?

Solution 1
Answered by Charles Putnam

Are you using something like EZ CD Creator 4 (or ver 5)? If so, this places an icon in the task bar. Right click on it to disable it. This will correct the problem.
---
Question

Submitted by Mike

know how many individual files you can have in a single folder in Win95/98/2000/Me?

Solution 1
Answered by Charles Putnam

There really is no theoretical limit.
---
Question

Submitted by Sonia

To whom It May concern: I was given a computer and printer from a friend. There was a problem with the computer that removed some hardware. I do not have the original paperwork or books that came with the system. Would you please give me a list of all the hardware/Drivers that the system should have in order to operate or please point me in the direction to retrieve the information myself. Thank you in advance for your help in this matter.

Solution 1
Answered by Marc Strickland

Sonia,
What you are asking for can not be given to you by folks that do not know your system. There are thousands of possible hardware configurations. These configurations are specific to the computer you have. We can tell you that you should have a motherboard, ram modules, hard drive, sound card, Ethernet card, CDRom drive, etc., however, this type of information is worthless without knowing, what brand and model of each are in the box. I suggest you bring the computer to someone who can look inside it and determine what hardware you actually have.
---
Question

Submitted by Gerd

Good morning. While setting up the complete installation I always used the sfc.exe in WIN98. After each install or deinstall it's a very good practice for keeping the system file versions correct and having a very safe system. Blue screens never seen since using that tool. In ME I haven't found it. Has MS dropped the sfc.exe? How can I check the file versions manual in ME? Is there maybe an update of this tool existing?

Solution 1
Answered by Marc Strickland

System File Checker Is Not Included in Windows Millennium Edition
--------------------------------------------------------------------------------
The information in this article applies to:
Microsoft Windows Millennium Edition
--------------------------------------------------------------------------------
SUMMARY
This article describes the differences in how files are protected in Microsoft Windows Millennium Edition (Me) versus Microsoft Windows 98 and Microsoft Windows 98 Second Edition. Windows Me uses the System File Protection (SFP) feature whereas Windows 98 and Windows 98 Second Edition use the System File Checker (Sfc.exe) tool.
MORE INFORMATION
There is no need for the Sfc.exe tool in Windows Me because SFP is always actively scanning the computer for file changes. Because of this activity, and because the files monitored by Sfc.exe and SFP are similar, the Sfc.exe tool is not necessary in Windows Me, nor does the option to run this tool exist.
System File Protection (SFP) Feature
The SFP feature in Windows Me ensures that files that are critical to the system operation are not replaced by older versions, or by versions that Microsoft does not approve.
---
Question

Submitted by Mike

hi, I was just wondering where I can get the wallpapers that come with windows me, or can't I do that? thanks

Solution 1
Answered by Saumil Mehta

Wallpapers are saved in c:\windows folder in .jpg, .gif or .bmp format.
---
Question

Submitted by Unknown

What is the correct procedure for upgrading a single processor Windows 2000 server to a dual processor system? Will I have to do a complete reload or will
Windows 2000 server just find the second processor and utilize it when the system is powered on and rebooted after installing the additional processor in
the computer?

Solution 1
Answered by Marc Strickland

I believe Windows 2000 server will not have an issue with this additional processor.
---
NOTE: Please note that ActiveWin nor the AskAW staff can take any responsibility for anything that may/may not occur when taking our advice. If you do anything that is included in our advice, you are doing so at your own risk.
If you have any questions pertaining to a particular answer please contact the actual Staff Member who replied.
You can contact anyone of our staff here or email us at askaw@activewin.com