DirectX
ActiveMac
Downloads
Forums
Interviews
News
MS Games & Hardware
Reviews
Support Center
Windows 2000
Windows Me
Windows Server 2003
Windows Vista
Windows XP



News Centers
Windows/Microsoft
DVD
Apple/Mac
Xbox
News Search



ActiveXBox
Xbox News
Box Shots
Inside The Xbox
Released Titles
Announced Titles
Screenshots/Videos
History Of The Xbox
Links
Forum
FAQ



Windows XP
Introduction
System Requirements
Home Features
Pro Features
Upgrade Checklists
History
FAQ
Links
TopTechTips



FAQ's
Windows Vista
Windows 98/98 SE
Windows 2000
Windows Me
Windows Server 2002
Windows "Whistler" XP
Windows CE
Internet Explorer 6
Internet Explorer 5
Xbox
Xbox 360
DirectX
DVD's



TopTechTips
Registry Tips
Windows 95/98
Windows 2000
Internet Explorer 5
Program Tips
Easter Eggs
Hardware
DVD



ActiveDVD
DVD News
DVD Forum
Glossary
Tips
Articles
Reviews
News Archive
Links
Drivers



Latest Reviews
Xbox/Games
Fallout 3

Applications
Windows Server 2008 R2
Windows 7

Hardware
iPod Touch 32GB



Latest Interviews
Steve Ballmer
Jim Allchin



Site News/Info
About This Site
Affiliates
Contact Us
Default Home Page
Link To Us
Links

News Archive
Site Search
Awards



Credits
©1997-2012, Active Network, Inc. All Rights Reserved.
Please click here for full terms of use and restrictions or read our Light Tower Privacy Statement.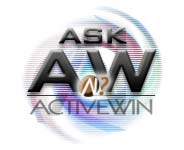 Welcome to AskAW! This section of our web site lets you submit questions about any problems/queries that you may have about Windows. Be it from a little icon that annoys you to hardware freezing your PC, we will try and help you out. You can submit your questions by e-mailing us at askaw@activewin.com. You can browse through previous questions over at our Archive Page. Who knows what you might find.
Here are the answered questions for 03-23-2001
---
Question

Submitted by Realm

Good evening .. I am quite new to Windows 2000 Profesional OS. I have just recently upgraded from WinME over to Windows 2000 Pro. However these are some of the few question I would like to know.
(1) Is there anyway for us to UNINSTALL useless programs & features thru thru the add/remove menu in control panel such as; outlook express, microsoft frontpage, accessibility & etc?
(2) Is there anyway for us to change the profile location such as C:\Documents & Profile\User to C:\User ?
Please do get back to me as soon as possible. Thanks a lot. =) With Warmest Regards

Solution 1
Answered by Charles Putnam

Unfortunately, the answer is no to both questions. Win2000 installs the kitchen sink and designates certain directories for profiles/user info/etc.
---
Question

Submitted by Matthew

Hi, I have been using Windows ME with the My pictures screen saver, I have now upgraded to windows 2000 and I am unable to get the screen saver to display any of my images. I was wondering if you had any suggestions. Thank You

Solution 1
Answered by Charles Putnam

The WinMe "My Pictures" screensaver is most likely incompatable w/ Win2000, so it won't be able to run..
---
Question

Submitted by George

I am running Win2k and i keep getting a message saying:
C:\WINNT\system32\dllcache\dosx.exe
SYSTEM\CurrentControlSet\Control\VirtualDeviceDrivers. VDD. Virtual
Device Driver format in the registry is invalid. Choose 'Close' to
terminate the application.
I get that message practically everytime i run a shell application. I checked out the registry key that it mentioned in the message and it was empty. I am wondering what string value or whatever i have to add to load these virtual device drivers so I stop getting these messages. Thanks for your help

Solution 1
Answered by Charles Putnam

This sounds like a corrupted video driver (VDD is virtual device driver). Check w/ your video cards mfgr for an updated driver.
---
Question

Submitted by Tracey

W98SE When I reboot Windows says it has detected new hardware (my network card) and does not log onto the network. When I boot in safe mode the error "msgsrv32 caused an exception in ... module kernel32.dll" apears and when I click on close it has "safe mode" in each corner but no Start button or task bar. The trouble started when the PC would not boot into windows at all and just said error initializing device VKD. I restored from back up disks which fixed that problem but having tried to install a new version of McAfee VirusScan (having removed the old version first) I get the msgsrv32 error in safe mode and no network. Can you help?

Solution 1
Answered by Steve Cohen

First, physically remove your network card. After rebooting, go into the properties of network neighborhood (or double click network in control panel) and remove everything (all devices, services, protocols, ect... but first make a list of everything installed and record all the settings). After rebooting, shut down the computer. Reinstall the nic card, but try a different slot from the original slot you took it out of.. After rebooting again, restore all devices, services, protocols to the way they were. If this does not resolve the problem, check the link below for more info. Hope this helps.
http://support.microsoft.com/support/kb/articles/Q209/3/21.ASP
---
Question

Submitted by John

In attempting to back up my address book in Outlook 2000, I opened the address book and clicked on File. I expected to click next on Export, but Export and Import are grayed out. I've "repaired" my Office 2000 Professional and even reloaded the software, to no avail. How do I restore these functions? Why are they grayed out, how did this happen, and how can I keep it from happening again?

Solution 1
Answered by Steve Cohen

You cannot export your contact list from within the address book. You must use the import export on the main file menu. Select File, Import and Export, select Export to a file, then select personal folder file (*.pst), then select contacts, give it a file name, then give the personal folder a name, then click finish. You now have a contact list (or address book) that can be saved or used elsewhere. To view or open what you've just created, select file, open pst file, select the file you created. You should now see a personal folder above outlook today on the folder list which contains your duplicate contact list.
This, however, is the very long complicated method. The easy method is as follows. Select file, new, *.pst file. Then give the *.pst file a name, then give the personal folder a name, then say ok. You now created the same personal folder that is actually a *.pst file that you did above. Now simply right click on contacts and drag the conact list to the new personal folder. Select copy and your done.
---
Question

Submitted by Luke

Whenever I use my windows98 disk defragmenter on my C-drive my computer freezes up after doing just a fraction of the drive (the percentage varies). I then have to shut the computer off. What is going on and how can I solve this problem?

Solution 1
Answered by Steve Cohen

I'm willing to bet you are using Mcafee VirusScan. If so disable it before running scandisk or defrag. Norton Systemworks 2001 which includes its own anti-virus does not cause the same problem and does a much better job of scanning and defragging your drive. Hope this helps.
---
Question

Submitted by Dan

Is there any registry key that will remove Task Scheduler and Web Folders from My Computer in Windows 98 ?

Solution 1
Answered by Steve Cohen

The task scheduler should be able to be disabled by opening it up, select advanced from the menu, and select close and stop using task scheduler. If not try looking in the fllowing registry location for anything relating to task scheduler or mstask:
[HKEY_LOCAL_MACHINE\SOFTWARE\Microsoft\Windows\CurrentVersion\Run\
Web folders can be removed from my computer by deleting the following key:
HKEY_LOCAL_MACHINE\SOFTWARE\Microsoft\Windows\CurrentVersion\explorer\MyComputer\NameSpace\
look for the key in here that is called webfolders.
---
Question

Submitted by Nikki

Hi. I started an update installation of Windows 98 (2nd edition) to my windows 98 1st edition yesterday. About a quarter of the way through a box popped up telling me it could not copy one of my files. This scared me a little so I aborted the installation. I then got 2 messages:
1: Cannot find the file C:\Windows\CDPlayer.Exe (or one of its components). Make sure the path and file name are correct & that all libraries are available.
2: C:\Windows\System\CRTDLL.DLL was not found.
These messages seem to pertain to the Windows CD player and the volume control. When I click on the CD Player (Start, programs, accessories, entertainment) I get these same messages and the volume control icon in the system tray is no longer there. I don't really need the CD player but would like to have it back because of the volume control. I would rather not perform a soft reinstall of Windows 98 since I have lost some great downloads (that I paid for) doing that. I'd like to restore them through the system file checker but am still a novice and don't really know how to use the extract one file option. Can you please tell me in a very detailed (step by step) account how to do this (if it's actually possible), or any other steps I can take to restore? I will be forever in your debt. Thanks in advance for any help you can give me.

Solution 1
Answered by Steve Cohen

Try usung add/remove software in control panel. Go to the windows setup tab. Scroll down to multimedia and select details. Uncheck the option for cd player (or while your at it uncheck everything in multimedia). Then say ok and ok. Have the win98 cd handy as the uninstall may ask for the cd. Restart if necessary. Once this is done, go back to add/remove, multimedia and recheck everything. After the reinstall, reboot if necessary. Now check to see if the cd player works without any problems. If so, go for the upgrade.
---
---
Question

Submitted by

George

I recently upgraded to a 19" monitor from a 17". I use 800x600 24 bit. When I got the 19", I thought I would try 1024x768. It still seemed to small for me, so I went back to 800x600. I use W98 and IE5.5. Everything seems ok until a looked at some of my local pages that use the "em" font size command. Even though most things are 800x600, it looks like the "em" command stayed at 1024x768. When I change them to "px" every thing a ok. What can I do?

Solution 1
Answered by Steve Cohen

Try using a different text size from within the browser. Selet view, text size, ansd select a different size that you like better.
---
Question

Submitted by Dean

Just upgraded the mothebroard and processor and the PC was i need of a RE-Format, my current HD was a IBM 27.7GM HD, i had partitioned it to a 20GM (c:) and a 7gb (d). To make it easier to backup my files i put all the vital stuff on D: and only format C: where windows and everything is installed. Did the format and reloaded Win ME and i am now seeing a c: which is my new formatted HD with windows on and a D: which is the drive i backed up my data and a e: which is an exact replicar of D: annd any changes made to d: are the same as e:! So i searched the internet for trouble with Ghost HD's, found a website (http://members.aol.com/axcel216/98-2.htm) that had a solution for Win98 that involved editing the Config.sys BUT win ME dosnt use the config.sys and i cant find out where the Buffer section that was originally in the config.sys has gone? If anyone has any help to any of these questions please help me! Heres a bit mre info u might need:
AMD Athlon TBird 1000Mhz
Abit KT7 M Board
256Mb Ram
IBM 27.7 GB HD partitioned twice C: = 20GB D: = 7GB
Ghost partition is E: which is exact replicar of D
Cheers

Solution 1
Answered by Steve Cohen

I've seen this bedfore and the only way I was ever able to resolve it was to do the following:
copy everything on d to a folder on c
boot to a start up floppy and run fdisk
remove any logical drives on the extended partition
then remove the extended partition (reboot to floppy)
recreate the extended partition and logical drive
reboot to windows and format the d drive
move everything from the folder on c to d
Partition Magic by powerquest makes this process 100x easier
---
Question

Submitted by Ertan

Hello to Active Win. First congrulations to you because you made a very useful site. I have question about my Setup. Like everybody, I want to speed my computer so, I looked at Setup and in the part "Chipset Features Setup", there is a value 'Cpu clock frequency:66 Mhz.' I can change it to 50, 75, 60, 83 Mhz. Should I do it? Will it speed my computer? I heard that overclocking will be harmful, so is it an overclock? My computer is Celeron 300 Mhz. 32 RAM, 3 GB Harddisk.

Solution 1
Answered by Jordan McIntosh

Overclocking is a very technicaly complex issuse, yes it is potentually dangerous to your entire pc, what u asked about is one way to over clock so if you want to try it that way the increase slowly one setting at a time, increase one let it run for a couple days, if your pc doesnt crash anymore then usual then it should be ok, Use the BIOS to watch the tempeture of your CPU email intel to find out what the safe temp is for a Celeron. and do not let it get near that temp. If all is good then increase a little more, I dont recommend overclocking and i know some people will say different, but why risk your pc when u can go get the next level up cpu for only $100 or so.
---
Question

Submitted by Alexander

Hello im haveing a problem with my PC If you what to do please help me When i start my PC and its booting up right before windows load up it says sector not found reading drive C and under that it has Abort Retry Ignore Fail when i first had this problem i could just hit I(for Ignore) or F(for fail) and it would go into windows but now it doesnt even go pass the sector not found reading drive c part i cant go into safe mode or comand prompt either when i use the windows 98 boot disk it only shows me a bunch of comands to use for different things but none of them seem to be for my problem and i still tried to use some of the comands and they wont work scandisk works but it just stops at 66% i dont know if it stops working or just takes long at that point please help me out if you can ell me how to fix my PC is it a virus or what Thanks.

Solution 1
Answered by Ashton Smith

I would boot your machine into safe mode and then do a thorough scandisk. Let it take as long as it needs to in order to finish. If you have a lot hard drive problems it might take a whole weekend. Let it go until it is done.
Also, you might want to do a complete and through virus scan of your machine. Make sure that you have the latest virus definitions for your virus program before you begin.
It sounds like that you are having a hard drive problem, if so, you might need to have your hard drive replaced.
---
Question

Submitted by Doug

Hi, I'm trying to delete a file that is currently being used by Windows 2000 Professional. The file I'm trying to delete is something like C:\Program Files\Program Name\Filename.dll I've tried booting into safe mode with command prompt, then I do C:\dir, then it lists all the directories, but when I try to do C:\Program Files\ I get a "this is not a proper command" message. How do I delete a file currently being used by Windows?

Solution 1
Answered by Ashton Smith

If you are in DOS mode, you can do a dir/x to see what the short filename is. You will not be able to type "cd c:\program files" in DOS you would have to use the short name, something like "cd c:\progra~1"
---
Question

Submitted by James

Wot is the largest amount of RAM that windows Me supports?

Solution 1
Answered by Ashton Smith

512MB of RAM is the limit of the Windows 9x/ME kernal. Windows NT and 2000 do not have this limitation.
---
Question

Submitted by Jack

i have windows 98 in my computer, and it great. my problem is that we bought a new printer, and uninstalled the old one. in doing so it appears to have erased a system file in my operating system. my new printer wont work andneither will my yap phone or flat bed scanner. i think the file was a shared file that was deleted.cant you tell me what it is and also where to find a downloadable copy to install. thankyou for taking the time to read this,and respond

Solution 1
Answered by Ashton Smith

Insert the Win98 CD and go to Programs/Accessories/System Tools/System Info. There is an option to scan for changed/deleted files. Run this program and this should hopefully correct the issue.
---
Question

Submitted by Ian

Hi! I have a new Athlon 1.2GHz PC with 512MB RAM running Win2000. When I minimise a window it swaps it to disk, pausing the machine for tens of seconds, when I've got more than enough RAM available. The old machine running Win2000 with 256MB didn't seem to do this. Any suggestions? Thanks.

Solution 1
Answered by Charles Putnam

Try running Defrag. When the HD is fragmented, this can cause excessive swapping.
---
Question

Submitted by Rusty

I've recently read that changing my hard drive settings to use "Dynamic Disk Configuration" will make my hard drive run faster. Are there really noticeable advantages to this, and can you tell me any disadvantages to making this change. Also, should I be overly concerned that changing this setting might jeopardize the contents of my hard drive? I do back up, but not as well as I probably should.

Solution 1
Answered by Charles Putnam

There is no way around this. The only option is to purchase a retail version.
---
---
Question

Submitted by Chris

First off, great job running the site and answering the previous questions. I have 2 Windows 98 computers, and 1 with Windows ME, all networked. I also have a Windows 2000 Pro notebook that connects to the home network using a USB->Ethernet adapter. I've set up Internet Sharing (host NAT is a Windows 98 machine), and internet access works fine on all the computers and the notebook. File sharing also works between the three desktops (windows 98 and ME). However, file sharing does not work when trying to access the Windows 2000 notebook from the desktops. I get a " \\Vaio is not accessible. No permission to access the resource" when I try to access the Windows 2000 notebook from the WinME machine. When trying to access the W2000 notebook from the Windows 98 SE machines, I get a "Enter Network Password" prompt that says "Resource: \\Vaio\IPC$" and a prompt to enter a password. I do not know of any network password that was set on the notebook. The default user name has a blank password set (just press enter at the logon prompt). I can access the entire network from the Win2000 notebook, and it was able to access itself in the Network Places without a password prompt. Any ideas? Thanks in advance

Solution 1
Answered by Brian Lyttle

Chris, You are experiencing a very common problem. What you need to do is to either enable the Guest Account on Windows, or create a new user account. You can do this by right-clicking My Computer and selecting Computer Management. Go to the Local Users & Groups node. On the Windows 98/ME machines you should create a user account which exactly matches one on the Windows 2000 machine to which you are connecting. You should now be able to access resources on the Windows 2000 machine.
---
Question

Submitted by Unknown

AW, Thanks for taking the time to read this. I am currently making images, using Windows 98, for next year and have leared some great tips on cleaning up the start menus of unwanted items. I found an article that refered to removeing the Folder Options from the Settings menu on the task bar. The fix I found on your site is www.activewin.com/tips/reg/startmenu_6.shtml . The other fixes on that page worked great, but the Folder Options one hasn't worked. It seems it is removed from the registry when I reboot. It could be an invalid binary key name. Do you have any thoughts on this ? I would really like to remove this item from the start menu.

Solution 1
Answered by Mean Drake

Unless you want to do the registry yourself, I would suggest you use TweaUI from the microsoft site. it is only 133 kb and enables you to alter a lot of registry entries in a very easy manner. Basically a reg tweak tool.
---
Question

Submitted by Doug

Hi, I'm running Windows 2k Pro, and just recently the autorun for the cd-rom drive stopped working. I can still access the cd-rom, but autorun will not work. How do I get this back?

Solution 1
Answered by Mean Drake

System>device manager...CD-ROM...Properties...you can turn on auto insert notification there.
Or use TweakUI to do it.
---
Question

Submitted by Gerry

I recently had to reinstall windows 98, as a result on my reinstalled version i noticed a feature i had originally was no longer there (Front page editor). I have searched everywhere with little luck and i'm still not sure where to find this program. If you have any advice it would be greatly appreciated. Ps. i couldnt find it in dowloads perhaps i wasnt looking in the right area...

Solution 1
Answered by Mean Drake

You must be talking of front page express.
Go to Control Panel>Add remove programs>Windows setup tab and see the windows components that you want to add or remove. Add FP express from there.
---
Question

Submitted by Ville

I'm running IE 5.5 on Win2k Professional. Lately I have been unable to view the source of Web pages using either View | View Source or Context Menu | View Source. When I start up the browser, the first one or two pages will allow me to do this, but once it stops working, I have to restart the browser to be able to do it again. I reinstalled the browser, but the problem remains. I checked out the Microsoft KB and tried to respecify the TMP directory from the System panel as recommended for IE 4+ / NT4 configurations. It was pointin at my Local Settings/Temp directory. I changed that to Local Settings/Temporary Internet Files directory but there was no change. It's a pain as I work in Web development. Any Ideas?

Solution 1
Answered by Mean Drake

I can only suggest that you get IE 5.5 SP1 as the fact that the feature is available and then disappears is not suggestive of a correctable error like a registry error. Specially as you have reinstalled. In the meantime you can view source by right clicking anyway.
---
Question

Submitted by Jo

Hi I am experiencing total freeze ups when online...no mouse, no key strokes, no anything but a reset to reboot machine. Have a 2 yr old Pent II, 333MHz, w/128MEG RAM...originally had 64, but a friend helped me to check my Ram, and upgrade, thinking it may have been a memory issue. It isnt, still having problems. Running IE5...had a fresh install of win 98se not too long ago (couple of months) as had this problem before so severely that it was pointless to even try getting online...after the fresh install my old combo modem/soundcard died, so i have a new Zoom 56K/V90 faxmodem and a new sound card. any suggestions on the freezeup issue? are there any patches, or has anyone else had problems like this? so far i only have a problem when online, but i never know when it will lock up, or if it will...sometimes it does fine, other times it will freeze after just a few minutes, or could be fine for an hour or so, then freeze. I am at my wits end here! please help!!! Thanks in advance

Solution 1
Answered by Candy Baker

When you computer freezes, you need to do a shutdown and restart, the a thorough scan disk and disk defragmenter. You can use ScanDisk to check your hard disk for logical and physical errors. ScanDisk can then repair the damaged areas. When you reboot, windows will do a standard scan disk but you need to do a thorough one and read the report and the end.
Go to Start Programs, Accessories to System Tools, and then clicking Disk Defragmenter.
-To change the Disk Defragmenter settings, click Settings.
-While your disk is being defragmented, you can use your computer for other tasks. However, your computer operates more slowly, and Disk Defragmenter takes longer to finish. To temporarily stop Disk Defragmenter so you can run other programs faster, click Pause.
-During defragmentation, Disk Defragmenter must restart each time other programs write to the disk. If Disk Defragmenter restarts too often, you may want to close other programs while defragmenting your disk.
---
NOTE: Please note that ActiveWin nor the AskAW staff can take any responsibility for anything that may/may not occur when taking our advice. If you do anything that is included in our advice, you are doing so at your own risk.
If you have any questions pertaining to a particular answer please contact the actual Staff Member who replied.
You can contact anyone of our staff here or email us at askaw@activewin.com