DirectX
ActiveMac
Downloads
Forums
Interviews
News
MS Games & Hardware
Reviews
Support Center
Windows 2000
Windows Me
Windows Server 2003
Windows Vista
Windows XP



News Centers
Windows/Microsoft
DVD
Apple/Mac
Xbox
News Search



ActiveXBox
Xbox News
Box Shots
Inside The Xbox
Released Titles
Announced Titles
Screenshots/Videos
History Of The Xbox
Links
Forum
FAQ



Windows XP
Introduction
System Requirements
Home Features
Pro Features
Upgrade Checklists
History
FAQ
Links
TopTechTips



FAQ's
Windows Vista
Windows 98/98 SE
Windows 2000
Windows Me
Windows Server 2002
Windows "Whistler" XP
Windows CE
Internet Explorer 6
Internet Explorer 5
Xbox
Xbox 360
DirectX
DVD's



TopTechTips
Registry Tips
Windows 95/98
Windows 2000
Internet Explorer 5
Program Tips
Easter Eggs
Hardware
DVD



ActiveDVD
DVD News
DVD Forum
Glossary
Tips
Articles
Reviews
News Archive
Links
Drivers



Latest Reviews
Xbox/Games
Fallout 3

Applications
Windows Server 2008 R2
Windows 7

Hardware
iPod Touch 32GB



Latest Interviews
Steve Ballmer
Jim Allchin



Site News/Info
About This Site
Affiliates
Contact Us
Default Home Page
Link To Us
Links

News Archive
Site Search
Awards



Credits
©1997-2012, Active Network, Inc. All Rights Reserved.
Please click here for full terms of use and restrictions or read our Light Tower Privacy Statement.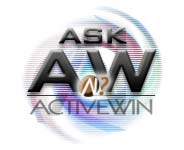 Welcome to AskAW! This section of our web site lets you submit questions about any problems/queries that you may have about Windows. Be it from a little icon that annoys you to hardware freezing your PC, we will try and help you out. You can submit your questions by e-mailing us at askaw@activewin.com. You can browse through previous questions over at our Archive Page. Who knows what you might find.
Here are the answered questions for 03-30-2001
---
Question

Submitted by Glenn

Whenever I open Windows Explorer by right-clicking the Start button, the Windows tree is always expanded. How can I configure it to open so the Windows tree is collapsed? Thanks much.

Solution 1
Answered by Candy Baker

If you want to change where Windows opens, try this. Start > Programs > Accessories > on the Windows Explorer, right click, go to Properties. In the Target field, type the path like C:\My Documents. Click find target, apply, ok. Now Windows Explorer will open in a different place than C:\Windows\Start Menu.
---
Question

Submitted by Unknown

Since reinstalling Windows98 after a hard disk crash, I am unable to play AVI files in any application, including Windows Media Player 7. Apparently a codec is either missing or corrupt. I've tried unloading and reloading the Video Components in Control Panel, with no luck. Can you help?

Solution 1
Answered by Jordan McIntosh

email me and tell me the best way to send u a 1.8mb file that should fix your problem, I haven't found an AVI I couldn't play after putting this one on.
---
Question

Submitted by Jeff

I am having a problem installing Asherson's Call on a 350mz PII running Windows ME. After clicking install, then next, I get the following message:
Ebu1303 has caused an error in EBU1303.EXE. Ebu1303 will now close.
The 1303 changes to a different number each time that I try it. I have tried reloading Windows ME, and it doesn't help. Any ideas ?

Solution 1
Answered by Jordan McIntosh

the Ebu file looks to be a SoundBlaster Live file I suggest removing and reinstalling your sound card with the newest set of drivers from www.creativelabs.com
---
Question

Submitted by Julie

Would it be possible for someone to tell me how to install my digital camera fujifinepix2200. I have accidentally used uninstall on the driver and now I cant use the usb mass storage as I cannot re install the driver The camera is no longer able to be used. I have tried hardware install all I get is it cant find the driver. I am using windows 98 second ed. I would be really grateful. I am a bit of a novice on this

Solution 1
Answered by Jordan McIntosh

http://www.fujifilm.com/
then under service and support go down the page until u see Consumer Digital Camera Software/Drivers then Digital Imaging Software Download then agree to the Terms Of Service and download all the drivers for Win98 and Install them
---
Question

Submitted by Mark

Hello , I was wondering if anyone could help me clean up a Windows ME startup problem . As indicated I'm running Windows ME and when I startup my computer I get the following message " Windows could not upgrade the file %1 from %2 . %1:%2. Windows could not upgrade one or more system files before starting . Windows may not start or run properly . Press any key to continue " . If anyone knows how and where to clean this up I would greatly appreciate it . Thank you .

Solution 1
Answered by Mean Drake

Updating system files is usually prompted by the runonce keys in the system registry. See in HKEy_CurrentUser and HKEY_LocalMachine under the following subkeys in each...
Software>Microsoft>Windows>CurrentVersion>RunOnce.
The keys should be empty. If there are any entries there...back up the key by exporting it from the menu and then delete the entries in there. Reboot.
---
Question

Submitted by Matt

I'm currently running IE 5.5 on a windows NT 4.0 box. I need to uninstall it, is there a way?

Solution 1
Answered by Mean Drake

I doubt it. You can try through control panel and see if it allows you to rollback to previous version.
---
Question

Submitted by Joe

Hello, Thank you for this service of sending in questions about windows.
I have IE5.5 installed on my computer. It does not have Active Desktop. From what I can find out I need to uninstall 5.5 and install 4.0 w/Windows Desktop update. After IE4 is installed with Active Desktop I am then supposed to reinstall IE5.5.
1) is it true that I have to go through this uninstall/reinstall routine?
2) If so, where can I find a copy of IE4 and the Windows Desktop update? I can't find it on the Microsoft site.
3) Why has Microsoft made it so difficult to install Active Desktop? Is it not very popular or is this a result of the legal action by the US government?
Thank you for your help

Solution 1
Answered by Mean Drake

What version of windows are you using? Over what version of IE did you install IE 5.5.
Windows 98 and above do not have these problems as 98 comes with IE 4 preinstalled and 98Se comes with IE 5.0 installed with active desktop enabled. You probably have win95 or one of the NT versions. I guess the going is going to be a little rough here as IE 5.5 doesn't allow an uninstall IIRC.
---
Question

Submitted by Unknown

I have a problem every time I try to log on to the internet I get a message that says " CONTENT ADVISOR Please check your content advisor for missing information click the tools menu then click internet explorer options on the content tab, check the content advisor settings" I go in there and I set the setting when I log off and then on again to IE it gives me the same message. Why does it not save my settings

Solution 1
Answered by Mean Drake

Probably a corrupt ratings.pol file. The Microsoft site has a detailed explanation of what to do under the circumstances. Do search for content advisor.
---
Question

Submitted by Unknown

you know when you right click on my computer icon and go to the system properties it says for example " Windows 2000 sp1 bluid 5.00.2195 ''

Solution 1
Answered by Mean Drake

See what the name says there and do a search for that string in the registry editor (regedit.exe)
HKLM>Software>Microsoft>Windows>cuurentVersion>RegisteredOwner.And under that it says you're name right and you're processor type right. well I know threes a registry key that you can modify that allows you to change that info but where and what is the registry line
---
Question

Submitted by Unknown

I am using Windows 98 Second edition and a few days ago when I was trying to open a jpg file I got the message "Paint cannot red this file. This is not a valid bitmap file or its format is not currently supported". I opened the mspaint and jpg format was not supported. Does anyone know what could have caused this?

Solution 1
Answered by Mean Drake

Some jpg files might be in CMYK format and will not be handled here. But overall Paint is a lousy program to view JPEGs.
Try the free IrfanView and it opens almost every file type.
---
---
Question

Submitted by Brian

I am presently living in Japan and want to buy a zip drive for my computer. What I would like to know, before I buy one, is there any country coding with zip drive or external hard drives that I want to connect to my computer. If I buy a Japanese zip drive or hard drive will it work on my laptop (U.S model). Thanks

Solution 1
Answered by Charles Putnam

In a word, nope. DVD drives are the only ones (so far) that are region coded.
---
Question

Submitted by Mark

I have two Compaq Armada 1500c laptops running NT4.0 which refuse to turn themselves off. When you select shutdown and power off they shutdown OK but then power on again immediately. Both these laptops used to power off fine and I am unaware of any configuration changes which could have caused this. Any help would be appreciated.

Solution 1
Answered by Candy Baker

Windows 98 has a fast shutdown feature that is not compatible with some hardware devices. The fast shutdown feature is enabled by default when Windows 98 is installed. To disable it click on Start and then on Run. Type MSCONFIG and click on OK. Now click on the Advanced button and click on Disable Fast Shutdown. Click on OK twice and restart your computer.
Another common cause of shutdown lock-up syndrome may be a damaged Exit Windows sound file. Double-click on My Computer and open Control Panel. Open Sounds and in the Events list select Exit Windows. Click the Name box in the Sounds section and try a different sound. Microsoft give you a choice of sounds and even if your computer doesn't lock-up when you exit Windows, you can select the exit sound that you like.
---
Question

Submitted by Colin

I have a PIII 550MHZ CPU, 128MB RAMS, 32MB Nvida AGP Video/TV Capture Card but I am having a problem while watching DVD movies. The Movies would sometimes pause for a few seconds and then go again. Then after doing that it would just stop completely and then goes back to to the InterVideo WINDVD2000 2.1 software logo screen or startup screen. I have a 10X DVD Drive. What could be the cause of this problem.Also are there any software updates available for downloads or upgrades which would help to correct this problem. Thanks for your assistance. Appreciate very much.

Solution 1
Answered by Geoffrey Lo

Hi, Go to the System Properties and in the Device Manager, check the properties of your graphics card. Under one of the tabs, make sure that DMA is present and checked. If you can't see this checkbox, ask for a newer chipset driver or display driver from the manufacturer.
---
Question

Submitted by Tom

I have a small network running Win2K server as a Workgroup. My clients are Win98SE machines. My problem is that recently my clients have been able to logon to the network resources without a password or with the wrong password. I have the everyone group disabled and have checked and rechecked rights to the shared folders but the problem still exists. If you logon with a user name that isn't on the server, it does block access to them. Is this because I am on a workgroup instead of a domain?

Solution 1
Answered by Geoffrey Lo

Only Domain Controllers have the ability to control logon. The workgroup controls only the local computer in Win2k. Upgrade to a domain controller to control other computers.
Be aware that even with a domain controller in the network and that the workstations are set to log on to it, you must keep the domain controller on when they log on, or this problem will persist.
---
Question

Submitted by Steve

My question has to do with the Starband satellite system and setting up a VPN using Windows 2000. While in theory it seems to be possible, I'm finding it hard to find out any information about how to do so. The main problem would be the latency in a satellite connection which would cause a timeout. I found an article at the Microsoft web site that indicates it is possible to do a satellite VPN if several registry entries are changed. The article seems to indicate that there is no set parameters to the entries for satellite and it must be experimented with. I'm not sure I have that much time. Is there any resource you know of that would help?

Solution 1
Answered by Ashton Smith

Check the website http://www.dslreports.com . Go to the section on ISP Review and the Tools section. This will put you in touch with other users of StarBand and the website will also tell you about suggested settings for your registry.
---
Question

Submitted by Maxine

how do i restore all my windows 98 files to standered mode

Solution 1
Answered by Marc Strickland

I am not quite sure what you consider standard mode. If you want a clean install you can go to dos, rename the windows directory and re-load windows from scratch. I would perfer, however, to re-format the hard drive and then re-load to get a clean install. Be sure to back-up your personal data forst.
---
---
Question

Submitted by Rob

Dear Aw, I'm sure this is an easy prob for you techies: I originally had Win98SE on my laptop with 2 partitions (C:\ being 8GB and D:\ 4GB). I have recently installed W2K running NTFS on the D partition as a dual boot. Everything's fine, I've found all the drivers etc and copied over all my important files from the C partition. Now I want to delete the W98SE O/S and reclaim the C drive for NTFS use. What's the best way to do this without deleting my W2K boot files which are on the C drive (FAT32). Can I just move them to D, then return them after formatting C as NTFS? Thanks in anticipation

Solution 1
Answered by Mean Drake

Why not delete the Windows98SE folder, edit your boot.ini file to make 2k the only operating system and then use a third party utility like partition magic to make c: as NTFS.
---
Question

Submitted by Unknown

Hello. I'm running Windows 98 with three users. When I recently upgraded to IE 5.5, I notice that email is going to three different places now, depending on who is logged in at the moment. Now I have three inboxes, three outboxes, three copies of all my folders, etc. I would much prefer to have all these folders remain in a single place, but I don't know how to put things back the way they were? I've heard it's a Registry edit. Can you help me?

Solution 1
Answered by Mean Drake

As each user, modify the Message Store folder so that they are all the same.
Tools>Options>Maintenance Tab>Message store button.
---
Question

Submitted by Unknown

Hi, I am installing a new hard drive on my computer - Windows 98 2nd ed. I have installed all the software from the original versions as purchased. I did not want to copy my old hard drive as there are many problems caused by a virus. I need to make a copy of all my E-mail both incoming and outgoing onto a Zip drive and transfer this to the new hard drive. Please help me

Solution 1
Answered by Mean Drake

Tools>Options>Maintenance Tab>Message store button.
---
Question

Submitted by Imad

hello How I can change the word start on the taskbar so I can put my name advise please thanks

Solution 1
Answered by Mean Drake

You can change the text of the Word start and replace with any other 5 letter word. You need to make a copy of the Windows file explorer.exe and edit the copy in a hexeditor. Then in DOS mode, make a backup of the original file and then replace it with this one. What changes to make, you can mail me and ask if you have a hexeditor handy.
You can replace the text and logo of the start button by using some freeware utilities that allow you to use a bitmap image on the start button.

Solution 2
Answered by Steve Cohen

A better way is to use the tclock utility I have attached. It is a util that gives you a better tray clock, and you can edit the text and logo of the start button.
---
Question

Submitted by Nikki

Hello all. I have a problem with my Windows 98( 1st edition) power settings. When I go to control panel, click on "Display", Screensaver tab, then try to click on energy saving power settings, nothing happens. It's as if the power settings no longer exist. I know I was able to change the settings for the monitor and cpu to go into sleep mode at one time. It's been quite a while since I tried to do this and so I have no idea when I lost this ability. Do you have any ideas what could be causing this and how I can correct it. If you do, please be very specific. I'm still fairly new to the computer world and need to be walked through any fixes step by step. Thanks in advance for your time.

Solution 1
Answered by Steve Cohen

the power options screen is the same one that should open if you double click on power options in control panel. try going there directly. if nothing opens up perhaps power management is not installed or enabled in the bios.
---
Question

Submitted by Tommy

Is it possible to run two monitors off of two video cards in win2k and have two separate displays (desktops) on each monitor? And if so, how is it done?

Solution 1
Answered by Andrew Funderburk

You can run multiple monitors under Win2K. Unless you have something like the G400 card that has two monitor outputs that can run simultaneously, you have to have multiple cards. You can have one agp and one pci or two pci. I've run one agp (Voodoo 3 3000) and a pci (TNT2 M64) together with no trouble (I'm now running one GeForce 2 GTS Pro, due to lack of need for two). There is only one desktop, it's just stretched between the displays. Also, in the control panel, you can set which display is where so that the left, right, top and bottom limits are set right. Win2k can handle up to 8 displays (I think). It's definitely and interesting, and sometimes handy, feature.
---
Question

Submitted by Fred

Several discounters on PriceWatch offer W2000 Pro full version "OEM" at very good prices. What is the meaning of OEM to a customer? Are there restrictions or are these counterfeit? I know the question displays my ignorance, but that is sometimes necessary for learning.

Solution 1
Answered by Charles Putnam

OEM = Original Equipment Manufacturer.
Meaning, there's probably no difference between this and the retail version. Just that an OEM version is made for a specific computer manufacturer (Gateway, Dell, etc).

Solution 2
Answered by Ashton Smith

To purchase an OEM version of an Microsoft Operating System you must purchase it with a new computer, motherboard, or hard drive. It cannot be purchased by itself legaly.
---
Question

Submitted by ricki

hi I today had to reformat my c drive and I am now trying to find the following motherboard driver gvc fr520 socket 7 either I am a total idiot or the drivers are not to be found please help me thank you

Solution 1
Answered by Charles Putnam

Need a little more info - specifically, the manufacturer and motherboard number of your specific board. Please e-mail me.
---
Question

Submitted by Penny

Since installing windows 2000 I have lost the on board sound. I can play CD's & hear them through the plug in speakers but have no other sounds. Any suggestions on how to rectify this would be most grateful! Thank you

Solution 1
Answered by Charles Putnam

Which soundcard do you have? Check for updated drivers. Also, it may be that there aren't any system sounds enabled. Check to see if you can play a MIDI file (c:\windows\media).
---
Question

Submitted by Anthony

Hi, I am using W2k (sp1) and have a small problem with the fact that if I boot my pc with the modem switched off, W2k plug/play dis-assocaites the modem from the Com port which if I then try to connect with via DUN, fails. I either have to remove and re-install the modem or alternatively re-boot with modem switched on to correct the problem. I never experienced this problem on 95/98/me. Thanks in advance for any suggestions.

Solution 1
Answered by Charles Putnam

Sounds like you have an external modem. Check for a flash/firmware upgrade from the manufacturer. They may have come out with a flash upgrade to address this problem w/ Win2000.
---
NOTE: Please note that ActiveWin nor the AskAW staff can take any responsibility for anything that may/may not occur when taking our advice. If you do anything that is included in our advice, you are doing so at your own risk.
If you have any questions pertaining to a particular answer please contact the actual Staff Member who replied.
You can contact anyone of our staff here or email us at askaw@activewin.com