DirectX
ActiveMac
Downloads
Forums
Interviews
News
MS Games & Hardware
Reviews
Support Center
Windows 2000
Windows Me
Windows Server 2003
Windows Vista
Windows XP



News Centers
Windows/Microsoft
DVD
Apple/Mac
Xbox
News Search



ActiveXBox
Xbox News
Box Shots
Inside The Xbox
Released Titles
Announced Titles
Screenshots/Videos
History Of The Xbox
Links
Forum
FAQ



Windows XP
Introduction
System Requirements
Home Features
Pro Features
Upgrade Checklists
History
FAQ
Links
TopTechTips



FAQ's
Windows Vista
Windows 98/98 SE
Windows 2000
Windows Me
Windows Server 2002
Windows "Whistler" XP
Windows CE
Internet Explorer 6
Internet Explorer 5
Xbox
Xbox 360
DirectX
DVD's



TopTechTips
Registry Tips
Windows 95/98
Windows 2000
Internet Explorer 5
Program Tips
Easter Eggs
Hardware
DVD



ActiveDVD
DVD News
DVD Forum
Glossary
Tips
Articles
Reviews
News Archive
Links
Drivers



Latest Reviews
Xbox/Games
Fallout 3

Applications
Windows Server 2008 R2
Windows 7

Hardware
iPod Touch 32GB



Latest Interviews
Steve Ballmer
Jim Allchin



Site News/Info
About This Site
Affiliates
Contact Us
Default Home Page
Link To Us
Links

News Archive
Site Search
Awards



Credits
©1997-2012, Active Network, Inc. All Rights Reserved.
Please click here for full terms of use and restrictions or read our Light Tower Privacy Statement.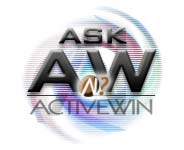 Welcome to AskAW! This section of our web site lets you submit questions about any problems/queries that you may have about Windows. Be it from a little icon that annoys you to hardware freezing your PC, we will try and help you out. You can submit your questions by e-mailing us at askaw@activewin.com. You can browse through previous questions over at our Archive Page. Who knows what you might find.
Here are the answered questions for 04-06-2001
---
Question

Submitted by Patty

Hi, After doing everything imaginable I'm still unable to get on to my bank "sign in" or any of my accounts for that matter. Might you have a suggestion? Thank you

Solution 1
Answered by Candy Baker

Try called the bank and ask for their Internet Technical support phone number. They can assign you a new password and once you go online, you will be able to change the password to what you want.
---
Question

Submitted by Unknown

I use Internet Explorer (not sure which number but I've had my computer less than a year) to go online through PDQ.NET. After I'd been online a while, I would get this window that asked me if I wanted to stay connected or disconnect now. This happened pretty frequently, so it got irritating. There was also a checkbox to disable this window, which I checked. Now I cannot disconnect from the Internet unless I turn off the computer or pull the plug to my phone line.
Here's my question: Is there any way to avoid getting the annoying window asking me if I want to stay connected all the time, yet still be able to disconnect from the Internet when I'm through? If I do get the stay connected/disconnect now window back, is there any way to reset the timing so that this window doesn't come up so often? Thanks for your help.

Solution 1
Answered by Jordan McIntosh

Are you Dial-Up? or other, if you are own Dial-up then in your system tray double click on the blinking modem icon and go to disconnect. If you have Cable then your cable modem might have a cut off button on it or if its like my cable modem just unplug it from your network card.
---
Question

Submitted by Carmen

I am having problems with a file in my Windows Directory named fmqxtdkwgw.exe . It is infected with a Trojan BackDoor Virus and is causing problems. It can only be quarantined and not cleaned or deleted. What is this file and are there any suggestions. Thanks

Solution 1
Answered by Jordan McIntosh

If your using Norton antivirus us can go into the Quarintine section and empty all quarantined items. So quarantine it, the empty the quarantine section. Also boot up into safe mode. (hit F8 or F10 during boot up) go in and try and delete it, remember to empty your recycling bin.
---
Question

Submitted by Ang

Hey, at startup when windows is loading I get 2 things I don't like:
1)"Native Audio Initialization Error
The wavetask manager [NSPMM.DLL] isn't available.
Wave services will be disabled."
2)A box asking for user name and PW
now I don't know what the audio error is but I know that I don't have multiple user settings so I don't want that user/Pass box popping up. What can I do? Thanks

Solution 1
Answered by Jordan McIntosh

1. What sound card do u have? Uninstall and reinstall sound card drivers. Download the newest driver.
2. Ask me top email u Tweak UI. it will get rid of the Login box. or make it auto log you in so its doesnt stop you up.
---
Question

Submitted by Ella

Please, please help me, I am currently running windows98 but I have been getting an error message something along the lines of Rundll32 caused by error to file/mmsystem. I have tried copying the file over my LAN but that didn't work so I am resorting to scrubbing it and starting over. The only problem with this is on my system I do not have a CD ROM and I was wondering if its in any way possible to load windows 98 without a CD ROM or being able to transfer onto floppy's. if this is not possible is there any I can replace the corrupt file.

Solution 1
Answered by Jordan McIntosh

Take a CD-Rom from another Pc and attach it to you one without. That would be the easiest thing by far to do.
---
Question

Submitted by Radek

hi, I was wondering if there is a way of turning up the annoying 60hz refresh rate in win2000. I've seen a prog floating around that claims to do it, but its for nvidia products, I own a Radeon. Thanks in advance

Solution 1
Answered by Charles Putnam

There are certain 3rd party programs - Powerstrip and HzTool - that can help in this.
---
Question

Submitted by Elias

First of all, Excellent website and content. Second, I've briefly heard of Remote Desktop/Assistance through XP. Where can I get More details on each?? I'm trying to get more details on it, that is an excellent option for folks in IT supporting this. Thanks for any feedback.

Solution 1
Answered by Charles Putnam

Start with MS's web site and their page on WinXP. Also, check for newsgroups dedicated to WinXP
---
Question

Submitted by Raymond

I am still using Dial Up for my Internet connection, my modem is an 3Com/USR External 33.6 Fax Modem, I always get disconnected after 1 to 1.5 hours of connection even though I am running ICQ, Outlook Express and listening a station using Real Player. Do you know what is the problem?

Solution 1
Answered by Charles Putnam

It could be a couple of issues
1. Under Internet Properties, choose Connection and then Settings and then Advanced. Make sure that there isn't an "X" in "disconnect if idle".
2. It may be an issue with either your ISP or phone lines. Some ISP's will disconnect you after a set time.
---
Question

Submitted by Nick

I am trying to use DirectX 7 DirectDraw (through dx7vb.dll) and DirectX 8 (through dx8vb.dll) for input, sound, etc (no drawing). This is supposed to be possible in VB, yet I select the dll's in the Project-References and calls to certain methods fail (e.g. GetWindowRect, and blt) with a "type mismatch" error on the RECT variables. I've noticed the project has two types listed as RECT so my guess is the methods are confused as to which RECT is actually being passed (this happens no matter which of the two RECT types I use when I declare a variable). Anyone else have this problem and/or know of a workaround? Thanks.

Solution 1
Answered by Mean Drake

I think a better place to ask this will be a vb mailing list...
You'll find one at http://www.lsoft.com you'll have to do a search for it.
---
Question

Submitted by Albert

Hello ! I am a Win 98 user and whenever I boot my pc, it prompts me that "hook.sys" was closed, due to an invalid operation ("ungültiger Vorgang" in german). I found the file hook.sys in the windows/system directory but I dont know what it is about. Can anybody tell me something about hook.sys ? Thank you !

Solution 1
Answered by Mean Drake

Give us what says in that details of that error message box....usually a dll file is responsible.
---
Question

Submitted by Mike

Do you know where I can download Microsoft's latest certified video driver for Nvidia's boards? It is version 6.32.

Solution 1
Answered by Mean Drake

I would search at www.windrivers.com
---
Question

Submitted by Charlie

I bought a computer that was networked and has the card still in. It shows a C: and D: with the same thing on both. Is it partitioned this way?? How do I get rid of all this?

Solution 1
Answered by Mean Drake

The partitions can be managed with a partition manager like Partition magic. The drive letters have nothing to do with the network card.
---
NOTE: Please note that ActiveWin nor the AskAW staff can take any responsibility for anything that may/may not occur when taking our advice. If you do anything that is included in our advice, you are doing so at your own risk.
If you have any questions pertaining to a particular answer please contact the actual Staff Member who replied.
You can contact anyone of our staff here or email us at askaw@activewin.com