DirectX
ActiveMac
Downloads
Forums
Interviews
News
MS Games & Hardware
Reviews
Support Center
Windows 2000
Windows Me
Windows Server 2003
Windows Vista
Windows XP



News Centers
Windows/Microsoft
DVD
Apple/Mac
Xbox
News Search



ActiveXBox
Xbox News
Box Shots
Inside The Xbox
Released Titles
Announced Titles
Screenshots/Videos
History Of The Xbox
Links
Forum
FAQ



Windows XP
Introduction
System Requirements
Home Features
Pro Features
Upgrade Checklists
History
FAQ
Links
TopTechTips



FAQ's
Windows Vista
Windows 98/98 SE
Windows 2000
Windows Me
Windows Server 2002
Windows "Whistler" XP
Windows CE
Internet Explorer 6
Internet Explorer 5
Xbox
Xbox 360
DirectX
DVD's



TopTechTips
Registry Tips
Windows 95/98
Windows 2000
Internet Explorer 5
Program Tips
Easter Eggs
Hardware
DVD



ActiveDVD
DVD News
DVD Forum
Glossary
Tips
Articles
Reviews
News Archive
Links
Drivers



Latest Reviews
Xbox/Games
Fallout 3

Applications
Windows Server 2008 R2
Windows 7

Hardware
iPod Touch 32GB



Latest Interviews
Steve Ballmer
Jim Allchin



Site News/Info
About This Site
Affiliates
Contact Us
Default Home Page
Link To Us
Links

News Archive
Site Search
Awards



Credits
©1997-2012, Active Network, Inc. All Rights Reserved.
Please click here for full terms of use and restrictions or read our Privacy Statement.
here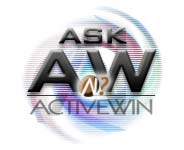 Welcome to AskAW! This section of our web site lets you submit questions about any problems/queries that you may have about Windows. Be it from a little icon that annoys you to hardware freezing your PC, we will try and help you out. You can submit your questions by e-mailing us at askaw@activewin.com. You can browse through previous questions over at our Archive Page. Who knows what you might find.
Here are the answered questions for 04-13-2001
---
Question

Submitted by William

Occasionally I am unable to boot my computer - I see NTLDR Missing. Is there anything I can do that will alleviate this problem. Thank You
---
Question

Submitted by Unknown

I want to connect to my desk top pc to a laptop using a phone line , so i can remote access it , is it possible they are both running win 98, i dont have any comps listed in the network neibourhood or entire network. Thanks
---
Question

Submitted by Rod

Gentlemen, My son set up my network server, I am a dummy. In the Dial Up network box, the small box which is suppose to be clicked to save my pass word and the other thing, is still grey. Each time I get on the network, I have to go to the control panel and do my log on from this area. Any suggestions for a dummy. The ATT people gave up on me and said I had to get a patch. I have no clue as to how to do this. I have a second edition of windows 98. Why did this thing change on me in the middle of the day. I am having two days of trouble. If I shut down my computer the log on infor disappears.
---
Question

Submitted by Christian

Hi guys. I'm having a bit of trouble with my Creative 8432 CD-RW drive and windows 2000. I recently upgraded from Windows ME to Windows 2000 and now it would seem I can't burn a data or music CD faster than 4x when my drive has a top burning speed of 8x. It worked fine under Windows ME but when I upgraded(?) to Windows 2000 is when I experienced the slow down. I use Adaptec Easy CD Creator 4.x. If it helps, my system specs are:
AMD Thunderbird 1Ghz Processor
256MB PC-133 RAM
Soyo SY-K7VTA-B Motherboard
Western Digital 30Gb 7,200 RPM HD (ATA-100)
VooDoo3 3000 16MB Video card
Creative 52x CD-ROM Drive
Creative 8432 CR-RW Drive
Creative Sound Blaster Live! X-Gamer Sound Card
Any insight or help you guys could give would be extremely cool! Thanks a whole bunch!

Solution 1
Answered by Charles Putnam

Make sure you're running the latest version/updates. Also check w/ Creative Labs web site for any known issues. You might also try the listserver for Roxio and post your question there if the above doesn't correct the situation. I recall seeing some posts on Roxio that there may be problems with the CL CDRW under Win2000.
---
Question

Submitted by Debbie

my pc went away to be reloaded with windows 98,when i got it back it only had basic colours on it.there is no red,blue or green in my flag on the start up screen,how can i fix this problem,all the colours were there before it went away. yours hopefully
---
Question

Submitted by Aril

Respected sir, i'm a student..i would like to know the basic differences between win95/98/and 2000? Thanking you

Solution 1
Answered by Brian Lyttle

Anil,I'm not quite sure whether you are looking for a consumer, or a Computer Science type answer here.
The basic differences between Win9x (Windows 95/98/Me) and NT (WinNT4/Win2000/WinXP) are:
Stability. Win9x was designed to be compatible with Windows 3.1, although this has lessened with the release of Windows Me. As a result there is an awkward mix of code, and a fundamentally different memory structure from NT-based Windows. Win9x uses a shared memory space, whilst NT stops applications from accessing eachothers' memory. This means an application crash on NT is less likely to bring down the whole system, than one on Win9x.
Hardware Access. Win9x allows software to directly access the hardware, and as a result a badly behaved program can crash the whole system (eg. blue screens). NT-based systems have what is called a Hardware Abstraction Layer (HAL) which sits between the OS and hardware. All programs access hardware through the HAL, therefore badly behaved programs are prevented from accessing hardware.
Hardware Support. The process of creating device drivers for NT is somewhat stricter than developing for Win9x. This means that versions of NT before Windows 2000, have much less driver support than Windows 98 for instance. Windows XP, to be released in mid to late 2001, will be the the first consumer-oriented NT - effectively killing the Win9x line.
User Interface. There are few major differences in UI behaviour between Win9x and NT. Windows NT 3 had a similar UI to Windows 3.1.
User Base. Win9x was firmly aimed at consumers, whilst NT has been aimed at business users - until now. As I said before Windows XP will kill the Win9x line. This will mean that all versions of Windows will have compatible device drivers etc. The cost will vary from version to version. A Home Edition will be aimed at the home desktop, whilst the slightly more expensive Professional version will be aimed at business desktops.
I have given you a very brief run over some of the differences. If you want to know any more about Windows then feel free to contact me (brian@activewin.com ) . Also check out the links below for some useful information.
Windows XP Homepage - http://www.microsoft.com/windowsxp/
ActiveWin's Windows 98 FAQ - http://www.activewin.com/faq/faq_4.shtml
ActiveWin's Windows 2000 FAQ - http://www.activewin.com/faq/nt2000_faq.shtml
Windows Supersite - http://www.winsupersite.com/default.asp
---
Question

Submitted by David

Hi, I do not know how o start so I will just tell you what is wrong. When I start my computer I get a prompt saying that it can not run "kugn.exe". I click "ok" and then I get another saying can not find "kugn.exe". Am I in trouble and if so where can I find, and where do I place the program. Please help if you are able. Thank you and have a nice day!

Solution 1
Answered by Charles Putnam

Check under the Startup folder for this program. It sounds like there's a reference in the Startup folder and this program isn't available to load. Delete the item from the Startup folder

Solution 2
Answered by Mean Drake

You might be. Get the latest updates to your antivirus and run it. Also the reference might not be in the starrtup folder but might be hidden in the registry or in the win.ini file or system.ini file. I would suggest a virus scan and then remove the startup reference wherever it is
---
Question

Submitted by Unknown

I have a new p,c, I get 2 messages one....lexplore has caused an error MSHTML.DLL AND lexplore will now close user. EXE I do not know what to do!!! where I bought the computer says to contact you. I am disabled and would like assistance if possible, I have worked with my local internet provider and gateway the all say you have the answer and will correct the problem.
---
Question

Submitted by Rich

Hello, Can you tell me how to get Windows 2000 to print a listing of a directory's contents? Thank You
---
Question

Submitted by Marie

Hi, after running Dr Watson the following message appeared "Dr Watson recommends removing Smartdrv.exe from Autoexec.bat to make more memory available to Windows." Could you please tell me what this means and if I should do anything, and if so, how? Thanks for your previous help.
---
---
Question

Submitted by Unknown

Hi, I have Windows Me installed. Whenever windows finishes loading, three windows explorer will automatically launced pointing to c:, d:, e:,. Is there anyway that I can prevent this from happening?
---
Question

Submitted by Jassen

I down loaded Netscape 6 and did not like it. I deleted it but all my JPEG photos are still in Netscape for mat. How can I change this.
---
Question

Submitted by Roy

hi would like to no why i get this message every time i connect to outlook express the connection to the server failed acount pop3.uk port25 secure error number 0x00ccc0e this happens every time i go on line to outlook express can any one help please.. on it says can not be found.
---
Question

Submitted by Alessandro

Hi, I have always the same problem with any version of Internet Explorer from 5.0, 5.5 and even 6.0 beta. The problem is that I can connect to Internet and navigate just for a short time, after that I receive the error "The page cannot be displayed .... cannot find server or DNS error". This error page seems related to the shdoclc.dll, which is impossible to substitute because always in use (even when IE is closed).Maybe the problem is not on this dll which has been updated when installing new version of IE. Obviously the error cannot be a DNS error or a server error, because Netscape always functions properly. The easiest solution, reinstalling IE, unfortunately is not so easy, because on Win2000 Professional, IE can only be repaired, updated or downgraded: all of these solutions produced no result. There is no option to uninstall IE. Can you give a definitive solution to this problem? Microsoft Knowledge Base was unable to do it, they only suggest to check the version of Winsock dlls (obviously they were all correct). Thank you!

Solution 1
Answered by Brian Lyttle

Alessandro, You seem like quite an experienced user, so my advice would be to re-install Windows 2000. I have a feeling that something is wrong with your TCP/IP setup. shdoclc.dll is only used to display information when pages wont resolve etc.
---
Question

Submitted by Marcin

everyone ask how to skip windows login screen, the answer is easy press cancel button, but how to disable this button ? I want to prevent access unknown users to my computer. there is a lot of commercial software, but I want to do this with windows. best regards

Solution 1
Answered by Mean Drake

You can't do this in WinME. go for Win2000 or wait for winXP.

Solution 2
Answered by Jordan McIntosh

atleast cant do this in WindowsMe without the commercial software, i have found software that does it. which usually means there is a way to do it manually without the software, but that manual way i dont know

Solution 3
Answered by Geoffrey Lo

Who Says you can't do it? How do other software do it? Of course with a Windows Function... The Registry!!! The registry key is to add MustBeValidated="1" to HKEY_LOCAL_MACHINE\Network\Logon... I wouldn't mess around with the registry if you are new to computing, as there is no save or undo options.
---
Question

Submitted by Menny

Dear Sirs, I am using win 98 SE and a creative sound card PnP 16 bit. recently when I try to down load e-mails with sound and video I keep receiving one of the following messages. Cannot play back the audio stream. no audio hardware is available
(Error-00040258)
and also the same message BUT with a final statement of ....or the hardware's not responding Error=80040256) I have to say that some time the sound software dose not working at all and the little yellow speaker icon dose not appear on my tasks bar. I will appreciate any ones help. Regards.

Solution 1
Answered by Mean Drake

Install the manufacturer's drivers manually. Also it might be a faulty card.
---
Question

Submitted by Phil

Hello. I was wondering if you could help me out here. I was looking at further customizing my desktop by editing my logon screen. Do you know where and how to begin? I was looking to paste some pictures in place of where the traditional Windows 2000 (title) is. Thanks for your help.

Solution 1
Answered by Brian Lyttle

Phil,Windows NT logins can be customised, so presumably something can done to customise Windows 2000 logins. I'm not familiar with these procedures, so I think the best sources for information at:
http://www.microsoft.com/technet
http://www.ntfaq.com
---
Question

Submitted by Jon

Hi, and thanks for being a great resource for answers to tough questions. My problem revolves around not being able to access certain sites on-line, for example, http://www.vanguard.com/ for which I get "This Page Cannot be Displayed" with a "Cannot find server or DNS Error". At one time I was able to get to vanguard, but no longer. I have removed all my cookies, but that didn't fix it. Any ideas?

Solution 1
Answered by Candy Baker

Get the newest Windows drivers
To start Windows Update, click Start, and then click Windows Update.
Follow the instructions on your screen.
You can also start Windows Update by typing this address in your browser's address bar:
http://windowsupdate.microsoft.com
Wait and try doing the same search the next day or two. Often a web site is down for repair, or updating and will be unavailable. At this time the website you mentioned is available. Try again.
---
Question

Submitted by Mario

I everyone,I have windows 98 and I can't change my keyboard from english to french,the programm telling me that it need a file named " kbdca.kbd ". Where cah I get it ? Thank you in advance

Solution 1
Answered by Candy Baker

Go to START button> Setting > Control Panel open Keyboard, open it with a double left mouse click,
Go to the Second Tab - Click the Language tab, click the keyboard language French. If it isn't there click ADD.
---
Question

Submitted by Leanne

Hi, I was wondering if you could help us out. We have the Expedia Streets 2000 software. It freezes up whether we try going into it through programs or the cd. I just uninstalled it and reinstalled it. No help. I uninstalled it again now and would like to know if there is a fix or patch to try or SOMEthing. Dell gave me your email adress. Please let me know what we should do. Thanks so much for your help. Sincerely

Solution 1
Answered by Charles Putnam

Are you running an antivirus or utility program in the background? Also, make sure you're running the latest video card drivers.
---
---
Question

Submitted by Gayle

Dear Sir, When I turn on my system it takes so long to load and I would like to know how to improve the start up time. I have a Pentium II processor 350 . I do not know how I can not have all my programs boot up at start up but I still want them. Any suggestions would be helpful. Thanks
---
Question

Submitted by Unknown

Hello, I have a dual boot system and I need some help with Windows 2000. I am new to Win2k.
Question 1 - I chose the NTFS over FAT32. What is the difference between the 2 systems, which one will I benefit more from, what are the pros and cons of each?
Question 2 - Under Windows 98/Me, I could easily edit the start up programs under 'msconfig'. Now that I have Win2k, I see that msconfig is history.Where do I go and what do I do to edit my programs that I dont need from starting up?
Question 3 - How do I see the performance used so far under Win2k? Under Win98/Me, I just go to system and I see how much system resources have been used. How do I check this with Win2k? Also, how do I monitor the resources, I see the 'resource meter' is history also. Thanks
---
Question

Submitted by Arthur

Here's the configuration:
OS: Win ME
CD-ROM: Quantum 30Gb
CD-RW: Plextor Burn-Proof 12/10/32A
CD Burn Software: Adaptec EasyCD 4.07
Processor: P3 866Mhz
MB: ASUS CUSL2-C
Graphics card: Raedon 32 mb DDR
Memory: 128 mb
Forgive me for not remembering the model numbers. I'm at work and don't have the data available. Problem 1: I complied a set of songs from a number store bought CD's and then burned them onto a CD using EasyCD. The compilation however does not play very well, stopping randomly on all songs when played back on a Panasonic portable CD player. It was recorded at 8x speed using the Burn Proof Plextor. Any clues? The DAO setting was used. Problem 2: We tried to install Riven but in trying to play the game and after loading the second CD as instructed, the game could not locate the CD player. In trying a game that we knew worked, it also could not find the CD player. I then restored the computer to the state I stored prior to the RIVEN installation and all was well, except no RIVEN. Any clues? Thanks for any help
---
Question

Submitted by Shelley

Hi I have a small network of 6 computers with NT Sever. The workstations are running Win 95, Norton v 5, and Lotus Notes. Only 1 of the users is connected to the Internet. The problem is the Windows/Temp folder fills up with approximately 600 files a day. I have updated Norton, taken out the WSH, all Mapi applications with the exception of Notes, ran scan / defrag, deleted the temp folders on a daily basis and to date I haven't found a solution as to what might be happening. Have you heard of this strange behaviour before and if so do you have a solution. Thanks
---
Question

Submitted by EB

Hi, I've been using Windows 98 and McAfee Virus Scan for a couple of years, and have enjoyed problem-free operations. Got a little complacent, though, and didn't take advantage of the McAfee upgrades the last few times, so . . . Ended up with a "kakworm" virus. I recently installed Norton SystemWorks, which enabled me to quarantine and dump the virus, but recommends that I reinstall the damaged file. The file name and location is C:\windows\startmenu\programs\startup\kak.hta Question: what is kak.hta, and what does it do? And how do I go about reinstalling just one file off of my Windows98 cd? I've added so many files and programs that am afraid reinstalling incorrectly will erase something else I'd really like to keep. One other question: how do I get rid of residual McAfee windows that pop up when the system boots up? I uninstalled their software, and don't want it back. Thanks ever so much for any assistance you could provide.
---
Question

Submitted by Unknown

do you kow that i am trying to make my computer up grad it to 2000 and i do not now how to it is now 98 and i would like it 2000 and i would like to know how to do it with downlording can i do that
---
Question

Submitted by Unknown

hi please can you help me i got a pentium 4 processor with sound blaster live card with 128 ram pc800 with 60 gig hardisk with 3d prophet II hercules agp with 3com nic with 3com modem and when ever i play games it gives me errors it never happend to me on athlon based system with the same hardware.

Solution 1
Answered by Charles Putnam

What errors are you getting and which games? Athlon and P4 mobos are usually very different, so there may also be different chipset drivers needed.
---
Question

Submitted by Veronica

I have problems using my Brother HL-630 (with the default driver from windows) since I installed win2k. Frequently a document all of a sudden won't print, it prints half a page and then I get "memory full" message from my printer. This applies to all kinds of documents, even raw text. Also sometimes a document will print and sometimes it will not. I would be very grateful for any help regarding this issue. Thanks

Solution 1
Answered by Charles Putnam

Laser printers can be notorious for running out of printer memory. You've got several options. Increase the amount of memory, lower the printing resolution or (hate to say it) an inkjet printer or a laser printer that has higher memory capacity.
---
Question

Submitted by Debra

I've been running some DHTML through IE for the past couple of years that synchronizes sound files and image transitions using the ActiveX Sequence control. Recently I was trying to run one of these shows through a machine with Windows 2000 and experienced intermittent sound 'glitches' (a brief stall of the sound during playback). Since the whole point is the synchronization, this totally ruins the overall effect. I have since experimented on another machine that had both Windows 2000 and Win 98 installed and the problem is most certainly related to Win 2000 (it always happens when that operating system is booted and it never happens with Win 98). I would be most grateful for any ideas on this annoying problem - thanks!

Solution 1
Answered by Charles Putnam

There could be a couple of reasons for this. Win98 sound (and other) drivers are different from Win2000. Check for updated sound card drivers and possibily adjust the settings. Also, make sure that the Win2000 system is defraged.
Beyond that, there's a limited amount that can be done to write DHTML towards a specific OS.
---
Question

Submitted by Jim

How can I tranfer my saveded emails, folder structure, and address book contacts from Outlook Espress on my old computer to my new computer. I trieds export/import options but they were unsuccessful. I have been trying for days now, so I swift reponse would be greatly appreciated.

Solution 1
Answered by Charles Putnam

You didn't indicate your operating system, so I'll guess it's Win9x. Open Windows Explorer. Then Application Data and Identities. Buried in there is a sub folder for Microsoft and then Outlook Express. Copy the Outlook Express to a ZIP or CDRW disk. This folder contains your e-mails and stuff.
To restore, select Import from the File menu on OE.
---
---
Question

Submitted by Ian

I am trying to establish a link with a friend who has files on her PC, who has agreed to let me download them. I have found a command that will allow me to do this, I think !, but am unsure as to actually how to download the files. The command
NET USE X: \\ip address\folder
Where do I go from here, or can you suggest a better way of doing this? I am using Windows Me and she is using Windows 98.
---
Question

Submitted by Tim

To whom it may concern, I'm trying to install Active directory on W2K Advanced server, setting up a domain controller for a new domain, creating a child domain in an existing tree, in a existing forest. It is not giving me the chance to install and configure DNS within the wizard. Any ideas why? Thanks

Solution 1
Answered by John Lampson

Tim, If you are installing as a child domain, that means that Active Directory has already installed DNS. The domain controller for the child domain must have detected that a root DNS already existed for your domain and chosen to use that DNS instead of installing its own. If you still wish to use DNS on this particular system, you can safely install DNS and configure it.
---
Question

Submitted by Krystyna

I am trying to delete all the memory from the auto complete Web pages. I wish to eliminate all previous web selections.

Solution 1
Answered by John Lampson

Krystyna, In Internet Explorer, click Tools, Internet Options, Content, and then Auto Complete. Simply clear the items that you want to clear (in this case all of them) and that should take care of it!
---
Question

Submitted by Bengt

My Network drives show disconnected whith a red kross after a time, I know there are a registerhack for it. Do you know where in the register? I have Windows 2000 Pro.

Solution 1
Answered by John Lampson

Bengt, Keep in mind that there is not always a registry "hack" to "fix" everything. In your case, you probably just need to double-click the mapped drive to renew the connection. Does the mapped drive actually disconnect or is it just showing you a different icon? You can change the icon, and all you will be doing is painting a rusty car to cover the rust; you won't actually be fixing anything. In this case, though, you don't know if there actually is a problem.
---
Question

Submitted by Joe

How would I get the task scheduler off the computer's start up routine in '98. I've done it under the advanced button to stop using it but everytime the computer boots it's back. Help! Thanks.

Solution 1
Answered by John Lampson

Joe, Start, Run, MSConfig, and simply deselect Task Scheduler. Cheers
---
Question

Submitted by Dave

Can you help me? I need to know if Win2000 is 100%GUI or 100% CLI or a mix of both. Thank You

Solution 1
Answered by Jordan McIntosh

GUI= Graphical User interface
CLI= Command Line Interface
GUI basically means an interface with all those pretty little icons and wallpapers and colors
CLI would be Dos, Unix, and the like
---
Question

Submitted by Daniel

I have a user whom when he starts his machine and tries to log into the network gets "A network error has occurred" now if I then log on to his machine with my user name and password it works. If I then log off and try to log him on it works, and will work for a few days and then one morning (it seems to vary in the number of days) he'll get the same error again. I seem to remember this kind of error from a few years ago when 98 first came out, but can't find the fix anywhere around here or on the Micorsoft help files.

Solution 1
Answered by Geoffrey Lo

Is "A Network Error Has Occured" the only part of the error message? Is there anything else to it?
---
NOTE: Please note that ActiveWin nor the AskAW staff can take any responsibility for anything that may/may not occur when taking our advice. If you do anything that is included in our advice, you are doing so at your own risk.
If you have any questions pertaining to a particular answer please contact the actual Staff Member who replied.
You can contact anyone of our staff here or email us at askaw@activewin.com