DirectX
ActiveMac
Downloads
Forums
Interviews
News
MS Games & Hardware
Reviews
Support Center
Windows 2000
Windows Me
Windows Server 2003
Windows Vista
Windows XP



News Centers
Windows/Microsoft
DVD
Apple/Mac
Xbox
News Search



ActiveXBox
Xbox News
Box Shots
Inside The Xbox
Released Titles
Announced Titles
Screenshots/Videos
History Of The Xbox
Links
Forum
FAQ



Windows XP
Introduction
System Requirements
Home Features
Pro Features
Upgrade Checklists
History
FAQ
Links
TopTechTips



FAQ's
Windows Vista
Windows 98/98 SE
Windows 2000
Windows Me
Windows Server 2002
Windows "Whistler" XP
Windows CE
Internet Explorer 6
Internet Explorer 5
Xbox
Xbox 360
DirectX
DVD's



TopTechTips
Registry Tips
Windows 95/98
Windows 2000
Internet Explorer 5
Program Tips
Easter Eggs
Hardware
DVD



ActiveDVD
DVD News
DVD Forum
Glossary
Tips
Articles
Reviews
News Archive
Links
Drivers



Latest Reviews
Xbox/Games
Fallout 3

Applications
Windows Server 2008 R2
Windows 7

Hardware
iPod Touch 32GB



Latest Interviews
Steve Ballmer
Jim Allchin



Site News/Info
About This Site
Affiliates
Contact Us
Default Home Page
Link To Us
Links

News Archive
Site Search
Awards



Credits
©1997-2012, Active Network, Inc. All Rights Reserved.
Please click here for full terms of use and restrictions or read our Light Tower Privacy Statement.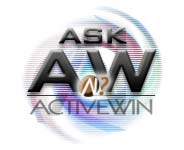 Welcome to AskAW! This section of our web site lets you submit questions about any problems/queries that you may have about Windows. Be it from a little icon that annoys you to hardware freezing your PC, we will try and help you out. You can submit your questions by e-mailing us at askaw@activewin.com. You can browse through previous questions over at our Archive Page. Who knows what you might find.
Here are the answered questions for 04-27-2001
---
Question

Submitted by Elisabete

Hello I was wondering where I can download the service pack mentioned in the article titled "Bugs fixed in Windows 2000 SP2 3-26-01" posted on www.activewin.com/win2000/sp2bugs.shtml. I have searched the Microsoft site and TechNet and have been unable to find a service pack 2 for Windows 2000. Thank you in advance for your assistance.

Solution 1
Answered by Brian Lyttle

Elisabete, Microsoft have not released Service Pack 2 for Windows 2000 yet, although I believe it is nearing completion. Some test versions have been floating around the web - although I advise you not to install these. Post-SP1 security patches are available from http://www.microsoft.com/security/ . If you have any problems with you current Windows 2000 system, then e-mail me, and I'll try and help. ActiveWin.com will post links to the service pack when it is released, so I would check it regularly.

Solution 2
Answered by Stefan Assmann

service pack 2 should be available by the end of the month.
---
Question

Submitted by Unknown

I have two quick questions about the new IE beta:
1. Does it support Scalable Vector Graphics, and in general conform to W3C XML Standards.
2. Do you recommend downloading for someone with Windows 2000 who depends on reliable internet to make money?
Thanks!

Solution 1
Answered by Brian Lyttle

Hi,
1. As far as I know IE6 supports SVG, but I am unsure of it's actual compliance level. Microsoft has a tendency to omit certain features, and include it's own to get better performance.
2. I would not recommend installing beta software on a 'production' system. You should install it on a separate machine, or if you dual boot Windows 2000 and Windows 9x then install it on the OS you use less often. Many people have had few problems, but this doesn't mean that it is not capable of wrecking you machine.
---
Question

Submitted by Croc

Whenever I try to watch a DVD movie on my computer under windows 2000, I can watch about 5 minutes worth or so and then the program exits to the dos type screen as it does a memory dump. Why? I have dual boot win me and 2000. works fine under ME. I have downloaded the latest drivers from ati for my rage fury, have directx 8 installed and have the latest DVD software decoder from ati for win 2000. It puzzles me as to why win me would work but the other wouldn't? Just glad I have both systems on my computer so that I can still watch them. Would you have any ideas what would cause this under 2000?

Solution 1
Answered by Brian Lyttle

Croc, I think I can safely say that your problem is driver related. Firstly, ATI and Windows 2000 is considered a bad combination in some quarters. You should try and find Windows Certified device drivers from ATI. These have passed the Windows Hardware Labs tests. I find that these are often slightly older drivers, the latest ones will have only been submitted to testing. Reinstall DirectX, and try and find some non-ATI DVD software. Hopefully trying this will sort your problems out.
---
Question

Submitted by D. Ray

In Win982Ed I uninstalled the original Adobe Acrobat Reader because I couldn't open it and kept getting the message: "You have performed and illegal operation and you'll be shut down". So I download acrb32.exe from Znet. Now when I go to Start/Programs/Adobe Reader 4.0, I get the same "illegal" message I got before with this in Details:
ACRORD32 caused an invalid page fault inmodule ACRORD32.EXE at 0187:00416ab5.
Registers:
EAX=015c1fc2 CS=0187 EIP=00416ab5 EFLGS=00010212
EBX=00000040 SS=018f ESP=0095e84c EBP=0095e85c
ECX=00000001 DS=018f ESI=015c1ffe FS=4357
EDX=0095e888 ES=018f EDI=015c1ffc GS=4b56
Bytes at CS:EIP:
f3 a5 8b cb 83 e1 03 eb 33 fd 8b f3 03 f9 83 f9
Stack dump:
00000206 00000000 015c1fc0 00000040 0095e894 00453e88 015c1fc0 015c1fc2 00000040 005bb1b4 00000000 0052c670 015c1ad0 0000007a 015c1fc0 00000000
Even worst, I now get a second message when I try to open an Adobe attachment in Internet Explorer5.50/Outlook Express: "This file does not have a program associated with it for performing this action. Create an association in My Computer by clicking View then clicking Folder Options." On reaching Folder Options there's no further instructions on how to "create an association". Is that my problem and what I need to do? If so, is this (in Adobe/Help) the way to do it? To create a file type (which is what "creating an association" means, I think) In My Computer or Windows Explorer, on the View menu, click Folder Options. Click the File Types tab, and then click New Type. In Description of type, type the appropriate information for the new file type. In Associated extension, type the extension you want for the new file type. Click New. In Action, enter the action that you want to define (such as Open or Print). In Application used to perform action, enter the command that you want to complete this action, and then click OK. Repeat steps 6 and 7 for as many actions as you want to define for this file type. I sure hope not, as I haven't a clue what "appropriate information", "extension", "action" and "command" means! Many thanks

Solution 1
Answered by Charles Putnam

There is a newer version of Adobe Reader - ver 5, which should correct the problem. Uninstall ver. 4 and then install ver 5.
---
Question

Submitted by Wayne

I recently upgraded from 98 to ME, unfortunately without saving any of the 98 records, ME will not let me uninstall itself as I have no records of a previous O/S Is it possible to get into Dos and format the Hard drive or am I stuck with Me forever ? Your advice will be gratefully received ! Cheers

Solution 1
Answered by Charles Putnam

Essentially, you need the Win98 startup disk. Boot to the c: prompt and reformat the HD and reinstall Win98.
---
Question

Submitted by Unknown

hey guys, I built a second PC for myself back in January, but have been having problems with it ever since. Basically, the video freezes up whenever I try to play ANY kind of movie, be it DVD, .MOV, .AVI, you name it, it'll crash. I tried tweaking with all kinds of stuff, including downgrading my AGP aperture to 16M in BIOS, playing around with the IRQ for my video card(it was originally on the same IRQ as my LAN card, and I can see why that was a bad idea, but tell Microsoft, not me...) The real problem came when I tried installing win2000, it gets as far as the 'Setup is detecting hardware components' screen, goes halfway, then stops grinding, then goes blue with "Hardware malfunction/Call Vendor For support/System has halted". That computer is running win98(so far) on a Duron700, 128M ram, nVIDIA TNT2 Model64 32M video. Do you know of any known hardware incompatibilities with any of this stuff? I'm basically beat, and ready to buy another video card, but for a second PC, and on a student's budget... there has to be a way of solving this. any and all recommendations would be appreciated.

Solution 1
Answered by Charles Putnam

First, make sure that you're not over clocking the system. Second, as it seems to be related to the video card, try a different card to see it that corrects the problem. If it does, then chances are a RAM chip on the card is bad.

Solution 2
Answered by Ashton Smith

Microsoft has a program that you can download and run that will examine your system and determine if it is compatible with Windows 2000. Run it and see what it says.
---
Question

Submitted by Eran

Hello to you . I need your professional help as consulting with you about a network issue : My network will include 20-30 computers (workstations) , My server will be : Windows 2000 Terminal Server . What hardware recommendation will you prefer ??? (and recommend to me) for my server & clients?? Please include your own thought about the best offer you want for yourself ... Thanks allot !!

Solution 1
Answered by Charles Putnam

As to specifics, for the server, I'd recommend an Intel based system, and if possible, an Intel mobo. As you're going with a terminal server setup, almost any decent mfgr should work fine. The only recommendation would be to use the same NIC's for each terminal.

Solution 2
Answered by Ashton Smith

If you are going to be doing Terminal Server then I would make sure that your server has lots of memory (like 1GB or more), and I would make sure that all your desktops are Windows 2000 (otherwise you will have to buy Terminal Server licenses for each desktop connection).
---
Question

Submitted by Kevin

Is there any viable way to install 2000 from ME if I plan on running both systems? If so, how? Thank you!

Solution 1
Answered by Charles Putnam

You can dual boot between WinMe and Win2000. When you install Win2000, choose the dual boot setup. However, note that if you get the upgrade version of Win2000, WinMe doesn't qualify when Win2000 searches for an upgradeable OS. Only Win95/98/NT do that.
---
Question

Submitted by Unknown

Hi guys, Is it possible to return from FAT32 back to FAT16 by formatting my hard drive? or is there some way to undo FAT32? Thanks.

Solution 1
Answered by Charles Putnam

Note that FAT 16 supports hard drives smaller than 528MB. If you have a larger HD, then it will have to be partitioned accordingly. MS DOS is about the only OS left that you could reformat to FAT16. If you're running a Win9* system, your better off with FAT32 due to the smaller cluster size, and larger HD support.

Solution 2
Answered by Ashton Smith

FAT16 will support partitions up the 2GB in size. If you want to switch from FAT32 to FAT16, you will have to get some partition manager software to convert the type. But realize, that will need to resize your partition to 2GB or less in order to convert to FAT16.
---
Question

Submitted by Unknown

Hi, My family will soon be getting a new computer. Do we choose windows 98 or windows me. I like the video editing software with win me but hear a lot of compatibility issues. Would win 98 be more safe? Thanks

Solution 1
Answered by Charles Putnam

The majority of new computers come with WinMe. As to compatibility issues, the latest hardware is supported by WinMe. On the software side, there may be problems with older software. Quirks include older versions of Quicken, Apple Quicktime ver 2, and so on. Before deciding which OS to get, check with the software vendor on the stuff you currently use to see if it's compatible, or if there's a workaround/fix.
---
Question

Submitted by Richard

Dear AW Support, Im running Windows 2000 Pro. with all the latest patches Service Pack 1, RC 1.1 (5.0 - 2195) and it hangs whether I chose Shutdown or Restart, all I get is windows is shutting down, it than goes to a black screen with the curser on the top left hand corner of the my screen. I'm using an HP Pavilion 7145 Pentium 150Mhz upgraded to 233Mhz with 128k RAM. The Win2k was working fine after I installed it, I didn't have this problem before, could it be that left my machine up for 55 days w/o rebooting it ? I tried all the information on the Microsoft site about the Power Management / UPS and I still can't fix the problem. Can you please help me out with this, I am banging my head against the wall trying to figure this out. Thanks

Solution 1
Answered by Charles Putnam

The problem may be that you're running a release candidate and not the final retail version. If the problem started after installing SP1, there may be a conflict/problem between RC1 and SP1. You most likely need to spring for the retail version.

Solution 2
Answered by Mean Drake

Also maybe some of the hardware may have developed a fault as most of these problems are caused by hardware problems.
---
Question

Submitted by Unknown

hello, my problem is my digital camera please can you help. I am running windows me every time I try to install my camera a list of cameras appears but mine does not seem to be among them my camera is a fugifilm finepix 2200 I am not sure weather windows me recognizes this model. its driving me nuts I cant download my pictures please help thank you.

Solution 1
Answered by Charles Putnam

Check the camera mfg's web site for a driver. WinMe didn't include drivers for all cameras. Hopefully, there should be on Fuji's web site.

Solution 2
Answered by Mean Drake

See if the driver disk has the WinMe drives on it. In the window that shows the list of cameras click the have disk button....And then browse to WinMe drivers folder. If there are no WinMe drivers then Download from Net if available
---
Question

Submitted by Joe

I do allot of different hardware and software testing. I usually end up re-installing windows 98 se about 5 times a day on the same system. Is there a way to put the product key in a file so I don't have to type it in every time I re-install?

Solution 1
Answered by Charles Putnam

Nope...unfortunately.

Solution 2
Answered by Mean Drake

I had read a workaround on the net somewhere....It involved installing from HDD and editing one of the setup files in a hexeditor...Perhaps if you try searching you might find.
---
Question

Submitted by

Enrique

I have Windows ME and am trying to install win2000. half way through the process I get an error in Winnt32 caused by kernel32.dll and it closes... what do I do?

Solution 1
Answered by Charles Putnam

Can you give us your hardware spec's? Also, are you trying to dual boot between WinMe and Win2000, or install Win2000 as a stand alone OS?

Solution 2
Answered by Mean Drake

If you are planning to dual boot, you can boot to DOS with WinMe start up disk with CD-ROM support and then run the setup from there....Install to a different partition from WinMe though.
---
Question

Submitted by M.D.

I recently installed an old dos game. The results were a poor looking and playing game as well as my computer booting to dos every time I started it up. By deleting the game and forcing things I got my computer to reload to windows. The problem I am having now is that every time I start windows It seems to load win98 as usual and gets to the autoexec.bat screen and says that "Windows 98 is now restarting" and then goes through the autoexec commands. Is there any way I can get back to "windows is now starting or loading (I forget which)" Instead of trying dos first and restarting windows? Thanks in advance

Solution 1
Answered by Charles Putnam

This doesn't sound pretty... First, check to see what's in the autoexec.bat and config.sys files. If there are any lines referencing to go to a DOS prompt, delete them or at least put REM in front of them. If that doesn't work, it may be that this game has done major damage to Win98, requiring a dreaded reinstall.

Solution 2
Answered by Mean Drake

One last thing you could try is boot to DOS with the Win startup disk and then Give the command sys c: This will transfer the system files to c: and might correct the problem as it looks like there is an error there.
---
Question

Submitted by Brent

When I attempt to run Scandisk in WinMe it hangs during "Checking Folders". It also does the same thing when trying to defrag. If I reboot into Safe Mode I can run Scandisk and Defrag. No programs are running during Scandisk except Explorer & Systray. I have checked the Microsoft Knowledge Base and can find no answer. I would very much like to know a solution to this problem. Thank you

Solution 1
Answered by Mean Drake

This seems to be a problem for many. The solution is to TEMPORARILY turn off virtual memory, run ScanDisk and Defrag, then turn it back on. After doing this once, Scandisk and Defrag should work properly. go figure....

Solution 2
Answered by Mean Drake

I would suggest boot to Safe Mode and Close all programs except Explorer and systray using the Task Manager (Ctrl-Alt-Del) and then run these.
---
Question

Submitted by Philip

Hello, I have a problem that has just started on my WinMe system. I have a folder called d:\downloads\temp in which I keep downloaded files. Every time that I boot my machine, Windows Explorer opens the folder. I cannot find out what triggers this and cannot get it to stop. My system is a AMD 750 Athlon with 128 megs RAM and a Geforce 2mx graphics card, running Windows Me. This machine was built by myself and has performed perfectly until two days ago when this starting to occur. I cannot think of anything that I have installed or reinstalled that would have caused this problem. Any help you can provide would be appreciated. I have thought about reloaded WinMe on top of itself but would rather not do that if there is any other cure. Regards

Solution 1
Answered by Mean Drake

Two reasons....One...explorer is on when you shut down and two....See your start up environment.
---
Question

Submitted by Sandi

1. How do you get a Windows Me boot disk ?
2. My desktop theme screensavers work when I'm offline but when I go on the internet none of them work. I have no programs running that would stop them from working. Is there a bug in Windows Me somewhere or what? Is anyone else having this problem? I tried everything to fix this but nothing has worked! My computer is custom built with Windows ME preinstalled. Thank you

Solution 1
Answered by Mean Drake

Boot disk....Go to Control Panel>Add remove programs>Windows Set up tab and see
---
Question

Submitted by Curt

I recently installed windows 2000 on my dell inspiron 7000 and since that time the cooling fan has ceased working. I checked with dell and ran their diagnostic utility and it worked fine. So I'm puzzled why it seems to generate considerable heat and the fan never comes on. The inspiron was originally using win 98se and the fan would come on often enough. I also lost use of the audio on my DVD even though all the audio drivers from luxonor are current. Your response would be helpful. Thank You

Solution 1
Answered by Mean Drake

I doubt if the OS has anything to do with the cooling fan....Check the motherboard connections.

Solution 2
Answered by Ashton Smith

Make sure that you are on the latest BIOS revision. Windows 2000 has a lot of issues with early versions of BIOS's
---
Question

Submitted by Tom

G'day ActiveWin boffins, I recently had the processor, motherboard and video card in my computer upgraded. My computer is now a PIII with a Nvidia riva tnt2 model 64 video card. All the drivers are up to date. For the first few weeks, everything was fine. Then suddenly I can't get any graphic hardware acceleration. This seems to be because of two memory range conflicts between my video card and the PCI standard PCI-to-PCI bridge that have suddenly developed. I have tried to reallocate memory ranges by changing the settings and overriding the automatic configuration. Unfortunately nothing works. My question is what else can I do to resolve this problem? hanks in advance.

Solution 1
Answered by Mean Drake

Boot disk....Go to Control Panel>Add remove programs>Windows Set up tab and see

Solution 2
Answered by Ashton Smith

If your video card is PCi, try moving it to a different PCI slot.
---
Question

Submitted by Clint

I am running windows 98. when the computer boots up there is an error message that comes up saying there is a missing msvcrt 40.dll. I would like to know how I might find this and reload it to my computer. The cd burner program will not work and sends this same message. thanks

Solution 1
Answered by Mean Drake

reinstall the CD burning program. It should put it back
Or borrow it from a friends comp with same OS. Or a dirty reinstall of your OS will do it too.
---
Question

Submitted by Samuel

In the past, I have used Win2k pro FAT32 and a second (removable) drive (WinMe/FAT32) for my niece & nephews to play games. For security and performance reasons I formatted my permanent (46GB [2] drives into 4 NTFS partitions. For some stupid reason WinMe can see the allocated partition (NTFS) and wants to format it. I have no real desire to use partition magic or any utilities of that sort; I just need to prevent WinMe from seeing the NTFS partitions. WinNT prevented. Any help would be appreciated.

Solution 1
Answered by Mean Drake

WinMe does not support NTFS.
---
Question

Submitted by

Barry

Recently lost the blue progress bar that show the progress of installation of programs and such. Everything shows and works except the progress bar. Had deleted some entries in the registry awhile back but that had to do with a previously installed program. Might had invertently deleted an entry in the registry that might affected the progress bar. OS is a HP Pavilion 6553 with Win98. Too late to revert back to an earlier registry date. Any suggestions as how to get it back without reinstalling the OS? Thank you in advance.

Solution 1
Answered by Mean Drake

A simple reinstall of windows over the existing system should help
---
Question

Submitted by Kristiane

I bought a second hand computer, the former user did not remember her password to get into windows 98. I did not gave me any problem until now that I want to get into internet. Every time I try to enter the Microsoft explorer I need to register it first... and it asks me for my password, because I don't have it, I cant go farther than that.!! Please help Thank you

Solution 1
Answered by Marc Strickland

Search the windows directory for all files with the "pwl" extension and delete them. This should solve the problem.
---
Question

Submitted by Liam

I remember before windows2000 came out there was much talk about clear type technology. I have recently started taking advantage of this with windowsXP beta 2 and have learned that it is available in WinMe but cannot find it in windows 2000. Can you tell me whether it has been deliberately left out or whether it is hidden or available through a patch. Many Thanks

Solution 1
Answered by Stefan Assmann

I don't think it's available in windows 2000, maybe service pack 2 (due at the end of the month) will add it.
---
Question

Submitted by Brooks

Dear ActiveWin, My company currently has several applications created under FoxPro 2.5 which is a very old DOS-based application. We are in the testing phases with Windows 2000 to see if it will run these DOS applications. So far our tests have failed, will W2K run DOS applications at all ??? Your FAQ site said, "Under certain Conditions", what are those conditions ? Thanks

Solution 1
Answered by Stefan Assmann

DOS applications that don't access the hardware directly and aren't too old should run without problem, except for games. If memory serves, Foxbra is a database application and all applications written with it need at least the foxpro runtime. I don't remember if that version (2.5) already worked with DOS extender memory technology, but if it does, it won't work under windows 2000 because a dos extender tries to access your hardware directly.
I suppose upgrading to Visual Foxpro 6.x (the latest version) is out of the question? Of course, that'll also probably mean rewriting your appliocation(s), but at least you'll be sure it'll work under Windows 2000.
---
Question

Submitted by Unknown

I recently installed win 2k on a dell inspiron 7000 and the cooling fan has never worked since changing from win 98se. I checked with dell and ran their diagnostic utility and the fan worked just fine. It still seems to me that I am still creating a large amount of heat, especially while defragging. I have 384 megs of ram and a 10 gb hd. I also have lost use of the audio portion of my DVD it uses luxonor drivers and as best I can tell they're all current versions. Your response is welcome.

Solution 1
Answered by Stefan Assmann

Have you checked with a hardware monitor utility to monitor not only the operation of your fan but also the cooling unit of your CPU and whether the voltages on your motherboard are still within normal parameters? There are also several shareware utilities on the market like CPU-Idle which take advantage of the moments your CPU isn't working to cool it down.
---
Question

Submitted by Pete

Our student file servers are Macintosh G-3's running AppleShare 6.2 with windows login enabled (SMB). From our school network, I can log on to the servers from a windows 98 computer with no problem. When I try to do the same thing from home over my isp, it never finds the servers. I can ping them and run traceroute and find them. I've even installed tsstalk appleshare protocol for windows and still can't find the servers. Is this a time-out issue? Any suggestions? It would be great if we could offer our students file services from home. Thanks in advance for any help you can provide.

Solution 1
Answered by Stefan Assmann

You probably need to install some apple equivalent of VPN (virtual private networking) on your servers at school and a VPN client at home to accomplish this. Your school network is also likely to be protected by a firewall (at least I hope so), so you'll have to configure it as well to let tcp/ip packets from your home pass through it to reach the desired server(s).
---
Question

Submitted by Kent

Hi, Sometimes when I want to save an image or a sound file, I will browse to the folder I want to save it in and will hit save. Everything seems to work, until I check for the file. Then, I see that the file has been saved under C:\Windows\Temporary Internet Files no matter where I tried to save it. If I save it again, it will go to the right folder, but the first time always frustratingly ends up in Temporary Internet Files. Any suggestions?

Solution 1
Answered by Candy Baker

All email attachments, pictures, files, etc. are in the Temporary Internet Files. When you decide to save an attachment, go to File and then Save As.
Save will just save to the Temporary Internet Files. Remember always SAVE AS.
---
Question

Submitted by PJD

Sirs: I have tried to add holidays to my "Works Calendar" in '98SE, but get a box saying the file is missing or corrupted,run set up and try again. I tried reinstalling works but it had no effect. Can you help? Thank You

Solution 1
Answered by Candy Baker

Go to Control Panel...Add/Remove Programs and uninstall MS Works. Shutdown completely restart the computer. Run Scan Disk and Disk Defrag, then go to Add/Remove programs in the Control Panel and reinstall MS Works.
---
Question

Submitted by Mark

Does Windows ME have trouble supporting alot of memory ? I have 768Mb in my system and sometimes it comes up with an 'out of memory' error. Is there anyway to overcome this ? I have an 18.2Gb SCSI drive if there is something I can do in the Virtual Memory settings. Many thanks

Solution 1
Answered by Ashton Smith

Windows 95/98/ME only support up to 512MB of RAM. Only NT and 2000 will support more. I don't remember the Q doc, but I know that there is a document that explains this on Microsoft's Support website.
---
Question

Submitted by Jeffrey

i recently purchased a new compaq presario 1692 but the unit is over heating i think. after 30 min or so of constant use the system freezes up. after restarting the unit it does it again unless i let it cool off for about 30 min. is there some way to keep my laptop from overheating? p.s. the fan on the back of the laptop is working.

Solution 1
Answered by Ashton Smith

I would definitely contact Compaq about the overheating. There some programs available on the Internet to monitor the temperature of your motherboard and processor. One thing you can do temporarily is use it with good circulation and try to leave some space for air to move beneath it.

Solution 2
Answered by Ashton Smith

Here is a link to a program that will monitor your system temperature: http://www.podien.onlinehome.de/ I am not sure how well it works on a Compaq laptop, but you can give it a shot.
---
Question

Submitted by CSM

Hello, I can't run my USAF in Win2000. Is there a patch so that i could run it? I already got a patch there upgrades my USAF to 1.02F but it still can't run. Pls Help :-)

Solution 1
Answered by Ashton Smith

I would get on the Internet, and do a Windows Update. Make sure that you have SP1 installed for Windows 2000, and that you have the latest Compatibility Update installed as well.
---
Question

Submitted by Anand

Hi, I have enabled the mouse setting where the user just moves the mouse over a window to make it the active window. This setting is available at: HKEY_CURRENT_USER\Control Panel\Mouse\ActiveWindowTracking =1 Is there any way to make the active window come to the front of all the other windows on moving the mouse to it? I noticed it happens with some windows but not all the time. Thanks

Solution 1
Answered by Ashton Smith

If you install the latest TweakUI 1.33 from Microsoft (should be available at Hotfiles.com or download.com), there is a feature called "Autoraise when activating" under the mouse section that might accomplish what you want.
---
Question

Submitted by Howard

Hi, Would you please explain to me the difference on the following hard drives?? System_Sav D and Local Hard Drives C & D. Thank you for your time and have a nice day!

Solution 1
Answered by Andrew Funderburk

Hard drives C and D are partitions on your physical hard disk. They're given drive numbers and look like seperate drives to programs and all. This is handy if you only have one physical disk but want to keep things on seperate drive letters. System_Sav D is a system backup that's put on the D drive. This is something used by many computer manufacturers like Compaq and HP when you do a system restore off of the restore CD. It's nothing but a copy of what's on the C drive. I'm not sure if there are any negative consequences to deleting System_Sav D.
---
Question

Submitted by Unknown

When I boot up, it appears to ge a good boot, but then the screen turn dark and blank. Ipush my reboot button and the desk top appear and everything appears to be Okey.

Solution 1
Answered by Candy Baker

This may be normal behavior for your machine and monitor. First though I would go to the Control Panel, Display, Setting tab. On Colors, click the down arrow and see if you have it set at the most colors like True Color (32 bit). Then click the Advanced Tab, see if on the Adapter if it is set at Optimal setting. Also, you can download the lastest drivers for your video card. With some older monitors I have see them go black three or four times going into Windows otherwise the computer works fine once in Windows.
---
Question

Submitted by Unknown

every time i try to install directx version 8.0 or 8.0a on win me over directx 7.0 i get ' a required inf file was not found' and installation does not finish. can u please help me?

Solution 1
Answered by Candy Baker

Go to the following address and Click "Run this program from its current location" to start the download immediately." http://www.microsoft.com/downloads/release.asp?ReleaseID=27741
---
Question

Submitted by Katherine

what does it mean when this shows up on the screed"lexplore has caused an error?it has showed up now and several times before. thank you

Solution 1
Answered by Candy Baker

When you receive the message Internet Explorer has caused and error, it means there has been a conflict between the software Internet Explorer which is part of Microsoft Windows and your operating system. Close Internet Explorer and open it again. If you receive the same error. Shut the computer down all the way. The restart your computer. I do not know which version of Windows you are using, so if you let us know next time, we can answer your question quicker. If you are using Windows ME you are given the opportunity or reporting the error to Microsoft, and that helps them know when the error occured.
---
Question

Submitted by Randell

Win 98 SE In MS info, system configuration utility,startup tab. I want to stop 3 files that are no longer on my system, from starting. I clear the check box , click apply. Reboot and there they are again. Tried a search with Find, removed to Recycle Bin and emptied it. Still shows up I think that one spawns the other two related files, (no longer existing ATI launcher, and driver. I have been to Registry, deleted any evidence or remark to ATI , still they show up. Also I have two identical files reported in startup group, I remove the check from the box, restart and guess what. One is a power profile, dll's on and on. and the other is Zip Magic. remove , restart, reappear. When in Windows folder , programs, startup folder the is no appearance of these files. actually only one that I added. No problems with that program. I thought I would mention it. So where is the startup group folder? Any help will be appreciated.

Solution 1
Answered by Candy Baker

Before you remove ATI from your computer please do the following: Go into Control Panel > Display - Last Tab Settings. Then under Colors, click the down arrow and make sure you are set at your maximum colors. Above Colors read what the make of your video card is. Then click Advanced options up more options and put the driver at Optimal. The ATI could be your video driver and if you remove them you will not have a picture unless you changed to another manufacturer. You asked where is the Start group folder. Go to Start Button, Programs, Start. All files in there start when you system starts. You can right click and delete the program you do not want to begin at start up.
---
Question

Submitted by Jeffrey

My new Sony Vaio desktop with CD writer will not release/eject CDRW's once they've been written to. Panel button doesn't function until ME O/S is no longer in control, eject button on Windows Explorer for drive will not function. Likely the Sony driver for their "Sony" brand CDRW drive. ME doesn't like any '98 or NT version of McAfee antivirus. There's a FAQ on this on the Network Associates web site and the Sony came with a working version. Problem is it disabled itself after 30 days use and wants me to pay more money. I tried using corporate versions for '98 and NT and they did not work.

Solution 1
Answered by Marc Strickland

What is the question? You should buy the anti-virus software, it might just work!
---
Question

Submitted by Chris

Please could you help me solve this problem that seems to only occur whilst on the net, the message "runtime error 216" appears and hangs the system. My computer is a 600mgz p3 Gateway system win98se Thanking you Here is a link to a program that will monitor your system temperature:

Solution 1
Answered by Marc Strickland

Click on this link for information in regards to this error message: http://support.microsoft.com/support/kb/articles/q189/9/89.asp
---
NOTE: Please note that ActiveWin nor the AskAW staff can take any responsibility for anything that may/may not occur when taking our advice. If you do anything that is included in our advice, you are doing so at your own risk.
If you have any questions pertaining to a particular answer please contact the actual Staff Member who replied.
You can contact anyone of our staff here or email us at askaw@activewin.com