DirectX
ActiveMac
Downloads
Forums
Interviews
News
MS Games & Hardware
Reviews
Support Center
Windows 2000
Windows Me
Windows Server 2003
Windows Vista
Windows XP



News Centers
Windows/Microsoft
DVD
Apple/Mac
Xbox
News Search



ActiveXBox
Xbox News
Box Shots
Inside The Xbox
Released Titles
Announced Titles
Screenshots/Videos
History Of The Xbox
Links
Forum
FAQ



Windows XP
Introduction
System Requirements
Home Features
Pro Features
Upgrade Checklists
History
FAQ
Links
TopTechTips



FAQ's
Windows Vista
Windows 98/98 SE
Windows 2000
Windows Me
Windows Server 2002
Windows "Whistler" XP
Windows CE
Internet Explorer 6
Internet Explorer 5
Xbox
Xbox 360
DirectX
DVD's



TopTechTips
Registry Tips
Windows 95/98
Windows 2000
Internet Explorer 5
Program Tips
Easter Eggs
Hardware
DVD



ActiveDVD
DVD News
DVD Forum
Glossary
Tips
Articles
Reviews
News Archive
Links
Drivers



Latest Reviews
Xbox/Games
Fallout 3

Applications
Windows Server 2008 R2
Windows 7

Hardware
iPod Touch 32GB



Latest Interviews
Steve Ballmer
Jim Allchin



Site News/Info
About This Site
Affiliates
Contact Us
Default Home Page
Link To Us
Links

News Archive
Site Search
Awards



Credits
©1997-2012, Active Network, Inc. All Rights Reserved.
Please click here for full terms of use and restrictions or read our Light Tower Privacy Statement.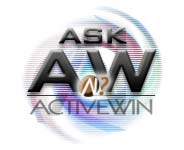 Welcome to AskAW! This section of our web site lets you submit questions about any problems/queries that you may have about Windows. Be it from a little icon that annoys you to hardware freezing your PC, we will try and help you out. You can submit your questions by e-mailing us at askaw@activewin.com. You can browse through previous questions over at our Archive Page. Who knows what you might find.
Here are the answered questions for 06-15-2001
Question

Submitted by Jacob

Dear Sirs-- I would now like to uninstall my Windows Whistler XP beta version. Do you have any ideas how I can do this. I know that my pre-installation configuration was backed up before the installation began. However, I cannot figure out how to uninstall the XP and return to that configuration. I love XP, but am only doing so because of some very significant compatibility issues I have been having with the XP.

Solution 1
Answered by Michael Kircus

Is it listed in your Add/Remove Control Panel? Look for Windows XP in there. If not, maybe the information was deleted.
---
Question

Submitted by Unknown

When downloading a file from the internet, a file download window appears. Within this window, you are giving two options (save or open). My problem lies within the check box at the bottom (always ask before opening files of this type). One the box has been unchecked, is there any way to recheck it or restore the original state ? Any help in this matter would be greatly appreciated, for I believe this may be at the root of all of my shoutcast woes. frustrated in Ontario.

Solution 1
Answered by Gary Busby

This is controlled via Windows Explorer File Types "Confirm on Open" Advanced option because it depends on what type of file you are downloading.
Read this article on how the "Always ask..." feature works and how to control it. There is a another article listed within it that explains even more alternatives.
http://support.microsoft.com/support/kb/articles/q177/9/76.asp
---
Question

Submitted by Unknown

Could any one tell me step-by-step procedure to deploy SP2 to all the network clients unattended. Thanks

Solution 1
Answered by Gary Busby

Have you tried the deployment guide? It tells you how to deploy it step-by-step via several methods including unattended/silent mode.
Go to this link and download the "Installation and Deployment Guide":
http://www.microsoft.com/windows2000/downloads/servicepacks/sp2/default.asp
---
Question

Submitted by David

Something very weird has happened to my Windows Explorer. And Yes, I've done everything possible so far to correct it. When I view my Desktop, in the right window (with the files) the headings are all there: Name, Type, Size, Modified. However, when I go to my C drive, any folder, the TYPE heading disappears. And I cannot get it back. I've tried customizing, setting all windows to the setting of my desktop, gone into the View Options and told it to show all types. And I'm a computer professional!!! I'm absolutely lost over this very simple issues.

Solution 1
Answered by Gary Busby

Get to the folder/drive you desire to change in Windows Explorer. Right-click on the gray title bar in the right-hand pane of Windows Explorer (the ones that show Name, Modified, Size). You'll see a list all types of column headings you desire including Type.
---
Question

Submitted by John

I am using Window95, user profiles, IE 5.5. The problem was first discovered when I signed in with my User ID and tried to manually delete some AutoComplete entries (when the dropdown list appears, selecting the entry, and pressing the delete key), I got the following error:
IEXPLORE caused an invalid page fault in
module KERNEL32.DLL at 016f:bff79f90.
After I rebooted, I tried to Clear the Forms and Passwords through the Options tab but that just hung IE5.5. Can someone direct me how I can fix the problem. I have already deleted the registry key: HKEY_CURRENT_USER\Software\Microsoft\Internet Explorer\IntelliForms, but the program still hangs when I attempt to Clear Forms through IE. I also did an IE5 Repair. IE5.5 still hangs when I press the "Clear Forms" from the AutoComplete Settings. I can log in user other ID's (profiles), and IE 5.5 does NOT hang when I press Clear Forms or Clear Passwords. What is specific to my profile that is messing things up? Are the passwords stored somewhere else? Is there any files I need to delete? (i.e. ?.dat, ?.pwl) in addition to other registry entries? I heard of others having this same problem and reinstalling 5.5 did not help them? Any help would be appreciated. Thanks

Solution 1
Answered by Mean Drake

Ie errors might be extremely frustrating to debug and in my opinion you should go in for an upgrade to Ie 5.5 SP1.
---
Question

Submitted by Charles

I have a problem. I am installing a VB app I developed onto an NT workstation. It installs fine except it will not register MSDATOBJ.DLL. Obviously the app will not run without it. I cannot even register it manually using REGSVR32. The error message says "DLLRegisterServer in c:\winnt\system32\msdatobj.dll failed. Return code 0x80004005" Any ideas? I'm really under the gun on this one so any help will be greatly appreciated. Thanks a lot.

Solution 1
Answered by Mean Drake

You might try one of the Visual basic lists for this. http://peach.ease.lsoft.com is the list host and there are two lists there. Visbas-beginners and Visbas-L
---
Question

Submitted by Mike

Running windows 98 se. In the performance tab of sys properties virtual memory is showing a negative -25500mb of free space on my hard drive. Consequently I have no swap file and that is causing many problems. Hard drive is 43 gigabytes with 39 gigs free, as reported by windows. Can you advise. Don't know how this happened and sure don't know how to fix it. Tried re-running windows but it says I don't have enough conventional memory. Also have768mbs of pc 133 installed. Any help greatly appreciated

Solution 1
Answered by Mean Drake

http://support.microsoft.com/support/kb/articles/Q272/6/20.ASP
---
Question

Submitted by Joseph

To the AskAW Staff On Windows 2000 Pro installation you can customized or add/remove its advance features and components but other "not so advance" features like games, WordPad, Paint and Address Book are not. How can I remove it just like the ones in Windows98 and Me?

Solution 1
Answered by Gary Busby

Win2k Pro removed these from the list. This article explains how to get it back in the Add/Remove Programs:
http://support.microsoft.com/support/kb/articles/Q223/1/82.ASP
---
Question

Submitted by Patsy

We've found that the computer works faster if we "end task" the programs that are always running in Windows. I don't want to turn off anything important, though. Is there a place where I can get info on these programs? I've looked them up in books and looked online but can't find any info on them. They have names like Hphid407 and Cpqeaui. I'm sure some of them are things we've added but I can't tell that by the names either. Please point me in the right direction. Thanks

Solution 1
Answered by Mean Drake

Some of these are supposed to be running. Even though you may not have any applications open some programs like your antivirus and other might be running in the system tray. Others are less obvious. One of what you have mentioned refers to your HP printer I would believe. In short I would suggest you run the msconfig utility to see what starts up with windows and disable what you don't want.
---
Question

Submitted by Derek

Hi, If anyone at ActiveWin can help me with this, I will be eternally grateful. Using Win2k for a short while I came to really enjoy some of the webview features, such as the My Pictures folder, the media player that would pop up when clicking on a mp3 file etc...I was wondering if there is any way to import these webview features into win 98se??? Or any other UI features unique to Win2k. Thank you for your time.

Solution 1
Answered by Mean Drake

I would doubt very much. The appearance etc. can be customized to your heart's content but not the shell. You can have some of these things though like having the My Documents (or any other shell folder) and start menu but not things like a My Pictures folder with the preview with zoom etc as far as I know. I might be wrong of course.
---
Question

Submitted by Chris

I am having problems with power management and Windows ME. When the my system enters standby mode, it will not resume, I have to reset the computer and this is followed by the scandisk, stating my computer failed to shut down correctly. I recently upgraded my computer and it is now made up from the following components:-
Windows ME Operating system(latest updates installed)
Intel Desktop Board D815 EEA(latest Bios installed)
Intel Pentium III 866 Processor
256mb PC133 Ram
Maxtor 544098H8 ATA-100 40mb Hard Drive
Hercules GTS II 64mb DDR graphics card
The bios settings for the motherboard as basically set to the default settings. I have changed some of the power management settings to see if this resolves the issue, without success. I have spent time on the Intel site and Windows ME site, but again I can not find anything to resolve the issue. Any suggestions/advice would be greatly appreciated. Kind Regards

Solution 1
Answered by Mean Drake

See in your device manager of ACPI is listed. Also see if there are any unknown devices listed there. Sometimes the 815 series have to have you manually install some of the drives. See your motherboard documentation.
---
Question

Submitted by Tim

I am using Windows 98. The message-MSVCP50.DLL is corrupt. Reinstall and try again. How do I reinstall MSVCP50.DLL?

Solution 1
Answered by Mean Drake

Use system file checker to manually extract a copy from the Win98 cab files.
---
Question

Submitted by Fam

My problem is that the first time I start the machine it doesn't show the logon-window, it just goes right in to windows. To get the logon-window I have to logout this unnamed user, and the I get the proper login window with user, password & domain. Everything looks ok in the network-settings. Can I change something in the registry to avoid this?

Solution 1
Answered by Mean Drake

See in control panel. Sometimes it is configured to let a default user login on boot. See if you can change it there. Control Panel > Users and passwords.
---
Question

Submitted by Rudy

We got a scanner last week and installed it and ever since we have, the computer has become slower. Here's what happens: Windows starts up and its fine for about 5-10 minutes (everything runs normal speed etc.), but after this, things begin to slow down a lot. Programs begin to lag and stutter (as does the sound). I closed everything but the necessary files and it was still slow. Also, the explorer error message (this program caused a fault in module...) comes up often for no reason when I am on the internet or in Word. This does not come up in other programs though, such as games. Finally, I have seen an error that occurs when windows is starting up that says "The volume that was removed had open files in it, next time please check to make sure the volume can really be removed". This occurs only rarely, but when it does, just about every program on the system tray (as well as others running in the background) crashes and I have to reboot the system. My computer is a 1ghz AMD Athalon, 500mb RAM, 30 GB hard drive, Voodoo3 3000 video card, 16 bit PCI soundcard, Roadrunner Cable modem. My o/s is Windows 98. Thx for your help

Solution 1
Answered by Mean Drake

Use the msconfig utility to selectively disable or enable programs that start up with windows. You will then be able to locate the program that is running in the background that is causing this. Also have a look at the autoexec.bat file to see if some TSRs are being started in DOS mode. Disable them if need be.
---
Question

Submitted by Bob

How do I install corel 7 into windows ME. When I download from a CD it goes so far and stops. Thank You.

Solution 1
Answered by Mean Drake

What are the error messages if any you get? Probably Corel 7.0 might not be WinMe compatible. You could request help from Corel Support.
---
Question

Submitted by Jack

I am a new user to the computer and to the internet. Recently I downloaded a screensaver off the internet. I am not happy with it. I would like to uninstall the file from my hard drive. It automatically setup itself as a shortcut in windows and I deleted it, but when I go to the display icon in the control panel it is still there. How can I uninstall this file? Also I am not sure if I have a Windows 2000 or a Windows 2000 NT , how can I check? thank you

Solution 1
Answered by Mean Drake

Have you tried to uninstall it from control panel? If not listed there in add/remove programs you might delete the scr file of that name from your windows directory.
---
---
Question

Submitted by Sharon

I can't get my maintenance wizard to work. It stays at 0 and I have let run for more than two hours. I have a HP Pavilion 6460, If that helps you. Thank You

Solution 1
Answered by Michael Kircus

Did you try starting in safe mode? When you turn on your computer tap the F8 key und select Safe Mode at the start up menu. Otherwise make sure there are NO programs running, especially virus detectors.
---
Question

Submitted by Robert

My computer recently crashed & I had it in the shop, When I reloaded MSN internet access Version 5.1 Now when I start up windows comes on & asks for a password that I don't have, How do I get it ?

Solution 1
Answered by Mean Drake

If you have been pressing cancel so far try clicking OK with a blank password once. The prompt might disappear. If it does not then you can go to the windows directory and delete the pwl file of the computer's registered owner's username and delete the file. When asked for a password on the next startup click Ok with a blank password.

Solution 2
Answered by Steve Cohen

also if you select windows logon instead of client for Microsoft, you will not get prompted for a password
---
Question

Submitted by Christian

Hi guys at AW! Hey, I just bought a Zip250 USB drive and I would like to know how (or if I even can) to set it up as a boot drive. I have a motherboard that supports USB outside of windows (that is how I am able to use my USB keyboard to set the bios!) I can't seem to figure this one out, some insight from the pro's would be a blessing! Thanks!

Solution 1
Answered by Charles Putnam

To be accessed, the USB port needs to have drivers installed (i.e. via the operating system). So an external USB drive unfortunately can't be set up as a boot drive.

Solution 2
Answered by Adam Sowalsky

Here is something to try: get a controller ribbon to connect a pseudo-USB port to the motherboard controller. They make these -- I've seen them -- designed for external drives. It will allow your USB external drive to integrate into the controller without any other drivers loaded. You just need to make sure that this special card you installed has the ZIP250 drivers hard coded onto it. It probably will, but since that is the goal you are trying to accomplish, double-check first.
---
Question

Submitted by Unknown

A couple of days ago, I installed Win2k in a dual boot with WinMe. Install went flawlessly. The only thing I notice is that restart of shutdown of Win2k takes an abnormally long time. I know not to expect the same quick shutdown as in WinMe but this literally takes several minutes, especially at shutdown. I started noticing this while installing hw drivers, when the wizard tries to restart. But it also happens at shutdown. Is there a workaround for this?
My system.
self built amd t-bird
abit kt7a mobo, (nonraid)running current VIA 4 in 1 drivers, (using VIA's bus mastering driver)
30G western digital caviar(ata100, 7200rpm)
partitioned into C:(winme)D:(win2k)E:(applications & stuff)2.5G, 6G,20G respectively
I am not over clocking at this time. thanks

Solution 1
Answered by Charles Putnam

You didn't mention if you have a ZIP drive. The Iomega drivers will cause a very slow shutdown. Also, since you're dual booting, this may be the main reason for the delay.
---
Question

Submitted by Unknown

I stupidly used f-disk and then reformatted my hard drive. I have the win 98SE upgrade disk and the startup disk I made from windows before the reformat. Can I get windows back on my system with these items and if not, can I get what I need from the internet via floppy disks, and where?

Solution 1
Answered by Mean Drake

You cannot use the upgrade disk to install the OS unless you have a disk of a previous version of Windows. You need not install it and then upgrade it....The upgrade setup can even check the existence of the previous CD that's all but you will need that CD (or Win95 Floppies)
---
Question

Submitted by Christian

I have win 98 second ed. I can not scandisk or defrag. It does neither but appears to as a active screen. It shows %0 progress on both.

Solution 1
Answered by Michael Kircus

Did you try starting in safe mode? When you turn on your computer, start tapping the F8 key until you see the start up menu. Select Safe Mode and when it starts, try Scandisk and Defrag again. Make sure no programs are running, and the disk isn't protected in any way.
---
Questio

Submitted by Peter

I've bought the Office XP standard upgrade package to go on top of the OEM edition of Office 97 Small Business Edition that came with my computer. I have Word 97 and Excel 97 installed. XP installation fails as it tells me there is no valid Office software to upgrade. The machine is running Windows 2000 SP2.The box says it will upgrade Office Small Business 97. What's wrong? Does the fact that it's an OEM version of Office 97 matter? It doesn't say on the box that OEM is no good.

Solution 1
Answered by Adam Sowalsky

2 things to try:
(a) make sure osa.exe is running
(b) completely remove Office SBE 97 and reinstall only Word and Small Business tools, then try rerunning XP setup
---
Question

Submitted by virag

i want to restore previous days registry in nt 4.0 .we can do it in 98 by using the command scanreg..how to do it in nt. plz mail me back...thanx

Solution 1
Answered by Candy Baker

When you installed W2K you were given an option to create an Emergency Repair Diskette. You will need that diskette.
The following steps provide a general overview of the emergency repair process:
You can start your system using the Windows 2000 CD. However, you can only use the CD to start your computer if your computer hardware and BIOS support this functionality.
After your computer starts, the Setup program will start. During Setup you will be asked whether you want to continue installing the Windows 2000 operating system. You must press ENTER to continue. This will start the installation process, which allows you to repair your system. During this process you can choose whether you want to install a fresh version of Windows 2000, or whether you want to repair an existing installation of Windows 2000. To repair a damaged or corrupt system, you should press R. You will then be asked whether you want to repair your system using the Recovery Console or the emergency repair process. You should press R if you want to repair your system using the emergency repair process.
You can choose either the fast repair option, which is the easiest and doesn't require any user interaction, or you can choose the manual repair option, which requires user interaction. The fast repair option will attempt to repair problems related to the registry, system The manual repair option should only be used by advanced users or administrators.
The fast repair option will use a backup copy of the registry that was created when Setup was first run on your system. If you choose this option, you may lose settings or preferences you have created since Setup was first run.
If you want to manually repair individual registry files or replace your entire registry, you can use the Recovery Console. However, this is recommended for advanced users only.
To start the repair process, you should have the 1.44 MB ERD that you created in the Backup utility, and the original Windows 2000 installation CD. If you do not have an ERD, the emergency repair process can attempt to locate your Windows 2000 installation and start repairing your system, but it may not be able to do so.
If the emergency repair process can't fix your system, you can try using the Recovery Console or you can try reinstalling Windows 2000 and this time create the Emergency Recovery Diskette.
Now Restart Your Computer
---
Question

Submitted by Don

Hi,I recently installed Office XP, replacing Office 2000, on my Windows 2000 Professional Computer. Two things in Word 2002 are particularly frustrating on this computer.
1.The list of "Recently Used Files" has disappeared from the File menu and the Task Pane, and the option to set this is disabled (grayed out) in the Tools/Options dialog. Can you tell me where the setting is maintained that controls this in the registry or the Documents and Settings or wherever it is so that I may fix this? I've tried doing a complete uninstall followed by a complete reinstall and that did not make any difference.
2.When I customize the standard toolbar in Word 2002 (say adding a Close button or a Save As… button), it works just fine until I close Word. The next (or rarely second) time I open Word, the original toolbar appears unmodified.
Any suggestions or insight would be helpful. Thank you in advance.

Solution 1
Answered by Bronson Elliott

Go here for the answer to your first question: http://support.microsoft.com/support/kb/articles/q284/8/96.ASP
For question #2 go here:
http://support.microsoft.com/support/kb/articles/q291/4/84.ASP
---
NOTE: Please note that ActiveWin nor the AskAW staff can take any responsibility for anything that may/may not occur when taking our advice. If you do anything that is included in our advice, you are doing so at your own risk.
If you have any questions pertaining to a particular answer please contact the actual Staff Member who replied.
You can contact anyone of our staff here or email us at askaw@activewin.com