DirectX
ActiveMac
Downloads
Forums
Interviews
News
MS Games & Hardware
Reviews
Support Center
Windows 2000
Windows Me
Windows Server 2003
Windows Vista
Windows XP



News Centers
Windows/Microsoft
DVD
Apple/Mac
Xbox
News Search



ActiveXBox
Xbox News
Box Shots
Inside The Xbox
Released Titles
Announced Titles
Screenshots/Videos
History Of The Xbox
Links
Forum
FAQ



Windows XP
Introduction
System Requirements
Home Features
Pro Features
Upgrade Checklists
History
FAQ
Links
TopTechTips



FAQ's
Windows Vista
Windows 98/98 SE
Windows 2000
Windows Me
Windows Server 2002
Windows "Whistler" XP
Windows CE
Internet Explorer 6
Internet Explorer 5
Xbox
Xbox 360
DirectX
DVD's



TopTechTips
Registry Tips
Windows 95/98
Windows 2000
Internet Explorer 5
Program Tips
Easter Eggs
Hardware
DVD



ActiveDVD
DVD News
DVD Forum
Glossary
Tips
Articles
Reviews
News Archive
Links
Drivers



Latest Reviews
Xbox/Games
Fallout 3

Applications
Windows Server 2008 R2
Windows 7

Hardware
iPod Touch 32GB



Latest Interviews
Steve Ballmer
Jim Allchin



Site News/Info
About This Site
Affiliates
Contact Us
Default Home Page
Link To Us
Links

News Archive
Site Search
Awards



Credits
©1997-2012, Active Network, Inc. All Rights Reserved.
Please click here for full terms of use and restrictions or read our Light Tower Privacy Statement.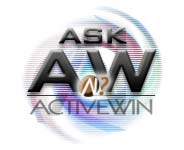 Welcome to AskAW! This section of our web site lets you submit questions about any problems/queries that you may have about Windows. Be it from a little icon that annoys you to hardware freezing your PC, we will try and help you out. You can submit your questions by e-mailing us at askaw@activewin.com. You can browse through previous questions over at our Archive Page. Who knows what you might find.
Here are the answered questions for 06-22-2001
Question

Submitted by James

Hello, I have a question regarding creating boot disks in Windows 98SE. Whenever I try to make one from Add/Remove Programs, it asks for files on the Windows 98SE CD, so I put the CD in the drive, but it can't find any of the files. For the first few, I just directed it to my C:\ drive, and it found some there, but then it asked for winboot.sys, and I could not find that file on my harddrive, nor the Win98 CD. Therefore, I can't create a boot disk. Any help would be great. Thanks! Many thanks

Solution 1
Answered by Adam Sowalsky

When Windows asks for your Win98 CD, don't just give it the name of the drive. For example if your CD drive is (D:), then specify [D:\WIN98]. Same goes for other versions of Windows -- the location of your installation software is in the \WINxx directory of the installation CD.
---
Question

Submitted by Karla

Hi I was wondering if you could help me with something. I recently an older version of the software to replace it with the a more current version.I remove the old version as prompted by the software and reinstalled the newer version. Everything seemed to have worked fine and I exited out of the installer to so a virus scan.The program came up with an error saying I was missing a .dll file the name I can't remember and I did not write it down. So I figured I would remove the new upgrade and try it again, when I went to add/modify/remove programs and selected the virus scan it will not remove the program it keeps giving me the same message that the windows installer was interrupted before the program could be modified. I have no idea what else I am missing. I tried to delete the program from the registry editor but it does not show in there.Needless to say I need to resolve this ASAP as I currently have no virus program to protect my P.C. Any ideas of what my next step should be????? Please help

Solution 1
Answered by Adam Sowalsky

Yes: without uninstalling, try running the McAfee installer program again. With any luck, installing it over your present installation will replace any missing .DLL files and get your virusscan running. Short of that, you can always call McAfee tech support.
---
Question

Submitted by Chrisa

I have a problem with Windows 98. It has the microsoft windows sound system, when in DOS you can manually switch it to soundblaster pro, which is what all my games are compatible with. However, I cannot get it to switch to the soundblaster pro sound system in Windows. To increase the problem, my PC won't detect the cd-rom, which is necessarry for most games, when in dos mode but it will detect it in Windows. Is there a way I can either switch off Windows Sound System and switch on Sound Blaster Pro in Windows 98 or find out how to get my cd-rom drive (Q:\ on my computer) recognized in DOS?

Solution 1
Answered by Adam Sowalsky

Okay...if I understand you correctly one way to resolve this issue is to simply get your CD drive installed in DOS. To do this, you will need MSCDEX, the Microsoft CD extension driver. The driver gets installed in the config.sys and referenced in the autoexec.bat. However, this cannot be done in the root (C:\) versions of these files, because if Windows loads with MSCDEX installed it will force Windows into compatibility (protected) mode (not virtual mode) and cause performance issues. As a result, you will need what most people call a "game bootup disk."
This will essentially call himem.sys, the dos versions of your sound drivers, and MSCDEX in files that boot off the (A:). By doing this, you can even create a custom boot menu that automatically loads the game of your choice. COMPLETE documentation for this can be found by seeing the KB article on MSCDEX: http://support.microsoft.com/support/kb/articles/Q151/6/34.asp?LN=EN-US&SD=gn&FR=0&qry=MSCDEX&rnk=9&src=DHCS_MSPSS_gn_SRCH&SPR=W98SE and the article on custom boot menus the DOS 6.22 printed manual.
Or, email me and I will walk you through all the steps. Good luck.
---
Question

Submitted by Philip

Is it possible to change the language from my WIN ME German version to English without having to buy new software? There is a program that can do this but I have no idea what it is called let alone where I can find it. Any help would be appreciated. Many thanks

Solution 1
Answered by Adam Sowalsky

Not really. You can play around with it a bit, installing new keyboard layouts and new dialogs and menus for IE, but the only way to change the language code of your OS is to buy it in English.
---
Question

Submitted by Sven

've got a network of two computers running WinME, with the host running an ISDN internet connection. Using Microsoft Network I can access the internet from the client through the host, but when I close the internet applications I don't get a disconnect prompt. I've read that this is by design, but is there a (simple) way for the client to make the host disconnect from the internet? Regards

Solution 1
Answered by Adam Sowalsky

Yes. In the Connection options for Internet Explorer, check off "disconnect automatically." This option can also be found in the Internet Options control panel applet. Go to the Connections tab, click your connection, hit settings, click the advanced button, and then check "Disconnect when Internet Connection may no longer be needed" (or something similar to that. It triggers a prompt for a disconnect when the last winsock application is closed.
---
Question

Submitted by Jonathan

Hello, I hope you can help me. I'm running Windows 2000 with SP2. When I want to change the background wallpapers, I can't preview any file formats other than .BMP. This happens after RMB click on desktop, properties, background. I can apply any of the backgrounds listed, but only the .BMP files will show up in the little monitor on the backgrounds page. BTW, I'm running a PIII 450, 256M RAM, 40 GIGS hard drive space, ATI All-In-Wonder 128 Pro/AGP. Any ideas would be appreciated! Thanks

Solution 1
Answered by Adam Sowalsky

When Desktop Themes require a JPEG file to be the background, Windows automatically converts it to plus.bmp, a bitmap file. You can do that. Another option is to enable the active desktop, treating your JPEG as web content but leaving it in the background where it cannot be moved around (or anything like that). I'd recommend the latter.
---
Question

Submitted by Stephen

Hey guys . I have had to put a new Transcend motherboard in my HP 8755 when it burned out 6 months after I got it. Now, the restore disc that came with the system doesn't work with new motherboard. I've tried to open disc manually and start it but there is no .exe file and nothing opens it. Windows says buy new one, HP says buy new one. I have to admit-I am cheap, but buying a new copy of WinME when the one I have works, seems ridiculous. All I want to do is restore. Any ideas are appreciated!

Solution 1
Answered by Michael Kircus

If you could have contacted HP about the burned out motherboard, they should have replaced it under warranty. But you can't do a restore with that motherboard, because the disk checks the BIOS settings, and since you got a new motherboard, the information that says you are using an HP isn't there. So I don't know anyway to get it to work unless you use a MOTHERBOARD FROM hp.
---
Question

Submitted by Unknown

To the AskActiveWin Gurus I have WinME and upgrade its WMP 7 to version 7.00.00.1956. Then I found out that 7.1 is the newest version and it fully supports WMA 8 files. Now using the new 7.1, it always try to connect to the 'Net using Dial-Up Networking eventhough it is not configured to start in Media Guide on the Tools>Options section. Older versions of WMP7 doesn't do this. I've searched the knowledgebase but I can't find a solution. Is it a bug

Solution 1
Answered by Michael Kircus

Try uncheking the box, then rechecking. That helps sometimes.

Solution 2
Answered by Mean Drake

Sometimes these can be counered by configuring Internet Option in Internet Explorer. Set the option to Never dial a connection on the Connection Tab.
---
Question

Submitted by Kevin

Hello, I have a laptop that is running Win2000 and is currently configured to connect to one ISP. I would like to if it is possible to set the computer up to connect to multiple ISP vendors without disrupting the current setup? If it is possible then how to I do it? Mind you this PC was just upgraded and I am no expert by any means on Win2000 or NT based systems. Any help you could provide would be greatly appreciated. Thanks

Solution 1
Answered by Adam Sowalsky

It is very easy to configure different Internet connections (dial-up or otherwise). Just go into your Network and Dial-Up Cxn control panel applet and make as many as you want. Keep in mind that you can only have one default connection, but the one you use can be changed easily by just going into that control panel, stopping the present one and starting a new one. (This works for Win2K only. DUN in NT4 is a p.i.t.a.)

Solution 2
Answered by Mean Drake

Win2K allows you to configure more than one number for a dial up connection. I have just one dial up connection setup with 4 alternative numbers and All I need to do is enter the appropriate username and password...select the number and click dial.
---
Question

Submitted by Unknown

I have a problem with the "historic" of Internet explorer. After deconnecting from internet, I cannot visualize all the web pages I see before. This is possible for just some of them Is it bormal ?? I look for a help Thanks !!

Solution 1
Answered by Adam Sowalsky

Even with offline browsing installed, some webpages have set "expiration dates," meaning you cannot see them again after a certain amount of time without resubmitting the query that generated the pages. Other pages are strictly dynamic -- they cannot be seen offline....period. And the other type is secure pages. For your own safety, those are never shown offline when server authentication is unavailable. Lastly, increasing your cache size may also allow more pages to be available offline.
If you know you want to see a certain webpage offline, go to the site, click File, and then choose "Make available offline."

Solution 2
Answered by Mean Drake

IE will allow you to see pages stored in Cache when offline but the dumb thing is that it needs to be TOLD that you are offline. One would think it would be able to figure out that. Anyway for this you need to install one of the IE 5 accessories available on the MS site that will give you and "Offline" button on the IE toolbar. Click that and then you will be able to see pages that you had already seen before. An other way of doing this is Compose new mail in outlook express and there click the offline button. IE will be told that it is offline and you will again be able to see cache content.
---
Question

Submitted by Angelo

I administer School labs running WinNt v4.0 w/stns. What I really need is to be able to stop students from opening the CDrom drives and inserting game cd's. Even with System policy security installed, hiding system and cd drives, the students can use ms word97's lookup feature (right click) to run/and copy what's in the cd drive to their folders. I need to have students access the cd in the drive BUT NOT be able to remove and/or change it. I have tried programs like Tweakui, Cdlock etc.. with no luck, and all they do is hide the drive letter allowing students to type in "D:" in various programs "open" dialog box giving them access to the cdrom drive. The problem I've got is not hiding the drive (I can do that with tweakui & other utils) but stoping the students ejecting the intended cd from the drive (by pressing the cd eject button) and inserting their own cd's, namely games. What I need to be able to do is disable the eject functionality of the drive. Now, I know you can open the cd drive while the pc is rebooting but they don't have the ability to reboot, short of turning the power off and on again. Unplugging the CDRom Drive's power cable, disabling the drive in CMOS are not options, I need the drive to be accessed BUT NOT EJECTED. Does anyone have any suggestions ??? Is there a registry hack to stop the cd ejecting?? If so, what can I do to simplify Enable/Disable Cdrom door??? Thanks in advance Ang.... Cheers

Solution 1
Answered by Michael Kircus

CD drives can be hardware driven, which means that as long as it's getting power it will eject. Drivers can also control the ejecting, which is usually only used for CD recorders so the software can delay the CD eject so it can finish writing to the disk. The problem is that I don't think there are any drivers that will stop the CD from ejecting. What I suggest is that you load any software needed completely on to the computer so that it can run without the CD. Then you can just disconnect power to it. I would think you would need Administer access to the computer to be able to install such games. But other than that I know of no programs.
---
Question

Submitted by Unknown

Hi Activewin; I can no longer access my Help File -- I get the following message... Cannot open the file %systemroot%\help\windows.chm Can you please help me? Thank You

Solution 1
Answered by Mean Drake

have you manually looked for the file? I guess it is Win2K you are referring to. Have you tried to repair the installation?
---
Question

Submitted by John

Hi I have Windows ME installed and I use Microsoft Family Logon to keep separate desktops for 4 people that share the same PC. Windows 98 wouldn't let us have different screensavers but I thought that I had this working OK when I upgraded to Windows ME. I had to replace the HDD recently and my backup was corrupt so I did a clean install. Now I can't get separate screensavers for the different users. Is there something I am missing here that I got right the first time? How can we maintain our own desktop screensaver settings? Thanks

Solution 1
Answered by Mean Drake

In the control panel under users and passwords you can determine what settings are affected by different logons and here you can set it to having different desktops for different users.
---
Question

Submitted by Glenn

I am interested in changing the Win2k logon screen image. Is there anyway to do this? Thanks

Solution 1
Answered by Mean Drake

it is possible but involves a lot of editing of critical windows files using a resource editor and I would rather not recommend it.
---
Question

Submitted by Rudy

Dear sir, I am using Windows 98 SE. Whenever windows is shut down incorrectly scandisk programme does not run at the bootup. I have reset in the MSDOS.SYS file settings for autoscan to 1 as well as to 2.In both the options it simply does not work. Settings in the standard type diskscan are --- 1.Cross-linked files-----Make copies. 2.Lost file segments-----Convert to files. Every other day I am compelled to do it separately. Most of the times log of the scan says- "The drive contained an error in its MSInfoSector.Error was corrected as specified." How can I restore the scan at bootup.

Solution 1
Answered by Mean Drake

The best way to do it is to use TweakUI to make the appropriate changes for you.
---
Question

Submitted by Unknown

Could you please help me with an error message I get when I try to open Acrobat Reader (v4 & v5) in O/S Windows 95. I've searched many databases for an answer and can't find one. Kath ACRORD32 caused an invalid page fault in module GDI32.DLL at 016f:bff39e20.

Solution 1
Answered by Mean Drake

Min requirements for Acrobat reader are win95 OSR-2 and above. Maybe you have the original Win95 and not OSR2.-
---
Question

Submitted by Evan

i cannott open napster since i don't have MSVCP60.DLL what can i do? thanx

Solution 1
Answered by Mean Drake

You can download the latest version of this file from here.
http://www.realpopup.it/faq.html
---
Questio

Submitted by Kris

Hi, I have a Compaq Presario 60 Gigabytes Hard Drive, 128 memory and I have a severe memory leak. I start out with 30-40 M at reboot which, of course, should be much larger, and it quickly dwindles down to 1 and the computer freezes. I have tried the usual: frequently running disk defragmenter. I have run scandisk. I have only the bare necessities in my startup. I empty my temp file and history file. Is there a program that can diagnose memory leaks. What else can you suggest?

Solution 1
Answered by Mean Drake

One of the bare necessities in your startup is obviously the cause for your problem. Try to use the msconfig utitlity to selectively disable one of these at a time and run the system. The culprit should then be obvious.
---
Question

Submitted by Unknown

Hi, I am currently using Internet Explorer 5.5. I went to a website that required Java enabled in order to properly display the page. How do I enable Java on Internet Explorer 5.5?

Solution 1
Answered by Gary Busby

For security reasons, I would ensure you are using the latest JVM (Java Virtual Machine). Go to a command prompt and type JVIEW and enter. The version is noted at the end of the first line returned. If the version is not 5.00.3802 or >, then go to this link and download and install it:
http://microsoft.com/java/vm/dl_vm40.htm
Next, find out what "zone" the web site you're trying to go to is in. This should show you in the bottom right of your browser (when you are at the site). It will most likely be "Internet", but could be "Local Intranet", "Restricted Sites", or "Trusted Sites".
Once you know the zone, from within IE, go to the Tools menu and select Internet Options. Click the Security tab. Click on the zone that you determined the desired site is trying to use. Click the Custom button. Scroll down to the "Microsoft VM" section. The "Java Permissions" typical default for the "Internet" zone is "High Security". Yours is probably set to "Disable Java".
Keep in mind, if this is not a personal PC and on a company network, this setting may be set to disabled for a reason or access to this setting may be removed altogether. If it is on a network, consult your network administrator about this setting.
---
Question

Submitted by JoAnn

Dear Sir: I am running Windows NT 4.0 with IE 5.0. I want to utilize Active Desktop & Quick Launch on this computer. Can you tell me the best way to accomplish this. Thank you in advance

Solution 1
Answered by Mean Drake

If I remember correctly you will need to first install IE 4 and then IE 5 to get this configuration.

Solution 2
Answered by Gary Busby

Mean is correct. The "consumer" shipping vehicle is IE 4.0 with the "Windows Desktop Update" installed, then upgrade to IE 5. IE 5 does not contain the "Windows Desktop Update" because at the time of its release, it was built into the OS (ex. 98).
If your a techie, the only other way around it is to use IEAK (Internet Explorer Administration Kit). This is available as a separate download (http://microsoft.com/windows/ieak/en/corp/) OR if you install the ORKTools from Office 2000/XP (http://microsoft.com/office/ork/xp/appndx/appa04.htm). The ORKTools will not only install Office Tools, but IEAK.
The IEAK lets you build a customized version of IE and will also let you install the "Windows Desktop Update", which includes the functionality of Active Desktop and Quick Launch.
---
Question

Submitted by Ted

Hello, I am a first time computer builder and I'm having some problems I hope you can help me with. Windows keeps finding new hardware and tries to install the software for it. Before that problem, I was having intermittent boot up problems. It would freeze not long after the windows logo appeared. There would be the light green background with the pointer and the hour glass. Control+Alt+Del did not work. Sometimes it would reboot itself. It would boot up correctly about half of the time, or usually on the reboot it would work. In Device Manager I found a yellow asterisk next to something that said "unknown multimedia device". I removed the "unknown driver". Removing the driver has more or less cured the freezing and lock-up problem. But now every time I start the computer it says, "Windows has found new hardware". To be more specific, it says, "windows is searching for drivers for PCI Multimedia audio device". The odd thing is, everything is working well. The video and sound are great. The CD, zip, and floppy have no problems. Anyway, when it wants to install new drivers, I click cancel. It boots up fine about 98% of the time. So far, I have taken the following steps to resolve the problem. I have removed the sound card and the drivers completely. It still finds new hardware even without the sound card installed. I have removed and reinstalled the drivers for the sound card. When it is searching for drivers, I have tried putting in every hardware installation CD that might relate. I also tried the Win98 CD. I don't know if I put it together incorrectly or if it is more of a software problem. Maybe I'm not installing the drivers properly. How a can I find the cause of this problem and rectify it?
Below is my system information:
Microsoft Windows 98 4.10.2222 A
IE 5 5.00.2614.3500
AuthenticAMD Athlon(tm) Processor 750Mhz
160MB RAM
20 GB Hard drive
Available space on drive C: 11750MB of 19585MB (FAT32)
Motherboard; Soyo K7VIA with a VT8371 chipset. Phoenix Award Bios revision
K7VIA-2AA3
Chipset 1106:0391 rev. 2
Video adapter: ATI RAGE 128 PRO AGP 4X
Sound card: Inland/ ALS4000 PCI
CDRW: Teac 8x8x32
Zip: Iomega 100
Floppy: Generic
Monitor: ViewSonic A70
I will be happy to send any information you might need. Thanks for your help.

Solution 1
Answered by Michael Kircus

It sounds like you just found parts then stuck them together without checking to see -what- you were putting together. I believe your motherboard has integrated parts (i.e. sound/video card) that Windows is trying to find. What does this mean to you? It means you have to collect drivers. Check your motherboard's manufacturer for drivers, and/or information on the cipset used for the integrated soundcard.
---
Question

Submitted by JoAnn

How can I use sram-pcmcia-cards with windows2000. In win9x I added two lines in config.sys (csmapper.sys & carddrv.sys). But this does not work with W2K.

Solution 1
Answered by Mean Drake

You need to download the PCMCIA card reader driver from the manufacturer's website. If no driver is available, then the card reader is probably not compatible with Win2K. If this is on a laptop, then your PCMCIA card software needs to be compatible in order to use the data stored on the card.
---
Question

Submitted by Rudy

My computer seems to crash every 1 and a half to 2 hours. It doesnt matter if i'm in a program or just on the desktop. If i am not in a program, i get the Explorer error message. If i am in a program, the computer just locks up and i cant get out of the program by using alt-tab, nor can i restart the computer using ctrl alt del- the machine has to be rebooted manually. When i start up my computer sometimes, i notice that Memturbo (a memory management utility) crashes (it reports an illegal operation) . Sometimes this happens, sometimes it doesnt. I have also noticed that recently, when i start windows a blue screen will come up with a message about explorer saying "The volume that was removed had open files in it. Next time please check to make sure that the volume can really be removed." After i see this (and again, this only happens sometimes) every program on the system tray crashes and my computer locks up. This started to happen right after we installed a scanner, but im not sure if this is related. My computer is an AMD Althalon 1GHz, with 500mb RAM, 16-bit PCI soundcard, and a Voodoo 3 3000 3d graphics card (I also have a cable modem if that may help). Any help you can give is appreciated.

Solution 1
Answered by Charles Putnam

I'm assuming your running Win9x.
Couple of thoughts...ditch Memturbo. If this is crashing on startup, there's a problem w/ the program itself. Also, as always, make sure that you have the latest drivers. Check to see what starts up in your StartUp folder. Certain programs that load at startup may also be causing this problem.
---
Question

Submitted by Adrian

Dear staff, I have Picture it 2001 photopremium installed on three machines; 2 x Win98SE and 1 x WinME. On all machines I receive an error message "an invalid page fault hass occured in module Kernel32.dll". This is known under Q65416 Microsoft Knowlegde base. The cause of this problem should be printer/scanner driver or videoadapter settings. I followed microsoft's resolution; but even after uninstalling printers, scanner and adjusting the hardware accelerator, the problem is still there and NOT resolved. leaves me with three worthless (and paid-for) softwareprograms. Microsoft is unreachable for comment and/or help. Is there any solution?? Thanks

Solution 1
Answered by Charles Putnam

I had the same anoying problem. There is a patch from MS for this, which I've attached. Please e-mail me for the attachment
---
Question

Submitted by Derek

Dear Sir,
I am trying to install Win2k as a second system on a dual boot. My original system has:
A 733 Mhz Asus CUV4X motherboard, an Aopen 3d navigator PA3000 plus 64 Mb graphic card, 512 Mb installed memory, Orange Micro 1394 firewire card, Sony CD RW and DVD/CD R drives. My original system is Windows 98 on a 20 Gb Western Digital hard drive. My new hard drive is a 40 Gb 7200 rpm Western Digital hard drive. I installed the new hard drive with WDís Ezinstall. I formatted/partitioned the new drive as NTFS since I only want to work with Video editing on this o/s. Upon installing Win2k the system locks during the installing devices and gives an error message:
***Hardware Malfunction
Call your hardware vendor for support
***The system has halted***
I changed the hard drive from ATA/100 to ATA/33 as suggested from Western Digital support but that didnít help. I removed the Modem, Firewire card, and sound card and tried again to no avail. I reformatted/level zero the hard drive and attempted to reinstall win2k again (from setup disks) but again, it locks during the installation of devices (about half way through setup)
I've searched the internet high and low attempting to find someone else who has seen this problem, but can't.
Thanks for any assistance you might could be

Solution 1
Answered by Mean Drake

Haveyou checked out if your PC conforms to the Microsoft Windows 2000 hardware compatibilty list. Another thing you could do since you have already formatted your drive and one more format won't affect too badly is to install Win98...don't load any of the hardware drivers except what Win98 loads and pop in your win2000 cd. Instead of Dual boot opt for upgrade option. This will through the install process scan your PC completely (hardware and software) and will tell you if you can continue your win2000 install and if not what problems have been identified.
---
Question

Submitted by Bill

I have installed IE 6.0 and want to put 5.5 back on my computer butwhen I go to add/remove programs the only options are 1. add componet and 2. repair. The restore older version is greyed out and does not give me this option. I tried to download IE 5.5 again and it say it cant run because I have a newer verion installed. Any ideas.....???

Solution 1
Answered by Michael Kircus

You can't. The backup files were deleted, or never created for some reason. There isn't a way to go back to IE 5.5 unless you reformat your hard drive.
---
Question

Submitted by Eleni

Hello there I just bumped into your website and I thought of contacting you in the hope that you may be able to solve my problem Today I tried to log on and after the login and after the desktop partially appeared a blue screen took over with an error message stating: File name VMCPD (01)+0000061CError:0D:0028:C0058358 Press ctrl + alt +Del to display Error messages for review When I did that a small menu appeared depicting the word Explorer but not saying anything else..I presses the same keys again and the system restarted without any problems This is the second time this is happening and I would like to know what the hell it is and how to correct it . I have a Pentium 4, 1.4 ghz, 128RDRAM, 60mb and Windows Me. Thanks in advance for any type of help Regards

Solution 1
Answered by Adam Sowalsky

Try updating your MS Virtual Machine. You can do this by visiting Windows Update.
---
---
Question

Submitted by Unknown

does anyone know which site has an overclocking tool for the kyro2 prophet 4500?

Solution 1
Answered by Marc Strickland

I was not able to locate any information for you!
---
Question

Submitted by Dennis

Every so often, (like twice today) all of the entries in my Address Drop Down box gets cleared. I don't why or how this is happening. Any ideas. Thanxs

Solution 1
Answered by Michael Kircus

Is AutoComplete turned on? In the Options under Content, Click the AutoComplete button and make sure it;s all checked. Also make sure that the clear forsm option isn't enabled in TweakUI.
---
Question

Submitted by Al

Hi there, I've got two computers networked together, one running Windows 2000 and the other running Windows 98SE. I've got my HP 5L hooked up to my Windows 2000 machine and would like to share it with my Windows 98 machine. After enabling sharing in Windows 2000, I need to install the Windows98 drivers onto the Windows 2000 machine. I am prompted to insert the Windows 2000 server disk, which I don't have, but I know there are HP 5L PCL drivers on the Windows 98 SE cd, but I don't know where they are. I've looked under drivers/printers/hp, but all I see are folders for a few deskjet models. Anybody know what files I need and where on the cd they can be found? Thanks for your help.

Solution 1
Answered by Adam Sowalsky

If the computer is prompting you for your Win2K CD, then it needs files from the CD...probably generic files that Windows uses only for printer management. Granted, there may be others needed specifically for that brand of printer provided by the manufacturer, but if the computer asks for the W2K CD, giving it anything else is asking for issues. You could redirect it to your own hard drive (e.g. C:\WINNT\System32 or C:\WINNT\OPTIONS\CABS) if you had the foresight to copy all your CAB files to your HD after installation. Since you have Internet Access, you could always go to hp.com and download them.
---
Question

Submitted by Bob

I have an issue that happens everytime I backup my NT server. I am using Veritas backup. When I restore the files to the server and attempt to open the event viewer files, I get a message saying that they are corrupt. I have not exported them or anything, they were backed up in an open state. Veritas has an Add-in that allows you to backup open files, but it seems to have issues with the Event viewer. Anything files related to the event viewer as stated always come up stating that they are corrupt. Any Ideas. Thanks.

Solution 1
Answered by Adam Sowalsky

> they are corrupt
WHAT are corrupt? The event viewer items? Just purge them from the database. A single corrupted item could cause EV to stop working correctly until it is removed.
---
Question

Submitted by Naim

Hi ask i would appreciate if any one can tell me how i can add a "maximize all" to the task bar minue, similar to the present "minimize". I find thid would be more useful to many users of the internet and would save logging on for long periods of time. Yours sincerely

Solution 1
Answered by Michael Kircus

You can't as far as I know. The closest thing to it is using the Show Desktop button on your Quick Launxh tool bar to show all the windows.
---
NOTE: Please note that ActiveWin nor the AskAW staff can take any responsibility for anything that may/may not occur when taking our advice. If you do anything that is included in our advice, you are doing so at your own risk.
If you have any questions pertaining to a particular answer please contact the actual Staff Member who replied.
You can contact anyone of our staff here or email us at askaw@activewin.com