DirectX
ActiveMac
Downloads
Forums
Interviews
News
MS Games & Hardware
Reviews
Support Center
Windows 2000
Windows Me
Windows Server 2003
Windows Vista
Windows XP



News Centers
Windows/Microsoft
DVD
Apple/Mac
Xbox
News Search



ActiveXBox
Xbox News
Box Shots
Inside The Xbox
Released Titles
Announced Titles
Screenshots/Videos
History Of The Xbox
Links
Forum
FAQ



Windows XP
Introduction
System Requirements
Home Features
Pro Features
Upgrade Checklists
History
FAQ
Links
TopTechTips



FAQ's
Windows Vista
Windows 98/98 SE
Windows 2000
Windows Me
Windows Server 2002
Windows "Whistler" XP
Windows CE
Internet Explorer 6
Internet Explorer 5
Xbox
Xbox 360
DirectX
DVD's



TopTechTips
Registry Tips
Windows 95/98
Windows 2000
Internet Explorer 5
Program Tips
Easter Eggs
Hardware
DVD



ActiveDVD
DVD News
DVD Forum
Glossary
Tips
Articles
Reviews
News Archive
Links
Drivers



Latest Reviews
Xbox/Games
Fallout 3

Applications
Windows Server 2008 R2
Windows 7

Hardware
iPod Touch 32GB



Latest Interviews
Steve Ballmer
Jim Allchin



Site News/Info
About This Site
Affiliates
Contact Us
Default Home Page
Link To Us
Links

News Archive
Site Search
Awards



Credits
©1997-2012, Active Network, Inc. All Rights Reserved.
Please click here for full terms of use and restrictions or read our Light Tower Privacy Statement.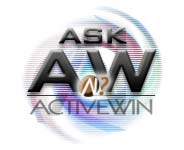 Welcome to AskAW! This section of our web site lets you submit questions about any problems/queries that you may have about Windows. Be it from a little icon that annoys you to hardware freezing your PC, we will try and help you out. You can submit your questions by e-mailing us at askaw@activewin.com. You can browse through previous questions over at our Archive Page. Who knows what you might find.
Here are the answered questions for 06-29-2001
Question

Submitted by Maxime

hello! what OS do you recommend to have the best performances in games? Win2000? WinME? Win98SE? thanks

Solution 1
Answered by Michael Kircus

Windows 98 Windows 98 Windows 98. Got it?

Solution 2
Answered by Steve Cohen

98 or Me now, XP when it comes out.
---
Question

Submitted by Bruce

Your site says I can order the CD of the Service Pack 2 to fix my bugs (I get the error lock no access message when I copy a file onto a floppy disc for use in my home computer with Windows 98. The file is no longer useable on either computer, and I get a message saying the floppy is not formatted, even though I had been using it prior to that point.). The computer I use with Windows 2000 is not hooked up to the internet so I need to order the CD --- where/how do I order it?

Solution 1
Answered by Michael Kircus

Get to the Internet by any means and go here: http://microsoft.com/windows2000/downloads/servicepacks/sp2/ordercd.asp.
---
Question

Submitted by Suzanne

I would like to report a virus, it comes through on the msn instant messenger. As you are chatting with a buddy, it will send a message saying it is coming from me but on the bottom of the window it will say "George Washington" then when you accept it all it does is put alot of smiley faces. Then that is all that will show up on it. I won't be tying anything but my friend will be getting tons of instant messages (with my name and George Washington) on it. Please help me fix this. I have been working on this problem for 3days now. I will be looking for your reply Sincerely

Solution 1
Answered by Michael Kircus

Use a virus scanner with updated definitions. They should remove it. Try these articles as well:
http://www.symantec.com/avcenter/venc/data/w32.funnyfiles.worm.html ,
http://www.symantec.com/avcenter/venc/data/w32.choke.worm.html
---
---
Question

Submitted by Manoj

Hello My name is Manoj. Im trying to share Internet between two computers. Im using ICS on WIN98 and the WIN ME is the client. Everything goes well till im connected. The client automatically picks up a 169 range IP address after i disconnect it from the hub(please dont tell me not to do this cause i have to) Clicking on release and renew does not work,neither does restarting the machines. The card then automatically picks up the IP from the ICS DHCP and connects again. Please tell me whats going on. I'd be really grateful.

Solution 1
Answered by Adam Sowalsky

Your best bet is always to buy a router---I'd recommend any of them, especially since they are dropping under the $70-range. The router can be configured to the type of connection you have: DSL, Cable, or even Dial-Up. And they are guaranteed to work with professional tech support on their end to help you. I've had bad luck with ICS in the past; buying a router solved my issues.
---
Question

Submitted by Eric

I've seen this problem repeatedly and never found a satisfactory explanation or fix. I start with a workgroup (peer) of Windows 9x/Me systems that see each other and their drives with no problems. Then a Windows 2K peer is added to the workgroup. The Win2K machine can access the older OSes just fine but none of the systems running 9x/Me can gain access to the Win2K system.

Solution 1
Answered by Adam Sowalsky

Make sure that the Win2K machine has a share enabled that is not the default administrative shares.
---
Question

Submitted by Joan

I keep getting an error message that says lexplore has cause an error in kernel32.dll. I am not aware of a problem so what's happening. It says to resart computor but many times I have just logged on and sometimes I have been on awhile. Please any help-Thank you

Solution 1
Answered by Bronson Elliott

Try reinstalling IE. Also make sure you are using the most current version (IE 5.5 SP1). good luck

Solution 2
Answered by Steve Cohen

The most recent release of IE6 public preview is also very good. Much improvement over earlier versions.
---
Question

Submitted by Ken

I would like to know if Windows 98 or 2000 come with POwerpoint program on them already or if it has to be purchased/ downloaded separately?? How can I access this program? Thanks for your help.

Solution 1
Answered by Bronson Elliott

PowerPoint is not part of the Windows operating system. It is part of the Microsoft Office package. You can either purchase PowerPoint by itself for about $300 or you can purchase the entire Office package which, depending on with version you get, will include Word, Excel, PowerPoint and Outlook for close to $500. good luck
---
---
Question

Submitted by Kevin

Hello, I have Windows ME running on a Dell 8100 and it has been working very well on my dialup modem. I recently installed SWBell DSL (it only took 14 months) Enternet 300 v 1.4 and a Speedstream digital modem. Connection is great and setup was a snap, but now when I try to save a graphics file to my hard drive, no matter what the file format is (usually jpg), the dialog box wants to save it as a .bmp. What gives? Thanks for your help.

Solution 1
Answered by Michael Kircus

This is a problem with the browser, not the connection. The browser will usually try to save images in the format the were created in. Is BMP the only one in the drop-down list?

Solution 2
Answered by Mean Drake

I think the problem is with the browser too. I would suggest going to IE 5.5 SP1 or maybe even IE 6.0 Preview release as if you save a lot of images from the web you would love the popup image toolbar in this one.
---
Question

Submitted by Unknown

The history of my Internet to explore keeps me only certain Web pages which I visit. Some others appear with the icon " e " of iexplore in pale blue and cannot be recalled out of connection. The Web pages which I can recall when I am not connected are with the icon " e " of iexplore in dark blue. I cannot be explained why the history while keeping all the visited Web pages thus puts some of them of blue pale and does not allow me any more to recall them out of connection. Thank you for response


Solution 1
Answered by Michael Kircus

Some pages are secured and CANNOT be viewed offline for security reasons. Try increasing space by going to Tools, Internet Options, and increasing the number of days under History.Some pages are secured and CANNOT be viewed offline for security reasons. Try increasing space by going to Tools, Internet Options, and increasing the number of days under History.

Solution 2
Answered by Mean Drake

The pages that are in light blue and you cannot see offline are those that are not properly cached. Maybe the whole page did not load before you clicked off elsewhere. If you want these to be available offline make sure the whole page loads.
---
Question

Submitted by Dean

Hi a strange question that has been racking our IT Department, Hope you can help when clicking on "my Computer" is it possible for the window that comes up to be in Explorer view ? or does it have to come up in a folder view? thanks

Solution 1
Answered by Mean Drake

I have in fact never beean able to get it come up in folder view. Maybe didn't try hard enough I see :-)

Solution 2
Answered by Steve Cohen

Holding down the shift key when double clicking on MY COMPUTER will bring up the explorer view rather than the standard folder view of my computer.
Also, there is a great all in one utility called "Xteq Systems X-Setup". It has a great gui for changing many system settings in the registry without editing the regisrty itself. There is an option that will permanently make my computer open in the explorer view. You can find the utility here:
http://www.xteq.com/
---
Question

Submitted by Jill

I have had problems getting a new GamePad recognised under windows ME. I am using on board sound with a Soltek SL75-KV motherboard. So I tried reinstalling the driver. Downloaded it OK, however every time I try to install it it freezes the 'add new hardware dialog'. Help!

Solution 1
Answered by Mean Drake

Windows ME will not accept drivers that are not compatible with it.
---
Question

Submitted by John

I am looking for a reaert for .DAT files. Any leads? Thanks

Solution 1
Answered by Mean Drake

What's reaert.
---
Question

Submitted by Lenoard

I just bought a notebook form a friend. It has Win 2000. I have tried to put my name in it by going into the registry. But its not like Win 98 or ME. can you assist me? Thanks

Solution 1
Answered by Mean Drake

If uncomfortable with the registry you could do it using a registry tweaking tool like X-Teq.
---
Question

Submitted by Thomas

Dear Sir, I saw your FAQ´s over Windows on your Sever, and so i´ve a little question. I hope. On my Laptop is Win98 SE installed. One time the Laptop stands in Suspend-Mode and the Akku was empty. As I restart my system there was an Question from Windows. Like this "The Suspend Mode returned with an Fault. Should it deaktivate?". My fault was to say yes, but now i don´t have an Suspend-Mode under Windows. How can I reaktivate it. Do know the bit in the Registry? I searched it but but I don´t found it. I hope you can help me, becaus i don´t like to reinstall the whole system. Sorry about my bad english. with best regards

Solution 1
Answered by Mean Drake

Have you tried Control Panel > Power Options
Another thing that MIGHT correct this is Search and Add new hardware. Windows might have removed the necessary hardware from the Hardware profile.
---
---
Question

Submitted by Sean

yo, my name is Sean, I'm 16 and working on this guys Gateway 9150 (told him to just let me build him a system but he's dumb :P) laptop, I sucessfully upgraded his RAM from 64Mb to 320Mb and have sucessfully installed Windows 2000 Pro and other software, my problem is that I cannot get the computer to load into regular MS-DOS or command prompt mode....this is very necessary for one time use to update his BIOS before I hand it back to him, he has BIOS version 12.01 or something and I have 12.03 for him which fixes some probs like the fan not turning on, so I was wondering if u know how to upgrade a BIOS on a Win2k box, I've seen my friends PC with WinME boot to DOS mode with some hack so I don't know if u know of one like this, write back as soon as u can, and thank u in advance.

Solution 1
Answered by Mean Drake

Using the win2k Setup CD-ROM you can enter a limited DOS mode (recovery Console) from there. Press F10 when you see the screen that says Press Enter to install Windows 2000. Then log on to the win2k installation using your admin password and you will be in limited DOS mode. You will not be able to get out of the Winnt folder so keep your Bios Update files there. Not sure if it will let you run these though as I never tried.
I usually use a Bootable floppy disk to get me to DOS is it not possible with you?
---
Question

Submitted by David

Hi, This problem has been bothering me for a while. Everytime I cold boot my computer, it would load to a point just after it changes the screen resolution. The mouse pointer and the logon screen does not show up. I've tracked this problem w/ the boot logger to either fastfat.sys or afd.sys. By comparing log files, I've found that it says it successfully loaded fastfat then stops. Is there a fix that avaliable for this problem? This is quite serious because everytime this happens, I have to reboot my machine and causes the scandisk to occur. Everytime, I get some kind of error from chkdsk. Thanks!!

Solution 1
Answered by Simon Ferris

This appears to be a problem with the Windows Sockets Supports Driver. A number of errors can occur with this. The only resolution I can see without knowing what you are running is to ensure that the latest service pack has been applied. Also try Q179741
---
Question

Submitted by Gabriel

Hi.
I have w2k proffesional OS.
I have encountered some problems when running a non english programs.
When i tried to run some of them(in russian) I dont't see any text Instead of it there apears ?????? ??? ? symbols.
I have set language settings to russian and it still doesn't write properly program text??
I there anything that i can do???

Solution 1
Answered by Simon Ferris

The document converter encodes using the character set of the installation language of Office.
For example, the "English US" version of Microsoft Office 2000 uses the installation language character set 1033 (English US). During conversion, the foreign language characters--for example, Russion, which encodes using the 1252 character set--are replaced by the installation language character set 1033 (English US).
Unicode characters (2 bytes per character) are mapped to corresponding ANSI characters or are converted to question marks (?).
To resolve this problem, you must install the foreign language version of Microsoft Office 2000 that matches the language of the document. The document then will have that language as the installation language and will be encoded to earlier versions of Word as expected.
---
Question

Submitted by Ross

I have installed and attempted to set-up IIS 5.0 on my Windows 2000 Professional Edition but am having now luck in accessing pages even the iishelp files - I keep getting HTTP Error 403. As far as I can see everything is set-up and working fine. I have had a good search on the web and can't find anything useful - any help?

Solution 1
Answered by Simon Ferris

Once a user has been granted access, the server examines both the URL and the type of request. It then checks the permissions and the SSL Client Authentication Certificate.
For WWW service, the request can indicate a Read, Write, Execute, or Script action. The applicable WWW virtual directory must have the appropriate permission enabled. Otherwise, the WWW service returns a "403.x: Access Forbidden" error, where "x" represents the type of access attempted.
IIS 5.0 might require a valid client authentication certificate before access to a resource is permitted. If such a certificate is not passed to the server, IIS 5.0 will return a "403.7: Forbidden—client certificate required" error.
Also note that the certificate might not be valid. For example, it could have expired, or the CA that issued the certificate might not be trusted.
---
Question

Submitted by Unknown

I cannot install homenetwork. After de service TAB the machine cannot find information about the hardware. Nowhere to be found. Start - instellingen - Configuration - netwerk - map and printersharing MS networks add - service - drive en printersharing networks Diskette OK No informationd found for the hardware It looking for a file with extension .inf What file is the thing looking for? I think it not installed. Can i use the backup system disk without any risc to install it? Thanks

Solution 1
Answered by Adam Sowalsky

No -- do not use the system backup disk. That will restore your computer to the way it was when you got it, deleting any personal files and added data. The .inf file it needs instructs the computer on how to install certain files to enable printer sharing. The files it needs are on your Windows installation disk. Insert the disc, make the settings change to enable sharing, and when it prompts for files, tell it to look on your CD drive in the \WINXX directory, where XX is 95, 98 or ME depending on your version of Windows.
---
Question

Submitted by Swaroop

Dear Sir/Madam:I have Windows '98 installed on my Dell Dimension desktop. I connect to the internet thru' a cable modem. Everything was fine until a few days ago, when I noticed that I was getting allocated a new IP address by the provider's DHCP server. The subnet was also a lot different, so I started investigating. The investigation led me to remove and re-install different adapters/protocols, and now it looks like I've messed up my machine completely. It boots, but the TCP/IP protocol only shows a binding to the Microsoft Network Client or whatever that is. When I open up the "Network" window from the control panel, I see 3 adapters (my ethernet card which is a 3Com 3c905, an "NDIS2" adapter, an "ODI" adapter. When I double-click on the TCP/IP properties, it shows the binding only to the Microsoft Network client like I mentioned before. But, the problem is it doesn't even show me the other adapters, so that I can enable it. I tried removing the NDIS2 and ODI adapters and re-installing them, but it asks me for the Novell Netware client disk which I don't have, so the installation doesn't complete. When I do a "winipcfg" or "ipconfig /all", the DHCP server shows up all right, but the gateway address seems to be from a completely different subnet (the same as the IP address that was allocated to me). What effect does the gateway address have on the IP address assigned to me by the DHCP server? Also, how can I override this gateway address? I tried setting it in the TCP/IP properties but it didn't have any effect. The upshot of all this is that I'm unable to connect to the Internet. Please, please help!! Thanks a lot in advance,

Solution 1
Answered by Steve Cohen

Not sure exactly what the problem is but here is what I would do. First go into device manager and remove all network adapters (make sure you have the drivers available via floppy or on your hard drive for the ethernet card). Remove everything from network properties. Reboot. Reinstall drivers for 3Com card and reboot again. Go in to network properties and make sure you have at least the following three things:
Client for microsoft networks
3Com 905 network card
TCP/IP
If any are not there install them and reboot.
Next, run winipcfg, release all, then renew.
You should be ok now. This is how my setup is with my system and cable modem.
If you need any further help contact me directly.
---
Question

Submitted by Lisa

Added new HDD as slave and want to upgrade to Win98. Would prefer to uncompress master HDD before continuing. I have enough room but now get a message that files with the same name exist on both C and H(CVF) boot sector. I'm now down to one file 'windows'. There are several files that included this name and I've renamed as many as possible. There are two 'windows' files left, one of C and one of H. If I rename either one of these I get a new list of files that I thought I already renamed. Will I have to find and rename each file that contains any part of the words? Any other solutions. I can't delete the CVF as it contains some software to run the computer. Thanks.

Solution 1
Answered by Steve Cohen

My suggestion would be to backup any of your important info to floppy, cdr, ect... and reformat the C:\ drive and do a fresh install of 98. Upgrading is always more of a pain.
---
Question

Submitted by Dustin

I have a laptop with a Rage Mobility-M AGP card in it. I installed directX 8.0a on it for some of the newer games that I just got that require it. When I did, everything seemed fine except that now Direct3d acceleration is no longer recognized on my video card. I've tried reinstalling DirectX 8a, installing SP2 for windows 2000, installing the extra mutlimedia patch for DirectX 8a, and installing the same (latest) video drivers for my card. Nothing changed the problem. Does anyone have any suggestions on how to make Direct3d work on this? I've searched the net and seen many others with this problem, but no one with a solution. Any ideas?

Solution 1
Answered by Steve Cohen

You need to get a new laptop.
Just kidding.
The only thing I can think of is to run dxdiag from the run command line. This brings up the DirectX interface. Look on the DISPLAY tab and there are buttons to disable or enable Direct Draw, Direct3D and AGP texture acceleration. Make sure it says enabled next to all three. If not try enabling all and see what happens.
Let me know.
---
Question

Submitted by Ethel

I have a problem with Windows Media Player v7. Evertime I try to connect to on-line radio stations, it freezes. I constantly have to Ctrl-Alt-Del to close it. Is there a solution to this problem?

Solution 1
Answered by Adam Sowalsky

Try reinstalling WMP 7.
---
Question

Submitted by Adam

Hoping to kill two birds with one stone.
Question Number One:
Is there a way to make a Win2K share universally accessible to Win95/98 and other 2K boxes without requiring a username and password? For example, I would like to make a file on the Win2K Server available to everyone in my environment. When any person who doesn't have an user account set up with the Server attempts to access this share, they are prompted to submit a username and password.
Question Number Two:
I've been noticing that after installing SP2, my server has increasingly been unexpectedly shutting itself down. Here's the log file: The computer has rebooted from a bugcheck. The bugcheck was: 0x00000050 (0xfffffff0, 0x00000000, 0x8044efc5, 0x00000000). Microsoft Windows 2000 [v15.2195]. A dump was saved in: C:\WINNT\MEMORY.DMP. Can't seem to make much sense out of this.
Thanks for your time

Solution 1
Answered by Adam Sowalsky

When you create the share and it prompts for a username, click the button to select one from the PDC. Then just choose the group "The World" or "Everyone" or "Domain Users" and hit OK. That would do it.
---
NOTE: Please note that ActiveWin nor the AskAW staff can take any responsibility for anything that may/may not occur when taking our advice. If you do anything that is included in our advice, you are doing so at your own risk.
If you have any questions pertaining to a particular answer please contact the actual Staff Member who replied.
You can contact anyone of our staff here or email us at askaw@activewin.com