DirectX
ActiveMac
Downloads
Forums
Interviews
News
MS Games & Hardware
Reviews
Support Center
Windows 2000
Windows Me
Windows Server 2003
Windows Vista
Windows XP



News Centers
Windows/Microsoft
DVD
Apple/Mac
Xbox
News Search



ActiveXBox
Xbox News
Box Shots
Inside The Xbox
Released Titles
Announced Titles
Screenshots/Videos
History Of The Xbox
Links
Forum
FAQ



Windows XP
Introduction
System Requirements
Home Features
Pro Features
Upgrade Checklists
History
FAQ
Links
TopTechTips



FAQ's
Windows Vista
Windows 98/98 SE
Windows 2000
Windows Me
Windows Server 2002
Windows "Whistler" XP
Windows CE
Internet Explorer 6
Internet Explorer 5
Xbox
Xbox 360
DirectX
DVD's



TopTechTips
Registry Tips
Windows 95/98
Windows 2000
Internet Explorer 5
Program Tips
Easter Eggs
Hardware
DVD



ActiveDVD
DVD News
DVD Forum
Glossary
Tips
Articles
Reviews
News Archive
Links
Drivers



Latest Reviews
Xbox/Games
Fallout 3

Applications
Windows Server 2008 R2
Windows 7

Hardware
iPod Touch 32GB



Latest Interviews
Steve Ballmer
Jim Allchin



Site News/Info
About This Site
Affiliates
Contact Us
Default Home Page
Link To Us
Links

News Archive
Site Search
Awards



Credits
©1997-2012, Active Network, Inc. All Rights Reserved.
Please click here for full terms of use and restrictions or read our Light Tower Privacy Statement.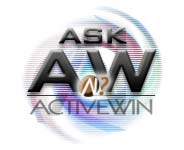 Welcome to AskAW! This section of our web site lets you submit questions about any problems/queries that you may have about Windows. Be it from a little icon that annoys you to hardware freezing your PC, we will try and help you out. You can submit your questions by e-mailing us at askaw@activewin.com. You can browse through previous questions over at our Archive Page. Who knows what you might find.
Here are the answered questions for 07-04-2001
Question104

Submitted by Scott

I'm having difficulty File and Print sharing my Windows 2000 Machine on my home LAN. When it came out of the box, I had to configure the operating system. I hooked it up with a NIC card and I went to share it. When I try and connect to it, i'm being prompted for a password. As the administrator, I know all of the passwords that I've set on it for myself and other users. None of them work. On my LAN are 2 machines running Windows 95, 1 running Windows ME and the one in question with Windows 2000. I don't have a problem sharing to or from any of the other machines. My hubs are all working fine and I can connect to the internet from all of the machines. I can see the icon for the Windows 2000 machine that I call POLLUX on all of my other machines and I can see all other machines from POLLUX. I've tried unsharing, resharing etc and nothing seems to work. Is there a known bug? By the way, this Windows 2000 machine has Service Pack 2 installed. It seems as though the basic steps for sharing isn't working. I'm wondering if you have any suggestions.....Thank you.

Solution 1
Answered by Andrew Funderburk

You need to activate the Guest account in Windows 2000 and set its password as being blank. In other words, when you go to the 'Set Password' part of the Guest account, leave the boxes for the password blank. This should fix your problem.
---
Question33

Submitted by Todd

I just installed Windows XP and am very happy with it. My computer now dual boots on the same disk between XP and Windows 2000, with XP as the default. I do not want Windows 2000 anymore and want to completely remove it, i.e., make the computer boot straight to one OS, XP. Also, after removing the dual boot, what Windows 2000 files and directories can I delete?

Solution 1
Answered by Steve Cohen

Depends on how you did the dual boot. If they are in separate directories then you can probably edit the boot.ini to remove references to 2000 and remove the installation directory of 2000. Not sure what else you could remove safely If they are in the same directory then you will need to reformat and do a fresh install of XP. An easier option would be to go into the startup and recovery section of system properties, advanced, and uncheck the option to display a list of operating systems. Your pc will now boot straight into XP. Your best bet overall is to backup everything imp. and do the fresh install thing.
---
Question36

Submitted by Ryan

I'm looking at my registry and I notice that there is a lot of keys from programs I have already uninstalled ( under HKEY_CURRENT_USER\Software). Would there be any keys from other programs under a particular folder? Would it be ok to delete everything in a folder that has the name of a program that I have uninstalled? (Of course I would backup the registry).

Solution 1
Answered by Steve Cohen

Some newer programs actually remove theses keys. However, if you know you have uninstalled a program, it is ok to remove the folder under HKEY_CURRENT_USER\Software. The other places in the registry to look for keys to programs that have been uninstalled are:
HKEY_LOCAL_MACHINE\Software
HKEY_LOCAL_MACHINE\Software\Microsoft\Windows\CurrentVersion\Uninstall
---
Question37

Submitted by Grant

Hi I need some help plzzzz I'm trying to play a .avi file but my windows media player does not want to all it does is try to down load some codec.. and then complains that even though it has the codec it cannot open file and then just plays the sound and no picture I tried this avi file on both win 95 and win 2000 with no success I have windows media player 6.4 and i'm busy downloading 7.1 what else can I do...thanx

Solution 1
Answered by Steve Cohen

7.1 will help alot. Make sure you have an active internet connection when playing the file so media player can download the codec.
---
Question39

Submitted by Lesley

I have windows 95 Microsoft Internet Explorer running on my system. I recently had to reformat my hard drive and reload everything. I currently have IE v.5.5 installed. Before I reloaded everything, when I would open up different windows I had a toolbar that looked like the explorer bar ( that had the back /forward button, etc.) Now it is no longer there. That bar was really nice to have. Where did it go? Is this part of active desktop? If so, how can I get it back? please let me know. Thanks

Solution 1
Answered by Steve Cohen

You probably had IE4 with the active desktop option installed before. The only way to get it back is to install IE4 with the active desktop option and then upgrade to IE 5.5. You can probably uninstall IE 5.5 back to the previous IE version then make sure you install the active destop option with IE4 then upgrade to IE 5.5.
---
Question42

Submitted by Unknown

Hi, I have Win 98 second edition ME, and I want to install the Win 2000 Professional. Setup give me this message: "The option to upgrade will not be available at this time because Setup was unable to load the file E:\WINDOWS\UpgDlls\w95upg.dll\WIN9XUPG\W95UPG.DLL". Before this message I also get the following message.."This program has performed an illegal operation and will shutdown". I think my Win 2000 cd is ok because I don't get this message when I insert the cd in my thinkpad. The thinkpad is running windows 95...

Solution 1
Answered by Michael Kircus

You listed yourself as having two different Operating Systems, and since the error you gave is familiar with me, I'm going to assume you have Windows ME. You can't do an upgrade of Windows ME to Windows 2K. You have to do a clean install.
---
Question12

Submitted by Steve

Dear Sirs. I am wanting to put Windows 98 on a laptop computer I have just purchased. At present the hard drive has been formatted and so does not have any software on it. Unfortunately the Laptop does not have a CD Rom drive and so I am stuck as to how I can Install My operating system. Is it possible to put Windows 98 on floppy disc. Best Regards.

Solution 1
Answered by Michael Kircus

I would buy a CD-ROM drive. You can't really put Windows 98 on floppies, because the files are immensly huge for floppy disks. The drives are relatively cheap nowadays, so just go ahead and buy one.
---
Question11

Submitted by Pam

I hope you can help me. I have a digital camera. I tried to open the program and I get the following error message "Camedia.exe is not a valid Win32 application". I have tried re-installing the camera software and rebooting the computer, but am not having any luck. I think it is a Windows error message and the only other option I have, I think, is to re-install Windows. Which I really do not want to do. Thank you.

Solution 1
Answered by Michael Kircus

It sounds like you are using software designed for another OS, or at least a different version of Windows. Either that, or the files corrupted. Try to find an updated driver from the camera makers.
---
Question28

Submitted by Justin

Is it possible to "downgrade" from ME to Windows 98? I'd like to upgrade to 2000, but unfortunately, I can't do it from ME. Thanks!
Solution 1
Answered by Michael Kircus

You can do a clean install of 98. To do that, you have to format the hard drive, then install 98 with the CD. Then you can upgrade to 2000.
Solution 2
Answered by Mean Drake

If you installed ME as an upgrade to Win98, while installation you get an option of saving current system files in which case you can revert to win98 from the control panel add/remove programs applet. Otherwise you need to do a clean install.
---
Question38

Submitted by Dirk

Hello Sir....How can i disable "Ctrl-Alt-Del" to create a autologin in Windows XP Pro? I do not want to login every time. Just up and running. Can you help me? Sincerely

Solution 1
Answered by Steve Cohen

I'm assuming you have defaulted to the standard 2000 Ctrl-Alt-Del</INPUT> login as opposed to the XP Luna interface where you click the username and type the password. If this is the case, you can use 1 of 2 utilities, Tweak UI or Xteq X-Setup. Both have options for enabling auto login in 2000/XP.

Solution 2
Answered by Mean Drake

Don't know about XP but in Win2000 it is straightforward enough to go to control panel and in users and passwords ubcheck "users must enter a username and password to use this computer"
---
Question50

Submitted by Unknown

I have been unable to configure my browser to accept cookies. I have tried to usual i.e. (tools-internet options-security-custom) but unfortunately the dialog box that appears does not have the option to either accept or decline cookies. This is causing me problems when I am trying to get to certain website to order merchandise. How do I get IE5 to accept cookies.

Solution 1
Answered by Mean Drake

Thats funny. I have IE 5.5 SP1 and the tools>Interent Options>security>Custom does have cookies listed. You could upgrade to IE 5.5 SP1 or even to IE 6 preview 2 which has a much more cookie management system.
---
Question48

Submitted by Andre

Everytime I open up Windows Explorer and then try to open up a folder, I get the error explorer.exe has generated errors and will be shut down...
Why? I am using Windows 2000 and I have Service Pack 1&2 installed. This problem is such a pain and I have tried so many ways to fix it but I have been unsuccessful. Please help.

Solution 1
Answered by Mean Drake

This can be a pain to fix. See the log file generated and see if there is some particular dll responsible. Alternately you could use your Win2000 CD to do an OS repair. This might negate the SP2 install and take you back to the native OS but the OS will work. Then you could think of going up to SP 2 again.
---
Question47

Submitted by ?

Hello! I'm the new user of win2k, when I use windows, it always hang with a message. The message is: Address BDB94A7E base at BDB8C000, datestamp 39dd1920 -nv4_disp.dll, Beginning dump of physical memory. Physical memory dump complete. Contact your system adminstrator or technical support group. it's very annoying me, please help me to slove this problem!!! Thank you very much!

Solution 1
Answered by Mean Drake

You seem to be running an nVidia display card. Upgrade your drivers to detonator 3 that have been posted on their site. Also see for the card-Motherboard compatibility and if the mobo has any issues with this card.
---
Question46

Submitted by S.Weis

Dear aw, I am running the windows 98SE "updates" disk provided with my Microsoft HomeClick Software on top of an OEM Win98. I'm using an IN530 motherboard w/128meg of ram, on board video (sis530) & sound (ESS1938) with a Maxtor 20gig 72,000rpm hard drive. Am also networked to 1 other system much the same. My problem is a constant error message: EXPLORER caused an invalid page fault in module "unknown" at 0000:0059f83b. Have reloaded fresh a thousand times and still the same. Only running Win98, Win98SE "updates", Microsoft Homeclick, with I.E. updated to version 5.5 no other software loaded can you suggest anything to remedy this problem? Thanks

Solution 1
Answered by Mean Drake

There is a lot of material on these page faults. I would suggest you spend some time at the microsoft site and do a search on page faults. You can start here:
http://support.microsoft.com/support/kb/articles/Q175/3/79.ASP
Or http://search.microsoft.com/us/SearchMS25.asp?
---
Question45

Submitted by Brent

Have changed to Windows ME and have tried an old trick to automatically remove files in C:\windows\temporary internet files and c:\windows\cookies (as well as files in the various profiles) using the DELTREE command in the AUTOEXEC.BAT. However it appears that when I edit the autoexec.bat (right click then edit) the file is saved as autoexec.bak and the autoexec.bat remains unchanged. Deleting and Renaming have no effect eighter as the autoexec.bat, as it originally was, keeps coming back. All of the needed commands are in the command directory such as deltree, smartdrv and so on but the functions appear not to be carried out. How can I stop this and have my custom atuoexec.bat run instead?

Solution 1
Answered by Mean Drake

I guess in WinME you will have to run it from Within Windows in the startup. WinME has no real mode DOS support and Autoexec.bat is not run during boot.
---
Question43

Submitted by Thomas

Hello, I just have a quick question, I've been trying to find the answer and asked several people who know a lot about this stuff, but they get astonished when I ask them cause they don't know the answer. "How do I fax a bootable Windows2000 server CD?" when the only way of communication available is a fax machine. I can have any software or hardware I need but the communication must be a fax machine. I will greatly appreciate it if I can get this answer A.S.A.P. Thanks

Solution 1
Answered by Mean Drake

Can't do it. FAX is for stuff that you can print out.
---
Question40

Submitted by Claudio

Hello, i hope you can help me. During Internet Navigation my computer reboot without error messages. I've reinstalled all the software twice: Windows 2000 Pro Sp2, Internet Explorer 5.5 Sp1, Norton AV & Firewall. Nothing, it always reboot after a variable time during navigation.Desperately. Thanks in advance.

Solution 1
Answered by Mean Drake

Right click my computer, Advanced tab, Startup and recovery section, uncheck the box for automatically reboot my computer. Then you will atleast be able to see the error message that comes before the reboot. This can lead you to the problem
---
Question34

Submitted by Bob

I have upgraded from win98 to win ME.Now I want to install win2K.Should I just go to the control panel and select add and remove programs, highlight to remove win ME. I can then upgrade from win 98 to win2K.Is this the procedure I should take to do a clean install. If not, how do you make a clean install?. Also win Me has the driver for my US Robotics Modem.I guess I could go to the device manager and click on modem driver details and copy it to a floppy. One other thing for some reason I cannot format a floppy from a: drive. What can I do to correct this .Will appreciate your response Bob. I forgot to ask one more question.Should I download all service packs for win2k prior to installation or afterwards.thanks.

Solution 1
Answered by Mean Drake

The best bet would be to do a clean install of Windows 2000 on a formatted disk. You technique of upgrading from Win98 would work too but then you need to make sure all your software and drivers are Win2k compatible too. Make a good stady of the Hardware compatibilty list of win2K. Also do not download sp2 prior to insall of win2k. It is a 105 MB download. Do it online where you let the setup program examine your system and download only the required files and it is a 20 MB download later. If you are installing SP2 directly you don't need sp1. As for Modem drivers, you will need to download them from the vendor's site. Copying the drivers manually from the Computer is not very likely to work.
---
---
Question2

Submitted by Susan

I would like to customize the 'send to' menu. I can't find the folder to modify! OS is Windows 2000. Thanks

Solution 1
Answered by Mean Drake

Install drive:\Documents and settings\Username\Sendto folder
---
---
---
Question7

Submitted by Mary Ann

Hi, askaw staff; I can not get into a pdf file I downloaded. I get the message "There was a problem loading the file specified when running the Accessibility wizard" So, I went into the control panel and uninstalled Accessibility Wizard. Tried to open the pdf file, guess what, I got a message saying Accessibility Wizard was not to be found, apparently it is need to open a pdf file. So, I re-installed Accessibility Wizard, and restarted my computer. Na da....I still can not open my file. Please inform me on what to do to get into my pdf file! Thank you

Solution 1
Answered by Mean Drake

Why don't you install the latest version of Acrobat reader (V 5.0)
---
Question10

Submitted by Dennis

I am running Windows ME...Occassionally I get "lexplore" hung while connected to Internet...This is annoying because all other resources are hung until I kill the process..I think this is part of the automatic windows update check...How do I go about disabling the auto-windows update check? Or are you aware of situations where lexplore hangs?

Solution 1
Answered by Mean Drake

If I remember correctly, it can be disabled from the control panel. However I personally do not feel that might be the reaon for your problems.
---
Question20

Submitted by Bartshe

I finally found the .tga filter so Microsoft Photo Editor will read tga files, but I can't get the program to automatically read the .tga file type even though I have designated photo editor to read the file type in Folder Options/File Types. The change does not register after closing "File Types". Sound confusing? Hope not. The goal I'm going for is to have Microsoft Photo Editor preview the files in the folder when they are highlighted like it already does for .bmp, .jpeg, etc. I recently upgraded to a new computer with Windows ME and Office 2000. I have the Office SR1a patch installed and the converter pack filters installed (this is what gave me the .tga filter for photo editor). I'm not sure what's up with all this since I had the preview luxury for .tga with photo editor on my old computer. I did upgrade from Office 97 to Office 2000 on the old computer however. Any help is appreciated, I work with .tga files a lot, and really miss this function. Thanks

Solution 1
Answered by Mean Drake

The steps that you have taken for Photoeditor to open your tga files by default seems to be correct. To see the preview in explorer on highlighting the file, you need to look into the registry. In the HKey_Classes_root/.bmp or in .jpg you will see a Subkey ShellEx. You need to reproduce this in entirety in your .tga key too.
Back up your registry before changes. Or remember what changes you do so you can undo them just in case they do not work.
---
Question18

Submitted by ?

Hi, Really nice site and some work that you all do. Last year I bought a HP Pavillion 8685 computer. When I first bought it one of my friends showed me how to access the bios ie F2 or DEL. He enabled the quick boot up option but ever since then I have been unable to get into the bios. HP have been useless in relation to this and i'm now considering updating the bios to see if that will work. I'm in the process of upgrading the computer but I need to get into the bios so I can turn on AGPx4 for my new video card I would appreciate any input you could give me with regard to this sad problem. Thanks

Solution 1
Answered by Mean Drake

Look into your motherboard manual. Most boards have a jumper on the board or some setting where you can reset the BIOS settings to default. So you should be able to do that here. Sometimes removing the battery helps in resetting the system to defaults. Read the documentation for your particualr motherboard.
---
Question24

Submitted by Lorraine

If a user's menu bar in internet explorer is not there how do I get it back?

Solution 1
Answered by Adam Sowalsky

Choose, VIEW, Toolbars, and click on the toolbar you want to see.
---
Question23

Submitted by Dave

I have mis-set my phone dialer somehow. All it gets is a busy signal. What do I do now

Solution 1
Answered by Adam Sowalsky

The number you have called is probably in use. Please hang up and try again. If you need assistance, dial an operator.
If the error occurs before dialing, then you need to make sure that no other phones on the line are off the hook. If you modem is not resetting properly, you need to remove and reinstall your modem drivers. Let Windows redetect it. THEN try your call again.
---
Question25

Submitted by ?

I recently upgraded my computer to an AMD 1 Gig system and i'm having trouble installing Windows 2000 on it. My motherboard is an Asus A7V133. So here's what happens: I boot from the win2000 cd and when it asks to press F6 for third party drivers, I do that. Then it asks for the floppy for my third party hardware which is a Promise ATA 100 controller which is built on the motherboard. So I do that and it installs the drivers for that, and when it comes to the first re-boot, it can't pick up my hard drive which is a Maxtor 20 Gig ATA66@5400rpm and the installation cancels cause theres no hard drive for win2000 to install to. On the m/b, there's the regular Primary & Secondary IDE connectors and then there's an extra Primary & Secondary connectors for ATA100 drives which my hard drive is attached to. I even tried connecting the hard drive to the IDE connectors and disabled the ATA100 in the bios but i still get the same problem. I can install Win ME fine but I can't get Win2000, any suggestions?

Solution 1
Answered by Adam Sowalsky

You have an ATA controller -- you don't necessarily need 3rd party drivers. Have you tried installing Win2K without specifying your motherboard's driver disk?
---
Question17

Submitted by ?

Hello, While trying to clean up my son's computer, we've lost the cd rom, can't get to win 95 because of error "missing vmm32.vxd or path not found". Can't get to a point to reload Win95, can only get to screen of options i.e. Command Prompt Only. Safe Mode, etc., but now we can't get into Safe Mode. Tried to reboot with a Bootdisk 95A, but won't do that either. At loss to what needs to be done here. As you can tell, we're not gurus here, but sure want the system back. Any help will be appreciated.

Solution 1
Answered by Adam Sowalsky

Use the force. No, actually use the Windows Find feature to search for vmm32.vxd on your hard drive. If you find it, copy it to the Windows/System directory. If it can't find it, try copying the attached file to your Windows/System directory. It is from a Windows 95 B installation, but should work as well.
---
Question44

Submitted by David

Hi, I have several devices on irq 9 that were configured through plug and play. My network adapter stops working sometimes. I am pretty sure this is because it also is configured to use irq 9. After trying to configure a device manually though device manager I found that the system won't let me configure any devices manually. Is there anything I can do?
example: sound card irq 9
: video display 9
: modem 9
: usb 9
Thanks any input would help

Solution 1
Answered by Adam Sowalsky

Windows 2000 is a plug-and-play OS. Your BIOS settings should reflect that --- provided your BIOS is up-to-date. Enter your BIOS setup and change the plug and play option. Windows 2000 should automatically readjust and reconfigure all of your devices (and warn you before allowing IRQ changes). If not, remove all of the System devices from the control panel, reboot, and let Windows redetect everything.
---
---
Question118

Submitted by Paul

I am getting a lot of exceptions at 0E 0187:bff9dfft My Microsoft Word and Outlook are both going whack. Can you also respond to tatesa@29palms.usmc.mil so I can get it here or at work? Thanks

Solution 1
Answered by Adam Sowalsky

Use the Repair feature (under the help menu) to repair these issues. It almost always works.
---
Question101

Submitted by Alex

Will Windows XP have better Dual-Monitor support than was in previous versions of Windows? For instance, in Windows 2000, when maximizing an application and using dual-monitors, the application automatically spans the two monitors. Support for a 'maximize in this monitor only' type of hot-key or better yet, Intellimouse support for said button, would be excellent. Is there anyway to suggest this tip to Microsoft?

Solution 1
Answered by Adam Sowalsky

Visit Microsoft's WindowsXP home page at http://www.microsoft.com/windows/windowsxp/.
---
Question109

Submitted by Elisabetta

We need to convert a Quark Xpress document (in Ukrainian and Slovak) written on Windows 98 so that it can be opened by our tipographer on his Macintosh computer. Quark Xpress manual says that the only problem is using exactly the same fonts in both systems. The question is: which fonts can be used both in Windows and Macintosh? We need some Central Europen and cyrillic fonts as well as normal ones. Thank you, regards

Solution 1
Answered by Adam Sowalsky

If both the Mac and PC are running the same version of Quark Xpress, and have the same installation options selected (e.g. fonts, language choice, and OS Language) you should have no issues. However, it might not be possible to open the document on an English system if it was designed on a Ukranian OS using Ukranian fonts.
Contact Quark Tech Support at: http://www.quark.com/support/contact.html
---
Question131

Submitted by Ryan

I am currently running win98se on a dell PIII 800 with 256mgs ram 40gig and 60gig 7200rpm, ATA 100 controller card, 32mp Agp matrox millenium dualhead video card, plexwriter 12x10x32 scsi, and its starting to slow and crash, I am thinking about loading windows 2000, I am running a home network with a windows 2000 server running DHCP for my machine and I was told that if I set up my machine as Administrator I will not be able to log into the server domain and/or access certain network features ( which im not sure what I will be missing) from the server, is there a way to work around this and still be adminstrator on my machine? Thanks

Solution 1
Answered by Adam Sowalsky

You were incorrectly informed. As long as you have the Administrator password to the Domain and you register your Win2K computer on the domain using the Administrator password AND add your local Administrator username to group Domain Admins you should be all set. There will be no loss of functionality.
---
Question49

Submitted by Alp

Dear Sirs, I have a really serious problem at hte moment. A copule of weeks ago, my BIOS blasted off. So I downloaded an updated version, that is the three versions later of the original, and uploaded it to the BIOS chip on a diffrent board. by board is M748LMRT, a product of PCChips (http://www.pcchips.com.tw/). Then I installed the updated and ideally reapired BIOS on the on the board and it worked! then I reinstalled all the hardware (in fact as the mainboard is all-on-board, from vga to network card) and took it home, as i was at school during the installation. I began to test the system by runnung 3DS Max 3.1 and Counter-Strike on Win98SE. it worked fine for some time, but after a few hours it froze. then i rebooted the machine, but it began to freeze all the time. after i reboot it frezes in a few or more minutes. i thought that it may be of heat, as the weather is 40C here, and used a fan as an externsal cooler, and it worked for half an hour but froze again. i tried another CPU another a few other RAM modules, but the problem is perm. what will be your comments on the prob? thx for your all concerns.

Solution 1
Answered by Adam Sowalsky

Update your video driver. If you VGA card is on board, then the driver you have is for a previous version of the BIOS (which controls the VGA adapter as well). Download and install the driver and with any luck that should take care of your issues.
While you are at it, download updated drivers for all of your on-board hardware.
---
Question21

Submitted by Tim

I want to create a file to set up a new DUN connection (for RAS), I've done this all through a .ins file but for some reason I can't get it to select (on the tick box) "Client for Microsoft Networks" Does anyone know a page with these such commands on? or the specific command for this option and others?

Solution 1
Answered by Adam Sowalsky

Make sure the Client for Microsoft Networks in bound to your Dial-Up Adapter in your Network settings.
---
Question13

Submitted by Randy

I have a HP N3290 Pavilion Pentium 3, 500 running Windows 98 and my computer locks up. I have reset the system and it still lock up. Can you help? Thanks

Solution 1
Answered by Adam Sowalsky

No. You will have to provide more information.
---
Question1

Submitted by Jesse

ActiveWin,Hi, I have a quick question concerning Internet Explorer 5.5. Is it possible to change the location of where the cookies are stored? Specifically, I am trying to edit the registry to point to a network drive so that preferences (cookies, history, favorites) can follow a specific user. I have been able to movie the favorites folder, to a network drive (drive H on a Novell 4.11 server) but when I change the cookies path from C to H, something goes back and undoes my changes in the registry. Any ideas? Any input would be much appreciated.Thanks in advance!

Solution 1
Answered by Mean Drake

The only way I am familiar with a network drive for Cookies is using ROAMING PROFILES with Windows 2000. Since IE config is performed during boot up and before network connections are re-established in all other versions of Windows, the registry will automatically revert the key to a local drive since the network drive would be unavailable.
---
Question31

Submitted by Herb

hello, We just bought our computer and can't put our zippfiles on it. We zippt it with windows backup in W95. QIC-files. Our version of Windows ME, currently running on the new PC hasn't got this. Not even in the Windows setup/systemset is it to be found. How do we go on? Thanks for a reply

Solution 1
Answered by Adam Sowalsky

That is correct. Windows ME does not come with Windows Backup. Your best bet would be to rent a laptop with Windows 98 or 95 and connect it to your new computer via cross-over cable and restore your backed up files with it. Let me ask you---how did you save your back up file? Floppy Disk? No problem.
However, if you simply saved the backup files to your hard drive you'll need to connect your old computer to your new computer via cross-over cable (forget the laptop) to restore the files.
---
Question26

Submitted by Morten

Hi When playing mp3's in winamp on my Windows 2000 machine, the music skips all the time. I recently downloaded Audioactive Player, and it plays fine, with no skips at all, but i have some plugins that only work in Winamp so i really wanna use that instead... I can't figure out what it is.....I have tried different settings for Winamp, High priority and such.Please help ! Best regards

Solution 1
Answered by Adam Sowalsky

Make sure that your WinAMP plugins aren't processor-intensive, and turn off any other active programs that are running. If that doesn't work, use the Windows Selective startup (msconfig) to individually remove components that might be dragging your system along.
---
---
Question35

Submitted by Charlene

I am trying to import an excel file from Access and I seem to get the same error message "Active X component cant create object.

Solution 1
Answered by Bronson Elliott

Try following the procedures at the following website:
http://www.mvps.org/access/bugs/bugs0007.htm good luck
---
Question19

Submitted by Randy

Hi, I'm running IE5 and Windows ME. After a recent "auto update" whenever I try a search form the address bar it takes me to the MSN Search Page. How do I change or turn this feature/default off? Thanks

Solution 1
Answered by Bronson Elliott

This is controlled by registery settings. The following link provides a registry edit that will make Google the default search engine when you click the Search button. You can modify it to be your favorite search engine if you like.
http://www.google.com/options/defaults.html#default good luck
---
Question2

Submitted by ?

I have a problem.... I will install WinME on my 133`CPU PC....but i cant remember the HardwareCheck override Command... Can anybody help me.?

Solution 1
Answered by Marc Strickland

You can find out all the availible commands by typing "setup.exe /?".
---
NOTE: Please note that ActiveWin nor the AskAW staff can take any responsibility for anything that may/may not occur when taking our advice. If you do anything that is included in our advice, you are doing so at your own risk.
If you have any questions pertaining to a particular answer please contact the actual Staff Member who replied.
You can contact anyone of our staff here or email us at askaw@activewin.com