DirectX
ActiveMac
Downloads
Forums
Interviews
News
MS Games & Hardware
Reviews
Support Center
Windows 2000
Windows Me
Windows Server 2003
Windows Vista
Windows XP



News Centers
Windows/Microsoft
DVD
Apple/Mac
Xbox
News Search



ActiveXBox
Xbox News
Box Shots
Inside The Xbox
Released Titles
Announced Titles
Screenshots/Videos
History Of The Xbox
Links
Forum
FAQ



Windows XP
Introduction
System Requirements
Home Features
Pro Features
Upgrade Checklists
History
FAQ
Links
TopTechTips



FAQ's
Windows Vista
Windows 98/98 SE
Windows 2000
Windows Me
Windows Server 2002
Windows "Whistler" XP
Windows CE
Internet Explorer 6
Internet Explorer 5
Xbox
Xbox 360
DirectX
DVD's



TopTechTips
Registry Tips
Windows 95/98
Windows 2000
Internet Explorer 5
Program Tips
Easter Eggs
Hardware
DVD



ActiveDVD
DVD News
DVD Forum
Glossary
Tips
Articles
Reviews
News Archive
Links
Drivers



Latest Reviews
Xbox/Games
Fallout 3

Applications
Windows Server 2008 R2
Windows 7

Hardware
iPod Touch 32GB



Latest Interviews
Steve Ballmer
Jim Allchin



Site News/Info
About This Site
Affiliates
Contact Us
Default Home Page
Link To Us
Links

News Archive
Site Search
Awards



Credits
©1997-2012, Active Network, Inc. All Rights Reserved.
Please click here for full terms of use and restrictions or read our Light Tower Privacy Statement.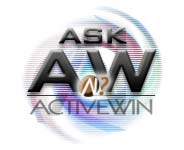 Welcome to AskAW! This section of our web site lets you submit questions about any problems/queries that you may have about Windows. Be it from a little icon that annoys you to hardware freezing your PC, we will try and help you out. You can submit your questions by e-mailing us at askaw@activewin.com. You can browse through previous questions over at our Archive Page. Who knows what you might find.
Here are the answered questions for 07-13-2001
Question

Submitted by bizzczar

my pc crashed and i reinstalled windows 98 on it everything seems to be running ok except for my volume control. it wont open. i would really appreciate your help. Thank you

Solution 1
Answered by Adam Sowalsky

That means that for some reason your sound card isn't being detected. Go into Control Panel | System and look at device manager. See if there are any unknown devices. If so, you should download the drivers for your sound card. If sound works properly, however, I've found the only way to fix this is to either (a) install volume control from the Add/Remove programs Control Panel applet, or (b) if it is already installed, download and install the latest version of DirectX. Go figure...but it works.
---
Question

Submitted by ?

Where would I go on my computer to shut off Dr. Watson just for a period of time so I can download.

Solution 1
Answered by Michael Kircus

Just right click the Dr.Watson icon in the system tray and click Exit Dr. Watson. This should exit the program. If there is no icon, push Ctrl+Alt+Delete and find Drwatson in the list, and shut it off there.
---
Question

Submitted by Joe

How do I make Internet Exporer(5.5) open JPGs and GIFs in the same window? I mean ones I have saved onto my hard drive. When I double click on them, it opens a new IE window, and I'd prefer it to load the image in the existing window. Thanks.

Solution 1
Answered by Michael Kircus

Try going under the Advanced tab in Internet Options, then checking the "Reuse windows for launching shortcuts" checkbox.
---
Question

Submitted by Laura

When trying to upgrade from Windows 98 to Windows 2000 Professional, the setup says "the language of this installation of Windows differs from the one you are installing. The option to upgrade will not be available." I have mulitlanguage support enabled on the computer, but the settings are in English (UK) not US.What can I do?

Solution 1
Answered by Michael Kircus

If you are trying to upgrade, and the OS you are upgrading to is in a language that is different from your current OS, you cannot upgrade. You must buy the full version. If both languages are the same, then uninstall multi-language support before upgrading.
---
Question

Submitted by ?

I have a computer that i just built it is dual processor PIII I have windows ME which i installed but does not support the dual processors what should I do?

Solution 1
Answered by Michael Kircus

You will need to buy an OS that support's more than one processor. I beleive Windows 2000 professional should do. You will have to do a clean install though, since an upgrade from Me is not supported.
---
Question

Submitted by Jeff

I have been trying to remove rarely used applications from the "New" menu when one right clicks in the desktop. I have been searching help files and online resources for days without any luck. Any suggestions or tips would be greatly appreciated. Regards

Solution 1
Answered by Michael Kircus

Go here: http://www.microsoft.com/ntworkstation/downloads/PowerToys/Networking/NTTweakUI.asp and download TweakUI. It is a Microsoft application that will do what you want. It's free, and easy to use.
---
Question

Submitted by Hilda

what does it mean after you have installed a cd writer and power up the system and get this error message and the system locks and won't go on into the windows environmen

Solution 1
Answered by Michael Kircus

We need to know what OS you use and what CD software/hardware you use, but you might want to check the manufacturer of the software/hardware. Some products have updates, especially for Roxio Easy CD Creator and Windows 2000. If that is the case, check out www.roxio.com for the updates. Also check the hardware to see if it's incompatible, or is you've installed it incorrectly.
---
Question

Submitted by Jeff

I am familiar with the msconfig program in win98 that allowed me to stop specific system tray apps from running upon bootup. I can't find the equivalent functionality in win2k. Any ideas? I have looked in all the startup folders, (Administrator, All Users, Default User, and my own) and the app I'm trying to kill is not in the Utility Manager. I have looked all over the internet including microsoft's knowledge base, but have only been able to find how to add to the tray. Any help here would be appreciated. Best Regards

Solution 1
Answered by Michael Kircus

You are correct about there not being an msconfig utility in Windows 2000, because the files that it modifies are not used in Win2K. You might want to try X-Setup from http://www.xteq.com , which should help.
---
Question

Submitted by Michael

I just installed a new motherboard (ABIT SE6) with a P3 1gig. I am getting an error: 0028:EA2E371B in VXD EMU10K1(01). Can you offer any advice? Thank you in advance!
Solution 1
Answered by Michael Kircus

When you install a new motherboard, you should preperly remove all other drivers. Go to the Device Manager tab, and delete all objects loacted under "System Devices." Then restart your computer. If you got a CD with your motherboard, use it to install the drivers, but only after the former drivers have been removed.
---
Question

Submitted by ?

is there "msconfig" in windows 2000? if there is ? how do i access it ? i can't seem to start it just by typing "msconfig" under run. Thanks

Solution 1
Answered by Michael Kircus

There is no msconfig in WIndows 2000, because the files it is used to modify are not used in Windows NT based computers. Therefore it is not needed. If you want to alter the start up programs, you can still go for X-Setup from www.xteq.com, which will aid in that.
---
Question

Submitted by Jim

I want to install the MS cordless phone I bought a couple of years ago on my new computer. The problem is: The software disk will not load as the version of Windows is wrong (W2000). Microsoft says the software will only work on W95 or W98.Is there a way to force the software to load or is there a download of some type that will fool the disk into thinking it's loading onto W98 or has a third party written new software for the cordless phone? Thanks

Solution 1
Answered by Michael Kircus

As far as I know, there is not a way to solve your problem, because even if there was a software program that could do it, there are still the immense differences between the OSes, which would cause the software to malfunction. There is a chance it might work with the compatibility built in to Windows XP, so you might want to try that.
---
Question

Submitted by Leonard

I have a Power spec 8005 system and it will not allow me to run a scan disk or defrag. Suggestions?

Solution 1
Answered by Michael Kircus

You might want to start in safe mode. When you restart, hold down the Ctrl key until you get the Windows Me start up menu. Select Safe Mode, then run the utilities. This will prevent programs from interrupting the process.

Solution 2
Answered by Mean Drake

Additionally you might even shutdown everything except explorer and systray using the Task manager (Ctrl-Alt-Del)
---
Question

Submitted by Eich

Hi, a friend of mine has WinME and was wondering how she can password protect it so no one else can use it. She has it password protected right now, but as you know someone can hit cancel and still get it. Is there a way to disable the cancel button?? Thanks in advance.

Solution 1
Answered by Michael Kircus

No, you can not set a password for Windows Me, because the password is for personalization, not security. You can set a BIOS password, but the easiest thing might be to download a free utility from http://www.pandasoftware.com/, which will allow you do put a password for logon. The program is called Panda Security, and is easy to use.

Solution 1
Answered by Mean Drake

Do the following. Make sure user profiles are created for each user and that include startmenu and program groups in user settings option in control panel is enabled. Then boot to safe mode. Then run regedit.exe and find the following key in the registry (backup registry just in case things go wrong before you do all this): HKEY_USERS?Default/Software/Microsoft/Windows/CurrentVersion/Run and in the right hand pane right click and select add New string value and name it FixLogon and give it the value rundll.exe user.exe, EXITWINDOWS Now this is something I have read and never tried myself so just try it out. An alternative value for the above key could be rundll32.exe user,exitwindows
---
Question

Submitted by ?

Dear askaw, When I started to use Outlook Express for my email account after I signed up with an ISP, I designated a folder to store my send mail, recieved mail and drafts. These foders are file-type DBX. The only way I can open these folders is by opening Outlook Express. How can I open these DBX files without opening Outlook Express? I forgot to mention that I have Windows 98

Solution 1
Answered by Mean Drake

I seriously doubt if it can be done.
---
Question

Submitted by Dave

Comrades, I am having a problem installing win2k Professional on my computer. During the GUI part of setup it freezes immediately after the screen blinks during hardware detection. I get a blue screen which cheerfully informs me the that I have a "Hardware Malfunction - Contact system vendor." I am have win98 on another partition and have had no hardware problems. I'm running an Athlon 1133 with 256megs of PC133 on an Asus A7V133 (Via KT133 chipset), GeForce2 MX pure, Quantum 40 gig HD, 56k modem and LG CD-RW. I have already tried shutting down as much as possible in the BIOS, with no success. It would seem that there is some sort of issue with the video card (hence the freeze after blinking screen), but I really don't know what else to do. Any suggestions? Thanks.

Solution 1
Answered by Mean Drake

Not too easy. You could get a substitute Win2k compatible display card...install the Win2k...Then shut down system...Change the card and then boot to VGA Enabled mode and then install the relevant display drivers.
---
Question

Submitted by Thomas

Hello, I just have a quick question, I've been trying to find the answer and asked several people who know a lot about this stuff, but they get astonished when I ask them cause they don't know the answer. "How do I fax a bootable Windows2000 server CD?" when the only way of communication available is a fax machine. I can have any software or hardware I need but the communication must be a fax machine. I will greatly appreciate it if I can get this answer A.S.A.P. Thanks

Solution 1
Answered by Mean Drake

Can't do it. FAX is for stuff that you can print out.
---
Question

Submitted by Gwenda

We have been having major problems with our system freezing up in the middle of searching on the internet.A message always appears telling us to close down internet ,shut down computer ,and to restart.An hour glass always appears beside the arrow and nothing can be done except to shut down system by the monitor,then when you restart system it has to go thru and see if any files or folders have been lost.This is frustrating to all of us.I've call tech. for help many times and they have not helped the problem at all.Another thing is it takes us forever and a day to connect to internet.Alert will say unable to establish a connection or busy,and system is so slow in connectihg to internet and in checking e-mail.Can you HELP me please!

Solution 1
Answered by Mean Drake

First do the basic maintenance like scandisk, defrag and rule out viruses. Then you might have to reinstall windows if needed.
---
---
Question

Submitted by Sheryl

I have a brand new computer. It has never had Windows 98 on it. It has Windows Me on it. I just recemtly downloaded the "critical Updates" from the Microsoft web site. Now I am getting a message that says "Wuauclt has caused an error in WUAUCLT.EXE. Wuauclt will now close. If you keep having this error try restarting your computer." I have restarted my computer....I still get the error. The only information I can find to fix this refers to an Internet Communication Sharing setting in Windows Setup AND links the error to Windows 98. When I went in, following the directions, to UNCHECK this box on ICS I discovered it was already UNCHECKED. I can't find any other documention. Can you help? Thank you

Solution 1
Answered by Mean Drake

All I could find is
http://support.microsoft.com/support/kb/articles/Q266/0/65.ASP
Why not try following these instructions to the letter. They might work. These seem to be more elaborate than what you have described.
---
Question

Submitted by Julie

Hi, I hope you can help me. I'm running Windows 2000 Pro and Office 2000. Whenever I'm in an app and try to save a document the pulldown menu is unresponsive. It takes a few minute and then it will expand. This doesn't happen all of the time but enough to start driving me crazy.I've run SP1 and applied SR1 to Office. Any ideas? Thanks

Solution 1
Answered by Mean Drake

Why not try to disable the Custom menus. Viewing full menus might eliminate this mild irritant.
---
Question

Submitted by ?

how can you de-brand ms outlook express 2000 in win.98 second..edition.

Solution 1
Answered by Mean Drake

Look for the Window title key in the registry that has the name which appears in the title bar of your outlook express and delete the key.
---
Question

Submitted by Chad

I had a network going between 2 Win98 machines. I recently installed Win2000 on one of them. I'm having trouble making them connect. Both machines are on the same workgroup, but they do not see each other. Is there anything you can recommend for me to do that could alleviate this problem.. Thanks

Solution 1
Answered by Charles Putnam

I just went thru this today, so the solution is still fresh.
On the Win2000 system, under Users and Passwords, you need to add the names of the users names on the other two systems (on those, go to the Users icon and make sure that they are there too - if not, add them). From there, assign what rights and folders they can access on the Win2000 system.
---
Question

Submitted by TJ

Sirs I am trying to buy and install Windows 2000 English version programs for a realitive in Italy who has a new Italian made computer in Italy with the windows 2000 softwear in Italian installed on it Can I Send the english versions to her for her instalation on her Italian made computer without any glitches? Thanks

Solution 1
Answered by Charles Putnam

There shouldn't be any problems as long as the hardware is compatable.
---
Question

Submitted by John

Hello, In your article about Access 2002 you mentioned about Access 10 file format which provides faster access and data processing. I've been trying to find out more information about Access 10 with no luck. Would appreciate it if you could provide more information on Access 10 as we plan on moving to Access 2002 in the near future..... Thanks very much

Solution 1
Answered by Bronson Elliott

Go straight to the source: http://www.microsoft.com/office/access/default.htm good luck
---
Question

Submitted by Kathy

i am running the recovery cd on my window me on a compaq persario and the menu is not coming up i need to know what ms-dos command to put in to continue. i am getting a message to enter a command. also i am trying to find out information about connecting my computer with my cousins computer and sharing an internet connection at two different homes. is this possible?? how do i do it ??? he has an msn account and i want to use his account to log on from my home..... please help!!!!!

Solution 1
Answered by Adam Sowalsky

First off, if you are trying to restore your computer to factory settings, you need to BOOT from the CD. I think the usual command to start a program is "setup". Try that.
To connect your computer to your friend's computer you both need NIC's (network interface cards) and a crossover cable. Windows 95 minimum and set up DHCP in the Network settings. It is not possible to share an internet connection at two different homes without a REALLY long cable. However, if he gives you his password and login to MSN, you can log in as him.
---
Question

Submitted by Lorraine

Hi There, I have dual winME / Win2000 system. When i installed Win2000 i noticed that my hp cdwtiter 9100 was not detected. Also my imation superdisk remained undetected also. I checked the device manger in win 2000 and found they were not listed ther - not even in the unsupported or unrecognised devices (bioth are internal devices) Thinking something was terribly wrong i bootd back into winME to find no probs, both detect and operate fine. I rebootred win2000 and still no joy. I checked the system log to find an error message stating that the detection of the atapi had timed out - this message appeared five times in the list each time i started the system up. How do i get these devices working....any ideas?

Solution 1
Answered by Adam Sowalsky

Sometimes, devices are not detected unless the recognition drivers exist. Download the drivers (sometimes, just an .inf file is needed...) from the manufacturer's website for Windows 2000. I know with absolute certainty your hardware is compatible; it's just a matter of getting Windows to work with it. Let me know if you have any issues.
---
Question

Submitted by Farshad

Hi guys, I am running WindowsNT workstation v.4.0. I been trying to install Windows Media Player for windows NT. Every time after the installation of the media Player, I reboot and when the login window appears i get an error message saying "At least one driver or device has failed to start during system startup". This error message appears always after the installation of the window media player. I have followed this in the event viewer and got the following information's: "Event ID: 7000-Source: Service control Manager-" The Cdralw2k Service failed to start due to the following error: The system cannot find the file specified". I just have not been able to locate or find this file anywhere. If there is a patch or something that could get read of this annoying error message it would be greatly appreciated. Thanks for your help.

Solution 1
Answered by Adam Sowalsky

The error is from a bad installation of Corel Draw for Windows 2000. It probably installed with your printer driver. Uninstall it and try again. Let me know if you have any more issues.
---
Question

Submitted by Richard

I am planning on purchasing Windows 2000 Professional. Does this version come in multiple languages?

Solution 1
Answered by Adam Sowalsky

You can download additional dialog and menu boxes add-ons for certain components, but the only way to get a version completely in a language (complete with codepages and setup in that language) is to buy the localized version of the software, usually only available through the Microsoft distributor of that country. However, English Windows is fully capable of writing documents in EVERY language that there exists a FONT for.
---
Question

Submitted by Doug

I've got a home network going and connected to my cable modem. I've got 2 Win 98 machines and 1 Win ME machine. On the windows ME machine I can't get file sharing to work. Whenever I try to enable the option, it stats a done-o-meter to configure my hardware, but it just locks up at 0% and never goes anywhere.

Solution 1
Answered by Adam Sowalsky

Try to completely remove your network card and all of your network components (even those bound to your modem). Reinstall those components and with any luck it will work.
---
Question

Submitted by Jay

Ever since upgrading to IE 5.5, I now experience a 10-15 second delay when I open IE. The window opens instantly, but then pauses just before it normally would draw my home page. It occurs even on multiple instances. Once the window is open, I can click to other web addresses instantly. The dealy even occurs when opening a local HTML file. I found someone else on the web that had a similar problem, and the only way they could fix it was to install the IE6 beta. I would rather not do that, but I will try anything soon. I use the WIN98 operating system. It is an older machine, but it still runs well. I have installed all modules on the Windows Update website.

Solution 1
Answered by Adam Sowalsky

It could be that your antivirus software is slowing you down. Does the issue still happen when your antivirus software is running? Try doing a selective startup (msconfig) and figure out at what point IE doesn't take forever to load.
---
Question

Submitted by Alain Jean-Mairet

Good morning I thought I'd install a second copy of Win2k on a 2nd hard drive in order to be able to start there if the first one fails. And so I did. But anyhow the computer (Dell Inspiron 8000) cannot start from the 2nd hard drive, although I made it "active" using PartitionMagic (6.0). It seems like the computer wants to boot on the first HD anyway and only then reads the system on the 2nd HD? Now, each time I boot the machine, I can choose between the two systems, but as the "new" (standard) one comes before the "old" (completely configured), I HAVE to manually select the "old" system if I want to actually use the machine. My questions: Can I boot the machine on the 2nd HD or not? Can I change the way the boot manager presents its choice (so as to have the "good" system boots unattended? How do I uninstall a version of Win2K now (possibly without reformatting)? Is there some utility that would allow to "copy" the whole configuration of a given OS and "paste" it on a fresh installed one? Thanks!

Solution 1
Answered by Adam Sowalsky

The boot manager that comes with NT/W2K is very primitive and cannot boot to more than one version of itself. I'd suggest using the software called BootMagic that comes with PartitionMagic. That would work for you.
---
Question

Submitted by Samantha

When I try to open a hyperlink that someone has sent me in Microsoft Outlook I receive an error message in a Microsoft Word window that I do not have the proper security. I can copy and paste the link into I Explorer and it will work fine. Any suggestions?

Solution 1
Answered by Candy Baker

You can right click on the link, then copy, go to the address bar in Internet Explorer and right click and paste, hit Enter and there you be.
---
Question

Submitted by Rob

Hi , I need some windows 2000 help please. I have tried 4 diff installs on stable hardware. The problem I keep getting is a corrupted or missing user profile for Administrator...this happens after I do all Windows updates and many reboots...it seems if I do any customizing under admin account...it corrupts the file. i.e. changing start menu properties, desktop settings, IE5 settings. Any help is greatly appreciated, I'd like to nail this down before I proceed so I know the system is stable. I mean I could just make a diff account and try to customize that but it seems something is wrong here and I'd really likr to find out what's going on. Sincerely

Solution 1
Answered by Candy Baker

We need more information. After you do an install are you able to see your Programs? Each time you install W2K it creates a new administrator. My suggestion is that you completely remove windows, then install W2K as if it on a new system. Back up cookies, Favorites, Address Book, mail folders first.
---
Question

Submitted by ?

Please help me? When I install windows 2000 pro on my computer, it puts my graphic card, lan card, sound card, usb controller etc all under the same IRQ 11. Is there a way to change this, because as soon as I run any app that uses sound and graphics the sound's all jerky. Thank you Anton My system: Celeron 700mhz Gigabyte BX2000+ motherboard, Creative riva tnt 16 meg graphic card, Genius live sound card, genius lan card, seagate hard drive, 128 meg ram.

Solution 1
Answered by Candy Baker

You are comparing the previous version of Windows with W2K. In W2K there are many devices that share the same IRQ. That is normal. If you have having problems with sound and graphics. Go to the manufacturers website and download the Windows 2000 drivers for your hardware.
---
Question

Submitted by Alp

Well i have the same probleme than someone else before and you answered him to check the advise of Window support on the net. Well i tried and the probleme persist! The message:"please check your content advisor settings for missing information. Click the tools menu and then, click internet options. On the content tab, check the content advisor settings" comes out all the time i open my internet Explorer. I do the steps to repare the probleme, but it doesn't work so i would like to know another way to resolve this proleme. Thanks

Solution 1
Answered by Candy Baker

In IE, under Tools, Internet Options, click the last Tab > Advanced. Click Restore Default, click apply, click ok.
---
NOTE: Please note that ActiveWin nor the AskAW staff can take any responsibility for anything that may/may not occur when taking our advice. If you do anything that is included in our advice, you are doing so at your own risk.
If you have any questions pertaining to a particular answer please contact the actual Staff Member who replied.
You can contact anyone of our staff here or email us at askaw@activewin.com