DirectX
ActiveMac
Downloads
Forums
Interviews
News
MS Games & Hardware
Reviews
Support Center
Windows 2000
Windows Me
Windows Server 2003
Windows Vista
Windows XP



News Centers
Windows/Microsoft
DVD
Apple/Mac
Xbox
News Search



ActiveXBox
Xbox News
Box Shots
Inside The Xbox
Released Titles
Announced Titles
Screenshots/Videos
History Of The Xbox
Links
Forum
FAQ



Windows XP
Introduction
System Requirements
Home Features
Pro Features
Upgrade Checklists
History
FAQ
Links
TopTechTips



FAQ's
Windows Vista
Windows 98/98 SE
Windows 2000
Windows Me
Windows Server 2002
Windows "Whistler" XP
Windows CE
Internet Explorer 6
Internet Explorer 5
Xbox
Xbox 360
DirectX
DVD's



TopTechTips
Registry Tips
Windows 95/98
Windows 2000
Internet Explorer 5
Program Tips
Easter Eggs
Hardware
DVD



ActiveDVD
DVD News
DVD Forum
Glossary
Tips
Articles
Reviews
News Archive
Links
Drivers



Latest Reviews
Xbox/Games
Fallout 3

Applications
Windows Server 2008 R2
Windows 7

Hardware
iPod Touch 32GB



Latest Interviews
Steve Ballmer
Jim Allchin



Site News/Info
About This Site
Affiliates
Contact Us
Default Home Page
Link To Us
Links

News Archive
Site Search
Awards



Credits
©1997-2012, Active Network, Inc. All Rights Reserved.
Please click here for full terms of use and restrictions or read our Light Tower Privacy Statement.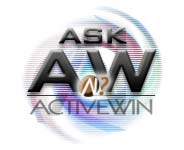 Welcome to AskAW! This section of our web site lets you submit questions about any problems/queries that you may have about Windows. Be it from a little icon that annoys you to hardware freezing your PC, we will try and help you out. You can submit your questions by e-mailing us at askaw@activewin.com. You can browse through previous questions over at our Archive Page. Who knows what you might find.
Here are the answered questions for 07-20-2001
Question 99

Submitted by Randy

Do you know if Microsoft is dropping Windows 2000 when Windows XP is released? Will you still be able to buy Windows 2000? We ask because they have already removed Office 2000 from the market after Office XP was released. Thanks

Solution 1
Answered by Michael Kircus

They usually do drop older versions, however they will still support it for a few years, and you will always be able to buy Windows 2000 from online stores, such as amazon.com. It's usually the brick and mortar stores that stop selling older versions.
---
Question 109

Submitted by John

i bought a tribes 2 game and needed to download directx to play i tryed downloading it it stoped half way and my avp moniter told me it contained a virus this viruis wont let me complete download the virius is called DARK PARINOID please if help?

Solution 1
Answered by Michael Kircus

If your game needs DirectX, it should be on the CD, so check there first. If not, or you need a newer version, check out DirectX 8.0a at http://microsoft.com/directx/ . The files there are completely legit, so you shouldn't have to worry about viruses.
---
Question 127

Submitted by Kevin

I have a 300Mhz machine that is running Windows 2000 Pro and I was wondering if it were possible to just upgrade the motherboard and processor. Have you ever tried such an upgrade. What happens? Thanks

Solution 1
Answered by Michael Kircus

It is very possible indeed, if you can find the right motherboard to fit in your system. First, you should uninstall everything under System Devices in the Device Manager. Then, shut down your system, install the motherboard, then reboot. It might auto-detect some of the new devices, however, you might get a CD with drivers on them along with the motherboard. Hopefully, everything should go great.
---
Question 116

Submitted by ?

When I run system file checker it advises me to restore the file mslid.dll. When I browse my win98se cd-rom I can't find it. I browed my system where the cabs are stored and still can't find. Than you for uour advise.

Solution 1
Answered by Michael Kircus

That file does not come with Windows, it comes with Office 2000 programs. Reinstall them to fix the file.
---
Question 111

Submitted by Ian

Hi, appreciate any assistance with this problem. When I run Access 2000 on a system with win98se or 'me' the system displays a task bar button for every form that is open - the access system opens additional forms from menu buttons - each form that is opened opens an application type button on the task bar - it does not do this when it operates on a system running windows 95. How can I stop this happening? Many thanks for your help

Solution 1
Answered by Bronson Elliott

This is a 'feature' in Access 2000 that can not be changed. Sorry. good luck
---
Question 119

Submitted by Manuel

Dear Sir,I am an apprentice on computers and will try my best to explain to you my problem in my way,which I hope you will understand and be able to assist me. I am running Windows ME and have downloaded 2x MSIE6.0,firstly I explain that I had been sent a virus called EAT....(something more) a happy face,which when it began I tried to put off my pc as soon as possible and had to reinstall Windows ME. After re-installing various programs I downloaded MSIE6.0 but there is one file/program which does not want to install and which forms part of MSIE6.0....Visual Basic Scripting Support.......tried various times to install it......redownload it and even re-installed the complete MSIE6.0 in the hope that it would correct the error but nothing. Also tried to log into Windows Update but a window opens and keeps telling me to install this file VBSS but it will not and cannot log into Windows Update. Can your please assist me in this matter? I thank you for your time and patience and hope to hear from you soon. Yours trully

Solution 1
Answered by Michael Kircus

First, since you got a virus, it might have done some serious damage to your system, sometimes only completely reformatting can solve it completely. Second, IE 6.0b is in beta, and can also harm your computer, and there is no guarantee that it will install at all. You might try repairing the installation in Add/Remove programs, but if that virus did it's job, that may not help.
---
Question 110

Submitted by Jeremy

Hello,I recently acquired a gig of RAM, so I'm not much in need of the services of Win2k's swap file. So I set the swap size to range from 8M - 8M, but sometimes win2k will complain about my system being low on virtual memory, and say that it's increasing the pagefile size. This is ridiculous of course, because I never use anywhere near 1 gig (well below 192M in fact), and there's no way I'm going to let windows eat up disk for nothing. Is there a registry setting to turn off the warning dialog? Thanks.

Solution 1
Answered by Michael Kircus

Never Never Never disable the swap file/virtual memory. Windows NEEDS to have that. MacOS needs it too, just not as much as Windows. Put it back on now. It really does need that for things it uses, so disabling it is a BAD thing. Virtual Memory is good. So reenable it. No matter HOW much RAM you have, you will ALWAYS need virtual memory. Your computer will run much better with it.
---
Question 114

Submitted by ?

After formatting the hard drive and preforming a clean install of Win2k should I install the motherboard and the UltraATA drivers first or should i start by installing Service Pack 2?

Solution 1
Answered by Andrew Funderburk

Personally, I would say to install the motherboard and UATA drivers first, then install SP2, just in case SP2 has some updated files that are containd in the mobo and UATA driver sets.
---
Question 96

Submitted by Ariel

Hi I would like to know if it is possible to change the "the page can not be diplayed error " in the ie5 to my own custom error page . thank you .
---
Question 125

Submitted by Matthew

I really like the built-in shortcut of using the windows key and e for exporer, f for find, <break> for system properties, etc. Is there any way to add my own shortcut combos with the windows key? Namely, I want to use Windows Key + C for command prompt. Thank you

Solution 1
Answered by Michael Kircus

Not without the help of another program. You can create shortcut keys though. On a shortcut to the command prompt, you can open the properties, and create a shortcut combination to run the program. If you want to try an external program though, go here: http://download.cnet.com/downloads/0-1461989-100-913626.html?tag=st.dl.10001-103-1.lst-7-5.913626
---
Question 122

Submitted by ?

I currently have win2k installed on a 30gb hard drive. The C: boot partition, 2Gb, is getting full and I want to increase the size. I also have 3 active logical partitions, E, F and G.
If i delete one of the logical partitions can I increase the boot partition?
Do I have to do a clean re-install?
What is the best way to do a clean reinstall of win2k?
What files are safe to delete in order to clean the C:

Solution 1
Answered by Mean Drake

I would suggest partition Magic to resize and manage your partitions without deleting any files.
---
Question 93

Submitted by Roman

Hi, Please help me, I have a problem with installation of win2000, some of my hardware is not supported by win2000 and I don't know where to find updates for my device drivers espessialy for modem, my modem is "PCTel" If you can please send me a link to where I can find updates for my device drivers

Solution 1
Answered by Mean Drake

Have you looked at the vendor's site?
http://www.windrivers.com
http://www.driverguide.com
---
Question 86

Submitted by Christopher

I am operating under Windows ME. I have a temp folder on the desktop which I cannot delete. When I attempt to delete the folder, open it, etc., the message I receive is the following: "Cannot delete file: Windows is unable to find the file. This item might have already been deleted or moved. Press F5 to refresh the view of this folder." Needless to say that F5 has no effect and I receive the same message when attempting to delete the file from the c:windows\desktop location as well. Also, attempting deletion in "Safe Mode" does not work either. I need a solution to delete this file. Thank you.

Solution 1
Answered by Michael Kircus

Did you try it in DOS? Go to Start>Run, then type "command" and click OK. From there, type RENAME <insert directory name> Happy . Then try deleting it. Or, boot from DOS and delete the directory by typing "rd <file name>.
---
Question 60

Submitted by Sammy

What are the basic requirements to run this OS? And an estimate of the price?

Solution 1
Answered by Michael Kircus

The official Microsoft requirements are as followes:

PC with 300-MHz or higher processor clock speed recommended; 233 MHz minimum required (single or dual processor system);*
Intel Pentium/Celeron family, or AMD K6/Athlon/Duron family, or compatible processor recommended

128 MB of RAM or higher recommended (64MB minimum supported; may limit performance and some features)

1.5 GB of available hard disk space*

Super VGA (800 X 600) or higher resolution video adapter and monitor;

CD-ROM or DVD drive

Keyboard

Microsoft Mouse or compatible pointing device

This configuration should be fine for your basic web surfing and Office applications, however, some recommend as high as a 500 mhz processor with 256 MB of RAM. As for pricing, Amazon.com's preliminary pricing was Home Edition at around $100 upgrade, $200 full, and Professional at $200 upgrade, $300 full, although they haven't been officially announced yet.
---
Question 61

Submitted by Dave

Hello, Just wondering what to do with norton anti-virus 2001on Win xp rc1. Win xp rc1 indicates the files from norton anti-virus are not compatible with this OS. Therefore I believe my pc is unprotected. Is there any work arounds? Look forward to some hints.

Solution 1
Answered by Michael Kircus

This is one of the problems of testing software, ESPECIALLY operating systems. I don't beleive there is a workaround, so you will be unprotected, although an XP compatible version is available. I would avoid the obvious things to obtain a virus, such as opening attachments, that way you should be fine. People can use computers for years without getting a virus, so you should be fine if you just folllow precautions.
---
Question 51

Submitted by Thomas

Good day, - Dual processing under NT4.0. Both processors need to be installed prior to the installation of WindowsNT4.0 for them to be recognized by the OS. And then one can be removed. - Under Windows2000Pro does same apply or can one processor be installed and the other later, after the installation of Windows2000?

Solution 1
Answered by Gary Busby

OnWin2k, it's much easier to add multi-proc support. Check this article out:http://support.microsoft.com/support/kb/articles/Q234/5/58.ASP Keep in mind, some OEM's have their own special programs for adding mulit-proc support that you may need to be aware of (ex. Compaq servers). In addition, the BIOS can play a role in how successful it is as well. Ensure your BIOS is up-to-date. Also, the Windows 2000 Resource Kit discusses quite a bit of detail about how to manipulate the HAL for mult-proc support.
---
Question 79

Submitted by Chris

I am using Windows 2000 along with IE5.5 and the Microsoft Office Suite. I don't like the menus in my applications to only show the most recently used Menu items. I find it very confusing because the display of a given set of menu choices then becomes a moving target. My question is how do I turn the "dynamic menu" capability off for all of my applications? Thanks

Solution 1
Answered by Gary Busby
For Office XP: In the app, Tools > Customize > Options tab > check "Always show full menus".
For Office 2000: In the app, Tools > Customize > Options tab > uncheck "Menus show recently used commands"
Also, for the OS itself:
Start > Settings > Taskbar & Start Menu > uncheck "Use Personalized Menus"
---
Question 62

Submitted by Mark

Dear aw, ok, so M$ ripped the DOS out of w2k. How can I flash my old Ami bios ? Tried a few M$ bootdisks (win me, '98), but naturally it looks for ntldr... Can I use "safe mode w/ command prompt" ? or does that load too many drivers ? Do I REALLY have to create a fat32 partition on one of my drives and dual boot DOS/w2k just to update the bios ? Or am I missing something basic here.... 4 what it's worth, the board's an m567 TxPro and PIO mode @33Mhz just isn't good enough... Thanx for ANY pointers :o)

Solution 1
Answered by Adam Sowalsky

There is a utility called NTFSPro. It loads a verson of the kernel onto a floppy disk so you can boot to a Win98 startup disk (command.com) and access your NTFS partitions.
---
Question 53

Submitted by Grant

"Hi I need some help plzzzz I'm trying to play a .avi file but my windows media player does not want to all it does is try to down load some codec.. and then complains that even though it has the codec it cannot open file and then just plays the sound and no picture I tried this avi file on both win 95 and win 2000 with no success I have windows media player 6.4 and i'm busy downloading 7.1 what else can I do...thanx " that was my earlier request but what do I do now ??..plzzz help

Solution 1
Answered by Adam Sowalsky

The AVI file is corrupted. There must have been an error in downloading or something.
---
Question 66

Submitted by Noah

Dear AW I am always getting this error message "Iexplores caused and error on KERNELL32. DLL" I close it and it just will not go away. From time to time it will appear even if I am not online. When I x the top right corner of the page, it will appear, I have to be quick to get rid of it, other wise it will stay there. I am running a Window Me

Solution 1
Answered by Adam Sowalsky

Hi. That is not enough information to solve the problem. Based on what you said, the answer would be to reformat your computer and reinstall IE...that should eliminate the issue. If you would like a more creative solution and the ability to preserve your data and/or settings, please provide more information and we can correct the problem rather than just wiping it off your computer.

Solution 2
Answered by Michael Kircus
---
Question 55

Submitted by Gordan

Recently we have build a new computer with a 1.2 ghz t-bird, with 512 megs of ram, and 40 gig hd, over all the hardware is good and should have more then enough power for it to run any OS installed. The user wanted Win2k Pro to be install on it, following standard practice we used the win 2k boot disks (4 stinking diskettes!) and install win2k with "No Problems". Now Win2k Pro is dragging when loading anything and has a tendency to lag or freeze in operation. What may be the problem, and is it possible to do without wiping windows? thanks in advance

Solution 1
Answered by Adam Sowalsky

I would recommend using the selective startup tool (msconfig) to one-by-one remove startup options until Windows boot properly. By the way, as my own standard practice, I always let Win2K boot from the CD when I install it (15 times so far...no issues yet!)
---
Question 56

Submitted by Tony

Hi, I am having a problem of installing Windows 2000.Tried clean install,partition with dual boot,and upgrade.Nothing works.The install of w2k stops about 3/4 of the way through detect and setup devices,then switches to a black screen with a page full of backward comma's.Also the cursor is blinking in the top left corner.Have downloaded all updated drivers for hardware.Still frustrated.Any help would greatly be appreciated....My system consists of---
Intel celeron P111 566
Asus cuv4x via 694x/z fcpga udma66 4xagp 5pci 1isa
Pc 100 190mb ram
Fujitsu udma66 13.6 hard drive
Samsung 750s monitor
Ati xpert 2000 agp x2 32mb
Diamond pci supermax 56k modem
Pci-128 soundblaster 3d wave
Thanks

Solution 1
Answered by Adam Sowalsky

It sounds like either: your Win2K CD has an error on it, or your CD controller is failing. I would contact MS and tell them that your CD has an error in it preventing you from installing 2K completely. They should send you a replacement. If you STILL cannot install 2K, take your computer back to the manufacturer or call them for repairs.
---
Question 89

Submitted by ?

Hello everyone, I have a rather significant problem. I have an IBM thinkpad with M/S 2000 professional installed. I have had it for about a year now and have run my laptop on several different LANs. My problem is that last week a customer of mine tried to set me up on his LAN, when I tried to log in after the reboot I kept getting the error message that I have an incorrect password or user ID. I did not change my user ID or password. The administrator has no clue as to why I cannot log in or how to bypass the reboot login. I am locked out of my system, and I must gain access ASAP. Any help would be greatly appreciated.

Solution 1
Answered by Adam Sowalsky

If you are locked out, run Win2K setup and choose to repair installation. You will be prompted for your original Admin password. You should then be able to gain access to your system.
---
Question 81

Submitted by Niki

On my computer, even when the volume is on full, windows media player produces no sound. I play a wav and toy can see the little rectangle move, so its working, there is nothing wrong with anything else because the sounds on the games work. Cds dont. I have checked the volume on the program itsself, and it says full. so I dont know whats going on with it.

Solution 1
Answered by Adam Sowalsky

Try making sure that the Windows Audio Mixer isn't muted. You can check this by double-clicking the horn icon in the bottom right corner of your screen, in the taskbar.
---
Question 78

Submitted by Dave

Hi, Thought I'd try a quick question with you folks. You have been very helpful in the past. I opened windows help from the start menu and in the left frame where the Contents, Index and Search tabs are, appears (suddenly!) a strange font style that I can barely read. Looks like "Scribble". I have no idea how it was changed. No one else uses this system, so I'm clueless. Also, when I open my Eudora E mail the version window comes up first and all the info there is also in this strange font style. (Eudora has no idea either). I've checked in Display Properties/Appearance. I have no other incidences of this style set up anywhere. This is a real puzzler. Windows help says I can change the font style in the right frame of a window only, so that's not the solution. What do you think? Is this possibly a registry issue? Thank you

Solution 1
Answered by Adam Sowalsky

Windows requires certain fonts to be present. If they are not, it chooses similar substitutes. Quite often, these substitutes are not nearly similar. Check to make sure the following fonts are in your system. If not, restore them from your Windows CD:
MS Sans Serif
Symbol
Times New Roman
Arial
Courier (New)
Verdana
Tahoma
Wingdings
---
Question 87

Submitted by Maria

hello, At work, we are running office 97 and several months back installed Win2000 . still running office 97. when we go to windows explorer and attempt to double click on a ppt; powerpoint launches, but then there is a message that the path cannot be found. or the file does not exist.etc.etc. can't find the path- cannot file the file. This happens if the file in on the LAN or on the hard-drive.However,opening the file thru PowerPoint File/open/ navigate to the file location: find file, darn thing opens right up. this only happened upon installation of Win2000. One of us still have a problem with opening a word or excel document using windows explorer. Same error message. Side note: something times when we open a word or excel document it opens,but only as 'read-only'. The original author never meant it to be read only. PS: my network administrator does not consider this a very big problem, since we are able to open files upon launching the program and the doing the File/Open sequence. but i is important to us. thank you for the help

Solution 1
Answered by Adam Sowalsky

This means that at some point, the location of PowerPoint was changed but not for the file extension. Tell your network administrator to check the FILE EXTENSION for ppt files and to make sure it is opening PowerPoint. (this is done through Windows Explorer | Tools| Folder Options | File Types |
---
Question 64

Submitted by Mark

Hi, I am running Win 2k Pro on an AMD 450 with 256 meg ram. I tried to install a Soundblaster Live card the other day and the desktop froze up. I rebooted and now when the desktop comes up, everthing freezes up and task manager shows the processer running at 100 % (Explorer). I cant even get into anything to try and uninstall the darn Soundblaster card. Any ideas how I can uninstall the sound card?? I really like Win2k and also have 98se installed, but prefer 2k. Thanks!

Solution 1
Answered by Adam Sowalsky

Boot into safe mode and you should be able to uninstall the card (remove from Device Manager) from there. Then turn off the computer and physically remove the card. It should then be able to boot up normally.
---
Question 84

Submitted by Werner

Hi Activewin, I hope you can solve my problem. I am running Win98 and IE6.0. Whenever I attempt to get onto www.microsoft.com, I get the error "this page cannot be displayed." I have restalled Windows98 and IE, and still am unable to log on. Thanks for your help.

Solution 1
Answered by Bronson Elliott

It might be a problem with your ISP. Try giving them a call. good luck
---
Question 82

Submitted by Matthew

I run Win2000Pro I have downloaded my new BIOS update (Abit) and the latest AWDFLASH exe How do I update the EPROM? Thank you.

Solution 1
Answered by Charles Putnam

Do a search for sites that have the files to create a DOS boot disk. If you have any problems, let me know and I can e-mail them to you.
---
Question 80

Submitted by Sharon

I have a one year old HP 8655C, with Windows 98. Within one week of purchase, the system started to freeze on a very regular basis. I have completely reformatted the hard drive on three separate occasions, but that hasn't solved it. Even when it was restored to strictly the original software, without adding any of my own software or documents, it would still freeze. I have to turn the computer off physically. Running IE 5.5 seems to be the trigger, although it sometimes happens when I'm offline (a cable modem) and IE is closed. This happens every day, and once it starts to freeze, it does it more and more frequently (within minutes). HELP!

Solution 1
Answered by Adam Sowalsky

If your computer is still under warranty, call HP. It sounds like your video card is failing.
---
Question 77

Submitted by Rudi

Hi , i Really hope you can help me i have had some big problems with windows 2000 professional firstly : the program will just restart whenever Ex: when opening another program or when i have been busy for some time. it will for no reason stop and restart i also have constant error logs that are being created when using internet explorer Ex: IExplorer has created errors and will be closed by windows. and internal memory errors when attemting to save stuff from the internet
My setup:
Mecer P3 600eb MHZ
64 MB SDRAM
16 GIG Fujitsu HDD
32MB Graphics Card
(my PC has one of those "designed for win 2000 prof" stickers on it)
I had it dual booting with windows 98 SE and win98 had none of the above mentioned problems except once it has restarted without reason ! i would also like to now if there is anything that i could do to reduce win98 from giving the error "Explorer has created errors and will be closed by windows" i have had it suggested that upgrading my RAM will solve some of my problems i noticed that win 2000 only restarts as soon as the program/computer starts to "pull heavy"(also win98) running Performance monitor after 2000 loaded (without me running any other program) windows 2000 uses about 40MB RAM - 50 MB RAM just to run the Program. could all this be a RAM problem? PLEASE HELP! Thank you very much

Solution 1
Answered by Adam Sowalsky

My first thought is your graphics card - which one do you have? If it's an ATi, check for the latest drivers. Some of the older drivers would exhibit this behavior. Also, what other programs do you have running in the background? There may be one that is conflicting w/ your setup.

Solution 2
Answered by Mean Drake

The system in Win2K reboots after a transient blue screen. However you can change the this default setting to one where the blue screen would remain till you pressed the reset button on the computer. This might be of some help in locating the origin of these error messages.
---
Question 88

Submitted by JohnO

Is it possible to run win2k in a fat32 partition, then install win98 in the same partition and use the nt boot loader to select which OS to boot? Any special tricks or gotchas? I find that win2k is best for work stuff, but some games run better (or only) in win98. Thanks

Solution 1
Answered by Adam Sowalsky

It should work, as long as both OS's are installed in DIFFERENT DIRECTORIES.

Solution 2
Answered by Mean Drake

You have to install Win98 first and then Win2K. Also preferably they should be on different partitions as per recommendations of MS. However installing them on the same partition does work too though some of the Files in the Pogram files folder on the partition will be overwritten by the Win2K files.
---
Question 85

Submitted by Scott

I'm running windows ME I trying to run scandisk and defrag but the computer has something running that I can't find it scandisk says that it has tried 10 time but something is running? I have CTL ATL Del and shut down every thing I have gone into msconfig ad disable all start up items where else do I look? Help Thank you

Solution 1
Answered by Mean Drake

Have you tried doing scandisk in safe mode? Do you have McAfee installed? If I remember correctly there was a winme bug with McAfee but I am not too sure of it
---
Question 76

Submitted by Joseph

I have just started being unable to download files from the internet. I can't download files of any size. I am running windows 98 and have Norton systemworks 2001.

Solution 1
Answered by Mean Drake

We could do with a little more knowlede here. What exactly happens or does not happen. have you tried using a download manager. System configuration? Browser version?
---
Question 69

Submitted by Pica

hi , while deleting unwanted files, I accidentally deleted the "REALTIME" file in my WIndows98 computer. Now everytime I turn on my computer it says that I need a certain folder named: "C:realtime\system\viaspoxd.vxd" so now i want to reinstall this folder because now my computer takes a long time to turn on and always displays this message,so how can i download that file if i don't have a Windows 98 cd??? is there a website I can go to ?? please help me out thanks!!

Solution 1
Answered by Mean Drake

If you are referring to what I think you might look here
---
Question 57

Submitted by Doiug

I am trying to use the built-in backup utility in Windows 2000 and would like to backup to a CDRW. But the program doesn't recognize the CDRW as a valid drive (though all the other aps on the computer do recognize it). Is this just the way the program is or is there a way to backup to the CDRW?

Solution 1
Answered by Mean Drake

Win2K will not let you write directly to a CD-R. You need to back it up elsewhere and then maybe store a copy on the CD-R
---
Question 54

Submitted by Anita

Hi,I'm running windows 95 and I am a real novice so on my first day I managed to draw a paint document(loads of colours)then I didn't close the window properly. When asked if I wanted to save it I clicked 'cancel' instead of 'no'. Then I proceeded to shut down incorectly (with the paint window still open), ie. switching off at the computer switch button instead of the 'start', 'shut down', 'ok' proceedure. Now when I start up the computer it goes into scandisk then reaches the problem (saying problem found 8,845 bytes lost files etc.....enter save or delete or more info). Now here is the real problem, that's where it freezes. It will not respond so I cannot enter 'delete files' and have to shut down by holding the computer button in for a few seconds as 'ctrl alt delete' wont work and it's my only way out. Have I snarled it for good!. It's a compaq deskpro 5100 and the monitor is a sony trinitron multi scan 200sf. I have learnt by this and will never do anything so stupid again, but is it too late to save me?. Would really appreciate any help thank you.

Solution 1
Answered by Mean Drake

Just reinstall Windows on top of this installation and you should be fine. Or Boot to DOS and do a thorough scandisk from DOS.
---
Question 63

Submitted by Jack

I am dual booting Win98SE and Win2K. I have a printer, Canon BJC-4550, attached to the LPT1 port. Everything works fine in Win98SE. In Win2K I get a Printer Folder error that says Printer is not connected!! What have I done wrong or not done that I keep getting this Error Message? Thank You for your help

Solution 1
Answered by Eric Flemming

You might want to try and remove the drivers for the printer, delete the printer from your connected devices and reboot. Win2K should reinstall the printer with it's extensive driver base. If not, it will install the closes driver and then you can install the updated drivers from the manufacturer.
---
Question 100

Submitted by JohnO

Hi, On previous NT4 Workstation machines i have used,when you put an audio cd in the cd player, CDPLAYER.exe starts up automatically and begings to play the CD. On my current machine (NT4 WS & SP6a) it will not do it at all. I have associated .cda files with cdplayer.exe but it still doesn't work.... how can I get this to work?

Solution 1
Answered by Mean Drake

Get tweakUI. THeres an option that lets you configure to run both Audio and data CDs to run automatically
---
Question 120

Submitted by Mike

i just installed windows xp, and all is well except for one minor hitch. two program that were installed prior to my windows xp upgrade, black ice defender and mcafee virus scan, now do not function. i attempted to reinstall, but the install programs tell me to either remove or update, and both of those options leave me with errors that i cannot bypass in order to uninstall the programs. i then deleted the program folders thinking add/remove programs would update itself like windows me did, but it did not. is there a way to perhaps edit my registry in order to be able to install over top of whatever is left from my previous installation? thanks in advance.

Solution 1
Answered by Mean Drake

Older programs should run in compatibility mode but both are unfortunately programs that need to run while the PC is on so I guess you need the upgrades that support WinXP
---
NOTE: Please note that ActiveWin nor the AskAW staff can take any responsibility for anything that may/may not occur when taking our advice. If you do anything that is included in our advice, you are doing so at your own risk.
If you have any questions pertaining to a particular answer please contact the actual Staff Member who replied.
You can contact anyone of our staff here or email us at askaw@activewin.com