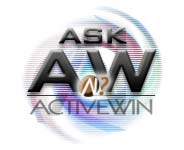 Welcome to a relatively new feature here at ActiveWin. This lets you, the visitors submit questions about any problems/queries that you may have about Windows. Be it from a little icon that annoys you to hardware freezing your PC, we will try and help you out. You can submit your questions by e-mailing us at askaw@activewin.com.
Here are the questions posted on: 07-23-2000
---
Question: I've a question regarding connecting a Windows 2000 machine to an SMB server. I have a Mandrake box on my networking running Samba and am trying to establish a connection to this server from Windows 2000. I recently installed 2000 and am a bit unfamiliar with its services, policies, etc. I also run Windows NT on the same computer and it is working just fine. When I try to connect to my SMB server (morpheus) via: \\morpheus I get the following message: The account is not authorized to log in from this station.
Solution 1: You have created a user account on the Windows 2000 Server have you not?
Sorry, I was a bit brief. On the Windows 2000 box you should create a user account with the exact same user name and password that you use on your UNIX/Linux box. Windows 2000 should also have UNIX support installed on it to provide various services to the UNIX box and allow communication between the two. The Windows 2000 site at www.microsoft.com should have more information on this. - Simon Porter
Submitted By: Unknown
---
Question: Hello, I am not computer literate, so keep it simple!! My big question is: I have a digital camera, uses a floppy disk. How or what do I need to do in order to see the pictures on my disk and then resize and save to jpg format, so I can use them on auction sites or send with e-mail?? I tried the lview Pro program for my pictures but it is complicated. My PC is updated windows 95 with outlook express mail box. Thanks for any information you can give me.
Solution 1: If you're looking for something simple that will do the job, 'Paint', provided my Microsoft as part of Win95/98/NT4/2000 will do okay. It's not very powerful or fancy, but it's a simple way to view, resize and resave your images. If you don't mind the learning, programs such as Photoshop and Illustrator provide more and more powerful tools. Paintshop Pro also works good to. If all you want to do though is resize your images and save them as jpegs, something like 'Paint' will be fine. - Lazarus
Solution 2: Since you say "floppy disk", I'm assuming it is a Sony Mavica camera, although it really doesn't matter. If you know how to access the pictures on the floppy disk, the skip this next section. How to access the pictures on the floppy disk: Insert the disk into your computer. Double-click on "My Computer" on the Desktop, and then double-click 3-1/2 Floppy A:. If there are pictures on the disk, they should show up as icons or in a list. The files might have weird names. Once you are viewing the names of your files, you should copy them to your hard disk. You can do this by selecting all of the files by either hitting CTRL-A (to select all), or lasso-ing them with your mouse cursor. Once all the pictures you want to copy are highlighted, right click ONE of the file's icons. (just one, and you RIGHT-CLICK on the icon, not the file name) A small menu will pop up. Click "copy". Then close the window by clicking the X in the top right corner. Double-click on "My Computer" again. This time, double-click C:. Find a directory, such as "My Pictures", or "My Documents" to paste the files. To do this, double-click the folder, then go to the "Edit" menu, and click "paste". It may take a minute or two to copy the pictures from your floppy disk to hard disk. After the transfer is complete, you can safely remove the disk from your computer. Once you have the pictures on your computer, they can be sent immediately, or, if you have a high-quality camera that makes very detailed pictures, you will need to size the pictures down. High-quality pictures are generally quite large in file-size and can be too big to transfer over e-mail and for use on auction (or any web) sites. If you need to resize them, I suggest a program like Paint Shop Pro. It can be obtained for trial purposes free, and it has many simple features in addition to complex features that make it easy for a "computer illiterate" person to be a graphic designer. Anyway, in whatever graphic program you choose, you want to "resize" your picture (look it up in the online help through the Help Menu) to no larger than 300 or 400 pixels wide (allow it to keep proportionality, so there is no distortion). Save such a file to a different file name. Once you are in Outlook Express, create a new mail message and then click on the paper-clip button. This will allow you to attach whatever files you want to your e-mail. Navigate to the place on your computer where you saved your pictures, double-click them, and then click OK. Your pictures are now attached and ready for e-mailing. Hope this helped! -Adam Sowalsky
Solution 3: Please note that the version of Microsoft Paint included with Windows 95 does not support .jpeg files. .jpeg files have been supported by the version of Paint included with Windows 98 and upwards. The same also applies for .gif files. - Simon Porter
Submitted By: Margaret
---
Question: To Whom It May Confuse, I live in Japan and wish to take the MCSE course through self-study. I can get a Japanese computer with no problem, but I wondering if the Japanese operating system will be a hindrance with any English software I wish to use. When I have tried to hook up any Japanese hardware (like a printer) and configure it to my English OS laptop I kept getting squiggles which made no sense at all. Before I shell out $3-4,000 for a Japanese computer I want assurance the OS won't mess up the software. Any thoughts?
Solution 1: If you are using Windows 98 then English software should work on a computer using a Japanese operating system and vice versa. The only problem you could find is that support for certain languages are not installed. This cause the fonts or characters in programs to display wrongly. Check the Windows Setup part of Add/Remove programs to see what languages are supported. If on the other hand you are using Windows 2000 there should be no problem at all. Windows 2000 has support for the most widely used languages installed as default. - Simon Porter
Solution 2: Hi, I believe it wouldn't be necessary to buy a Japanese computer. In order to take advantage of the multiple language environment you have in Japan. If you are buying a new computer after all, make sure you run it on Windows 2000, which has a true multilanguage support for most languages, which includes Japanese. If you are running Windows 9x, I'm sure you can get a multilanguage hook up software which enables your system to read and write in Asian languages, some software even allows you to install non-english programs (Japanese in your case) A very good example of the software is NJStar Communicator, (check out <http://www.njstar.com>). I'm sure that you can find more in Japan, I hope that this tiny info will give you enough solution for your MCSE, Good luck. - Bill Wiriawan
Submitted By: Unknown
---
Question: Ever since I randomly pressed the f-keys while booting up in order to find the STEP BY STEP option the icons on the desktop are always in the wrong places or covering one another when the desktop appears. I have tried right clicking on the desktop and using AUTO ARRANGE. That sorts them out but at the next boot up they are messed up again, Have I altered a setting or has a file been corrupted? I do hope that someone can help me.
Solution 1: This is one of those annoying problems to which I know no solution. If there is a small chance you are using Windows 2000 you can arrange the icons to how you like then lock them by right clicking the desktop > Active Desktop > Lock Desktop Icons. - Simon Porter
Submitted By: Unknown
---
Question: Could anyone tell me how to configure my Windows 2000 in order to print from a DOS -based program to a Network printer (HP 4000TN)?
Solution 1: Don't be silly, Windows 2000 doesn't include DOS. Windows 2000 only has an emulated version of DOS. Printing though it seems doubtful. - Simon Porter
Submitted By: Unknown
---
Question: When will Dell Computers have a computer that will be able to use Win ME fast boot?
Solution 1: Gidday! Yep, first fast-boot PC will be the Dell "Dimension PC". There has been no solid date set in stone yet, but since WindowsME is being released on Thursday the 14th of September, you can bet that Dell will have their machines on sale at that date. That's my 2 yen! - Ekapshi
Solution 2: True September 14th is the big day for consumers to purchase the new OS, but I believe, correct me gentleman if I'm mistaken, but the OEM's will have their New Pc's with Millennium sooner than that date I'm sure even by now, they are "testing" their hardware configurations. I know at Dell here in Austin, once the hardware setup for each style pc is worked out. a Master image of their 'setup" is burned and sent to Manufacturing - Craig Catapano
Submitted By: Mark Few
---
Question: I installed W2k Pro onto an old system running NT Server 4.0 with SP6. It said it could not upgrade NT Server 4.0 to W2K Pro. But would install as a clean installation to a separate directory. I accepted and completed the installation. Now on reboot NT4.0 Server is on the boot menu as an option and will dual boot into it as well. Both OS's work fine, but I want to remove the NT 4 Server portion and files associated as well. I tried starting out in W2k Pro by removing the USERS that NT Server used , but get an access denied. I tried taking control of it under permissions, but still no luck. I have a lot of articles on the web about removing other OS's from a dual boot setup, but nothing covering this scenario. Any ideas or help would be most appreciated.
Solution 1: Hi, If you can set to run Windows 2000 as the default OS, there's no reason for you not to be able to remove Windows NT from your computer. How's your partition configuration? If you install NT4 in C:\ and windows 2000 in D:\ and you want to remove NT, I'm afraid that you have to configure things out from the beginning (clean install) but if you have it all in C:\_different_folder just delete the NT system folder (C:\Winnt) to save disk space. For more info on adding and removing Boot sector of dual booting, check out this nice proggie: <http://www.winimage.com/bootpart.htm> - Bill Wiriawan
Submitted By: Unknown
---
Question: I had just accidentally installed windows 2000, and I was wondering if their was any way of uninstalling it, like formatting the hard drive, how would I go about doing so.
Solution 1: Gidday! You accidentally installed Windows2000? *grins* Well, unfortunately, you cannot uninstall Windows2000. You *must* format your hard disk to get rid of it. Be sure you have copies of all essential drivers before you format your HD. Especially CD/DVD ROM drivers. Make sure you have a boot disk with system files on it too. Good luck... - Ekapshi
Solution 2: Hi, Removing an existing Windows 2000 installation can be done by formatting the hard drive (Off course),....

If you have an NTFS partition: Boot your system with the Windows2000 CD-ROM choose clean install from the setup menu, and at the Create partition section, delete any existing NTFS partition, and if you want, you can let the setup program continue to format it for you (If your partition is smaller then 2GB it'll format in FAT16 by default), after the format complete, reboot your computer, and proceed with the Win9x startup disk to reformat and prepare installations.

If you have a FAT or FAT32 Partition: Just proceed with the windows startup disk or the Windows98 cdrom, and install like usual. Examples: format c: /u /c /s (Try format /? for switches description) setup /? (/? for more info) etc... etc.... Hope this will help. - Bill Wiriawan
Submitted By: Unknown
---
Question: My computer boots to the cntrl-alt-del screen, and suddenly wont recognize the keyboard or the mouse (cntrl+alt+del doesn't work, there is no mouse pointer, but the computer will eventually go to the win 2000 pro screensaver, so it isn't a true lockup). The tech who built it cant figure it out, and I don't want to lose my programs/data. Anyone have any HELPFUL suggestions (as in, forget "buy a Mac"...sorry guys, but I KNOW who MY daddy is :) )
Solution 1: By any chance, are these a USB mouse and USB keyboard? I recall that Windows 98 supported both of these, but USB support was not engaged until after login, so Microsoft's response was to use a PS/2 or Serial peripheral until login had finished. If this is an old-style keyboard and serial mouse, then there could be a conflict in the bios causing the computer not to recognize them. Try using them in the bios and see if they work. Same if they are PS/2, but if they are PS/2, the software for them is loaded at startup, so it is either corrupt software or the connectors in the computer need to be tightened/fixed/repaired. - Adam Sowalsky
Solution 2: Hi, Did you make sure that your keyboard and mouse are working properly? Before you proceed, try using another mouse and keyboard to make sure that it's ok. Did the system log you on? or it is stuck in the logon screen? Since you can startup Win2k this far, I believe that you're mouse and keyboard are connected, go to the cmos setup, and load the default configuration, if there's a previous successful startup session, press F8 when you start win2k (you know when right?) and choose last known good configuration. Is your account (Administrator or your Administrator/your_name) working and enabled? If anything helped try reinstalling win2k, and choose install and then repair from the setup option, hopefully it'll clear everything up - Bill Wiriawan
Submitted By: Unknown
---
Question: Can any one tell me how i can make my back up on windows 98 work it will not span diskettes that is diskettes not CD's is there a way to fix the problem
Solution 1:Hi, Windows 98 includes a backup software, if you dont have it, you can optionally install it from the Add.remove programs/windows setup applet. For more info on more backups in windows 98, read the early AskAW articles, where I posted a reply to a similar question earlier. You can read the article here: <http://www.activewin.com/askaw/archive/071500.asp> - Bill Wiriawan
Submitted By: Unknown
---
Question: 1) How can I get rid of the PRINTERS icon in Start Menu - Settings, but still be able to access printers through My Computer - Control Panel.
2) How can I create a regular desktop shortcut to Taskbar & Start Menu options that is in Start Menu - Settings. I am using Windows 2000.
Solution 1:I do not believe that there is any way to change the contents of the Settings menu..I did not find any entries in the registry to support a viable hack. Of course I could be wrong..... - Adam Sowalsky
Solution 2: If you disable the printers item in the settings menu, this will also disable the Printer shell space extension in your computer (Explorer), there's no reason for you to remove it, if you want to edit your system policy for different users, try the user profile/ policy editor tools. I believe that the easiest and the most convenient place for the taskbar & startmenu setting shortcut is the default place. You can also add a toolbar button in your Windows explorer by customizing it. (Just right click on the toolbar incase you dont know how to) - Bill Wiriawan
Submitted By: Unknown
---
Question: My CD-Rom Drive E displays that it is fully used up.. I haven't loaded that many CD's into my system. I have 533MHz AMD ,512KB L2 Pipeline Burst Cache,64MB 100MHz Sync DRAM Total System Memory ,30.0GB UltraDMA Hard Drive ,8X DVD-ROM withMPEG2** CD-RW Drive, Integrated 2X AGP 3D Graphics, 56K ITU V.90 Modem , Compact Internet Keyboard and Internet Scroll Mouse,4USB Connectors, Logitech QuickCam Express Internet Video Camera, 4 Expansion Slots and 5 Drive Bays ,Microsoft Windows 98, Microsoft Works and More. The CD-Rom Drive won't let me open it . It says it isn't ready to try later.Tell me what I need to do to fix this. If I uninstall CD's will this help. Thanking you for your help?
Solution 1:What program are you using to create cd's? If you're using Adaptec software (Easy CD Creater and DirectCD), go by the Adaptec web site at <http://www.adaptec.com/support/advisor/cdrupdates/index.html> and download the appropriate updates for you system/software. If it's not Adaptec, go by the website or contact the manufacturer of your CD creation program to see if there are any available updates that address any bugs that may be causing this. I hope this helps. - Lazarus
Submitted By: Juanita
---
Question: Is it possible to override the processor check when setting up Windows ME? I have a P133 with 128 MB of RAM that I want to try it on, but WME is telling me it won't install because it is not a P150. I looked at the switches for the setup.exe, and none made mention of a bypassing feature.
Solution 1: Yep it's possible. You can avoid the CPU check by adding this command line switch: setup.exe /NM. But it's not a recommended solution as your computer should be at least a Pentium 150 to be 'usable' with no down times. - Julien JAY
Solution 2: For more info on the Windows 95/98 setup switches, go to: <http://support.microsoft.com/support/kb/articles/Q186/1/11.ASP?LN=EN-US&SD=gn&FR=0> - Bill Wiriawan
Submitted By: Unknown
---
Question:Hello to all of you at ActiveWin. I'm Michael from Malaysia and I'm very curious to know more about Windows Scripting Hosts. Please give me more information about it as soon as possible. Thanks for your reply and you advice is deeply appreciated. Thank You !!
Solution 1: Hi Michael, Actually you can find the info about it in the local windows help file. For more info on Windows Scripting host and/or the scripting technologies, you might want to check out these resources:
<http://www.microsoft.com/msdownload/vbscript/scripting.asp>
<http://msdn.microsoft.com/scripting/default.htm>
<http://wsh.glazier.co.nz/wshintro.htm>
<http://www.microsoft.com/management/WSH.htm>
Hope this will help. - Bill Wiriawan
Submitted By:Michael
---
Question: When installing Win2K on my home PC it gets to the point where it is inspecting hardware. It gets about 2/3 of the way through then I hear a beep from the internal PC speaker and everything locks up. What gives and how can I find out how to get past it ? I installed this on a PC to make it a dual-boot with Win98. Either how do I fix it or how do I get rid of it completely so I can get back into 98 and all of my files.
Solution 1: I have had the same problem with my system. I don't know if this has anything to do with what your having, but on my system, the cpu overheated. - Alex Samanta
Solution 2: Before you begin, you should check whether your hardware's are Win2K compatible by checking it from the Hardware compatibility list, and see if it meet the requirements to run Win2K. If you are sure that your system is Win2k friendly, and the lock up still happens, try resetting your CMOS setup to the default, and remove additional peripherals like web cam, scanners, printers, etc, and see if it runs properly. If the setup goes smooth, try pluggin your peripherals one by one, and see which one is not win2k friendly, you should know what to do after you find this out. If you are dual booting in a Win9x environment, make sure you have enough disk space, and install Win2k IN A DIFFERENT PARTITION. To be able to boot your previous windows installation, just run the windows9x setup and install to the same previous folder, delete all the remaining of your win2k installations, and try it again in a clean partition. Read all the readme files included in the win2k cd, it has lots of info on any installation issues. Good Luck - Bill Wiriawan
Submitted By: Unknown
---
Question: I've got a problem in surfing internet after printing. I use IE 5.0 and Celeron 533 system with 64M memory. Mine is integrated one so main memory shares up to 11M with video memory. After I printed web contents I got stuck and I can't proceed any more except backwarding. I checked memory in system information and I got messages of only 44 to 48% of memory available.
Solution 1: Are you running IE5 on Windows 98?
When you browse with more than one window opened, your system is being pushed to the limit in order to display those web pages.
The lock up you are having is a natural behavior of Windows 9x caused by the limited memory disk scratch size, especially when you browse and print, and the graphic card of yours doesn't have enough resources to reserve those. You can try some freeware which allows you to manually manage swap files and memory resources for your system, one good example is Cacheman (<http://www.softseek.com/Utilities/Benchmarking_and_Tune_Up/Review_16556_index.html>)
You can also search for similar programs by browsing through the pages there, and see if something might help you out.
Another option which I recommend is to reserve more memory for the system to run, you can either run less program in the program, increase the swap file size (Run the windows Help for more info), and/or add more memory modules for your PC. you can also try not to print while you still browsing, just let them open until you finish browsing and print them after you closed the unused windows.
Hope this will help you out. - Bill Wiriawan
Solution 2: I would recommend buying some more memory. If you only have 64 megs and 53 are saved for Windows, just using ie can grab a lot of it. A purchase of 64 more MB of ram wouldn't hurt your computer or your wallet. - Adam Sowalsky
Submitted By: Unknown
---
Question: Has anyone at AW heard anything about Win2K drivers for the Palm USB Connect Kit ? I was told by Palm that they would be out after the Official release of Win2K, but ever since then I can't even get a straight answer from them. palm support directs me To Palm Development who says they don't handle that and I should contact Palm support ?? With Win ME due out I think they might want to get their act together since Win2K has been "officially" released some time ago.
Solution 1: The following is copied from the Palm website:
<http://www.palm.com/support/helpnotes/win2k.html> (at the bottom)
Are there any other issues with Windows 2000?
The "PalmConnect USB Kit" does not function on Windows 2000. Palm is working to resolve this issue. Sorry I couldn't be of any more help. - Adam Sowalsky
Submitted By: Carl
---
Question: How do I create a menu in a Bootable Cd, to launch applications and restore the system if necessary?
Solution 1: Hi, In order to run a bootable cd rom in a non Windows environment, you will need to create a batch application to generate a bootup menu for your startup environment. Original windows CD-Rom is bootable, which has the advanced boot up menu option, usually you don't need to create your own bootable cd with your own files with it, with some smart management, you can use the Windows CD-ROM to boot your system, and manage your computer by using multiple disks of your own (it could be backup, virus scan etc), even if someone can create the smartest bootdisk, there is nothing that can be a perfect one in any of those accidental moments of your PC, try to manage your backup for your system, which at least you can restore your system once.
For more info on "Bootable CD" and any other CD Burning resources, you might want to check out these resources:
<http://newlife-win98.server101.com/cd_burning_info.htm>
<http://newlife-win98.server101.com/bootit_direct_info.htm>
<http://www.softseek.com/>
Good Luck - Bill Wiriawan
Solution 2: If you mean an old DOS-style menu system where the menus are controlled by the config.sys file and the executable programs by the autoexec.bat file, the easiest way is to consult your old DOS 6.22 manual (or older) and look up menus (or maybe boot menus). I was unable to find an entry in the MS knowledge base with that information. - Adam Sowalsky
Submitted By: Unknown
---
Question: Hi AW - I'm at a loss as to what is causing my DUN to disconnect when attempting to download with MSIE 5.5 Beta. I've searched MS's KB and mulled through the ie55beta newsgroups. I have seen that a few others are having this exact problem, though they didn't receive any responses. Any input you could pass along would be greatly appreciated - This has become a quest to figure this out.
Solution 1: Gidday! Yep, I know this doesn't answer your question, but if I was you, I wouldn't get _too_ hung up on getting a copy of IE5.5beta. IE5.5 went gold a while ago, and it shouldn't be too long till it is officially released by Microsoft. - Ekapshi
Submitted By: Stephen
---
NOTE: Please note that ActiveWin nor the AskAW staff can take any responsibility for anything that may/may not occur when taking our advice. If you do anything that is included in our advice, you are doing so at your own risk.
If you have any questions pertaining to a particular answer please contact the person who replied.
You can contact anyone of our staff here or email us at askaw@activewin.com