DirectX
ActiveMac
Downloads
Forums
Interviews
News
MS Games & Hardware
Reviews
Support Center
Windows 2000
Windows Me
Windows Server 2003
Windows Vista
Windows XP



News Centers
Windows/Microsoft
DVD
Apple/Mac
Xbox
News Search



ActiveXBox
Xbox News
Box Shots
Inside The Xbox
Released Titles
Announced Titles
Screenshots/Videos
History Of The Xbox
Links
Forum
FAQ



Windows XP
Introduction
System Requirements
Home Features
Pro Features
Upgrade Checklists
History
FAQ
Links
TopTechTips



FAQ's
Windows Vista
Windows 98/98 SE
Windows 2000
Windows Me
Windows Server 2002
Windows "Whistler" XP
Windows CE
Internet Explorer 6
Internet Explorer 5
Xbox
Xbox 360
DirectX
DVD's



TopTechTips
Registry Tips
Windows 95/98
Windows 2000
Internet Explorer 5
Program Tips
Easter Eggs
Hardware
DVD



ActiveDVD
DVD News
DVD Forum
Glossary
Tips
Articles
Reviews
News Archive
Links
Drivers



Latest Reviews
Xbox/Games
Fallout 3

Applications
Windows Server 2008 R2
Windows 7

Hardware
iPod Touch 32GB



Latest Interviews
Steve Ballmer
Jim Allchin



Site News/Info
About This Site
Affiliates
Contact Us
Default Home Page
Link To Us
Links

News Archive
Site Search
Awards



Credits
©1997-2012, Active Network, Inc. All Rights Reserved.
Please click here for full terms of use and restrictions or read our Light Tower Privacy Statement.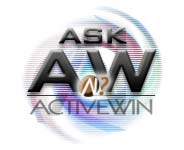 Welcome to AskAW! This section of our web site lets you submit questions about any problems/queries that you may have about Windows. Be it from a little icon that annoys you to hardware freezing your PC, we will try and help you out. You can submit your questions by e-mailing us at askaw@activewin.com. You can browse through previous questions over at our Archive Page. Who knows what you might find.
Here are the answered questions for 08-03-2001
Question 55

Submitted by George

how do I enable scandisk to run after a improper shutdown. when I first got my pc it would run automatically. how do I enable it.

Solution 1
Answered by Michael Kircus

Go to Start, click Run, type MSCONFIG and push Enter. When it loads, click the Advanced button, and uncheck "Disable Scandisk after bad shutdown."
---
Question 54

Submitted by ?

My computer hangs up when it should go into standby, instead it just freezes saying standby. Help please.

Solution 1
Answered by Michael Kircus

Search the manufacturer's website for BIOS updates, since they can solve this problem many times.
---
Question 60

Submitted by ?

I have a Verizon ADSL line with the Infospeed modem. I will like to have someone in a remote site telnet into my server. Can you describe to me the procedure to accomplish this using the NT VPN or other means? Thanks.

Solution 1
Answered by Stephen Koochis

Hello there, We are going to need a little more information. Can you please identify the OS you are using, if your server is connected directly to the ADSL line? If you are using dome type of gateway software? Did you create a local LAN, and are you using local ips, or did you get static ips from the ADSL company? Is the server running 2 nics, or a single with two nic interfaces? Are you allowed to do this on your ADSL connection? Do you know IIS? Please give lots more information so we can see where you are, and what needs to be achieved. First things first downloads some type of network ice program to keep intruders out.
---
Question 59

Submitted by Matthew

My office had a simple hubbed network with DSL. There were originally 4 computers running Windows 98 and it seemed to be set up with Client for Microsoft Networks (no one who is here now knows how it was set up). We recently bought a computer running 2000 Professional, and the network options are very different than Windows 98 and I am having a difficult time integrating the new machine. Any suggestions? Thanks.

Solution 1
Answered by Stephen Koochis

Now this is a change, Well, this is the first time I have ever heard of a windows 2000 machine not seeing the rest of the network, or does it? Windows 2000 Pro is very smart, and usually will see everything. Try turning on Netbui on the win2k PC and you should have better results when talking on a 98 network, you may need some lmhost files if your going the other way for 98. Usually not though. Turn on Netbui ( as much as we hate too ) on the 98s as well and see what happens. In order to troubleshoot more, I need more information as to what is not happening for you. Who's talking to who? Problems accessing the win2k shares? Please advise. also, make sure they are all using the same workgroup name. This would cause some problems
---
Question 57

Submitted by Casey

I am using two sticks of Crucial 256MB PC133 CL2 in my ASUS A7V133. On one partition I have win2000 professional and win 98 SE. Whenever I use both sticks together on Win 98 SE I get illegal errors on everything, but whenever I use it on Win 2000 partition, it runs fine. I have to only use 256 if I want to run Win 98 SE. The thing is, my games run crappy on Win2000 and I don't like it. I've tried tons of things to fix it, from reinstalling windows to changing latency/mhz on the ram. My setup is: AMD Athlon 1.4ghz 266 FSB, Nvidia Geforce 2 Ultra, Maxtor 30GB HDD, Linksys Ethernet Card, SB Live! Value. Thanks in advance! Casey

Solution 1
Answered by Stephen Koochis

Not really sure what your asking for here Casey. I would take the chips to the nearest CompUSA or computer shop and have them tested, one might be bad. As to why win2k does not have a problem, I am unsure at this time. Just an update too. You can get great reference drivers ff the web for the nvidia chipset to run on win2k, then your games won't look so bad. I just wish I had that link for you. But I got rid of it. So not look on Nvidias site. Search out referce drivers for the nvidia chipset on gaming sites, like 3dgames.com. But certainly have the memory checked.
---
Question 52

Submitted by Nuno

Do you know how can I protect my folders in a physical hard disk drive from access by other users in my workstation? Ex: if another user log in my workstation with a valid password he have access to all folders and documents created by me in my physical disc drive c:. How can I change that?

Solution 1
Answered by Stephen Koochis

In the event you are using win2k. Log in as the administrator and create a subfolder called my data, then give permissions to that drive as r/w/e/ to your user name in the mmc, or you can actually just right click on the folder and do it there. Using mmc is preferred. Relog in as your user and no one else will have access to that folder. If you are using something else please let me know.
---
Question 51

Submitted by Harry

Dear Sir, I just reinstalled my computer using Windows 98 SE. Attached to my computer are USB Scanner, Printer (using paralel port), Soundcard (Creative 16 bit pnp using ISA port), and internal modem (PCI). Everything is running well and all the devices are working well. There is no hardware conflict. But when I check my device manager, there is other devices with Unsupported Device listed there. When I tried to remove this device, it will be automatically installed by windows 98 whenever I boot the computer. It didn't happen before I reinstall it. I mean, there is no "other devices" in my device manager in my old system. What's wrong? I could not find any devices that is not supported by windows 98, because all of my devices works well. Please help me. Thank you for your kind assistance.

Solution 1
Answered by Stephen Koochis

Harry, his device could be anything, a little trouble shooting on your part is necessary here. First check the properties on it and see what IRQ or com port or address it might be using. From there you have to make some educated guesses about what it is. Sometime even the sound card loads a joystick port and is not supported by default drivers in 98. It could be anything. As annoying as it might be, if it is not a causing a problem other than in your mind, leave it there and eventfully when you try to do something you will find it. Believe me, it would kill me too. :)
---
Question 49

Submitted by ?

HELP!! Is there any way to remove Windows Me from my computer and install Windows 98. I have never in all my years of computer use encountered such a fouled up operating system. It's not just me. My daughter and my son-in-law also have Windows Me and have had to restore their computer...losing all data...again and again. I have returned two computers with Windows Me on them...and just recently had to restore this computer...losing all my data. I HATE Windows Me. Please send detailed instructions on how to do what I mentioned. Thanks.

Solution 1
Answered by Stephen Koochis

Well, Seems like this OS has caused you to get a little aggravated. Do yourself a favor in the future. Create a d: partition when setting up the pc or get a 2nd drive in there, save all your DATA to that drive. This way if the C: drive blows up on you or you cannot access the OS you can always boot up with a boot disk. As far as detailed instruction, good lord, that would take an entire site. Get yourself a Dos for dummies book ( excellent book ) and then follow the instructions on how to format and sys your drive, even fdisk it so that there is a d drive. Then you are on your way to deleting an OS and reinstalling it. Other than that sir, make sure whatever data you are using is saved onto disk. Reinstalling and OS and some apps is not that big a deal really. We do it all the time. Just take your time. Once the machine is corrupt it can't get any worse.
---
Question 48

Submitted by Rajiv

Hello, I have a windows 2000 Network running. I recently installed a network printer from Brother. I set it up on my domain controller and made it shared and available in the directory. Then I added the printer in all my workstations. I even changed the print processor to WinPrint and RAW. But I keep getting this warning in the even viewer in all my workstations .Printer Driver Brother HL-1650/1670N series for Windows NT x86 Version-3 was added or updated. Files:- BROHL00H.DLL, BRUHL00H.DLL, BROHL167.PPD, BROHL00H.HLP, BRLHL00H.DLL, BRPP2KA.DLL, BRSPL00A.EXE, BRSPL00A.DLL, BRSPL2KB.DLL, BRSPLWMK.DLL, BROHL167.INI, BRWMARK.INI, BRQIKMON.EXE, BRQIKMON.HLP, BRRBTOOL.EXE, BROSNMP.DLL, BRPAR.SYS. I have one more network printer connected thru a Intel print server and I have no warning messages from it, but the Brother Printer is connected directly to the network, but configurations and additions were done on my domain controller. I have started to get a similar message in the even viewer for a HP laser jet printer connected to one of the workstations and shared between 2 users. How can I solve this problem Thank you Regards
Solution 1
Answered by Stephen Koochis

Hello, This is definitely a driver issue. If you set up the printer on the server did you set up a print server? Are the other pcs getting their driver from the server? or did you just install the printer on the server and then share it, thus only adding the mapping to the other workstations? Even the best of us get this problem on print servers. Delete all the print drivers and make sure you are installing them for the OSs you are using. Do not use a NT4 print driver for win2k prof wstations. Just give me a little more specific info and we can track this down
---
Question 47

Submitted by Steve

Using Windows 95 Pentium Chip 166MHz, 64M Ram, Netscape Browser, When I'm using E-Mail When I send a message the blue screen come up with this message. An Exception OE has occurred at 0028:C001B9D6 inVXD IFSMGR(01)+000038FE. This was called from 0028:C102A97C in VXD PPMAC (01)+0004610. Any ideas would be helpful Steve

Solution 1
Answered by Stephen Koochis

Hello Steve, Some times we think that software only has issues, but that's not the case. I would seriously consider memory. If this ONLY happens when sending email I would suggest maybe setting up express, or outlook if you can get it and see if it also occurs with those email apps. From the message you left I am assuming you are using Netscapes mail client. It's the VXD that has me thinking memory area. Load IE and try sending mail from there. See what happens. Then get your memory tested.
---
Question 45

Submitted by Jerry

I used winboost 200 gold to make it so that users could not bypass the password logon by hitting cancel. When I rebooted, the password dialog box had an additional field called domain. What is the domain? How can I find it? As of now, I can not access windows. Please help!

Solution 1
Answered by Stephen Koochis

Jerry, What Os are you using? 95 / 98 / ME? You should still be able to get in using safe mode. Then go to network settings and change from network to just windows login by right clicking on the network icon. I am doing this from memory, but it is in there. Now. If you cannot see the changes, start in safe mode and disable this winboost 200 so that you can get in normally and make appropriate changes. Now that I think about it I am not sure you can get to network options while in safe mode. Try to disable the boost so you can get in normally. Come back and post if that does not work and meanwhile I will find a machine and test my theories.
---
Question 42

Submitted by Sudi

I would like to know if their is a way to create link to a file or a directory that points to another drive on the PC / Laptop using Windows 98 as OS. Thanks

Solution 1
Answered by Stephen Koochis

Sure thing Sudi, Just right click anywhere on the desktop and say create new shortcut. Then browse to the file or directory you want to have a shortcut to. It can be on any drive or share or anything as long as the connection to the actually program, file., directory is not cut. Hope this helps
---
Question 41

Submitted by Barry

Hi, Peer to Peer network, Win98 and Win2000 machines. We have noticed that when we access / copy a file from one of the other machines on the network, if the source machine is turned off later in the day, this machine shows the message "there is one user connected to this machine and to continue will disconnect that user". My questions are1.Why does windows maintain this connection even though the initial access was short?
2.Where is this connection stored and can it be disabled?
Thanks in advance.

Solution 1
Answered by Stephen Koochis

Hello Barry, How long the initial access was is not important here, what is happening is that when you open a network connection you are basically logging into the server or workstation. When you are done transferring the file to that machine the pipe does not end unless you manually disconnect from the source PC to the server or other workstation. If these drives are being mapped on boot up then you have to realize you are creating a connection to that machine. The only way to change this is to manually disconnect from the server from that machine. Even then the server may hold the connection open for awhile before dropping the pipe. It cannot be disabled, unless you get rid of the hard mappings and only map and disconnect from the shared drive upon use.
---
Question 16

Submitted by ?

I have a folder in c:/windows/tempory internet called content.ie5 this folder contains several sub folders with alpha characters which again contain all kinds of html, gif, art and misc other files. the file count is up over 7,000. What is the purpose of this folder ? Can I delete all of it or parts of it to clear up disk space

Solution 1
Answered by Michael Kircus

This is where IE stores the "cache," which is where files you see on the Internet are stored on your computer, so they won't have to be downloaded again when you revisit those sites. To clear it, in the Control Panel double click on Internet Options, look for the button called "Delete Files," click it, then click OK. The cache will be cleared. You will also notice a settings button. Click it, and you sill see a slider bar. With this bar, you can limit the size of that folder to your wishes. Don't go too low, or you will notice web pages reloading every time you visit them.
---
Question 38

Submitted by Gambler

Hi I have a small problem, I cant open my desktop Themes anymore I click and click and nothing happens .. it started doing this right after I installed a new theme .. I am running Windows ME ... what can I do? im stuck with this ugly theme

Solution 1
Answered by Michael Kircus

Go to C:\Program Files\Plus!\Themes and delete the theme that is causing the problem. All the files should have the same name as the name of the theme. If that doesn't work, try reinstalling Desktop Themes from the Windows Setup tab in Add/Remove Programs.
---
Question 33

Submitted by Tony

Dear Sir/Madam I came across your site by accident. For your readers I have been running IE 6.0 and OE6.0 both BETA under the original WIN98 NOT the second edition. Other than I can't gain access to the ZA2 (Zonealarm) homepage all else seems to be okay including the ZA2 upgrade which I installed PRIOR to upgrading from IE5.5 SP1 to IE6.0. Interesting site Cheers

Solution 1
Answered by Michael Kircus

Try uninstalling ZoneAlarm, then reinstalling it. That tends to solve most problems.
---
Question 34

Submitted by Barry

I wasn't able to find the answer to my question here or on other sites that I've visited. At home I use Windows 98 SE and IE5. I frequently use the search bar that's part of IE. The search window remembers previous queries. Is there a way to clear those (either all or specific individual) words and phrases? I've done a little looking through the registry and I can't find where those are stored. I downloaded a utility that's supposed to find MRU lists (ListZapper), and it couldn't find it either. Thanks for your help.

Solution 1
Answered by Michael Kircus

Go to the Control Panel, open Internet Options, go to the Content tab, click the AutoComplete button, then click Clear Forms. This should help.
---
Question 12

Submitted by Joody

I like my numlock to default to off when I boot up. How do I change the default in Windows ME? In Win95 and Win98 I could go to setup, but I can't find a way to do that. Thank you

Solution 1
Answered by Michael Kircus

The numlock key is usually initialized by your BIOS, which you can usually access by pushing the Delete key, Esc. key, or F10 key when you turn on your computer. There should be an option to have numlock turned off when you boot your PC.
---
Question 21

Submitted by Peter
Hi! I am wondering about the quality of watching DVD movies using a windows computer as player. I.e. a DVD-ROM drive and a MPEG2-card like Creative DXR3, connected to a TV. Do you know if the quality is as good as a stationary DVD player in the $200-$300 price range? Regards
Solution 1
Answered by Michael Kircus

I like the quality very much so, however, think about -why- you want a DVD drive before you buy it. Since your monitor is probably smaller than your TV, Watching a DVD at your desk might not be a great experience. If you want to regularly watch movies with friends and family, a standard DVD player might be best.
---
Question 3

Submitted by ?

Good morning, couple months ago, I purchases a cto hp model 9800 computer. Now if a home user gets retail version of windows xp, do we also have to pay a monthly lease payment. Why can't there be just an upgrade? Appreciate any feedback

Solution 1
Answered by Michael Kircus

If you are paying monthly payments on your -computer-, then that is fine. You may upgrade to Windows XP Home Edition for a -one time- cost of about $100, -one time only-. You will still have to pay monthly payments for your computer, but not for Windows XP.
---
Question 36

Submitted by Shirley

Dear Ask AW, I am fairly new to computers and have asked you questions before. However, I am concerned now. You see up until last night, this PC had not frozen up for 3 weeks and I thought it was doing well. But I had spoken too soon. Last night it froze up twice within 10 minutes of coming on line. Then tonight, it has frozen up 3 times within a quarter of an hour! Plus, it actually froze on Scan Disc too!!! I am worried it will freeze before I finish this E. Mail. How can I stop this happening. Is it a problem with the hard drive/memory etc? Does it freeze up when the web is busy? Is it my browser that is at fault? It is really getting me down. There is one thing I should add before I go. On Sunday I downloaded a Felix (animated) cat onto the computer and I wonder if that is what is causing the trouble or is it just co-incidence? Better go before I freeze up again. I await your reply with interest.

Solution 1
Answered by Michael Kircus

If the problems started after downloading that, then most likely yes, Remove it immediately to see if the problem continues. If it does, remove anything in the Startup folder, which is located at Start>Programs>StartUp. In there, if you see several items, remove them. They slow down your computer right when you turn it on.
---
Question 32

Submitted by ?

I have this small, little problem that's driving me nuts. I just installed win2k, and in IE, 5.1 it had and I just upgraded to 5.5, in hope of fixing it.. When In IE, if I right click anything, a link, pic, highlighted text, there's a whole 1 second pause on the context menu popping up. I had 2k on here a couple months ago before my hard drive blew up, so I just got around to putting it back in. I don't recall having this problem last time.. Any help would be greatly appreciated.

Solution 1
Answered by Stephen Koochis

Hello, I would like to delve into this a little further if we could. Can you tell me a little about the PC, like mem, drive space, video card mem buffer ( 2,4.8.16.32). I would also like to know the available drive space on the PC left. Can you also tell me the service pack on win2k, and if you have done all the update from the windows update option. Thanks in advance
---
Question 14

Submitted by Fiona

Please help, how do I obtain and install a sound card for windows 98 .Thanks

Solution 1
Answered by Michael Kircus

You can buy them at your local PC retailer for whatever quality your willing to pay for, usually up to $200. As for installation, refer to your computer manual. You will have to open your case up, then install it into an open slot. If, however, you mean drivers, then that's easier. Just double click on System in the Control Panel, click the Device Manager tab, then double click Sound, video and game controllers, and your sound card should be listed there. If you go to the manufacturer's site, they will have drivers. Just type the sound card name into a search engine and you should find them.
---
Question 7

Submitted by Swati

Hi, I have Compaq Presario Desktop 5000T-5BW. Recently I have installed windows 2000 Pro. on my system. I'm having Problem with my Multimedia Audio Controller. In Device Manager Window it shows driver for this device are not installed. Where can I find driver for this? Please help me My audio is not working. Thanks

Solution 1
Answered by Michael Kircus
---
Question 5

Submitted by ?

Hello, how to you do? I from Malaysia, I have one question that why the windows2000 would not have the program call msconfig.exe but the windows98 is available. Because of this situation, I cannot off some program which is have startup function in the taskbar. Please help me. Thank you !

Solution 1
Answered by Michael Kircus

MSCONFIG will NOT be found in Windows 2000, because the files that MSCONFIG was created to modify to NOT have prominence on an NT based machine. To shut down the program that starts up, I suggest going into the program itself to look for an option. If none is found, you can try X-Setup from http://www.xteq.com. It might help you disable some start up items.
---
Question 40

Submitted by Chuck

I have a Win 2000 machine which will not boot. Well, it boots almost all the way and then it gets an error: "Explorer.exe has generated errors and will be closed by windows. You will need to restart the program." This dialog starts multiplying every 3 seconds. In the task manager, the icon looks like it's for Dr. Watson. Effectively, the PC will not boot. We don't have an ERD disk, and the PC will not boot from the CDROM (I get an error message: "Booting from ATAPI CDROM: failure".) Does anyone know how to fix this? I hope I don't have to reinstall windows, because then the user will have to reinstall all his apps. (Because they will no longer be listed in the registry.) Chuck

Solution 1
Answered by Stephen Koochis

Wow, This is going to be tough one to trouble shoot. In my experience I have always tried a little troubleshooting, but if the testing goes over 12 hours. I know I could have installed the OS and all the apps over again and been in better shape. But, you want to solve this, so I am all for it. I am sure that you have booted into safe mode? Can you think of anything that was installed recently? I know these questions are like duh? Don't you think I would have done that, but I have to get an idea of what you tried. In most cases even if explorer generates errors it will just restart in win2k cause it is a service. The reason for the atapi problem is because of the cdrom drive you are using. It seems like its old or the bios in its firmware is not up to date. Spend 20 bucks and get another ide cd rom drive and retry. Make sure that the bios in the PC looks for the CDROM first then a, then c. This should be a default. Let's play around with these suggestions and then post back and we can go on from here.
---
Question 27

Submitted by Bill

Iíve created a peer-to-peer network between a Laptop running Windows 2000 and a Desktop running Windows 98. The Laptop can see the Desktop shared drive perfectly. When the Desktop tries to access the Laptop shared drive a password is requested. Iíve tried the Laptop Administrator and User passwords but they donít work. I have no idea where the password request is originating. Any ideas? Thanks

Solution 1
Answered by Stephen Koochis

Now this is a good one, What you have done is asked windows 98 a less robust OS to connect to a NTFS partition in win2k. The win2k machine can see the 98 PC cause it is so unsecured, but in order to have the 98 pc get to the win2k machine you need to set up shares with permissions, like on an alternate d drive. The c$ is off limits unless you are the admin. So whatever the admin id and password are you might be able to connect to the win2k pc from 98, but sometimes you may even need to create a lmhost file for the 98 PC so that it can connect to the local win2k machine. To make life easier make sure that you have netbooooooooooey loaded on each PC. It makes life easier for 98. But make that D: drive a share and use MMC from the command line to set the permissions. Play around, eventually you will end up blowing away the 98 PC and installing 2k there as well. Then you will find adding that extra d: drive was a great idea so that you can share information between the pCs. Go one step further, buy a server and connect to that. Then you have a data share that never gets rebooted and information is secure for both PC. Servers are cheap now.. Here is some information that is kind of crazy. To various colleagues of mine:

http://www.gatewayatwork.com/prod/sb_gtwy6400_prodinfo.shtml Specs: Pentium III 933MHz (Dual processor upgradeable)
ServerWorks ServerSet III LE chipset
128MB PC133 ECC SDRAM (expandable to 2GB)
(1) 9GB Ultra160 7200rpm SCSI hard drive
48x IDE CD-ROM
Seven PCI Slots: (2)64-bit and (5)32-bit
Integrated Dual Channel Ultra160 SCSI
Integrated 32-bit PCI graphics with 4MB SDRAM
Integrated Intel 10/100 Ethernet
Keyboard, mouse, 1.44MB floppy
Mid-Tower case with 300W and 9 drive bays
3 Year Warranty Instructions:
Click on the 6400 Server link below, choose the "Customize It" option and pick Option 1 in the System Promotion dropdown (-$400) and pick 3 year parts & labor / 1 year on-site option in the Warranty dropdown (-$99). Click "Update Price" and you'll see the total. note that the total is $500. Yes. that's right. A nice test or small file server for $500. Buy some ram and another 933 P3 from another vendor for $250, and you've got a decent test box for $750. Even if its destined to run Win2k-AD, and you pump up the memory, and add a second drive, you're still under a grand. How 'bout them apples?
We can still work on your problem if you need help with MMC, but play around and I am sure that you will solve the connection problem with a little bit of networking, permissions and administration.
---
Question 6

Submitted by Michael

Hi, In windows 2000 every time I map a network drive a new window pops up of the contents of the drive. Its annoying and I want to disable that. Please let me know.

Solution 1
Answered by Stephen Koochis

Hmmmmmmmmm, This is actually a good question. I think what Microsoft had in mind was that if you were mapping to a drive you probably want to see what is on it. Otherwise, why would you map to the drive? But I will look into this. I have to openly admit I am unsure if this is possible, but hey with a little coding everything is possible.
---
Question 17

Submitted by Liam

hi I am Liam and i have a big problem my config.sys is corrupted and I sometimes does not boot up I have tried the recovery disk and it did not work I have also not back me system up can u help me and give me advice on restoring it please! thanks

Solution 1
Answered by Stephen Koochis

Liam, you might be in luck. I am assuming at this moment that you are running win95, but even in the case you are running 98 there are sometimes backup config.sys and autoexec.bat files. Look on the root of C:\ and see if you see anything. normally if you install like nav, you get a config.bak or config.syd. If these files are not there, then your just out of luck unless you created a recovery disk on install, then there will be copies there. Hope that helps. Usually there is not to much information in those files anyhow. I might consider other reasons for your machine not booting, unless of course something in the config is stopping the boot process. Let me know
---
Question 31

Submitted by Carlos

Hello, Every once in a while (1-2 times a week) when logging on to my W2K (SP2) machine I get a message saying that my user profile is corrupt, then it creates a temporary user profile. Of course, none of my icons, favorites, etc. are there. Then if I try again it lets me into the profile that it claimed was corrupted before. One time, however, it actually deleted one of the profiles with everything under it. What's causing this? I couldn't find anything on MS knowledge base. Thanks!

Solution 1
Answered by Stephen Koochis

Hello Carlos. Most of us do things just to be up to date, we figure that by doing them what could possibly happen. I am the same way. I learned my lesson when I was not able to connect to my isp for 9 days and use the internet or send email properly cause of the recent update to SP2 for win2k. Do yourself a favor and remove sp2, and see if it continues. If it does, then let me know and we will further troubleshoot. SP2 has been causing some real issues with many PCs, and you are not by any means the first.
---
Question 9

Submitted by ?

by mistake I deleted a sub file from fighter ace 11 called prof.data, now I cant find it to re install?

Solution 1
Answered by Stephen Koochis

Hello, Not really following you on the reinstall. But why can't you reinstall from cd or disk to an alternate folder and then locate the file in need and replace it in the first installation? Is this possible or did you delete it off the actual installation floppies? Please advise
---
Question 30

Submitted by David

Dear Expert Would appreciate your advice for the following problem I have WIN98, on DFI Mboard+MDA 500. No shortage of resources. Tracing a printer problem discovered that system does not identify the printer port (LPT1) and LPT2 (PCI parallel card) which I actually had the printer connected to. Plug and Play and Device Manager detects each as "other device" but all my attempts to re-install each of them manually failed (tried one at a time, removing the other). After I identify it as a port it goes into a menu that requires choosing a driver. For the printer port I don't know where to look other than in windows/system and any of the directories on the WIN98 installation CD. That got me nowhere. It wants a driver or an INF file, that only Bill has. The PCI parallel card is detected but in the last step of reading the driver from the installation disk it gives "error 69 - cannot install" Every thing else works fine. Is it an OS problem? Mboard? Over the years I have had many bugs but ever this bugger. Can you help please? Thank you

Solution 1
Answered by Stephen Koochis

Hello, First things first. Are the installation CDs that you are using original and from Microsoft? If they are copied sometimes when reinstalling drivers from the cds if copied it cannot open the files. If you copy the cd to the local drive d: and call it from there then it might work. You might try moving the card to a different slot, it should not have any problems identifying a lpt port unless it is additional to the mobo. I do not know that mobo off hand so this statement might be off. but if the mobo does not have lpt ports on it, and you are using a generic card then the card might have its own drivers. I would start with deleting them out of the devices manager completely. then reboot and take a look. Remove all other cards except video from the pc, see if it is something else causing it not to find the port. If that fails, go out and try to find a dtc2280. This works in any machine with any OS. Just let me know what happens and we can continue trying to fix your problem
---
Question 1

Submitted by ?

The problem: I cant browse to my isp, I can connect thru dial-up, I can ping the DNS server but I can't ping the domain name. My unit is a Compact Presario w/ win ME os. .I check already the DNS settings, I reinstall the TCP/IP-dial-up adapter but the problem still occur. What should I do regarding this kind of problem? Hope somebody can help me.

Solution 1
Answered by Stephen Koochis

You know something, all these ISps need to get together and talk. What I might look at is whether or not your ISP has a proxy, that needs to be in the browser settings under LAN setup. The dial up connection has some setting for hardware and stuff. There might even be a place in there for IP and DNS settings, so check your adapter settings and make sure that it is setup for dhcp and dns is off. But you really have to check with your ISP, if its AOL, they do require dns settings. Hope that gets you in the right direction
---
Question 35

Submitted by David

I am running Windows 2000 Professional SP-2 w/ Office XP on an IBM ThinkPad 600X. At least once a day my laptop re-boots with no warning whatsoever. Ideas?

Solution 1
Answered by Stephen Koochis

Hello David, Service pack 2 is not a required update, and to tell you the truth with many of the current dial up and ADSL systems out there, I have found that there are data flow problem and ip binding issues. If you do not need SP2 then remove it, but check first. In regards to your reboot problem, this is a real random thing. I have an IBM 600 as well and after installing service pack 2, I found that right clicking on the task bar at times when memory was low the machine would just shut off. This was also due to the fact that I have almost 15 things running in the task bar. I installed system mechanic ( great program ) and then used the program to disable startup options. I have 130 megs of ram on this PC, but the win2k system and memory resident programs just suck up all available memory. If you have ever been there when it shuts off, do you see a BSOD? Can you catch the code? Try disabling some MRPs and see if the rebooting still occurs. I would uninstall SP2 unless it is required. There are just to many problems in my eyes with it unless it is a requirement of your system. If I think of anything else I will post. Let me know what happens.

Solution 2
Answered by Michael Kircus

You might try getting a BIOS update from IBM. I've also heard that CPU temperature getting too high can cause this type of problem. Is your system set to reboot on error?
---
Question 11

Submitted by Gordon

Hi all. Great site so I'm wondering if u can please help me. Here's the scenario: I installed a new mobo (ASUS A7A266) and Win2k wouldn't boot up as a result (kept stopping at a MUP.SYS file...I think it had something to do with the onboard audio or the VIA chipset of my old board, ASUS A7V, which my new board doesn't have). So I reinstalled Win2k into a different folder but same partition...now what? Should I try to reboot into my old configuration with "The Last Known Good Configuration" hoping the new registry (with the new mobo) will replace the old registry of my original Win2k install. Should I just delete my old WINNT folder keeping my new WINNT2 folder...if so which data do I need to xfer over (My Documents is one source...)? Is there a way to "cleanly" uninstall an old Win2k install so I don't have to mess with the boot.ini file. I have no wish to reinstall all my apps but it appears I may have to. I have found no other source on the internet that seems to cover what to do when installing a fresh WIN2k on the same partition but with a different name. Any help/direction in this matter would be great! Please feel free to be as verbose as possible. Respectfully

Solution 1
Answered by Stephen Koochis

Gordon, Hello there, I in all honesty will say, bite the bullet on this one. Redo the machine but follow this scenario. Even in a most convoluted state win2k and office and like 17 other programs will only take up about 2.5 gigs of the c$, so make it 3.5Gig or 4 if you have it. DO not make it any larger. Then make a D$ and put the rest of the drive space there. When installing things put them all in the program files folder for windows things and save all data to D:, even when setting up outlook or express place the pst file on the d: drive in a outlook subfolder. In this case even if the C$ blows up or corrupts for no good reason, you can always reinstall like you did to the C$ and get your data back. Make sure you use NTFS, and do not blow away the d: partition on install. All your data will be there when C: is up and running. In regards to the current situation. There is a way in win2k to get all your icons back and find programs, but that creates duplicates, and really loads up the registry and .. well... its just a hack when all is said and done. Do the right thing here. Rebuild, but back up the data you can from the current c$ to the d$ if you have one or disk. If you only created a c$ .. INstall a 2nd drive for the time being and back up what you need like your PST. Oh,,, and never install complete video cds and garbage like that, for video you only need a driver so when installing video just have windows grab the driver from the cd. Keep all the extra crap off your PC and it will remain clean for a long time.Oh, install system mechanic. I love it and it is really a great program for cleaning things up. http://www.iolo.com.. I think that's it.. :)

Solution 2
Answered by Michael Kircus

Whenever you install a new motherboard, it helps to uninstall drivers from the old one first. To do that, uninstall everything under System devices under the Device Manager. Then turn off your PC, install the motherboard, then boot it up. Install the drivers that came with your motherboard, and hopefully you'll be set.
---
Question 64

Submitted by Darcy

Dear AskAW, I have looked through your archive best I can and have not found a similar article. I have tried Microsoft Knowledge base also with no luck. I have asked my office tech's and they are just puzzled. I am hoping you can help me in some way, please. Here is my problem: I am using I.E. 5.5 in Windows 98 (original release), 450 MHz Pentium II PC and have a initialization problem. I establish my own Internet Connection prior to using I.E. 5.5 or Outlook Express 5. Then launch the browser by double clicking the icon, or quick launch - it "thinks" about 5 seconds, "think" disappears and I.E. does not open. If I ALT-CNTL-DEL it shows "iexplore (not responding)", I select and End Task, then try to launch browser again. Sometimes it opens on second try, sometimes I must repeat the process several times and then I.E. launches. After this it will open and close fine. Then the next time I go online the problem will reoccur or it may not for 2-3 sessions & then return. It ill also not initialize from a hyperlink in an email. I.E. 5.5 responds the same as above. Once the program is started I can use a hyperlink in an email the browser will launch. Are there any repair ideas to make to launch correctly? I have had a dial up connection and now a DSL connection on my PC and the problem will occur with either. I have reinstalled 5.5 and run the Repair Tool. It is better awhile and then the problem returns. I am hoping a posting on your site might bring me a solution. Thank-you for your time and any consideration for my question. Respectfully

Solution 1
Answered by Michael Kircus

If the problem stops after a repair, then restarts, you might be installing something that messes with the installation, or the registry somehow gets corrupted. The best thing to do would be to make sure you install programs in a safe environment, and avoid shoddy shareware.

Solution 2
Answered by Mean Drake

Well I had a similar if not the same problem. my IE would open but freeze for 5-10 seconds and then the URL would open. This would happen only the first time I would go online. Then things would be normal. Also the problem would recur after a reboot. My problem was solved when on installing zonealarm I discovered that rpcss.exe was asking to access the internet. I refused it permission and the problem is solved. In view of this I would recommend:

2. Install Zonealrm free 2.6 and see if some other program is interfering.
---
Question 25

Submitted by Deb

Hi. I'm having a problem viewing my .jpg pictures. Earlier they all had icons of a different program, (Photo Express) and were opening up in that program. I later realized they got associated with that program and I finally figured out how to fix that. In the meantime I was going to View-Folder Options-and File Types, trying to figure it out. After fixing that problem all my graphic pics had their right icon except for the jpg's. They had the Flying Windows icon. They still had the .jpg extension but were not opening up in IExplorer. The others were though. I noticed in the File Types I have 2 "GIF Images. One extension is GIF and the other JFIF. All the other info with those 2 are the same. In my JPEG Image file the ext. is JPEG and JPE. I tried creating another one with the ext's JPEG JPE JPG with all the other info the same. Except the "content type" info wasn't saving. I deleted a JPEG Image file earlier, but not sure if it was already there or if it was one I was trying to make or fix. How do I go about fixing this? Thanks so much!! Deb

Solution 1
Answered by Stephen Koochis

Good Gosh, Do yourself a favor and download http://www.hamrick.com vueprint. This will patch everything for you to a better situation. Just tell it you want to open all images except for sound files so uncheck them during the 12 second installation. This program rules, and it is fantastic for quick viewing. Once you get this installed you will be back to defaults and you can then depending on the OS, right click on images and say "open with " and choose the program you want to open it making it the default. I hope this helps.

Solution 2
Answered by Mean Drake

Right click (Or hold down shift as you right click) one of these files and select Open With from the popup menu. From the dialog box that opens, select what program you want associated with these files and make sure the checkbox for Always use this program to open files of this type is selected. That will work...Next I won't be surprised if you have lost the thumbnail preview for these in Windows explorer.
---
Question 8

Submitted by Andrew

Hello, I was hoping that you might be able to shed a little light on a problem that I have been having lately with Win 2k. Earlier this week I did a clean install of the OS on my home computer. A gateway PII 400 with 256MB ram and 2 separate 10gig HDs. Everything seemed to be working just fine after the install, all of my hardware had recognized and was functioning properly. I had a week before updated to the latest available bios for my Mother board anticipating the upgrade. Once the machine was running I installed Service Pack 2, Office 2k, Quicken and AOL (I know it sucks, but DSL is coming on Monday :)) During this process I had rebooted and did full shut downs many times to make sure everything was kosher. Anyway, the next morning I went to boot up the computer and it booted all the way into windows. Within 30 seconds of my desktop icons appearing and the system tray loading, the computer shut itself down and because to reboot, and one second after the signal tone that always precedes the loading of the OS, I received and error on my screen NO OPERATING SYSTEM FOUND. Needless to say after much experimentation I have found that by shutting down, opening the case and unplugging the power and IDE cable from the second drive I am able to boot into windows. Once I am in, by shutting down the system and reconnecting the second drive I am able to bring the system up with both drives online and no problems. I thought after the first time that I had a loss cable but after long periods of the computer being shut down (as I found the next morning) the problem occurred again the exact same way. Again, I was able to bring it all back up on line, but it requires a very annoying process of opening the lid to the machine and disconnecting and reconnecting the drives. And oh by the way, simply disconnecting the second drive and reconnecting immediately will not do the job, a full boot must be done into windows with only the master drive attached first. One conclusion I have drawn, of which I have been able to find any documentation, is1) When the computer crashes and reboots itself, some how the boot (though it recognizes both drives) is pointing to the second drive and therefore finding no windows OS. Hence disconnecting the second drive allows me to boot normally.--- problem with this is I don't understand why when I shut down and reconnect the second drive, the error does not happen again, immediately after boot. Instead I am able to reboot and shutdown and restart an unlimited amount of times without further issue, UNLESS the computer has been down for an extended period. The time factor eludes me completely. Fact is, I don't know what to do, my next move will most likely be to buy a 40gig drive and scrap the 2 10s. But that is not the fix I was hoping to find. If you have any insight on this matter, I would greatly appreciate your advice. Regards

Solution 1
Answered by Stephen Koochis

Now that is some writing. I don't want you to think this is a one line response so I am going to add some buffer. I already answered this in more detail in another question posted on this site, but to me the problem might be originating from SP2 for win2k. This SP is not a required install, so I would try the response from this machine with the current setup, but only install SP1 and do the normal windows updates. Please do not check off more than one critical update at a time. Installing more then one tends to be redundant cause some of the critical updates contain other critical update. I know what you are thinking. NO kidding Sherlock.. Ok sorry for that. In addition to the SP2 you may even se some issue with throughput when you get ADSL. I would seriously consider removing SP2 if you have not deleted the 190 meg hidden folder in WINNT on the local drive MS, does not tell you about. :)

Solution 2
Answered by Mean Drake

Just a thought but check out if the master slave settings of your drives are correctly set.
---
Question 28

Submitted by Colin

win98 se fails to show me it is now safe to turn off your computer window

Solution 1
Answered by Michael Kircus

Does the computer turn off at all, without your help? If it does, then it's OK. However, if you get a blank screen, then must manually turn off the screen, then LOGOS.SYS might be corrupted or missing. Search for it, and if you can't find it, pull it off the Windows CD-ROM.

Solution 2
Answered by Mean Drake

This is a known issue on some older incompatible hardware. MS had issued a patch for it. And other recommendations if the patch didn't work
---
Question 39

Submitted by ?

I recently installed Win2K on my home computer. So far, results have been favorable. I created an account for my wife & I. I basically changed the administrator account to my name and made my wife a "User." What I would like to do is change some of the group policies (as listed in group policy) FOR HER ACCOUNT ONLY. She is not that experienced and may be inclined to remove an installed program, delete a printer, etc. I tried using Group Policy and changing those settings under User Configuration, but when I log in the next time after applying those new policies I (the Administrator) is affected, too. How can I make this happen? If you require any further information, please feel free to email me. Thank you!! -Adam

Solution 1
Answered by Mean Drake

Control Panel>Users and Passwords. Highlight her name and click on Properties. In the next window on the Group membership tab change her to restricted user.
---
Question 26

Submitted by ?

Hello, Recently bought a digital camera. Windows ME will not read the camera. States" This device is either not present, not working properly, or doe's not have all the drivers. I know it works on WIN 98, any ideas guys, Thanks

Solution 1
Answered by Mean Drake

Have you installed WinMe compatible drivers. Is the USB port recognized at least.
---
Question 15

Submitted by ?

Sir/Ma'am, I downloaded a desktop theme and when I unzipped it the Theme file (executable) had an icon that equated to image preview. I downloaded same them on another PC and it had the correct icon displayed and I was able to install it. Any idea why one machine would change the icon? I've tried to open it using the programs listed in "Open with" but none of them work. Can you tell me where the desktop theme icon (application) is located on the PC? Thank you.

Solution 1
Answered by Mean Drake

C:\program files\plus!\themes.exe
---
Question 4

Submitted by Phil

When I establish an internet connection in WIN2K with my ISP, when I am disconnected, there is no message displayed on screen to notify me. The icon (in the system tray) just disappears. I know that it is recorded in the event log, but it is very annoying not to have a visual message displays, such as in Win 9x. Is this a bug or is it supposed to be like this? Can I config the event log to display a message when these events occur? Thank you

Solution 1
Answered by Mean Drake

Right click the dial up connection...in properties on the options tab check the box for redial if connection is dropped.
---
Question 23

Submitted by Tom

Please can you help me? I have been unable to connect to the Internet on one of my PCs for weeks. Every time I try to connect I get the message; res//c:windows\system\shdocl.dll/dnserver.html I'm using IE5.5, although the same problem occurs if I use Netscape or Opera. I assume my modem is OK as I can fax and "ping" seems to get the right responses. I've reinstalled Win98, IE, TCP/IP, dun with no success. All other programs on my PC seem to work OK. I'm using a Pentium 350 PC connected to another Pentium 350 in another part of my home, via Win98 peer to peer network. I also have a modem in the other PC which continues to connect without problems to the same ISP. Everything worked OK until a few weeks ago and then "out of the blue" I started getting these problems. I did not install any new software or change any configurations immediately before the connection problem started. I would be grateful for any help/suggestions.

Solution 1
Answered by John Lampson

Tom, I would call your ISP or visit their web site to verify that your connection is set up properly. When do you go to Start, Run, and type winipcfg do you get a listing for DNS servers on your dial up connection? If not, there's your problem. I would contact your ISP anyways just to go through those connection settings. Good luck!
---
Question 56

Submitted by Andy

Hi, I have Windows 2000 Pro, with a Goldstar CD-RW. Both Ahead Nero and Adaptec EZ-CD Creator work fine when I run them from an account with Admin rights. But regular users cannot write disks. Ahead sent me a beta patch, but it didn't work. What permissions or registry settings do I need to allow regular users to make CD-RWs ?

Solution 1
Answered by Charles Putnam

The latest version of EZ CD Creator (ver 5.02) will allow this. I'd strongly recommend uninstalling Nero as it will cause conflicts with EZCD 5. Ver 4 of EZCD required you to be logged in as administrator.
---
Question 46

Submitted by ?

Hi Could you please help me, I have Win Me. When I Shut Down my PC it hangs and wonít reboot, so I have to switch it off. I am worried this may damage my HDD. Could you please help me. ?xml:namespace prefix = o ns = "urn:schemas-microsoft-com:office:office"

Solution 1
Answered by Marc Strickland
---
Question 63

Submitted by Mark

I'm a network administrator. We use windows 2000 on our company's laptops. We would create users on the Workgroup model as Power Users. The power users have access to everything they need except the use of their DVDROMs. Windows 2000 says the power users have insufficient rights to use the DVDROM. The CDROM works fine. We want to give them access to it but we don't want them to have Administrator rights. How can I allow power users to use the DVDROM?

Solution 1
Answered by Stephen Koochis

Hello Mark, In the world of win2k there is a console called MMC, get familiar with that. If you want to go the easy route, just right click on the DVD roms on each of the machines logged in as an admin and grant permissions on the security tab to the power users group, make sure you go into the advanced sections and say reapply permissions to this so that it takes effect. Now, if you really want to get a pat on the back as a Network Technician, than write a script and add it to the login script for your users. Have this script add the group ( power users ) to the DVD Rom drives from there. This is the true brand of a network admin. Scripting. It will totally impress your other network techs.
---
Question 44

Submitted by Kris

I use Windows 98 and AOL 6.0. I recently used my camcorder and would like to know if its possible to download it onto my computer? If so, any recommendations on software(if not already installed with Windows 98) would be most appreciated. Also, is AOL 6.0 compatible enough to send a video recording to another user? Would they be using their AOL Media Player? Any help is greatly appreciated. Thanks. Eagerly waiting

Solution 1
Answered by Stephen Koochis

Hello Kris, I think it would be a great idea for you to look into video capture cards. Do not just go out and buy one, really research it on the web first. This will allow you to hook your recorder up to your PC and transfer the video to the PC. The most important thing about a capture card is equality in both the card itself and the software which it comes with. The software is going to determine the compression ratio. Obviously you want the best compression ratio so that the video does not take up too mcuh space on your PC. In addition, the card needs to have great compression hardware, so that it can do the compression and deliver a great output, either to file or disk. AOL really has nothing to do with it. As long as you are on the web, you can always send video fies to other pcs. After installing the new software and card, you will find the different ways to save the video format. Just save it in a format that other users will be able to view it. KEEP IN MIND! Video files generally tend to be large in wav format. Sending them to other user may be impractical. Be sure you have a large hard drive too, so you can store the video files. Again, video compression will determine size of final video sequences. If your not paying attention, you might just run out of drive space. I suggest an additional d: drive major MEGS. OH. Plan on spending some hefty moola ( money) too. You can get cheap ones, and then you can get decent ones. Consider how much time your actually going to spend doing this, before your purchase. Truthfully in video compression/ capture cards, money wins out hands down. Hope this helps.
---
Question 61

Submitted by Paul

Perhaps you can help me with an intermittent but recurring problem. I am running Win98 SE (4.10.2222A) on an IBM Aptiva E3N (AMD K6, 192MB sdram). It is networked (Ethernet) to share the I drive on another system. Often (but not every time) it will hang during boot while displaying the popup window "Restoring Network Connections --- connecting to I: ... "(followed by the system name it is attempting to contact). Everything is stuck, there is no cancel --- and I have to force power off. Sometimes the first reboot will be successful, sometime the second --- but ultimately it gets past this "Restoring Network Connections" (and in fact does connect), and completes the boot sequence. I have searched the Microsoft Knowledge Base to no avail. Can you help?

Solution 1
Answered by Stephen Koochis

Paul, I am not sure what you are mapping too but, I would add a lmhost file to the win98 PC. This will tell the 98 pc the exact ip address of the machine you are connecting to. I am assuming you are using a local lan. This might clear up the restoring connections issue. This could also me an intermittent hardware problem, try a new nic or driver for the nic. It might be the way you mapped the drive or a long file name for the drive. Do not use spaces when creating a drive share name. You can but I just would not do it. I like to keep them at 8 characters. There are lots of avenues to check on this one. Also log in with safe mode and network ability using the f8 key, see if you still have problems. Hope this gets you in the right direction.
---
Question 62

Submitted by Scott

Hello I'm previewing Windows XP, and I see a feature that will help me everyday. It is Remote Assistance! I have it working when someone request assistance, but when I offer assistance it will not work. The error I receive is the administrator has disabled this feature. Can you help me?

Solution 1
Answered by Adam Sowalsky

You need to make sure that (a) both computers are on the same network or, if not, neither are behind restrictive firewalls, and (b) that both computers have access permissions to use remote assistance. You can only use RA on computers that have specifically enabled remote administration, and then, you need to be sure to log in under that Administrative account.
---
Question 43

Submitted by Alice

For just the last few days, when I click on a web link in an email, I receive the message that the file Program.exe cannot be found. I cannot go to the links and I wonder if, in my housekeeping frenzy, I may have removed the needed file? I am running Win 98SE and Office 2000. I hate to reinstall either because I have them both customized. Is there any other way for me to get Program.exe back on my system? Thanks muchly!

Solution 1
Answered by Adam Sowalsky

program.exe is Microsoft's way of saying that you removed a critical program required for opening a specific file and that it doesn't know how to recover, or that you are trying to open a file that is invalid and not really a valid file at all.
Reinstalling your programs will not lose their customization; don't worry. If you are getting this error clicking hyperlinks in emails, then your HTTP file associations are whacked. Reinstall your webbrowser of choice, restart, and hopefully all will be well.
---
Question 50

Submitted by Mike

Greetings; I have a PIII 850mhz, 256mb system running under win98se. As I surf the net going from site to site, during the past few days I have noticed when I connect to a site the screen is blank the taskbar says "Done" if I hit refresh the screen is then painted. If I select an option on this page to move to another page within the site maybe the same thing will happen or half the page will display but the applets will be blank. Now I'm doing what I call surf and refresh. Hint: I downloaded google's new taskbar the other day and had to change ActiveX controls. I copied my previous settings before making the change and restored same as instructed. The taskbar was installed a week prior to these new problems. Can you help me!

Solution 1
Answered by Adam Sowalsky

You've solved your problem: you installed an IE add-on component that has messed up your installation and requires a complete uninstall of any add-ons you installed and then a complete reinstallation of IE. That SHOULD solve your issues.
---
Question 53

Submitted by Brian

I am running windows 2000 Advanced Server version 5.0.2195 Service Pack 2. I am experiencing problems installing most software. Basically once the Windows Installer "Preparing to install..." dialogue box appears the installation hangs. There is no disk activity, Task Manager confirms that the processor is 94-98% idle, msieexec.exe is listed but uses no CPU Time (msieexec.exe 2560 00 0:00:00 1880K), similarly setup.exe is idle. Windows Installer is listed in the applications section as running and never moves to stopped etc. no matter how long the process is left. The system performance confirms most of the CPU (900mhz) and Memory (512MB) is available but not in use. Software can always be installed without problem if running safe mode. And help or advice gratefully received.

Solution 1
Answered by Adam Sowalsky

You should use the MSCONFIG startup options to one-by-one remove startup components until you've nailed down what program it is that is preventing the installation. Once you've done that, restore the others and deal only with the program that is causing the hanging of your Windows Installer program.
---
Question 58

Submitted by John

Hi, My question is: After installing the wonderful freeware package irfanviewer (which I heartily recommend to all) I have a slight problem. Irfanviewer is now associated with all graphics files including common internet graphics filetypes such as *.jpg and *.gif. The problem is that Internet Explorer, ONLY when used a shell in Adaptec CD Creator, AceExpert HTML Editor or FrontPage, can't properly display graphics and shows a box with a red X in it. The same thing happens when I read html files from my hard disk into IE ... broken graphics (the same files viewed in Netscape and Opera are OK). Pages viewed direct from the internet are complete with graphics, and even pages on my hard disk, if viewed via the webserver which I have on my PC, come out OK. I don't want to uninstall irfanviewer as it's far too useful to get rid of. Can I somehow restore graphics capability to shells of Explorer? OS is Win NT version 4.0 and IE is version 5.0 in case you need to know. Thanx

Solution 1
Answered by Adam Sowalsky

If you are sure it is "Irfanviewer" and no other programs, download the installer and analyze the installer script carefully. Scrutinize it. Watch for where it changes classid's for specific graphic types and then try to delete those keys from the registry. Then reinstall IE and your problem should be solved.
---
Question 2

Submitted by Jupiter

Hi,I am running Windows 2000 Professional. When I tried to install Corel Draw 10 from a CD or from a folder (copied content of CD) on my PC it gives me the error message 'You do not have administrator privileges on this machine'. I looged on as 'admin' but the error remained the same. I need your help please. Best regards

Solution 1
Answered by Adam Sowalsky

In order to have administrative privileges on a machine you need to log on as "Administrator" and then delegate full administrative privileges to other users (like your user account). An "admin" account does not necessarily mean you have admin privileges. By any chance, is your computer on a Windows NT domain?
---
Question 10

Submitted by Nick

Is Video Capture Update for DirectX 8.0 (formerly known as Digital Video Update for DirectX 8.0) language=Javascript type=text/javascript><!-- newitem("Jun 27, 2001") //--></SCRIPT>
installed in Windows XP RC 1 by default?

Solution 1
Answered by Adam Sowalsky
Solution 2
Answered by Stephen Koochis

Nick, You are absolutely correct. The version of direct x is 8 for Xp!
---
Question 13

Submitted by Alain

After reinstalling my whole system by hand (phew!), DVDs were a bit scrambled on my Inspiron 8000 running win2k. So I thought I'd try and put up the priority of the DVD reader (WinDVD). And it works wonder indeed! For the interested readers, here's how: while the DVD reader is running, press <ctrl> <alt> <delete> and call the Task Manager. Right click the program and select "go to process", right click the process and select "Set priority, AboveNormal". But as soon as you quit the program, win2k sets its priority back to normal. How can I set it for good?

Solution 1
Answered by Adam Sowalsky

I looked at the Win2K resource kit carefully and found nothing about automatic priority boosts for SPECIFIC programs. You might want to ask MS directly or take a look in the knowledge base.
---
Question 18

Submitted by Scott

Hey Guys & Gals- I am pulling my hair out! I am running Windows 2000 Professional and trying to burn a disk (HP 8220 external series) using songs I downloaded from the internet (mp3). The problem occurs after I insert a blank disk into the burner and click <next> when the cd writer program begins to list the songs available for burning. After about 4 seconds a box appears stating, "runtime error '11' Division by zero". In the past I have not had any problems creating disks. I contacted HP on two occasions, both of which offered unsuccessful solutions to this problem. Here is what they said to try: Clear out start-up, I did. Disable any background programs (ie: norton anti-virus), done that. Upgrade to Direct X 8.0 (for which I had to accept a password memorization software called "Gator" wow, my lucky day) Done! Turn Down Graphics, I lowered from 32 bit to 16 bit. Please help if you can.

Solution 1
Answered by Adam Sowalsky

DirectX 8 does not come with gator. I don't know what you downloaded, but it was not Microsoft's distribution of DirectX 8. ( go to microsoft.com/directx)
Norton nor your graphic settings will affect the burning process. just ask yourself: what programs/hardware have you installed since this issue started?
by the way, i strongly recommend uninstalling gator and offercompanion.
---
Question 29

Submitted by Louis

Please help me with this problem, thanks. :) I tried two approach before but it aint work. I want to make the page on active desktop scrollable, so I used frame and layer before. Well the scrollbar does appears, but I can't scroll it. I need to double click on the scrollbar navigation button then only I can scroll it. Even if I want to drag the bar to up and down also I have to double click on the bar to do so. Please help me to solve this problem. Thanks :) Regards

Solution 1
Answered by Adam Sowalsky

the double-clicking is exactly how the active desktop should work. You need to click on an AD item to bring it into focus before you can do anything. Microsoft built that into the OS to prevent accidental use of the AD when you are trying to perform NORMAL computer operation.
---
Question 37

Submitted by Aaron

Whenever I try to start Outlook 97, I get the following error message: OUTLOOK caused an invalid page fault in module <unknown> at 0000:00000009.
Registers:
EAX=0000008a CS=0157 EIP=00000009 EFLGS=00010202
EBX=6dcc96d5 SS=015f ESP=0062f8e4 EBP=0062f920
ECX=d09f1ac1 DS=015f ESI=0062f928 FS=1aa7
EDX=0000000c ES=015f EDI=00000002 GS=0000
Bytes at CS:EIP:
00 bb d2 65 04 70 00 65 04 70 00 54 ff 00 f0 fe
Stack dump:
0000015f 7e0436ec 0062f928 6dd0ed42 0000008a 0062f928 00000002 00000000
6dcc96f5 00000007 0000008a 0062f928 00407e28 00000000 00000000 0062f948 I cannot figure out the problem... any advice? Thanks

Solution 1
Answered by Adam Sowalsky

upgrade to outlook 98. it's free.
---
Question 19

Submitted by Ron

when i try to restart my win2k machine a blue screen shows up saying "Driver power state error" and then proceeds to perform a physical dump. i've tried everything from a dirty install of windows to changing my hardware around. i firgured it was a windows driver. i installed a new cd rom and then the error started. i changed to a different cd rom with no change. maybe the error is in a "inf" file. thank you for your help- Ron

Solution 1
Answered by Marc Strickland

Check with the manufacturer of yur new CD Rom and get the latest firmware update. This should solve your problem.
---
Question 22

Submitted by ?

When running system information i can't find the menu "tools". The only menus that appear are "file" "edit" "view" "help". Is there a way to bring back the menu "tools"

Solution 1
Answered by Marc Strickland

This is very odd and I do not know of any way to simply restore this menu item by itself. I recommend you re-install your operating system on top of itself.
---
NOTE: Please note that ActiveWin nor the AskAW staff can take any responsibility for anything that may/may not occur when taking our advice. If you do anything that is included in our advice, you are doing so at your own risk.
If you have any questions pertaining to a particular answer please contact the actual Staff Member who replied.
You can contact anyone of our staff here or email us at askaw@activewin.com