DirectX
ActiveMac
Downloads
Forums
Interviews
News
MS Games & Hardware
Reviews
Support Center
Windows 2000
Windows Me
Windows Server 2003
Windows Vista
Windows XP



News Centers
Windows/Microsoft
DVD
Apple/Mac
Xbox
News Search



ActiveXBox
Xbox News
Box Shots
Inside The Xbox
Released Titles
Announced Titles
Screenshots/Videos
History Of The Xbox
Links
Forum
FAQ



Windows XP
Introduction
System Requirements
Home Features
Pro Features
Upgrade Checklists
History
FAQ
Links
TopTechTips



FAQ's
Windows Vista
Windows 98/98 SE
Windows 2000
Windows Me
Windows Server 2002
Windows "Whistler" XP
Windows CE
Internet Explorer 6
Internet Explorer 5
Xbox
Xbox 360
DirectX
DVD's



TopTechTips
Registry Tips
Windows 95/98
Windows 2000
Internet Explorer 5
Program Tips
Easter Eggs
Hardware
DVD



ActiveDVD
DVD News
DVD Forum
Glossary
Tips
Articles
Reviews
News Archive
Links
Drivers



Latest Reviews
Xbox/Games
Fallout 3

Applications
Windows Server 2008 R2
Windows 7

Hardware
iPod Touch 32GB



Latest Interviews
Steve Ballmer
Jim Allchin



Site News/Info
About This Site
Affiliates
Contact Us
Default Home Page
Link To Us
Links

News Archive
Site Search
Awards



Credits
©1997-2012, Active Network, Inc. All Rights Reserved.
Please click here for full terms of use and restrictions or read our Light Tower Privacy Statement.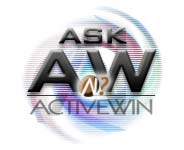 Welcome to AskAW! This section of our web site lets you submit questions about any problems/queries that you may have about Windows. Be it from a little icon that annoys you to hardware freezing your PC, we will try and help you out. You can submit your questions by e-mailing us at askaw@activewin.com. You can browse through previous questions over at our Archive Page. Who knows what you might find.
Here are the answered questions for 08-17-2001
---
Question 70

Submitted by Tim

How do you uninstall Netscape 6?

Solution 1
Answered by Michael Kircus

It should be in the Add/Remove programs applet in the Control Panel. If it isn't there, try reinstalling it.
---
Question 66

Submitted by Aaron

I have recently installed Win2000 Professional on my machine. I haven't had any problems finding drivers for my machine. Yet I do have a problem trying to play a DVD. I have a Matshita SR-8582 DVD rom drive without a hardware decoder. What do I need to get my DVD's to Play on Win2000? sincerely

Solution 1
Answered by Michael Kircus
---
Question 72

Submitted by ?

I have an older computer that I upgraded and i bought a teac 8x8x32 CDR-RW and when I tried to burn a cd at 8 speed the buffer went way down and an error occurred. I changed the speed to 4 and then it worked, how can I get it to run at 8 speed. Thanks

Solution 1
Answered by Charles Putnam

Much depends upon the software you're using, what programs are running in the background and the internal buffer of the CDRW. Nero would allow you to enable DMA, which should help. EZCD doesn't.
Under all circumstances, don't run anything in the background. Also, make sure your CDRW supports buffer under run. Nero and EZCD 5 both support this.
---
Question 5

Submitted by ?

I have 3 operating system installed on my system
1. Windows2000 Server
2. Windows2000 Pro
3. Windows Millennium
can I install Windows XP without effecting Windows ME....or is it that I cannot have both Windows Me and XP at the same time on my system...It's either Windows XP or Windows Me ?

Solution 1
Answered by Andrew Funderburk

There shouldn't be any problems with having XP and ME on the system together.
---
Question 8

Submitted by ?

I am using a multiboot utility called bootit direct. the 30 day trial has run out. so I would like to put my MBR back to original. thanks ?

Solution 1
Answered by Michael Kircus

Try booting into DOS and typing FDISK /MBR. I think this may help.
---
Question 31

Submitted by Derek

Dear Sirs: How do I clear the files left in IE5 history after a browsing session without having to select and delete them individually? There are sometimes hundreds/thousands and this can be awfully tedious. Regards Derek

Solution 1
Answered by Michael Kircus

To clear your history, go to Tools, Internet Options, then click Clear History near the bottom. To clear your cache, click the Delete Files button under the "Temporary Internet files" section.
---
Question 24

Submitted by ?

How can I get windows98 second addition cd-rom. I am trying to download my hp printer and can't because it keeps saying I need the above and I don't have access to it. What do I do?

Solution 1
Answered by Michael Kircus
---
Question 12

Submitted by Nitin

Question 1
I have forgotten the administrative password for my windows 2000 Professional system. Now I am logged out. Can you help.
Question 2
While trying to solve the problem I installed another copy of windows 2000 Professional on the same computer. Now there are three OSes on my computer. How can I remove the ones I do not need.

Solution 1
Answered by Michael Kircus

If you forget the password, you're probably out of luck. You'd have to reinstall Windows 2000. To get rid of the other OSes, you could format the hard drive when, or before you reinstall Windows 2000.
---
Question 23

Submitted by ?

Dear Sir, how do I delete the Temporary Internet File Folder that has the "Cookies" listed that are actively in my computer? I came across some instructions to do so to speed up your computer in the internet but I did not write them down and now I forgot how to do it, please help me.
Solution 1
Answered by Michael Kircus

Close all Internet Explorer windows, then go to C:\WINDOWS\Temporary Internet Files, and delete all text files you see in there. Then, go into C:\WINDOWS\Cookies, and delete everything in there.

Solution 2
Answered by Mean Drake

There are some excellent shareware like Cookie Pal available on the Net which manage cookies well. The upcoming IE 6 also has a built in Cookie manager.
---
Question 48

Submitted by Al

Please let me know how you can remove double entries from msconfig.I have windows Me operating system.

Solution 1
Answered by Mean Drake

If the double entry is loadpowerprofile, let it be. The others if you do not like you can just uncheck. If you do not even want them listed, then delete them at source, either from the Startup folder or the registry.
---
---
Question 63

Submitted by ?

I want to remove from my hard drive BonziBUDDY! I have tried going to control panel-add/remove files and that hasn't worked at all??? Please help me a.s.a.p! Thank you sincerely

Solution 1
Answered by Marc Strickland

Try re-installing it then look once more in the add/remove programs section of the control panel.
---
Question 49

Submitted by ?

I have received an error message that said fatal exception OE has occurred in VXD Asp4wave. This message has came up within two of my computer games. One is called The Sims (original) and the other is called NASCAR Racing 4. Both these games worked on my computer prior to this message occuring. The system is the same, no changes has been made since the first day the two games were loaded. If someone could help me with this error message I would appreciate it. Thanks for all your help.

Solution 1
Answered by Marc Strickland

From the name of the file that is giving you the error, asp4wave, I assume you are using an Aural Vortex Wave Audio sound card? Try updating your drivers get them Click Here
---
Question 47

Submitted by Andrei

Both my old 400Mhz PII Dell and my new 1.1Ghz AMD have been experiencing the same thing: random freeze-ups while on the internet. I tried erasing the temp. internet files and cookies but nothing seems to help. I doubt that the problems lies in TWO separate machines but suspect that it might be ISP related. With both machines, I have been using MSN dial-up access in NYC. I called tech support and all they said was to reinstall the dialer (I use the windows dialer so that's not an issue) and to erase the TIF (which I do anyway). Any help would be much appreciated. Thanks in advance.

Solution 1
Answered by Mean Drake

A little more about the OS and the hardware on the 2 PCs might help. In my experience these are usually hardware problems, often faulty RAM.
---
Question 46

Submitted by Mahesh

Hi, I have this problem sporadically with my Pavilion 8776c, Under Windows ME, sometimes many of the icons stop responding to left mouse click. (there are certain icons (funnily enough all the Microsoft apps) that continue to work). Only workaround is to reboot but that too is not guaranteed to work. I reinstalled Windows ME but the problem still persisted. This machine triple boots with Windows 2000 prof and Linux, I have never had this problem with other two OSs. makes me think that it is a software problem. Any ideas? Thanks

Solution 1
Answered by Mean Drake

First check out that the shortcuts are indeed valid. The rule out a virus infection. Many viruses like the currently running sircam virus will not let exe files run by making changes in the windows registry.
---
Question 39

Submitted by Mike

I have windows 98 and was recently infected with the w32/magistr@mm virus. Unfortunately my anti-virus software was not updated to kick it out and it infected 20+ EXE Files. One of these files infected was rundll32 which allows me to activate my program manager, calculator, sound, etc. The anti-virus software recommended deleting these files to get rid of the virus. Can I retrieve these program files back? If so how? If not; what do you recommend.

Solution 1
Answered by Mean Drake

You can extract the lost files from the Windows CD-ROM. Use the system file checker and go to the Option:Extract a file from the Cab files.
---
Question 38

Submitted by ?

I need to know how to disable the log-in screen in Windows ME.. thankx ?

Solution 1
Answered by Mean Drake

delete the relevant pwl file from the Windows directory and the next time you boot click OK on the window with a blank password
---
Question 34

Submitted by Gene

I'm getting an iexplorer kernel32 problem on my screen, what is causing this and what can I do about it? I have to reboot every time although the system does not lock up. I am running windows 2000 and have 128 megs of ram and a 53 gig hard drive plz help thanks

Solution 1
Answered by Mean Drake

I would suggest you upgrade to the just released IE 5.5 SP2
---
Question 33

Submitted by Martin

Hi I have just been given an old computer for my children with windows 95 on it. I have been told all I need to do is start it up with a boot disc the trouble is I don't have a win95 boot disc as my PC run windows me, Is there anywhere I can get one from. thanks

Solution 1
Answered by Mean Drake

If Win95 is installed why should you need the boot disk? It should boot into windows on its own.
---
Question 25

Submitted by Rich

I have IE 5.01 and Win 98 SE. When I try to right click on a link and go to "open new window" everything works ok except that the window opens in a reduced form. I would like it to open in a full window--it used to and then all of a sudden now it just opens a small window. How can I get it back to the original setting? Thanks

Solution 1
Answered by Mean Drake

Try this...just keep one IE window open. No other windows of any programs should be open. Then right click on the empty space of the taskbar and select Tile Windows Horizontally. Then close the IE window.
---
Question 19

Submitted by Lawrence

I downloaded Lview Processor and it's a trial. But I didn't like it so I deleted it. But what I came to realize was that my Gif and Jpeg files did not have their icon but the one of the Lview and didn't open in Internet Explorer. So I downloaded it again and uninstalled it properly, yet my Gif and Jpeg files still had that icon. How do I uninstall it completely and regain the chance of opening my Gif and Jpeg files in Internet Explorer?

Solution 1
Answered by Mean Drake

Simple. Don't install it again. Just Shift-Right click on one of these files...from the POP-UP menu select Open With...

Then from the Program dialog box select Internet Explorer and before clicking OK, check the box for always Use this program to open these files.
---
---
Question 9

Submitted by Brian

Hello, Recently I removed some old programs from my girlfriends Gateway machine that she no longer needed. Now, she can connect to the internet, but after opening up any type of internet application she get's the following error:
IEXPLORE caused an invalid page fault in module <unknown> at 0000:00000009.
Registers:
EAX=fefefefe CS=0177 EIP=00000009 EFLGS=00010297
EBX=016100fc SS=017f ESP=0116f814 EBP=0116fae4
ECX=00000000 DS=017f ESI=0116f898 FS=2f27
EDX=fefefefe ES=017f EDI=0116f86c GS=0000
Bytes at CS:EIP:
00 22 05 65 04 70 00 65 04 70 00 54 ff 00 f0 73
Stack dump:
0000017f 509921b3 00000000 00000004 fefefefe fefefefe
0116f850 0116f86c 50997f4f fefefefe fefefefe 0116f850
0116f86c 016100e4 00000000 00000001
The same error for Netscape, IE, OE, Realplayer, Telnet, anything that uses the internet, but she connects fine. I have tried reinstalling Dial up networking, the Network Control Panel components, replacing the winsock and wsock32 files, removing spyware, deleting all temp internet files, just about everything I can think of short of reinstalling windows and starting from scratch. Any ideas would be great. Thank you

Solution 1
Answered by Mean Drake

I guess a dirty install of Windows over the current install is called for. After doing this, install the latest version of IE (5.5SP2) and reinstall any other apps that generate errors after that.
---
Question 28

Submitted by Matthew

I have a problem when I shut down my computer. When my computer is Shut Down, then it will hang at the "Windows is shutting down"screen. Please help me get rid of this problem. My PC is a AMD K6 II 350, 32 RAM, Windows 98 SE.

Solution 1
Answered by Mean Drake
---
Question 4

Submitted by Colin

When closing win98 se it gets as far as win98 is closing down then stops I have to close down without the following screen it is now safe. Is this ok when closing down win98 se I don't get a safe now to turn off your computer window

Solution 1
Answered by Mean Drake
---
Question 3

Submitted by Eleni

Dear sir As I was searching for the answer to my problem I bumped into your site and I just hope that you can help me. Every time I open the simple PICTURE IT PUBLISHING 2001 program and without even doing anything ...just looking at the intro page and then exiting the program. I get the 'PIP caused a Kernel32.DLL and will now close' message, after I exit. That error was reported into my fault log as being an invalid page fault. I uninstalled and re-installed the program, via the wizard's help and the CD given to me by Dell, but to no avail. The problem is not worse but the same. This never happened to me before and due to some updates I tend to believe that perhaps they had something to do with it. As a matter of fact I never used the program and since I got my new computer I only toured through it a few times just to view its high tech demos , which is what I tried to do today again. Any help will be appreciated Thanks in advance for any time you spent on this Regards

Solution 1
Answered by Charles Putnam

There's a patch on Microsoft's web site - updatehp.exe.
If you have trouble finding it, e-mail me and I can send it.Dell Pent4/1.4ghz/128RDRAM/60gb/winME
---
Question 1

Submitted by ?

Hi, I Have a problem when I bootup my PC, once it comes to the wallpaper background a message pops up and it says......
Native Audio Initialization Error
The WaveTask Manger (NSPMM.DLL) is not available.
Wave Services will be disabled.
Then it has an okay button, and after pressing that, bootup will be successful, I don't think its a big problem, but it is very annoying to o through it every time I bootup, could u please tell me how to get rid of it, and if you could please use real easy directions, thank you!

Solution 1
Answered by Marc Strickland

This behavior can be caused by the existence of the Intel Virtual Audio Device (which was installed as part of The Intel Video Phone product). Click Here to resolve this issue.
---
Question 45

Submitted by Phil

>"windows could not load the driver for this
>device because the computer is reporting two ACPI bus types
>(Code 2.)
>Please contact your Manufacturer and upgrade your BIOS"
This is the error message which has rather annoyingly suddenly decided to rear it's ugly head on my computer. It is affecting my "Advanced Configuration and Power Interface" (ACPI), and means that none of my other devices (modem, sound/video cards etc) are loading up either. In Safe mode, all my devices are listed as normal without any reported errors, or interrupt conflicts with other devices. I really don't know where this error has come from as I am almost 100% certain that I haven't changed anything since it last loaded up OK, and I shouldn't have any viruses since all the files that go on my PC are checked, the BIOS and system files are checked at every boot and I don't even have an internet connection. Even hardware faults seem unlikely as running a diagnostic tool under safe mode on the main board reports no problems. I have an AOpen MX64 mainboard with a VIA chipset, and the BIOS that originally came with it and am running Win98 SE. This BIOS seems to support ACPI (there is an option to enable/disable it in the setup menu), and the BIOS is the latest one offered by the Manufacturer of the board. I have tried removing and re-installing the offending device (and indeed every other system device), but to no success, and have tried everything to my knowledge to come to a solution but without success, so I turn to you in the hope you can offer some advice as I don't want to have to re-install everything AGAIN. Thanks in hope

Solution 1
Answered by Marc Strickland
---
Question 44

Submitted by ?

Integrated Intel® Direct AGP 3D graphics with up to 11MB of dynamic video memory, will this work with new games? I just bought a HP Pavilion 7940 with a Pentium III 1GHz processor, 128 MB RAM, and a 40 gig hard drive. But as I have been looking at new games many of the minimum requirements say u need at least 16 Megs of video memory to run the games at all and all I have is 11 and it is not upgradeable so does this mean with my brand new computer I cant run any brand new games? And also is what is listed above a 3D accelerator? I know I have a 3D accelerator on this computer but everywhere I look I cannot find something that says graphics accelerator so I was wonder if what I have listed earlier is a 3D accelerator and will it run new games? Thanx for any help u can give me!

Solution 1
Answered by Marc Strickland

I have researched this a little bit for you and it looks like you have a value pc with a Intel® Celeron™ processor. I would not consider this a gaming computer, but, a general purpose pc. I do not believe you will be able to run games with a video memory requirement above 11MB although the information I read was not exactely specific. Also, I do not believe you have a 3D accelerator. It looks like it support 3D without acceleration. To find out for sure simply borrow a game from a friend and try it. Otherwise you can check with the place you purchased your system.
---
Question 68

Submitted by Betty

I have a question. I bought my computer a year ago an when I bought it the software was not with it but it was new it had windows second edition on it the problem I have now it that I got a virus an it crashed an the guy reinstalled windows but not the service pack that had thems plus on it an I really miss it is there anyway that I can download it? When I go to program files it says plus an themes but can not get it to work. I really miss it cause I used the themes allot. Can you help? Thanks

Solution 1
Answered by Candy Baker

If you go to the Windows Update Icon on the Start button you will keep your computer up to date. Then buy yourself Windows 98 PLUS, that is where you get the Theme's and extra games. Whoever built your computer needs to give you the original Windows CD that came with your computer, just in case you have to reinstall it later.
---
Question 67

Submitted by Greg

Hello, I am running Windows ME, and when I turn on or restart my system is goes into my C: drive. Everything goes good except up to the last second where it loads into that drive. I tried looking into the msconfig and startup section but couldn't find anything there. It's not a real bad thing just annoying. Please help me correct this problem. One other problem I ran across. Every once and awhile my computer will just shutdown when I'm in the middle of doing something. Could this be a bad power supply or something else? Thanks

Solution 1
Answered by Candy Baker

What you tried reinstalling Windows Me. That can fix a multitude of problems.
---
Question 64

Submitted by Anthony

Hi, Just noticed that quickview is not available in W2k. How do I get it back or is there another alternative. Thanks.

Solution 1
Answered by Candy Baker

You can go to http://www.jasc.com/download_4.asp and download a 30-day trial version. But if you go to Search of Drive C: you should find it under C:\WINNT\system32\Viewers. Give it a try.
---
---
Question 61

Submitted by Bob

I recently installed Windows XP RC2 onto a Compaq presario 1200 laptop. I added it to the domain successfully. However, when I try to log onto the domain I get a message stating that the domain controller is not available or the computer account doesn't exist on the network. Occasionally, if I am persistent enough I can log on but if I reboot I can no longer get in. I have no problems logging into a workgroup or just logging in locally. I did find something online which said to disable network access control using IEEE 802.1X, running the network wizard to join the domain and rebooting. This worked for a day and I can no longer logon. Any ideas would be greatly appreciated. Other than that problem I think XP is a hit.

Solution 1
Answered by Candy Baker
---
Question 30

Submitted by Jake

Hi, A naive question. I'm running Windows Professional (Service pack 2) on a Sony Vaio laptop. I work in 2 places, each with its own IP address, gateway, DNS server etc. Is there any way that I can save the different network settings (for example as different users) so that I can log on in each place without having to manually plug in all the addresses? This is so tedious and time-consuming....Thanks in advance for any advice. Jake

Solution 1
Answered by Marc Strickland

You can easily set up individual profiles for each location that should take care of this for you.
---
Question 29

Submitted by George

I've got a 266 PII Gateway Pc that boots very slowly. There's a message showing that says "Checking NVRAM..UPDATE FAILED". I've tried the usual removing the battery, clear cmos type stuff but nothing has worked. I recall reading about a virus that protects the bios from flashing. Could that be the problem and how can I get past it? Thanks

Solution 1
Answered by Marc Strickland
---
Question 43

Submitted by Pankaj

Sir We have a software that Monitors all File Operations(copying, moving etc..) through VXDs and as soon as user execute our Software BSOD appears on the screen having such information : VFAT(01) + 000002D32 Pls Suggest me some methods to solve this problem. Thanking You

Solution 1
Answered by Marc Strickland
---
NOTE: Please note that ActiveWin nor the AskAW staff can take any responsibility for anything that may/may not occur when taking our advice. If you do anything that is included in our advice, you are doing so at your own risk.
If you have any questions pertaining to a particular answer please contact the actual Staff Member who replied.
You can contact anyone of our staff here or email us at askaw@activewin.com