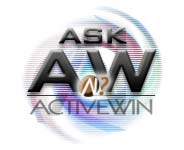 Welcome to AskAW! This lets you, the visitors submit questions about any problems/queries that you may have about Windows. Be it from a little icon that annoys you to hardware freezing your PC, we will try and help you out. You can submit your questions by e-mailing us at askaw@activewin.com.
Here are the questions posted on: 09-09-00
---
Question: Can you please tell me how to do a "clean" reformatting of my hard drive...I do have my restore disk.
Solution 1: Dear Tracy, Prior to formatting your Hardrive, I would search the Internet for the latest Drivers for your:
1)Video Card
2)Soundcard
3)Modem
4)mouse and other Special devices you may have..eg printers,USB speakers, Scanner etc.
You can right click on My Computer, choose Properties then click the tab for "Device Manager". Each device with be listed, then click on each to get the Exact name of each device. Then I would contact each Manufacturer's site for the latest drivers for each. You did not say what operating system you intend to install, each has its own quirks and possible cautions. However once you have all your drivers, I would place them on a 2nd partition like D along with any other "data" you plan to keep. Depending on the size of your hard drive and amount of your data, the size of this partition may vary. I myself usually create this partition always when updating any PC. I would highly recommend you create a 2nd partition if you have a large hardrive.To create a 2nd Partition WITHOUT loosing data you will need a utility like Partition Magic http://www.powerquest.com/partitionmagic/ you can download it there
Then once D is created, I would then move the drivers you downloaded to D:\Drivers, Copy C:\Windows\Application Data to D (to retain your Mail,Addressbook etc..Then I would Create a New "My Documents in D and copy all there as well. Once you feel confident you have saved all that you wish, proceed...
What You Will Need:.
Put this file on your Boot Disk for later reference.
A boot disk containing at least these files;

Command.com command prompt
Msdos.sys system [hidden]
Io.sys system [hidden]
Drvspace.bin system [hidden]
Fdisk.exe to partition HDD
Format.com to format partition(s)
Edit.com text editor
Mscdex.exe to install CD-Rom drivers [not always put on Boot Disk automatically]
These are just basic files that you have to have before you begin but other files could and can be included.
Partitioning Your Hard Drive [HDD]
--------------------------------
After a new HDD is installed in the CMOS/BIOS your HDD will have to be partitioned.
Step 1
Place Boot Disk In floppy drive and reboot to A:\ [check CMOS setup to see if Boot Sequence is A,C, if not change it]
Step 2
at the A:\ prompt type; fdisk
Step 3
When Fdisk opens you will see a selection of choices, if you are partitioning a Second HDD choose 5, Change Current Fixed Disk Drive and type 5 in the 'Enter Choice' box, then you will see a table of partitions with drive 1 and 2, choose 2 and enter then choose 1 to make first partition, when that's done select 2 and 3 and so on until it says ' all available space has been used', press ESC to go back and keep pressing ESC until it says to re-start your system.

You can choose the size of the partition that you want..

These procedures are the same if you only have one HDD .
Step 4
Check to see if you have drive letter(s) assigned for each partition. Depending on the size of HDD, you may only get 1 or 2. From the boot disk at the A:\ prompt change to c:, from there change to D: and so until you get an 'invalid drive specification' message.
NOTE : Hard Drives need only to be partitioned once unless you decide to split one big one into two or more partitions. Hard Drives larger than 2.1GB that have FAT16 operating systems [Windows 95A] will give a maximum size partition of 2GB, i.e. if your HDD is a 6.4GB you should get 3 x 2GB partitions and maybe, depending on make, you might get a very small one as well, you may not need it anyway. There is no need to partition every time you want to format a drive. Partitions can be deleted and changed by Fdisk if you want. When prompted, you will be asked to name the drive you created, Rename C to "MAIN DRIVE" then D to Backup (Dos allows up to 11 characters in the name)
Reboot
Formatting Your Drives
----------------------
Now that your HDD is partitioned you now have to format all partitions.
With your boot disk still in drive A:, just type; format c: /s [the /s copies the system files to disk after the format]. You will then be reminded that all data on drive will be lost, if it's a new HDD there is nothing to lose, if it's one you are using or whatever, save anything you have to, then proceed. When you answer 'Y' at the question you will see something like this; 10 % Complete until it gets to 100 % and you will then be asked what Volume Label you want, if you want to give your new partition a name you can, this is not important, you can do this in Windows later if you like. The format will take several minutes. Then after that is done you will see some statistics about your drive and you should now be back at the prompt. This process must be repeated for all partitions, If only one, then that's it.
Installing Windows 98
------------------------
With the disk still in drive A: type this; copy mscdex.exe c: [If you do not have MSCDEX.exe you cannot install your CD-Rom drivers and in turn you won't be able to install Windows 98]
Now place your CD-Rom installation disk in A: and type; install .This will create two new files, Autoexec.bat and Config.sys. These files are to load your drivers in real mode [DOS]. You should then be prompted to re-boot your system, take out the disk first before you do. You should now be at the Dos prompt C:\ ,now change to your CD-Rom by typing; D: [if more than one partition your CD-Rom may be the next letter, now put in your Windows 98 CD and type at the prompt; setup ,Windows will run scandisk and then ask you to view log, you can skip this by selecting 'exit' and it will then start the setup wizard. You will be asked for your 20 character OEM number [look on the Certificate of Authenticity on the bar code] just type it in as it is and just follow the directions. That's it,
Appendix; If you have the luxury of a spare old P.C. you might want to run the procedure first on that to see how it what to expect, take some notes. If you have any questions prior to performing this contact me. Good Luck Tracy. -Craig Catapano
Solution 2: And may I add just a little to this impressive post. Don't forget to backup your emails from outlook express, your Favorites and in some cases even your fonts. Your document files of course goes without saying. Be sure to have the installation CDs of all software on your PC - Mean Drake
Solution 3: I've just done a total wipe-down of my system. Now that it's running the way I want it I have produced an Image of my Hard Disk using Norton Ghost. This image can then be burnt to a CD, meaning my whole system can be restored to a usable state in minutes without the hassle of looking for Application Disks, Drivers etc. Powerquest also produce a similar product called Drive Image. -Brian Lyttle
http://www.powerquest.com/driveimage/index.html
Submitted By: Traci
---
Question: I've got a couple questions that I hope you can answer for me. I have the final build of Windows ME, but it seems they have removed the backup program that was in accessories under system tools. I updated from windows 98, and so the old executable is still there, but did they remove it or is it somewhere else? Also, I've installed it on 2 computers. Both with Norton anti-virus 2000. NAV works fine on one of the computers, but doesn't work on the other. Any ideas? Thanks.
Solution 1: The Version of Msbackup from Windows 98SE is not compatible with ME. During setup, the operating system removes this prior version. There is a newer version that is installed AFTER the ME setup. It should be on your ME CD under \CDEXTRA.ENG\ADD-ONS\MSBACKUP If not please contact me regarding your request. Notice also that since your upgrade "Quickview" has also been removed, FYI Good Luck -Craig Catapano
Submitted By:
---
Question: Hi! First I would like to say that you have a Great homepage, it's the best!!!! Then I have a BIG problem!! I re-installed windows 98 on my computer (first I made a startup disk and then formatted C:) the problem is that I only have an 16 color option and a screenseting of 640*480 and I can't change it??? Windows couldn't find my graphic card or de monitor so it chose to set the monitor to "unknown" and the graphic card setting is "standard PCI-graphic card (VGA). I wonder if it is any chance for me to detect the monitor and graphic card by any means?? Maybe with a detection prog. like the once their are for network adapters??? Or should I re-install it all together????Please reply as fast as you can!!!! Best Regards
Solution 1: Hi, Since Windows doesn't detect your monitor and video card (that means they are not plug and play), maybe you have some drivers on floppies that came with your computer. If you don't you have to find a way to get the brand/model of your monitor and video card. Then you can do a right-click on the desktop, go to Display and then change the settings from there. Hope this helps! -Guillaume Hébert
Solution 2:
Submitted By: Oscar from Sweden
---
Question: Hi:First of all, sorry for my terrible English. I want to insert 2 different commands in the same shortcut (like a batch program): %windir%\regedit.exe /s c:\ddd.reg and %ProgramFiles%\Outlook Express\msimn.exe".
I think there was a character like | or something that Windows2000 recognizes as an enter to make possible insert 2 or more commands into one shortcut. Do you know?
Solution 1: If I was you, I would actually make a batch file with the 2 commands you wanted to executed, and then point to that batch file. Windows understands "wildcard" directory references in batch files. Hope this helps. -Ekapshi
Submitted By: ?????
---
Question: Hi, I have Easy CD Creator 4.02 in Italian and I have a CD-ROM Plextor 40x SCSI that my computer identifies as drive F, the masterig drive is a Yamaha 4416S identified as drive E, the programs CD Copier, the CD-ROM Plextor doesn't find but it sees only the Yamaha, therefore I cannot use the function of CD Copier. The whole rest of Easy CD Creator, works to wonder. The I Know it is not W 2000 installed professionals as updating. Which can the problem be? And which the solution?
Solution 1: Is it 4.02d? Are you running Win2k Pro? I wasn't sure from your question. Anyway, I've noticed a problem with 4.02d and Win2k not seeing some drives on some dual cd systems. If you're running 4.02d, try downgrading to 4.02c and see if that fixes it. -Andrew Funderburk
Submitted By: Mariano Palma
---
Question: Hey I have internet explorer 5.5 and I just got a new modem so I don't use Juno any more but the icon is still in the upper right hand corner of IE. can you help me?
Solution 1: If you are referring to the spinney-thing that indicated activity, you should do a complete uninstall and then reinstall IE from the Microsoft website. Don't just reinstall....actually remove all components. There are other traces of Juno present as well, they just aren't as obvious. Doing an uninstall will remove them. -Adam Sowalsky
Submitted By: wildthing909
---
Question: Win98 wont let me access applications. It says it cant find TUGET.EXE and I cant fix it.
Solution 1: This tuget.exe file you are referring to---when does it come up? Is it only when choosing a certain file or application, or for all applications? For example, can you use notepad without the error occurring? Please specify. -Adam Sowalsky
Solution 2: I am quite sure the registry has got corrupted and there is a problem where exe files have got associated with some program called tuget.exe. I virus might sometimes cause this. Check out your file types in Folder options in windows explorer and see if this is the case. ideally exe files should not be listed here. -Mean Drake
Submitted By: Mike
---
Question: Hi!! I used to run a batch file program to do a backup to our server but now it doesn't work with Windows 2000. The old batch file looked like this... xcopy32 "c:\my documents\*.*" "z:\terry\" /s
xcopy32 isn't available in Windows 2000 (so it seems!) so I used copy32 instead. All that happens though is a quick flash on the screen and then nothing! I looked in the help file and it said something about putting an "#cmd" in front of the batch file, but trying it did not help!! So how can I copy files unattended via the scheduler if I can't run a batch file?? And how do I run a batch file in Windows 2000?? Thanks for your help
Solution 1: try putting my document in quotes:
c:\"my documents"\whatever Good luck. -Adam Sowalsky
Solution 2: Sounds like copy32 doesn't like the directory name. change My Documents to mydocu~1 and see if that helps -Sage
Submitted By: Terry
---
Question: Is there any way I can create a shortcut to the Taskbar & Start Menu item that is in Start Menu\Settings? Thank You.
Solution 1: I don't think so. Sorry, -Adam Sowalsky
Solution 2: You can create a shortcut, using this as the command line in the shortcut:
"rundll32.exe C:\WINDOWS\SYSTEM\SHELL32.DLL,Options_RunDLL 1" -Michael Hicks
Submitted By: Gienya
---
Question: Have an error at startup Noltray runtime error 429 Active x component can't be created What is this and what is Noltray?
Solution 1: I have no idea (do you have Norton anything?). If you have the active desktop turned on, try turning it off and restarting. Does the error still occur? - Adam Sowalsky
Submitted By: ????
---
Question: Hey AskAW! I have a problem with my Win98 on AMD K6-2 300MHz. It takes almost 2 minutes to completely boot up. And Windows take up over 40secs of the boot time. And during the middle of the process, there is no disk activity. When I first got my computer (with much more startup programs), it didn't take as long. Also when I shut down (about 4/10times), it freezes before it gets to the "Windows Is Shutting Down" screen. Thanks for your help!
Solution 1: Have you installed any Microsoft program since? Those add tremendous amounts of startup time simply because of the many registry entries it adds (Windows must read the entire registry during boot up---I'm pretty sure of this). That would explain why adding more programs causes longer boot up. I wouldn't worry about it, but maybe running a registry-cleaning program might knock a few seconds off of boot time. There are many programs that detect old entries from programs that have long since been removed/uninstalled/deleted. -Adam Sowalsky
Solution 2: Do you have some SCSI devices in your system? With many SCSI cards and devices, Windows 9x will have large delays during enumeration(detection), where nothing seems to happen, while I scans the SCSI buses. Your issues could be related or maybe not. As for shutdown issues, here is a lengthy Microsoft troubleshooter for shutdown problems.
http://support.microsoft.com/support/kb/articles/q238/0/96.asp
As a side note, the annoying SCSI detection methods of Win 9x have been much improved in WinMe -Michael Hicks
Submitted By: Simon
---
Question: Some where I have lost the device file to access my cd rom . I've tried everything I can think of to find it. If you can help it would be appreciated. Here is the specs of my system. My computer shut down and restarted by it self. Now I get a message, device file not found sys,ini refers to this file. If you deleted this file on purpose, try uninstalling the application to replace this file. Ever since this has happened, I can no longer access my cdrom. I get the message" NO CDROM INSTALLED " What can I do to get access to my cdrom?
INFO: OS=WIN98 SE PROCESSOR,INTEL CELERON533MHz BOXED,MACHINE BUILT
TEKRAM
COMPUTER SYSTEM,S381M TEKRAM MOTHERBOARD
40XCDROM,V.9056KAMR MODEM, 8 RAM AGP BUILT IN VIDEO CARD,USB PORTS
F+B,13GB MEDIALIST SEAGATE ULTA DMA,INTERNAL,8.9MS/5400rpm 512Kcache,
66MB/sec Max Tranfer Rate,
64SDRAM Memory(100Mgh compliance)
I hope this is enough info to locate the answer. Thank you guys,
Solution 1: Try removing the CDROM entry from device manager and restarting. With any luck, the computer will recognize your drive. Just for kicks, is the CDROM showing up at boot up/ramcheck screen (e.g. secondary master, primary slave, or whatever)? -Adam Sowalsky
Submitted By: C.W. Van Ord
---
Question: Hey to whoever is reading this, I have a dsl modem (efficient speed stream 3060) and on their website it says that Win ME drivers are "Pending"...which really says a lot for when they will come out. I have installed ME on another one of my machines and everything with 98 drivers seems to work just dandy. I was wondering, would my modem work as well in ME because they are based on the same kernel? or would it just say that it couldn't find appropriate drivers? Thanks for your time
Solution 1: It's all about optimization. It probably wouldn't hurt to try running your modem in 98...see if it detects it, and try installing your old drivers for it. It might give you an error message, or it might not. Trial and error. Or, you could wait until special ME drivers come out. Good luck, -Adam Sowalsky
Submitted By: Andrew Greves
---
Question: Since installing Windows 2000 Server, I have not been able to access the Network Performance counters (Network object is not listed as a option in the Performance Monitor). I have installed 2000 on other machines and the network counters are available. An install from scratch may solve this problem, but for many reasons, I do not want to take that step on this particular machine. I get these errors in the event viewer when the machine starts up:
ID 1003: Unable to query the W3SVC (HTTP) service performance data. The error code returned by the service is data DWORD 0.
ID 2003: The configuration information of the performance library "C:\WINNT\system32\w3ctrs.dll" for the "W3SVC" service does not match the trusted performance library information stored in the registry. The functions in this library will not be treated as trusted.
ID 1000: Unable to collect the FTP performance statistics. The error code returned by the service is data DWORD 0.
ID 2003: The configuration information of the performance library "C:\WINNT\system32\ftpctrs2.dll" for the "MSFTPSVC" service does not match the trusted performance library information stored in the registry. The functions in this library will not be treated as trusted.
ID 2003: The configuration information of the performance library "C:\WINNT\system32\infoctrs.dll" for the "InetInfo" service does not match the trusted performance library information stored in the registry. The functions in this library will not be treated as trusted.
ID 2003: The configuration information of the performance library "C:\WINNT\system32\aspperf.dll" for the "ASP" service does not match the trusted performance library information stored in the registry. The functions in this library will not be treated as trusted.
Suspect these errors have something to do with this problem, but I am not sure what they mean or what action to take to correct these errors. Monitoring the network activity with the performance monitor is very useful and I would really like to be able to do so on this machine. Any suggestions as to how I might be able to fix this problem?
Solution 1: For a bone crunching detailed explanation and solution for the exact problem you suffer:
http://support.microsoft.com/support/kb/articles/Q226/4/94.ASP -Michael Hicks
Submitted By: Bill Block
---
Question: Hello AW, I am trying to figure out a solution in regards to Internet Connection Sharing in Win 98'. I have a host computer which is running Win 98' SE, the problem I am running into is I have to convert a wireless ethernet 802.11 standard and convert it to a dialup connection to the internet. The wireless unit allows for adjusting the ip address, gateway, etc. but I have not found any documentation to show whether it is feasible to make such a conversion from an ethernet to dialup. Any suggestions would be greatly appreciated. Thank You
Solution 1: Let me try to understand correctly.... You have an internet connection from one computer that is running 98SE. You have another computer that you want to share the internet connection. And they are connected to each other by wireless ethernet....and you want them to be connected by dialup instead? This is pretty easy. Just set the host computer to allow dial-up connections (make a user for him on the computer and install dial-up host software from the 98 CD). Then dial him up from the slave computer and internet should be tunneled through the phone line. Good luck, -Adam Sowalsky
Submitted By: Marty
---
Question: I have a Gateway Solo 2150. After I downloaded the 'fix' for the 'hang on shutdown' problem, my laptop seems to consistently hang-up on shutdown. It seems to occur most after I try to shut it down while connected to a network. By the way I read your FAQ for this problem (see below) but I do not see the option "Disable Fast Shutdown". Can you help???
Solution 1: I have found that when I have this issue that if I boot all the way up in safe mode then do a normal restart this issue goes away. Try it and let me know if it helps you. -Marc Strickland
Submitted By: Marc
---
Question: Is there a way to keep other users from having access to my desktop profile. For instance I can click cancel on the prompt for users and still go under start/find and access any file under any profile. The ultimate fix would be to lock people out of my computer altogether. Thanks for the info
Solution 1: Win98 by itself has no such features. There is a bunch of shareware available on the Net that allows protection of various types. - Mean Drake
Solution 2: A way to keep everyone from entering your computer would be to use the Policy Editor that comes with the Windows 98 disk. Go under my computer under the policy editor and go to network settings. Then enable the must gain access for network logon. Even if you are not running a network if the user hits cancel or tries to enter the wrong password it will not let them in unless they go through via Safe Mode. -Shawn Abramson
Submitted By: Mr. Morace
---
Question: Hello, I recently downloaded the "full install" of DirectX v7a from Microsoft's site, since I previously had Version 4 and needed "Version 6 or above" to install the Microsoft Media Encoder.I installed the DirectX 7a package, I thought, but the MME would still not install, telling me (again) that I needed DirectX 6 or above to use it, so I ran the DirectX diagnostic utility (DXDIAG.EXE) to see what the problem was. The first page identifies the product as DirectX "Version 7.0 (4.07.00.0716), but under the "DirectX files" tab, all of files appear to still be the Version 4 (4.07..., 4.08..., etc.) files! What's happening? Which version is really installed?
Solution 1: The version numbers go like this:
xxx(windowsversion).xxx(directx version).xxx(point release).xxx(build number)
So, 4.07.01.3000 would be Win9x, DX7.1, Build 3000 side note: this is what WinMe uses.
You list 4.08 as one, that would be DX8(beta only right now), that could be one problem, if you had installed it. Do all your drivers support DX 6 or 7? Did you install DX Media 6.0? It is a separate package at:
http://www.microsoft.com/directx/homeuser/downloads/default.asp
Also, the current version is Windows Media Encoder 7, but it will not(Microsoft is extremely adamant about this) run on Win95
Hrm, version info seems to have changed for Win2k. Ooops on my part -Michael Hicks
Submitted By: Ed Crosby
---
Question: Hello ActiveWin, I have a computer running Windows 98 SE and it used to support the 'Suspend' or 'Standby' mode in the Shut Down menu, but recently when I turned on the computer, the Standby mode was gone. I didn't alter anything in the BIOS or the Advanced Power Management either. How can I restore this mode?
Solution 1: This happens in some cases where the motherboard develops a hitch and so the Standby option is gone. Happened to a previous PC of mine but if left alone, it would go into standby after a set period of time. -Mean Drake
Solution 2: Hi, Can you tell me What kind of computer you have? Also I would like to know what kinds of software are you running on your windows 98se computer. Have you update your windows 98se software from the updates at windowsupdate.com. This web site is ran by Microsoft to help people update there windows 98 and windows 98se software so it has all the updates to it. -Robert Birmingham
Submitted By: Geoffrey
---
Question: How do you use IE4 with NeoPlanet? I installed IE4 where there would be no conflicts, but I get an error message <Internet Explorer cannot open the page you requested> I run Win98 WithIE4 NeoPlanet and tecinfo ISP.
Solution 1: Neoplanet works on a IE skeleton. So I really do not understand what is the problem here. In fact the prerequisite to installing neoplanet is to have IE installed prior to it. -Mean Drake
Submitted By: ureckon99
---
Question: Hi, My PC gets hanged-up when I play the demo version of Melourne House (a cricket computer game). I works fine for a few games and after that suddenly, voice stops and the system hangs. Even when I try to restart it does not restart. This is a demo version and installed on my computer. As far as I remember (not completely sure) this same problem does not happen when I play FIFA'99 (a soccer game for PC).This I play using CD. There are no other memory intensive programs in the background except the basic windows (Runaapp, Systemtray, Explorer). My computer specs: 433MHz, 8.3 GB HD, 96 MB RAM, 8 MB Shared Video memory. Could some one pls tell the reason and remedy for this problem. Thanks in advance.
Solution 1: Maybe a memory leak problem with the Demo version. -Mean Drake
Submitted By: Shafi
---
Question: In trying to install Windows ME I keep getting the error message that USB drivers are not installed. I went to the place it told me to get them and installed the drivers. But I still get the message. Can you help ? Thanks
Solution 1: Are you getting this error when you are trying to install Windows ME? I assume that you are currently running Windows 98. Or 95? Windows 95 doesn't have any USB support that is any good (although some later versions do work with it), and Windows 98 should have it built in. Your question is rather vague: could it be that a certain piece of hardware you use requires USB drivers....or better yet, do you use any USB hardware? My only recommendation is to try a clean installation of Windows ME (reformat and try again), although that is almost never preferred to an upgrade for sanity's sake. -Adam Sowalsky
Submitted By: Rose :)
---
Question: Dear guys (or Madams) I recently purchased a media 1oo V80 ifinish system equipped with windows NT already loaded internally I just received a new 3.2 upgrade that requires Windows 2000 to run the new program. Do I qualify for an upgrade of some sort from you guys to operate my new system? I have all my warranties and documentation etc. Thank you
Solution 1: I would recommend that you contact the company of whatever you are trying to upgrade/update and ask them the same question you asked us. -Adam Sowalsky
Submitted By: Steve Hutchinson
---
NOTE: Please note that ActiveWin nor the AskAW staff can take any responsibility for anything that may/may not occur when taking our advice. If you do anything that is included in our advice, you are doing so at your own risk.
If you have any questions pertaining to a particular answer please contact the person who replied.
You can contact anyone of our staff here or email us at askaw@activewin.com