DirectX
ActiveMac
Downloads
Forums
Interviews
News
MS Games & Hardware
Reviews
Support Center
Windows 2000
Windows Me
Windows Server 2003
Windows Vista
Windows XP



News Centers
Windows/Microsoft
DVD
Apple/Mac
Xbox
News Search



ActiveXBox
Xbox News
Box Shots
Inside The Xbox
Released Titles
Announced Titles
Screenshots/Videos
History Of The Xbox
Links
Forum
FAQ



Windows XP
Introduction
System Requirements
Home Features
Pro Features
Upgrade Checklists
History
FAQ
Links
TopTechTips



FAQ's
Windows Vista
Windows 98/98 SE
Windows 2000
Windows Me
Windows Server 2002
Windows "Whistler" XP
Windows CE
Internet Explorer 6
Internet Explorer 5
Xbox
Xbox 360
DirectX
DVD's



TopTechTips
Registry Tips
Windows 95/98
Windows 2000
Internet Explorer 5
Program Tips
Easter Eggs
Hardware
DVD



ActiveDVD
DVD News
DVD Forum
Glossary
Tips
Articles
Reviews
News Archive
Links
Drivers



Latest Reviews
Xbox/Games
Fallout 3

Applications
Windows Server 2008 R2
Windows 7

Hardware
iPod Touch 32GB



Latest Interviews
Steve Ballmer
Jim Allchin



Site News/Info
About This Site
Affiliates
Contact Us
Default Home Page
Link To Us
Links

News Archive
Site Search
Awards



Credits
©1997-2012, Active Network, Inc. All Rights Reserved.
Please click here for full terms of use and restrictions or read our Light Tower Privacy Statement.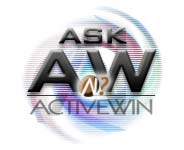 Welcome to AskAW! This section of our web site lets you submit questions about any problems/queries that you may have about Windows. Be it from a little icon that annoys you to hardware freezing your PC, we will try and help you out. You can submit your questions by e-mailing us at askaw@activewin.com. You can browse through previous questions over at our Archive Page. Who knows what you might find.
Here are the answered questions for 09-14-2001
---
Question 49

Submitted by ?

I installed an alternate browser (Opera) to evaluate and after a trial period, decided to revert to IE. After uninstalling Opera, I find that there are still some instances in Outlook where I cannot click links to open them (even when I hold down the shift to try to select a browser). I have deleted all references to Opera in the registry, but this still happens. I would appreciate any guidance.

Solution 1
Answered by Mean Drake

Try this. Internet explorer>Tools>Internet Options>Programs tab. Internet explorer should check to see if it the default browser. Once the box is checked, close and restart internet explorer. If it is not the default browser it will let you know and you can then correct it and make it default.
---
Question 48

Submitted by ?

While reading email on AOL, using WINMe on a new Dell, I keep getting the following message:
Wuauclt has caused an error in WUV3IS.DLL
Wuauclt will now close.
If you continue to experience problems, try restarting your computer.
I've restarted several times, but that message continues to pop up. Help!

Solution 1
Answered by Mean Drake

Stop the automatic windowsupdate feature that is a part of winme.
---
Question 41

Submitted by ?

Yesterday morning my computer was working fine. I opened an e-mail from a trusted friend that contained gifs, that I'd sent to them. Now I'm getting the following message: res://C:\WINDOWS\SYSTEM\SHDOCLC.DLL/dnserror and also the Rundll and Riched.dll that were found in a search yesterday afternoon are now gone,too. I can't get wordpad to open at all and when I get on the internet I can only get on aol 5.0 no luck with 6.0 and I can't access any websites. I can get to my e-mail though. What should I do?

Solution 1
Answered by Mean Drake

I would think of a virus attack. Why could not your trusted friend have an internet worm and email can come to you from her without his/her knowledge. Just ask the friend if mail was sent to you. What was the attachment name? Scan your computer with an antivirus with the latest updates.
---
Question 40

Submitted by William

hello my question is how do you change the splash screen that comes up when you boot in to windows me or any other version of windows. i know it is possible i just do not know how to do it i have a picture on my hard drive that i would like to see every time i start windows i would like to see that picture intead of the current windows me splash screen. any help you could offer me would be greatly appreciated. thank you

Solution 1
Answered by Mean Drake

With Windows 9x/ME its a child's play. With Windows 2000 its a little more difficult where some system files like ntoskrnl have to be edited with a resource editor.
Even in Win9x/ME its easy to make the splash screen as a still without the scrolling blue colours you get at the bottom of the original splash screens. If you want that too then you have to know a bit of hex-editing. Anyway for full instructions go here
There you will find detailed instructions as well as can download a utility to do it. In the deailed instructions you can do without the keeping 20 colors aside for the scrolling border below if you do not want that and can do away with the hexediting as well.
---
Question 36

Submitted by Rickey

I would like to add a shortcut on my taskbar that would open "New Message" without having to open Outlook express. I have Windows 98.....IE 5.....Outlook Express 5

Solution 1
Answered by Mean Drake

I have one on my desktop. Just right click...New Shortcut....In the first dialog asking for location just type "mailto:" without the inverted commas. Then click Next....
---
Question 35

Submitted by Adam

I'd like to ask about icons in favorities folder. Sometimes when U add a new link to Favorites folder, it comes with icon. Where is this icon stored ? Where is link to this icon (I gues in registry) ? Why after while (couple days or weeks) this icon changes to default one ? I like when everything looks nice and I like to have control so I got nervous when it happens. Please, answer.

Solution 1
Answered by Mean Drake

This is nothing strange. Websites that do this have a small iconf ile called favicon.ico in their root directory. This icons is just the icon of your shortcut and its disappearance...well might have something to do with the turnover of the internet temporary files.
---
Question 33

Submitted by Lisa

Everytime I run a search for files or folders from the start button I get the dialog box stating explorer.exe has generated errors and must restart. A log file will be created. Since I can't generate a search I can't find the log file. I found Q289188 that said the exact problem was fixed with SP2. I installed SP2 and still have the problem. Any suggestions? Where is the log file created?

Solution 1
Answered by Mean Drake

C:\Documents and settings\All users\Documents\DrWatson.
Assuming your OS is on C:
---
Question 32

Submitted by ?

How can one remove that annoying "Links" folder that shows up in my Favorites every time I open IE 5.5? I am using Windows ME. Thank You in advance.

Solution 1
Answered by Mean Drake

Right click on it and select delete
---
Question 28

Submitted by Alan

Quick question. I recently installed globalscape cuteftp pro 1.0, and now everytime I start it up, it creates a My Downloads folder within C:\My Documents. I looked within the preferences of the program and even searched the registry for instances of "My Downloads" to no avail. Do you guys know of anyway to prevent this folder from being made? Thanks in advance.
Solution 1
Answered by Mean Drake

Use msconfig to see the startup programs and see what program is causing this.
---
Question 27

Submitted by Chuck

I'd like to have a little fun with my desktop beyond the regular changes everyone can make. How can I change the default icon for folders I have added to my desktop (or anywhere else for that matter)? I know how to change program icon appearances but the folders I add are all the same boring yellow type. Any ideas?
Solution 1
Answered by Mean Drake

Theres a shareware Michelangelo that lets you do this. Or a freeware Activicons.
---
---
Question 25

Submitted by Timmy

Hello Sir I would like know how can I recover or rename the administrator account on a win2k system. When I came back from vacation and tried to access my system, but I was not able to. I totally forgot the admin password. I search the net to find only an NT solution but Windows 2000. I would appreciate any help Thank you

Solution 1
Answered by Mean Drake
---
Question 23

Submitted by Gayle

hi my daughter recently went to college with our older p/c with win98 on it. her roomate does not have a p/c and is using her p/c whenever she leaves the room for class etc. how can we prevent the roomate from using the p/c? is there a software product you could recommend?thanks

Solution 1
Answered by Mean Drake

Put in a BIOS password. The system will not boot without a password supplied.
---
Question 15

Submitted by ?

How can i delete the windows password?

Solution 1
Answered by Mean Drake
---
Question 4

Submitted by Larry

I'm curious about a file ( LOADQM.EXE) that loads from the HKLM /RUN section of the registry. Its description is simply "Microsoft QMgr". What does this file do? There doesn't seem to be a problem running without it loaded.

Solution 1
Answered by Mean Drake

It is MSN messenger related.
---
Question 18

Submitted by Scott

I have XP running and I tried to open SRC-1, the upgrade downloadable only on Microsoft for XP. It comes as an ISO file. I tried a few programs to open it but I can't Any suggestions for me. I think I am not understanding the instructions clear enough. THXs

Solution 1
Answered by Charles Putnam

You'll need a CD burning program (along with a CD burner) such as Nero or Easy CD Creator 5 that can create a CD from an ISO image. Each of these will provide the instructions on how to create a CD from an ISO image.
---
NOTE: Please note that ActiveWin nor the AskAW staff can take any responsibility for anything that may/may not occur when taking our advice. If you do anything that is included in our advice, you are doing so at your own risk.
If you have any questions pertaining to a particular answer please contact the actual Staff Member who replied.
You can contact anyone of our staff here or email us at askaw@activewin.com