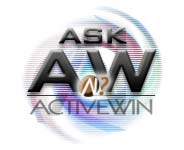 Welcome to AskAW! This lets you, the visitors submit questions about any problems/queries that you may have about Windows. Be it from a little icon that annoys you to hardware freezing your PC, we will try and help you out. You can submit your questions by e-mailing us at askaw@activewin.com.
Here are the questions posted on: 09-21-00
---
Question: How can I create and edit partitions in win2000? For free?
Solution 1: My Computer > Manage > Disk Management It's a built in Disk manager service for Windows 2000, make sure that you secure all files, before modifying your partition config. and keep the drive letter unchanged if possible to keep windows works properly. Bill Wiriawan
Submitted By: Ian
---
Question: Hi, I've just installed a third party telnet client. and want to change the default in IE5.5 When I type in a URL as telnet://<address or ip address> or if I click on a telnet link it loads in the telnet.exe which comes with windows.. I want it to load my new one There doesn't seem to be anywhere to change it.. I've run regedit to look for where the default telnet client is set.. but all I can find is that it refers to rundll32.exe telnetprotocolhandler or something like that.. so I suspect that this can be set somewhere but I don't know where.. Please help if you can
Solution 1: If you're running Windows2000, there's a key HKEY_CLASSES_ROOT\Telnet that will probably do the trick for you. I expect it's the same or similar for Win98. Search for Telnet w/ Regedit. There's also a key at HKLM\Software\Classes\Telnet Both of these keys point to hyperterm which is the "default" telnet client. Jerry Hoffmeister
Submitted By: Cameron Arnott
---
Question: I have Internet Explorer 5.0 on Windows 98 SE. I do web design as a hobby and would like to install IE 4.0 so I can check my web pages in it. I have been told it is not possible/advisable to install IE4 over IE5. Is there a way to have both on one system without messing up IE5? I can't use "compatibility mode" because this system never had IE4 (it had IE5 from the factory). Thanks.
Solution 1: Beside the compatibility mode, there are no other way that you can run IE4 and IE5 simultaneously, the compatibility mode should be good enough for debugging and testing websites, as I'm doing it right now. Bill Wiriawan
Submitted By: ????
---
Question: Hi AW Team I download the Service Pack for Windows 2000....after the installation I can't see no Internet pages, no FTP Connection, but if I Ping a network I have a reply from the other system. You know this problem and have you a solution. Thank's a lot.
Solution 1: Most likely you have one of the personal firewall programs installed and running on your machine which is causing the problem which is a known bug w/ sp1. Go to Microsoft's site (www.microsoft.com/support) and you should be able to find the solution. Jerry Hoffmeister
Submitted By: Detlev
---
Question: I just want to know why my dsl connection no longer is operational when I get out of the standby mode Is there a solution to this?
Solution 1: Your ADSL adapter is not turned on after standby, this could be the driver, or the device itself. Make sure that you enable any ACPI support for the device (If you have an ACPI motherboard as well as the adapter), unless, you will need to contact your hardware vendor for this, ask for updated drivers and info about this issue. Bill Wiriawan
Submitted By: Maxime
---
Question: When starting my computer, I get a message that windows registry is missing. It says I need to reinstall it. but I cannot find it! It says to look for window registry or System.INI file I cannot find either one. Can you help?
Solution 1: Scan your computer for a possible virus.Start your computer with a startup disk, and type scanreg.exe /restore, it will restore your windows registry from a previous automated backup. Only do this if you are running windows 98. If is still doesn't work, you will need to reinstall your windows on top of the current installation. Bill Wiriawan
Submitted By: Deb
---
Question: How do I get tweaksui into my system from the windows 98 cd I didn't install it when I installed windows98 Thank You
Solution 1: Download the files here: http://newlife-win98.server101.com/tweakui_info.htm and read the article. Bill Wiriawan
Solution 2: Get the updated version from MS here: http://www.microsoft.com/ntworkstation/downloads/PowerToys/Networking/NTTweakUI.asp Jerry Hoffmeister
Submitted By: ????
---
Question: Could you please help me with a small problem. A friend gave me your URL to your site. I recently had AT&T @home internet cable service comes to my house to install a cable modem for me. I have Windows 2000, the installer changed my user name & password and mistyped the new one in. Now I can not log into my computer. AT&T tells me I need a Windows 2000 start up disc. I have tried about every password the installed could have typed in wrong. Still no luck. I also tried to find a command prompt in the "safe mode" no luck. Could you please tell me where I could find the start up disc at, and or how to get into my system. Thanks so much. I will bookmark your site for future help.
Solution 1: When you installed Windows 2000, you should would have created an Administrator account and password. If you can remember, you might want to try that. You might want to try logging in as Administrator with a blank password as that's often the default case. As for the startup disk, you should have a CD that you used to install Windows 2000. If you can't remember the password, you will need to reinstall windows from this CD. Jerry Hoffmeister
Submitted By: Eric M. Carter
---
Question: Hi, I installed windows 2000 on my machine. The problem that I am facing is that the machine automatically restarts itself. I don't know why this is happening. I am in middle of something and it just restarts itself. What could be the reason for this? Please help me on this issue. Thank you,
Solution 1: Your system faces a STOP error, that will automatically restart itself. To disable this feature, boot to safe mode, and open My computer (Right click) >Properties, > Advanced > Startup and recovery > Uncheck "Automatically reboot option. and restart. If there's a STOP error, you will see a blue screen showing the errors and the memory dump, that you have to restart your computer by resetting it ctrl-alt-del wont work here. Run the troubleshooter to find out what the stop error trying to tell you. Bill Wiriawan
Submitted By: Vaibhav Shah
---
Question: I am tired of my internet explorer saving all my information. when ever I compose a letter it keeps the address . so when I go to address the letter a whole list of email addresses come up when I press any key. I tried cleaning my history but nothing works. every form I have ever filled out. the explorer managed to save all my info. If I go on search. a whole list of old stuff I searched for comes up. how can I get rid of all this. I hate when people can see what I was looking for at one point. can you help me? thank you
Solution 1: Gidday. Go to Start/Settings/Control Panel/Internet Options/, click on the "Advanced" tab, and look for the option which says "Use inline AutoComplete". Select this option, and disable it. Now, click on the "Content" tab. There is an "AutoComplete" button. Click it, and then disable all the checkboxes which appear. Now, click the buttons which say "Clear Forms", and "Clear Passwords". Ekapshi
Submitted By: Michelle
---
Question: OK I am sure I just scared the heck out of you with the subject. Sounds very vague and probably makes you thing "Oh crap another Newbie!!" Well relax I am not here to ask any really stupid question like "how come my coffee cup holder that came with my computer is so freakin big?" I know it is a CD ROM. Any ways down to the question. I hope I can adequately describe my problem so that you will be able to come up with a solution for me. Ok. On Windows 98 the tool bar at the bottom of the page (unless you move it somewhere else that is) has a single arrow to 'scroll' the other open windows, icons, etc. when there are too many to show on the bar. My question is this! How do I change this arrow into a double arrow? The double arrow allows (when clicked) a pop up tool bar. Just like when you click on windows START button. I hope I have told you what you need to know. I used to have the double arrows and then had to re-install windows 98. But this time only one arrow!! I was ever so sad:( Anyway, any help that you can offer would be very appreciated!! Thank you for your time.
Solution 1: Install the latest IE 5x, the arrow you are talking about is part of the IE5 shell updates. Bill Wiriawan
Submitted By: John
---
Question: Hi, I was hoping you guys could help me out. I have trouble running Japanese software on my computer. Some programs work and some don't. This is probably due to the internal codes of the programs (?).
However, I was given the impression that Win 2000 or Me would be able to do this just be changing the country environment. This is true? If not, how could I run Japanese software on my computer? Many thanks!!
Solution 1: www.njstar.com, it's a standalone program that will enable Chinese, Korean and Japanese in your windows, I don't know if it's compatible with windows 2000 or not, but it works with Me. Changing the default encoding will work in Windows 2000, not the regional options, but the default language, just install the additional language package, and see if it works, if it doesn't work, you will need to change the default and restart every time. Bill Wiriawan
Submitted By: Eric
---
Question: I have Windows 98 SE and RedHat Linux 6.2 (on a separate drive - LILO dual boot on Windows MBR drive). Will installing Windows ME to upgrade Windows 98 SE cause a problem to the LILO dual boot?
Solution 1: If you put the LILO in the Linux native partition, it wont, however it will rewrite the boot sector if you put it in the windows MBR, and you will need to reconfigure your Linux installation for the LILO location. Bill Wiriawan
Submitted By: Andrew
---
Question: To whom it may concern, I don't know if you can help me with this but I don't know who else to ask. I work in an IT department and have to install Windows 98 SE on many empty machines so I created a SETUP.INF file to automate the install process. I have configured the file so that the SETUP process will not need any info and not prompt for anything including the EULA. This file worked fine when I was using an upgrade version, and the SETUP routine would only stop to prompt me for the location of a previous version of Windows, and once I provided it SETUP would finish without any further intervention on my part. I recently went to a full version of Windows so that I wouldn't get prompted for a previous version and now SETUP stops after the first boot starting on the USER information screen, and continuing through the CD key screen. The weird thing is that all the information is already filled out, and all that I have to do is press the next button through the four different screens and then SETUP finishes on its own. My question is why is this happening? I have tried many different settings in the INF file and nothing works. Is this happening because I'm using a full version of Windows? Please help this is very annoying. I should mention that I copy the CD to the HD before installation starts, and the SETUP.INF file is in a different Sub-Directory. Does this make a difference? Thanx,
Solution 1: This behavior is by design, and it is the limitation of windows98x. If it works on your first try, keep it for the other computer, if you copy the files to the hard drive, make sure you also copy the setup.ini files, and keep the setup files in the exact path. Bill Wiriawan
Submitted By: Eric Siemiatkaska
---
Question: How can I remove the games completely from Windows 2000?
Solution 1: If you're talking about the games that come with Win2k, I've found no way to yank those off the system. So, as far as I and everybody I know there isn't any way to do it. Andrew Funderburk
Solution 2: The easy way: Remove the files and the shortcuts, The files are in the Winnt\ folder.
The more educated way: Open the files named sysoc.inf, it's in the winnt\inf folder, show all files before searching for it. You should see a section like this:

; old base components
Games=ocgen.dll,OcEntry,games.inf,HIDE,7
AccessUtil=ocgen.dll,OcEntry,accessor.inf,HIDE,7,

just remove the word "HIDE", which makes it looks like this:

; old base components
Games=ocgen.dll,OcEntry,games.inf,,7
AccessUtil=ocgen.dll,OcEntry,accessor.inf,,7

Tips: You can remove all "HIDE" words to see all customizations.
Open the add/remove program applets > Windows component > Double click the accessories and utilities, and uncheck the items you do not want. Good Luck Bill Wiriawan
Submitted By: Nancy Johnson
---
Question: I can't play fifa2000 or nba live 2000 with windows me. What is the problem?
Solution 1: Gidday. To put it bluntly, unless a game is specifically designed with WindowsNT/2k in mind, the chances of Windows2000 running the game smoothly aren't too high. The "your mileage may vary" concept applies here. Some games just work with Windows2000, some don't. Keep in mind, Windows2000 is not designed for games at all. However, I would check out the game maker's website in case they have a Windows2000 compatibility patch. Ekapshi
Solution 2: Some games have problems under ME. You didn't explain it they were crashing or just not running. My guess is you are having the same problem as everyone else. Windows ME's video drivers have problems with games. Go to you Video card manufacturer's web site and get the latest driver, that should hopefully get you back in the game. Good luck Travis Rendell
Submitted By: ????
---
Question: I just bought Windows ME upgrade and then when I run the defrag it defrags faster but when defrag restarts I get a defrag004 error and then when I run scandisk I found cross-linked files named c:\windows\inf\drvdata.bin and c:\_restore\temp\a00000573.cpy and c:\_restore\temp\a00000574.cpy. How do I fix it?
Solution 1: Have scandisk fix the cross linked files. It usually can do this successfully. If not, Norton Utilities contains a much more robust drive repair program. Michael Hicks
Solution 2: Norton Utilities 2001 was released yesterday. Symantec says that it fully compatible with NT, 2000, 95, 98, 98SE and Me. It is well worth the $30.00 price tag! Marc Strickland
Solution 3: If you feel like spending the money I recommend Executive Software's DiskKepper. It can be scheduled to run at convenient times as well. It is nice too because it doesn't require you to give up your computer while it defrags. Travis Rendell
Submitted By: Keith
---
Question: My current bios does not support Hard drives over 2gb. Therefore, I have fooled it by using EZbios. Will this work correctly with Win ME?
Solution 1: Yes, EZBIOS loads itself before the computer actually searches for an OS. It doesn't matter if you have Win95/98/ME/NT/2000 or Unix/Linux/BeOS/whatever OS you can imagine. Guillaume Hébert
Submitted By: Larry
---
Question: When I go to Windows Explorer and click on view, arrange icons and I click on auto arrange, by drive letter or by name, they never stay that way. Every time I go back to explorer, I have to do it again, they never stay the way I set them. This also happens in Win2000. When I used Win98, I never had this problem, they always stayed where I set them. Does anyone know the answer to this? Thanks,
Solution 1: Open windows explorer save your icon settings as you like, now open the folder options > View > Like current Folder, close explorer and open the "open" mode of windows explorer (The one without the explorer panel) and do the same procedure for this too. Your icon settings will be saved. Bill Wiriawan
Submitted By: Chuck
---
21Question: Good Day, I have a question for you regarding Win Me and Creative's SBLive card: After performing a fresh install of Win Me the entire setup completes as normal. As soon as I install the latest SBLive 3.0 drivers from Creative the system will no longer reboot and simply sit there with a black screen. Several other users have reported this problem and it seems to be more of a problem with OEM versions of the SBLive cards. No word from Creative regarding updated drivers and I cannot find any reference material on either Microsoft's web site or CreativeHelp.com. Any help would be appreciated. Keep up the fantastic web site
Solution 1: Do not install the DOS driver, just install the driver for windows. Windows Me removes the real mode dos support, and I figure out that you have the dos driver installed. Liveware 3 for windows98 works with Me, only it will remove the hibernation support. modify your autoexec.bat, and remove everything that heads to the creative driver emulation. Bill Wiriawan
Solution 2: The system File Protection feature of WinMe is another reason this might be happening. Mean Drake
Submitted By: Kim
---
Question: Hi, I've recently upgraded my Windows 98 to Windows ME thru a clean installation. I've formatted my whole hard disk for it. The problems arise when I tried to use the two side buttons on my Intellimouse Explorer for Back/Forward function on Netscape Communicator 4.75. It doesn't work anymore! I've downloaded the latest driver which is version 3.2 for the intellimouse explorer. It still doesn't work. I've tried it on Windows 2000 and it works fine on Netscape, IE and Explorer. But on Windows ME, it only works on IE and Explorer. Can anyone help me with this??? Thanks!!
Solution 1: Make sure that you have the latest IntelliPoint which is Me compatible. Go to the website for an updated version. http://www.microsoft.com/products/hardware/mouse/driver/3_2/default.htm Bill Wiriawan
Submitted By: Mike
---
Question: I have a home network with 2 win98se computers, a win2kpro computer, and a system running WinMe. The WinMe computer will not see anything on the network, though it can share files successfully. It really knows the computers are there, but they do not show up in my network places; I can map a drive on my win98se server and it reads and writes to it fine. I took this computer to my college and it sees a few computers, but there are actually thousands. WinMe networking is not working on a small home network or on a large corporate style network even though Microsoft boasts better networking. Thanks for any info.
Solution 1: You are probably not seeing the other computers in My Network Places because you have different networking protocols installed on each machine. Try installing other protocols, such as IPX/SPX, NetBEUI, and TCP/IP on each machine. This should allow you to see the other computers. Philip Tan
Solution 2: Also Windows tends to flake out now and then, and just not display the other machines. As you said you can make a shortcut to one and it works. Same thing I bet if you try and search for the computer by its name, I bet it finds it. You may be set in the wrong Workgroup as well. the default is "WORKGROUP." Good Luck. Travis Rendell
Submitted By: Dartanian
---
Question: I uninstalling my Dial-up Adapter under the Control Panel/Network. I then tried to reinstall it by clicking on Add. But unlike Win95/98, there was no Adapter to install, only Client, Protocol and Service. I even went into Add New Hardware to attempt to install it there. How do I manually reinstall the Dial-Up Adapter using WinMe?? Thank you!
Solution 1: I would try removing Dial Up Networking under Add/Remove Programs>Windows Setup, and then try re-installing it. If that doesn't work, physically pull the modem, boot, shutdown, put the modem back in, bitt again and pray Windows sees it and takes the necessary steps to get it working again. Good luck. Travis Rendell
Submitted By: Shawn
---
Question: Hi, I installed ME on both computers on my peer network. It was the smoothest upgrade I ever did. My question is : How would I boot to MS-DOS if I wanted to format my C drive? I tried the boot disk that I created during installation and only got an A prompt, I was unable to change directories.
Solution 1: The startup disk does allow you to change drives. Ask me. I just used it to format my C: Mean Drake
Submitted By: Alan E. Scher
---
Question: I have a HP DeskJet and Epson dot matrix printers that I have used up to IE 5.01. Installed IE5.5 and had problem when printing. Can I uninstall IE5.5 in WinMe and go back to IE5.01? And if I can; would IE5.01 be compatible with WinMe?
Solution 1: You cannot go to IE 5.01 with Windows ME. But if you haven't updated please update your IE 5.5 with your ME. After Microsoft went gold with Windows ME a new version of IE 5.5 came out, also upgrade your Media Player. Otherwise I don't know what else to say Shawn Abramson
Submitted By: Barry
---
Question: Hello: I have been using WinMe for some time now. Slowly, I am getting problems fixed one by one. Only 2 things really remain on my list to fix. Number one is my DVD - Rom. I use a Philips PCS 532 Drive with the Sigma Designs Hollywood Magic + decoder card. Under Windows 98, the decoder card worked very well and never had a single problem. Now with WinMe, I constantly get unexpected blue screens from 'windows.' Somehow Windows is crashing because of this. I contacted Sigma Designs and they stated via email that they do not plan to revise the drivers for the Hollywood Magic + card at all. They said use the Win98 drivers, they should work just fine.....Ummmmm, not really! They don't work well at all. I can't use it knowing if it will crash Windows or not. Second, is it just me or does the help system seem like it takes a lot longer to load then ever before? Seems like it just takes forever. I installed WinMe on a freshly formatted hard drive. My system is:
PIII - 450
192MB of Ram
13.6 7200rpm IBM HD
It's a pretty top notch system that functioned very well under Win98se, now with WinMe, its a resource hog. For the amount of memory that I have, for certain things like the help system to load as slow as it does, I'm confused.
Solution 1: Branden, Something that I've found important with many pci cards(including my hollywood plus and netstream2000) is having windows be installed with ACPI support. Me(as 98) does not always install with ACPI support, even on an ACPI system. If your motherboard supports ACPI, this could be the problem. To remedy this: Check in the device manager, under System Devices. Some of them should have ACPI in them. If not, you need to reinstall windows from a command prompt, with the /p j flags(no quotes) "setup /p j" Michael Hicks
Submitted By: Branden
---
Question: Hi, Ok... here is my problem... I installed windows me as an upgrade from 98SE... the 98SE worked fine, but of course I want the newest thing. So anyway, at the first boot up, everything seemed to be loading pretty well until it just stopped.... I couldn't figure out the problem and it happened every time I tried booting except from safe mode. So then, I formatted (I have nothing important, I format all the time :-) ), and did a clean install of win me. Everything worked fine, or so it seemed, so I than began installing my device drivers, and when I rebooted, it would just freeze again. I have a feeling it is either my Dxr3 card or my Voodoo 2 cards... but I am unsure... ill list my whole system setup at the end of this. I hope you can help me because I do want Win ME on my computer. Thank you very much, and have a nice day.
Solution 1: First, run the troubleshooter to locate the core problems yourself. Open the file C:\bootlog.txt (hidden) and search for a word failed, see what it refers too. you can use a nice freeware Bootlog analyzer that will open the file for you, and analyzes it for you, locating all the delays and failure automatically, just go to http://www.vision4.dial.pipex.com/ and download the tools there. During the installation, what is detected and not detected in your system? Did you have to install any custom driver? which is not windows me compatible? Did the restart after the install successful? Remove any custom driver that is installed, if it boots in safe mode, that it means that you there is some devices that is not working correctly. For future installation, make sure that you boot your computer for every driver installation even if the system doesn't prompt you to, this will locate which devices causing the freeze up. Good Luck. Bill Wiriawan
Solution 2: Just an addition to my previous reply, Open the BIOS setup, and free any port that you don't use, this will add more IRQ resource for windows to choose, Your system packed with first rate hardware's, it'll take more resources to run such a computer compared with a standard one, consider using windows 2000, it will run your computer better, and give you more freedom to run those resources for more power. It is sometimes unexplainable, I have almost the same system as yours, and it wont run in windows 98 se or Me, but runs well with windows2000. go to mlin.net to download startup cpl to customize your programs that runs during the boot time, uncheck everything that comes from the device driver installation (like Audiohq from creative, launcher, printer utilities, direct cd, etc) and enable it one by one if the boot is successful each time. Bill Wiriawan
Submitted By: Brian
---
Question: I recently had to reinstall my Windows 98 and now my audio does not play. I get no sounds out of my speakers. I get messages like no driver installed and MMSYSTEM 003 driver not activated. At times it also says .wav files not installed. Where do I find these to reinstall, or what am I doing wrong? The volume control cannot be used either. Please start me in the right direction.
Solution 1: If you are using a branded computer (e.g Dell, Gateway etc) install the driver from the disk that comes with the computer. If you are using a custom build computer, find out what brand is your Audio Card, and install the drive manually. Run the troubleshooter and help for more infos, on how to install drivers. Bill Wiriawan
Submitted By: ????
---
Question: I have windows 98 on a laptop and for some reasons I can't get the thumbnails viewing option working. I am able to hit thumbnails for viewing but when I try it out no picture appears I was wondering if you could help me.
Solution 1: Gidday. Sorry to tell you this, but the "thumbnails" view is a feature that only works "sometimes". Sometimes it works, sometimes it doesn't. However, in Windows2000, the "thumbnails" view in Explorer *always* works. Ekapshi
Solution 2: Hey it can be made to ALWAYS work. I used to get thumbnails only of bmp files but I sat and hacked the registry and now I get thumbnails of jpg, gif and tif files as well. Mean Drake
Submitted By: ????
---
Question: I have never seen this happen before...I have 5 remote users who send files daily to my NT Server. They zip up their excel spreadsheet with WinZip and dial into the server via RAS and transfer the file to their directory on the server. Starting two days ago, one user keeps getting the following error when attempting to transfer their file: Error Copying File - Cannot create or replace *.* Invalid File Handle (where *.* is the name of the file they are trying to send) We have been doing the same thing at these remote locations for five years without any problems. None of the other remote locations are experiencing this problem. The only variable at this location is the addition of a new Compaq Ipaq PC that replaced their old Gateway PC. If I go to the remote location and open up the zip file it is fine so their doesn't appear to be a problem with a bad archive file. I also checked to make sure they weren't attempting to send a file that was named the same as a file already existing on the server; which they weren't; and even if they were the error message would be different. Any ideas? If you require any additional information to troubleshoot, please let me know. Thanks in advance for your help
Solution 1: Rick, I am not a network guru by any means, so I really can't pinpoint your problem, the one thing I can suggest is maybe you got a virus of some sort. I would scan that machine inside and out for one. Good luck. Travis Rendell
Submitted By: Rick Fredricksen
---
NOTE: Please note that ActiveWin nor the AskAW staff can take any responsibility for anything that may/may not occur when taking our advice. If you do anything that is included in our advice, you are doing so at your own risk.
If you have any questions pertaining to a particular answer please contact the person who replied.
You can contact anyone of our staff here or email us at askaw@activewin.com