DirectX
ActiveMac
Downloads
Forums
Interviews
News
MS Games & Hardware
Reviews
Support Center
Windows 2000
Windows Me
Windows Server 2003
Windows Vista
Windows XP



News Centers
Windows/Microsoft
DVD
Apple/Mac
Xbox
News Search



ActiveXBox
Xbox News
Box Shots
Inside The Xbox
Released Titles
Announced Titles
Screenshots/Videos
History Of The Xbox
Links
Forum
FAQ



Windows XP
Introduction
System Requirements
Home Features
Pro Features
Upgrade Checklists
History
FAQ
Links
TopTechTips



FAQ's
Windows Vista
Windows 98/98 SE
Windows 2000
Windows Me
Windows Server 2002
Windows "Whistler" XP
Windows CE
Internet Explorer 6
Internet Explorer 5
Xbox
Xbox 360
DirectX
DVD's



TopTechTips
Registry Tips
Windows 95/98
Windows 2000
Internet Explorer 5
Program Tips
Easter Eggs
Hardware
DVD



ActiveDVD
DVD News
DVD Forum
Glossary
Tips
Articles
Reviews
News Archive
Links
Drivers



Latest Reviews
Xbox/Games
Fallout 3

Applications
Windows Server 2008 R2
Windows 7

Hardware
iPod Touch 32GB



Latest Interviews
Steve Ballmer
Jim Allchin



Site News/Info
About This Site
Affiliates
Contact Us
Default Home Page
Link To Us
Links

News Archive
Site Search
Awards



Credits
©1997-2012, Active Network, Inc. All Rights Reserved.
Please click here for full terms of use and restrictions or read our Light Tower Privacy Statement.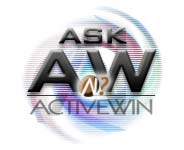 Welcome to AskAW! This section of our web site lets you submit questions about any problems/queries that you may have about Windows. Be it from a little icon that annoys you to hardware freezing your PC, we will try and help you out. You can submit your questions by e-mailing us at askaw@activewin.com. You can browse through previous questions over at our Archive Page. Who knows what you might find.
Here are the answered questions for 09-21-2001
---
Question 49

Submitted by ?

Will I be able to upgrade my version of Windows 2000 Professional to Windows XP Home Edition? I would really like to be able to play games!! I can't get Half-Life Counterstrike to work!

Solution 1
Answered by Mean Drake

No. Windows 2000 Pro is only upgradable to windows XP Pro. You can however buy the Full Win XP Home and reinstall it as a fresh OS. It is supposed to be as stable as Win2000 and you may not really miss Win2000 much as it is suitable even for small businesses.
---
Question 48

Submitted by Doris

When using Internet Explorer I get a blue screen error: A fatal exeption OE has occurred at 0028:C1624893 in VXD MCSCAN32(01)+000278A3. What can I do to correct this?

Solution 1
Answered by Mean Drake
---
Question 47

Submitted by Heather

I click my computer. Then when I right click on the cd rom with a cd rom in it to explore it, It crashes and I have to use task manager to end it, resulting in loss of my active desktop. I am running win 98se and I started having this problem after I INSTALLED MY PLEXTOR CD WRITER. How can I fix this. Thanks

Solution 1
Answered by Mean Drake

Have you tried doubleclicking instead of right clicking. See if you can view the contents in Windows Explorer. Does this happen with All CDs ..see if a different CD will not cause this problem.
---
Question 42

Submitted by ?

I have microsoft works 6.0. They have this little desktop tab thingy for their microsoft works portfolio on my desktop. It drives me crazy. I want it gone, but can't delete it. I can temporarily remove it with cntl alt delete but then it returns when computer restarts. Ugh. CAn you help me?

Solution 1
Answered by Mean Drake

With Windows 9x/ME its a child's play. With Windows 2000 its a little more difficult where some system files like ntoskrnl have to be edited with a resource editor.
Even in Win9x/ME its easy to make the splash screen as a still without the scrolling blue colours you get at the bottom of the original splash screens. If you want that too then you have to know a bit of hex-editing. Anyway for full instructions go here
There you will find detailed instructions as well as can download a utility to do it. In the deailed instructions you can do without the keeping 20 colors aside for the scrolling border below if you do not want that and can do away with the hexediting as well.
---
Question 40

Submitted by Bill

Have 2 installed CD-ROM drives. One came with a Packard Bell machine, and the other an installed SONY RW drive. Need to have sound from BOTH drives. Motherboard has integrated sound that is not compatible with two drives. Any advice would be much appreciated. THX

Solution 1
Answered by Mean Drake

You can directly get the sound cable to connect from your CD-ROM to your sound card for only one CD-ROM. But sound capabilities other than this exist for both CD-ROMs. For example MP3 songs will play equally well from either and so will multimedia presentations.
---
Question 37

Submitted by ?

I need to lock my son out of some files, including being able to acess the internet. I change the password on my account, but he uses his friends' accounts. Is there any way to keep him from accessing the internet but still allow me to access it?

Solution 1
Answered by Mean Drake

With Windows 2000 you can. Not sure if you can do it with the Win 9x/ME series.
---
Question 28

Submitted by Gary

Help? I deleted the following files per Microsoft Support after installing 98 and running it for months. I was attempting to eliminate the requirement to select the operating system from the startup window, and now receive an error BOOT: Couldn't find NTLDR Please insert another disk. I do not have an emergency backup disk? What are my options? Thanks

Solution 1
Answered by Mean Drake

Boot your system with a Windows 98 boot disk. Make it on someone else's PC if you cannot boot your system. Then With the system booted give the command at the DOS prompt :
C:\>sys c:
Thats it. Remove the floppy and reboot.
---
Question 27

Submitted by Daryl

I have Windows ME installed on one computer (my laptop). The problem that I'm having is that after I've been using the system for a while, I notice the response seem to degrade - especially with sound/audio. When I go into the task manager to see what is running, I'll often find 10-30 listings of "Helpctr" - even when I haven't used Help & Support Center at all. When I go to close them, each and every one of them will say that the program is not responding. Do you have any idea what could be causing this? Many thanks

Solution 1
Answered by Mean Drake

Use Msconfig to see what programs start up automatically and if this is listed...disable it.
---
Question 24

Submitted by Stephan

hey I have an error message like this "beta direct draw expired" i have directx 8.1 how do i get rid of it??? please help me
Solution 1
Answered by Mean Drake

If you are running win 98 just run set up again...dirty install. This will keep everything as previous but will make the directx revert to Directx 5 or 6 depending on your Win 98 version. Then install Directx 8.0
---
Question 22

Submitted by Sharon

Hello there, I'm having problems with both my old picture it, and my new program that I bought to replace the first one. When I have finished working on a picture, and I go to print it, the words come up .....You have preformed an illegal operation. this program will shut down, and then I lose all my work. This has happened with both the old program and the new one. I am able to pull a card off and print it, but any of my own photos and art work, the above message comes up and I lose everything. Thank you much
Solution 1
Answered by Mean Drake

OS? What program? What version?
---
Question 19

Submitted by ?

Hi guys I have two problems one problem is with windows me and another is with windows 2000: Windows Me: my firewall requires me to delete "tcpip.sys" from c:\windows\system\system32\drivers in order to work, but that file undelets automatically after I delete it, so is there some way to disable autorestore in windows me? Windows 2000: My Video card is S3 Savage4 32MB, when I install windows 2000 it automatically installs device driver for my Video Card but my Video Card doesn't work as 3D under windows 2000 and I can't play games, so please tell me how to fix it, my friend has the same problem but his video card is NVIDIA 64MB. Thanks. appreciate your help

Solution 1
Answered by Mean Drake

Don't let windows 2000 automatically install the driver. After it has done this...change the drivers to those of the manufacturer for Win2k.
---
Question 1

Submitted by Curt

I have a computer that came with Windows ME and I want to upgrade to Windows 2000 Professional. What software do I need to purchase in order to load Windows 2000 Professional? Thank you

Solution 1
Answered by Mean Drake

you cannot upgrade ME to 2000. You can dual boot or you can do a fresh install.

Solution 2
Answered by Mike Poole

Just wait for XP, it will be worth it.
---
Question 5

Submitted by ?

Pls help me. I install Win2000 Server to my computer, in between the installing program show that your computer have no enough free space. And then I cancel the installing Win2000 and use fdisk and format command for prepare this harddisk to install Win98. But when install Win98, it have error and can't install Win98. I don't know what happen with my harddisk after install Win2000 incomplete. Thank you.

Solution 1
Answered by Mean Drake

you might have converted your drive to NTFS. Check it out. Win98 won't accept that.

Solution 2
Answered by Mike Poole

Yes, this is most likely what happened, when you FDISK, make sure to REMOVE all partitions, and start fresh.
---
Question 18

Submitted by Eleni

Hello I have windows ME and I was wondering if the IE 6 is out of the beta stage yet? Windows update has it as available download but does not specify if it is out from the beta stage Do I have to uninstall the IE 5.5 or just download the IE 6 right over it This IE 5.5 caused me an unusual problem such as problem with NAVSHELL.DLL and it always closes out as well as knocks out of the task bar the Norton icon and my firewall icon...This never happened to me before but only after I downloaded the latest two patches of IE 5.5. Any feedback as to why this error message and results with these two icons from the task bar? Thank you so very much

Solution 1
Answered by Mean Drake

IE 6 final is available. You just need to install. No uninstalls.

Solution 2
Answered by Mike Poole

Just a hint, if its available on Windows Update, it is not beta.
Also, you might be having problems with NAV because of an old version of SYMEVNT. Goto the Norton site and download and install the newest version of SYMEVNT, it is a free download.
---
Question 46

Submitted by ?

Does NT save a list of all the service packs, patches and / or software installed? I want to know if a series of patches have been installed; as an example a list in the registry or a file with this information: service pack 3, service pack 5, etc.

Solution 1
Answered by Mike Poole

Windows 2000 will show this on the System Properties general tab, right under the version number.
NT4 should have it listed under the key:
HKEY_LOCAL_MACHINE\SOFTWARE\Microsoft\Updates
---
Question 2

Submitted by ?

i have a new pbell ixtreme 1ghz and the cdrw wont recognize the cd. i can hear the cd load but den it stops spinnin and starts back up. this happens about six times until it stops completly

Solution 1

Answered by Mike Poole

Check to make sure the CD is not dirty or scratched. If that is not the case, check it with different CD's, does it happen to only one kind? audio/blank media. If it happens to all the CD"s you tried, most likely the drives pickup head is out of alighnment, and you should send it back to PB for a replacement.
---
Question 43

Submitted by ?

Hello: I wondered if you knew which devices (in Registry) belong to
"IDEDMADrive0" and "IDEDMADrive1" ???? Does "Drive0" pertain to Primary
IDE Controller, and Secondary IDE Controller ? Does "Drive1" pertain to
Standard Floppy Disk Controller ? I have PRIMARY MASTER = Hard Disk,
PRIMARY SLAVE = None, SECONDARY MASTER = Atapi CDROM Drive, SECONDARY SLAVE
= None. I also have a 3.5" Floppy Drive (internal).
Should "IDEDMADrive0" be for the PRIMARY MASTER ?
Should "IDEDMADrive1" be for the SECONDARY MASTER ?
I show "IDEDMADrive0" for both Primary (and ) Secondary IDE Controllers
(dual fifo's ).
I show "IDEDMADrive1" for the STANDARD FLOPPY DISK CONTROLLER.
Little confused about all this. THANK YOU

Solution 1
Answered by Mike Poole

First things first, DO NOT edit the reg to change these values. Drive0 is automaticly assigned to the first drive in the system, then Drive1 etc, etc, and does not depend on primary or slave.
If you know you have UltraDMA controllers (33,66,100) the best way to make sure they are being used is to go to System Properties and click the plus next to Hard Drive Controllers, then double click the primary controller, goto the advanced tab and on 9x machines, click the check-box next to "DMA", if it isn't already, and on Win2K machines select "USE DMA IF AVAILABLE" next to mode.
---
Question 39

Submitted by Diane

After connecting to the Internet for the first time, I began to download 'Bonzi Buddy' which was a 'free' programme to enable the user to find their way around the Net. After several hours of downloading, I felt conned and tried to disconnect. It would not allow me to so I unplugged the telephone connection. As far as I can see I have removed all trace of this program from my computer but have found ever since that if I have my computer on for more than an hour the window begins to dissipate. It starts with the 'minimise, maximise and close' boxes at the top right of the screen, then moves to the scroll bar on the right. Eventually, large rectangular areas which have a black background and thin lines resembling scratch marks appear until I cannot see what I am doing. The boxes still function, i.e. if I put the cursor in the correct plact the function of that button still works (minimise, maximise, etc) - I just can't see it. I have tried two different virus checkers, scandisk and defragmenter but nothing untoward is detected. Do you have any idea what is happening?

Solution 1
Answered by Mike Poole

Diane,
You may have one of those obnoxius "spyware" programms on your computer. I would download AdAware, it is a free download and let it run and see if this is infact what happened. It also sounds like the video drivers are corrupt or get corrupt with time as Windows runs. You can goto WinDrivers.com and check to see if there is a newer version of drivers for your particular video card.
If those do not pan out, try running MSCONFIG and see if there is something in the startup section that is loading that could be causing the problem.
As a last resort, you can always re-install Windows98, as it will keep all your programs and data, it will just re-install the main Windows files themselves.
---
Question 35

Submitted by Peter

Hi I have an Abit -TX5 motherboard with Intel 430TX PIIX4 chipset and aQuantum Fireball 1Gb on the Primary IDE chanel and a CD on the secondary. I have loaded Win 98SE from scratch at least 5 times but always get highlighted exclaimation mark Error #10 against the Primary IDE Dual FIFO on Control panel/system/Dev mgrs. I have run FDISK and format/s several times and also the Quantum Diskmanager to set up the Drive. Bios is set to Auto and LBA I have also tried User with Quantum settings for heads sectors etc. All with the same result. Performance shows MS-Dos compatibilty drivers are loaded in the C: Drive. I beleve that I have the latest chipset software and Windows seems to load the correct IDE/PCI Drivers. The "Trash" man calls next Fiday, please help!

Solution 1
Answered by Mike Poole

Peter, this sounds like you do not have the proper chipset drivers installed. I went through this same thing when I first got a TX mobo, the easiest way to fix it is to go to Intel's site and make sure you get drivers that specificly say PIIX4. I remember seeing several on the site that said TX chipset, but they too gave me the same problem.
---
Question 34

Submitted by Pradip

Hi, I have a duron 800 with 768 mb of ram. I have 3 versions of windows - 98 SE, ME & 2000 Professional -running on my system along with 4 versions of Linux, BeOS & QNX. I manage all this with BootIT NG. I basically do not like Me & 2000 as the recovery modes are rather tedious. I am more comfortable with the dos prompt. So My main OS is Win98 SE. Recently I attempted to upgrade the ram to 1536 MB. The idea behind this was to create a large enough Ramdrive & store entire CD Image so that my CD writer will give me fewer problems with buffer underrun message & ruining the CD. I am service manager for a large national distribution company & need to create a lot of CDs every month to pass on to my service centres & local distributors. While ME& 2000 natively support this amount of memory Win 98 gives me a message - insufficient memory. ( My CD writing softwares do not support ME & 200 very well. )I can boot to dos prompt & the entire range is seen & is accessible. I have been trying to get more information about the maximum amount memory supported by WIN98 SE as also to find out if there are any patches available to do so. Any & all information / help will be highly appreciated. Thanks.

Solution 1
Answered by Mike Poole

My first recommendation would be to just stick with Win2K, as 98 can see memory above the 256meg mark, but really can not use it. And what buring software do you use that does not support ME or 2K? if its that old, it really is time to move up to something better. I have run several different programms from CDRWin, to Nero and they all work great on my 4x and my 8x burners.
---
Question 29

Submitted by ?

i have just installed the full versionof windows xp on my pc and now when i try to connect online it crashes. i am using a 56k supervoice modem. it gets through all the connection steps but right when it connects it crashes. do u have any ideas whats wrong

Solution 1
Answered by Mike Poole

What exactly is the "crash"? do you simply get a msg about you were disconnected from the remote computer? if so, then maybe you autosaved password got lost. the fix that, go to network connections and right click on the ISP connection, select properties, and check the box that says "PROMPT FOR USERNAME AND PASSWORD" this will let you resave the password. If you get a blue screen and something about IRQ not_less_than etc. etc. then you could have a faulty driver installed for the modem. Try removing the device and then re-install it, if that still does not help, try install a Win2K driver for the modem.
---
Question 26

Submitted by Pat

I accidentally deleted my Active X file and therefore I have no sound. It comes up as no active mixers. How do I fix this? Thank you

Solution 1
Answered by Mike Poole

Re-install the drivers for the sound card, or remove the device, reboot and let it find it again.
---
Question 31

Submitted by ?

My model number is 6638. It freezes whenever i reformat. I just fixed it for the same problem. It was very costly. But now I barely did anything to my pc but I cant reformat it and recover files. The recovery disk doesn't work. Can you help me with this problem?

Solution 1
Answered by Mike Poole

Have you tried contacting HP tech support about this?
It sounds like it could be a faulty recovery CD, and they should be able to send you another..
---
Question 25

Submitted by Mike

Hello im having a little trouble, Im using windows 98 right now, but i just installed windows 2000 on a new 40gig hard drive as the slave in the same computer. I got it up and running windows 2000. When i was restarting my computer it asked me what os i wanted to run.. but i hit windows 98 by mistake and now it keeps loading windows 98. How do i change it back to 2000? Can you plez help me!

Solution 1
Answered by Mike Poole

Since Win2K recoginized that you were running another OS on the computer, it added it to the boot manager and should come up everytime you start the computer. If for some reason it is not displaying the boot manager, it may be turned off. When it boot try hitting the F8 help, just like 9x this is for the "safe mode" choices. try selecting the windows 2000 safe mode and once booted, go to the system properties and then go to the advanced tab, then click the STARTUP AND RECOVERY button, put a check mark next to DISPLAY BOOT MENU option.
---
Question 44

Submitted by ?

Hello, I am hopeing that you can help me, the problem is that whenever I try to open any folders a message comes up and says "explorer has caused an error in SHELL32.DLL" Then sometimes it says "explorer has caused an error in KERNEL32.DLL" What is the problem, why is it happening and what can I do to Fix it? I have a DELL Dimension 4100 with 128mb ram 877mhz pentium and am using Windows ME. Please Help

Solution 1
Answered by Mike Poole

It sounds like an IE upgrade got corrupted somehow. My reccomendation would be to simply re-install Windows ME as it will not delete any of your programs or data, but simply will re-install its main Windows files.
---
Question 36

Submitted by Martin

how can i add a shutdown button to the windows 98 logon screen? (like in Win NT)

Solution 1
Answered by Mike Poole

The only way to do it is to cheat :)
I have a program I found in shareware called SHUTDOWN.EXE it basically does the shutdown process from just double clicking it.
Download it and put it in the WINDOWS folder, then with Explorer or My Computer browsed to the WINDOWS folder, right click and drag the SHUTDOWN.EXE to the START button and them drop it, and select CREATE SHORTCUT HERE.
Voila.

Solution 2
Answered by Mean Drake

He doesn't mean start menu. He wants it on the Logon window. I do not think that is possible here. However there is a registry edit that will make your system shut itself down in case username password are incorrect or something like that but its been sometime since I used it.
---
Question 12

Submitted by ?

Dear Activewin experts: I have noticed something new happening with my wallpaper at the login moment. It may be a minor problem but I like to fix it. Just after writing the name & password, windows begins to load the task sheduler and then the wallpaper disappears and the green background comes back, and when windows finishes loading the startup menu, the real wallpaper comes again and everything is OK. So why does this happen ? it began to happen just suddenly after I tried to make a new DeskTop theme by changing some desktop settings ........ I use Win98 SE on a PII 233 machine, 128 MB RAM, ... THANX

Solution 1
Answered by Mike Poole

What you are seeing is just a delay in Windows as it goes about loading the options for the user you logged in as. This comes about from having multipul users on one computer. When the login screen comes up it should show the wallpaper of the last user that logged in, then as it logs in. it will show the destop of the default user, hence the green you see, then when it gets to the wallpaper for the current user it loads it. The only way to correct it is to either eliminate extra users and make it a single use pc or get a faster one.
---
Question 9

Submitted by ?

Hello Sir, I want to install winnt 4.0 on my system and i convert my partition fat 32 to fat16 throgh the "partition magic" but after installing winnt 4.0 there is message accuring "inaccisseble_boot_device" what's ther mean and how can i solve it. thanx

Solution 1
Answered by Mike Poole

NT4 can only boot from a partition of 4gigs or less. If your hard drive is bigger than that you will have to partition it to where less than a 4gig chunk is available to install NT on.
If you do not want to go through this hassle, Windows 2000 does away with the boot limit.
---
Question 6

Submitted by David

I have a Gigabyte GeForce 2 MX graphics card, an Iiyama VMPro411 monitor and run Windows 98. For some reason, when I restart Windows 98, the monitor changes sync rates just before booting begins (I hear an audible click) and the boot screen hangs over the sides of the physical screen. I can cure this by switching the monitor off and then on...if I do this then the scan rates are chosen correctly. I used to use Windows 95 on exactly the same hardware, and never encountered this problem. What is going on? Is there a cure, other than switching the monitor off then on? I suspect that it has something to do with a difference in scan rates required to display the "Windows 98 is shutting down" screen and the boot-up sequence. Although minor, this is quite irritating and a simple cure would be more than welcome. Thank you for any help that you can give me.

Solution 1
Answered by Mike Poole

David, what you are experiencing is a refresh issue. Because the boot screen is a low res (320x400) when it kick into this mode most monitors adjust to a very low refresh rate as this is an odd rarely used mode. The only way I have found to combat the problem is to have a monitor that will let you store settings in its memory, and if it lets you change the refresh from the menu. Some of my systems I can do this with, on the ones that can not, I just live with it.
---
Question 3

Submitted by Geo

I am receiving "beta directdraw has expired. Please update" Not having much luck rectifing the problem. Any suggestions. Thanx

Solution 1
Answered by Mike Poole

Geo, the easiest way to fix is to install the latest non-beta DX or simply re-install the operating system.
---
Question 11

Submitted by Nick

Hello, I have just installed yahoo messenger and use webcam frequently. Just recently, my computer has not been shutting down after I used only this program. I have tried reinstalling it, but same thing happens. Any suggestions/recommendations are appreciated. Thanks

Solution 1
Answered by Mike Poole

Nick, try downloading the newest version of YIM, I think a new version came out about 6 weeks ago.
---
Question 32

Submitted by David

Well, not totally screwed, but it's giving me a headache and I am not quite sure how to solve it. I installed DX 8.1 (Build 648) some time ago and it was working just fine. I thought I could just continue using it until a new build pops up somewhere or Microsoft releasing the final version. God was I wrong. A couple of days ago it totally started acting up. Every time I run an application using DirectDraw it will tell me "This pre-release version of DirectX has expried, please upgrade to the newest version from http://www.microsoft.com/directx", but the newest version there is 8.0a, so that would be more of a downgrade. Of course I tried if that would solve my problem, but it doesn't. DXdiag still says it's version 8.1. Hell, it didn't even ask me to reboot after I installed it - normally there's is like no way around that, even if you try. Help is greatly appreciated.

Solution 1
Answered by Mike Poole

There are 2 ways you can do this. Easiest way is to re-install your operating system, or you can try and manually delete all DX related files and try a fresh install of DX 8.0
---
Question 23

Submitted by Alex

I am running windows 95 and recently installed an addonics Sc4000 pci sound card. however, despite the cd that came with it, I am unable to find and install all the correct drivers, any ideas?

Solution 1
Answered by Mike Poole

Alex, the most probable reason is that your version of Windows 95 is just old. Most newer add-in cards require Windows 95 to be at least version of OSR2, to check your version right-click My Computer and select properties. Under the version if it say 4.0.950 it is old, it should say .950b. I would strongly reccomend upgrading to at least Windows 98SE.
---
Question 33

Submitted by Louis

Hello, one of my users is always getting this illegal operation when she tires to print in excel 97 it is intermittant I have reghosted the pc but the problem is still there. Any ideas will help

Solution 1
Answered by Mike Poole

I have had this problem with several win-printers, or printers that don't have a brain and rely on the PC for its smarts. I had particular problems with an NEC SuperScript 870 and after several calls to tech support, they gave me an odd fix, clear out the temp folders and defrag the hard drive. Damn if that didn't fix it, but only for awhile. Have to repeat the procedure every few days.
---
Question 21

Submitted by ?

I just downloaded Netscape 6.1. When I opened up the browser my auto scroll wheel would not work in the browser,why?

Solution 1
Answered by Mike Poole

It is probably from the constant battle between NS and MS and Netscape most likely disabled it in their code. I have seen major problems in 6.0 and 6.1, so I suggest to stick with IE. If you are adiment about using a Mozilla browser, try K-mellon, its free and uses the Mozilla Gecko engine.
---
Question 20

Submitted by ?

have windows 95. lost kernel32dll. went to microsoft to get the patch, but they say does not exist. could you please help me. thank you for your time.

Solution 1
Answered by Mike Poole

Re-install the operating system. I would strongly suggest to upgrade to at least Windows 98SE.
---
Question 45

Submitted by Raffy

Why do I get a blank web page if I click a hyperlink in outlook mail message? I'm using IE 5.5, Outlook 98, WinNT 4 SP5 Thanks for the help. Rgds

Solution 1
Answered by Mike Poole

Do you have a constant internet connection? It could be that Outlook is trying to find it and it doesn't exist, but normally that would give a 404. Does this happen on all hyperlinks or just certian one. Also, hyperlinks can also point to file/s on a hard drive, they do not always have to go to a web page.
---
Question 14

Submitted by Kirk

When I have several instances of IE 5 running and I right click on the taskbar button of one of the instances to select close from the pop up menu, the window pops up. Is there a way to modify this behavior so the menu comes up but the instance doesn't pop up? (Actually this happens with any application) I'm guessing it's a registry hack. Thanks

Solution 1
Answered by Mike Poole

No, that is a build in behavior of the task bar and there is no way to change it.
---
Question 13

Submitted by Lora

I hope I am writing to the right place. Here is my problem: Windows 98 is what I have.My plug n play keeps finding a Simpo-tech km718 monitor driver. I don't have that. I have a sylvania f77. Since I had this problem My monitor has gotten darker and things are distorted. AT the same time this happened my virus protection caught the JS.Exception Exploit. I got rid of the virus. Then the whole monitor problem happened. If i am not writing to the right place can you tell me of some sites that can help me. thanks

Solution 1
Answered by Mike Poole

Lora, here is a way to fix it. Go to the display applet in the Control Panel, go to the Settings tab, then click the Advanced button. Then click the monitor tab, then uncheck the box next to "AUTOMATICLY DETECT PLUG AN PLAY MONITOR" That should prevent it from trying to install another monitor at startup.
---
Question 38

Submitted by Pankaj

I've been having some difficulty installing Roxio's Easy CD Creator 5.0 Platinum on my computer. I am running Windows 2000 Professional as my OS. The Autorun starts, a little window saying that that its "preparing to install" pops up, but then nothing happens. So I tried to manually start the setup and it does the same thing. What is wrong? Everything else I've tried to install works fine.

Solution 1
Answered by Marc Strickland
---
NOTE: Please note that ActiveWin nor the AskAW staff can take any responsibility for anything that may/may not occur when taking our advice. If you do anything that is included in our advice, you are doing so at your own risk.
If you have any questions pertaining to a particular answer please contact the actual Staff Member who replied.
You can contact anyone of our staff here or email us at askaw@activewin.com