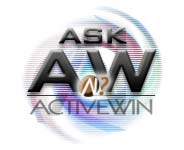 Welcome to AskAW! This lets you, the visitors submit questions about any problems/queries that you may have about Windows. Be it from a little icon that annoys you to hardware freezing your PC, we will try and help you out. You can submit your questions by e-mailing us at askaw@activewin.com.
Here are the questions posted on: 09-30-00
---
Question: Dear Sir, I am present operating on a PC running on window 98 with a software program to correct data from a large number of PLC controllers and display them on screen in selective grouping. This System are operating independent with no link with other PC. People are suggesting me to upgrade to window NT giving a reason that my application require to operate with Net Work System instead of window 98 on PC. I am in puzzle ! and appreciate you could enlighten me that, in what circumstances would I need to use a Net Work system? Would I need to upgrade my present window 98 program?
If I would like to view the same information and working with the data at another work station, do I warrant the upgrading, or I could have other means? I appreciate your thoughts and look forward to your suggestions. Best Regards
Solution 1: Douglas, From your question you seem to be running some kind of monitoring application on multiple systems which are not networked. Your friends have suggested that you need to upgrade from Windows 98 to Windows NT/2000 in order to network them. You also ask about the general benefits of networks, which I'll answer first.
Provided the monitoring software you use is network-compatible, then a network system will allow you to have data collected from multiple controllers in different places. E.g.. If you have the controllers in different rooms/buildings. If you currently have to connect/disconnect numerous controllers to get each reading then a network allows you to have them all connected at once.
It is difficult to say whether, or not a network is OK for you based on the information you have provided. Getting the hardware required for networking PCs together is very cheap, and not all that difficult to put together.
The other part of your question deals with Windows NT. This Microsoft's premier operating system. It looks like Windows 95/98 etc, but underneath is very different. NT is also a much better server OS than Windows 98 etc.
I would not recommend Windows NT for your situation unless the solution required was a large-scale one. Also, Windows NT doesn't offer low-level hardware access which may be required for your application. Numerous other aspects may be problematic e.g.. Cost, Licensing, Hardware support, technical complexity. Brian Lyttle
Submitted By: Douglas Lee
---
Question: Hi there Can anyone please sort out this annoying little glitch for me? Recently, fonts on my system have been displaying themselves at much larges sizes than they should. This happens in the start menu, the taskbar, in some application windows... and on occasions the buttons on the taskbar actually appear blank. The problem is intermittent - I suspected a virus but have scanned with the very latest bug killing software without picking up anything. Any ideas please?
Solution 1: First, Right click on your desktop, choose properties >> Effects Tab. Uncheck Use Large icons, and check show icons using all possible colors. Click apply, and open the next tab >> Settings, set your color to the highest possible (true Color). and Click ok. If you have tweakui installed, open the Repair tab, choose Rebuild Icons, confirm it by clicking repair now. Now open the taskbar and start menu option (start >> Settings >> Taskbar and start menu) Uncheck or check Show small icons in the start menu (depends on your preferred state) and click apply. These steps will refresh your icon settings, and remove any unwanted settings that you don't want. If you don't have or do not know about tweakui, you can go to http://www.microsoft.com/ntworkstation/downloads/PowerToys/Networking/NTTweakUI.asp to download it. Good luck. Bill Wiriawan
Submitted By: Pat
---
Question: The standby mode worked perfectly in Win 98. I have installed Win ME and when I select standby, the computer appropriately goes into standby (sleep) mode. However, several seconds later, the monitor goes into power saving (sleep) mode, this triggers the computer to inappropriately wake up from standby. Therefore, I am unable to put my computer in standby thereby rendering the standby option useless. This did not occur at all in Win 98. All settings are the same as they were in Win 98 and I have the latest monitor driver installed. I have tried different settings in the control panel/display/settings to no avail. My monitor is an AOC 7 Glr. Any help would be appreciated.
Solution 1: Hi, If you are installing ME as an upgrade, make sure that you also install the latest drivers which is windows Me compatible. Most of drivers doesn't work with ME in terms of Power Management. Check out this site to download updated drivers for windows me. http://corporate.windowsupdate.microsoft.com/en/default.asp Good luck Bill Wiriawan
Solution 2: You did not mention the date and manufactor of your bios. Is it ACPI compliant? bios dates prior to 12/99 are told by ME that they are NOT. you did not mention if hibernate is enabled or not. Do a search for nohiber.txt and you will have your answer. Sometimes IRQ steering is not fully working due to related issues. Get back to us on this. You can go to the display manufacture's website for patches or display driver updates but I believe your problem is more bios related. More info would help. good Luck Craig Catapano
Submitted By: Jason M.
---
Question: Dear AW, I am considering buying a new HP in the next couple of days and consigning my previous Pavilion to the scrap heap. I have just started getting interested in programming, however, and have been fiddling around with the QBASIC compiler that came on my old Win95 disk. Do you know if Me will offer the compiler either in the O/S or on an accompanying CD? I'd love to hear from you. Thanks!
Solution 1: Thomas, Hold onto your old Windows 95 cd. I don't use Windows ME, but you can use QBasic with it. Good luck with your programming! Brian Lyttle
Solution 2: Yes the QBasic is still on the WinMe cd, just buried!, go to D:\Tools\oldmsdos. You will find it there as well as the qbasic help file. Enjoy Craig Catapano
Submitted By: Thomas
---
Question: Dear AskAW, I have windows 2000 pro upgraded from win98 on Intel PIII, with 20GB hard disk with three partitions, all NTFS.
1) are there any files which are useless (win 98 files) and may be deleted to make more room
2) how can I repartition my disk -now there are c: and two logical drives d: anf e: with 0 bytes unallocated data in base disk.
3) even on blank drives the pie chart shows -12mb occupied on d: and 40mb occupied on e:,..no bad sectors are found on either after scandisk-thorough. and most imp.
4) when I format a hard drive, what should be the unit allocation size .I mean how does setting the unit allocation size affect disk performance viz,access rate etc.does it have to be small or high and why?
5)does more no. of partitions mean better performance?
thank u in anticipation
Solution 1: Hi, It is recommended that you clean install rather than migrate to windows 2000 from windows98. There too many files that you have to remove, and it is clear that you are unable to remove it, since you don't know which files they are.

If you have a 20GB HD, I will recommend creating a system partition (C:) as big as 3 GB, 7GB for programs (Maybe less) depends on your usage, if you have lots of programs and games you may want it bigger, and leave the rest to E: for you documents (I move my default documents folder to E:\) So when you need to format C:, you will not loose your files.

Windows keep a system volume information for all NTFS drive, you can see the file when you show your hidden and system files from the folder options, so the 12mb or something usage is normal, don't worry about that.

To format your hard drive, I would recommend that you read windows help files regarding these issues, and use the built in disk manager, you will have a better understanding from the GUI display. and leave those cluster setting to default, since you are using NTFS, you can have benefit from the drive compression feature. use it only for your document files. Good Luck. Bill Wiriawan
Submitted By: ashish
---
Question: if I try to remove listed drivers using add\remove in control panel, the entry remains no matter what I do I was told that the application was probably still running and in use by something else, but I can find no advice of what this 'other' application might be, how do I stop this 'running' and how do I delete the drivers, I need to delete so that I can reinstall new drivers, so that I can reinstall a web cam , which apparently won't reinstall until I remove the first installed drivers .pls help if you can ..
Solution 1: Hi Boot to Safe Mode, and go to the regular uninstall procedure. If you are still not able to remove it, press ctrl-alt-del, end all task except, explorer, and systray, then proceed to the uninstall procedure. You don't have to boot to safe mode to do this, just do it in your regular windows task. Make sure that you are installing a newer driver, unless that windows will have the possibility to have errors. Bill Wiriawan
Submitted By: John
---
Question: I am in the process of trying to install creative web cam go, but seem to be having an extraordinary amount of trouble the latest being the fatal exception notice, what if anything can I do about it, the message reads,"06 at 0028:ff 40401 in vxd wbcgovid(01)+00004401" the current application will terminate. also ,and this is all probably connected in some way, every so often I get a hang up which I clear with ctrl,alt,del - - - this reads msgsvr32, and the windows close, at end of day hangs on&on&on etc until finally I turn the machine off without waiting for the safe notice, can you offer any suggestions apart from giving it a quick death to ease its suffering?
Solution 1: Hi, Are you running the latest drivers for the web cam? Go to Creative site and check for more up-to-date drivers. I've seen numerous exception problems due to drivers. Brian Lyttle
Submitted By: js4815
---
Question: Hello, Would you be able to explain to me what is a driver update? why do we need to update our drivers...and when do we do that? a software question...I open up Microsoft works and suddenly cannot not type anything...then I close the application and open it again...then I can type again....is there something that prevents me from typing in that application ? (e.g. button pressed by accident?) Thank you Activewin.. Regards,
Solution 1: Stephane, As you may already know drivers are the pieces of software which enable us to use certain hardware devices with our PCs. Eg. Printer drivers. A driver update is typically a full replacement driver for your system which fixes bugs in the existing driver. It is not typically like an update to a computer program where only the latest bit is replaced.
Drivers are very complex bits of software, and are difficult to debug (fix bugs) with so many different PC configurations being available today. Manufacturers frequently release updated drivers that fix particular problems. More and more users are becoming the guinea pigs for developers of drivers.
You should only update drivers if you are having particular problems. Most drive updates will come along with a readme text file explaining the fixes with the new driver. There is the possibility that a new driver will cause problems which did not exist prior to it's installation so backup. Drivers are updated for other reasons beside pure bugs. Eg. for better performance while playing games. Only certain people will require these and non-techies should carefully consider how they will affect system stability.
The other part for your question addresses MS Works. I don't use it so I can only comment generally on the problem. The jamming of the keyboard may perhaps be due to a rogue driver, most likely a Graphics card driver. Find out you card's make, and visit the manufacturers website for driver details. You should also try searching http://search.support.microsoft.com/kb/c.asp Brian Lyttle
Solution 2: Updating drivers is unfortunately part of owning and maintaining a pc. The drivers most needing timely updates are 1)Video Drivers 2)Sound Card Drivers 3)DirectX Drivers..Windows98 come with Directx5,Windows 98SE comes with DirectX 6.1 and Windows ME come with DirectX 7.1a To download the latest DirectX go to http://www.microsoft.com/directx/homeuser/downloads/default.asp Usually the drivers that come with a new device or system are most likely already out of date by the time it goes to production. Updating drivers, aside from the mentioned "bug" fixes, usually add some new adaption to changing technology. Go to Device Manager and check the driver dates of your devices installed. Drivers older than 6 months usually can be updated by their respective manufacturers. Good Luck Craig Catapano
Submitted By: Stephane
---
Question: we are having problems with our new dell computer locking up. we cant move the curser. this happens daily. we contacted our isp(road runner)and they said it is a problem with windows. could this be the case? we would appreciate a response. thank you
Solution 1: Hi, I think dell's tech support will provide a better information then we do right here, since they know what is inside your computer, and what is possible that freezes up your computer. Please make sure that you read the troubleshooter before you call them. Bill Wiriawan
Solution 2: A few options Willard, you did not say whether this was a laptop or desktop or what operating system this was OR how many days you have had this pc. However... Depending on which version of Internet Explorer you have, see under "Help" toolbar, "about Internet Explorer' that may give an indication. Has any new software or hardware been added? Is this a "custom image? or out of the box setup? You can try repairing Internet Explorer, by going to start/settings/control panel/add-remove programs/ then scroll to Internet Explorer and tools..Click remove ..Then you will have a choice to "repair" the install of IE. You may be prompted to download "additional files" to finish repair then reboot. If all else fails..... Since this is a DELL, if this machine is less than 30 days old you can get your 6 digit "tag" number of the case and inquire about their utility Zigzag or Known as ZZtop.exe this will restore the hardrive to its factory new condition (all new data will be lost) provided you have not defraged yet. All Dell products come with this "feature" just depends whether the image is still "valid". Its invisible to windows so you won't see it Good Luck Craig Catapano
Submitted By: Willard
---
Question: dear sir/madam, My computer has English version window which is not compatible with Korean software. So I want to install Korean version window. Could you tell me how I can install Korean version window in my computer which has already had English version Window. Thanks in advance and looking forward hearing you soon.
Solution 1: Hi, In order to install a Korean windows, you have to: 1.Install it in other partition out of the current one, 2.Clean install your windows by formatting everything. Windows 98 doesn't have the capability to install and migrate from another language version of windows. Good luck Bill Wiriawan
Submitted By: Michelle
---
Question: I have a problem with my sound. When I first boot the computer and the sound for "start windows" , or "welcome" for AOL and other sounds are heard, they skip. Like the needle sticking on a record player. I recently found a virus on my computer, the happy 99, and the McAfee deleted it for me. Any help would be appreciated. Thank you in advance,
Solution 1: Hi, Make sure that you have the latest driver for your soundcard, and your computer specs is fast enough to run such a resource. Sounds squeaking during startups are normal, since windows is loading while playing the wave file. you can avoid this by using no sound at all, or a simpler sounds (Smaller in size) Bill Wiriawan
Submitted By: Louis Seymour
---
Question: Hi, I would like to know if it is possible to have Windows Explorer open up like it does in Win 98. Whenever I open it up under ME, all it shows is "my computer", "network places", and the documents folder. I would really like it to show the contents of the C:\ drive like I used to have on previous versions of Windows whenever Explorer was opened. Any ideas?
Solution 1: Open your windows explorer shortcut properties: and you will see something like the end of the command: e.g: ....\explorer.exe /C:\.... Change the /C:\,,, to your desired location. and you can specify the same folder for the "start in Column" Bill Wiriawan
Solution 2: Just to expand on that answer a bit:
Windows Explorer switches are useful in creating rooted folders:

Explorer [/e,][/root,<object>,] [[<folder>]| [/select, <sub object>]]
/e Use Explorer view (scope and results pane view). The default is open view (results in pane view only).

/root<object> Specify the object in the "normal" name space that is used as the root (top level) for Windows Explorer. The default is the Desktop folder.
/select The parent folder opens and the specified object is selected.
<sub object> The folder or file that Windows Explorer opens. If the /select switch is used, the sub object is highlighted. If the /select switch is not used, the folder or file opens in Explorer. The default is the root<object>.
Examples:
Explorer /e, /root, \\Reports Opens an Explorer window at \\Reports.

Explorer /select, C:\Windows\Calc.exe Opens a folder at C:\Windows (or activates one that is currently open), and selects Calc.exe.

Explorer /e, /root, \Source\Internal\Design\Users\David\Archive Opens a folder to the Archive folder. This is a good way to create a dedicated, remote, documents archive folder. A link to the \\Source\Internal\Design\Users\David\Archive folders can then be placed in the Send To folder for quick routing of documents. Bryant Likes
Submitted By: David
---
Question: I posted this to the new Millennium newsgroups with no solution. I have a Compaq LTE Elite 4/75CX 486 notebook that I just installed WinMe on and can get no better than 16 colors. With Win 98SE, I could get at least 65,000. I know it has a Western Digital video chipset, quite probably the WD90C24A2. I have explored all the driver sites I am aware of and have searched the web with no luck. I extracted the wd.drv, wd.vxd, and wd.dll files from my Win98SE disk, but don't have a clue as to how to install them without an .inf file which Millennium requests. Any help would be great.
Solution 1: Hi, the driver is not compatible with windows Me, and you need to obtain an updated one from Compaq and/or western digital in your case. Bill Wiriawan
Submitted By: Wayne Harke
---
Question: for the past week every time that I download a file, it always has the desktop as the default download location, even though, I'm constantly downloading in my documents, and never download anything on the desktop. I'm running windows me, why won't it remember my download location?
Solution 1: A download folder location is saved every time you successfully download a file. To manually change the location open the following key with regedit: (Windows Key+R and type regedit >>Enter)
HKEY_CURRENT_USER\Software\Microsoft\Internet Explorer
In the right pane you will see a key that displays: Download directory:....Double click on it, and change it to your desired custom location path. Bill Wiriawan
Submitted By: ???
---
Question: Hi, My system has Windows95,I recently discovered Desktop themes. I downloaded one and it extracted and installed into the Plus! Themes folder. The theme was also in its own folder. I tried to download a few more. They did not install into this folder. They showed up in program files but unzipped. I have I upgraded my WinZip to 8.0 put still have problems. Any help would be appreciated.
Solution 1: Hi, unzip the themes manually to :C:\program files\Plus! folder (May differ on your system) Or you can try a better theme manager for windows, go to www.desktop architect.com it's free, and better.
Bill Wiriawan
Solution 2: Since you already have the themes you wish to use, the go to start/find/files and folders/them type in *.theme proved they are unzipped you will know the names and paths of where they unzipped to. You can then Open themes as you normally would and "browse" to the directory and folder of the location of the theme file you wish to install.
As far as WinZip is concerned, your best bet is to download these browser support add-on which will download a file to your selected folder repeatedly AND open it after completion of download. It is configurable to your folder location and whether you want it to open the file on completion or not. This add-on is freeware and quite small. http://www.winzip.com/ibrowser.htm good luck Craig Catapano
Submitted By: Mary Turner
---
Question: Windows at startup will hang for a good bit of time while trying to read my CDROM, I have to open and close the cd-tray for windows to continue. Also, when I am in Windows and I want to run Nero burning software it takes way too long to load, and opening and closing the tray doesn't work. I also have a CD-rw... can anyone help?
thanks!
Solution 1: Hi, Make sure you have an up-to-date driver for your ASPI layer, as well as the CD-RW software's. and make sure that the physical condition of your drive is normal. Check the following windows update site to check for drivers: http://corporate.windowsupdate.microsoft.com/en/default.asp Bill Wiriawan
Solution 2:You can use this small utility to check your Aspi level. Make sure is up to date. It should be version 4.60 or later go to http://www.adaptec.com/support/faqs/aspilayer.html for more info. This Aspi check will work with all brands of cd writers. Good luck Craig Catapano
Submitted By: ???
---
Question: my computer says I require an upgrade for DDEML.DLL (4.10.1998) can you help me I am a newcomer to computing Thank you
Solution 1: Moira, Why/where does the system ask for this file? The files is for the DDE Management library, and version 4.10.0.1998 is supplied with Windows 98 Second Edition. If you are using Windows 95 or Windows 98 first Edition then you may need to upgrade your Windows install to get this file. Providing a little more information in future will help us to provide a better answer. Brian Lyttle
Submitted By: Moira
---
Question: Is USB 2.0 used in Windows Me?
Solution 1: As of yet, there are no consumer USB 2.0 devices available. When they are available(2-6 months) WinMe will most certainly support them(with proper drivers). Side note, I'm very much looking forward to USB 2.0 as it accelerates all my USB 1 devices(ie web cams etc). Michael Hicks
Submitted By: ????
---
Question: Hi guys, Just a small question I've just done a clean install of my PC and put win 98 back on, however when I shut down now rather than getting the "windows is now shutting down" I get a black screen and orange text that "it is now safe to shutdown your PC" before it turns itself off.
Solution 1: When you installed Win98, it installed with a very simple form of power management. Unfortunately, to fix this problem you need to reinstall windows(other people may tell you there are alternate ways to fix it, but reinstalling is the most...complete). when you run setup, use this line(no quotes): "setup /p j" Also, check your bios to make sure ACPI is turned on. Michael Hicks
Submitted By: David
---
Question: Since there is no real-mode DOS support, how do I run DOS programs within windows? For example, Borland C or even JDK. These programs need DOS to run. And what is the command to ping IP address? For Win98SE, I go to DOS and type ping www.xxx.xxx. What should I type in Windows? Thanks
Solution 1: In actuality, WinMe doesn't loose DOS support. DOS is still there in all its glory. Microsoft just tries to hide it as much as possible. Under start>accessories, ms-dos prompt is still there. All the commands, such as ping, are the same as in previous win9x, at the prompt. There are a few programs which will even fix it so you can boot to a dos prompt again, as in Win98. Michael Hicks
Submitted By: Javier
---
Question: How to create Windows 98 setup boot disk for CD
Solution 1: 2 ways, if you have widows installed, go to start/settings/control panel/add-remove programs/start-up disk tab. then insert a blank formatted floppy and viola! you have a startup disk . If you do not have windows installed, you can try a friend's pc OR go to http://www.bootdisk.com/ if no one has Win98 (unlikely) Or...you can download "the Ultimate Boot disc by Jube Shiver at Utimate Bootdisc Craig Catapano
Submitted By: ????
---
Question: For the past week my bosses win98 laptop has been automatically mapping a specific network drive. This goes on periodically during the day so by the end of the day he has about 9 instances of our network share "Public" on his laptop. I've done virus scans and looked for anything unusual but don't see anything. It maps each additional instance to the next available drive letter. Any ideas as to what is causing this???? Thanks
Solution 1: Dear Jeff, being a laptop, you did not mention if this was a "docked" pc connected to a corporate network on a LAn card or a stand alone pc utilizing a pcmcia 56k dial up or Cardbus 10/100 lancard. If this is infact connected all day it is possible you have an "intruder". your best bet is to disconnect it for a day and see if this persists. I would also seriously consider a firewall for your bosses protection as well At least then any "unannounced" visits will tracked and identified. ZoneLabs offers an easy to use firewall that is compatible with most configurations and is highly regarded. Go to www.ZoneLabs.com and try it. Your boss will Thank You Let us know your findings please... Craig Catapano
Submitted By: Jeff McKeon
---
Question: I have had Windows ME for about a month and I have found that I can only run three applications at once...i.e. if I am downloading from multiple sites, and open three browsers, and say, to pass time I kick off a game of solitaire, one of the browsers will stop running. I did a bit of experimenting with it and three applications seems to be the rule. My system: 733 mhz P-III w/ 128 meg of RAM. On my office computer, a 400 mhz P-II w/ 64 meg RAM, I can open as many applications as I want and no problems. What's the deal? Can you help?
Solution 1: Leo, you have more than one issue at work here. One depending on the server, Windows only permits up to 4 (sometime 2) simultaneous downloads. Easily fixed

The HTTP 1.1 spec limits the number of simultaneous connections any one browser can make to a given server. It's a way to ensuring there are enough connections to go around. This IE tweak turns off IE's built-in compliance with this standard, and lets your copy of IE open far more simultaneous connections with a server. This means your browser can grab many chunks of a web page at one time, speeding load times. But it also makes your browser a connections "pig," consuming more than its fair share of server connectivity. It makes your browser a selfish net entity

In Windows 9.x

1. Open Regedit (Start-->Run--> and type 'regedit' [without quotes] )

2. Navigate to the following folder:
HKEY_CURRENT_USER\Software\Microsoft\Windows\CurrentVersion\InternetSettings

3. Create the following "DWORD" :
MaxConnectionsPerServer

4. Set the value to any high number (the default is 2)

5. Creat the following "DWORD"
MaxConnectionsPer1_0Server

6.Set the value to any high number as well (the default is 4)

2nd, your resources in ME go a bit less due to behind the scenes "add-ons" like system restore(StateMGR.exe), system file checker (SFC.exe) and PC Health (PCHSchd.exe) all new to ME, You can go to run and type "MSconfig" and open "startup" to get a better picture of what is robbing you of resources and disable those you do not need. The above ones I would not disable for they will cause MORE problems if not ran. Disable others to make up for them. They are now part of your "pc experience" You might consider more RAM

Since MSconfig is buried, I use "Startup Control Panel" by Mike Lin http://www.mlin.net/StartupCPL.shtml

Good luck Craig Catapano
Submitted By: Leo Bernard
---
Question: I'm unable to install the Security update from August 16th. I've tried to install it repeatedly and it didn't work. I even ran Norton WinDoctor 2001 on the system, fixed 430-some problems (amazing that an OS can be that screwed up in only 3 weeks), and tried again. Any ideas?
Solution 1: A few reasons, Some of the "updates" use files dates older than the original IE (6/6/2000 vs 6/8/2000 for example) and because of windows own system file checker. to get a more enlighted view of what I mean...
go to run, type regedit navidate to Hkey_local_Machine\Software\Microsoft\Windows\Current Version\Systemfile protection then put a 1 in in "show popups" then you will see what I mean then go to: http://www.microsoft.com/windows/ie/download/default.htm and download it and Manually install it, meaning do not run it from the web. you might need to ram it down windows throat to install. lol even better, the "privacy beta already covers this patch and updates IE to 5.50.4308.2900 I have found it to be stable on my ME setup good luck Craig Catapano
Submitted By: Jeff
---
Question: I am in the audio visual presentation business and have recently encountered a problem with Win2K. When hooking the laptop up to an LCD projector, the image is way too huge. It extends beyond the frame of the projector. I have tried using a variety of projectors, all with native resolutions of 1024 X 768. This has occurred with a variety of different computers with a variety of different graphics cards. The only tie that seems to bind is Windows 2000. In the settings tab, there is a choice for two monitors. Neither one works. The only solution seems to be to change the Computers resolution to 640 X 480, which is unacceptable to most presenters. Is there a solution for this challenge? I, and my clients, would be much obliged for any help. Thanks.
Solution 1: First, run the troubleshooter, and read the
The only thing that missed on Windows 2000 is a good Multi-display support. You can check out what is listed in the monitor section in the Device Manager, and/or the advanced display properties. It is however a bug by design in windows 2000 that they miss to put more attention on it, You can try MultiRes, that overcome this problem by simply overriding windows 2000 limitation on multiple display resolution, go to www.entechtaiwan.com/multires.htm to download the file, and you should be able to manage your resolution freely. Good Luck, Bill Wiriawan
Submitted By: Kevin
---
Question: Hi, I am running Win 2000 pro. I had an Aureal sound card installed and it worked fine. I decided to install a Creative Labs PCI 512 sound card. Everything went fine, Windows found the new card and installed the new drivers. Now, all the sounds work except, startup and shutdown, even though they are active in the sounds control panel. If I click on the sounds in the sound control panel, Windows will play the sounds, but, not at startup or shutdown. I went to Creatives site and installed the latest drivers, But, it did not help. Any help will be appreciated. Thanks
Solution 1: Hi Chuck, Just go to the sounds and multimedia applets simply to assign a new sound file to play during the startup and shutdown time. Creative drivers installation program changes the setting by assigning it's own wav file for startup and maybe shutdown section in your case. Bill Wiriawan
Submitted By: Chuck
---
Question: I have Windows Millennium Edition on my new PC . My d-link 4 port USB Hub (USB-H4) will not work with it. When I plug my scanner or printer into the hub they do not work. When I plug my scanner or printer into my PC they run fine. I thought the hub might be defective so I exchanged it for another one. WRONG! Why won't my USB hub work with my computer? Do I need a driver for it to work? If so where do I find a driver for my hub that is compatible with Windows Millennium? Thank You very much P.S- I already tried asking dlink.com but they never email me back
Solution 1: Why not check out the hardware compatibility list at ...where else...activewin.com :-) Mean Drake
Solution 2: Generic USB hubs generally do not need special drivers. (I'm not too sure about this particular D-Link hub, but I have a Belkin USB hub, and it is detected as a generic hub.) If you are hooking up a scanner and such to the hub, and these devices don't work, then probably you are not getting enough power delivered to the device. If the hub is not a self-powered hub, it probably isn't delivering enough power. Scanners are high-power devices, and you would need a self-powered hub to power them. If your hub is self-powered, plug it in to an electrical outlet. (For my Belkin hub, there's a switch that allows you to select bus-powered, i.e. getting its power from the computer, and self-powered.) Hope this helps out. Philip Tan
Submitted By: zoey
---
Question: Hi. When I am trying something copy it is takes too long to my mind (about 10-15 seconds). Maybe virus is in my computer memory? Perhaps something is bad with memory or maybe not... and I do not know what to do :-( I use Windows98. Computer Memory is 32MB. Thank you.
Solution 1: Why not install an antivirus with latest upgrades. Also you are a little unclear as what you are trying to do. If you are trying to copy a 1MB file to a floppy it is going to take time. Mean Drake
Submitted By: Renaldas
---
Question: In the ME version, access to "Quickview" had disappeared. Is this normal? What can be done to correct this?
Thanks
Solution 1: Nothing. Quick View has been removed. Mean Drake
Submitted By: ????
---
Question: my USB no longer works, It say that the driver is bad, but when I re install it, it does not work, perhaps you could send me a copy of your usb drivers?
Solution 1: What device are you trying to find drivers for. The drivers that operate the USB root hub (the one inside your computer that provides for the ports on the back) are provided by Microsoft as part of 98/98SE/ME/2000. If you're looking for drivers for a particular device, your best bet would be to contact the manufacturer. Andrew Funderburk
Submitted By: ???
---
Question: Hi AW, I've just upgraded to WinMe from Win98SE and everything is fine except for a modem conflict. I have a Conexant SoftK56 modem installed (V_B2.07.01) and it works fine on Win98SE, but not with WinMe - I get an error code 15 in the Device Manager. I have found and updated the firmware/drivers to V_B2.13.02, but again this only works in Win98SE. I have been unable to find any specific firmware/drivers for my modem that are WinMe compatible. Can you point me in the right direction please.
For your information, I have purchased the "Promotional Step Up" version of WinMe. I have done a clean install for WinMe as well as a clean install for Win98SE and updated that to WinMe. I'm now back at Win98SE, having uninstalled WinMe for about the third or fourth time since Thursday........... what a way to spend a weekend! :-) I await your reply with anticipation
Solution 1: Check out driverguide.com or windrivers.com. They might have what you're looking for. Andrew Funderburk
Submitted By: John
---
Question: Hi, I'm running Win98SE, and I've enabled user profiles (I have four users). There are a couple of programs here and there that do not recognize the Windows Profiles system, and I'd like to emulate it. One way I thought might work would be to store the <application>.ini file as an <application>.<username> file and copy that file to <application>.ini at login. Ok, pretty easy so far. NOw, Some of the data in <application>.ini may change by the time the user closes the program and logs off. I'd like to run a script that will copy the .ini file back to the .<username> file when the user either logs off or shuts down. Is there any way to do this?
Solution 1: Hey Jim, No, unfortunately, in Windows 9x and 3.x, there is no way to configure logon scripts. But if you have NT 4 Server or Windows 2000 Server and if you are configured to logon to a domain, you can use Active Directory to assign logon script batch files to do this task. Geoffrey Lo
Submitted By: Jim Casler
---
Question: Upon shutdown I am sometimes getting the following error message:

An exception 00 has occurred at 0028:C1827FED in VxD DiskTSD (03) + 00001D6D. This was called from 0028:C182A600 in VxD voltrack (04) + 00000000.

Any suggestions as to what is going on? The computer totally frezees and only using the big red button to power off works.
Solution 1: Hey Robert, Have you tried using the Windows Update patch for Windows 98 and W98SE lately? They fix freezing and crashes at shutdown. Hope this helps. Geoffrey Lo
Submitted By: Robert Gundersen
---
Question: This may sound like a small problem, but it's getting really annoying. I bought a bare bones AMD Duron 700 system recently and it came preinstalled with Windows ME. No big problem, except the for come reason it won't run MPEG! I've reinstalled Windows 3 times to try and correct a codec problem, but that doesn't fix it. Also small MPEG's run fine. Larger ones play the first two seconds then stop. If I seek further ahead, media player cannot be closed without opening the close program box. I never see an error! Any ideas?
BTW it's not a performance issue:
FIC Socket A mobo
AMD Duron 700
Voodoo 3 3000 AGP
320 MB SDRAM
I appreciate your help! Mail me if you have any ideas!
Solution 1: Hi There are different types of codecs for different types of MPEG files - a lot of these codecs do not come as standard with Windows or Windows Media Player and require you to search them out and download them. Does the codec name get mentioned when you try and play the file? this will help us find out where to search out that file. Byron Hinson
Submitted By: Thomas Shaw
---
Question: Beta testing of DirectX 8 was done a couple of months ago, when will this be released?. Upon installation of Windows 2000, it gets the blue screen of death upon installation, it falls over when installing the video card drivers a I have a Leadtek Ge-Force 256 DDR vidoe card and currently is not supported by the software on the disk. I have downloaded the 2000 drivers from the vendor but how do I get around when installing?
Solution 1: Beta testing of DirectX 8 has yet to be completed, but the final version is expected within the next two months. Byron Hinson
Submitted By: David
---
Question: How can I do a clean installation of Win98, without reformating the drive? I mean just re-install the OS in his C:\Windows directory. Thanks.
Solution 1: The best way without formatting is to make sure you have a disk with all drivers to get your CD-ROM/DVD-ROM drive going and then doing a deltree on the windows directory and then reinstalling windows via the CD. It is very simple to do and tends to be a method I use every so often to get a clean install on a test machine. Byron Hinson
Solution 2: Although you will not lose any data through this method, you will still have to reinstall most of your programs. Adam Sowalsky
Submitted By: Ken
---
Question: Hi, I bought Windows ME last week and everything is working fine. My question is can I delete the old windows that was saved on my hard drive and takes up 135mb of space. Thanks for your help.
Solution 1: Yes! You just need to use ADD/REMOVE PROGRAMS and remove the files from there. Byron Hinson
Submitted By: Tim
---
Question: I am using Windows 98R2 and have downloaded all the upgrades from Microsoft pertaining to security for Outlook. I have a Intel 533 mother board. The problem is that the computer keeps locking up. I can be in the middle of an email, doc or spreadsheet and the computer locks up. I have to do a hard reboot every time and this may be up to 6 times a day. Is there any fix for this? Thanks
Solution 1: Hi Sue! Unfortunately, from what you described, I think that Windows wasn't installed properly for your PC, but if you try formatting your hard drive and reinstall this, it should help. Geoffrey Lo
Solution 2: You might look to make sure that you don't have Word selected as your email editor, there tends to be a memory leak with Word in Outlook that causes a lock up at random times. Brandon Crespino
Submitted By: Sue
---
Question: I just bought a new computer with the ME 2000. Every time my new computer plays the media player the sound continues but the picture stops. This locks up my computer tight. I am unable to even reboot with a CTRL ALT DEL. This has happened twice. The box won't even turn off with the button. Everything including the cursor freezes as it is. My ONLY choice is to unplug the computer and I know that isn't good for it. Can you help?Thanks,
Solution 1: I'd suggest that you uninstall Media Player 7 and install version 6 instead. Version 7 is a piece of bloatware that has no significant benefits over the previous version. Adam Sowalsky
Submitted By: Jami
---
Question: Hi. When I trying something copy it is takes too long to my mind (about 10-15 seconds). Maybe virus is in my computer memory. Any way I think something is bad with memory, but I do not know what to do :-( I use Windows98. Memory is 32MB. Thank you.
Solution 1: 32 MB of memory is not enough these days. If it is taking too long (in your opinion) then you are best to upgrade memory. Memory is cheap. There is no reason NOT to upgrade if you are unhappy with your performance. As for a virus, use a freeware virus checker to check for viruses if you think THAT is the cause for your system being so slow. Adam Sowalsky
Submitted By: Renaldas
---
Question: is there a way to make IE5.5 remember the size and position of broswer windows? in IE4, you could right-click a link and select "open in new window," which brought up a new window in the size and position of the last open broswer window. it seems the only thing IE5.5 remembers is the cascade or tile function from right-clicking the toolbar. Joel
Solution 1: IE5.5 has a lot of bugs that are just annoying, this being one of them. If it really bugs you, you should go back to IE5. There are very few differences between the two versions, and you will find IE5 to be faster. Adam Sowalsky
Submitted By: Joel
---
Question: In regards to auto complete in Internet Explorer, can information, such as a credit card # or an email address (xxxx @excite.com) change fields and end up as a web address in the address bar?
Thankyou for your time and consideration,
Solution 1: I have never seen that happen before. I think that IE uses the hidden name of each field to identify. That is why you'll never get an e-mail address popping up for a phone number. Besides, it doesn't use autocomplete for secure server info, such as credit card numbers. Adam Sowalsky
Submitted By: Chuck
---
Question: Hey, How bout some help? I have a system that came with a recovery CD, containing all the preinstalled software for the system. I would like to upgrade to Windows98 SE, now the problem. I added a larger hard drive that came with software called EZ Bios, installing this changed the bios so that I can no longer use the recovery disk. I would like to do a full install, however Windows98 setup wizard tells me I have an existing OS so I must use the upgrade version. Any and all thoughts would greatly appreciated. Thank you for your time.
Solution 1: Well if loseing all your programs is not a problem you could just format the hard drive and do a fresh install. Chad Cappellini
Submitted By: Bill
---
Question: Hello: I Installed the Windows me retail version over a week ago. I have found a bug and I have not had any success in resolving the issue.
Hardware
Asus K7V Bios 1.07 the latest I have found from Asus. Using the latest 4in1 VIA drivers. (tried the last 3 releases including a release 3 days ago)
256mb PC100 SDRAM
Athlon 750mz
64mb 3D Prophet II the latest driver available from the manufacturer based on Nvidia drivers 5.22 (tried detonator 3 with worse results)
Two 14gb Western Digital ultra 66, 7200rpm hard drives.
Creative SoundBlaster Live
I have tried both an upgrade and clean install with the same result.
Before upgrading using Win98SE I was running 4X agp with no problems. After installing WinMe the first thing I did as I always do is install my video drivers and my VIA drivers. After running the installation package from Guillemot for my video card it froze during the install so I had to reboot and after cleaning the drivers out I attempted to install manually and I did get the to install but on reboot it locked up. This has happened to me many times before on different video cards and motherboards but when I finally got into windows there was no trace of the drivers. Not even in the device manager (still said Standard VGA) was there the usual Display Adapter problem. After the second attempt at restart the Display Adapter was Displaying the correct card now but you could see that it was still using the Standard Driver, only 16 and 256 colors available in properties.
So convinced I needed to reinstall WinMe I did. This time after installing the drivers I could boot Windows in Normal mode. finally after checking all my bios settings I dropped down to 2X AGP and Windows booted fine and no more problems. I then tried to bump it back up with fastwrite disabled with no success. I am convinced it is a WinMe bug. If not what would you suggest I try next. If you need more info please e-mail.
P.S. I have not had this problem with Win98 and Win98SE.
Solution 1: Hi, try using the new drivers from Nvidia found at: http://www.nvidia.com/products.nsf/htmlmedia/detonator3.html Then apply the AGP 4x registy patch for via chipsets: http://www.tweaktown.com/articles/via_agp4x/ You will likely need to reboot after this...... I seem to have had an issue with these drivers in general myself and tried the "unofficial" 6.26 drivers with the agp patch and i was running 4x again! If all else fails with the official drivers, you can go here to download the leaked ones (use at your own risk), which i found to work: http://www.reactorcritical.com Hope this helps you out! Take care. Chris Murray
Submitted By: Jeff Cheshier
---
Question: My Maxtor Diamond Max 15 GB was working fine with Win '95. After installing ME I can't get my system to see the Maxtor. Maxtor's Max Blast software (Version 1.24S) doesn't seem to work with ME. It used to install "EZ Bios" but doesn't with ME. After checking your compatibility list I can't tell if the Maxtor is ME compatible. It's a model 51536U3.
I'm waiting for Maxtor Tech Support to open and will let you know if I find anything out that will help. In the meantime, do you have any suggestions? Thanks
Solution 1: Hi, Is there a reason that you are using the EZBios software? This should only be used if your motherboard bios is too old to recognize anything past 2gb, if my memory serves me well! If your system is atleast 2 years old, you shouldn't have to use EZ Bios and just let your bios detect the hdd. If you know that you need the EZ Bios installed, then all i can think of is that there maybe a line in your config.sys or autoexec.bat that may deal with the software and that WinME, upon boot up, automatically remarked it ( usually seen as "rem" in front of the line to ignore the command) and now it is causing problems with the drive being detected correctly. I am certain that the EZ Bios actually lies on it's own sector or the boot sector of the hdd, which loads first, bypassing the bios. I really don't think that WinME would alter that, but i could be wrong! Hope this gives you something to go off of. Take care. Chris Murray

Submitted By: ????
---
Question: Ok..here is my problem..if I update my monitor files and remove my monitor from the device manager and restart my computer to find my files and monitor my computer will lock up and I have to hard boot it and when I restart it then will restart to safe mode...I have a Hewlett Packard M70 montior... can you help...

Solution 1: Hi, It's sound like the monitor driver is not compatible with WinMe or wasn't installed correctly. I would go back into safe mode and goto the device manager under start>settings>control panel>system and remove the monitor and reboot. Let WinMe detect the monitor and select the driver for it, which is likely to be a generic plug 'n play driver or it may very well have your specific driver built into WinMe. I have never had an issue with the standard plug 'n play driver myself! If you have any other issues, i would look at hp's support site. http://www.hp.com/country/us/eng/support.htm. Hope this helps out! Take care. Chris Murray
Submitted By: Ken
---
Question: How do I correct an error in my Windows 95 Registry?
Solution 1: If your registry is corrupted beyond repair, then you are out of luck. However, to remove old entries, etc., you can download freeware registry cleaning programs for any Windows shareware website. Adam Sowalsky
Solution 2: Hi, What kind of errors are you having with your registry? You can try the scanreg.exe /restore function if the system still have a copy of the backup made earlier (I'm also not sure if windows 95 have this program) you can access this by booting with a startup disk, and type scanreg /restore from the command prompt. For initializing your type of errors, run the troubleshooter first, then you tell us what kind of problem you have, we will try to resolve it. Bill Wiriawan
Submitted By: John
---
Question: Are the Yamaha OPL3-SAx Sound System and Diamond Viper V330 graphics compatible with DirectX 6.0?
Solution 1: Kimberly, Yes OPL3-SAx is Compatible with DirectX 6.0 To download drivers for Windows 95, 98 go to: http://www.yamaha.com/lsi/dindex.htm
Also, The Diamond Multimedia V330 Legacy Card requires DirectX 5.0 or greater. This is supplied on the driver installation CDROM. However, you can download the drivers for this card at: http://www.diamondmm.com/default.asp?menu=support&sub_menu=Legacy_Graphics&item=drivers&product=Viper_V330 Hope this helps. Bob Stein
Submitted By: Kimberly
---
Question: Hi, Windows 98 used to come with the Backup application. I don't see an option to install this is Windows ME. Does Windows ME not have Backup? Thank you. Sameer
Solution 1: Sameer, I know what you mean. Windows Me does not include that feature, however it does have System Restore (one of it's newest features). System Restore does this:
If changes to hardware, software, or settings on your computer (including new program installations, new hardware, or many other types of changes to your system or system settings) have left your computer in an undesirable state, you can use System Restore to undo the changes made to your computer.
If you have Colorado Back Up, Iomega ZIP drive or anything similar, They should have their own back up application which should of come on a disk with your hardware. If you cannot find the disk, go to the respective company website where you will be able to download the version you need.
Windows Me also includes Registry Checker:
Your system always keeps a backup copy of your registry configuration (including user account information, protocol bindings, software program settings, and user preferences). You can use the backup copy if your current registry encounters a problem. Each time you restart your computer, Registry Checker automatically scans your registry. If Registry Checker notices a problem, it automatically replaces the registry with the backup copy. Hope this helps. Bob Stein
Submitted By: Kimberly
---
Question: Hi, Windows 98 used to come with the Backup application. I don't see an option to install this is Windows ME. Does Windows ME not have Backup? Thank you. Sameer
Solution 1: Sameer, I know what you mean. Windows Me does not include that feature, however it does have System Restore (one of it's newest features). System Restore does this:
If changes to hardware, software, or settings on your computer (including new program installations, new hardware, or many other types of changes to your system or system settings) have left your computer in an undesirable state, you can use System Restore to undo the changes made to your computer.
If you have Colorado Back Up, Iomega ZIP drive or anything similar, They should have their own back up application which should of come on a disk with your hardware. If you cannot find the disk, go to the respective company website where you will be able to download the version you need.
Windows Me also includes Registry Checker:
Your system always keeps a backup copy of your registry configuration (including user account information, protocol bindings, software program settings, and user preferences). You can use the backup copy if your current registry encounters a problem. Each time you restart your computer, Registry Checker automatically scans your registry. If Registry Checker notices a problem, it automatically replaces the registry with the backup copy. Hope this helps. Bob Stein
Submitted By: Kimberly
---
Question: Ok, I have windows ME 95-98 upgrade (the 89$ one). I have 2 bugs to report.
1. On both my computers (one a AMD-K6 and one a Athlon, which give you an idea about how different they are), after I stay on the internet a while, I get a message of a virus being detected called Win32.QAZ by my virus detector (esafe desktop). It asks me if I want to "cure" it, but then it tells me it cannot be removed because e-safe doesn't yet have a "cure" for that virus. Keep in mind on both computers I am using fully-shared hard-drives, and both computers are network together, using the regular networking control panel and not that home network control panel). On both computers, I formatted my HD and upgraded from scratch, on both computer, I got the EXACT same virus detected with both computers within 15 minutes of being on the internet and 24 hours of each-other (each-other referring to the time the virus was convinced on the other computer). this has occurred 4 times on my K6 and 1 time on my athlon because I wisent on the internet on my athlon for very long. So I went to Symantec's library o' viruses and info (or something like that) and I found the virus I had and it told me how to get rid of it. I had to rename note.com (which was notepad.exe but the virus renames it) back to notepad.exe and have the virus detector scan it and delete any files that are infected. It said this particular renames your notepad.exe to note.com and e-mails the hacker that my computer has the virus on it and it opens a backdoor for the hacker to getting to my computer. Keep in mind that this EXACT same virus occurred on BOTH my computers, 1 of them 1 time and 1 of them multiple [4] times. Remember also the virus name was called Win32.QAZ. Never had this problem with win98.
2. This is for the microsoft webTV app, I have a hauppage winTV-GO and windows ME doesn't have a driver for it, so I downloaded a ME compatible one off the manufacture's website. It installed without a problem, and I opened webtv, updated the channel listings, and it did that fine, but when I tried to go to the channels it said it couldn't find my card or the antenna isn't connected. When I uninstalled webtv, I installed the manufacture's tv application, which worked before the upgrade with win98, and it said "the driver is in use by another application" or something like that when I launched the application, when I supposedly uninstalled webtv. Please help me!
Thanks for listening [reading]!
Solution 1: Michael, Your first question, I have no answers =( As for number 2, try getting rid of all the WebTv leftovers. Some of which may be running when you start windows. Goto start>run and type msconfig in the box. On the startup items tab, disable anything that has TV in it. :) Hope this helps a little. Michael Hicks
Submitted By: Michael Vergati
---
Question: I have PC with AMD athelon running Win 2000 professional. When I shut down the computer or select restart, the computer hang-up at "Windows is shutting down" screen. The only way to exist from this is to reset the computer. Any solution any one. I have not downloaded any Windows fix. Thanks
Solution 1: Download and install Service Pack 1, as well as any updates released since then. Start with Windows Update (http://windowsupdate.microsoft.com), then look for security patches on the MS Security website (http://www.microsoft.com/security). You *should* not be running a system without these patches. There may also be patches on the AMD website (http://www.amd.com). There are some issues with AMD chips, and these patches may fix your problem. Brian Lyttle
Submitted By: Khaled Dakhlallah
---
Question: Hi I've been running McAfee Virusscan 5 on win 98 for quite some time now and never had any problems. Recently I put Windows ME on my system (the upgrade) and ever since, it seems to not like something in Virusscan or the Vshield. It will give me a blue screen from out of nowhere, telling me that mcscan32 created an error and usually ends up locking/crashing the system. I've completely uninstalled & re-installed Virusscan, but nothing seems to have changed. I don't want to completely not use it, since it's been really useful. Has anyone else had this happen or know a workaround? And yes, I have checked McAfee's site for answers. Vshield normally run as:
- System Scan enabled
- Internet Scan enabled
- Download Scan enabled w/scan for Netscape e-mail
Thanks for any help
Solution 1: Hi, You can either update your current version of McAfee, or uninstall it. There are some compatibility issues with Windows Me reported, I think, McAfee released an update regarding this. Bill Wiriawan
Submitted By: Chris
---
Question: Hi, the only thing that I can't see a way to correct is: when I go to Start > Run > and type a directory path, such as c:\windows, it brings up a search window . . .now that's strange. Any solutions, guys? :-) Thanks
Solution 1: There are not such a bug reported, which version of windows and explorer are you running? Maybe it's your hard drive /system that couldn't keep up the speed, try to defrag the hard drive periodically, fix your installation if needed. Bill Wiriawan
Submitted By: Mundeep §. Verdee·
---
Question: Hi! I hope u all have suggestions :) This is the problem. I have Win2000 and it is using ACPI not APM. When I go into standby, the machines goes into standby fine. However when I recover it, the monitor awakes, shows the video card's BIOS/version and then all I see is a flashing "-" at the top left hand corner. I then need to restart it via the restart button. What could be wrong? Is it a OS problem, video card problem or my mobo's bios ACPI error. Tks.
Solution 1: Make sure you run the troubleshooter before you proceed. Acquire and update patch for your BIOS and/or your chipset from your vendor, there are several issues regarding this issues. It requires a complete spec of your hardwares to find out which one fails during the standby. Bill Wiriawan
Solution 2: Hi Gareth, First of all, your desktop does not support ACPI (Advanced Computer Management Interface) very well and doesn't wake up from sleep. This is not a really big problem, as almost 30% of Windows does this. Try typing a key or moving and clicking the mouse. Best, check your BIOS and make sure ACPI is set to be managed by MS Power Management. If you have any problems, e-mail me at geoffrey@activewin.com Geoffrey Lo
Submitted By: Gareth
---
Question: My original system is the Sony PVC 90 with Windows 95 Plus! and a 2.5GB hard drive. The original hard drive has been compressed with drivespace3. I bought a new 13.5 GB Western Hard Drive and Windows 98 upgrade 2nd edition. I did not uncompress the original drive before upgrading to Windows 98. I am now trying to uncompress the compressed C: drive before moving everything from the current drive to the new hard drive. The decompress command is not working. I continually get an error saying Drive C contains errors that must be corrected... run scan disk. Error ID Number: DRVSPACE307. I have defraged, and run scan disk through many times and no errors have been found. How can I uncompress this drive so I can install the new hard drive.
Solution 1: Hey there, Windows 98 SE includes a newer version of Drivespace and therefore the only ways to recover this problem is to either reformat the PC or reinstall Win98 Geoffrey Lo
Submitted By: ????
---
Question: hi there I have on com 1a palmtop en on com 2 extern modem ,when I open the program for the palmtop I get my internet dialup connection!!!! what s that? tanks for your time
Solution 1: What operating systems are you using? are you using the correct driver? Please read all manuals and troubleshooters/ readmes, and make sure you are installing the drivers correctly. If the same results happen, use another port for your palmtop, and disable your DUN autodial capability, If your palmtop software requires internet connections during the launch (Registrations, update checks, etc) the dialup will automatically launched if it is configured to autodial. Bill Wiriawan
Submitted By: adijos
---
Question: Dear AW, I am running Windows 98 version 4.10.2222A and I am unable to change dialing properties to access an outside line, Do you know of any patches/fixes? Regards
Solution 1: Hi, Run the troubleshooter first. Check out the Windows Componenet wizard, whether it has DUN installed or not. If it's not checked, do so to install it, if it is checked and you want to make sure all components work properly, uncheck it, click apply, and check it back again, and click ok this time to close the wizard, make sure you have the Windows CD-ROM in order to copy all the files needed. Create a new connection from the Internet Connection Wizard, and everything should work properly now. Bill Wiriawan
Submitted By: Nick Harness
---
Question: I just had the fortune (or misfortune, haven't decided yet) of getting a win2000 machine and am having problems using it to dial into win98 machines using Dial up networking. I used to have a Win98 machine that I used for this same process and had no problems. I know the 2000 is built from an NT base and would assume it is as picky about the dial ins.Do I have to log on to the Win2000 machine with a log in that works on the Win98 machine, or is there something less I'm missing? Let me know when you can Thanks
Solution 1: Hi, Why don't you do it in another way? Configure your windows 2000 to accept incoming calls from a win98 based PC, it has better stability and security. Before you read all this, you might want to read the windows2000 help files so you have better understanding. Open Start menu >> Control Panel >> Network and Dial-up Connections >> Make new connections, and then choose the Accept incoming calls option, and follow the wizard. Good Luck. Read the Help files for more info. Bill Wiriawan
Submitted By: Scott
---
Question: This problem refers the installation of Microsoft Project 2000. The office environment in which I work does not use Microsoft Internet Explorer as our browser, the company uses Netscape. IE blows away the Novell network configurations and our e-mail which is GroupWise. The help and other features in Project 2000 are not available because I do not have IE installed. Is there any way to use my default browser instead?
Solution 1: Hi, You will need IE5 to use the features in Office 2000 Family, there is no way that you can use it without. You can install IE5, without having it to be your default browser, this is the only solution that comes to my mind, just have it, but you dotn have to use it, if IE changes the association, Netscape will be able to fist it back Bill Wiriawan
Submitted By: Rhonda
---
Question: I am not an AOL user but I have the same problem reported by some AOL users (please, see this knowledge base article at <http://support.microsoft.com/support/kb/articles/Q272/0/16.ASP?LN=EN-US&SD=gn&FR=0>).
I am using Windows Me with a Windows Driver Model (WDM) modem and my internet connection is dropped after 10 minutes of use. According to Microsoft, "there is a problem in handling simultaneous input requests when you are using WDM modem drivers". Microsoft affirms that "a supported fix that corrects this problem is now available", but you have to "contact Microsoft Product Support Services to obtain the fix" and pay. Does someone know where I can free get this fix ? It is simply a file and I don't want to pay Microsoft for it. The English version of this fix should have the following file attributes or later:
Solution 1: Hi, As long as you have a legal copy of Windows, MS will provide the file free of charge, you need to contact them to figure out whether you are eligible of this or not. We nor anybody can't provide you the support files for this issue. Good Luck. Bill Wiriawan
Submitted By: Nick Harness
---
Question: I get the following Error Message when I start my computer.
"The BATMETER.DLL is linked to missing export
SETUPAPI.DLL:SetupDiGetDeviceInterfaceDetailA. If I click O.K. on the
error message it goes away with no apparent ill effect.
I got this message after I tried to reload a program call MPACT. The program seemed to load O.K. but I developed problems with my Monitor and Video Drivers. I reloaded them and ended up with the above message. My USB Printer stopped working indications are that it is "WORKING OFFLINE" but my USB Zip Drive does work. I don't know if these items are related.
Solution 1: Hi, whatever what MPACT is, reinstall the software after you remove it first. This will ensure that your programs are installed properly. As for the printer problem, it should be related to this, again, reinstall the driver, as well as for the other components. Bill Wiriawan
Submitted By: Andrew
---
NOTE: Please note that ActiveWin nor the AskAW staff can take any responsibility for anything that may/may not occur when taking our advice. If you do anything that is included in our advice, you are doing so at your own risk.
If you have any questions pertaining to a particular answer please contact the person who replied.
You can contact anyone of our staff here or email us at askaw@activewin.com