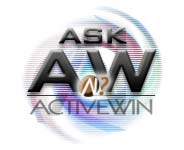 Welcome to AskAW! This section of our web site lets you submit questions about any problems/queries that you may have about Windows. Be it from a little icon that annoys you to hardware freezing your PC, we will try and help you out. You can submit your questions by e-mailing us at askaw@activewin.com. You can browse through previous questions over at our Archive Page. Who knows what you might find.
Here are the questions posted on: 10-06-2000
---
Question: Do you have any information on the future of Windows 2000 Professional? I am doing a report on it and have not been able to find anything. Thank you Jennifer Rutledge
Solution 1: Dear Jennifer: For info on future version of windows, you can check out activewin's windows section. or more at: www.winsupersite.com / www.wininformant.com www.jotenet.net Bill Wiriawan
Submitted By: Jennifer Rutledge
---
Question: Dear Sirs: Is it possible to use Outlook 2000 to set up another Email Account for Hot Mail? If so, what do I enter when the add account routine gets to pop3 and smtp? Or is Hot Mail only useable in Outlook Express? Thanks for an expeditious response.
Solution 1: Outlook will support all POP3 compliant mailbox, since hotmail doesn't support POP3, you can only use outlook express to use it. I would recommend something like yahoo! who has POP3 support so you can use it within Outlook2000. Bill Wiriawan
Submitted By: Hubert
---
Question: Hi, love your website. Just a couple of questions. I just got a new PC at work with Windows ME installed and there's a couple of things I can't seem to find.
1. How can I modify the "Send To" menu like in previous versions? I can't find the folder anywhere!
2. The PC was set up with one gigantic 30 Gig partition. Is there any way to change this without using FDISK and reformatting the entire drive?
Hope you guys have the answers! thanks
Solution 1: 1.Show all hidden files, and uncheck the Hide protected system files and folders. The folder should be in C:\Windows\Send to for a single use PC, or it is under your user profile folder (C:\Windows\Profiles\ - your user name) if you have a multi-user PC.
2.You need a 3rd party software to repartition without any data lost, A good example is Partition Magic 5 from power quest (www.powerquest.com) some freeware also available only not as user friendly as the prior, check out http://newlife-win98.server101.com/ for more info. Bill Wiriawan
Submitted By: alex beckett
---
Question: Greetings: I have Windows Me, full version, installed onto a formatted hard drive. I have opened several 100+ MB files and the files have been buffered before opening. In the C:\_RESTORE\TEMP directory there are 576 files with a .CPY extension wasting 3.2 GB of space. This leaves me with only 41 MB free on my 5 GB C: drive. These files are identical copies of files I have opened, many of them are the exact same size (109 MB). I am unable to find any way of deleting these files to free up this 3.2 GB of space. If I use Windows Explorer, it says "Cannot delete A0002703: Access is denied. The source file may be in use." Also, how do I turn off this "feature" so that I do not continue to have this space wasted by extra identical copies of files I have opened laying in this TEMP dir. Thanks,
Solution 1: The best way without formatting is to make sure you have a disk with all drivers to get your CD-ROM/DVD-ROM drive going and then doing a deltree on the windows directory and then reinstalling windows via the CD. It is very simple to do and tends to be a method I use every so often to get a clean install on a test machine. Byron Hinson
Solution 2: To disable the system restore feature, open the system properties >> Advanced > File System, Check the "Disable System Restore" This will disable the system restore, which means that you can revert your system in case you have some crash or disaster. Bill Wiriawan
Submitted By: Neil
---
Question: This one has got me. I like to modify my startup shutdown screens. In windows 95-98 all you had to do was modify the logo.sys and wlogo.sys files. But windows ME does not have them. How can I get rid of that Horrid Start up Splash Screen and change it to one of the ones I download from Tucows.com and the such. I don't want to just disable the splash screen. Thank you.
Solution 1: As far as I know win Me still has the logo and wlogo files, try going to folder options then view and check show hidden files and folders. If that still does not show them just save the image you want as your startup as logo.sys and place it in your C:\ directory. For the other (wlogo.sys) just save the image you want to use as wlogo.sys and place it in your C:\windows directory. Chad Cappellini
Solution 2: Here's a nice tool to automatically change the Splash Screen: http://www.cadvision.com/xrx/ Bill Wiriawan
Solution 3: Even if you do not find the old logo.sys in the c: root directory, all you have to do is add your own file there and that will become the startup screen. Mean Drake
Submitted By: Randall Ribera
---
Question: What happened to Microsoft's Chrome, that was found in MSIE 4.0. They said on the Microsoft website, that it would appear in future versions of Windows, yet it was seen for the first time as I mentioned before in MSIE 4, but then disappeared. According to the website (http://www.microsoft.com/TechNet/win95/prodfact/chrome.asp), it will still appear in future versions; but yet no one seems to be talking about it anymore. What's the deal?
Solution 1: Microsoft officially put Chrome on the back burner at the end of 98/ beginning 99 indefinitely (which probably means we'll be lucky to see it at all). Andrew Funderburk
Solution 2: Since
Submitted By: Michael
---
Question: I did a clean install of Small Business Office 2000 after formatting my hard drive. I did not realize that Power Point was not in this version. My questions are: Can I install Power Point from my old Office 97 Suite CD? How can I be sure it won't install over my new Office 2000 suite? If I have to in order to get Power Point, I am willing to upgrade to a better version of Office 2000 that has Power Point-e.g. Standard. Can I upgrade from Office 2000 Small Business to Standard; do I need to purchase the entire suite or can I just add Power Point? It seems ridiculous to pay as much for Power Point as I did for the Office 2000 Small Business. Any suggestions?
Solution 1: You can add PowerPoint from your Office 97 disc, just make sure you deselect everything else from the office 97 setup or you'll overwrite some of your Office 2000 files. You can also get a hold of PowerPoint 2000 by itself, but it'll cost you around $60 - $100 bucks. Andrew Funderburk
Submitted By: Adrienne O'Connor
---
Question: Hi, How do I share one internet connection through a win98 box (ip masquerading) I'm not allowed to use a hub from the jack, and I'm only allocated on ip address. I have 2 network cards in my win2k machine, and 1 in my other. Is there a way to ip forward through win2k? I've tried the internet connection sharing option, but as soon as I enable it on the network card going to the other computer, I lose all net access. Any help would be appreciated, as I don't want to switch to Linux to do this.
Solution 1:ICS (or NAT) WILL work and the Windows 2000 help has very detailed instructions on how to set it up. Just make sure you follow them exactly. Just look up Internet Connection Sharing in the index... Jerry Hoffmeister
Solution 2: If you are using any kind of firewall read it's documentation regarding being run in an ICS configuration. An incorrectly configured BlackIce, or ZoneAlarm could leave you running around in circles. Brian Lyttle
Submitted By: Paul Farrell
---
Question: I have Windows 98, Microsoft Works on my home computer. I rearranged some files last night in the word processesor. When I used to open it, the open would default to C:\Program Files\MSWorks\Documents. Now it defaults to C:\My Documents\Corel. Is there a way to change this default back? When I go to save the files, it saves them to the old path. Thanks.
Solution 1: Hi, There are probably 2 ways to fix your problem. Open the options dialog in Works. Look for something like default document locations. There should be a text box showing the default folder to look in.
Otherwise you could try adding C:\Program Files\MSWorks\Documents to the shortcut properties of the shortcut you use to start Works. Do this by right-clicking the icon for the shortcut to Works, then click properties. You should see a text box with "Start in:" beside it. Enter C:\Program Files\MSWorks\Documents here. Hit apply, then OK. Brian Lyttle
Submitted By: Nancy
---
Question: Hello. I have one quick question. When I attempt to download a file everything goes correctly. I open the file from its location and the download begins. When the file is done a small box pops up. It says "the specified file had problems while running the accessibility wizard"(or something to that affect). When I push the "OK" on this box, the box goes away and the downloaded file doesn't run and doesn't work. How can I fix this? Thanks for your time.
Solution 1: Hi, It sounds as if you just have the wizard associated with opening the file type you downloaded. Windows uses the file extension to associate it with a particular program to open it with. In this case, Accessibility Wizard was accidentally selected at some point to open a particular file type or it seems this is the case!?! The easiest way to try and fix this, being I cant see the exact problem and error, I would download and install TweakUI. Under its "repair" tab, there is a repair associations option. Run this and you will have all icons and file associations set to windows default. This should help you go in the right direction. http://www.tweakfiles.com//allinone/powertoys.html Chris Murray
Submitted By: Doug Brown
---
Question: Hi, I was wondering if you guys could help me since Microsoft's help and support is crap. I just installed windows me from scratch and I am having a problem
with my intellimouse mouse explorer....its hooked up to a USB port and I have an fic sd11 motherboard. Everyone so often, at least a few times a day I will be browsing the net....checking email or even playing a game and the mouse just shuts off.....I have to reboot my computer to get it back on again and now it has got to a point where it is extremely annoying....any suggestions on why or what I can do?
Solution 1: Hi Dave, Try going into the systems control panel and make sure that it is set not to turn off after *** minutes. Alternatively, check the same in your system's BIOS. Geoffrey Lo
Solution 2: Make sure you are using the driver which is Windows ME Compatible. Bill Wiriawan
Solution 3: Try downloading v.3.2 of the Intellimouse drivers. This should hopefully fix the problem. Go to the Microsoft website and click on 'Downloads'. On the next page, choose 'Intellimouse Explorer' and 'Windows Millennium Edition'. This will provide you with the drivers you need. Andrew Funderburk
Solution 4: Dave , You can find the latest Intellipoint Drivers (3.2) at http://www.microsoft.com/products/hardware/mouse/driver/3_2/default.htm that should fix your problem Good Luck Craig Catapano
Submitted By: Dave
---
Question: installed aol5.0 last week. now get numerable script errors on many web pages including Microsoft update site. aol said to update Microsoft vm patch, did so, still have same problem. (no such script errors using Netscape 4.7 on same sites)
Solution 1: You didn't mention what version of Internet Explorer you had prior to your Aol Install or your current operarating System. However, you have a few options.
1) Fix IE, go to Start/Settings/Control Panel/Add-Remove Programs, then scroll to you see Internet Explorer and Tools, Click "remove' then you should be greeted with a box showing 3 options, the 2nd option says "repair". Click that and allow Windows to repair your IE version. You may be asked to insert your windows Cd or "download "additional components" to complete the repair.
2) You can Simply download the complete Internet Explorer from the MS website, run it from the location, the when prompted, choose "custom" install and pick and choose which elements you want updated, brace yourself its a large download.
http://www.microsoft.com/windows/ie/download/ie55.htm
3) Do not, I repeat, Do not attempt to uninstall Aol, the "newly shared" components, once removed, plus the shared registry settings can and will leave you will a corrupt and unstartable PC.
Aol is quite "known" for making itself at home on any Windows based PC, next time a little research would be to your benefit. Good Luck, Contact us prior to your possible reformat Craig Catapano
Submitted By: ????
---
Question: I am presently running Win98 ME. I deinstalled Encarta Reference Suite (DVD Version) and want to re-install it. However, when I put the disc in the drive it doesn't do Auto Run. When I go to properties on the disc the only options are Open and Explore. Exploring the CD does not show Setup. I seem to remember when I did this before I had to delete all the files in the Windows Temp directory before the Auto Run feature would run properly. I've done that but to no avail. I would appreciate a direct response ASAP.
Solution 1: You may need to check if "auto run" is enabled for your Cd Rom. go to "My Computer", then right click then choose "Properties" then you will choose the "DeviceManager Tab'. Scroll downward to you see your Cd Rom listed then double click on it. Then go to the "settings" tab and check to see if the box "Auto Insert Notification" is checked, if not, check it and autorun will be reenabled. Good Luck, Worse comes to worse, you could search your CD Rom with your DVD installed and search for *.exe Sometimes Setup exe is referred to as Install.exe etc Craig Catapano
Good Luck
Submitted By: Huberet
---
Question: I am having a problem shutting down Win 98. Sometimes locks up the system. Can't even turn it of at the on/off button. Have to pull the plug. Please help!!!
Solution 1: Hi, Win98se has a shutdown issue. I'm not sure this is the version you have, but you might want to go to the Windows Update site to see what fixes they have. There is a fix for shutdown problems.
http://windowsupdate.microsoft.com Chris Murray
Solution 2: If in fact you are running Windows 98 SE, which can be confirm by going to My Computer, right click, Properties. then on the top right you will see the Windows 98 Version number. It will end with .2222If you find you are in fact running Windows 98SE, then go to this URL to download a small fix for this very common issue.
http://www.microsoft.com/Windows98/downloads/contents/WURecommended/S_WUFeatured/Win98SE/Default.asp
Good Luck Craig Catapano
Submitted By: Ron Volz
---
Question: Hi, Please can you help?
Since I uninstalled some software and updated some drivers my dial-up networking has stopped working. Immediately after connection with the remote modem, a box pops up with the following message: "Error 745, an essential file is missing, Re-install the Dial-up Networking files."
I have tried uninstalling and reinstalling the Dial-up networking option but I still get the same problem. What is this essential file that is missing and can I fix this without reinstalling Windows? (I have Win95b).
Solution 1: I don't know, but I do know that Microsoft has posted several Dial-up networking updates for Windows 95. I'd give one of those a try. Also, make sure you are using Winsock 2.0. Mean Drake
Submitted By: John
---
Question: I'd really like help with this, as I like backgrounds with my folders. when I try to customize the system folders like c:, program files and windows in Windows Me, I can't, the option isn't even available, however I could customize these folder using Windows 98. Is there any way to re-enable this feature and if it was taken out completely any ideas why, thank you.
Solution 1: This is my response from Microsoft Support: Thank you for contacting Microsoft. What you described is exactly true. This is by design. Background of the three folders cannot be modified this way. However, there is a workaround. You may find a hidden file called "folder" in both Windows directory and Program Files directory. But in c:\ there is no such a file. You may edit the file with notepad and modify the content to change the display if you know something about HTML. Attention: Improperly modify these files may cause problems. What's more, you may edit the display in Printer folder, Recycle folder and other special folders in c:\windows\web\. You may see many HTML files for these display. Matthew Sabean
Submitted By: ???
---
Question: Hi! Would you happen to have the video processor IC diagram for the Pioneer DVL-09, a laser disc/DVD/CD player model 1997? Thanks, and take care
Solution 1: The only thing I could find on the Pioneer Site was a Help Desk Phone : 800-872-4159 Matthew Sabean
Submitted By: Reuben Lim
---
Question: After running certain software some my activeX controls seems to disappear. The sound logo drops out on reload and I have to run Norton to retrieve it, that entails means another reload. The text from Norton refers to an invalid registry entry. Can you throw light on how this happens and give me any advice to prevent it.
Solution 1: M Turner - The first question is, what software is it that is causing it. "Off brand" software can be dangerous to a system. Initially, it sounds like this software has corrupted the active x controls for IE 5. You may need to uninstall the software and then reinstall IE 5. Charles Putman
Submitted By: M Turner
---
NOTE: Please note that ActiveWin nor the AskAW staff can take any responsibility for anything that may/may not occur when taking our advice. If you do anything that is included in our advice, you are doing so at your own risk.
If you have any questions pertaining to a particular answer please contact the person who replied.
You can contact anyone of our staff here or email us at askaw@activewin.com