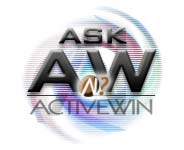 Welcome to AskAW! This section of our web site lets you submit questions about any problems/queries that you may have about Windows. Be it from a little icon that annoys you to hardware freezing your PC, we will try and help you out. You can submit your questions by e-mailing us at askaw@activewin.com. You can browse through previous questions over at our Archive Page. Who knows what you might find.
Here are the questions posted on: 10-12-2000
---
Question: Is there some possible way to get the toolbars / desktop integration, if you skip the IE4 install and go straight to IE5? What I really want is the ability to make a FOLDER into a toolbar on the desktop. The right-click ability on the start menu items would be nice....I don't really care about active-desktop.
Solution 1: The Desktop updates and it's shells are part of IE4, If you install IE5 without installing IE4 first, you will not have the updates for the shell. As for active desktop, you don't have to turn it on since it's not recommended to run it on Windows 98. Bill Wiriawan
Submitted By: Melvin
---
Question: Wasn't Win2000 supposed to feature nifty 3-D effects like drop shadows, transparent windows and menus, etc....(like Mac OS/X-Aqua)....?????? I would swear I read that at some point in the past...now I can find no reference to it. Was it a beta API feature that they took out/reduced? (I guess the "mouse cursor" has a shadow or something?...) To me the default shell looks as bad as all other Win9x defaults....I only hope our favorite little freeware shell-tweaking apps catch up soon..... Nice site, by the way.
Solution 1: Windows 200 has added a menu fade effect, but apart from that there is little or no new eye candy. Have a look at a few of the products at http://www.stardock.com/products/odnt/index.html. They offer menu transparency etc with WindowFX. The next generation of Windows 2000 - Whistler, will have a lot more User Interface changes. Brian Lyttle
Solution 2: The GUI feature you are talking about is featured in Wind2K, only some correction have to be made.
First the GUI engine in win2k supports alpha blending, so you will see a fading effect, mouse shadow, and transparency in programs that supports it. Check out the above links that Bryan posted.
They remove something from the Beta build, the icons on the systray, they have a hover effect with one of the beta, they will stop on tab, this supposed to be an accessibility feature. I can't remember which one, but It's not featured in the gold version.
Windows is still far way behind comparing with MacOS X. even the future build of windows (Whistler) which up till now has not issued any public statement on a MacOS X GUI and improvement of future version of windows, it does however that they will feature a skinnable GUI. Let's wait for that. Bill Wiriawan
Submitted By: ?????
---
Question:

have a problems getting on line,cd rom out of order, only disk drive work. I an sign up to be with msn but cant get on line without a disk, please let me know by e mail and I will send my address and other information you need thank you

Solution 1: Hi, Run the troubleshooter, and do a virus check in your computer. If you are sure there is no virus in your computer, and the troubleshooter is helpless, reinstall windows to cleans up the mess. Bill Wiriawan

Submitted By: Alice
---
Question: hello im jay and a friend was on my comp and im running windows ME. Well the computer crashed while I was gone, I fixed almost everything but the text on my desktop wont extend now, its like Downl... for a file. I want it to not shorten the words but im not sure how to get it done. plz help thanx.
Solution 1: http://www.xteq.com/main.html Download the free software, and install it. You can change and tweak the settings of your windows to suit your need, including the icon title wrapping you mentioned. Read the help files and windows troubleshooter. Bill Wiriawan
Submitted By: ????
---
Question: Hi everybody, I've got just a short to answer question. Is the Beta Version of Whistler now available, if yes were can I get a copy for testing? (Download?) Thanks in advance Best regards
Solution 1: Whistler Beta is only available to registered beta tester, it is not for public use or preview. unless you are a beta tester (Read: Q33814 - How to Become a Beta Tester: http://support.microsoft.com/support/kb/articles/Q33/8/14.ASP) Bill Wiriawan
Solution 2: Beta 1 has been pushed back until sometime in late October...we hope it stays on time this time around. Travis Rendell
Solution 3: Beta 1 is scheduled for sometime around October 23, beta 2 in mid-December and RTM in mid-April (somewhere around the 18-23). That's assuming Microsoft doesn't change again. Andrew Funderburk
Submitted By: A.Witt
---
Question: Hello. I have a problem with the Windows Task Scheduler that runs from Windows Explorer. I have a non-interactive scheduled job that uses the Administrator logon name and associated password. However every few days the scheduled job stops running, with the logon name and password grayed out in the job's properties window. The scheduled job then has to be deleted and re-created. What is the reason for this happening and is there any way to prevent it? Thanks in advance
Solution 1: Make sure you have an administrator account group, and you created the scheduled task within your account. Run the troubleshooter for more info. Bill Wiriawan
Submitted By: Kevin Godsman
---
Question: I am currently running an abits kt7 board with a thunderbird 700 processor and am having problems shutting down can you help?
Solution 1: Run the troubleshooter, make sure that your drivers are all Windows Me compatible (most of windows 98 drivers won't work perfectly). What kind of shut down problem you are facing with? The troubleshooter will guide you to the most common problems, read it thoroughly. Bill Wiriawan
Submitted By: Glenn
---
Question: Another problem I have found is my 32mb video card does not work with ME. Nor does my Sony CD burner. What a joke. Should I just go back to '2000 or what? The response I was given told me I may need to think about more memory, I mean, I'm already running 128mb and now I have to get more, when before this was more than ample. I do not like Win 'ME and the 'impressive user friendly' features have done little to make me smile.
Solution 1: The problems you are having are caused by an incompatible software or driver, where if you can get a patch for an update, you will have the chance that run it smoothly. Run the troubleshooter, and check for an update for all your peripherals, if nothing helps, you might want to go back to your old OS, since the point of computing is not you have the latest version, but you have the most stable and perfect combination. Bill Wiriawan
Submitted By: Leonard
---
Question: Hi there. I have recently upgraded to Windows ME and have found an issue with my Microsoft IntelliMouse Explorer. The marvelous features that allow me to use the two new side buttons for forward and back instead of using the screen buttons, do not work well. I have sent a note to MS support <snort> I can only guess when they will respond. What happens is that the single click that used to allow me to maneuver now does so, but it double clicks instead of single clicking. What I mean is that I only single click the button but I hear an audible double click and I get a double click move through the web pages on my browser, which is MS Explorer 5.5. Can you shed any light on the subject, or offer ant ideas for fixes? I have adjusted my mouse's sensitivity on the buttons by the software, but I have a problem there also, as the software seems to not interface with ME as well as Win98. <SIGH> Oh well, at least life is interesting. Thanks for your time
Solution 1: You can try downloading the latest Intellipoint from Ms at http://www.microsoft.com/mouse/driver/. I my self had trouble with intellipoint 3.1 not liking Win Me too much but 3.2 took care of it. If it's 3.2 that is giving you the trouble then I suggest just not installing intellipoint at all you will not be able to set the buttons to what ever you like but they will work for back and forward in Ie by default. Chad Cappellini
Solution 2: I downloaded the 3.2 version of Microsoft intellipoint software and I still have this issue. I am hoping the new WinMe service pack will address this issue. Does anyone know if this issue will be addressed? Marc Strickland
Submitted By: Cliff
---
Question: Hello There, could you please let me know if there's an answer machine that will take my calls or let me talk to people online, as I only have one phone line. I have tried several American type programs and have had no luck. freeware or shareware would be my ideal choice in the first instance. any help would be most welcome. Thanks
Solution 1: I believe that I saw it somewhere, all I can give you is some url for now, check it out:
www.betanews.com - browse by category or search.
http://shellcity.net/ - This site is huge in archives, do a search.
http://www.softseek.com - They have a great search engine.
Good Luck Bill Wiriawan
Submitted By: Karl
---
Question: Hello, I recently installed Windows 2000. Ever since, my computer refuses to turn off. Previously I had Windows 98. After I would choose shutdown from the start menu, the computer would shut down and cut off the power (turn off). I have an ATX case. Now when I choose shutdown, it displays the "it is now safe to run off your computer, blinks and displays it again. The power button on the case does not turn it off and it does not turn off automatically as before. The only way is to pull the plug every time. What can I do to fix this?
Solution 1: Run the troubleshooter! Look for an updated BIOS for your motherboard, make sure that it's ACPI compliant BIOS. There are lots of ACPI/APM compatibility issue on some motherboard with windows 2000, you can try contact your vendor, or upgrade it for best result. Check out this article: http://support.microsoft.com/support/kb/articles/Q136/6/51.asp Bill Wiriawan
Solution 2: Hey there, These electronical power off buttons provided in PCs nowadays are really annoying, aren't they? Luckily, you can turn PCs with buttons like this off by holding the power button down for 6 Seconds. Norton Antivirus has been known to cause this problem. If you still have problems, e-mail me. Geoffrey Lo
Solution 3: Also if you go to Control panel/ Power options I believe in the advanced tab there is a check box for APM try turning it off if it's on and vise versa. My comp did the same and changing that fixed it. Chad Cappellini
Submitted By: Sabreen
---
Question: I reinstalled 98 se in my comp. now I can't seem to get windows to come up. Here's the problem. I put in my backup disk, that starts up to dos. I put in my Win 98 se CD, nothing happens. I tried C:\install and C:setup but its still not letting me install it. Maybe I'm doing something wrong Can u help me out. Oh yeah I reformat my C:. thanks
Solution 1: If you formatted your hard drive, all you have to do is get in to DOS put the Win cd in and type D:\setup or D:\install where D: is the your cd-rom drive letter. If you still can not get the install program to run you may have to find the drivers for your cd-rom and install them in DOS so you can use your cd-rom without having windows installed. Chad Cappellini
Submitted By: ????
---
Question: Current System - Gateway Performance 850 w/ 384mb SDRAM, 30GB Quantum Fireball w/ Promise ATA66 Controller, Nvidia GeForce2, SB Live Digital Value, External 3COM Voice Fax Modem Pro.
Seems that 3COM/USR "HARDWARE" voice modems (both internal and external) don't function all that well under WinMe. With the above modem, I received occasional lockups while on the internet. When I tried to file a report/request for tech support using the HELP AND SUPPORT under HELP on the start button, HELP AND SUPPORT would stop functioning when it got to the point of uploading the information to Microsoft. Contacted MS Tech support (who, BTW, were very friendly/helpful). When I mentioned the modem, the tech indicated that they've had a lot of reported problems with USR modems. Seems that the most compatible are those with the conexant chipset. Are there any other reports of HELP AND SUPPORT ceasing to respond when uploading info to MS?
Solution 1: Since you already contact MS, why don't you contact gateway, and 3COM too, they will have a better respond to your hardware specific issue like the one you are having here. Download the latest driver from gateway, or 3COM for windows ME. Bill Wiriawan
Submitted By: Charles
---
Question: I'm sorry, it's actually kind of a silly question, but... My notebook runs on Win 98, and I've added Win 2K on to it, so both OS's are on the HDD. But now on the start menu, Win 2K is the default OS over Win 98. If I don't make the selection myself, the computer starts on Win 2K after the half minute delay. Is there any way to make the switch so that Win 98 is the default (or top) selection? TKS!!!
Solution 1: In windows 2000, right click on My Computer >> Properties >> Advanced >> Startup and Recovery Button. You will see the available os list, and the settings which is very easy to configure or follow. Good luck. Bill Wiriawan
Solution 2: Hey there, In the root of the Win2k drive, there should be a file named BOOT.INI. You may have to go to Folder Options and show the OS System Files to see this. This file stores how long before the Default OS is chosen and also which is Default. If you still have problems, e-mail me. Geoffrey Lo
Submitted By: Eric
---
Question: Is there any way to load various themes in Win 2K through Desktop Architect? I have managed to get some working with success by putting them in WINN system 32. Then I browse through Desktop Architect to access them. It doesn't work nearly as well as Win 98 system/plus/themes. Is there going to be an add on or patch to Win 2k for this feature?
Solution 1: Go to desktop architect options, and browse for a default location for themes folder. you can also had it to your windows 98 theme folder. This will make your themes work just like in windows 98. Bill Wiriawan
Submitted By: Charles
---
Question: Hi, We are a vocational high school in Flint, Michigan. We are desperate! Just purchased 40 Athelon 700 systems and want to install Windows 2000 professional and server. However, Installation freezes every time at 70% hardware detection and not going anywhere. Tried Microsoft site and could not find and clues. Any suggestions?
Solution 1: Browse to this page: http://www.microsoft.com/hcl/default.asp Make sure that all your hardware's are listed, get some pro help for such a huge installation. Contact Microsoft or your vendor (Motherboard or CPU vendor) Bill Wiriawan
Solution 2: Hi, IF you are looking for individuals to help you with the roll-out, I would suggest that you find someone who is a Microsoft Certified Systems Engineer (MCSE). This is the de facto standard qualification for Microsoft products. You should also contact your hardware supplier, if they stated that their equipment was Windows 2000 compliant. Brian Lyttle
Submitted By: Ann Chow
---
Question: I found your review of Norton System Works 2001 through a Goggle search. I have been looking for information on people who have installed NSW 2001 with Win2K. My problem is that I have been looking on the NSW newsgroup and on the Symantec general messages site. Everything on these two sites relates to problems users are having with the product. I would like to hear a few people say that they have installed NSW 2001 on a Win2K pro system and made it work successfully before I install it on my system. By any chance, have you used this program with Win2K with good results or heard of anyone who has? Thanks
Solution 1: NSW 2001 Works perfectly on Windows 2000. Check out Symantec's web site for more info. Bill Wiriawan
Submitted By: Dennis Tivel Jr.
---
Question: Dear AW, I have Windows 98 plus MS Office Professional elements - e.g. Word97, Excel 97, Outlook 2000, PowerPoint 97. I have a CD for Outlook 2000, but no installation disks for the others - they came pre-installed by Gateway. And in any case I've taken them through the various SP fixes. My question is how best to back up these applications in the event I lose the disc one day? Or if I decide to upgrade to Windows 2000, I'm told it's best to do a fresh install rather than upgrade, which might mean, if I go to NTFS, losing all my applications which are mostly on the C drive. Generally, where the original installation discs don't exist, how can, for example, Word 97 be backed up bearing in mind the registry links? Regards
Solution 1: You need a Disk cloning backup. Check out: www.ghost.com http://www.powerquest.com/driveimagepro/index.html Good luck Bill Wiriawan
Submitted By: Shaun
---
Question: AW, I am running a new install of Windows 98SE and have for about 1 year. Recently whenever I am using explorer to view files and I utilize the detail view the right pane of the explorer is empty. The status bar shows I have files and quantity, and if I switch to any other view I can see them. What's up? P.S. I have scrolled up, down, left, and right to see if it was just out of my view. Thanks
Solution 1: Try switching from The web view and non web view, and make the icons arrange automatically. If there is no help, just reinstall windows to remove clusters and clean up your system. Bill Wiriawan
Submitted By: Rick
---
Question: After installing ME, the shutdown function ceases to work. I get a black screen, no notification that it is ok to shutdown and I have to shut the power down hard to get it to turn off then on restart it goes through scandisk. Asus p3v4x mb with 128mb of pc100 with p3@800mHz. Elsa video board. All devices ok in control panel. I've seen a number of people in the message boards with similar problems, but no answers yet. Help! Thanks!
Solution 1: Run the troubleshooter, and update all drivers to the latest version that works with Windows ME. Bill Wiriawan
Solution 2: I feel only the service pack expected soon might solve your problem. It seems to be hardware dependent as was the case with Win98SE. Mean Drake
Submitted By: Dan
---
Question: I have recently installed a tri boot system of win98 winNT and Linux but I wanted to format it all and just have win98 but I cant delete all my partitions, my 8gb hard drive is now only 4gb according to fdisk. I have heard of a program used from dos prompt that deletes the hard drives mbr so you start with a new hard drive with no partitions, has anyone got or heard of this? or any other suggestions? Glen
Solution 1: Hi Glen, First, Install Partition Magic 5.0 (From Power quest) onto the Win98 Partition. Then run the program and delete the partitions with the OSes that you do not want. Geoffrey Lo
Solution 2: Or you can use a utility from IBM called Wipe. This will completely wipe any and all data off of your hard drive. Grab it from the following URL: http://www-1.ibm.com/servlet/support/ John Lampson
Submitted By: Glen
---
Question: I have three machines networked in my house. Each machine (Win 2000 machine, Win 98 machine and Win ME machine) have a 10/100 network card connected to a Linksys 10/100 hub.
The Win2000 machine can see all three computers on the network as can the Win 98 machine. The Win ME machine only sees the Win 98 machine when I click on Networking Neighborhood icon. When I do a search for machines I can find the Win 2000 machine and can even map network drives, but I must do that in order to see the machine. Why doesn't it see the Win2000 machine automatically? Previously on the Win ME machine I had an installation of Win98 and it saw all three machines on the network. Thanks.
Solution 1: Hey there, Type Winipcfg under Start, and Run for the Win9x and ME machines, and type cmd and ipconfig for the Win2k Machine. Check that the subnets are the same. If you still have problems, e-mail me. Geoffrey Lo
Submitted By: Drew
---
Question: I am thinking about purchasing a new computer for our home. We use Microsoft Office, games and the internet. Also, we are thinking of signing up to Comcast cable to access the internet using a cable modem. The Dell machine I am looking at offers Windows ME. I have not heard anything good about ME. Which operating system should we purchase to maximize our system? Thanks
Solution 1: Hello Rick, Out of Windows 98 and ME, ME is more suitable for PCs with Digital cameras and DV Cameras, along with Home Networking. But if you have the drivers for the cameras and don't need networking, I'd recommend Windows 98 as ME still has a lot of bug-testing to do. If you still have problems, e-mail me. Geoffrey Lo
Submitted By: Rick
---
Question: When I turn on my computer the following appears. There are several lines printed, and the last one says. "Cannot find WIN.COM, unable to continue loading Windows. I donít know how to get it back. Please help me if you can. Thanx
Solution 1: Hi Paula, Wince is the Dos execution program to start windows from DOS. Try copying Win.COM into the C:\Windows (or whatever directory your WIN installation is in) from a PC that has the same version of Windows as you. Or you can just reinstall Windows over it using a Boot Disk. If you still have problems, e-mail me. Geoffrey Lo
Submitted By: Paula Hemphill
---
Question: Hi, I need help with this one. When I click on a hyperlink in IE4. I get the message "Windows cannot find MSIMN.EXE it is needed for opening files of type URL mail to protocol". Where has it gone? I went a bit nuts tidying things up recently. I imagine I have deleted it. How do I fix this? I reckon you might find this a silly question but I am at a loss. Will appreciate any assistance. Thanks
Solution 1: msimn.exe is Outlook Express. If it is missing, you must reinstall it. If you don't use it, go to Internet Options and choose a different program for opening up e-mails. Good luck! John Lampson
Submitted By: Jason
---
Question: I've just got a wonderful 19" monitor. I've set display properties to Large fonts (and even tried customised size to larger) but Windows explorer font remains at flyspeck 3. o far I can't discover how to tweak this.
Solution 1: Is the monitor set up correctly under Display Properties? Click on Advanced, then the Monitor tab and make sure that your exact monitor is listed. If not, first check to see if it is included under the installed monitors. If not, check the mfg'rs web site for the INF file and set it up that way. Charles Putman
Submitted By: FOX
---
Question: Hi, I am trying to set up a site search engine that will spider through all the documents in a specified root directory. I have been informed that there is a way to do this with the W2000 NT server that our webhost operates, but am unable to find how to set about doing this.I would be most grateful if you could explain how to do this - in simple terms please.
Solution 1: Hi, Have a look at the following site for a free code snippet that you can put into an Active Server Page. http://aspcode.com/ ctive Server Pages are basically html files with embedded coding which is run on the server itself. A good book to help you get to grips with ASP is Wrox's Beginning ASP 3.0, or if you have previous programming experience you may prefer Wrox's Professional ASP. If you have Perl installed on your server, then consider one of the Perl scripts available from http://www.cgi-resources.com -Brian Lyttle
Submitted By: Jerry Gamble
---
Question: I am presently running Win98 ME. I deinstalled Encarta Reference Suite (DVD Version) and want to re-install it. However, when I put the disc in the drive it doesn't do Auto Run. When I go to properties on the disc the only options are Open and Explore. Exploring the CD does not show Setup. I seem to remember when I did this before I had to delete all the files in the Windows Temp directory before the Auto Run feature would run properly. I've done that but to no avail. I would appreciate a direct response ASAP.
Solution 1: You may need to check if "auto run" is enabled for your Cd Rom. go to "My Computer", then right click then choose "Properties" then you will choose the "DeviceManager Tab'. Scroll downward to you see your Cd Rom listed then double click on it. Then go to the "settings" tab and check to see if the box "Auto Insert Notification" is checked, if not, check it and autorun will be reenabled. Good Luck, Worse comes to worse, you could search your CD Rom with your DVD installed and search for *.exe Sometimes Setup exe is referred to as Install.exe etc Brian Lyttle
Submitted By: Huberet
---
Question: We are having mysterious problems with our newer Celeron/PIII pc's. They are all running directx 7. A friend of one of our employees, who is at college, reports that as soon as he installed directx 7 he began having similar problems. The problems include slowdowns and lockups primarily. Have you had other reports of this type of problem? Do you have any information that might be helpful? Could you direct me to the right people to ask? (I searched the Microsoft knowledgebase to no avail). Could you forward my question on to folks who would know about this type of problem, if you are not the right one to ask? Thanks very much
Solution 1: I nor any of my friends have had such problems. Why not try the DirectX diags in the program Files\DirectX directory to troubleshoot these problems. Maybe some older drivers are remaining. Mean Drake
Submitted By: Hugh Kallen
---
Question: My PC hesitates continually after coming out of standby, at this point CPU usage is about 80% after reading most of the news groups there has been some mention of sound blaster16 cards causing a similar problem, although mine is a AWE64. i have found that disabling the card in device manager cures the problem, but this kills the sound. Installing old drivers also cures the problem, but this prevents digital audio extraction from the CDplayer (the option is greyed out) Preventing the system from going into standby is the only feasible temporary solution at the moment although not prefered. Can you suggest an alternative or a cure, that will allow me to use my desired functions as creative and microsoft have not as yet updates these drivers for WindowsME
Solution 1: Before I reached the end of your post I thought your OS was WinME. WinME has problems with standby mode. You won't believe but everytime I woke up the system after standby, it would reboot whenever I would dial up my internet connection. Check the compatibility of your Sound Card drivers with WinME. Also, wait for the WinME patch scheduled to come out later this month. Mean Drake
Submitted By: Doug
---
Question: I just installed ME. I used to be able to hide the icons on the desktop in 98SE when in active DT mode. How can I do this in ME? Regards

Solution 1: If you right click on your desktop with active desktop enabled there will be an option to hide desktop icons, just right click go to active desktop and there you go just put a check by hide desktop icons. Chad Cappellini
Submitted By: Fred Young
---
Question: Having been subscribing to a well known UK Free ISP, part of the download configured the top menu area to have their personalized toolbar wallpaper background all over it. How do I change this back too the default>?
Solution 1: Try this handy utility =) http://www.microsoft.com/windows/ie/webaccess/tbwlpapr.exe Michael Hicks
Submitted By: Vincent Cheshire
---
Question: there are six Pentium/win98se computers in my house. we will be getting cable internet soon, so I have started on my internal networking experiment. at my main operating position I have a 866 mhz and a 533 mhz setup that I have installed linksys nic's in each. ( I first wanted to get these two computers up and running as a network before tying in the other computers). the hub is also linksys and I have a rj-45, cat.5 cable connecting what I have named, master and slave. I have went thru linksys setup for each nic many, many times. both nic's show up in the device manager and I have followed linksys' direction in making sure that each computer has it's control panel "network" settings exactly as shown in the manual. both master and slave are able to see each other under network neighborhood. I can use the master to go into file sharing on the slave and move files around and also I can add files from the master to the slave. the problem starts when I use the slave and attempt to file share with the master. instantly the slave system will lockup and the mouse pointer is stationery. the only way to get out of this condition is to use the reset button. any idea what could be causing this problem with the slave end of my little network? I've went over the settings on both computers numerous times, (and they both use the same name for the workgroup under the network part of the control panel, and I have addressed their master 10.1.1.1 and the slave 10.1.1.2) any ideas???? HELP!!!!!
Solution 1: Hey there, 192.168.0.1 & 192.168.0.2 are far better IPs you should set to your network. Try them. What type of cabling are you using? If Ethernet, the most common one, you can't have it longer than 150 feet, but signals will start to collide allot after about 45 feet. If you are running on Coaxial, I recommend you replace it with Ethernet, 13 mbps versus 10/100/1000 Mbps. Hope this helps. E-mail me for more info. Geoffrey Lo
Submitted By: noah in seattle
---
Question: Dear sirs, I have Windows ME and a DSL connection. This is the thing: Every time the monitor turns off my internet connection no longer works. My taskbar shows as if it was still connected (I use PPPOE) but in order to work I need to disconnect and reconnect again. I have tried several combinations on the Power Properties, but nothing seems to work. Any help would be appreciated. Just in case, I have an Efficient Networks 3060 DSL modem, I use RASPPPOE for connection and nothing except my antivirus runs in the background.
Solution 1: Hey there, Have you tried checking the System Control panel and under the Device Manager, check the NIC that goes to the DSL modem, and make sure it can't be disabled during suspension. Any further questions, e-mail me. Geoffrey Lo
Submitted By: Erick
---
Question: Thanks for the opportunity to seek answers to those Windows questions which are surely the reason for premature aging. I was playing with a Windows customizing program (big mistake) and managed to mess up two features: my system now reboots instead of shutting down (and turning off) and when I launch my dial-up connection the automatically entered password is missing. Can you please help me restore these features?
Solution 1: I'm taking a shot in the dark here, but I think this may resolve the password issue.
go to control panel>networking, check to see if 'client for Microsoft networks' is there, if not, continue down this list
click add
click clients
click microsoft
click 'client for microsoft for microsoft networks'
click okie a few times
ps: customization programs have been indirectly connected to Satan in several studies Michael Hicks
Submitted By: Steve
---
Question: We have 2 machines that need to have Windows 2000 Server installed on them. One will be used as a backup system for the production system in case of failure. We installed the OS on one machine, then created a Ghost image of it. Afterwards, we tried to copy this image to the second system. When booting the second system, we get a message that says something like the following: Inaccessible boot device 0x00000007B We tried to take the hard drive from the production system and install it in the backup system, and got the same message. Any ideas would be appreciated. Thanks!
Solution 1: Where to begin, Brian?
This STOP error is one of the most common. I think you will find one of a few things to be the problem.
1.) Make sure that the GHOST is done to the same partition as the first system. NT-based systems use an ARC (Advanced Risc Computing) path to tell the OS where to boot from. Check the booting. If the value differs from what the path should be, that is your problem right there. You've probably got two identical machines, in which case the boot.ini file is not the problem.

2.) Flaky cable and/or other hardware? I have seen systems install fine until you try the initial boot up. Case in point: AMD K6-2 systems with AGP cards. It's possible you have conflicting hardware. If all else fails, and these suggestions don't work, post the exact type of hardware you have in each system. That will help pinpoint the exact problem.

3.) I have seen and witnessed this many times. The service that controls the hard drive is not starting. In this case, you need to boot off of a Win98 disk and access the Windows 2000 files or CD and run winnt.exe /cmdcons to install the Recovery Console. Once the Recovery Console is installed, you will see it in the list of operating systems. You can "log on" and see if your hard drive controller is being allowed to enumerate (start) and you can go from there. Should you have further problems, don't hesitate to e-mail me. Thanks! John Lampson
Submitted By: Brian
---
Question: Hi Guys, I'm having a small problem with Win98. Every time I start Windows, my volume control is muted. I remove the check mark from the mute box and it's OK till I reboot or startup again. Any ideas? Thanks for the help.
Solution 1: Joe, I've never encountered this particular problem, but 50 million ActiveWin members can't be wrong. Check the driver for your sound card. While you're at it, check all the other drivers on your system and go to Windows Update. Windows is a magical and confusing OS, but it does some strange things. John Lampson
Submitted By: Joe
---
Question: Hello, I want to upgrade from Win95 to Win98. But when I run the Win98 setup, The setup process hangs indefinitely when it processes the registry. I do not want to format the hard disk and install as I would loose some of my programs. Please help. Regards

Solution 1: If you are referring to the Registry processing during Windows setup, you can always upgrade the machine from DOS. Or, you can run the setup program with the /nr switch. For example: D:\win98\setup.exe /nr This will cause the system to ignore the current Registry and (we hope) will allow you to upgrade to Windows 98. I always recommend a clean install, but if you can't, this should work. John Lampson
Submitted By: Kumaran
---
Question: Is it possible to set a certain time of the day for the computer to automatically shut down?
Solution 1: I have successfully run the Task Scheduler to execute a batch file containing a path to shutdown.exe for Windows NT/2000 and shut down a system that way. However, if you have Windows 95/98, you may be able to create one that points to (this may be wrong): rundll32.exe user,exitWindows It may also be: rundll32.exe user32,exitWindows Try this from a Run prompt and see if it works. If it does, create a batch file (ask if you don't know how) to execute it and then have Task Scheduler run this batch file at a certain time! John Lampson
Submitted By: ???
---
Question: I installed the "Internet Explorer 5 Toolbar Wallpaper" web accessory from this site: http://www.microsoft.com/windows/ie/WebAccess/default.asp I am using IE5.5 version 5.50.4134.0600 and I am unable to uninstall it. Add/Remove Programs reports that it was uninstalled successfully and removes it from the list, but it remains in IE! All the other web accessories and tweaks uninstall correctly, is this one incompatible with IE5.5? How can I remove it? Thanks
Solution 1: Hi Mike, While my uninstall was successful the following solution should rid you of the unwanted app. Go into your C drive and locate the following folder: C:\Program Files\Internet Explorer\Toolbar. Delete it. The Toolbar folder is where the application gets installed to, deleting it should get rid of the program. Good luck. Travis Rendell
Solution 2: If Travis' method did not work for you, here is something else to try. First, uninstall IE 5.5. Then install IE5, and then install the tweaks you would like to remove (e.g. wallpaper). Then restart, uninstall the tweaks, and upgrade IE 55. If this doesn't work (the most drastic of all solutions), then you may be out of look and forced to look at the Wall Paper on your context menu forever! Just kidding. Adam Sowalsky
Submitted By: Mike Caines
---
Question: Hi, there: I installed MS Money 2001 on a Win 2000 machine. It let me run installation only using administrator privilege. As a consequence I can run Money 2001 only when I am logged on as administrator. It doesn't run from any of my power user accounts. MS acknowledges the problem in their support article Q268052, however they don't provide any solutions or workarounds. It would be nice to have capability to run this application in each of the user accounts. Please, let me know if you heard anything about this problem and whether there are any possible solutions. Thank you for your help.
Solution 1: Alex, I'm not sure if this will resolve the problem, as I don't have a copy of Money 2001 to install on my system, but I know that you can employ the RunAs service to help out with a number of similar issues. Simply hold down the Shift key and right click on the shortcut you are using to start the program with. If the Runes service is running, you will see the RunAs option. Give the shortcut the ability to run as an Administrator and test it again. If this does not work, you can always try Windows Update for the latest Application Compatibility Updates. I hope this helps! John Lampson
Submitted By: Alex
---
Question: Hello, I checked your website thoroughly but could not locate an answer to my question. I am running Windows ME after a clean install(new hard drive purchased) and now when I try to use dxdiag.exe to test my system, it always gets hung up on full screen mode and I have to reboot. I know my card is OK because it worked with Win98SE in full screen mode. I have the absolutely latest DirectX installed. I reloaded all my drivers. I cannot find any of the files on my PC for DirectX with find files option even with hidden files viewable. I can't even reload it from the CD or the Internet because it says I have the latest version available already installed. Can someone please reply and help me out. Thanks
Solution 1: I believe that the directX files are located in the C:\windows\system directory. The only suggestion I can offer is to make sure you have the latest drivers for your video and audio cards. Just go to the manufactures web site for those. Chad Cappellini
Submitted By: Sonja
---
NOTE: Please note that ActiveWin nor the AskAW staff can take any responsibility for anything that may/may not occur when taking our advice. If you do anything that is included in our advice, you are doing so at your own risk.
If you have any questions pertaining to a particular answer please contact the person who replied.
You can contact anyone of our staff here or email us at askaw@activewin.com