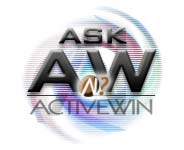 Welcome to a relatively new feature here at ActiveWin. This lets you, the visitors submit questions about any problems/queries that you may have about Windows. Be it from a little icon that annoys you to hardware freezing your PC, we will try and help you out. You can submit your questions by e-mailing us at askaw@activewin.com.
Here are the questions for: 10-31-1999
---
Hi! I have been having problems installing a Intelimouse ps/2 on a serial based computer that offers a ps/2 port on the USB card from SIS technologies. To my dismay it won't work so I bought a adapter ps/2 to serial but it still dosen't work. Any suggestions? ( The Microsoft Parts attendant said that only Microsoft's adapter will work and they ask for "ONLY 20$ + 6$ shipping & handling any other solution? Maybe my settings by the Bios is wrong? What would be the proper setting? If you couldn't help me could you refer me to any help site?
More information is definately needed. I talked to several people regarding this, and they were all stumped. I checked MS's Support page, nothing regarding this either. If Windows isn't even detecting it, I suggest you either return the mouse, or pay for the adapter, as wasting money for the mouse is ridiculous. What troubles me is that the serial adapter doesn't work. Have you called the serial adapter maker? Maybe they can help you, as maybe it was either a faulty serial adapter and MS was just pulling your tail, trying to get you to buy their adapter. If Windows did detect the keyboard it could be a driver issue. I know I wasn't much helpful, but there's nothing that I or anyone else can come up with, with a general question like that. Thanks for emailing Ask AW, if you have done everything you can, you could check the MS ngs at: news://msnews.microsoft.com. If that doesn't help, email us and we'll try to help you all we can with more information. - Dennis Gregory dennisg@activewin.com
---
I'm interested in buying a new computer. When I got my last one for Christmas 96, I realized that the same PC w/ the same features was sold at a cheaper cost. I want to know when do you think is the best time to buy a new computer. Should I buy one during the X-mas sales or wait till after X-mas?
Leslie
In the UK, you should purchase them a little after Christmas - Byron Hinson byron@activeie.com
Since you're in the US, you should wait, AMD's Athlon should go down right after Christmas. Athlon will be the best, it blows away Intel, and is expected to be big. Right now as it just came out, its a little pricey, so just wait untill January for it to go down. Unless you see a great sale at your local best buy or something, then you should go grab it. - Dennis Gregory dennisg@activewin.com
---
My name is Sam and i need to learn how to install a operating system (windows 98) on my computer. I'm wondering if it can be done at home by myself and without buying an entirely new computer. I would not mind buying a new window's 98 system though. if you have any information I would like it.
Sam, if you already have a PC, that meets Windows 98's system requirements, there's no reason to purchase a computer just to get Windows 98. If your system meets those requirements from the link above, you can go to your nearest retailer, CompUSA, Best Buy, etc. If you already have Windows 3.1 or Windows 95 you can buy the upgrade. If you do not, you will have to buy the Full version, which is marked, "For PCs without Windows." The manual included in the box will explain the whole installation, if you're doing an upgrade the upgrade is very easy, if you're doing a full install, it could get tricky... We're an email away if you want more help on a more person to person basis. - Dennis Gregory dennisg@activewin.com
---
I was wondering if you could post some easy documentation for things such as installing linux and recompiling the kernel, and setting up the internet and such, just basically an easy version of the how to's because those are a little to complicated.
Torinth
Those will be included in ActiveLinux, which be released soon. - Dennis Gregory dennisg@activewin.com
---
Hi,
I am running P200MMX, 64Mb RAM, Win95 & recently Nuts & Bolts. Just recently I have been experiencing loads of crashes, many related to the use of Windows Explorer. WE has also started displaying garbled info in the left hand window/tree....any ideas....can I just replace "explorer.exe"?
Thanks
Jeremy
I guess on this one a little more information might be needed. Did you start to have your problems after installing the Nut's and Bolts Program or was this a problem you were hoping the N&B Program would fix? I found that N&B takes up a lot of your system resources and personally had similar problems when I ran the program. I would suggest downloading the online Manual at: http://support.mcafee.com/manuals/ to see if anything in there might help. If not then try uninstalling the program and see what that does. Feel free to e-mail us with more information and let us know how you make out. - Matt Sabean matt@activewin.com
---
Under Win98, I saved my ISP password in the Connect To screen and also checked Dial Auto. Having upgraded to Win98 SE, I can't do this and have to enter the password at each log on. WHY???
Peter
Try this one out, if it doesn't work for you - then just e-mail us back.
Method 1
When you start Windows 98, do not click Cancel in the logon dialog box. If you do not have a password, create a new one by typing it in the Password box, or create a null password by clicking OK. If you create a null password, you are no longer prompted to log on to Windows 95 when Windows 98 starts. Creating a null password does not prevent other people from accessing your computer, but does allow you to save your password when you are using Dial-Up Networking or a shared network resource.

NOTE: Creating a null password does not allow you to save your Dial-Up Networking password if you are using user profiles. Using user profiles prevents the Dial-Up Networking password from being saved.

To restart Windows 98 so that you receive the logon dialog box, use the appropriate method.

Microsoft Internet Explorer 4.0 Not Installed:

Click Start, click Shut Down, click "Close all programs and log on as a different user", and then click OK.

Microsoft Internet Explorer 4.0 Installed:

Click Start, click Log Off <username>, and then click Yes.
Method 2
Go to CONTROL PANEL | NETWORK and add MICROSOFT FAMILY LOGIN - Unless it is already added. When you reboot, fingers crossed you should be able to save your password. - Byron Hinson byron@activeie.com
---
Why does Windows tends to crash more often when you installed it a long time ago?
Why does IE crashes so often? hehee
Is there a way to avoid crashes, or freezes (like IE)?
my IE crashes like once per day or two and it's kind of annoying
hope you can help
Guillaume
Basically your /Windows/ directory gets crowded and I've seen it as big as a gigabyte. This causes problems believe it or not with explorer.exe which is the shell of Windows and other files in your /system/ directory. The only real thing that works is to do clean installs every month, thats what I did before upgrading to Windows 2000. I do not experience anything like that in Windows 2000, so I think MS fixed it. Hopefully it will be fixed in Windows Millennium, but we'll have to see. - Dennis Gregory dennisg@activewin.com
---
NOTE: Please note that ActiveWin nor the AskAW staff can take any responsibility for anything that may/may not occur when taking our advice. If you do anything that is included in our advice, you are doing so at your own risk.
If you have any questions pertaining to a particular answer please contact the person who replied.
You can contact anyone of our staff here or email us at askaw@activewin.com