DirectX
ActiveMac
Downloads
Forums
Interviews
News
MS Games & Hardware
Reviews
Support Center
Windows 2000
Windows Me
Windows Server 2003
Windows Vista
Windows XP



News Centers
Windows/Microsoft
DVD
Apple/Mac
Xbox
News Search



ActiveXBox
Xbox News
Box Shots
Inside The Xbox
Released Titles
Announced Titles
Screenshots/Videos
History Of The Xbox
Links
Forum
FAQ



Windows XP
Introduction
System Requirements
Home Features
Pro Features
Upgrade Checklists
History
FAQ
Links
TopTechTips



FAQ's
Windows Vista
Windows 98/98 SE
Windows 2000
Windows Me
Windows Server 2002
Windows "Whistler" XP
Windows CE
Internet Explorer 6
Internet Explorer 5
Xbox
Xbox 360
DirectX
DVD's



TopTechTips
Registry Tips
Windows 95/98
Windows 2000
Internet Explorer 5
Program Tips
Easter Eggs
Hardware
DVD



ActiveDVD
DVD News
DVD Forum
Glossary
Tips
Articles
Reviews
News Archive
Links
Drivers



Latest Reviews
Xbox/Games
Fallout 3

Applications
Windows Server 2008 R2
Windows 7

Hardware
iPod Touch 32GB



Latest Interviews
Steve Ballmer
Jim Allchin



Site News/Info
About This Site
Affiliates
Contact Us
Default Home Page
Link To Us
Links

News Archive
Site Search
Awards



Credits
©1997-2012, Active Network, Inc. All Rights Reserved.
Please click here for full terms of use and restrictions or read our Light Tower Privacy Statement.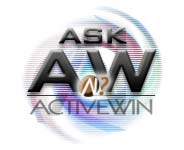 Welcome to AskAW! This section of our web site lets you submit questions about any problems/queries that you may have about Windows. Be it from a little icon that annoys you to hardware freezing your PC, we will try and help you out. You can submit your questions by e-mailing us at askaw@activewin.com. You can browse through previous questions over at our Archive Page. Who knows what you might find.
Here are the answered questions for 11-02-2000
---
Question

Submitted by Mark

I have a MA600 serial infrared adapter which has been working quite successfully under 98SE to communicate with my Nokia 7110 and Psion 5. I have done a clean install of ME (v4.90.3000), and when I went to install the infrared drivers under add new hardware, search manually, etc. There was no infrared option in the hardware types list. It is hidden away under other devices and then proceeds to install the device as a 1534 bus (I think that's right) port. Any ideas? Cheers

Solution 1
Answered by Bill Wiriawan

Run the troubleshooter, and read the readme files from the installation cd. Check out the Windows ME Hardware Compatibility List, and see if it support your infrared device. Then download the drivers that support Windows Me, if the list has your device listed. Good luck
---
Question

Submitted by Lynnette

Why do I keep getting asked if I want to use active x or other plug ins every time I open a link and how do I fix it? Thank you.

Solution 1
Answered by Bill Wiriawan

Open your internet settings panel, and go to the security tab, reset everything to default by pressing default level, and restart your browser (Not System). It should not prompt you anymore.
---
Question

Submitted by Bud

Dear AskAW, I just received my copy of Windows ME Update. My current version of Windows is SE. I have Adaptec GoBack installed on my computer and understand that it must be uninstalled prior to installing ME. If I do this and install ME, is there a fail-safe method of getting my original configuration back if something goes awry when I install ME, since I will no longer be able to use GoBack. Do you recommend the upgrade to Windows ME? Regards

Solution 1
Answered by Charles Putman

Yes...Windows Me will have an uninstall option. If all goes well, you may want to do a clean install of WinMe. Also, make sure you have current/updated drivers for all of your hardware and peripherals.
---
Question

Submitted by Ian

I have a game called triple play 2001 and it requires direct x7a but when I install it on win2000 it wont run. My directx version says 7.0 (4.07.00.0700) Is this direct x 7a on windows 2000 or is there a patch I can use to upgrade it. When is this directx 8 coming out for win2k . Thanks for helping

Solution 1
Answered by Charles Putman

Certain games may not run under Win2000. Check NT Compatible (www.ntcompatible) to see if this particular game will work. They may also be able to provide a work-around.
---
Question

Submitted by Jason

Hello. my name is Jason. I just completed a clean install of windows 2000. previously I was running win98se. is there any way to remove memory resident programs in 2000? something similar to msconfig. if you could help, I would appreciate it greatly. thank you.

Solution 1
Answered by Charles Putman

Which specific memory resident programs are you looking to remove? Antivirus, scheduled tasks, sound mixer and video card drivers/software are usually loaded at startup and usually necessary for these to function correctly.

Solution 2
Answered by John Lampson

Jason, To take out the programs running at startup you will have to run Regedit from Start --> Run --> Regedit. Navigate to HKEY_LOCAL_MACHINE\SOFTWARE\Microsoft\Windows\CurrentVersion\Run and delete pretty much everything. You probably don't need it!
---
Question

Submitted by Charlie

Hi! I have Windows 95 on Diskettes and I was wondering whether I can make a Windows 95 CD so that I can just put the CD in to load instead of all these diskettes? If so, what all is required?

Solution 1
Answered by Charles Putman

This can probably be done. First, you'll need a CDRW drive and the necessary software (Adapted EZ CD Creator is the most user friendly). Copy the files to a CDR disk.
---
Question

Submitted by Julien

Hi. I have windows Millennium edition. I also have the Microsoft Intellimouse explorer. When I go on the net and use my bottom buttons, the ones by the thumb, it always clicks 3 or 4 times. I only click the back button once the it scrolls back to 4 pages back. You can hear the sound effect too. this is getting to be upsetting. I have tried Microsoft's home page but it's simply impossible to know where to go. I was wondering if maybe this mouse was not compatible with windows ME but I'm sure that's not the case. I sure hope you can help me with this problem. thanks

Solution 1
Answered by Travis Rendell

Getting the latest drivers will probably fix your problem. You can find IntelliPoint (the drivers) on Microsoft's web page by going here: http://www.microsoft.com/products/hardware/mouse/driver/3_2/default.htm . Good luck.
---
Question

Submitted by Gayle Wagner

I want to download the Critical Updates that I was notified by Microsoft that I need. I was notified when a screen on my computer came up and told me to do it. I waited for the 57 minutes that it told me that my download would take ( I was also downloading the Media Player 7.0). Right when it was time for it to be complete, a box came up saying that my system had performed an illegal function and should be closed. I clicked on the X at the top right of the box and the whole Windows that I had open disappeared. I don't know if my download and installation was completed AND I don't know how to find out. I know that I need to look at my download history, but don't know how to get there to look. Please tell me what to do.

Solution 1
Answered by Mean Drake

I think you might have been using the windows update site? Was it for the first time? It is then that the critical updates are to be downloaded. Also, if the above is correct, then you probably need to update again. Also, you can visit the site again. If the download was successful, the update will not be listed there for you.
---
Question

Submitted by ???

I had someone fix up a computer for me, DIY style, the problem is that I just realized that the copy of Windows ME I'm using is of a preview built. How can I upgrade to the final release version without messing up the current configuration that I'm using? Must I buy the full retail pack or the upgrade pack? Thanks.

Solution 1
Answered by Mean Drake

Upgrade should suffice.
---
Question

Submitted by Juan

Hello, I am looking for a way to create the following: I need to create 2 "direct access" to a specific web site on the desktop. These direct access can be .url, .lnk, etc files. They both go to the same web site, but what has to change is the which dial-up networking provider it calls up. One shortcut has to dial out with provider "A" and the other with provider "B" regardless of which one is the default DUN! Is this possible? If so how? Thanks for your help

Solution 1
Answered by Mean Drake

Well, it is in my opinion not possible as a browser can be configured to dial one connection. However it just might be possible (frankly I need to try it) if the files are opened using different browsers and each is configured to dial a different connection.
---
Question

Submitted by Jimmy

I can only download 2 files with IE - any way to fix that?

Solution 1
Answered by Mean Drake

I doubt if technically you consider my answer perfect but I personally recommend using a download manager. There are many advantages like resuming interrupted downloads and completing large downloads over multiple sessions.

Solution 2
Answered by Timothy Muessig

Jimmy, While I agree with Mean, there is a way to fix this. Here is what you need to do. Go to start, run, and then type "regedit" without the quotes. Navigate to [HKEY_CURRENT_USER\Software\Microsoft\Windows\CurrentVersion\Internet Settings] Once there go to Edit, New, DWORD Value and type "MaxConnectionsPer1_0Server" without the quotes. Now double click on the value you just created and change Value data to "00000010" again without the quotes. Next go to Edit, New, DWORD Value and type "MaxConnectionsPerServer" without the quotes. Double click on the value you just created and change Value data to "00000008"
---
Question

Submitted by Christina's friend

Hello, Is there incompatibility issues with AOL 5.0 and Windows ME? Because on my friend's new Hewlett Packard machine, she attempted to login to AOL with version 5.0 and it says connecting, then Initializing, and it just sat there. It just froze basically. Just wondered if there is any problems with AOL 5.0 and Windows ME. Thanks

Solution 1
Answered by Julien Jay

Hello, First you have to know that AOL 5 is fully compatible with Windows Me. The connection problem you encounter may be due to the use of an inappropriate server phone number or to a bad modem driver... Maybe you should contact the AOL customer support to ask them the appropriate phone number that corresponds to your subscription. Also in the configuration box make sure that the selected modem corresponds to the one actually installed on the PC. If the modem installed doesn't match the one that AOL uses simply changed it. Also if you're behind a phone standard you may have to dial some supplementary output numbers. Then update the modem drivers of the PC. For your information and far as I know here in Europe AOL 6 has just been released in the US: so update to it right now and see if you still have problems. Hope this helps
---
Question

Submitted by Anthony

Hi Aw! Here is the scoop.... Apparently when you do a clean install of Windows ME you will have problems with HP USB Scanner(5200C and 4100 are the ones I have noticed this on. sure there are others) drivers being recognized correctly. Now I know that HP has a update for some, but that is only for a upgrade over and existing Windows 95 or 98. My question is do you know of a workaround solution or are we going to have to wait on HP to correct this with a driver update? Maybe I through you for a loop on this one? Note: Iomega USB Zip drives have the same problem being recognized correctly. But seems they have corrected it with Iomegaware v2.7. Can tell people to download this at www.windrivers.com. Thanks

Solution 1
Answered by Julien Jay

Dear Anthony, It seems for hardware manufacturers that designing Windows Me drivers that use the new WIA architecture intended to be used with Scanners, Digital Cameras, etc is a nightmare! Epson has just released WIA drivers for its scanners, Agfa didn't publicly released anything, we're still waiting for Windows Me compliant drivers for Logitech QuickCam and Mice, while Nikon has just released Windows Me compliant drivers for its CoolPix digicams (this drivers work with Windows Me but don't use the WIA architecture). I don't speak about the Creative Labs drivers Windows Me WDM drivers for the DXR3 MPEG II cards that are still not available :-( I tell you all of this simply to demonstrate you'll surely have to be patient to get a Windows Me update for your HP scanner drivers.
Note that I've got a ZIP 250USB drive here that is naturally recognized by Windows Me with no need to use the IomegaWare. But if I use it (2.5) there's really no problem. Another good thing to check with USB issues is that your USB devices are connected to an active USB hub that has got sufficient power to feed them. Regards
---
Question

Submitted by Mathew Bowser

Hello, I have just downloaded windows 98 se into my computer at home. I previously had windows 95 on it. My questions is that when I was done downloading the pictures didn't come out in color. All the other colors are perfect just the pictures like on the internet and the one on my desk are distorted. I was wondering how I would go about and fix this. Thank you for you time

Solution 1
Answered by Julien Jay

Mathew, It's a weird problem that yours. I'd try a few things: update IE 5.5 to the latest available build 5.50.4134.0600, update your video cards drivers (and eventually the bios) to the latest one available (if you don't know which are the latest check www.windrivers.com) Then you'll have to right click on your Windows desktop, select properties, click the settings tab, push the advanced button, and click the color management tab. Be sure that there are no color profiles selected in it. If there are remove them it there aren't simply add the SRGB Color space profile and reboot the PC. It may fix your issue. Regards
---
Question

Submitted Donna

Hello, Can you help me with the following fatal exception error code: ONE occurred @ 0028:CE3B421C in VXD MCSCAN32(01) + 000194BC I usually have to restart my computer and hope it doesn't happen again. It may not happen immediately. I'm no computer wizard, just a home user. I've been doing plenty of reading in an effort to solve the problem. I've already increased my virtual memory by checking with the resource meter. The problem still occurs. I would appreciate any advice or direction you can give me. Thanks

Solution 1
Answered by Julien Jay

Donna, Have you installed McAfee VirusScan on your computer and enabled the email attachment scanning feature? If so disable it and update to the latest available release of VirusScan that is 5.13. If you're not using VirusScan I'd suggest that you update to the latest build of IE 5.5 and OE 5.5. If you've already got the latest ones try to repair the installation using the add/remove programs applet of your control panel. Hope this helps
---
Question

Submitted by Sharon

About a month ago, we somehow got infected with the kak worm virus. We eventually got rid of it (after a lot of re-installing) but now we can't always open sites on the internet or open attachments on my email. Could we have inadvertently deleted a file when we were installing and uninstalling? We have Norton, but have uninstalled it because the people we took the computer to said it would make our computer 30-35% slower. Any ideas? thanks

Solution 1
Answered by Julien Jay

Sharon, You're reseller was certainly right by saying NAV (norton antivirus) uses a lot of system resources and may slow down your PC. However Norton AntiVirus has never slow computer up to 35%: it's a non sense... If you've noticed a speed decrease of 8% it's a maximum. As you read we're far from what your reseller says. For email attachments problem first be sure you didn't install the Outlook security update that definitely remove access to files attachments that may be harmful for your PC (like EXE). If no maybe you haven't got a program associated with the file you received so you can't read it. For example if you receive a PDF file and you can't read it it's because you have to install Adobe Acrobat Reader to be able to read it. Now if you really feel some files are missing on your PC I'd suggest for the best results you to format your hard drive (make sure to backup precious data before) and reinstall Windows and everything else. If you feel confused about doing so simply reinstall Windows over itself. It'll replace any corrupted files but can give unexpected results such as stability problems. Hope this helps
---
Question

Submitted by Brian

Hi, My manager's manager is running Windows 2000 on his IBM ThinkPad laptop and occasionally he gets the blue screen of death. On the screen, he gets a message that the TDSMAPI.SYS file is corrupted. I wonder what this file is and what it does. I've searched the Microsoft Knowledge Base and came up empty handed and I don't know where else to turn. Any information you could come up with would be greatly appreciated. Thanks

Solution 1
Answered by Marc Strickland

This driver has something to do with ThinkPad. I was able to locate the file for download at: http://occupant.caltech.edu/software/drivers/pc/ibm/tp600e/features.win2k.2000jan/W2KMIGR/ Perhaps your boss can download this file and replace the one he has that may be corrupt. Be sure to tell him to back-up the original file before attempting this.
---
Question

Submitted by Unknown

Ever since I installed win 98 SE, the "Open" and "Explore" controls on START right click are disabled. How do I get them enabled? [Unable to display image]

Solution 1
Answered by John Lampson

Dear User, You probably have TweakUI installed. Check your Control Panel for TweakUI and start it. Somewhere in it, you have the option to hide drives. If any drives are hidden, Open and Explore will be disabled. Unhide the drives and you should be set.
---
Question

Submitted by Nick DeMarco

Dear Sirs: I am trying to connect at TCP/IP printer to my Windows 2000 Professional peer to peer network. Internet Connection Sharing is enabled on the Win2K machine. I cannot ping the printer (at 192.168.0.201) successfully because it looks for that address on the internet. How can I set up the computer so requests for 192.168.0.*** are kept local? The printer is an NEC SuperScript 4650NX with loads of cool TCP/IP features, like web browser management. I would hate to have to connect it to the parallel port! Thanks for the help.

Solution 1
Answered by John Lampson

Nick, Try setting up the scope so that it is 192.168.1.xxx instead. I believe this will resolve your issues. If not, e-mail me

Solution 2
Answered by Guillaume Hébert

Hey, As John said, you will have to change the IP of the machine, because some IPs are reserved for internal networks. This is why the IP you mentioned seem to be on the internet.
These IPs are:
10.0.0.0 to 10.255.255.255
172.16.0.0 to 172.31.255.255
192.168.0.0 to 192.168.255.255
Ooops, his IP is in the internal IPs range... weird.
---
Question

Submitted by Greg Glass

I am trying to create a legacy free PC to help reclaim IRQs (This is where we are going... right?). After removing the Floppy Drive "A", and removing all evidence of it from the BIOS and Windows ME, Windows still shows signs of needing the floppy drive. Whenever the system does a search, like when changing a driver, the system will lock tight as a drum. This can only be fixed with a hardware reboot. How do I get the system to fully ignore the floppy in searches? Thanks in advance

Solution 1
Answered by Guillaume Hébert

I used to have the same problem : I had no floppies attached and I had disabled it in the BIOS, but Windows acted like it was there.. until I tried to access it - it hanged... but I never found a solution :-(. I don't see why you would set up a computer with no floppies (in my case, the floppy was broken so I had to remove it... wasn't intentional hehehe), they are always handy every once in a while... and I don't think it will decrease performance/stability...
---
Question

Submitted by Shane Schrupp

Hi there, I've looked high and low, from newsgroups to many obscure websites and forums to find a solution to EMS in Windows ME. In the properties, memory tab there is a framed section for EMS just like in Win9x, however, there are no controls in it. I've tried boot disks, I tried installing some patch that supposedly lets you use Real DOS, and everything else under the sun... but I just can't get EMS to work! Now how am I to play some of the old great DOS games such as Master of Magic and Master of Orion other than going back to Windows 98? Please, oh please tell me you guys have heard of a way to make EMS work!!

Solution 1
Answered by Julien Jay

Dear Shane, As you know Windows Me doesn't include any real MS DOS mode support. So basically you can't launch the EMS memory manager of DOS so as a matter of fact you can't play to your DOS games. However there are two solutions for you:
-Go back to Windows 98SE but you'll loose any of the Windows Me new features.
-The best solution for you is that you create a Windows 95 or 98 DOS boot floppy and include on the system files autoexec.bat & config.sys the command lines to run the EMS memory manager required to launch your games. Be sure also to add any TSRs needed for your specific devices like CD-Rom, Sound Cards, etc. Then start the PC with the floppy disk only when you want to play with your games and it will work great and you'll be able to keep Windows Me.
Hope this helps
---
Question

Submitted by Jerome

I installed Windows 2000 over Windows 98. It is not a dual boot. I do have Windows 98 backed up but don't know how to uninstall Windows 2000. I tried using the 98 boot disc. How to I get rid of Windows 2000. Is there an uninstall disc I can download? I would appreciate any help you can offer. I am new so please make it simple if possible. Thank you.

Solution 1
Answered by Charles Putman

If you're not dual booting Win2000/Win98, then Win2000 overwrote Win98. The only way is to reformat and start clean. Use the Win98 boot disk and press SHIFT-F5 at the first screen. At the "A" prompt type FDISK and delete and recreate the partition. Win98 will have to reformat under FAT32. Make sure you back up all of your data before doing this.
---
NOTE: Please note that ActiveWin nor the AskAW staff can take any responsibility for anything that may/may not occur when taking our advice. If you do anything that is included in our advice, you are doing so at your own risk.
If you have any questions pertaining to a particular answer please contact the person who replied.
You can contact anyone of our staff here or email us at askaw@activewin.com