DirectX
ActiveMac
Downloads
Forums
Interviews
News
MS Games & Hardware
Reviews
Support Center
Windows 2000
Windows Me
Windows Server 2003
Windows Vista
Windows XP



News Centers
Windows/Microsoft
DVD
Apple/Mac
Xbox
News Search



ActiveXBox
Xbox News
Box Shots
Inside The Xbox
Released Titles
Announced Titles
Screenshots/Videos
History Of The Xbox
Links
Forum
FAQ



Windows XP
Introduction
System Requirements
Home Features
Pro Features
Upgrade Checklists
History
FAQ
Links
TopTechTips



FAQ's
Windows Vista
Windows 98/98 SE
Windows 2000
Windows Me
Windows Server 2002
Windows "Whistler" XP
Windows CE
Internet Explorer 6
Internet Explorer 5
Xbox
Xbox 360
DirectX
DVD's



TopTechTips
Registry Tips
Windows 95/98
Windows 2000
Internet Explorer 5
Program Tips
Easter Eggs
Hardware
DVD



ActiveDVD
DVD News
DVD Forum
Glossary
Tips
Articles
Reviews
News Archive
Links
Drivers



Latest Reviews
Xbox/Games
Fallout 3

Applications
Windows Server 2008 R2
Windows 7

Hardware
iPod Touch 32GB



Latest Interviews
Steve Ballmer
Jim Allchin



Site News/Info
About This Site
Affiliates
Contact Us
Default Home Page
Link To Us
Links

News Archive
Site Search
Awards



Credits
©1997-2012, Active Network, Inc. All Rights Reserved.
Please click here for full terms of use and restrictions or read our Light Tower Privacy Statement.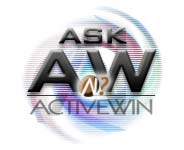 Welcome to AskAW! This section of our web site lets you submit questions about any problems/queries that you may have about Windows. Be it from a little icon that annoys you to hardware freezing your PC, we will try and help you out. You can submit your questions by e-mailing us at askaw@activewin.com. You can browse through previous questions over at our Archive Page. Who knows what you might find.
Here are the answered questions for 11-18-2000
---
Question

Submitted by Azmi

Hi Guys, I have tried to defrag my pc but the message 'ID No Defrag004' came up. Please help me how to solve this problem.

Solution 1
Answered by Robert Gara

If you have a few hours to spare try running a thorough scandisk. That means doing a surface test. It seems to me this message pops up when there are errors on the disk. Tell the computer to automatically fix the errors.
---
Question

Submitted by JJ

I just had Windows 2000 Prof. installed clean. However when I attempt to load various software I get an error box stating "ntvdm.exe has generated errors and will be shutdown. You will have to restart this program". This has occurred when I tried to load MSWORD97, MSWORKS4.0, KeyCAD and various games. Any clues on how to fix this problem. Many thanks

Solution 1
Answered by Chad Cappellini

Try downloading the Windows 2000 service pack 1, and see if that helps.
---
Question

Submitted by Jane

Dear ASKAW Help me please! I was messing about with the screen options and now my icons are to big and the screen picture is to large so that I have to scroll right all the time. I was in Settings for "display" and I also used the button on the monitor as well. So I have no idea how to put it right. I have windows 98 and internet explorer 5.0. My computer is a Gateway. The monitor is an EV700. I have tried adjusting the horizontal and vertical position to no avail.... P.S. I'm desperate

Solution 1
Answered by Chad Cappellini

In control panel/ display properties / settings there is a setting for screen resolution try bumping it up a notch or two.
---
Question

Submitted by James

I wanted to know if there is a way to make the background around the Icons on the desktop be transparent so all you can see are the words and not a box!! Thanks

Solution 1
Answered by Chad Cappellini

The only way I know of to do this is with Window Blinds or WindowFX. Both are shareware and can be found at http://www.stardock.com

Solution 2
Answered by Craig Catapano

Dear James, Run the enclosed file from C:\Windows at startup by adding a shortcut to the startup menu. On Some systems, that doesn't work. If not...use Invisible! Pro at http://www.mindbeat.com/invisi.shtml Its Shareware but you may use it 50 times to get the feel for it Best wishes,
---
Question

Submitted by Greg

I have WIN ME , when I open IE (5.5 pack 1) after starting up in the Fav panel I have 2 folders that I can not seem to kill. One is "Links", and the other is "From ICQ". No matter how many time I del them they always come back after I restart my computer. I have even gone into the reg and they keep coming back, any ideas how to kill them for good ? ICQ version is 2000b beta 4.56 build 3264.

Problem number 2. When I start my computer up I see my hard drives in folder view on my screen. A guy I know said he had the same thing happen when he had NIS 2.5 inst, once he took out the Norton fire wall it stopped, I have been to the NIS support page and can not find anything about it, any ideas ?? THNX !!!!

Solution 1
Answered by Craig Catapano

Dear Greg, To fix problem number one, do this, Go to C:\Windows\Favorites folder, Any link in there you want not visible, simply right click on the link, and change the system properties to "Hidden" Good Luck
---
Question

Submitted by Joe

Help: It's my understanding that a windows nt 4.0 workstation will not communicate with a windows 2000 server. Where can I get information on this and other nt workstation - 2000 server problems. And if there is a fix, where can I get that. Thank You

Solution 1
Answered by Brian Lyttle

Joe, Windows NT 4.0 Workstation can communicate with Windows 2000 Server and vice-versa. Problems may arise if the Windows 2000 Server is using some advanced Active Directory features, but basic connections should work in the normal way (NT4WS-NT4SVR). The best source of information on Microsoft products is often the appropriate newsgroups on the Microsoft news Server. It's address is news://msnews.microsoft.com Another excellent source of articles is Windows 2000 Magazine, at http://www.winntmag.com/
---
Question

Submitted by Wendy

Hi, I wonder how I use the IIS (like a PWS) for my local web server? there is no "intpub" and "wroot".

Solution 1
Answered by Brian Lyttle

Wendy, Assuming you are running Windows 2000 Professional, Internet Information Services 5.0 will not be installed by default. You must open the "Add/Remove Programs" applet in Control Panel and install IIS. You should be able to find it under "Add/Remove Windows Components" on the left side of the dialog. Once you have installed IIS you can check to see whether it is running by entering the URL http://127.0.0.1 in your Browser. This should load up a welcome page, and a help file. A directory called "Inetpub" will be created on your C: drive (typically). Create a simple HTML page (eg. test.html) and place it in Inetpub\wwwroot. Enter http://127.0.0.1/test.html in your browser to the test page.
---
Question

Submitted by Eric Pieper

Was there ever a SP 6b for NT server? And if there was why did they get rid of it? Thanks

Solution 1
Answered by Brian Lyttle

Eric, Service Pack 6a is the latest Windows NT 4 Service Pack. Service Pack 6b doesn't exist outside of Microsoft's labs, if at all. Information about the latest NT4 Service Pack can be found here http://www.microsoft.com/ntserver/nts/downloads/recommended/SP6/allSP6.asp
---
Question

Submitted by MOM

Hi, I am inquiring for my daughter who is going to school at University of Irvine. She is used to our Micron at home with windows 95 which you can shut down after the message indicates it is safe to shut down off computer. She shuts down her HP with windows 2000 and it tells her on start up the next day she has performed an illegal act. Is there a secret to shutting down windows 2000 that you could help her with? Thank you so much.

Solution 1
Answered by Brian Lyttle

Hi, The problem is probably not due to a shutdown problem, but rather a startup one. You haven't provided any further information other than Windows has performed and illegal act. Did it display any other information? This would be required to provide a thorough answer. Have a look in the Startup group under Programs on the Start Menu, if there are lots of shortcuts in there then this may be the problem. Solving this problem without the full details of the error message is basically having a real big stab in the dark, and could cause more problems than it solves. If the machine is 'usable', apart from this error message then I would try and ignore it. If you really want to get it solved then e-mail me at brian@activewin.com with some more details.
---
Question

Submitted by Tony

Hi, I saw your email address in the active windows website. I was wondering if you can answer my question about internet explorer 5. I downloaded MSN messenger and on the Tools menu on internet explorer5, it lets me open MSN messenger from there. How would I be able to get rid of the MSN messenger shortcut on the tools menu. If you know how, please email me back. thank you

Solution 1
Answered by Brian Lyttle

Tony, The best you can do is to ignore it, or uninstall MSN Messenger. It could probably be 'hacked' at so it doesn't appear, but this is something I would recommend.

Solution 2
Answered by Mean Drake

View>Toolbars>Customize
---
Question

Submitted by Lynch

How can I modify the Windows Me splash screen? In 98 the file was logo.sys (actually a .bmp), but in Windows Me, no such file exists.

Solution 1
Answered by Chad Cappellini

Check out http://www.nikkie-luuc.demon.nl/index.html if it can be changed they will tell you how to do it.

Solution 2
Answered by Craig Catapano

Dear Lynch, For making your own Startup Logo, try XRX Animated Logo Utility at http://www.cadvision.com/xrx/index.htm#Utility Works Great and it is easy to use. Best Wishes

Solution 3
Answered by Mean Drake

Even if the logo.sys doesn't exist in the root directory, just create one of yours from a bitmap (don't ask me the settings, I think you know as u asked...320X400)
---
Question

Submitted by Robert

We're having a problem with an ActiveX control essential to our application. We're running a stand alone kiosk application which uses IE 5.5 as a front end (on top of Windows 2000 Pro w/SP1). When the user comes across the page with the ActiveX control, sometimes they get the dialog box "Internet Explorer Script Error Do you wish to continue running scripts?" To which they have to respond YES or NO. Now, if they click YES, the application is fine and can move on. If they click NO, then the whole system must be rebooted to get usability back. Is there a way to prevent that window from being displayed? Possibly in the code? (VBScript is currently being used on the client side) Or is there a watchdog program out there that can detect that dialog box and click "yes" for the users? Thanks in advance for your help.

Solution 1
Answered by Mean Drake

You said they sometimes get this error. You mean there is no inherent error in the script. So you must decide what causes this error to occur. Do not expect to take control of client side. Your web page is not a Trojan you know. On the other hand get the common factor which causes SOME of these browsers to get the error and use scripting to determine whether the browser currently viewing your page is likely to get the error and take appropriate action.
---
Question

Submitted by Unknown

When I uninstalled neoplanet is somehow uninstalled internet explorer and now when ever I go to reinstall IE it says that the following components have not been installed, and basically lists everything... I have IE4 but it is very unstable so I am forced to use Netscape. What could be the problem?.

Solution 1
Answered by Mean Drake

Upgrade to IE 5 or 5.5
---
Question

Submitted by Lee Jamilkowski

Dear sirs: I have a Compaq Presario 5900Z-500 (500 MHz AMD Athlon, 128 MB SDRAM), although, that is not the problem. Recently, I repartioned and reformatted my hard drive so I could have a relatively clean system so that I could upgrade to Windows ME. The new OS (or upgrade, depending on how you look at it) is running fine. Previously, I had Microsoft Reader installed on my system, including various e-books. Now, when I try to activate my new copy of the Reader, it tells me that my Activation Limit has been reached. I see no way around this. All the e-books that I have purchased are inaccessible, and there is nothing that I can do. The Microsoft website is of no help whatsoever; I get the feeling that it is telling me that I am out of luck. As you can see, any help would be appreciated. Is there a workaround, or will I have to just deal with no e-books until the next version of the Reader comes out? This is really annoying, because I was looking forward to the new Star Trek: S.C.E. e-books. Thanks

Solution 1
Answered by Mean Drake

well when you partition and format your system, there are certain things that should be backed up. Unfortunately we all learn the hard way. Activation of the reader is done by using your MS passport. It allows you to use the passport only twice (from two different systems). You seem to have already used this account to activate the reader twice. Should have backed up the subdirectory created in the activation process.
---
Question

Submitted by Chris

When opening clipart ".wmf" files, system prompts for which program you would prefer to open them in..... which program is associated with clipart "wmf" files.

Solution 1
Answered by Mean Drake

Use a vector editing program like Corel.
---
Question

Submitted by Brandon

Hi, While going through the add/remove programs box, I noticed that there are some programs there that I know I already uninstalled. Is there any way to remove them from the list? When I try to remove, it will just say "cannot find uninstall.log" or something like that, all similar messages. There must be a utility for this problem! Thanks in advance!

Solution 1
Answered by Mean Drake

Are you sure you uninstalled them the right way. Through the software's uninstaller or through the add remove dialog box? Or did you just delete the directory. Anyway the entries can be removed by using TweakUI.
---
Question

Submitted by Mike

am trying to copy and paste a dialog box like those used for information and paste it into a word doc. Ctrl c and Ctrl v does not work. Any ideas?

Solution 1
Answered by Mean Drake

You mean you are trying to get an image of the Message box into the word file? You will have to use a screen capture to do that.
---
Question

Submitted by Chris Hampton

I have made a logo screen (logo.sys) that I want to use, but cannot figure out how to animate it. I would appreciate any help you might be able to give. Thank you

Solution 1
Answered by Mean Drake
---
Question

Submitted by Jack Marcus

Hi I am trying to re-install win98 2nd edition and I am continuously getting a message that windows detected a problem with the registry and will restart. It then reverts back to the old registry. I have even gone as far as re-formatting my hard disk (13 gig) western digital, and after installing on a newly formatted disk, I still get this message. Any idea what is happening and how I can get around this. Thanks

Solution 1
Answered by Mean Drake

Is it the upgrade version? How can it even check the registry on a newly formatted disk? You can fix a corrupt registry from DOS using scanreg /fix
---
Question

Submitted by Zanna

I am running windows 98 second edition on a brand new dell 800 p3 with two USB ports. I am plugging a brother mfc 9600 into port 1. during boot, the USB device does not appear in the device manager, but if I unplug it from the back of cpu and then replug it in, the devices instantly appear and work great until the next reboot. I downloaded and installed a Microsoft fix 240075sup.exe to no avail. both dell and brother indicate it is a windows 98se problem. any suggestions?

Solution 1
Answered by Bill Wiriawan

This is the USB bug within windows98 and windows 98se. There's a way how to do this trick. I created a power switch from my old USB scanner, which is turned on only when I'm using it. Another trick is to install the driver provided by the hardware, restart, and then plugin your USB device, it is proven to decrease the problem is some way. Another solution is to upgrade your Operating system, Windows Me is a good candidate in your case. Hope this will help.
---
Question

Submitted by Kristine

To whom it may concern: I have IE v5.5 and have a certain page that I use as my home page. Ever since I installed IE v5.5 this is the home page that my browser opens to: http://search.msn.ca/results.asp?cfg=SMCINITIAL&srch=4&FORM=AS4&RS=CHECKED&v=1&q=Internet+Explorer In order to go to my home page, I must click on the Home tool. Now I know this might sound picky, but I don't understand why this page keeps coming up when I open my browser when I have specifically changed it in Internet Options to go to my home page. It is driving my crazy! I want to get rid of it - can you tell me how? Thanks in advance for your help.

Solution 1
Answered by Bill Wiriawan

Open the registry editor, (winkey+r and type regedit) and open the following key from the left pane: HKEY_CURRENT_USER\Software\Microsoft\Internet Explorer\Main. Click on the right pane, and type " s t " in your keyboard, this will take you to a key named "Start page" now double click on it, and paste any url that you want to make it your home page. If you have windows me or windows 2000, bookmark the current key since this the main preferences of your IE settings options. Hope this will help.
---
Question

Submitted by Nasir Khan

Hi there I lost my LOCAL AREA CONNECTION and I can't seem to get it back for some reason in my Windows2000 computer. When I double click on Make Connections within Networking properties it gives me all the option but LOCAL AREA CONNECTION. Any info would be helpful. thanks

Solution 1
Answered by Bill Wiriawan

Remove your NIC card from the device manager, and restart your computer. If windows detects it, let it proceed to rebuild your networking components, or, add your device manually, and make sure you have the correct settings for the hardware, then proceed to the networking properties. If none of the above resolve the problem, reinstall windows 2000 to repair the system automatically. Hope this will help, Bill
---
Question

Submitted by Raj

I am currently running Windows98 (not SE). I am trying to install WindowsME, however not using the WinME upgrade. After a seemingly successful installation (system scan->..System files copied over to c:\windows folder, etc.), when the system reboots I am taken to a DOS screen that looks like this
1)HELP
2)Boot w/ cd-rom support
3)Boot w/o cd-rom support
4)Minimal Boot
I tried all the options, just end up with a good old dos prompt. Tried Win.com from command line but get an error message after trying to update system -- "XMS cache...Registry inoperative..." Can someone shed light on this please. I am not able to boot to Windows at all now.

Solution 1
Answered by Marc Strickland

Hmmmm...Is the windows start-up disk in your floppy drive? If so remove it!
---
Question

Submitted by Gary

Scan disk tells me I have one or more lost clusters. Is this an indication of a serious problem?

Solution 1
Answered by Marc Strickland

This is not necessarily a serious issue. Scandisk should fix this for you automatically.
---
Question

Submitted by Kayhan

How can I add NOT only a button but a complete toolbar to ie5? Thanks

Solution 1
Answered by Marc Strickland

I do not understand the question, please be more specific. E-Mail me Please

Solution 2
Answered by Bill Wiriawan

As far as I know, that would requires an Active-X related programming and advanced Java/VBScripting.
---
Question

Submitted by Marva

Are there any changes and/or new features in the new Windows OS "Whistler", that are modem-related? (i.e. affect modem installation and functionality directly or indirectly)

Solution 1
Answered by Marc Strickland

Marva, Whistler is not released yet and it is still in beta. Functionality and feature will often change and even get replaced before beta programs go gold. I do not believe this question can be accurately responded to at this time.
---
Question

Submitted by Volney Douglas

I have a question about Windows 2000 Advanced Server. I'm trying to upgraded one of my rack mount servers to 2000 from 4.0 and I am running some old Dialogic boards that need a Streams environment. These boards are worth a couple ($8) grand each and I would hate to throw them away because I am upgrading a couple servers. How do I get that protocol, do I even need it(is it hidden inside something else)? I am wondering if I can get is some place else. Any help would be great! Thanks

Solution 1
Answered by Bill Wiriawan

Hi, I'm afraid that you have a question more to a product spec instead of OS environment. I have to say that I don't even know the brand of the board that you are talking about, my apologies for that, but I think it will help a lot if you can logon to msnews.microsoft.com newsgroups server, and post your question there, and go to the MS support site, and do a research for your current troubleshooter, use the keyword and words combo and searching method until you find a suitable articles.
Once again, my apologies for not being able to answer directly, but I will do appreciate it if you can discuss the problems and the solutions once you have the it. thank you.
---
Question

Submitted by Chris

I re-installed NT Workstation 4.0 on a machine to correct some problems that seemed to be related to Norton Utilities. Now, though, the server service won't start (even manually) saying that there is "not enough server storage." What the dickens does this mean and how can I correct it? The network settings all seem to be configured correctly and I can access resources on other machines in the network but this one doesn't appear in Network Neighborhood on this or any other workstation. Help!!

Solution 1
Answered by Bill Wiriawan

Server service will enable your computer to provide resources to other computer in the network. It looks like you are running your computer client, and thus you don't really need to run it, as long as there is no other computer that runs program from you computer. you can disable this from the service administration tool. Hope this will help.
---
Question

Submitted by Louis

I first installed Windows Media Player 7 (WMP7) when it was in beta. It worked ok. About two or three months later, I installed Windows ME (upgrade from Win98). Still then WMP7 worked ok. But about a week ago it started to give me the following error: "Wmplayer has caused an error to occur in wmpui.dll". Then it says something like, "try restarting your computer". So I do but that doesn't help. This error does not happen every time I use WMP7. WMP7 will run. I can play a CD. It only happens on some streaming A/V. And I don't think its a format issue because, a streaming audio file I hear today I can't hear tomorrow. I thought of uninstalling it and reinstalling it, but I can't seem to uninstall it. It does not show up in the app listing of Add/Remove Programs in Control Panel. I also unchecked media player in the windows setup, multimedia, details. After rebooting, WMP7 is still installed. So being that I could not uninstall WMP7, I relocated wmpui.dll to another directory and reinstalled WMP7. Still no luck. How do I resolve this problem? Will I have to reinstall Windows ME? How do you uninstall WMP7? I have not made any changes to my computer. Thanks in advance for your help.

Solution 1
Answered by Bill Wiriawan

To uninstall WMP7, download 98lite ME from http://www.98lite.net/. Are you running a skinning program and/or similar that might caused the error? wmpui.dll is the skinning library support for WMP7 if I can recall, and not so many reports have been submitted about this error. Try upgrading to the latest version of WMP7, and see if it helps.
---
Question

Submitted by Trish

I'm not very computer-literate! I'm using Win98SE on a Compaq Presario 7595 I'm converting an old address book from Lotus to MS Address Book. I really love some of the features there BUT I cannot find a way to give it a password. My old lotus program has one so I'm sure MS has one I just don't know how to do it! While I'm at it. I'm considering taking all my Lotus WordPro word-processor lwp files & putting them into my Word 2000 files or WordPad or MS Office word processor....is that possible? AND HOW do I do that? Please uses plain English as much as possible, considering I don't understand much of this "computer-speak"! THANKS

Solution 1
Answered by Bill Wiriawan

Usually it is done at the import/export side.
If you are importing via outlook to a *.pst file (This is the file that outlook uses to store its data), you can set the password during the import options.
Read the help files for more info on this, as it will give you a direct info and step by step method how to implement it.
---
Question

Submitted Mark

I have one question, On my Win98 HP, I have IE 5.50 ..whenever the browser opens, it has a "skin" on it, How do I make it go away ? I know I can right-click on an empty spot on the toolbar, and de-select "radio" and it goes away on that browser. but when I do the next page or start up the browser again , there it is. any ideas? Thanks

Solution 1
Answered by Bill Wiriawan

Hi, to disable the radio button for good, open the internet options applets >> Advanced >> Uncheck "Always show...Radio Toolbar".
There are many websites that offers IE5 toolbar button skinning, you need to uninstall the program to disable it. If you installed the IE5 Powertoy's, you can simply un0skin it, and uninstall the program if you don't want to have it in your browser.
---
Question

Submitted by Gary and Carla

Although I like the auto complete feature for Web addresses, how do I disable the same thing for keyword searches without disabling the other? Do I simply uncheck the box for "forms" in the auto complete option screen?

Solution 1
Answered by Bill Wiriawan

The auto complete search feature in the address bar is a built in accessibility feature that can't be disabled, I know it's annoying sometimes, but I think it is described as "By Design". There's nothing you can do about this, except you manage your browsing behavior.
---
Question

Submitted by Jennifer

I am having problems with my windows 95 program. when I turn the computer on my system.ini file is missing as well as windows/system/vmmrd.386. It will then load windows put I cannot access any programs because they are the wrong icons. Please Help

Solution 1
Answered by Charles Putman

Jennifer - It sounds like either a virus has "eaten" your system.ini file, or a program has overwritten or corrupted it. Time for a clean install. Make sure you back up all of your data files to something like a ZIP disk and then reformat your hard drive and start anew. As you're running Win95, you might want to consider upgrading to Windows Me (check MS's site for hardware compatibility) or at least Win98SE.
---
Question

Submitted by Bill

1. I have an Windows NT4 (SP6) computer.
2. Upgrade to Windows 2000. or...
A. Use Windows NT4 (SP6)
B. Upgrade to a dual-boot NT4+W2K system.
C. Upgrade to Windows 2000. (Dropping NT4 entirely)
=======================================
I could have done #1 and #2.
Instead I did #A and #B. Now... I find it impossible to do #C... because the
"upgrade to W2K" choice is no longer listed by the W2K installer as one of my options.
How can I *EVER* do #C now? (Without losing 3 YEARS worth of installed/configured NT4 software.)
Is there some way to make my computer "forget" the I have a dual-boot system... and think it's only a NT4 system again? Thanks.

Solution 1
Answered by Charles Putman

About the only way is to use FDISK and remove all partitions, and install Win2000 clean. If you're using NTFS, NTFS4 (WinNT4) and NTFS5 (Win2000) aren't compatible.
---
Question

Submitted by John

My friend installed Windows 2000 Prof. on his machine. When he turned on his computer the next day his 10 Gig hard drive had only 600k of space left. He then re-installed Windows 2000 and it is happening again. In the past day he has lost 3 gig of space and shrinking. What's up? Thanks

Solution 1
Answered by Charles Putman

What else is your friend running on his system? Is (s)he dual booting?
---
Question

Submitted by Sean

Hello, First let me say that your site is very informative and helpful. I have a problem that I cannot find a solution for anywhere and since your site is full of such information, I thought you may be able to help me. The problem is my mouse is very insensitive, it seems to move 5+ pixels at a time and I can do nothing to correct this. I use a Microsoft wheel mouse and do allot of CAD work. This problem is very frustrating and due to it, I lose allot of time trying to line up vertices and so forth within the CAD program while I work. I have tried various drivers from MS and several different mice. Short of a reformat, I'm at wits end. The mouse wasn't always like this, seemed to happen one day and has been this way ever since. Sorry to write a novel . Thanks in advance for any direction you can point me in.

Solution 1
Answered by Charles Putman

Several things to try. Check to see what's in the TEMP directory under Windows (i.e. c:\windows\temp). Delete these files. Also, run SCANDISK and then DEFRAG. And...if it's the "old" style mouse with a ball, check that you don't have dirty mouse balls... Fuzz and krud can get caught in the rollers inside the mouse and cause the problem your referring to. The optical mouse doesn't have this problem as it has no...well...you get the picture.
---
Question

Submitted by Don

I recently reinstalled windows 98 and on reboot I found that my power schemes were missing. What should I do to get them back

Solution 1
Answered by Charles Putman

It sounds like you did a reformat and reinstalled Win98. Power schemes are essentially "self created" so you will have to manually recreate them.
---
Question

Submitted by Zayon

hi, hope anyone here can help. I have a 4 gig drive which I partitioned to 500mb each for every partition. however, I cannot convert the partitions to fat32 because according to the windows fat32 converter, the size of the 500mb partition is too small to be fat32. so, what actually is the smallest partition allowed to be fat32??? I also noticed that the smaller the partition, the faster the drive. it's been tested using a third-party software. is it true?? sure could appreciate help here. thanks :)

Solution 1
Answered by Charles Putman

Hey there, FAT32 needs a minimum of 512MB per partition but no bigger than 32GB. So anything below 512MB, I recommend formatting with FAT as it is best for any partition smaller. Bigger partitions have bigger clusters. And only data from the same file can be stored in the same cluster. So if a file only uses half a cluster, the other half is wasted. Archiving programs like WinZip pushes all data into one file, and using those half a clusters.
---
Question

Submitted by WWilson

I have a computer with Windows 98 Second Edition, it also as an HP cd/rom burner 9350i. I am getting a BLUE screen of death occasional, only when I boot, "The volume that was removed had open files on it. Next time please check first to see if the volume can really be removed." I can only press any key at this message the next message is "The file system mounted on the volume had data that needed to be flushed. Some data on the volume was lost. Next time please check first to see if the volume can really be removed." Again I can only press any key at this message the next message is "Fatal exception 0E has occurred at 0167:BFF9DFFF". These message appear after I login to the computer, the computer has just displayed the icons of the desktop and the error comes up. Any ideas as to how to resolve this issue?

Solution 1
Answered by Mean Drake

See what the programs in your start up are. You might need to disable and then probably reinstall the one concerning your CD writer
---
Question

Submitted by Brandon

I upgraded from win98 to WinMe and I was wondering if there were any files I could delete to free up space?

Solution 1
Answered by Mean Drake

WinMe eaten up your free space eh? Look here for details on how to get back some space http://www.langa.com/cleanup_bat.htm
---
Question

Submitted by J. Harvey

How do I sort files descending in Windows Me explorer? (most recent date at top of the window) Thanks

Solution 1
Answered by Mean Drake

right click...arrange icons sort by date
---
Question

Submitted by Mark R. Raimondi

I am using Windows 98 first edition and I was doing a file search. After I searched, I tried reordering some of the sortable categories (such as name, file size, location, etc...) and the location one somehow disappeared and I cannot get it back! Do you know if/how I can remedy this mess? Thanks in advance

Solution 1
Answered by Mean Drake

why not try to maximize the window and decrease the width of all other columns
---
NOTE: Please note that ActiveWin nor the AskAW staff can take any responsibility for anything that may/may not occur when taking our advice. If you do anything that is included in our advice, you are doing so at your own risk.
If you have any questions pertaining to a particular answer please contact the person who replied.
You can contact anyone of our staff here or email us at askaw@activewin.com