DirectX
ActiveMac
Downloads
Forums
Interviews
News
MS Games & Hardware
Reviews
Support Center
Windows 2000
Windows Me
Windows Server 2003
Windows Vista
Windows XP



News Centers
Windows/Microsoft
DVD
Apple/Mac
Xbox
News Search



ActiveXBox
Xbox News
Box Shots
Inside The Xbox
Released Titles
Announced Titles
Screenshots/Videos
History Of The Xbox
Links
Forum
FAQ



Windows XP
Introduction
System Requirements
Home Features
Pro Features
Upgrade Checklists
History
FAQ
Links
TopTechTips



FAQ's
Windows Vista
Windows 98/98 SE
Windows 2000
Windows Me
Windows Server 2002
Windows "Whistler" XP
Windows CE
Internet Explorer 6
Internet Explorer 5
Xbox
Xbox 360
DirectX
DVD's



TopTechTips
Registry Tips
Windows 95/98
Windows 2000
Internet Explorer 5
Program Tips
Easter Eggs
Hardware
DVD



ActiveDVD
DVD News
DVD Forum
Glossary
Tips
Articles
Reviews
News Archive
Links
Drivers



Latest Reviews
Xbox/Games
Fallout 3

Applications
Windows Server 2008 R2
Windows 7

Hardware
iPod Touch 32GB



Latest Interviews
Steve Ballmer
Jim Allchin



Site News/Info
About This Site
Affiliates
Contact Us
Default Home Page
Link To Us
Links

News Archive
Site Search
Awards



Credits
©1997-2012, Active Network, Inc. All Rights Reserved.
Please click here for full terms of use and restrictions or read our Light Tower Privacy Statement.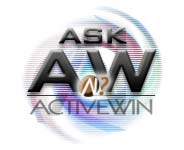 Welcome to AskAW! This section of our web site lets you submit questions about any problems/queries that you may have about Windows. Be it from a little icon that annoys you to hardware freezing your PC, we will try and help you out. You can submit your questions by e-mailing us at askaw@activewin.com. You can browse through previous questions over at our Archive Page. Who knows what you might find.
Here are the answered questions for 11-23-2000
---
Question

Submitted by Debbie

Can you explain to me why We might be getting this error? Fatal Error 0028:C7315F16 this happens at different times but right now its seem to come up after I have logged on to the server (Novell 4.1) and waiting for my desk top to come up it will give me this message and then shut me down. We run office 97 windows 98 Second Edition group wise Outlook Express. I would love any help! Thanks

Solution 1
Answered by That Jim Guy

Does it say what application caused the error? What kind of network card do you have (Ethernet, token-ring, etc.). There could be a conflict with the memory addresses or IRQ used by the network card. If you could provide more detailed information, perhaps we can figure it out for you :-)
---
Question

Submitted by shrop

Does anyone know why QuickBooks 2000 takes 30 to 90 seconds to startup and also shutdown? System is P933 w/128M and 45 GB disk running W2K and no other programs running.

Solution 1
Answered by That Jim Guy

Yes... Just starting and shutting down QB causes QBw32 and QBdAgent collectively to perform 5303 reads/writes to files on your drives. This takes a lot of time. In addition to that, both the agent and the program perform 11231 reads/writes/value queries to the system registry. I don't think I have many other programs that perform that much disk i/o!
If you want to see exactly which files and registry entries are being accessed, I have zipped and attached a report (qbfile.txt for the files, and qbreg.txt for the registry). Note: I did this on a Win98 system, but I imagine the results are similar on W2K.
You may want to contact Quicken to see *why* it does so much i/o. E-Mail me for the Zip file.
---
Question

Submitted by Sue

I recently downloaded the updated Internet Explorer, and now I can't directly Print anything from the internet or E-mail. I have to copy the material to Word, and then Print it. How do I fix this?

Solution 1
Answered by That Jim Guy

What's the full version number of IE? What happens when you attempt to print from IE? If you click File/Print, what printer shows as the default, and is this your normal default printer?
---
Question

Submitted by Chuck

I hope someone can help me with this. I just purchased an Athlon 1000 Thunderbird socket A, and I don't know what the voltage setting is supposed to be. There is no documentation with the cpu. I tried to find the information on AMD's web site. I don't want to use the jumper less mode on my mother board (Asus A7V) Could you please tell me what to set the voltage at. Thanks

Solution 1
Answered by That Jim Guy

1.10 - 1.85V in 0.05V increments. If you set it to the max (1.85V) be sure you have a good cooling fan/heat sink for the CPU.
---
Question

Submitted by Unknown

I recently downloaded Netscape 4.76 and after installation I keep getting the message that it is unable to access the server (even my own server ie www.isys.ca) the same holds true for trying to get my e-mail. Any ideas

Solution 1
Answered by That Jim Guy

Are you behind a firewall, or are you using an HTTP proxy? Check the proxy settings in Edit/Preferences/Advanced/Proxies. Also make sure you have your mail servers (POP and SMTP) server names, user name and password set up. They may have defaulted back to "mail" or something. I upgraded to 4.76 with no problem. If you are using profiles, check the settings for each one. Other than that, I would suggest reinstalling of everything else looks OK.
Keep me informed, perhaps I can help further.
---
Question

Submitted by Kenshin

Hi, I have a problem when I run Dr.Watson. Dr.Watson said there is a problem in mmtask.drv which causes taskbar to behaves strangely. It asked to turn off the multimedia task bar. What it said turns out to be true. Using Microsoft Intellimouse Explorer USB, sometimes I can't click, left click and right click is swapped, etc. Is there any work around on this ? Thank you very much for your help. Regards

Solution 1
Answered by That Jim Guy

Go to Control Panel/System/Device Manager. Scroll down to the line that says "Universal serial bus controller". Double click on the host controller, then check the resources. This will tell you the interrupt that the controller is using (mine uses IRQ 11). Now scroll back up in the device list and check the "Sound, video and game controllers". Double click on your sound card, check resources, and make sure it does not use the same IRQ as the USB does.
---
Question

Submitted by Jerry

Is there a way to find out what the registration number for Win98SE if it's lost? I had heard you could load windows, reboot into safe mode and enter a number into the Registry under the HK Local Machine\Software\Microsoft\Windows\Current Version of any sort re-boot and bypass the real registration number period. I do know under the oem builder rules you must re-enable the Out of Box Experience. But it has to read the number from somewhere… Just curious. Have a friend who has the CD but no number? Appreciate any information on this… Thanks.

Solution 1
Answered by Mean Drake

I doubt if this could be done but perhaps changing the value of the regdone key might help??

Solution 2
Answered by Marc Strickland

I believe the regdone key will say "1" if you have registered WindowsSE

Solution 3
Answered by Bill Wiriawan

If you loose your serial number, you can call Microsoft with your proof of purchase or anything similar that can proof your original purchase, they will either replace your cd and/or give you a valid cd depending on your motif.
---
Question

Submitted by Gary

In Windows Explorer, if the "As Web Page" is enabled under the "View" menu, a preview of an image will appear if the graphic is a .BMP or a PNG file. Is there some way to enable the preview of other graphic formats, such as .GIF, .JPG, and .TIF files. If so, I would like to know how enable these other formats. Thanks in advance for your consideration of this question.

Solution 1
Answered by Mean Drake

By default, jpg and gif files have always shown up in preview in The Windows explorer on my PC. Only once during an uninstall, there were some problems and I could not preview them and I remember I had to hack the registry and managed to do it. Had to copy key values from the file types that I could preview not those I couldn't.
---
Question

Submitted by Marie

I have downloaded some zip files from the internet, however when I go to open them I am unsure which program to use. Does windows 98 have an unzip file and what should I look for? Many thanks

Solution 1
Answered by Mean Drake

Winzip 8.0 is the best.
Win98 can do it if you have installed Plus 98! with the option for this selected.
---
Question

Submitted by Jerry

How can I remove Help from the Windows 98 Start Menu?. Thank you.

Solution 1
Answered by Mean Drake

Any of the tweaking utilities like Winboost will enable you to customize the start menu this way. Though I have not yet tried it for the help Option.
---
Question

Submitted by Derich Marsh

Here is a message that I get when in ie5--winnt4-sp6. Just in case that you cant open this document.--This page provides potentially unsafe information to an ActiveX control. Your current security settings prohibit running controls in this manner. As a result, this page may not display correctly. I have gone into custom Internet settings disabled scripting --lowered security settings--installed ie5 service pack. Help!

Solution 1
Answered by Mean Drake

There are viruses like the KAK virus that spread this way. Don't even need to download and run a file. It is all embedded into an activex control on the page. Why would you want to display an unsafe page? Unless you know for sure that the control is 100% safe?

Solution 2
Answered by Ashton Smith

Delete your cache and temp files on your computer first and then reboot your machine.
If you trust the website, and you have an Anti-Virus package installed (that has updated virus definitions), I would lower all of your security settings until you are able to execute the ActiveX control.
You could also contact the webmaster of the website and ask what the control is doing and explain to them that you are having problems.
---
Question

Submitted by Unknown

When I use my IE the pictures most of the time don't show, only the place marker with a red x appears, if I right click and select show picture the appear. it is lot just limited to photos its all functions that have a graphic that do not show. I think I have everything configured properly. Under internet options, advanced, I have the show pictures box checked. do you know how I can fix this problem.

Solution 1
Answered by Mean Drake

IE 5 power toys install a program called Toggle images.exe check to see if it is there on your links toolbar. Click on it to toggle images on and off.
---
Question

Submitted by Unknown

I have noted several times that when I install some software and then try to uninstall it either using the Add/Remove programs applet in Control Panel or even the programs Uninstall module, it gives me an error saying 'Cannot find UNWISE.EXE'. I believe there is a Registry entry that you can make in order for this uninstall to work. I am running Windows NT 4.0 Server edition.

Solution 1
Answered by Mean Drake

Indicates an imperfect installation. A reinstall and uninstall might help. Else just delete the directory and remove the reference to the program from the Add/Remove programs.

Solution 2
Answered by Brian Lyttle

Hi, UNWISE.exe is the uninstallation part of the Wise Installer. There are many versions of the Wise Installer from Install Master to Install Builder. Some of these products have an occasional problem with removing the Uninstall Stub if the application being uninstalled thinks it's the only Wise Installer based application on the machine. This only occurs if it puts the UNWISE.exe in a shared directory. Newer Wise Installers put the UNWISE.exe in the program's directory. You *might* be able to copy an UNWISE.exe from another computer to your own, and put it in the appropriate directory. Also, have a look at the registry entries for UNWISE.exe.
---
Question

Submitted by Puch

It appears that Norton's anti virus works fine except when I try to check all the files on my 30 gig hard drive. The anti virus program works fine until about 45% and then gives me the message, "Navw32 has cause an error in Kernel32.DLL. Nav32 will now close." I've sent Symantec three email since Aug 2000 with a request for assistance but received no answer. Microsoft tells me they don't solve other vendor problems. Can you offer some suggestions other then switching vendors for my future purchase of an anti virus program? I've got a new Micron 800 mhz with an Intel chip, a 30 gig hard drive with 9 gig taking up space and 256 meg of RAM. I've run updates almost daily with Symantec and Microsoft looking for fixes but none are available.

Solution 1
Answered by Mean Drake

What version of NAV are you using. Versions earlier than 2001 are not compatible with WinME.

Solution 2
Answered by Marc Strickland

I have been running NAV2001 and WinMe since they have been released and I have had no problems with NAV2001 at all. I have a 30 GB hard drive with 22GB of space full of data. Mt scans have always finished. I recommend that you uninstall, re-boot, and re-install NAV2001. Also you might want to check your hard drive for corrupted files using ScanDisk or my personal favorite - Norton Disk Doctor. I imagine corrupted file will also cause your problem to occur.
---
---
Question

Submitted by Manjunath .S.

Hi, I'm facing problem while installing a creative SoundBlaster live on my system which has vc820 motherboard and Intel p3 600/133 Mhz chip (flipchip). I have Win98SE running, but when ever the system comes up it pops up a error message (text) like below.
A fatal exception 0E has occurred at 0028:C14B4C50 in vxdEMU10K1(01) +0000B830. The current application will be terminated.
* Press any key to terminate the current application. * Press alt+ctrl+del again to restart your computer, you will lose any unsaved information in all application.
Press any key to continue.
also I AM not able to shutdown the system, coz the same error message pops up again, I have disabled the audio in bios setup and also there are no conflicts in IRQ in the system as my sound card is presently using IRQ 10. Can you please help me regarding this problem. -Thanks & Regards

Solution 1
Answered by That Jim Guy

Hmmm - it appears that the SoundBlaster added a VXD file that Windows does not like. I checked my system, but don't have this VXD (but I am using an AWE64).
Try this: run regedit, export the registry or back it up, then go to this key: HKEY_LOCAL_MACHINE\System\CurrentControlSet\Services\VxD
Look for something called EMU10K1 or something very similar under the VxD key. Delete this and restart the system. PLEASE make sure you back up your registry first. If you have a problem, just import it back under safe mode or restore it.
Email me if you need more detail, and please let me know if this works.
---
Question

Submitted by Unknown

My father called me and asked how one might re-establish the functioning of the "Do you want to disconnect?" dialog box, in which you have two choices, ether to shut down or not shut down the dial-up connection when you close Internet Explorer... I know it is a simple thing I'm overlooking.... Any tips appreciated.. (FYI..he's running IE5.01 on Win95a.) Thanks

Solution 1
Answered by That Jim Guy

I don't think that is a Windows option. I know that some online services like AOL will prompt for disconnect when you close the browser. Is your father using AOL or some other online service (not a straight ISP)? If so, he may want to contact AOL support, or if he still has problems, let me know and I can test with a trial version of AOL or MSN or whatever service he is using. If he is using a regular ISP or free ISP, let me know which one and perhaps I can test and figure this out for you.
---
Question

Submitted by Gene

I am looking for a product that will read a Iomega zip disk compressed with "drivespace3". I am using windows98se.Thanks

Solution 1
Answered by That Jim Guy

You should just be able to run drivespace (C:\WINDOWS\DRVSPACE.EXE) and then set it to automatically mount removable disks. If this doesn't work, send me an email and include your c:\msdos.sys file (this is a hidden file, so you may have to run "attrib msdos.sys -s -h -r" before you send it, and run "attrib msdos.sys +s +h +r" afterwards to reset it. Do this from DOS or a dos window.
---
Question

Submitted by Hagai Virt

Hi I will like to know how I can identify or where I can find links of files are in status Open or Run and how I can know when they close Regard

Solution 1
Answered by That Jim Guy

I have a great freeware program that will show a list of running programs (even ones that don't show up in the list when you ALT-TAB or CTRL-ALT-DEL). It also allows you to "kill" them if they are hung, shows the priority, modules (DLL's etc.) used, and more.
I will try to attach it, but I have been having problems doing this. If I can't attach it, please email me and I will send it to you.
---
Question

Submitted by Judy

Hi, every time I open a new web page, I continually get 2 scripting errors, asking me if I want to continue...when I say yes, I can continue, but it's annoying....how do I stop these scripting errors from popping up? Thanks!!

Solution 1
Answered by That Jim Guy

In IE, open the Tools/Internet Options menu. Then go to the "Advanced" tab. In the "Browsing" section, check the box that is labeled "Disable script debugging". That should do it (you may have to restart IE and/or your internet connection.
Send me an email if it doesn't work.
---
Question

Submitted by Mark

I am trying to install Microsoft Home Publishing Suite 2000 on my computer. I insert the setup disk and follow the directions. When it gets to the part where it copies files, errors keep occurring. The box tells me to verify that a file exists and that I am able to access it. It gives me two options to click on: retry or cancel. I keep clicking on retry but the errors keep occurring. What am I doing wrong?

Solution 1
Answered by Charles Putman

It sounds like your CD (or DVD) ROM drive is having difficulty reading the Home Publishing CD. First, make sure that the CD itself is clean. Next, use a CD cleaner for the drive (Maxell makes an excellent CD drive cleaner). If that doesn't help, chances are that your drive is starting to die. Best to replace it.
I had the same problem with an older model Toshiba DVD drive. Replaced it with their latest offering and no read errors since.
---
Question

Submitted by Unknown

I recently purchased a Samsung SDR-430. The drive works perfectly with cd's however when a DVD is used it reads the filenames correctly but when you attempt to open a file it generally doesn't work. Alternately if you can open it, such as a .txt file then it appears as gibberish. The problem is not the DVD as I have checked it on another player. Is it the fact that I am running W95a(service pack 1) and not OSR-2 or w98?. I also tried to update the drivers. I used the latest firmware which worked fine but I attempted to use Adaptec's Apsi drivers as per Samsung's website, however the check program told me that they were not installed and to contact the manufacturer. Any Ideas. p.s. what are Apsi drivers?

Solution 1
Answered by Charles Putman

In a word, yep... Win95a wasn't built to handle DVD's. You'll need to either upgrade to Win98SE or WinMe. Win2000 Pro also supports DVD. FYI, you'll need a software DVD player to watch a DVD, such as WinDVD 2000 from Intervideo.
---
Question

Submitted by Steve

Hello I am running Windows 2000 professional in an IBM desktop that is 2 yrs old (BIOS date 7/99). I have recently upgraded the hard drive to a Maxtor 40 GB that has Ultra ATA 100 data transfer capability. I bought a PCI card (SIIG brand) to allow 100MB data trx, but the system would not boot up when the HD was connected to the card. I had to install the drive and OS with the primary IDE on the mother board (thus allowing only 33 MB data trx). What should my next step be? Should I attempt to install the PCI card and driver without hooking up the drive first, then attempt to boot with it connected? Is there some way to enable boot from a PCI? I know there is a way to enable 66MB data trx in Win 2000, which would be a compromise. Thank you in advance for helping me.

Solution 1
Answered by Charles Putman

It may be the card itself. Promise ( www.promise.com ) makes an excellent UltraATA 100 card.

Solution 2
Answered by Bill Wiriawan

One tips before you buy your hardware is to do a research on your product on list, I would contacted IBM and ask for confirmation before I do the purchase, as most likely your case is caused by an incompatible hardware here.

Solution 3
Answered by Bryant Likes

If you want to have the new drive as your boot drive then you need to re-install Windows 2000 from the CD and make sure that you watch the setup screen and hit F3 to install a custom storage device driver. You should be able to find more detail on the SIIG website.
---
Question

Submitted by Giedrius

Hi. when I start Win2000 on then bottom of the screen I see "Windows 2000 Professional Evaluation copy Built 2195" Is this a Full version and how long I can use it?

Solution 1
Answered by Charles Putman

Yikes! This is an evaluation copy that will most likely expire in 120 days (from the date of the install). Where ever you got it, take it back.
---
Question

Submitted by Unknown

I recently downloaded Netscape 4.76 and after installation I keep getting the message that it is unable to access the server (even my own server ie www.isys.ca ) the same holds true for trying to get my e-mail. Any ideas?

Solution 1
Answered by Bill Wiriawan

Try clearing your cache (Temporary Internet Files), and restart your computer to clear the DNS cache that your browser might still have. Is the problem happened with IE, or NS, or both? try with another browser that you have, if you still have the problem, create a new connection, and make it to default, and reset your browser settings to default just to make sure that you didn't change anything wrongly. A troubleshooter is always a good place to find common problems. Hope this will help.
---
Question

Submitted by CY

Dear sirs / madam: I recently ran into a problem while trying to upgrade the CPU in my system and need help. I was running a P3 667mhz in an Intel VC820 mb (bios ver, p16) with 128 mb of PC700 non-ecc RDRam, Viper V770Ultra, LAN and modem cards in Win2000. The system runs fine. When I tried to install a P3 1Ghz in the system, win2000 first displayed a "winmgmt.exe" error and after I rebooted the system, I got the blue screen of death. Yet as soon as I replaced the old CPU, the system ran fine again. Intel tech support doesn't think the CPU is faulty and the MB support doesn't think the VC820 is at fault either. I'm thinking can the problem be a PC700 non-ecc RDRam? Can the ram be too slow for the system? Or do you think I have a faulty component that can be replaced? Any input is greatly appreciated. sincere

Solution 1
Answered by Ashton Smith

Changing the processor should not change the speed of the memory. The memory should be running at a speed that is dependent on the bus speed. I would check to make sure that you have the latest BIOS revision (http://www.intel.com/design/motherbd/vc/vc_bios.htm), and that you have selected the correct processor in the BIOS.
---
Question

Submitted Theresa Dorn

My explorer will not shut down so I can turn off the computer. Even manually trying to end task it will not. from the Presario people they had me download at microsoft.com website a windows 98 Second Edition Shutdown Supplement. My computer will not accept it. Please help. I am most frustrated! Have had this machine for 2-1/2 yrs with NO problems. I was online placing auctions when this occurred.

Solution 1
Answered by Ashton Smith

When you say that it would not install the Shutdown Supplement, what do you mean? Can you please be more specific as to what the error was?
---
Question

Submitted by Ken

I have Windows 98 (not SE) and 64 MB on IBM Notebook iSeries, 1440 at 300 MHZ and it seems to run slow. I have checked your Speeding Up Windows Tips and implemented them (most were set to optimum already). It seems to run the slowest when opening MS Word 97, especially opening Word documents (even 1-5 pages) and printing to HP 720C with latest driver (10.3). I run Scan disk regularly and Defrag., eliminate tmp files, etc. It seems like in the 20 months that I have had it has slowed down more than when I first got it. I have about 1.5GB of free space.
Will increasing memory to 96MB or 128MB speed up execution?
Would it help to reload Windows 98 since I have recovery CD?
Would it help to install Windows 98 SE? Thanks

Solution 1
Answered by Ashton Smith

It sounds like that you have exhausted most of the common ideas. If you have used your machine a lot, and have installed lots of programs, then it is a good idea to make a backup of all of your documents, E-mail, and favorites and then re-install the Windows OS. Installing from the Restore CD would be fine.
Getting more memory can make a difference, but if you are only opening Word right after a reboot then it is probably not related to memory (since you have 128MB of RAM).
As a test, when your machine comes up, do Ctrl-Alt-Del on the keyboard and do an "End Task" on everything except Explorer. Keep doing this until the list only shows "Explorer" you might have to "End Task" on things multiple times to get them to go away. Then, try running Word 97 after that and open a new document. If that makes a difference in your machine, then you probably have to many programs loaded and too many things starting up when Windows starts. In that case, you would want to clear things out of your Startup group on the Start Menu and check the things that are running automatically in the registry.
---
Question

Submitted by Dakshesh Patel

Hi, I upgraded my Windows 2000 Professional from Beta 3 to Release version. But I still get a text on lower right corner of my desktop saying "Windows 2000 Professional, Build 2195). I am curious how I can get rid-of that text. It's bothering me somehow. Thanks

Solution 1
Answered by Brian Lyttle

Dakshesh,The 'version branding' is controlled by a setting in the Registry. I have an excellent utility called Xteq Systems X-Setup from http://www.xteq.com
This allows you to turn this branding off in a safe manner. It also provides you with access to other cool stuff that might interest you. Check it out.

Solution 2
Answered by Charles Duncan

Install TweakUI from Microsoft, it can be found here: http://www.microsoft.com/ntworkstation/downloads/PowerToys/Networking/NTTweakUI.asp it supports win95, 98, Me and windows 2000, NT. You can find the option of showing the windows version on the desktop under the General Tap, just untick the checkbox.
---
Question

Submitted by Unknown

Hello.. I have a single, non-networked W2K machine (no printer even, currently...). In the services list, there are many that don't seem to apply to anything I do on my machine.... Is there a list of "what services you can switch to manual", to save better utilize memory and resources? I'm guessing a lot of the network monitoring-type services, the spooler service, etc.... Any help, opinions, or reference links appreciated.

Solution 1
Answered by Brian Lyttle

Hi,
I've turned off the following on my machine (has a printer and dial-up connection) :-
Routing and Remote Access
Remote Registry Service
NetMeeting Remote Desktop Sharing
Messenger
IPSEC Policy Agent
Indexing Service
Alerter
Task Scheduler

In the past I've turned off the following and had problems :-
Still Image Service (breaks scanner/digital camera linkup)
Event Log (Break lots of stuff, as well as services which may be installed in future)
I hope this helps. Make sure to disable each one at a time to see if affects the performance of your system.
---
---
Question

Submitted by Azim Jamal

Dear Computer expert: I bought a new system for Dell two months ago: Optiplex: Pentium III, Windows 2000, 10gig hard drive, 128meg ram, CD read/write, modem. The problem I am have every time we try to log in as different user, you get all the icons and then it reboots itself, it reboot twice before accepting a new user. I was told to download SP1 but that didn't fix the problem. Please help blue screen of death error 0x00000027. Thank you Best regards

Solution 1
Answered by Bryant Likes

If you're having problems with a system purchased from Dell computers you should always contact them first with technical problems. This type of problem should be covered by their support program.
---
Question

Submitted by Santhosh Kumar

We have a windows NT 4 network with windows 95/98 as workstations. Is there any way
1 to know which all IP's/Computers are in use -both from server and from a supervisor workstation ?
2. to know the computer name of a known IP address ?
Regards

Solution 1
Answered by Bryant Likes

I don't know of any way to determine if someone is logged on to a Windows 9X machine. As far as determining which computer is using an IP address there are two ways to do this. If your workstations are using DHCP to get their IP addresses then you can check the DHCP server to see which computer is using an IP. However, if you're using static IP addresses then your network administrator should be giving each machine a DNS record and a reverse DNS record which could then be used to determine the owner of the IP address.
---
Question

Submitted by Sam

I have a 4.2gb IDE (Seagate) hard drive setup as a slave drive in my PC. For some reason, Windows 2000 will not detect this drive. It shows up properly in the BIOS, and in every other OS I've installed (including: Windows 98, Windows Me, BeOS, and Mandrake Linux). What could be causing this? I should also note that the primary hard drive is a 10gb Maxtor, which I've heard causes problems with Windows 2000, but I'm not sure if that's related at all. Thanks in advance!

Solution 1
Answered by Bryant Likes

When you say it doesn't show up, where does it not show up? The first place you should check for it is in the Disk Administrator where you will be able to assign it a drive letter and format it. Once it has a drive letter it should then show up in explorer.
If you're drive isn't showing up in the disk administrator then you should check your device manager to see if Windows is detecting the drive at all. If the drive is not being detected at all I would check your BIOS settings to make sure you have configured the drive correctly and then boot to a DOS prompt and see if you can run fdisk on the drive.
---
Question

Submitted by Giedrius

How to remove help, settings, documents items from start menu and how to change start button name? I'm using WinMe

Solution 1
Answered by Bryant Likes

Stardock (http://www.stardock.com) makes a utility that allows you to customize your start menu and a program called Window Blinds that allow you to skin Windows and change things like the start button.
There is also a utility called TClock (search tucows for it) that will allow you to just change your start button as well as your tray clock.
---
Question

Submitted by Neeraj

hello there , I have a great confusion on cable select feature of cable select option for ide cables . It would be nice of you to send me or refer me to detailed information of this feature .. thanks

Solution 1
Answered by Bryant Likes
---
Question

Submitted by David

Hi guys, Is there anyway for the clipboard in office 2000 to open automatically when I open an office program, I know it's not important but it annoys me...

Solution 1
Answered by Bryant Likes

I am assuming you mean the clipboard menu. If so then right click anywhere on the office application menu and then click the Clipboard Menu. You will have to do this for each Office Application.
---
Question

Submitted by Aldenys Acosta

Bought a PC with Windows 2000 Pro. By now I've been able to figure out that I can not do video conferencing due to the firewall. Netmeeting needs ports 1720, 1731, and 1503 open. How do I open them? better yet, How do I get rid of the firewall restrictions? It's my personal PC and I don't need nor want all these security features. Thank You for any help you can provide

Solution 1
Answered by Bryant Likes

If you're using some kind of personal firewall software then try reading the manual to learn how to unblock ports. If you are behind a corporate firewall you will need to ask your network administrator to open the ports.
---
Question

Submitted by Marvette

I have Windows 98 SE as well as Office 2000 Premium Edition installed on my computer, which is at home and I am the only person who uses it. In just the past few days, I've been having trouble with my computer freezing while online: I get a message that tells me I do not have enough memory, although I have 128 mgs and "75% resources free". I don't get any response from any of the Windows Support sites, and I have been unable to access Windows Update - I keep getting this message: "Thank you for your interest in Windows Update. Your organization has decided to provide software updates internally rather than through Windows Update." This is crazy, because I am the "organization"!! This is totally new to me - what gives? I would greatly appreciate any help or suggestions you can give me!

Solution 1
Answered by Bryant Likes
---
Question

Submitted by Tom

I was trying to upgrade drivers on a Trinitron CPD 1730 monitor and when my computer rebooted, the screen was black. Is there any way to correct this other than a complete reload:

Solution 1
Answered by Bryant Likes

Boot to safe mode using the following instructions:
http://support.microsoft.com/support/
Once you have gotten into safe mode change your drivers back to the correct ones.
---
Question

Submitted by Eric

I had already asked some respective DVD companies these questions, but received no real response. Hopefully, you guys can help me out. When I play my DVDs, they often pause and then continue, almost as if the computer wasn't quick enough or was processing some other job. I have a PIII 500 ThinkPad with 128mb, an ATI Rage Mobile, PCI Crystal Sound Card. DMA is enabled, the newest driver installed, etc. Playing at 256 colors hasn't improved the situation. I had thought that it might have to do with the program (WinDVD and PowerDVD alike), or conflicts with other programs (Sony's OpenMG music converter), or the fact that I *whisper* flashed my drive to RCP-1. However, it was only when I had the same result playing a Flash game that someone's sent me that I realized the problem might be a simple one. Is there any simple solution to this problem? TKS!! I had tried turning all other programs running before, but it was long and tedious and there were things that couldn't be turned off. I had also thought that it shouldn't be a problem with my processing power.

Solution 1
Answered by Charles Putman

One of the tips I picked up from PC mag is to defrag the hard disk. Also, if you're running a virus program or anything else in the background, make sure that they're turned off also.
---
Question

Submitted by Patrick O'Neill

Your FAQ site says the following Q: Will America Online work on Windows 2000? A: Yes versions 4.0, 5.0 and 6.0 will work. I have just purchased a new Hp Brio at home which comes with Office 2000 already loaded. I cannot, however, get my AOL to access the Internet using Windows 2000 and AOL v5.0. The blue triangle spins for about two seconds and just stops. Aol says that version 5.0 does not work on 2000and that I will have to wait until version 6.2. Are you able to offer some sort of patch. As you state in FAQ that it will work? Many thanks

Solution 1
Answered by Charles Duncan

There are two versions of aol 5, one that works with win2000, the other does not. Try downloading the aol software at http://www.aol.com/win2000/ it also contains questions that aol has posted.
---
Question

Submitted by Unknown

can I get the directx7.0 software other than downloading it ?

Solution 1
Answered by Mean Drake

Many IT magazines that have CDs issued with every issue provide this and many other shareware on the CD.
---
Question

Submitted by Steve South Australia

G'Day, I am about to upgrade to a P111 Celeron 700. My intention is to edit our home video. Do I need to get Windows 98 ME or will Movie Maker run on Windows 98? Can you suggest a suitable Capture Card to use with my Sony Analogue Camera and MS Movie Maker. Thank you.

Solution 1
Answered by Mean Drake

How will you get movie maker into Win98? Or do you mean other 3rd party software like Adobe Premiere? That should work.
---
NOTE: Please note that ActiveWin nor the AskAW staff can take any responsibility for anything that may/may not occur when taking our advice. If you do anything that is included in our advice, you are doing so at your own risk.
If you have any questions pertaining to a particular answer please contact the person who replied.
You can contact anyone of our staff here or email us at askaw@activewin.com