DirectX
ActiveMac
Downloads
Forums
Interviews
News
MS Games & Hardware
Reviews
Support Center
Windows 2000
Windows Me
Windows Server 2003
Windows Vista
Windows XP



News Centers
Windows/Microsoft
DVD
Apple/Mac
Xbox
News Search



ActiveXBox
Xbox News
Box Shots
Inside The Xbox
Released Titles
Announced Titles
Screenshots/Videos
History Of The Xbox
Links
Forum
FAQ



Windows XP
Introduction
System Requirements
Home Features
Pro Features
Upgrade Checklists
History
FAQ
Links
TopTechTips



FAQ's
Windows Vista
Windows 98/98 SE
Windows 2000
Windows Me
Windows Server 2002
Windows "Whistler" XP
Windows CE
Internet Explorer 6
Internet Explorer 5
Xbox
Xbox 360
DirectX
DVD's



TopTechTips
Registry Tips
Windows 95/98
Windows 2000
Internet Explorer 5
Program Tips
Easter Eggs
Hardware
DVD



ActiveDVD
DVD News
DVD Forum
Glossary
Tips
Articles
Reviews
News Archive
Links
Drivers



Latest Reviews
Xbox/Games
Fallout 3

Applications
Windows Server 2008 R2
Windows 7

Hardware
iPod Touch 32GB



Latest Interviews
Steve Ballmer
Jim Allchin



Site News/Info
About This Site
Affiliates
Contact Us
Default Home Page
Link To Us
Links

News Archive
Site Search
Awards



Credits
©1997-2012, Active Network, Inc. All Rights Reserved.
Please click here for full terms of use and restrictions or read our Light Tower Privacy Statement.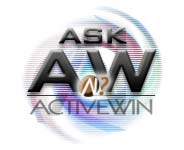 Welcome to AskAW! This section of our web site lets you submit questions about any problems/queries that you may have about Windows. Be it from a little icon that annoys you to hardware freezing your PC, we will try and help you out. You can submit your questions by e-mailing us at askaw@activewin.com. You can browse through previous questions over at our Archive Page. Who knows what you might find.
Here are the answered questions for 12-07-2000
---
Question

Submitted by Ed

Hi, need you help. When my friend installed Windows 2000 Professional Edition on his pc, he did not set up any windows password on it. His kids were playing with the computer and somehow they set-up a password by mistake but they do not know how they did it.(do not remember what was the password they put it in) So now, how can I reset the password and be able to retrieve some database files very important from my work since I am unable to get to Windows? Thank you very much.

Solution 1
Answered by Charles Duncan

If it is the administrator account, then you're in a bit of trouble, you could try logging in with the guest account, just type guest as the login name, but there is a good chance it won't work as you won't have access to the administrator account. If you have another administrator account then you can login in using that the only other option is to install windows 2000 on top of itself and it should let you choose another password. The safest option is to install it onto a second hard drive if you have one, and boot up using that system then just access the other files as normal.

Solution 2
Answered by Geoffrey Lo

When you set up Windows 2000, it is COMPULSORY to set an administrator password. Just log on as "administrator" and use the password you entered. You probably told W2K to assume the same user to log on every time. If you don't have any passwords, just install Windows 2000 over it again, but to a different directory, such as C:\Win2000. Hope this helps, if it doesn't you can always e-mail me for further details
---
Question

Submitted by Andy

I am a typical road warrior. what's important to me is: OS stability, battery life [fast boot/hibernation], and connectivity to wince, gps, 10baset, modem to vpn, etc I am going to buy a 700 mhz p3 with 128k ram, 12-20 G HD

Solution 1
Answered by Charles Duncan

I would choose windows2000

Solution 2
Answered by Geoffrey Lo

If you do not need any game support or OS-Included Video Camera support, I would choose Windows 2000, mainly because of its stability and the excellent support for Laptops. Hope this helps, if it doesn't you can always e-mail me for further details.
---
Question

Submitted by Brandon

can you dual boot win me and win 2k?

Solution 1
Answered by Charles Duncan

You can, but I would install them onto different hard drives/partitions, make sure you install WinMe on the primary hard drive/partition then when you have finished installing WinMe just run win2000 setup and choose another drive/partition then when its finished you will have a boot menu which you can choose which operating system to load.
---
Question

Submitted by shark54

I was just wondering what was up with those little icons to the left of some of my favorites bookmarks in internet explorer... thanks

Solution 1
Answered by Charles Duncan

Some web sites will include their own icon when you bookmark (or add to Favorites).

Solution 2
Answered by Mean Drake

you can do it too for your website. Just add an icon file favicon.ico in the root directory of your website.
---
Question

Submitted by Albert

I am using Windows 98SE on Tyan S1590 w/ AMD k62-400 384meg SDRAM. The USB port are not working despite enabling it in the BIOS. Device Manager indicates Yellow Exclamation on "VIA Tech 3038 PCI to USB Universal Host Controller" and the Device Status states: "The NTKERN.VXD device loader(s) for this device could not load the device driver. (Code 2) To fix this, click Update Driver to update the device driver." I downloaded and installed VIA's USB Filter to no use. Please help. Thank you.

Solution 1
Answered by Charles Duncan

Check with either the motherboard mfg or VIA for separate drivers for the USB ports.
---
Question

Submitted by Jason

After installing IE 5.5 I get the following error... Initialization of dynamic link library C:\WINNT\System32\DDRAW.dll failed. The process is terminating abnormally. Any ideas

Solution 1
Answered by Marc Strickland

This is one of the files loaded during internet explorer installation. I would simply run the installation program again. This should solve the problem.
---
Question

Submitted by Donna

I got a message saying error loading 3dFxCmn.dll and WmVCore.Dll

Solution 1
Answered by Marc Strickland

Here is the fix for 3dfxCmn.dll (use extreme caution when editing your registry! Get an experienced user to help you!)
22. Error message: Error loading 3dfxcmn.dll.
Editing the registry can be tricky, if in doubt, call our tech support line: USA: 800-234-4334 UK: +44-0-753-212-612 Go to (in the Windows 95 or 98 registry): HKeyLocalMachine\Software\Microsoft\Windows\CurrentVersion\Run You'll see the "3dfx tools" key on the right hand side, with the data contained within the key: rundll32.exe 3dfxcmn.dll,UpdateRegSettings Remove the comma "," and "UpdateRegSettings" so that the line only reads: rundll32.exe 3dfxcmn.dll Now reboot.
Wmvcore.dll is used to run Napster. Try removing napster and this error message should go away. I also read that this problem can be resolved by reloading windows media player, however, I have not tried to do this and I can not verify that it is true.
---
Question

Submitted by Unknown

Is there any way to have two different font styles or sizes in word pad or note pad?

Solution 1
Answered by Marc Strickland

Yes, in WordPad select format, font and choose what you want. In notepad choose edit, then set font and choose what you want.
---
Question

Submitted by Katie

Dear sir, This queer problem has worried me to death for a few days and I have = no idea how I can fix it. Please help me out. I was in the habit of installing true type fonts that are downloaded from the internet. About a week ago I noticed there were some fonts missing in the font list (e.g. in Microsoft Word). Then I tried to re-install some of them but instead a message popped up that reads (paraphrased)ˇ§Canˇ¦t install this font. Maybe too many fonts have been installed, or there is some damage in that font.ˇ¨ Then I deleted some other fonts to try if I could install them back, to no avail. I tried to double-click the font icon in the font table in the hope of seeing a sample of that font, but nothing is shown. But the strange things are yet to come. Ever since that happened, every time I run my computer, I discover at least one font is mysteriously gone. =This problem still continues and never seems to stop. Such old fonts as =Times New Roman and Arial just disappeared. Now I
couldnt view the WebPages in their original text style. But what truly worries me is =that the fonts will keep on disappearing themselves till there is none. And there is no way to install them back. What is wrong with my computer? Does my computer have virus? I attempted to re-install those font-related files (like .exe, .dllˇK) It still doesnˇ¦t =work. Could you tell me what part of my computer is related to this =particular font problem? What files (if deleted carelessly) should I re-install =to the system to make the problem go away? This problem leaves me baffled because everything else works fine in =the system. I dont have a clue what part of the system goes wrong. Thank you so much for your time and attention. This problem really drives me nuts. I truly appreciate everything from you. If you need further information concerning that problem, please ask me. Yours faithfully.
P.S. I can assure you the problem has nothing to do with the fonts themselves. Both the downloaded fonts and the Windows fonts succumb to the problem and keep going haywire. More info: in the Control Panel, under FONTS, every font is there, not a single one is lost, but when I double click a particular font, a sample doesn't pop up as it should. But very strangely the fonts are gone two by two everyday I run the computer. I can't use the fonts in every application like Word, CorelDraw, PowerPoint, etc. What the hell has happened? Now there are only four fonts left that can be used. I can't imagine what my days will be when they are all gone.

Solution 1
Answered by Marc Strickland

Hmmmm... I just had a similar font problem, not exactly like this though. Sounds like a problem with your "GUI" "Graphic User Interface". Try doing the following: First start by scanning your hard drive for virus's and use scandisk and check for hard drive errors (check 100%) Did this fix it? If so then :), if not get out your boot floppy disk, insert it into the floppy disk drive and reboot with CD support. Put in your windows CD into the CD Rom drive. Next go to the windows directory "cd\windows" and delete the fonts directory "deltree fonts". Now go to your CDRom and reload windows on top of itself. You should retain all of your original settings and your fonts should all be there and they should be intact. This worked for me perfectly!! GOOD LUCK!
---
Question

Submitted by Kent Hudson

I'm running WinMe, and every time I start up, Windows Explorer opens up automatically. It's just a window that opens and shows my root drive like any other Windows Explorer window, and I have to close it each time I reboot. Is there any way to keep this from popping up every time my computer starts?

Solution 1
Answered by Geoffrey Lo

Check the following files for C:\Windows\Explorer.exe:
1. The Windows Program Start Menu, Startup Folder:
2. The HKEY_LOCAL_MACHINE\Software\Microsoft\Windows\CurrentUser\Run*
3. Entries in C:\Windows\System.ini*
*These are dangerous files and if you are inexperienced in computing, I do not recommend going through these methods without backing up. Hope this helps, if it doesn't you can always e-mail me for further details.
---
Question

Submitted by Chris

Hello there. I play a lot of games on my computer that is currently running Windows ME. I have A LOT of really old games from the mid to late 80's and early 90's have certain memory requirements that Windows ME just can't seem to meet. So I would like to set my machine up to be able to boot DOS 6.2 or Windows ME. How could I do that?

Solution 1
Answered by Geoffrey Lo

You will need a program such as Symantec System Commander which helps dual booting. If you own Windows NT or 2000, NT and 2000 support dual booting. Hope this helps, if it doesn't you can always e-mail me for further details
---
Question

Submitted by Unknown

I have W98 SE. I am unable to defrag my C drive. It gets to 2% and then loops back to 0%. Any suggestions? Thanks

Solution 1
Answered by Geoffrey Lo

It probably restarts because of a change in the Hard Disk. To stop this, you should disable Scheduled Tasks and any anti virus. If it still doesn't work, you can change the Defrag options not to scan the hard disk first. Hope this helps, if it doesn't you can always e-mail me for further details
---
Question

Submitted by Lynn

I recently tried to upgrade my 95 platform to 98, inserted the CD but mistakenly inserted the full version instead of the upgrade. Now when I try to upgrade using the proper CD it gives me an error message stating that the upgrade version needs to be used. What is needed to perform this upgrade and are there any hidden files which need to be deleted to try this over again. Any help would be appreciated.

Solution 1
Answered by Mean Drake

If you have the full version CD there should be no problem. Just insert the cd and run setup.exe. If prompted for the upgrade version, then use that CD.
---
Question

Submitted by

Bob

I recently bought a Toshiba laptop, that came with windows me preinstalled, the Yahoo "y" icon is on my tool bar and I can't get rid of it? Help. Thanks

Solution 1
Answered by Mean Drake

That must be yahoo messenger running. Uninstall it or remove it from startup.
---
Question

Submitted by Tom

Hi There is a file that is in the WINDOWS folder called x3t6b7.exe. Windows keeps on telling me that this file is causing an illegal operation. I don't have a clue what this file is. When I click on it nothing happens. What can I do to stop it causing an illegal operation? Is it safe to delete? Any suggestions? Thanks

Solution 1
Answered by Mean Drake

It is not a windows system file in any case. See windows allows you to delete it. It might be in use if it loaded at startup and then you won't be able to delete it except from DOS.
---
Question

Submitted by Deb Mills

I am having trouble. My system will not reboot or shut down from the start menu. When I try to do Scandisk in system tools it gets to "checking folders" and gets kicked back to "file allocation tables". I received email yesterday on AOL 6.0 - when I downloaded the attached file my 6.0 got wiped out. I have totally uninstalled AOL from my system but am still having these problems. Also, after hitting ctl/alt/del twice to reboot, the memory test doesn't operate. Can you help me?

Solution 1
Answered by Mike Weisberg

Unfortunately it sounds like you received a virus as an attachment in your aol e-mail. My best advice to is to try and back up any important data on your machine and then format it. This will get rid of any virus that might be present and give you a fresh copy of your os. And I would advise you to invest in a good anti virus program like mcaffee 5.13 or Norton 2001. Hope this helps.
---
Question

Submitted by John Barron

The option to change home (or start) page in my TOOLS menu is grayed out and unusable. It always seems to reflect the homepage of whatever ISP last downloaded their version of the IE on my system (AOL, EXCITE @HOME, EROLS, etc). I know I can edit the registry to change it to whatever I want but I don't understand what is locking out the option to change it in the first place. Can you please help? Thanks very much

Solution 1
Answered by Mean Drake

This might be a feature of the IE SDK that the ISPs use to customize their IE 5.0 browser.

Solution 2
Answered by Mike Weisberg

It sounds to me like you have a customized version of ie 5 from your internet service provider. I would try downloading the newest version from Microsoft's download site.
---
Question

Submitted by Paul Watson

My military reunion group roster is in Jim Button's famous DOS database program, "PCFILE". Because space is a premium at my Florida winter quarters, I purchased an HP Notebook that had Windows Me installed as the operating system PCFile will not run on the machine. An error message appears when I try to open the program in DOS. What can I do to enable me to run PCFile?

Solution 1
Answered by Mike Weisberg

Goss, I haven't seen that file type in ages. Since it is such an old type, I would try using word 2000 to open since it offers a wide range of converters and filters.
---
Question

Submitted by J Linkes

Is there a way to assign text to a keystroke so that when you execute the keystroke, it will output the text at the current position of your cursor?

Solution 1
Answered by Mean Drake

In programs like MS Word for instance you can set up a macro to do this for you.
---
Question

Submitted by Unknown

How do I uninstall NT 4.0 from a dual boot Windows 95 and NT machine. The Uninstall in the winnt subdirectory does not work. It comes back with the error message "can not find setup log.

Solution 1
Answered by Andrew Funderburk

Your best bet would be to back up important information you have stored under Win95 and then reformat your drive(s) and do a clean install of Win95. The reason for this is that NT changes the boot information of your hard drive and just removing NT will remove information needed to prompt you for which OS you want and ultimately prevent you from booting your computer.
---
Question

Submitted by John

Hi, Upon attaching HP CD-WRITER 9600 external to a IBM 600X ThinkPad running Windows 2000 pro SR-1 the computer hangs after being told to Shut Down. This does not happen if the CD-Writer is not attached or if power to CD-Writer is turned off. It does not happen with other scsi external peripherals such as Iomega Jazz drive or Sony CD Rom drive. It happens with the HP CD-Writer as the sole external peripheral and when the other peripherals attached with it. The CD-Writer is attached via Adaptec APA-1480A SlimSCSI CardBus. I have changed the SCSI cables and am using short high quality scsi cables. Everything's works perfectly except that I can not Shut Down or Stand By the computer when the HP CD-Writer is attached and turned on. I hope you can help. Thanks.

Solution 1
Answered by Andrew Funderburk

Are you using the Adaptec cd recording software? If you are, there is a patch that fixes a problem between DirectCD and Windows2000. The patch (3.02d) directly affects hangs. Go by http://www.adaptec.com and download this update if this is what you're using. Also, make sure you have the most up to date SCSI card drivers.
---
Question

Submitted by Dottie

I installed a desktop theme from the internet and it came with a start-up and shut-down screen. I deleted the desktop theme but cannot figure out how to get rid of the start-up and shut-down screens. Please help if you can. Thank you.

Solution 1
Answered by Andrew Funderburk

Search for logos.sys and logow.sys on your hard drive and delete these files
---
Question

Submitted by George Gordon

Hello, I keep sending my mother-in-law web page address of pages I have made. She write emails me back saying she can not get into the pages. I know the pages work since I send them to lot's of people. She is running IE 4.72 and the following comes up....... An error occurred in the script on this page Line 199 Char 1 Error Could not complete the operation due to error 8000000a Do you want to continue running scripts on this page yes no I received a similar message about scripts occasionally but usually if I click on no the page loads. I have been told that this error related to Java Scripts but I've not been told what to do about it. Thank you for any help you can give.

Solution 1
Answered by Travis Rendell

Hello. I would recommend telling your mother-in-law to upgrade to Internet Explorer 5.5. Good luck.
---
NOTE: Please note that ActiveWin nor the AskAW staff can take any responsibility for anything that may/may not occur when taking our advice. If you do anything that is included in our advice, you are doing so at your own risk.
If you have any questions pertaining to a particular answer please contact the person who replied.
You can contact anyone of our staff here or email us at askaw@activewin.com