DirectX
ActiveMac
Downloads
Forums
Interviews
News
MS Games & Hardware
Reviews
Support Center
Windows 2000
Windows Me
Windows Server 2003
Windows Vista
Windows XP



News Centers
Windows/Microsoft
DVD
Apple/Mac
Xbox
News Search



ActiveXBox
Xbox News
Box Shots
Inside The Xbox
Released Titles
Announced Titles
Screenshots/Videos
History Of The Xbox
Links
Forum
FAQ



Windows XP
Introduction
System Requirements
Home Features
Pro Features
Upgrade Checklists
History
FAQ
Links
TopTechTips



FAQ's
Windows Vista
Windows 98/98 SE
Windows 2000
Windows Me
Windows Server 2002
Windows "Whistler" XP
Windows CE
Internet Explorer 6
Internet Explorer 5
Xbox
Xbox 360
DirectX
DVD's



TopTechTips
Registry Tips
Windows 95/98
Windows 2000
Internet Explorer 5
Program Tips
Easter Eggs
Hardware
DVD



ActiveDVD
DVD News
DVD Forum
Glossary
Tips
Articles
Reviews
News Archive
Links
Drivers



Latest Reviews
Xbox/Games
Fallout 3

Applications
Windows Server 2008 R2
Windows 7

Hardware
iPod Touch 32GB



Latest Interviews
Steve Ballmer
Jim Allchin



Site News/Info
About This Site
Affiliates
Contact Us
Default Home Page
Link To Us
Links

News Archive
Site Search
Awards



Credits
©1997-2012, Active Network, Inc. All Rights Reserved.
Please click here for full terms of use and restrictions or read our Light Tower Privacy Statement.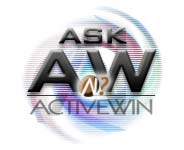 Welcome to AskAW! This section of our web site lets you submit questions about any problems/queries that you may have about Windows. Be it from a little icon that annoys you to hardware freezing your PC, we will try and help you out. You can submit your questions by e-mailing us at askaw@activewin.com. You can browse through previous questions over at our Archive Page. Who knows what you might find.
Here are the answered questions for 12-14-2000
---
Question

Submitted by Ajay Hira

I am trying to access a Win2000 PC on my home network from a WinMe PC and I always come up with an error - It says that I must enter a valid password to access the computer. I have never set a password and obviously this is a security feature of Windows 2000 but how do I change it so that the PC with ME can access the Win2K PC without any security?

Solution 1
Answered by Charles Duncan

Just type in your user name and password you use for win2000 the first time and hit the save details check box. Then next time you try to logon on it won't ask you.

Solution 2
Answered by John Lampson

Actually, what you need to do is look at what user you're logged on as on your Windows ME system. Say this user is 'user1' and you have a blank password (e.g., you don't have to enter a password when you log on to ME. On the Windows 2000 machine, click on Start, then Run, and type in lusrmgr.msc. Right-click on Users and select New User. Type in a username that matches the one you use on ME. If you don't have a password on the ME system, leave the password blank. (This is a security risk, so if you have sensitive files, consider using a strong password!) Then when you connect to the 2000 machine across the network, simply enter in the password you assigned to that user and you should be able to connect.
---
Question

Submitted by Paul

Dear AW, I was going to buy the original Tomb Raider but I noticed that Amazon says the game is for Win 95 and 98. Will it play on my WinMe PC? Cheers

Solution 1
Answered by Charles Duncan

Almost all games that run under 98 will run under WinMe, check the website, there may be some information there, but I would think it should run ok.

Solution 2
Answered by Ashton Smith

There is a note about Tomb Raider having problems with Windows 2000 at http://www.tombraiderchronicles.com/headlines140.html , but I haven't seen anything about Windows ME.
You might want to try downloading the demo at http://download.cnet.com/downloads
---
Question

Submitted by Tom from Hawaii

Hi, Since deactivating my internet connection with MSN, my IE5 now defaults in the internet options/connections to NEVER DIAL A CONNECTION. This is irritating for I now cannot connect to the net through the internet explorer icon... it gives a message that there is no connection. How do I fix this?

Solution 1
Answered by Charles Duncan

Just go to Internet Options Control Panel, then the connection tab and select the connection you want, click the set default button then the radio button always dial my default connection.
---
Question

Submitted by Bob Michon Jr.

Hello: I have Windows 98 (SE) configured so that each member of my family has their own password to log in. That way they can configure their desktop to their preference. Is there a way to change the background or wallpaper on the logon screen? I realize it is using the default setting I had before adding the user profiles. Thanks for your help. Sincerely

Solution 1
Answered by Charles Duncan

I think that if you when you get to the logon screen, you hit cancel button instead of logging on with a user. When the desktop appears change it there and it should change it on the logon screen.
---
Question

Submitted by Roger Hinsdale

I just received new computers (two systems) that came with ME installed. I installed Adobe PhotoDeluxe 2.0 and got a write failure on the C: drive during install on both machines. The system continued and appeared to install the product. The problem occurred when the system re-booted. It detected an improper shutdown and immediately launches Scandisk that is set to a thorough media check. How do I recover from this (am now running the over 1.2M cluster sweep, but don't know if it will solve the problem)? I don't care about the Adobe product, I can uninstall it, but surely want to customize scandisk so it doesn't default to the surface test. For that matter, how do I avoid ever running scandisk?? Your help woudl greatly be appreciated. Regards

Solution 1
Answered by Ashton Smith

If an improper shutdown happens, Windows ME will always do a scandisk on reboot.
---
Question

Submitted by Andrew Wright

Can I hide the Device manager tab through a registry entry so that my devices can't be removed easily? Thanks

Solution 1
Answered by Ashton Smith

This website has documentation for Windows 9x: http://registry.winguides.com/display.php/185/ Please edit the registry with caution it is always a good idea to do a backup first.
---
Question

Submitted by Vincent

I have a Win 98 laptop which I need to connect to
1. My employers Lan based NT Domain
2. My Lan based Workgroup
3. The client's Lan based NT Domain
At the moment I am changing the PC's Workgroup in Network Neighborhood properties and rebooting. Surely there must be a way of configuring Win 98 with a list of workgroups one of which can be chosen at login time. Regards

Solution 1
Answered by Ashton Smith

This is a challenging problem. The best way I have found to do it is with NetSwitcher available at http://www.netswitcher.com/. You can download a free demo and buy it for a minimal price. I used it at a previous job, and it made my life a lot easier.
---
Question

Submitted by Adam

what version of DirectX ships with Windows ME?

Solution 1
Answered by Mike Weisberg

Windows ME ships with version 7.0a of directX. Just to let you know, the new version DirectX 8.0 is now out and you can download it from http://www.microsoft.com/directx.
---
Question

Submitted by Unknown

Hi I cannot get my machine to keep the font I selected (Tahoma) when I boot up. How do I make it stick? Thanks

Solution 1
Answered by Mike Weisberg

Some more information would be greatly appreciated. But if you are talking about a word processor like word 2000, it is rather simple to make Tahoma your default font when ever a new document is opened. Just open word, then click on the format tab and click on font. From there, select the Tahoma font and then click the button at the bottom of the box that says "default". it will ask you to confirm that you want to set the Tahoma font to be the default font. Say yes and it will become the new default font. Hope this helps.
---
Question

Submitted by Chris

Dear Sir, I recently downloaded a program via Getright onto my computer. [I am a novice with computers.] I then realized that it was a programmed which I did not want on my computer and attempted to delete it, but I subsequently discovered that I had gone about it in completely the wrong way. I first deleted the zip file in Getright and all other references I could find to it on my computer - but the name of the program remains in my Add/Remove Programs file in the Control Panel [Win 98]. Every time I activate it, it gives me the following message:
RUNDLL
Error loading
c:\progra~1\common~1\instal~1\engine\6\intel3~1\ct or .dll
Could you advise me what I must do get it deleted from the Add./Remove program.
Thank you.

Solution 1
Answered by Mike Weisberg

An easy way to do that is to download a windows tweaking program. A good one is tweakUI from microsoft's power toys web site. Once installed, it will allow you get rid of any entry on the add/remove list. Beware though that is not a novice program, you should know what your getting into before doing this.

Solution 2
Answered by Ashton Smith

If the program is still installed or partially installed on your machine then you should do one of the following things to correctly remove it:
- Use the uninstall program that is associated with the program that you installed (usually in its program directory)
- Install the program again, and then remove it through the Add / Remove Programs function in the Control Panel
---
Question

Submitted by Unknown

Looking for Microsoft plus!98 or pluspack 98 this is update or add 0n for windows 98 disk cleanup, or something that has more features for disk cleanup. Thanks

Solution 1
Answered by Ashton Smith

Plus! 98 might be hard to find now that Windows ME is out. Symantec also makes a good program called CleanSweep 2001 that has some nice clean and optimization features.
Details on Microsoft Plus! 98 can be found at http://www.microsoft.com/catalog/display.asp?site=719&subid=22&pg=2
Details on Norton CleanSweep 2001 can be found at http://www.symantec.com/sabu/qdeck/ncs/
---
Question

Submitted by Randy Pearson

Hi, I'm running Win.98SE, Netscape Communicator 4.7 and Internet Explore 5.5. I've successfully imported my Netscape bookmarks into Internet Explorer but the problem is when those bookmarks are selected, Netscape opens and the web site will open in Netscape. How do I get these "favorites" to open in Explorer?

Solution 1
Answered by Ashton Smith

Make sure that IE is your default browser. You can check this by doing the following: In IE 5.5 go to Tools and then Internet Options, click on the Programs tab and make sure that the check box at the bottom is checked. Then relaunch your browser and it should give you the option to chose IE as the default program for Internet Related documents.
---
Question

Submitted by Damon

I am experiencing a problem resetting the Internet Options for Programs in Internet Explorer. When I go to Tools, Internet Options and click on Programs and try to select my email program, only Outlook is there as a selection. However, I do not want to use Outlook I want to use Outlook Express. But there is no selection available in the drop-down list for Outlook Express. Is there something I can do to fix this. Thanks!

Solution 1
Answered by Ashton Smith

For some reason Outlook Express isn't registered correctly in the registry. Re-install Outlook Express. You can do this by:
- Running the original install and just selecting Outlook Express (http://www.microsoft.com/windows/ie/ )
- Going to Windows Update on the Tools menu. Then show installed updates and check Outlook Express and try to download and install again.

Solution 2
Answered by Mean Drake

if outlook express works fine then run it and set it as default mail client and see if it then gets listed in the Mail Clients list in IE 5.5
---
Question

Submitted by

Marie Dulaney

I hope someone can help me or point me in the right direction. Every time I run defrag it gets to 3% and returns to 0%, it does this over and over like it's hung up or something. I also am experiencing IE "Illegal Operation" coming up on my computer, I'm not always on-line when this happens and now it also freezes up on my monitor and I have to re-start my computer to get it off. Can anyone tell me what my problems are and what I can do to fix ?

Solution 1
Answered by Ashton Smith

You can do two things to force a defrag to work properly:
- Close all programs, and then do a Ctrl-Alt-Del before you start the defrag. On the Close Program window that comes up, do an End Task on everything except for Explorer. When Explorer is the only thing left, then click Cancel on the Close program window and do a defrag. Once the defrag starts, don't touch your computer until it is done or it will have to restart over and over.
- You can boot your computer into safe mode by holding down the left Ctrl key on the keyboard on boot and choosing Safe Mode from the menu. Once your computer is up and running in safe mode, do the Ctrl-Alt-Del thing again and clear out everything but explorer and then do the defrag. This method will be slow because Safe Mode doesn't use the most efficient drivers to do things.
---
Question

Submitted by The Brewers

Hi, I just did a clean install of Windows 2000 Pro on my computer. When I boot the computer and it gets to the splash screen, it displays a blue screen with a message on it and then starts the boot process over. It just keeps doing this. I can't read the message on the blue screen because it disappears so quickly. If by chance, it completely boots correctly, which it does sometimes, then the system runs rock-solid. Any suggestions?

Solution 1
Answered by Ashton Smith

I would check to make sure that all of your hardware and key software are compatible with Windows 2000 at http://www.microsoft.com/windows2000/upgrade/compat/default.asp
Make sure that you have Service Pack 1 installed as well as all of the key items that are available if you do a Windows Update on your computer while connected to the Internet. The compatibility updates on this webpage will be key to solving hardware and software problems.

Solution 2
Answered by John Lampson

One more thing you may want to check is Event Viewer. One time when Windows 2000 boots up properly, go to the Start button, click on Run, and type in eventvwr and press Enter on your keyboard. Look for red Error messages, and see if one of them points to a potential solution.
---
Question

Submitted by Arun

After an improper shutdown, ScanDisk is not functioning during the next boot. Instead, it is showing an error :"There was an error running SCANDISK.EXE, or it was canceled. Run ScanDisk for Windows, as you may still have errors on your disk(s). Press any key to continue starting Windows..." I am able to run scan disk manually in Windows and DOS.

Solution 1
Answered by Ashton Smith

Do a scandisk of all of your hard drives in Windows, make sure that you chose the thorough option. When that is done, do a defrag of all of your hard drives as well. You might want to make sure that you have updated the virus definition files that are a part of your Anti-Virus program (if you have one installed).
---
Question

Submitted by Arun

I am getting the following error in Internet Explorer 5.0 ,when I visit certain websites with Java applets like http://www.classontheweb.com IEXPLORE caused an invalid page fault in module <unknown> at 0000:00000009.
Registers:
EAX=8164cb5c CS=0137 EIP=00000009 EFLGS=00010287
EBX=06abfce4 SS=013f ESP=06a800ec EBP=06a80110
ECX=9801a806 DS=013f ESI=06a801dc FS=582f
EDX=bff7678c ES=013f EDI=06a801c0 GS=0000
Bytes at CS:EIP:
00 0a 06 65 04 70 00 65 04 70 00 54 ff 00 f0 79
Stack dump:
0000013f bff76780 06a801c0 06abfce4 06a801dc 06a80198
06a802d0 bff7678c 06abfce4 06a801a8 bff858be 06a801c0
06abfce4 06a801dc 06a80198 00000000
Is there any solution to this problem?

Solution 1
Answered by Ashton Smith

Delete all of the files in your Temp directory in Windows (unless you need something there). Go to Tools, and then Internet Options and then clear your History as well as delete your temporary Internet files.
Then, connect to the Internet and a Windows Update from the Tools menu in Internet Explorer. Other than language and themes, make sure you install all of the key updates. This includes security updates, Java virtual machine, and any Service Packs available for IE.
I suggest that you use IE 5.5 with Service Pack 1.
---
Question

Submitted by Adam

I have a Toshiba DVD SD-M1102 DVD drive for my PC and after installing windows me, the Operating system says that the dvd drive is just a CD rom drive. When I put a music cd or a regular cd rom in, it reads that ok, but when I put in a dvd in it tells me to insert a cd. I looked in the device manager and the driver for the DVD drive is using the standard Microsoft cd driver. The Dvd drive does not require any drivers. Any thoughts on how I can fix this

Solution 1
Answered by Ashton Smith

A lot of DVD drives do in fact use CD-ROM drivers. You need to make sure that you have the drivers installed that came with the drive along with a program of some sort to watch DVD movies with. That program probably came with your DVD drive.
Here is a statement from Toshiba's website at: http://www.toshiba.com/taecdpd/support/drivers.shtml
ATAPI CD-ROM and DVD Drivers
Toshiba's CD-ROM and DVD-ROM drives do not require any unique device drivers for Windows '95/'98/2000/NT.
After installing your drive and re-booting, your system should recognize your CD-ROM or DVD-ROM.
Win '95/'98/2000/NT Operating Systems support all Toshiba ATAPI CD-ROM and DVD-ROM drives natively.
---
Question

Submitted by J

I just added a Windows 2000 PC to a small 5 station peer to peer network. Three of the PC's on the current network are Win95 PC's, & one is a Win98. The Win2000 and Win98 PC's see each other fine, but the win2000 will not network with the win95 pc's.....is there some additional steps I need to do to get the new win2000 pc to network with the "older" win95 pc's?? Or, will it just not work at all? Thanks.

Solution 1
Answered by Ashton Smith

I would go into the network properties and make sure that they have the same protocols and client installed. For example, you might want to have TCP/IP and the Client for Microsoft Networks installed if the other machines do as well.

Solution 2
Answered by John Lampson

J, You'll also want to make sure that the workgroup names are the same. Secondly, check in Network Places. Do a search there for the names of the computers that you can't see. If they pop up, there is connectivity. I have run into the scenario many times with workgroups where the list of computers doesn't come up without a little nudging.
---
Question

Submitted by Joseph

To whom it may concern My friend has a WinMe OS having a "4.90.3000" build number. But I rember (according to your FAQs about WinMe) that the final version build of WinMe is "3000.2". Is the 3000 build a pre-release version of WinMe or are they the same? I hope that you will answer my simple question.

Solution 1
Answered by Andrew Funderburk

They're the same
---
Question

Submitted by Marie

Dear helpers, I am running windows 98 and quite often I have the following problems: when I try to shut down I get a blue screen that tells me that there was a fatal exception at such and such, usually at OE something or other and the computer gets stuck (won't shut down or restart). Also when I am running a program up pops a message telling me the program has performed an illegal function and will be shut down. Why does this happen? and what do I do to fix it. Yesterday it was while I was using Real Jukebox. I shutdown and restarted and had no further problems for the day. It happens occasionally with other programs as well. I spend a lot of time in Windows help trying to find solutions but usually with out much success. I received this message in Automatic Skip Drivers: "Windows encountered problems while trying to star your: Network\MSTCP\0002". Hope you can help. Thanks

Solution 1
Answered by Mean Drake

Seems like a case of OS decay. How long have you been using this PC with the same OS with lots of programs installed and uninstalled. If it is over 2 years (Arbit figure) then time for a reformat and reinstall with all the latest drivers.
---
Question

Submitted by Dow

I would like to change the verse, "You have new mail" using Eudora 4.3.2. to a personal message. How do I do that?

Solution 1
Answered by Mean Drake

I use V 5 and here you can get rid of the message box at the end altogether and have a .wav file to play there. You can have it recorded in your or someone else's voice.
---
Question

Submitted by Jeff Ferman

Hi I am running Windows me and somehow the other day I lost the association between all of my photos and the image preview program that is built in to ME. I am able to click on my photos and say open with image preview but when I do this I do not have the ability to print these pics directly for the image preview program. Also when I reassociate the files this way the icon is different then it was before, I now have a magnifying glass icon and in the past I had a picture frame with a paint brush in the middle for the icon. Is there anyway to get all of this back to normal? I would really appreciate any help you can give me. Thank you

Solution 1
Answered by Mean Drake

you can easily assign any program to open the file type that you want it associated with. You can do this easily using Windows Explorer and go to Folder Options>File types.
While doing this you can select the icon that you want too.
---
Question

Submitted by Rhonda

Hello! My question is about the integration between Visual Basic Macros and Excel. A button on the toolbar was added to Excel which will bring up a large picture and several other Marco buttons to complete different functions. This was working steadily until some files were deleted off the system, mostly files from the temp directory. This macro now gets the following Message: Unable to create embedded object. Sometimes it goes into debug and then crashes other times, it will not give you an option to debug. I re-installed Excel and the Visual Basic tools within Microsoft Office but to no avail. Any suggestions? Thank you for your assistance

Solution 1
Answered by Mean Drake

Many VBA macros, specially third party macros might have installed some controls, like ocx files on the system. One of these probable got deleted..
---
Question

Submitted by Jonathan Mirabal

How do I change the caption of My "Start" button?

Solution 1
Answered by Mean Drake

Simple. Open the File Explorer.exe in a hexeditor. Better if you open a copy of it. Then look for instances of the string S.t.a.r.t. in the right pane. IIRC it occurs five times in the file. It is the last one that you change the characters to whatever five letter string that you want to. Then boot to DOS and replace the original Explorer.exe in the windows directory with this one. Make sure to keep a backup of the original Explorer.exe in a safe place though. Reboot and you are home. If you change the string in the wrong place, you will see the Word Start changed in other locations like in "Start bar and task menu options" phrase in settings and in other dialog boxes as well. As long as you keep the original explorer.exe, experiment all you want with your modifies file. Remember, you cannot save changes while windows is running as the file is in use. You have to exit to DOS and change the file.
But never lose the original explorer.exe
---
Question

Submitted by Unknown

Could you please tell me how to download a game, etc. from my Windows 98 into the A drive and re-load it onto my daugthers Packard Bell with Windows 3.1. Please be specific. I am a computer dummy. Thanks.

Solution 1
Answered by Mean Drake

Most games this way cannot be copied onto a floppy as:
1. You need to run a setup program not copy files individually.
2. The setup program may be too big to fit on a single floppy.
If you do have a setup program you can fit it over multiple floppies using a program like Winzip.
As I suspect you do not have a setup program. In this case you can (though it will work only if you are lucky) copy the entire game folder on a floppy (or multiple floppies using Winzip) and copy the folder onto the other computer.
This most likely is not going to work. But will work if the program is not associated with registry entries and other ini files or dependent files in Other folders.
Also there is a legality of copying programs involved here.
---
Question

Submitted by Imran

Hi, My problem is that I have a Athlon 800Mhz classic processor, Gigabyte 7vx, 128mb pc-100, ATA-66 Seagate HDD. The Problem is that when I boot into WinMe , just before it boots to desktop it pauses and then it comes to desktop area, but sometimes it would just suddenly freeze and this problem was also there in Win98Se, I have been using the latest drivers of all my components , funny thing is that this problem is not affected in Win2kSp1, and WinMe also crashes a lot, even more than Win98Se , and thirdly can u let me know how can I switch off all those background application like system restore except for system file protection and reduce the load on my Os. Thanks

Solution 1
Answered by Mean Drake

You can disable System restore and reduce the load on your system by right clicking My Computer>Go to properties/performance and then I think the file system Button. Somewhere there if I remember correctly. Fact is I Feel WinMe is full of bugs and that is why I am back to win98 and don't remember 100% where the setting is. I had disabled System restore from there.

Solution 2
Answered by Robert Gara

To disable system restore go to the control panel and click on system, click on performance, then click on file system, then click the troubleshooting tab, right at the bottom is disable system restore, place a check mark there, it does make a difference in performance
---
Question

Submitted by Sylvia

Hello, my name is Sylvia. I purchased a new computer in Aug.2000. It was built with a Pentium III, 800, Voodoo3 3500,soundblaster live, CD-Rw and all the latest bells an whistles at that time. There has been problems from the beginning. screen freezes, error messages, but the most frustrating is not being able to use all components in some programs. Now I need to narrate in PowerPoint. It tells me that there is no power to the microphone. It works great on my other old computer. If I try to use Real Presenter G2 it tells me there is an MMSX error ox80040255 in function create sessions O. I run win98 and have internet through Direcpc satellite connection. I have downloaded an update driver to SoundBlaster and worked with Microsoft on missing code to even get the record button to activate. There is still something wrong with this computer. Frequent messages, you have preformed an illegal activity and shuts down which takes forever and I often need to do CTRL,ALT,Delete a few times for it to reboot. The biggest problems seem to be in programs dealing with Microsoft Office 2000 Professional. I need to finish my PowerPoint for a post graduate course. Thanks

Solution 1
Answered by Mean Drake

To be honest, it sounds to me like whoever built your computer did not what they were doing. If it is a pre-built ie. compaq, Dell ect, send it back. If you have had problems with from the beginning, then something is messed up with the hardware or the installation of the software (Windows). The first computer I had did this, it was a Compaq, after I formatted the hardrive and reinstalled everything it worked fine for a while but all the problems came back. Then I built my own computer and have not had any trouble, I probley just biased but I hate pre-built computers, never again will I buy one. So try reinstalling windows and all your programs, but save you important stuff first :), and see if that helps.
---
Question

Submitted by Pete

I upgraded to Windows Me & now my IE keeps crashing when using hotmail with the message,"MSHTMLED.DLL caused an error in IE". Anyone out there know anything about this? I even deleted IE and downloaded a new one with the same problem. I am scared to just delete the dll because I don't know what it does. thanks! I found this answer in the FAQ, but don't know where to find Q175379. Q--Why does MSHTML.DLL keep crashing when I use Internet Explorer 4/5? A--As the file name says, MSHTML.DLL controls many of the layout and HTML processing functions of Internet Explorer, including stylesheets (CSS), Outlook Express etc. The cause of this problem may be that the file is damaged or corrupted. The resolution depends on what kind of system you have and whether or not you have Active Desktop enabled. To get full, complete answers, We recommend checking out the Knowledge Base Article Q175379. Also, is MSHTML.DLL different from MSHTLED.DLL? cheers

Solution 1
Answered by John Lampson

Pete, To find the specific Microsoft Knowledge Base articles, go to http://www.microsoft.com and click on Support and Knowledge Base. This may be where you went to troubleshoot your problem. Select specific article ID and enter in your Q number.
I found your possible solution here:
http://support.microsoft.com/support/
I hope this helps!
---
Question

Submitted by Tom

After "DOSKEY is loaded" (or something like that) there is a long wait before something happens. What's going on? Is it necessary?

Solution 1
Answered by Ashton Smith

DOSKey is a program that allows you to go through your previous commands when you are in a DOS session by using the up arrow on the keyboard.
Unless you need that feature, you can disable it in your autoexec.bat file.
If you want to see what is causing slowness, do a step by step confirmation bootup by holding down the left Ctrl key on bootup and choosing step by step confirmation on the keyboard.
Say "Yes" to everything one by one and you will soon learn what is causing slowness on bootup.
---
Question

Submitted by Craig and Deb

I'm operating Windows 98 SE on a Compaq Presario 1200 laptop with IE 5. Frequently I'll be surfing the internet when IE5 does not seem to recognize I've clicked on a link. It seems to stall. When I click multiple times on the "stop" button and then re-click on the link it will, more often than not, then work properly. Is this a problem with IE5, the laptop or both? Do you know of a fix? Thanks for any help!

Solution 1
Answered by Mean Drake

I would first check my mouse to see if there is a problem there. This is an extremely unusual problem.
---
Question

Submitted by Jason

Whenever my computer finishes booting, an open window appears (this particular window displays the contents of my hard drive). No matter what I can think of to stop this, the problem always persists. I've tried disabling ALL startup items within msconfig, and rebooting, but the problem recurs. Microsoft have examined my system.ini and win.ini files and cannot pinpoint what may be causing this annoying feature, although they are still working on it. Any thoughts or suggestions? I am running Win ME.

Solution 1
Answered by Mean Drake

In addition to the Win.ini and the system.ini, a search should be also made of the registry as well as the startup folder in your Start Menu.
These are the four common places where the programs are made to start up with windows.
In the registry>
HKEY_CURRENTUSER_Software>Microsoft>Windows>Current Version>Run
&
HKEY_CURRENTUSER_Software>Microsoft>Windows>Current Version>RunServices
are the keys to see what programs are starting up.
---
NOTE: Please note that ActiveWin nor the AskAW staff can take any responsibility for anything that may/may not occur when taking our advice. If you do anything that is included in our advice, you are doing so at your own risk.
If you have any questions pertaining to a particular answer please contact the person who replied.
You can contact anyone of our staff here or email us at askaw@activewin.com