DirectX
ActiveMac
Downloads
Forums
Interviews
News
MS Games & Hardware
Reviews
Support Center
Windows 2000
Windows Me
Windows Server 2003
Windows Vista
Windows XP



News Centers
Windows/Microsoft
DVD
Apple/Mac
Xbox
News Search



ActiveXBox
Xbox News
Box Shots
Inside The Xbox
Released Titles
Announced Titles
Screenshots/Videos
History Of The Xbox
Links
Forum
FAQ



Windows XP
Introduction
System Requirements
Home Features
Pro Features
Upgrade Checklists
History
FAQ
Links
TopTechTips



FAQ's
Windows Vista
Windows 98/98 SE
Windows 2000
Windows Me
Windows Server 2002
Windows "Whistler" XP
Windows CE
Internet Explorer 6
Internet Explorer 5
Xbox
Xbox 360
DirectX
DVD's



TopTechTips
Registry Tips
Windows 95/98
Windows 2000
Internet Explorer 5
Program Tips
Easter Eggs
Hardware
DVD



ActiveDVD
DVD News
DVD Forum
Glossary
Tips
Articles
Reviews
News Archive
Links
Drivers



Latest Reviews
Xbox/Games
Fallout 3

Applications
Windows Server 2008 R2
Windows 7

Hardware
iPod Touch 32GB



Latest Interviews
Steve Ballmer
Jim Allchin



Site News/Info
About This Site
Affiliates
Contact Us
Default Home Page
Link To Us
Links

News Archive
Site Search
Awards



Credits
©1997-2012, Active Network, Inc. All Rights Reserved.
Please click here for full terms of use and restrictions or read our Light Tower Privacy Statement.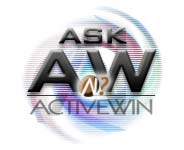 Welcome to AskAW! This section of our web site lets you submit questions about any problems/queries that you may have about Windows. Be it from a little icon that annoys you to hardware freezing your PC, we will try and help you out. You can submit your questions by e-mailing us at askaw@activewin.com. You can browse through previous questions over at our Archive Page. Who knows what you might find.
Here are the answered questions for 12-25-2000
---
Question

Submitted by Fred Young

I just installed W2k, which seems great. I notice that it takes a very long time to create menus, both in folders and off of the start menu. I assume that this is cache related, if so is there an easy way to speed things up. Also what is the equivalent of 'msconfig' in w2k? Thanks for your help. Regards

Solution 1
Answered by Brian Lyttle

Fred, Your menu related problem is proabably due to the fact that Windows 2000 uses fancy alpha-blending (the fade effect)for the menus, and your machine cannot keep up for some reason. My suggestion is to try turning off "Use transition effects for menu and tooltips", This option is found in the Display Properties applet, under the Effects tab. As for msconfig.exe, take a look at this page... http://www.techadvice.com/win2000/m/msconfig_w2k.htm
---
Question

Submitted by David Lynum

Hey guys, I was looking into MMC today and downloaded version 1.2 from Microsoft's website. Well, after installing it I went to add some snap-ins. Guess what? There weren't any listed in the "add" screen. I've searched Microsoft's web-site for snap-ins to add in. Guess what? Couldn't find any!! What gives with this product? Can you tell me where I can find even the supposedly built-in snap-ins that are supposed to come with the product initially? In your article on the product it didn't mentione where the Microsoft snap-ins could be downloaded from. Thanks

Solution 1
Answered by Brian Lyttle

David, Snap-ins are part of Microsoft's Windows NT/2000 system administration tools. When you install something like Internet Information Server, or Exchange then a default set of snap-ins are installed to manage these applications. Custom snap-ins can be written, but they tend to only exist for enterprise-class applications.
---
Question

Submitted by Tim

My system had a Matshita CD-RW CW-7586 burner. Things worked fine. Then I added a Creative CD2423E NC101. Now the system hangs under certain conditions. Here are the symptoms:
1. A CD placed in either drive syncs and can be opened in Explorer without trouble.
2. If there is no CD in the Creative drive, when I run an app that accesses that drive (like Adaptec CD Creator or CD Copier), the system hangs. However, if I then open the drive door on the Creative drive (by pressing the eject button) then the system starts working as it should.
3. If there is already a CD in the Creative drive, when I run the same app the system hangs and I cannot open the door.
4. When the system hangs, I cannot reboot (by Ctrl Alt Del). I have to reset the machine.
The system is configured this way: Second IDE channel: CDRW Master, CDROM Slave. I've also tried reversing master and slave. Same thing. Also, I've tried putting the CDROM on the first IDE channel, with the hard drive. Same thing. Any suggestions?

Solution 1
Answered by Charles Putman

By chance do you have DMA enabled on both drives? If so, turn off DMA on the CDRW. Although many mfgrs recommend enabling DMA, this tends to cause more problems than solutions.
---
Question

Submitted by Ed

My Spell Check in Outlook has never worked: I do not have the following files that Win 98 Secrets says I should have.
1. mssp2_en.lex
2. mssp232.dll
3. custom.dic
If I were to download these files into C:\Program Files\Common Files\Microsoft Shared\ and the book says \Proof which I do not have will I be able to get my spell check to work? Or what would you suggest to get this missing component fixed??? Thank you for any help you can send me.

Solution 1
Answered by Charles Putman

Adding any of the Microsoft Office components (Word, Excel, etc) adds spellcheck.
---
Question

Submitted by Joseph

Can I upgrade to Windows 2000 Pro if I am using Windows Me? Can I dual-boot Windows Me and Windows 2000? If not, can I install Windows 2000 into a seperate hard drive (I have 2 hard drives) and still use a dual-boot environment? Tell me more about dual-booting. Thanks and more power.

Solution 1
Answered by Charles Putman

You can dual boot between Windows Me and Win2000 Pro. As with Win98, WinMe needs to be installed first. Also, WinMe does NOT qualify as an upgrade product to Win2000. You need Win95/98/NT to do an upgrade to Win2000 Pro. If you have a second HD, that should work fine to install Win2000 to.
---
Question

Submitted by iain boomer

gee where do i start. i installed win200 first then winME and the boot menu does not work. they are on the same hard drive but different partition. one is c: the other is called f; - error i made in formatting. anyhow, i can boot into win2000, but not winME. conserning win98 which i have on my laptop, about 1 in 4 applications that i download will not install, would win98SE solve the problem or would it remain - by the way, winME does the same to me. i've formatted everything lots of times. i've search msn home page for problems with winME - boy is the list long. the one i have i cannot install office, wordperfect, winamp, and probably others. so if you get back to me before the holidays or not, have a merry chirstmas and a happy new year, and thanks in advance.

Solution 1
Answered by Charles Putman

Hate to say this, but your gonna have to start afresh. Like Win98, WinMe needs to be installed first if you're going to dual boot. After you have WinMe installed/configured, then install Win2000 on a separate partition. If you want to access the same applic's, Win2000 will have to be formatted under FAT32 (not NTFS).
---
Question

Submitted by

R

ichard

Dear AW, I am trying to set up a peer to peer network at home using a Win2000 pro & Win ME. I am faced with one problem. I am able to access Win ME using the win2000 but am unable to access win2000 using win ME. Please help.

Solution 1
Answered by Charles Putman

If you have the computer witn Win2000 formatted in NTFS, that's the reason WinMe (and Win98) can't read a NTFS drive (whereas Win2000 has no problem as it's "backwards" compatable)

Solution 2
Answered by Mean Drake

Strictly speaking Windows does not need autoexec.bat and config.sys to run properly. Just rename these file names with different extensions and reboot. If this still does not solve your problem, then you will have to reinsstall windows with these files still renamed. Do a clean reinstall from DOS.
---
Question

Submitted by James

Hi, I installed windows 2000 pro from scratch. I configured my modem connection for a dial-up ISP. I entered the username and password. When I go to dial the ISP, the password comes up doubled. The password is "blue", the dialer shows "********". I can't get rid of the eight character (*). I have to retype my password eveytime I want to log on. Checking the save password button has no effect at all. Please help.

Solution 1
Answered by Charles Putman

This is actually something not to worry about. Windows automatically puts in stars (*****) for the password. For some quirky reason, Win2000 doubles 'em, but it's still the same password.
---
Question

Submitted by Unknown

Where are the active desktops??? downloads page not found on most ????

Solution 1
Answered by Brian Lyttle

Hi, Active Desktop is a technology available since the advent of Internet Explorer 4. It basically allows you to put web content on your desktop. The original idea was for what is called "Push" Content. ie. Content which is pushed at you rather than you having to surf and find it. This idea failed overall, and Microsoft removed the Channels Bar from recent versions, and other firms like PointCast have disappeared.
---
Question

Submitted by Alex

I am running Windows Me. Every time I boot up my laptop computer one of my folders will pop open on the screen during the booting and stays there, its just a window showing the files I have in this folder,and I have to close it. It annoys me a lot. Is there anyway to get rid of this problem?

Solution 1
Answered by Marc Strickland

I have had this problem myself. I am not sure why it happens, however, it can be stopped. In my case it was a directory that was not removed during an un-install process. I did not want the directory so I deleted it and the problem went away. I know this is not a very professional fix, however, it worked for me. If this is the same situation for you then issue resolved.
You can also:
Click Start, point to Settings, and then click Taskbar and Start Menu.
Click the Advanced tab, and then click Advanced.
In the Start Menu folder, find the shortcut to the program you do not want to start each time you start Windows, and then delete it from Startup folder.
---
Question

Submitted by Umesh

Hi, I was Installing Windows 2000 Professional and it gave me an error of " Hardware Malfunction - Please contact Hardware vendor. " My configuration for the PC is Kinetiz 7T Motherboard, AMD Athlon 700 Mhz CPU, 64 MB SDRAM, 15 GB HDD, SIS6326 AGP Card with 8MB, Dell Keyboard, PS/2 Mouse. The installation process starts and then in the screen of detecting the Hardware of Keyboard & Mouse, it give the error message after completing 50%. Can U provide some solution for the above problem? Thanks

Solution 1
Answered by Marc Strickland

Microsoft has released the Windows 2000 Readiness Analyzer. This tool is the replacement for the Microsoft Windows NT 4.0 Compatibility Tool.You can download this tool from the following Microsoft Web site:
http://www.microsoft.com/windows2000/upgrade/compat/ready.asp
The Windows 2000 Readiness Analyzer tool analyzes your computer and reports potentially incompatible hardware devices and software programs. The tool compares the devices and programs on your computer against a list of known issues. Although this check also occurs during Windows 2000 Setup, you can download and run the tool before installing Windows 2000 to help ensure your installation will succeed.
---
Question

Submitted by Frank

Hi there,
My OS is Windows ME
Last week I was infected with the Navida virus;however, I was able to clean and I'm up and running
Some how I got a (_RESTORE) folder on my C: drive.
I scan the entire drive and the only place it detects the viruses is in this folder, and I'm trying to delete the folder.
I've tried:
*Right clinking and selecting delete, and it gives me this error
"Access denied The source may be in use"
*I also tried to let my antivirus program to quarantine the virus but for reason not know to me it can not delete nor quarantine.
*I tried starting the computer in safe mode to see if I can deleted from there ,but no success.
As far as I know, I believe this folder is not being used unless I want to restore back to the past configuration which I believe that I wouldn't do. Any suggestions welcome

Solution 1
Answered by Marc Strickland

You must use you floppy disk and re-boot to dos. You can delete the folder there using the "deltree" command. This will delete the folder. Once you reboot, however, windows will create the folder again to save recovery files automatically. At this point, after a successful dos delete the virus should be gone.
---
Question

Submitted by Linda Tubbs

Dear Sir or Ms, I tried to defrag my computer and nothing happened. The screen was white, with absolutely no colored boxes anywhere. I let it run for 1.5 hours, and it just kept saying it was searching drive c for errors.Our system info is as follows:
Aptiva E2U 333
Microsoft Windows 98 4.10.1998
Clean install using OEM Preinstall Kit /T:C:\WININST0.400 /SrcDir=C:\WINDOWS\OPTIONS\CABS /IS /IW /IQ /ID /IV /P J /IZ /II /NR /II /C /U:xxxxxxxxxxxxxxxxx
IE 5 5.50.4522.1800
Uptime: 0:00:27:42
Normal mode
On "DEFAULT" as ""
IBM Corporation
AuthenticAMD AMD-K6(tm) 3D processor
160MB RAM
48% system resources free
Windows-managed swap file on drive C (1475MB free)
Available space on drive C: 1475MB of 6137MB (FAT32)
Any suggestions? Thanks a ton

Solution 1
Answered by Ashton Smith

I would do a thorough scandisk of all of your hard drive partitions first. Before you do that, do Ctrl-Alt-Del and do an "End Task" on everything except for Explorer. When Explorer is the only thing left, go ahead and do a thorough scandisk. After that is done, immediately try a defrag.
If those things don't help you, try rebooting in safe mode and doing a thorough scandisk and defrag from there. It will be slower from safe mode, but it should work.
---
Question

Submitted by Marsha

My husband has just purchased a new computer for his work. It has Windows ME on the computer. The problem is that the software he uses, (ADP, the software provider for General Motors), does not support Windows 2000/ME, and will not work with those programs. He needs to purchase Windows 98, Second Edition, in order for his software to work. Can he purchase this from you? Thank you.

Solution 1
Answered by Ashton Smith

I would contact ADP to see if they have a patch for Windows ME. Windows ME is a part of the 95/98 product line, but has some differences that make older programs incompatible. You can buy Windows 98 Second Edition at OfficeMax, CompUSA, Staples, or online at www.buy.com or at any of the other computer software stores. ADP probably has a patch to get their program working correctly
---
Question

Submitted by Harold

To whom it may concern; We are trying to get into a system that has a password. The employee how set up the computer is now gone, and along with him went the password. Please inform me on how to change the password. Thank-You

Solution 1
Answered by Marc Strickland

I assume you are talking about a"bios password". To remove this password, shut off the computer and open up the box. Look inside and find the motherboard (the big circuit board). If you look around you will the the battery (looks like a nickel or quarter). Remove the battery and let the computer sit idle overnight. In the morning replace the battery and start the computer. Whalla the password prtection is gone.

Solution 2
Answered by Ashton Smith

Please specify what kind of password you are trying to find. Does it happen in Windows? Does it happen when the computer is first turned on (from the BIOS)? Please be more specifc.
---
Question

Submitted by Carole

I have been having trouble with Windows freezing up, especially when I go to turn the screen on. I have taken in the tower twice now, as when it freezes up, the cursor and keyboard will not respond at all. Eventually the screen saver comes on, then the screen goes black. Both times I have taken it in to the shop, they hook it up and works fine. Now the other night I went to turn the screen on, and connected to the Internet to check out my e-mail, it froze up again. After a few minutes the cursor moved, so I tried to go into start and restart, nothing. This was like this for over half an hour, finally I thought I might as well shut it down, the screen came back on, into my e-mail. The message there was that a fatal error had been made, due to me trying to e-mail a photo. I had neglected to put the right address on, and the message stated this caused the shut down. The computer shop suggested I contact Microsoft as you may have something I can download into my computer. ( Oh, I did press Ctrl, Alt and Delete keys all at once to unfreeze computer, nothing, a message came up that if I pressed these keys again I would loose info.)

Solution 1
Answered by Marc Strickland

It sounds like the computer shop people you are dealing with are a bunch of total morons! I would advise you find a new computer shop! You do have some problems though. There is, possibly, a long list of things you will have to do to fix this type of problem. You can start by running Scandisk to check for hard drive errors. Then try to re-load windows 98 on top of itself, sometimes this will work Ultimately though, the easiest thing to do is to back-up your personal files and re-format your hard drive and re-load your operating system.

Solution 2
Answered by Mean Drake

These freeze problems are often due to faulty RAM too.
---
Question

Submitted by Unknown

Hi.. I have windows 98 SE, and four CD ROM drives, two internal IDE and two external SCSI. I would like all my programs and games to search for their CDs in all available drives, so far only some programs do that. I understand that windows 2000 has such a management system, where all drives come under the one letter. Is it possible to upgrade windows 98 to do so? does windows ME support this?

Solution 1
Answered by Charles Duncan

Most games will only work if the cd is in the first cdrom that is the listed after hard drives.
---
Question

Submitted by Greg

I use IE to get to newsguy ( pay for news service), well I like to go into the news groups with files with .mpg .avi etc, when I click on the file to d/l it the windows media player opens and the d/l shows in the media player. When I used to use netscape you could tell it what to do wiith what files, like save to disk etc..how do you do that in IE ? So bottom line, I wan to click on multi media files in IE and save them to disk not have the media player open and play the file. THNX you guys rock !!!!

Solution 1
Answered by Mean Drake

Right click on the link and from the Ppop up menu select Save Target as...
---
Question

Submitted by Ken

I just recently upgraded a machine from Windows 98 to Windows 2000 Professional. I specified upgrade, but during the course of the installation it performed a clean system install instead. As to how this occured I have my theories, but the biggest problem I've encountered as a result of this is the loss of my email in Outlook Express. Because my original Win 98 files are seemingly still intact, I imported the .DBX's associated with Outlook Express from my old Windows directory, but the email that is imported is out of date (deleted ages ago) and there is approximately a 6 month gap in my email messages. I have alot of mail (around 5,000 messages) and many of these are important for legal reasons. In my mind it seems likely that I can recover this mail since I never deleted anything from my old Windows directory, so if this is possible can you please help me to locate the files necessary for importation and recovery of my mail? What are the locations that OE stores it's mail files? Is it possible that Win 2000 removed these files somehow? I would be overjoyed if you could help me. Sincerely

Solution 1
Answered by Mean Drake

I have seen them in two different places on different computers. On mine they are in Windows/Application Data/Microsoft/Outlook Express

Solution 2
Answered by John Lampson

Click on Tools, Options, and Maintenance and look for Store Folder. Just backup that folder and you'll be okay.
---
Question

Submitted by Justin

Is it true that Norton's causes conflicts with Windows 98? What is the reason for this? and how can it be overcome?

Solution 1
Answered by Mean Drake

I have seen it installed on may Win98 PCs and have yet to see conflicts. It does have a large memory footprint but thats about it.
---
Question

Submitted by Unknown

Hello, I have some annoying problems. I am using Internet Ex. 5.5. Before I switched there was an icon of the world that would spin when working. Now I have a MSN logo. How do I change this? I also have a MSN Internet set up icon on my desk top that I CANNOT delete! Is there any way to get rid of it? I have an HP running 98SE. Some of your tips for speeding things up did not work or were not offered. For instance I tried setting the VCache as you recommended and there was no allowance offered to change this. What gives? p.s. I have 128 of 133 SDRAM. Would another 128 noticeably speed things up? Thanks for any help

Solution 1
Answered by Mean Drake

I do not know the registry entry but WinBoost, a tweaking utility allows you to change the animated logo that you are referring too. In fact I even made my own series of frames and made them as the animation.
---
---
Question

Submitted by Unknown

Hi, just like to know is there a way to disable the File->New->Windows from IE? so user cannot open another IE browser when one has already open? Thanks

Solution 1
Answered by Mean Drake

Seems to me to be a pointless thing to customize. New windows can be opened from umpteen locations. I often 6-8 windows open and have never thought of doing it from File>New.
New windows can be opened from the desktop IE icon, the quick launch bar, by right clicking on a link and selecting open link in new window or shift clicking on a link.
Seems to be also an exercise that has no solution as Can you disable the File New in any other software?
---
Question

Submitted by Randy

Sound is distorted (choppy) when playing CD or streaming media. I'm not too happy with this player (Windows Media player 7) and will uninstall if I can't figure out the bad sound quality. I'm using a system with k6-2 500 and 96 MB of ram. Thanx for any help you can give me

Solution 1
Answered by Marc Strickland

Sounds like you have too many resources open. Try shutting everything that is non-essential off before playing files. Press 'ctrl alt del' one time at the same time and close everything except 'explorer' and 'systray'. The files should play smoothly.
---
Question

Submitted by Ken

I can download and install all updates except those from Microsoft. My Norton Utilities autoupdate works, Netscape update works, just not Microsoft!! I have tryed using a different site but still it starts to install the update then stalls. I have left it for as long as 24 hrs, and still no good.

Solution 1
Answered by Brian Lyttle

Ken, This webpage might be of some use to you... http://www.microsoft.com/windows98/downloads/corporate.asp
---
Question

Submitted by Selina

I have a client with pure WinNT 4.0. They are using a DOS application. They have 15 CAL's, all 15 pepole can log on. When the 11 person logs on, One person's mapped network drive has to be disconnected to enable that person to access the DOS application on a network shard. Any ideas? The "limit Users" is set to 100. Thanks

Solution 1
Answered by John Lampson

Selina, First of all, if they are running in a workgroup environment (not logging on to a domain) they will only be able to use 10 connections simultaneously. Secondly, if they are logging on to a domain, make sure that Licensing Manager (in Administrative Tools) has been updated to show 15 licensed connections. I hope this helps you out!
---
Question

Submitted by Bruce

Hi guys I recently upgraded from Window 95 to Windows 98 using the Windows 98 Upgrade program. 2 Problems:
1. My Internet password and 'auto connect' feature are no longer retained from session to session like it was before and I have to re-enter my password and click on the "connect" spot every time. I am usong Netscape Communicator as my browser. Is there a bug in the program? If so, is there a work-around? I'd appreciate any help.
2. At the same time, I upgraded my hard drive from 2 gig to 10.2 gig. I can't find 2MB. Do I need an upgraded BIOS ? Any suggestions?
Thanks

Solution 1
Answered by That Jim Guy

(1) Try this. Open your windows\system.ini file and find the section: [Password Lists]. Under that you should see at least one entry similar to the following (except this is mine, of course): THATJIMGUY=C:\WINDOWS\THATJIMG.PWL
Now shut down windows, and reboot. While rebooting either hold the CTRL key or repeatedly press the F8 key (this should bring up the Win 98 boot menu). Choose #6 (I think it is Safe mode, dos prompt).
Now cd \windows and rename the .pwl file to <whatever the name is>.old in my case, it would be THATJIMG.OLD.
Reboot the computer. You SHOULD be asked for your name and password again on bootup and you SHOULD be able to auto-connect to the internet without typing it in (you may have to the first time, but the option to save the password should be there.) If this does not work, let me know, there may be one more step (I had the same problem).
(2) When you say you can't see 2M do you mean that your total space on your hard drive is 10M not 10.2M? If so, be aware that when a manufacturer says a drive is 10.2M it is 10.2M UNFORMATTED. When you format, depending on the operating system, you lose some space. It is not unusual to lose 2M.
I hope this helps, and Happy Holidays.
---
Question

Submitted by Rob

My single, stand alone PC seems to have reconfigured itself as if it were part of a network. "Windows Update" tells me to check with my System adminstrator for updates. The modem also tries to dial out to the internet at boot up. Everything was working fine then these two things changed and I assume that they are associated with each other. How do I change the system network settings so Windows Update will work again?

Solution 1
Answered by That Jim Guy

This is a bit complicated, but *should* solve the problem. On the Win98 CD is a set of Admin tools that are NOT installed when you install windows. Pop in your Win98 CD and go to the following directory: \TOOLS\RESKIT\NETADMIN\POLEDIT Run the program called POLEDIT.EXE. From the menu of that program, choose File/Open Registry. You should see two icons there "Local Computer" and "Local User". Under "Windows 98 Network" expand "Update" and make sure "Remote Update" is DESELECTED. Under "Windows 98 System" expand "Network Paths" and make sure "Network Path for Windows Setup" is also DESELECTED. Under "Windows Update" make sure all the options there (3 of them) are DESELECTED. Click "OK". Exit the Policy Editor and reboot your PC. This should solve the problem, if not, please let me know.
Happy Holidays!
---
Question

Submitted by Linda

hi....hoping someone might beable to help me with a fatal exception error at 0167:BFF9DFFF. No one at my computer maker seems to know what to fix. Any help will be appreciated..Many thanks

Solution 1
Answered by That Jim Guy

Microsoft is notorious for meningless error messages. Did it say which module the error occurred in? What exactly where you doing at the time the error occurred? Have you installed any new software or hardware recently? Can you reproduce the error? If so, how?
Sorry for all the questions, but with cryptic error messages that Microsoft does not publish the meaning to, we need more information in order to help you better. If you provide this as best you can, it could help a lot, and I will continue to work on this with you. Happy Holidays.
---
Question

Submitted by Jim

Hello, and thanks for your help. My firm is supporting an antiquated workstation build for our equities dept. This particualar workstation has (and always will have) only a version of internet explorer running. I have been having a problem getting one of our apps to load - but I've isolated the problem down to the treeview control. The very simple HTML below works fine on the company's normal workstation build using IE 5.0, but will not work with IE 4.0 on our equities build mentioned above.
<<Treeview Test.html>>
But the msg boxes in the VBscript code produces the following:
start: Will display only Node1, Node2, Node3 tvwFolders.nodes is Nothing tvwFolders.nodes.count=0 Object doesn't support this property or method Object doesn't support this property or method Object doesn't support this property or method image list name=ImgCtl

Solution 1
Answered by That Jim Guy

Check the version of the comcat.dll file. It should be 4.71. If not, install the VB5 runtime files on that computer. They are located here if you don't have them: http://support.microsoft.com/support/kb/articles/Q180/0/71.ASP
If this doesn't work, let me know and I'll look into it further. I could be that IE4 does not support VB's nodes.add method for some reason (I'll try to find out)
---
Question

Submitted by Unknown

My question concerns viewing media files(Mp3,wav,etc). I used to be able to right click on a media file and go to properties and i could find out what format- i.e., Mono or stereo 8bit or 16bit etc. and even preview the file. I changed players to media player and now it just shows how big the file is. Is there any way to correct this? Thanks

Solution 1
Answered by That Jim Guy

Hmmm I use WinAmp and my properties also only shows the size etc. not the format.
What player were you using before? It most likely added a properties tab in the registry for the format. you may want to reinstall that player, but not make it the default player and see if that solves the problem.
Happy Holidays.
---
Question

Submitted by Tracee

The question I have is: When I put in a disk to program my modem and drivers, i was kicked into the MS-DOS screen and saw, Non-disk or disk error, replace, strike any key to continue, and when i did this , it just kept coming back to this prompt, then, I restarted my computer, when it came back up, I was in a red screen with various places to go like: "advanced Bios" "PC Configuration and Set up" Password changes, etc. Now my computer changed screens and had three, thick bars horizontial in red,white and blue. I just purchases this computer 3 days ago and I know that the "me" software had previous bugs, please help me to get back to the Windows screen. Thank you

Solution 1
Answered by That Jim Guy

Wow. Ok first of all, the disk was probably bad, but you most likely know that by now.
I would seriously consider contacting the vendor before doing anything to make sure you don't void the warranty.
If you boot into the BIOS at setup (that's the red screen) it could be that when you were upgrading the drivers, ic could have been flashing "upgrading" the ROM chips and something went wrong because of the bad disk.
Ok so when you are at the red screen, there should be an "exit and don't save configuration" or "exit and save configuration" or just an "exit" option then a prompt maybe to save or not. Don't save it and see if windows boots. If not, see if there is an auto-configure option in the BIOS setup and try that then save and reboot.
But contact tech support for the computer first to be sure. If you are still having this problem, please let me know.
---
Question

Submitted by Mary

Sirs: I installed a new hard drive, and Windows 2000. Since then, I lost my tool bars on the windows screen, and have multiple "EXP" thingies in the tool bar location. I cannot access the "EZP" nor have I been able to delete them. I have not been successful in using my clip art. the folder appears to have been expanded, but to no avail as I cannot import any of the clip art into any documents. I forgot to say my problems all appear to be in my Microsoft Word program. Also, is there any signature or script font in Microsoft word? In windows 2000, of course. Then, will you respond back to my e-mail address or to the FAQ screen? Also since installing Windows 2000, the computer keeps looking for something in my "A" drive (floppy disc). If I do not install a disc into that drive it just keeps looking (and making noise). What is that all about? Thanks for your help.

Solution 1
Answered by That Jim Guy

For the first problem, I suggest re-installing WORD. Win2000 must have corrupted it somehow.
For the diskette problem, this option is set in the computer BIOS. When you boot your machine it should say which key to press to get into the BIOS or System Configuration (usually either DEL or F2). Once in there, you will have to navigate the various menus and fine one option that says "floppy drive seek at boot" or something similar and set it to "No".
Let me know if this helps, and Happy Holidays.
Forgot to mention - there is most likely another option in the BIOS that is the "Boot Sequence". Set this to "C only" if available, if not, set it to "C then A then..." - just make sure A is not first.
---
Question

Submitted by Michael

Hi, I am having a problem here. I have a dual boot system with WinMe and Win2k. A few days a go, I deciced to format my hard drive using quickformat. However, when I tried to install back WinMe, my system would generate beeping sounds after setup finished checking my hard disk for errors. This happened too when I tried to install win98. I repeated this for about an hour and failed. I gave up and tried installing Win2k. Installation was smooth and my system is at its peak performance right now. Can anyone tell me what has happened to my system? Thank You

Solution 1
Answered by Marc Strickland

Sounds like you formatted to NTFS file system format. Win9X will not load on a partition formatted in this manner.
---
NOTE: Please note that ActiveWin nor the AskAW staff can take any responsibility for anything that may/may not occur when taking our advice. If you do anything that is included in our advice, you are doing so at your own risk.
If you have any questions pertaining to a particular answer please contact the person who replied.
You can contact anyone of our staff here or email us at askaw@activewin.com