ActiveDVD
DVD News
DVD Forum
Glossary
Tips
Articles
Reviews
News Archive
Links
Easter Eggs
Drivers
Amazon.com 100 Hot DVDs



News Centers
Windows/Microsoft
DVD
Gaming
ActiveHardware
Xbox
News Search



ANet Chats!
The Lobby
Special Events Room
Developer's Lounge
XBox Chat



ActiveWin
Articles
AskAW
DirectX
ActiveDVD
ActiveGaming
Forums
Interviews
News
MS Games & Hardware
Reviews
Support Center
Windows 2000
Windows Me
Windows XP



Windows 2000
Available Systems
Benefits
Bugs & Fixes
FAQ
Drivers
History
Introduction
Links
Upgrade Issues
Utilities
Patches



FAQ's
Windows 98/98 SE
Windows 2000
Windows Me
Windows "Whistler" XP
Windows CE
Internet Explorer 6
Internet Explorer 5
Xbox
DirectX
DVD's



Tips & Tricks
Registry Tips
Windows 95/98
Windows 2000
Internet Explorer 4
Internet Explorer 5
Windows NT Tips
Program Tips
Easter Eggs
Hardware
DVD



ActiveXBox
Xbox News
Box Shots
Inside The Xbox
Released Titles
Announced Titles
Screenshots/Videos
History Of The Xbox
Press Releases
Links
Forum
FAQ



Latest Reviews
Games
Max Payne
Microsoft Train Simulator
Applications
Microsoft Windows XP Professional
Norton SystemWorks 2002
Hardware
Intel Personal Audio Player 3000
Microsoft Wireless IntelliMouse Explorer



Site News/Info
About This Site
Affiliates
ANet Forums
Contact Us
Default Home Page
Link To Us
Links

Member Pages
Site Search
Awards



Credits
©1997/2001, Active Network. All Rights Reserved.
Layout & Design by Designer Dream. Content written by light tower the Active Network team. Please click here for full terms of use and restrictions or read our Privacy Statement.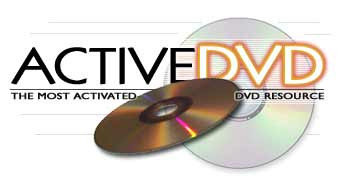 DVD Disc Format Information
All DVD discs comprise a sandwich of two 0.6mm thick substrates. There are four possible read-only formats plus recordable and rewritable formats:
| Name | Capacity (GB) | Layers | Sides | Comments |
| --- | --- | --- | --- | --- |
| DVD-5 | 4.7 | 1 | 1 | Read from one side only |
| DVD-9 | 8.54 | 2 | 1 | Read from one side only |
| DVD-10 | 9.4 | 1 | 2 | Read from both sides |
| DVD-18* | 17.08 | 2 | 2 | 4 layers, read from both sides |
| DVD-R | 3.95/7.9 | 1 | 1 or 2 | Recordable version |
| DVD-RAM | 2.6/5.2 | 1 | 1 or 2 | Rewritable version |
*DVD-18 is extremely difficult to manufacture and it is not yet clear if it will become an available format or whether newer higher capacity formats become available instead. Titanic is expected to be one of the first to use this format later in the year.
Both DVD-R and DVD-RAM are being developed further to increase capacity to 4.7GB per side. Neither of these is intended as a future home video recorder format as a much higher capacity will be required.
---
DVD-5 (4.7GB) Single Sided/Single Layer
This is the simplest of the family of DVD discs, comprising a single layer with a capacity of 4.7GB. Only one of the two 0.6mm substrates contains data, the other being a blank disc. The two substrates are bonded together to form a 1.2mm thick disc.

Single sided discs can be printed on by any conventional method eg screen printing. Alternatively, the blank substrate can be moulded with an image in its surface and then metalised to make it visible.
---
DVD-9 (8.5GB) Single Sided/Dual Layer
This dual-layer, single sided version has a capacity of 8.5GB which is slightly less than twice the single layer version, to make it easier for the second layer to be read. Pits on both layers are 10 per cent longer than on a DVD-5 or DVD-10 disc.

Each layer is moulded in one substrate, the two substrates being joined with an optically transparent bonding layer. These discs can be printed after bonding in the conventional way.
---
DVD-10 (9.4GB) Double Sided/Single Layer
This disc comprises two sides each single layer. It differs from the DVD-5 version in that both substrates contain data. To read both sides the disc will need to be turned over for most DVD players/readers. The capacity is 9.4GB, twice the single side/single layer version.

Double sided discs cannot be printed except on the hub inside the lead-in area. Labelling is therefore a problem with such discs.
---
DVD-18 (17.1GB) Double Sided/Dual Layer
| | |
| --- | --- |
| | This version comprises two sides each with a dual layer format. Both layers of each side must be manufactured on a single polycarbonate substrate using a 2P (photopolymer) process. It has the largest capacity of the family but is the most difficult and complex to manufacture. Four stampers are needed, two fitted to standard DVD presses, the other two used to create pits in the photopolymer. |
Copyright © 1997-2001 Active Network, Inc. All Rights Reserved. Terms of Use. Privacy Policy.
Forum Software Copyright © 2000-2001 William D. Sossamon. Layout by Byron Hinson. Content written by the Active Network team.