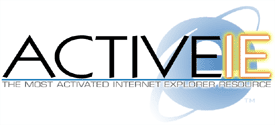 Welcome to the new Internet Explorer section on ActiveWindows. Please use the new look menu on the left to navigate the new ActiveWindows Internet Explorer section.
We have made the decision to move ActiveIE over to the ActiveWindows site because this will make it far easier for everyone to update, so it benefits both us and you. All of the latest Internet Explorer based news will now appear on the front page of ActiveWindows.
If you are browsing this site with the full frame set from ActiveWindows - we recommend that you use our frame control in the top right hand corner to get the best results.
Download Internet Explorer 5.01:
Latest Internet Explorer 5 Final Reviews:
ActiveWin.com Featured Partner:
642-567 exams are also known as advanced security for field engineer to confer Cisco advanced security field specialist certification to those individuals who desire to get start a successful professional career in IT field. 640-801 (CCNA) exams are very important for IT experts to be skilful in the modern informative technology for bright future. 646-222 exams are very applicable and reliable to verify the authenticity of the basic knowledge of the candidates who want to be IT professionals. 70-431 is very vital Microsoft certification to maneuver SQL server 2005 execution and continuation certification which is really very appropriate for database administrator.