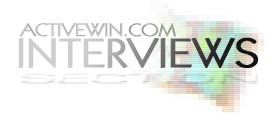 Interview with Bruce Williams, Product Planner: Microsoft Flight Simulator 2002
ActiveWin.com: How long has Microsoft Flight Simulator 2002 been in development?
Bruce Williams: We're always working on the next version of Flight Simulator. We've been working on it since we released
Flight Simulator 2000. But it's hard to say when a new
project really starts. Some members of the team start
working on the next version before the current version is
finished. Other members come on board after development
starts.
ActiveWin.com: Will there be two different versions of Microsoft Flight Simulator 2002 as there was with the last release?
Bruce Williams: Yes. Flight Simulator 2002 and Flight Simulator 2002 Professional Edition will both be available in stores simultaneously this fall. We'll announce specific on-shelf dates later. The standard version is designed primarily for casual users who enjoy learning the basics of flying and exploring a realistic world from the cockpit of an airplane. Flight Simulator 2002 Professional Edition includes extra features and additional aircraft that appeal to enthusiasts who want to fly a wider variety of aircraft and to customize and expand Flight Simulator. Professional Edition is also aimed at pilots who want to use Flight Simulator as a training aid and proficiency tool.
ActiveWin.com: What additional features will they differ?
Bruce Williams: The Professional Edition includes all the features in Flight Simulator 2002, plus:

Two additional aircraft, the Raytheon (Beech) Baron 58 piston twin and the Cessna Grand Caravan on wheels IFR training panels for the C172S, C182S, Mooney Bravo, and Baron 58. gMax, a tool for creating 3D objects. It's based on 3D Studio Max from Discreet.

An instructor's station. It's a special screen that allows one "instructor" to monitor another Flight Simulator pilot over a LAN or the Internet. The instructor can change the weather, fail the engine and other systems, and, by watching the position of the other aircraft on a moving map, even issue vectors like an air traffic controller. An updated Flight Dynamics Editor, a
tool for modifying the flight characteristics of aircraft.
ActiveWin.com: How many new aircraft will be included in this release?
Bruce Williams: Flight Simulator 2002 includes three new airplanes:

* Cessna 208 Caravan on Amphibious Floats
* Boeing 747-400
* Cessna 172S Skyhawk SP
ActiveWin.com: Of the new ones, which is your favorite thus far?
Bruce Williams: The Caravan on floats is a lot of fun because it brings the world of float plane flying to Flight Simulator for the first time. The 747 is probably the most-requested airplane in the history of Flight Simulator, so I think a lot of people will enjoy flying that jumbo.

ActiveWin.com: Will all the past planes be included in this version?
Bruce Williams: All of the existing aircraft except Concorde will be included in Flight Simulator 2002.
ActiveWin.com: Is the default airport (even though it can be changed), Meigs in Chicago
Bruce Williams: We haven't decided what the default airport will be.

ActiveWin.com: What will Microsoft Flight Simulator 2002 have over the previous version?
Bruce Williams: The main new features are interactive air traffic control, air traffic in the skies, auto-gen scenery, new virtual cockpits with working instruments, flight analysis, a variety of special effects (contrails, smoke from the tires on touchdown, water splashes on the floatplane, cool lighting effects,
etc.), and a bunch of new lessons and flights. We've really tried to make this new version come alive for Flight Simulator pilots. You'll see and hear other airplanes in the sky, and the added detail from auto-gen scenery really makes the world seem interactive and busy.
ActiveWin.com: How have the graphics been improved? Has Microsoft zeroed in on certain areas?
Bruce Williams: We've dramatically improved the visual appearance of the scenery. As mentioned above, auto-gen is the most dramatic development. As you fly above cities, towns, farmland, and dramatic landscapes, Flight Simulator adds buildings and vegetation appropriate to the terrain and geographic region around you. Office buildings, factories, homes, farmhouses, and trees smoothly blend in at the horizon and fill the entire area with detail that adds unprecedented depth and reality to Flight Simulator no matter where you fly.

So even when you're outside the detailed scenery areas where we've manually placed custom objects, you see buildings, trees, etc. that add depth, a sense of speed, and heightened realism. A 3D graphics card is required for this feature, and you can adjust the density of the auto-gen scenery to best suit your system. But we've also overhauled the ground textures for all the scenery, added stunning new lighting effects, improved coastlines and rivers-everything's better.

ActiveWin.com: One of the new features recently announced is an interactive Air Traffic Control? How will this add in the user's realistic experience?
Bruce Williams: ATC adds a level of realism-you can ask for and receive clearances to taxi, takeoff, land, etc. It also adds to the ambiance-you hear other pilots in the sky. That's a dimension that's been missing in previous versions.
ActiveWin.com: How far do you think Microsoft Flight Simulator has been improved since earlier versions, ie FS 4.0?
Bruce Williams: The world has changed a lot since Flight Simulator 4.0 was released in the last century. Flight Simulator 2002 reflects developments that have taken place since then. It retains the core values that have always made Flight Simulator the leader-realism, depth, breadth-but it brings unprecedented details to the product. It makes the world come alive.
ActiveWin.com: Microsoft Flight Simulator is one of the (if not the most) popular games Microsoft releases. How do you expect this version will be accepted by the gaming community?
Bruce Williams: The reaction so far indicates it's the most eagerly anticipated release in the history of the product.
ActiveWin.com: As a long time Flight Simulator fan, I have many favorite aspects of this product. What is your favorite part of this great game?
Bruce Williams: It's hard to pick one feature or part of the product. I've been a pilot for more than 25 years, and I like flying all types of airplanes, doing aerobatics, flying IFR, making short Saturday afternoon flights and long cross-country trips. I enjoy doing the same things in Flight Simulator.

Some days I feel like flying an airliner. Other times, I want zoom around in the Extra or practice instrument flying in the Mooney. And sometimes, I just like to enjoy the view on a sightseeing flight. Flight Simulator 2002 just gives me more choices-like floatplane flying-to enjoy.

---
Links


Return To The Front Page