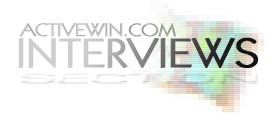 MapPoint 2002 Interview with Rik Temmink, Group Product Manager: Microsoft Geography Products
ActiveWin.com: What was the development time of Microsoft MapPoint 2002? How many people were on the development team?
Rik Temmink: The entire development cycle (including test, documentation, etc.) for MapPoint is around 12 months. The MapPoint team consists of about 70 full-time staff, supported by a number of contractors and other temporary support.
ActiveWin.com: Did you set milestone periods as there were in MapPoint 2001? If so, what were they?
Rik Temmink: The MapPoint team follows the usual Microsoft development process, which is milestone-based. The Microsoft development process consists of two to four periods of coding, testing and stabilization.
ActiveWin.com: What new and improved features does this version of MapPoint have over the previous?
Rik Temmink: MapPoint 2002 is a big leap forward for MapPoint. There are three important categories of improvements. The first one is the map, which is totally refreshed with new road network and boundary data. The second category consists of functionality improvements and additions, such as the new territory wizard and drive-time zone features. The third major category is programmability. MapPoint 2002 has a hugely expanded object model, and we have also introduced a MapPoint ActiveX Control that can be embedded in Visual Basic applications.
ActiveWin.com: How is the new Drive Time Zone feature slated to improve efficiency for certain users of this product?
Rik Temmink: In many scenarios, what users need is a way to figure out the "catchment area" of a store or other facility. In MapPoint 2001, the only feature we could offer was the radius tool, which measures distance "as the crow flies." The drive-time zone feature offers users a great alternative that measures distance from a location in time it takes to drive rather than a straight-line distance. As you can imagine, actual drive time is often the most relevant measurement of "distance."
ActiveWin.com: Have the charts and/or maps been updated? If so, how?
Rik Temmink: The maps in MapPoint 2002 are completely rebuilt using new data from Navigation Technologies (NavTech), GDT and others. We have also expanded our map coverage, especially in the European version of the product.
ActiveWin.com: What types of users or departments within businesses and organizations is this product targeted for? Is MapPoint 2002 flexible to work with many different job types?
Rik Temmink: Maps and location intelligence is relevant to many different types of jobs or industries. We have many business analysts, sales and marketing managers and market researchers in our user base, but we see the product being used for all sorts of interesting and novel tasks — from detecting check fraud in major retail operations to documenting the location of cellular network towers.

This is one of the goals for our development team — create a standard application similar to Office that allows the widest range of users to bring the power of mapping technology to bear on their business.
ActiveWin.com: What would be your key selling point for businesses who are looking to buy this product?
Rik Temmink: Most people intuitively understand that "location" is highly relevant to their business, whether it is in deciding where to locate new facilities or in analyzing where the company is making or losing money. MapPoint will help users visualize their business data, trends and opportunities, and communicate their findings in an effective and natural way.
ActiveWin.com: If MapPoint 2003 were released today, what features would you have included in it that was not included in the current version? Has development already started on the next version?
Rik Temmink: We can't comment on future product plans and specific features that are under development at this stage of the product cycle, but we can assure everyone that the MapPoint product team is busy working on new products and technology.
ActiveWin.com: Did the development team work frequently with different departments at Microsoft in designing/developing this product? How so?
Rik Temmink: There are many groups at Microsoft that cooperate closely with the MapPoint team — ranging from the Encarta team (which uses MapPoint maps in its World Atlas product) to the Geopolitical group (which ensures that MapPoint maps reflect the latest political developments around the globe).
ActiveWin.com: Some of our viewers may be interesting in helping out in testing the next version of MapPoint. Is your team currently accepting applications to join the beta program for the next product?
Rik Temmink: We aren't currently taking applications for MapPoint beta programs.
ActiveWin.com: What is your favorite part of this product?
Rik Temmink: I like the ability to export city maps from MapPoint to the Pocket Streets mapping application on my Pocket PC.
ActiveWin.com: During the development of this product was there any hilarious or outlandish moments that stick out in your mind?
Rik Temmink: During development of the MapPoint 2002 maps, one of our testers noticed a strange-looking label somewhere in a mountainous part of New Zealand. The label read: "Taumatawhakatangihangakoauotamateaturipukakapihimaungahoronukupokai-whenualkitauataha." The obvious first reaction was that our map build system had gone crazy, but after some investigation, it turned out that this was in fact the name of a mountain in that region!
---
Links


Return To The Front Page