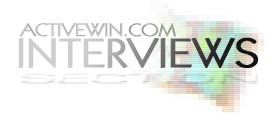 Interview with Steve Lombardi, Technical Product Manager: Microsoft MapPoint Business Unit on the Microsoft/AT&T Alliance
ActiveWin.com: What areas are covered by the AT&T/Microsoft alliance?
Steve Lombardi: This strategic alliance was formed to dramatically simplify the way companies provide integrated wireless data services to their employees. Now North American companies and the mobile professionals, who work for them, can be connected to valuable corporate information while on the go.

AT&T Wireless and Microsoft have developed and will distribute end-to-end solutions for Microsoft® Windows® Powered Pocket PCs, Smartphones and laptops. These solutions are designed to provide seamless, wireless access to e-mail, information and applications behind corporate firewalls.

In addition, AT&T Wireless plans to be the first wireless carrier to offer new enterprise-grade Microsoft .NET location-based services for mobile users on both laptops and Pocket PCs, using MapPoint® .NET mapping and location services and the .NET Compact Framework. As part of the agreement, Microsoft and AT&T Wireless will collaborate on solution development, joint sales and account planning, and marketing activities.

With this agreement, AT&T Wireless becomes the first mobile operator to announce plans to deliver corporate location-based services built using the Microsoft MapPoint .NET platform for mobile professionals. These newly developed services will complement AT&T Wireless' recently introduced location capabilities, and will include location-enabled instant messaging for business work groups, locating contacts and personal concierge services. This integration will unlock a new generation of services that combine locating colleagues with capabilities such as obtaining maps and driving directions, conducting proximity searches, and finding destinations and points of interest near one's own or a colleague's location. This solution is completely integrated with the instant messenger and Outlook clients on Pocket PCs and notebooks.
ActiveWin.com: What type of wireless devices will AT&T release based on the Pocket PC Phone Edition operating system and Microsoft's Smartphone operating system?
Steve Lombardi: Central to the agreement between Microsoft and AT&T Wireless is a commitment to deliver Windows Powered devices.
ActiveWin.com: When will these devices be made available?
Steve Lombardi: As part of the agreement, AT&T Wireless plans to introduce a voice-enabled PDA, powered by Microsoft Pocket PC Phone Edition software, later this year.
ActiveWin.com: How does Microsoft's .NET Compact Framework technology work with MapPoint .NET mapping service?
Steve Lombardi: MapPoint .NET is implemented as an XML web service. It has a SOAP API that allows software developers to make programmatic calls to the service, integrating Maps and location intelligence in their applications. Microsoft's .NET platform, along with Visual Studio .NET (Microsoft's Integrated Development Environment (IDE)), make it very easy to access MapPoint .NET in this fashion when developing Web, Wireless, or desktop applications. The .NET Compact Framework provides the same functionality and programmatic support for XML Web services as its big brother, but it has been slimmed down and optimized for mobile devices. Since the API's are the same in the .NET Compact Framework as the standard .NET framework, moving code and applications from existing windows applications is completely simple! This allows the huge base of Windows developers to use their existing skills to build Mobile Location based applications with no new training!
ActiveWin.com: How is access to Microsoft Exchange server and Microsoft Outlook client simplified?
Steve Lombardi: To simplify the deployment of the new devices for corporate information technology managers, the two companies have developed a unique activation and centralized provisioning process. The new equipment will come preloaded, which eliminates the need for IT personnel to manually install applications on each device. This expedites deployment times and lessens the burden on today's ever-busy corporate IT departments.

To simplify access from any wireless-ready laptop to Microsoft Exchange and the Microsoft Outlook® messaging and collaboration client over corporate virtual private networks (VPNs), the companies have developed a custom one-button-synch software wizard that will provide easy access over the AT&T Wireless high-speed data network.
ActiveWin.com: What features will Microsoft's Smartphone operating system have?
Steve Lombardi: Pocket PC Phone Edition devices are equipped with integrated Global System for Mobile Communications (GSM)/General Packet Radio Service (GPRS) voice and data calling capabilities, along with the features users expect from a technology-leading PDA, including a bright color screen, stylish form factor, contacts, calendar, inbox, Web browser and digital media support.

In addition, AT&T Wireless plans to offer phones running Microsoft Windows Powered Smartphone 2002 software. Smartphone 2002 supports wireless phones, enabling customers to communicate via voice and text, and gain access to their essential business and personal information.
ActiveWin.com: What do you think will be the biggest benefit to businesses and/or consumers resulting from this alliance?
Steve Lombardi: AT&T can provide new, valuable services to their customers without the excessive cost of developing and maintaining a location-based platform. The MapPoint .NET platform makes it easy for developers to build LBS applications, allowing carriers to leverage Microsoft's large developer community.

Corporations can increase business productivity by embedding location intelligence within the context of their business processes. For example, LBS integrated into a customer relationship management (CRM) application can exchange up-to-date information between corporate headquarters and traveling sales staff.

Consumers can increase personal productivity by accessing location information within the context of their lives. For example, they can locate friends and family, and receive relevant traffic notifications and driving directions.
ActiveWin.com: Do you have anything else to add?
Steve Lombardi: Location-based services are a huge potential market. One of the barriers to this market has been the lack of an LBS platform and the necessity for developers to make large up-front investments to acquire high-level expertise in location and mapping technologies. With the MapPoint .NET platform, developers can easily build LBS applications using familiar development tools and programming models without needing to be expert in location, mapping or GIS technologies. This alliance is proof of that. I'm excited for the broad adoption of these new applications!
---


Return To The Front Page