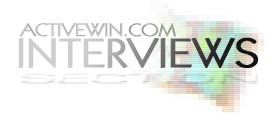 Interview with Christy Hughes, Mouse Product Marketing Manager: Microsoft Hardware
ActiveWin.com: What kind of hardware products does Microsoft envision in the future?
Christy Hughes: In the future, Microsoft Hardware will continue to use technology to create innovative products that are useful, help make people more productive and strengthen the connection between the user and the computer. Over the past two decades, we've been the first to bring a scroll wheel integrated with desktop software, affordable ergonomic keyboards, optical tracking technology, Bluetooth and simplified Broadband networking to market. Our next 20 years will offer more of the same innovation. Our products will be more productive and intelligent that ever before, yet will be simpler to use. We will continue to remove clutter from the desktop by actively bringing wireless technologies - 27MHz, Bluetooth, and WiFi - to lower price points with higher performance. At the same time we will address people's growing need for comfort and personalization with an unprecedented variety of materials and colors.
ActiveWin.com: How successful has the Bluetooth Desktop been? Does Microsoft plan to release more Bluetooth products in the future?
Christy Hughes: The response to the two Bluetooth products we introduced in October 2002 was phenomenal. Both the mouse, Wireless IntelliMouse Explorer for Bluetooth, and the desktop, Wireless Optical Desktop for Bluetooth, have enjoyed healthy sales. We've stated in the past we do plan to offer support for additional Bluetooth profiles. I do not have anything to announce at this time, and we'll be sure to keep you posted when we know specifically when this new support will be available.
ActiveWin.com: What do you think has been one of the most significant milestones in Microsoft Hardware's history?
Christy Hughes: That is a good question, as they are quite a few to choose from! As I mentioned above, we've introduced quite a few firsts to consumers, including the first scroll wheel integrated with software and the first affordable ergonomic keyboard - both big milestone for Hardware and the industry.

Other than when we were formed in 1982, I think 2002 was a very significant year for Microsoft Hardware. We introduced more products than ever before - 9 products total. These new products offered better performance, improved comfort and style than was available previously. We introduced the first commercially available Bluetooth desktop, the company's first optical mouse designed specifically for use with notebooks and products featuring a wide variety of colors and finishes. As we move forward into the second half of 2003 and beyond, we're looking forward to building on these new products and offering even more innovations and advancements to consumers.
ActiveWin.com: What is the current position of the Microsoft Natural Keyboard design? Is there still significant demand? What determines if a keyboard will be made in the natural design as well as the standard one?
Christy Hughes: Ever since we introduced the Natural Keyboard in 1994, there has been significant demand for Microsoft's split keyboards. Previously, split keyboards were extremely expensive, often costing more than $300, and hard to find. In 2003, nine years later, our latest research data tells us that one out of every 10 keyboards sold is a split keyboard design. Additionally, we've found that users of these keyboards are extremely loyal - once they use a split keyboard design, they are unlikely to switch back to a flat keyboard.

When introducing new products, we want to ensure that consumers have a variety of options to choose from in terms of flat and split keyboard designs. That is why we have a wired split keyboard - Natural MultiMedia Keyboard - as well as a wireless desktop that includes a split keyboard - Wireless Optical Desktop Pro.
ActiveWin.com: Personally, which Microsoft Hardware product do you like best and why?
Christy Hughes: I have a few personal favorites, including some of the new products we're introducing later this year which I'll have to talk to you about this fall. But my favorite current product is Office Keyboard. It was introduced in 2001 and was the result of nearly three years of research, exhaustive studies and examination of nearly 6 million common keystroke actions. I was the keyboard product manager at the time the product was introduced, and it was very exciting for us to introduce a keyboard that offered bimanual control and enhanced F Keys that would allow people to get more out of the applications they used most. Office Keyboard won an IDEA design award and some of its features - such as F Keys - can be found on all of our current keyboards.
ActiveWin.com: Can we expect any major hardware announcements this year? Are there any conventions we should pay special attention to?
Christy Hughes: We will have some exciting announcements towards the end of the year, but nothing that I can talk too much about now. We'll definitely get in touch with you later this year.
ActiveWin.com: How much time (from initial concept to RTM) does a Microsoft Hardware product to complete on average?
Christy Hughes: There is no set amount of time, since it depends on the nature of the product and how complex it is. But it usually takes about two to three years from the time a product is concepted to the time it is available to consumers. Much of this time is spent in the design of the product and testing it, to make sure that it is a high-quality product that will perform to our rigorous standards. We have a group of folks here in the Hardware Division who continually look at new technologies and trends in the input device category and evaluate how we could harness those trends for our new products. These people usually work four to five years out, while I spend most of my time focusing on both our current products and those coming out in the next year. The combination of short- and long-term focus is definitely one of Microsoft Hardware's strengths, as we're able to recognize and work toward new technologies before most mainstream consumers are even aware of them.
ActiveWin.com: How many employees are there in the hardware division?
Christy Hughes: There are just under 200 full-time employees in the Hardware division including ergonomists, industrial designers, engineers, technologists and business professionals. We're a small group, in relation to other groups at Microsoft, and we actually have more patents than people.
ActiveWin.com: How does the demand for Microsoft Hardware differ worldwide? Are some products more popular in some countries than others?
Christy Hughes: We work very hard with research and testing to make sure that each of our products make sense for where they are available. For instance, we specifically design our keyboards for each of the areas they are sold. The number of keys on a keyboard vary per country. There are 104 on a standard flat keyboard in the U.S., 109 in Japan, 105 in Italy and 107 in Brazil. However, as you can imagine, there are some products that perform extremely well in certain regions due to various reasons. One example of this is Notebook Optical Mouse. This is an optical mouse designed specifically for use with laptop computers that we introduced in the fall of 2002. It is smaller and lighter then other mice in our line, and is more portable - making it easier to travel with.

Notebook Optical Mouse was originally designed specifically for Japan, has been very successful in Asia and our customers have told us that is because this mouse fits their hands better than full-sized versions. So we've introduced a number of special editions of Notebook Optical Mouse in Japan, offering additional colors and finishes.
ActiveWin.com: Do you have any else to add?
Christy Hughes: If you haven't already, you should definitely check out the flash timeline we've put together to commemorate our 20th year in the industry. It can be viewed at www.microsoft.com/hardware/mouse/timeline.asp. It is a very interesting look at the evolution of Microsoft Hardware - where we've been, where we are and where we're headed.
Additional Information:
---
Interested in doing an interview? Please contact us for more information.


Return To The Front Page