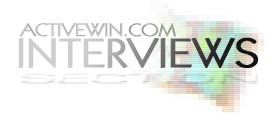 Question & Answer Session: Microsoft Office 2003 System Team
ActiveWin.com: What was the development time of Microsoft Office 2003?
Office 2003 Team: While we don't have specific dates around when development first started, what we can outline for you is the major milestones leading to launch of Microsoft Office 2003 Editions:

Microsoft "Office 11" Beta 1 release: Oct 22, 2002

Microsoft Office 2003 Beta 2 release: March 10, 2003

Microsoft Office 2003 Editions RTM: August 15, 2003

Microsoft Office 2003 Editions Retail Availability (Launch): Oct. 21, 2003
ActiveWin.com: What impact has InfoPath, OneNote, and LiveMeeting made to the Office system?
Office 2003 Team: Microsoft Office OneNote and InfoPath 2003 benefit the Office System in many ways. From a OneNote perspective, taking notes and organizing thoughts is often the step that precedes the creation of more formal documents and presentations with other Microsoft Office System products such as Word and PowerPoint, Visio, etc. OneNote provides users with an easy way to capture their thoughts and ideas which can be a basis for their other work—such as presentations, memos, papers, or speeches, saving time and enabling information workers to be more productive.

InfoPath, likewise, enables organizations to create rich, dynamic forms where they can define how they want information captured and entered, as well as how it will be used by other Office System applications and back-end systems throughout the company. InfoPath integrates with XML enabled applications in the Microsoft Office System, such as Word, Excel, Visio, etc. to help business decision makers collect and reuse information throughout an organization.

The excitement around Microsoft Office OneNote and InfoPath can be directly correlated to the success of the Office System to date. Microsoft is pleased retail and OEM sales of Office 2003 and the other products in the Office System are generally ahead of expectations, and continue to be well ahead of where sales were after the launch of Office XP. In addition, the number of customers with volume license rights to the Microsoft Office 2003 Editions is approximately double what it was for Office XP in the same period following its launch.

As part of the Microsoft Office System, Live Meeting delivers benefits targeted to information worker productivity and efficiency by lowering the barriers of virtual communications and collaboration and allowing users to perform tasks more quickly in real-time. Live Meeting is a natural fit within the Microsoft Office System because it better connects people with each other, information and business processes across an organization to transform information into business impact.
ActiveWin.com: When should Service Release 1 of Office 2003 be available? Can you share any information of what may be included?
Office 2003 Team: The service pack is still in the early development stages, so anything we say about it would only be speculation right now, as a lot can change during the development process. Microsoft is always interested in hearing customer feedback to further improve its products. We'll have more details to share as the development process continues. One thing we can say is that, thanks to new technologies like Watson, and feedback from over 600,000 beta testers, the newly launched Office System represents the most stable, reliable and secure version of Office Microsoft has ever produced.
ActiveWin.com: What direction do you see Office going in the future?
Office 2003 Team: Our customers operate in an extremely dynamic business environment, which constantly demands innovative solutions to continue to meet their needs. Microsoft Office continues to be one of our most successful product lines because customers find it to be an important business tool that addresses these needs.

And, we believe that by focusing our efforts to on improving our products in ways that will help customers be more productive in this dynamic environment, we will be able to continue growing our business in this dynamic environment.
ActiveWin.com: How much of a benefit is password protection in documents?
Office 2003 Team: Simple password protection without encryption was first introduced with Microsoft Office 2000 in an effort to help users prevent unauthorized access to important information.

With the new Microsoft Office 2003 Editions, however, a new, more advanced policy enforcement technology, information rights management (IRM) has been added to help users persistently protect sensitive documents and e-mail messages from unauthorized access and use. IRM functionality is available in Excel 2003, Outlook 2003, PowerPoint 2003, and Word 2003.

For information on IRM technology, please refer the following link: http://www.microsoft.com/office/editions/prodinfo/technologies/irm.mspx
ActiveWin.com: Microsoft is promoting the Microsoft Office Communities within the Office products extensively. Do you think the Microsoft Office MVPs had a role in the overall development of the Office 2003 System, and do you expect to look for their expertise in future versions?
Office 2003 Team: MVPs certainly played an important role in product development and R&D of the Microsoft Office System As thought leaders, MVPs are committed to helping others get the most out of their experience with Microsoft products and technologies. MVPs continue to represent the most recognized and credible members of Microsoft's online technical communities and provide another link for Microsoft to listen to the customer.
ActiveWin.com: What resources are available to Office users at the Microsoft Office Online website? Can you share some interesting facts or statistics to demonstrate the importance of the site?
Office 2003 Team: In general, Office Online offers a great deal of value to customers helps customers get information faster with an array of different services and resources:

Instant feedback and real-time updates:

Office Online has more than 100 staff members dedicated to updating the content and improving the user experience for Microsoft Office customers worldwide.

Endless downloadable clips, template and other useful media:

Office Online provides over 130,000 pieces of clip art, photos, animations, and audio files for just the right impact and simply cut and paste their selection directly into Microsoft Office documents.

Interactive training courses:

Office Online offers more than 50 new self-paced training programs available on Office Online. For Office 2003 customers, these courses can even be downloaded straight onto their applications for easy step-by-step directions.

Refreshed content:

Customers will be able to keep their Office programs optimized and protected with regular visits to the Downloads site for the most recent Office updates.

Office Marketplace:

Office Online offers information on partnering Web-based services; support; downloads, add-ins, and other software; and other Office-related products and services.
ActiveWin.com: Do you have anything else to add?
Office 2003 Team: In terms of interesting facts, In December 2003, the following stats were reported:

Office Online had over 8.4 Million homepage views for the United States alone, representing a 240% increase of visitor traffic since Jan. 2003.

Office Online users downloaded a record of 5 million clip arts in one day.

Staff members from Office Online collected over 2 million pieces of feedback from Office Online users.
Additional Information:
ActiveWin.com Office 2003 Pro Review
Microsoft Office Website

Chris Linnett Office Online Interview
---
Interested in doing an interview? Please contact us for more information.


Return To The Front Page