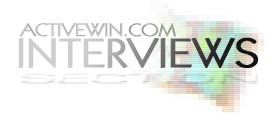 Interview with Melinda Graetz, Marketing Communications Manager: Microsoft Hardware
ActiveWin.com: How long were the latest Microsoft mice/keyboards in development?
Melinda Graetz: Certain features introduced on the new mice and keyboards were in development for 12 - 18 months, including the new scroll wheel with Tilt Wheel Technology and the enhanced Microsoft Optical Technology. Both of these new features are proprietary to Microsoft and we spent months developing and testing these, both internally and with consumers.
ActiveWin.com: How many people were on the development team?
Melinda Graetz: The amount of people on the product development teams can vary per product, depending on the complexity of the features.
ActiveWin.com: How did you determine which colors were to be used for the mice line?
Melinda Graetz: We have a dedicated color expert here, as well as a team of designers that led the process. We used the prevailing research for what colors folks liked, what people are drawn to and what people find maps back to their own personalities. And finally, we tested the colors globally to see what people were most drawn to.
ActiveWin.com: Was it pretty cut-and-dry or were there a lot of choices?
Melinda Graetz: We are continually testing colors globally and in this instance ended up with the six colors and one graphic finish introduced last fall: Steel Blue, Periwinkle, Blue Moon, Metallic Red, Platinum, Metallic Grey and Metallic Blue.
ActiveWin.com: Why was the decision made to use leather as a new texture?
Melinda Graetz: We also tested many different textures. The feel of leather was the resounding favorite - you can really feel the comfort on the mouse and the padded wrist rest this offers as well.
ActiveWin.com: How has the battery life been improved in the new Wireless IntelliMouse Explorer and the Wireless Optical mouse?
Melinda Graetz: With the new enhanced Microsoft Optical Technology, most users will experience up to six months of battery life. On average, the battery life of wireless mice with new Microsoft Optical Technology last about three times longer than other wireless mice available. Battery life varies with the amount of wireless mouse usage and previously, average battery life could last from a couple weeks to a couple months. Additionally, the new Microsoft Optical Technology is designed to minimize battery drain with three unique power-saving modes—active, idle and dormant—with imperceptible latency for maximum performance. When the mouse is moving it is in active mode, offering signature Microsoft optical performance. The mouse goes into idle mode if it stops moving, using minimal power. When the mouse has been idle for 10 minutes, it goes into dormant mode – the most power efficient mode. In both idle and dormant modes, the mouse wakes up to active mode immediately when moved so that latency is indiscernible.
ActiveWin.com: Why was the wired IntelliMouse Explorer released several months after the rest of the new products?
Melinda Graetz: IntelliMouse Explorer is available now at retailers nationwide. The timing was simply due to our product development cycle.
ActiveWin.com: Did working with leather provide any development challenges you were not expecting?
Melinda Graetz: Leather and leather-like material (which is what is used on Wireless IntelliMouse Explorer) is more difficult to work with, since it needs to be perfectly stretched across the product. We worked with our manufacturer to develop an entirely new method to do this.
ActiveWin.com: Have the new leather texture and colors proved successful?
Melinda Graetz: People have responded well to the variety we offered this year. During research we found that consumers wanted more choices in their mice and keyboards and they want products that reflect their personality. Not every color appeals to everyone - that is why we're offering more colors, textures and graphics then ever before. The most choices people have, the greater chance of appealing to a variety of tastes.
ActiveWin.com: Should we expect more in the future?
Melinda Graetz: Yes. In the past we've offered Special Edition products with unique colors and finishes that are available for a limited time. We plan to offer more Special Edition products sometime this year.
ActiveWin.com: Are there any plans for any additional Bluetooth products?
Melinda Graetz: Microsoft continues to support Bluetooth technology, however we don't have anything to announce at this time. We will let you know as soon as we can regarding upcoming products.
ActiveWin.com: What new improvements has the new tilt wheel technology added to the Microsoft mice line?
Melinda Graetz: The new scroll wheel integrates new Tilt Wheel technology into a familiar form that people are comfortable with. We've found that the scroll wheel is the number one feature people look for in a mouse, and during testing we heard that people wanted to be able to do more with the scroll wheel - but didn't want added complexity or buttons. That led to the testing and development of the new scroll wheel with Tilt Wheel Technology. With it you can smoothly scroll up, down, left or right. If you press down on the wheel it will toggle between open applications on your desktop. And the enhanced accelerated scrolling allows you to reach the end of documents or Web pages within seconds.
ActiveWin.com: What is the dpi rate (images per second) of the new optical mice?
Melinda Graetz: The new mice use a 400 dots per inch (dpi) resolution. With a 400 dpi mouse, your pointer will correspond more closely to the distance that you can move your mouse across your desk. Additionally, our mouse software gives you the ability to change the speed in which the pointer moves to emulate a 800 dpi experience.
ActiveWin.com: Can we expect any additional mouse/keyboard product announcements this year?
Melinda Graetz: Yes, we plan on introducing additional new products this year to continue to address the feedback we receive during research regarding ways we can improve people's computing experience. We'll be sure to keep you posted with product announcements as soon as we can.
Additional Information:
---
Interested in doing an interview? Please contact us for more information.


Return To The Front Page