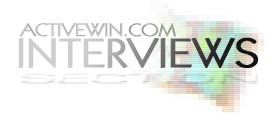 Interview with Wendy Apperson, Product Manager: Microsoft Remote Keyboard for Windows XP Media Center Edition and Wireless Optical Desktop 5000
ActiveWin.com: What would you say the overall goal is for the Microsoft Remote Keyboard for Windows XP Media Center Edition?
Apperson: I would say one of the main goals is to simplify and improve the user's overall media and entertainment experience as a whole in the living room. We entered the Media Center market last year with the Media Center remote which has been pretty sucessful, but now we are expanding in that market by building on where the remote has left off. We now understand better how people are using the remote and MCE in the living room and have a clearer picture of the general user scenario and what can be added or improved upon. We are finding entertainment is more of an interactive and community based activity with MCE then only using the Internet before.
ActiveWin.com: What is the Microsoft Remote Keyboard for Media Center Edition design based on?
Apperson: The keyboard is the first all-in-one, consumer-friendly solution designed exclusively for the living room. The keyboard is very thin and light, and with the rubber grips you could easily hold it on your lap and it is attractive so you wouldn't mind it on your coffee table. The keyboard is actually small enough to slip under your sofa if you did not want to keep it out.
ActiveWin.com: What is the main function of this new device? Can you tell us about some of the features?
Apperson: Microsoft Remote Keyboard for Windows XP Media Center Edition is actually a keyboard, mouse and remote all in one. The keyboard makes using search, IM and other MCE features much easier than using the remote. The backlit button, keylock, the Media Center Green Button, etc. are all integral features to the device. The back lighting is pretty cool. However, I really want to emphasize the form factor (the ID/physical design) of the product as one of the key aspects.
ActiveWin.com: What is the expected battery life? What are some power saving features?
Apperson: That's a really good question. We don't know how people are going to use this device at first, so we will not have an exact time until the product has been out on the marketplace. However, based on what research we do have, we are expecting a battery life of over three months. This device will not get as much activity as a normal computer keyboard, so we are expecting the battery life to be longer. One of the battery saving features is a keylock, acting also as an on/off switch, so the keyboard is not on all the time.
ActiveWin.com: Is this device compatible with the Xbox Media Extender?
Apperson: No, unfortunately it is not.
ActiveWin.com: Is any additional hardware needed?
Apperson: No, the keyboard is ready to go, as it connects to the IR receiver which comes with Media Center Edition PCs.
ActiveWin.com: Is this a replacement to the Media Center remote?
Apperson: No, we think that people will actually continue to use their remote, especially for TV watching. We envision people switching back and forth. However, there are a lot of things you can do on the all-in-one device that will eliminate clutter by removing the necessity of multiple remotes providing the same functions as this device.
ActiveWin.com: How many batteries does it use?
Apperson: The device uses four batteries, which are included.
ActiveWin.com: When do you expect general availability of this product?
Apperson: August 18th at Best Buy, and the middle of September for all other retailers.
ActiveWin.com: Where did the idea of the Wireless Optical Desktop 5000 come from?
Apperson:
Digital photography has really exploded. Cameras are cheaper, hard drive space is abundant, so people are taking more pictures than ever before. We find that people have a lot more pictures but they are kind of lost on your computer, ie. all over the place. The software that comes with cameras is generally not very intuitive and is intimidating and people have problems using it. The Wireless Optical Desktop 5000 comes with Digital Image software from Microsoft. They are all connected, the software and hardware are all integrated.
ActiveWin.com: What version software does this combo ship with?
Apperson: Digital Image Standard 2006. Users can upgrade the software if they like.
ActiveWin.com: What are the digital photo specific features that are on the keyboard?
Apperson:
The zoom slider, of course, is one feature which was available on previous keyboards. What is new and unique to this keyboard, however, is the PhotoCenter feature. With the PhotoCenter, there are now hotkeys dedicated to common photo editing tasks, including edit, print, send and more.
ActiveWin.com: What digital photo specific feature has been added to the mouse?
Apperson:
On the mouse there is a magnifier button, where the forward button is usually located, and allows you to edit real time within the magnified view. It's that simple.
ActiveWin.com: Is the PhotoCenter compatible with any other photo software suite?
Apperson:
That's a good question, but no, they are only compatible with Microsoft digital editing software. We believe this is a great package of software, mouse, and keyboard.
ActiveWin.com: Are the keys in the PhotoCenter programmable?
Apperson:
The PhotoCenter hotkeys on the Wireless Optical Desktop 5000 can be programmed to perform tasks by re-assigning them in the IntelliPoint Software.
ActiveWin.com: How long were these products in development?
Apperson:
About 12-16 months.
Additional Information:


Please Comment On This Interview
---
Interested in doing an interview? Please contact us for more information.


Return To The Front Page