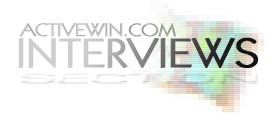 Interview with Christine Kerr, Product Manager: Microsoft Mice
ActiveWin.com: Did you think the new IntelliEye technology would be as successful as it has become?
Christine Kerr: We certainly thought we had a great product, and we're thrilled that response has been so positive. We spent a lot of time talking to consumers as we worked on the IntelliEye technology, asking them what they would like in a mouse. They consistently said "a mouse that is more responsive, that will react to my moves and not get stuck, and one that I don't need to clean." IntelliEye optical technology addresses all these by removing the mouse ball replacing it with an integrated sensor that takes images of your desktop, comparing them to one another.
ActiveWin.com:How long was the IntelliMouse Explorer in development? Did you overcome any setbacks or set any milestones?
Christine Kerr: Our development team worked on IntelliMouse Explorer for more than two years. It was tricky to work with so many different kinds of materials from soft touch rubber, to translucent plastic and metallic paint. At one point, we had the entire team wearing alpha-hydroxy hand lotion for months to make sure the paint was durable.
ActiveWin.com: How long was the IntelliEye technology in development? What was the main goal for this new standard? Was the IntelliEye technology in development before or about the same time the first mice were worked on?
Christine Kerr: The technology took a little over two years to develop, work which was started at the same time we began designing the IntelliMouse Explorer. The main goal was improved performance in response to the consumer requests I mentioned earlier. We wanted to find a completely new way of looking at the tracking technology and we came up with IntelliEye.
ActiveWin.com: What are some of the different surfaces that the IntelliEye technology was tested on? Any extreme or interesting surfaces?
Christine Kerr: IntelliEye was tested on literally hundreds of surfaces - wood, marble, plastics, fabrics, etc. We sent teams of testers to office furniture supply stores to test there too. We wanted to make sure that most surfaces people have their computers on would perform well. I actually tested it on my cat and the technology worked great. I got bitten though.
ActiveWin.com: At the start of development, what was your goal for the design of the IntelliMouse Explorer? What did you want it to have different than the IntelliMouse with IntelliEye?
Christine Kerr: We wanted the design to convey comfort, high performance and fun. This was a whole new kind of mouse technology and we wanted to show how distinct it was through the design. For instance, the red "taillight" is a great way to show that the mouse is different...it's hard to see that glow and not pick up the mouse for a closer look.
ActiveWin.com: What do you think Microsoft mice with IntelliEye technology have over the competition?
Christine Kerr: IntelliEye optical technology offers the fastest optical technology available in a mouse. Taking 2,000 pictures per second, it is about a third faster than competing optical products that are just starting to come on the market. The result is more responsive, smoother mousing.
ActiveWin.com: My favorite part about the IntelliEye technology was that I could use it in the same standard design - the IntelliMouse with IntelliEye. Was developing this new technology in the standard mouse design important from the start? Were there any difficulties design a mouse like this?
Christine Kerr: From the start, we wanted to offer more than one mouse with the IntelliEye optical technology. This holiday we will be offering three mice and two trackballs featuring the IntelliEye technology. We understand that different mice are comfortable for different people, and we want to offer a wide variety of choices to consumers.
ActiveWin.com: What was the goal set for the IntelliMouse Optical? How long was it in development? What does it have over the previous two IntelliEye mice?
Christine Kerr: IntelliMouse Optical is designed to be used by either left- or right-handed users. It has the five buttons, including the scroll wheel, that IntelliMouse Explorer offers and puts those features in a slightly smaller shape. It is a great option for a computer that has multiple users especially if you have different hand sizes or both right- and left-handed users.
ActiveWin.com: Are you working on the new trackball mice? If so, could you provide us information on their release and/or features?
Christine Kerr: Yes I am. Trackball Explorer and Trackball Optical will be widely available in stores at the beginning of October. Trackball Explorer is a finger-operated trackball, features five buttons including the wheel as well as the IntelliEye optical technology. Trackball Optical is a thumb-operated trackball, this trackball also features five buttons, including the wheel, as well as the IntelliEye optical technology.
ActiveWin.com: Of the IntelliMouse with IntelliEye, IntelliMouse Explorer and the IntelliMouse Optical, which seems to be having the most success and why?
Christine Kerr: Actually, all of the IntelliEye mice became best-sellers in their market segments upon introduction. We see this as proof that we've found a solution to people's most common frustrations with their mice.
ActiveWin.com: How sturdy and reliable are the mice with IntelliEye technology? How long were they designed to last?
Christine Kerr: All Microsoft mice are subjected to rigorous testing because we want our mice to last and to be a good value for our customers. Our testers put all of our mice, including those with IntelliEye technology, through tests far beyond what most people would normally do to their mice. The IntelliMouse Explorer comes with a limited lifetime warranty and IntelliMouse Optical and IntelliMouse with IntelliEye come with a five-year warranty.
ActiveWin.com: What is the favorite part of your job? Also, surprisingly enough I still use a mouse pad with my IntelliEye mouse - did you throw away your mouse pad?
Christine Kerr: My favorite part of my job is getting out and talking to people about our products. I think we offer great products that are real solutions and make computing easier for our customers. Currently I am using the Trackball Optical so I don't use a mouse pad, but when I use my IntelliMouse Explorer I don't have to use one then either!
---
Links


Return To The Front Page