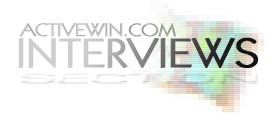 Interview with Richard Seng, Product Manager: Trend PC-Cillin 2000
ActiveWin: What was the development time of Trend Micro's PC-cillin 2000?
Richard Seng: About 3 months.
ActiveWin: Will PC-cillin 2000 work on the newly released Windows Millennium? If

not, why and will there be a future patch/fix available?
Richard Seng: Our latest version of PCC2000, v7.51, is compatible with Windows ME.
ActiveWin: According to VeriTest, PC-cillin 2000 is the first AntiVirus software to

be certified to run under Microsoft Windows 2000 Professional. What features of this software made it possible to achieve this certification? Was this an anticipated goal during development of the software?
Richard Seng: Please see the Windows 2000 Application Certification requirement guide
for details. Getting PC-cillin certified for Windows 2000 was the key objective in PC-cillin 2000.

ActiveWin: During our review, PC-cillin 2000 discovered all the viruses we tested,

including some newer ones that we thought would pass through. What features did you implement in this software that provide complete and up-to-date virus protection?
Richard Seng: Combination of our advance virus scan engine and the largest and around
the clock virus research team, enables our products to protect our customers from old and new virus threats.

ActiveWin: One of the interesting features that is included in PC-cillin 2000 is

"Expert File Inspection", where suspicious files can be send to the Trend Micro eDoctor Lab. How is the feature set to benefit consumers?
Richard Seng: If the user has an important document that determined by PCC to be
infected with a virus, and it's unable to clean it, the user may submit that file to Trend for further analysis and cleaning.

ActiveWin: What are some of the biggest improvements in PC-cillin 2000 over the

previous version?
Richard Seng: Automatically updates itself when user goes online. Protecting users
emails by scanning their POP3 mailboxes in real-time. Incremental update of signature files so update time is reduced.

ActiveWin: Do you have anything to add?
Richard Seng: Antivirus is no longer just a software, but a complete service that can
only be accomplished by a backing of a company such as Trend Micro, who's dedicated to protecting our customers in the Internet age.
---
Links
Read our complete review of PC-Cillin 2000


Return To The Front Page